Duh! Always remember that you are absolutely unique… Just like everyone else…
Today was zip! The hospital must have been rough as Sue slept until 10:00 AM and I had to call Maria, her barber,  to reschedule Sue's hair appointment. Sue went to the barber at 11:45 AM and then we tried Mama's, a new restaurant in Los Alamitos. It is "Comfort Food" and they did a great job…I had biscuits and gravy for the first time in a year while Sue did the five cheese Grilled Cheese…Good groceries.  This made me think of Sue and my first visit to Aunt Opal's kitchen!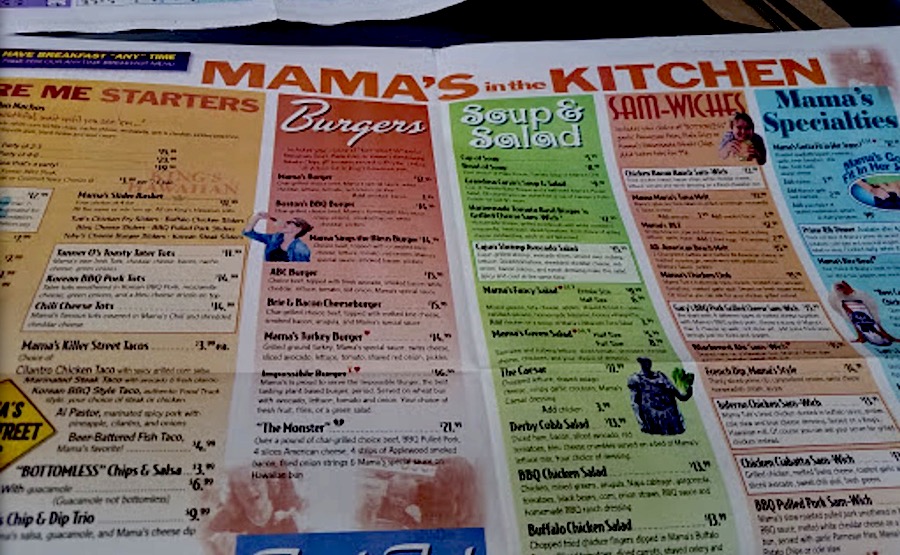 Random Memories: Comfort food, what a concept.  So, when Sue and I first got together, I was "allowed" to reconnect with my family again… aunts and uncles and family friends.  I asked Sue if she would like to go to breakfast at Aunt Opals', of course, she said "Yes!".
Aunt Opal and Aunt Edith were from Arkansas and breakfast was their speciality.  We came by their little houses located in Downey and visited a bit before Aunt Opal went into the tiny kitchen and began breakfast.
Sue is a vegetarian, only because meat, fish, or chicken makes her sick. Dairy is OK so I thought, this will be fine…Sue does eggs!  Aunt Opal pulls out the biggest iron frying pan I have ever seen, bangs it down on the tiny stove and then finds a five pounds (looked that way) of bacon and begins the process!  The bacon makes a "plop and sizzle" sound hitting the red hot iron skillet. Grease is flowing like in all directions, sizzling sounds loud enough to wake the dead, fumes are emanating from the iron skillet drawing the admiration of animals from two blocks around. Be we cooking southern style!
Now, after the bacon is cooked and draining, in goes a dozen eggs…fried in bacon fat…swimming in bacon fat…floating like water littles in an ocean of hot bacon fat! 
Life does NOT get better than this!  I am salivating looking at this breakfast knowing fresh homemade biscuits are in the oven and the gravy is in work!  Wow, breakfast for a king!
Everything is ready, then it dawns on me….Sue can't eat anything here…even the biscuits, homemade, had lard in them!  
Sue, being the gracious person she is, decided to have toast with butter for breakfast.  It was hard to explain to my family how someone could survive as a vegetarian.
Over the next ten years, my aunts became Sue's rooting section because when they came to our house, we would sometimes eat vegetarian and they were amazed at her veggie burritos (using vegetarian chorizo) and other specialities! When Sue did a roast or prime rib, they could not figure out how it was so good when she could not even taste it as she cooked it…we had a secret weapon, Mitch, our son, would assist Sue by tasting the meat for her.  We all had a good laugh!
I should also mention my Aunts were introduced to new dishes they would have never tried otherwise.  They became lovers of frittata's,  quiche's, strata's, risotto's, spaghetti squash, stuffed mushrooms, stuffed peppers…they were introduced to many culinary items they would have never tried in their lives!
The house cleaners were her today and I had them clean the master bedroom and bathe first while we waiting in the front from and then I put her down to read for a while about 3:30 PM and she work up about 6:15 PM. Finally getting some well deserved rest!
We stayed up until 11:00 PM as I wanted to make sure she slept through the night, Tomorrow, Diane arrives and I will get a chance to do some chores/errands! I am tired!