Q: What does the dentist of the year get?
A: A little plaque!
Up and at 'em! We did some work on the puzzle (it's coming along quite well) but at 9:00 AM it was walking time…out I go, all dressed for the walk…but, my legs were not ready. Six blocks away, I turned back with the ol' sciatica telling me "Stop you fool or else". I limped back home and continued the puzzle. I still got 4,000 steps in…and will likely make 10,000 by the end of the day anyway!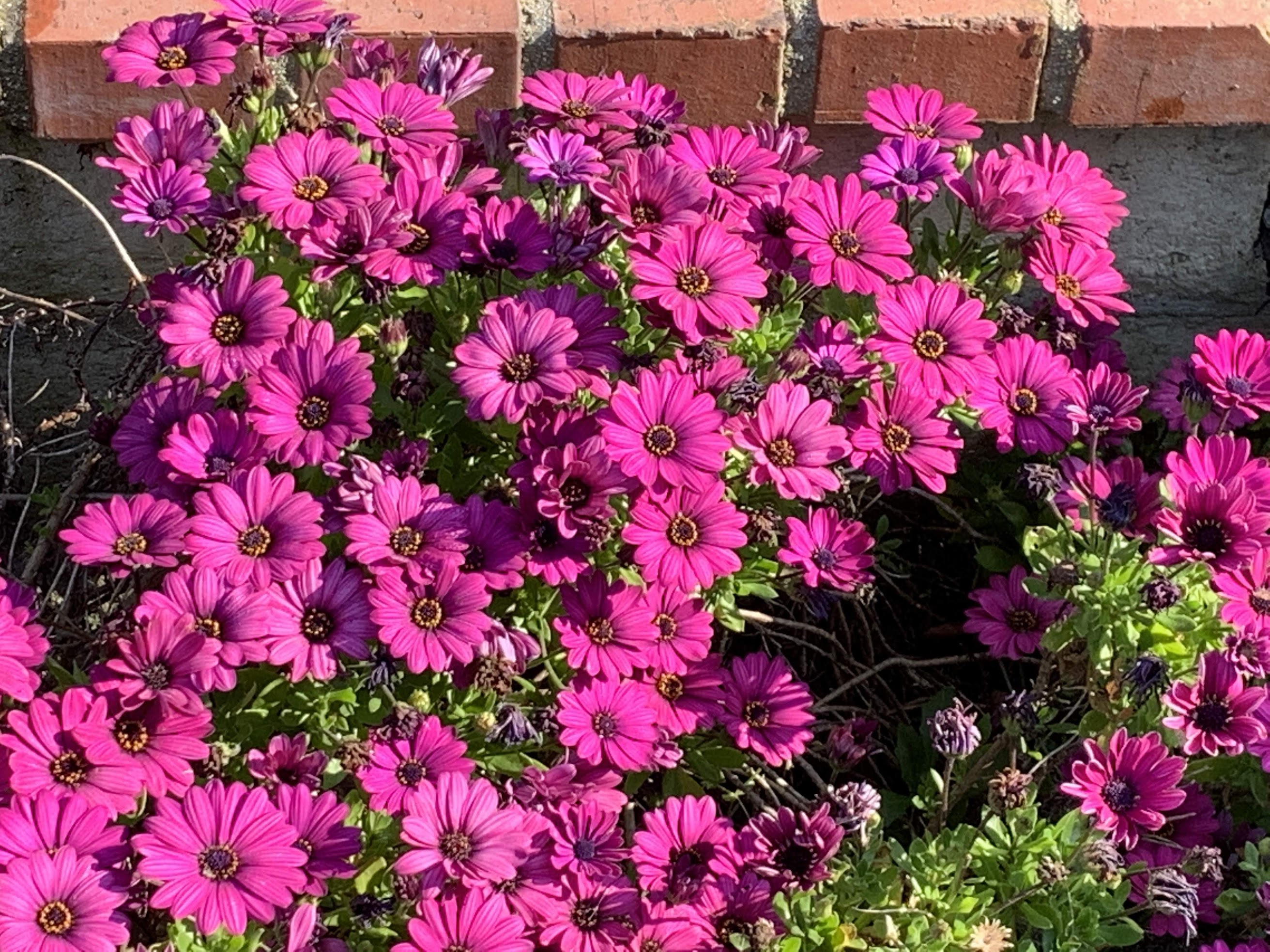 Finally at 10:00 AM, after resting the leg, I headed out again, this time in the car to go to the nursery. The nursery was so crowded I started back home. Then I remember we needed champagne so I stopped by the champagne store and got a case which ought to last about three weeks.
Thinking "ah ha", I wondered into Lowe's nursery section but they did not have what I needed. Frustrated!! Amazon to the rescue…I pushed the keyboard on the phone with unbridled energy, scrolling madly up and down the page, it appeared…the grape (vine) fertilizer I was after. A simple touch and it will be delivered Wednesday morning!
Speaking of Amazon, I got a new toy…my bathroom scale is now connected to the net. It is quite handy! For $27, I could not resist! The first time I used it, the setting was on kilograms…nearly had a heart attack! It is a very nice machine!
It takes 13 essential measurements showing body weight, data including Weight, BMI, Body Fat Percentage stores to app. You can weigh yourself anytime WITHOUT your phone. The data will sync to the app once it is connected again! It features auto calibration, high precision sensors measure in increments of 0.2 lb./0.05 kg with 396lbs/180kg capacity. It uses four high sensitive electrodes which you must stand on with bare feet., 3 x AAA batteries included which I changed out for rechargeables.
We did lunch and then it was time to go to the dentist!. We love Dr. Flemming who is in Huntington Beach…on the beach! One block off Main Street by the pier.
I have no idea why be he and I hit it off….today was a teeth cleaning and we talked for 20 minute before he started. For some reason we got going on what our parents ate and we hated but what we like now.
Both of us could not stand spinach and today we both love it…especially with a small pour of vinegar on it! We both enjoy corned beef a lot. Then the subject got to what we will not eat or drink!
I mentioned that my father would crumble up soda crackers in a tall glasses, pour buttermilk on it, and eat it with a spoon. I try once every ten years since Dad passed and still can't get the spoon past my nose! Dr. Flemming has the same problem with Egg Nog…OMG, I was shocked. Now he is Mormon so I did not suggest he drowned out the Egg Nog with a good quality brandy…alas, we had a great time talking out of folks and foods!
Random Memories: I just found out I grew up poor!  I researched the web on "poor people food" and found saltine crackers, crumbled, in a glass of buttermilk was a special food of the poor. Then I found a site that listed all the food of poor people and I'll be darned, it was everything I had growing up.  As a kid, I sure did not feel poor as we had plenty of spaghetti,  beans of many colors, meatloaf, mac & cheese, ham in many styles, and chicken galore.  Perhaps we were poor in money and cold not afford other foods but we sure were not poor in the important things…love!
It's Monday so that means…Melanies! We got there about 5:30 PM and I enjoyed a salad. Irene joined us at 6:30 PM so we watched the sunset into the west. As sunsets go, this was "OK" The clouds formations above the senset made it interesting.
We spend a lot of time talking about the past,,,remembering things. The three of ius talked about the ringer-washing-machines. Dangerous… indeed! Do you remember them? I was probably ten and Mom would still not allow me to use the wringer…and they had safety features by then. The wringer was called a "mangle".
Did You Know? When home washing machines were first invented, they were just for washing: a tub on legs or wheels. A hand-cranked mangle appeared on top after 1843 when John E. Turnbull of Saint John, New Brunswick patented a "Clothes Washer With Wringer Rolls."The first geared wringer mangle in the UK is thought to date to about 1850, when one was invented by Robert Tasker of Lancashire.[5] It was a smaller, upright version of the box mangle. 
Being curcious, I looked it up on line and did you know,,,you can by a mangler from Amazon today! For a mere $149 you can have one delivered to your home tomorrow!
Returning home, we fired up the oven for tookies and then watched three episodes of Gilmore Girls…love the dialog! We then watched a new series called S.H.I.E.L.D. It is currently planned to have seven seasons…we have just begun!
Time to crash!