I saw a mouse on the road. It was a roadent
The last day of our first road trip adventure, and all is going amazingly well.  We ordered room service, and again, we ordered too much.  I could not pass up the biscuits and gravy.  Mary's head was cut off by request because a wild animal, possibly a raccoon, took up residence in her har during the night.
It was frightening.  So much so, the people who delivered breakfast took a look at Mary, yelled, and ran down the corridor screaming something in Spanish like, "Fue horrible. Un animal salvaje abrió la puerta."
Note: If you see Paul in person and you have a #20 bill, the rest of the picture is available FOR VIEWING ONLY, no copies allowed.
After the police arrived and determined it was just a bad hair morning, we headed out of Scottsdale around 10:30 AM.  We were asked to bring a hairnet for the next visit.  They are still looking for the waiters that brought the breakfast.  They were last seen doing thirty-five miles an hour on Interstate 10. We are off!
The weather was perfect, but the road repair folks put about 45 minutes of delay into the schedule. We stopped at several of the rest stops to stretch our legs and get the circulation going again.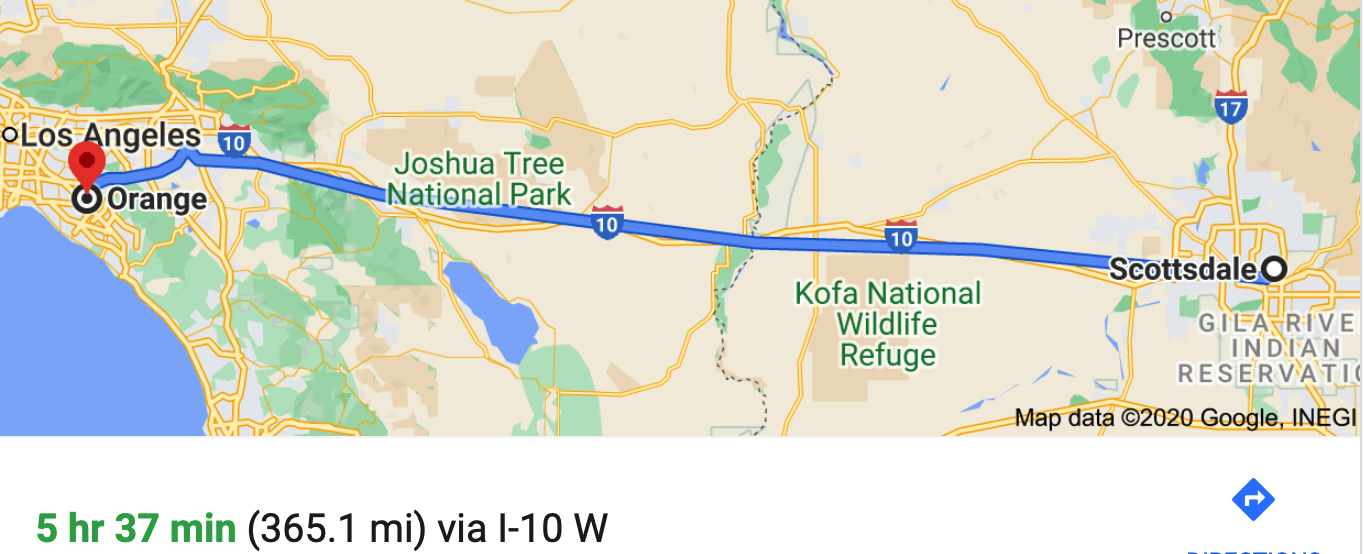 We stopped to see Annie and Virgil before going home to get Scout.  It was a long day!
After getting home, I unloaded Mary's bags, which took about an hour.  The four suitcases were easy, but the two steamer trunks and nine garment bags took some time.  Then there were the nineteen shoe boxes.  It's funny; I do not remember her wearing any of the six pairs of high heels or rain boots??
By the time I was done, hunger set in, plus I was tired.  I mustered up the last of my energy and returned to the car to get her surfboard, rock collection, barbells, basketball hoop, and the ironing board.  Mary was prepared for any eventuality, I guess.
Breakfast for dinner, one of my favorites.
We watched Two Men and a Boy, and that was it!  It was an amazing adventure which we absolutely enjoyed!