"The only cure for grief is action." – George Henry Lewes
Sue raised Michele, and we were both delighted when we reconnected after getting married.  About ten years ago, we went to a restaurant in Playa Del Ray, an area where I grew up.  The Adams are lots of fun, and wine tasting tops our outings.  Michele has a lot of Sue's traits, naturally, so I find her a joy to be around.
Michele and I talk at least every week and we plan to get together soon for an Indian lunch at the Himalayan Grille, now that Michele lives in Huntington Beach.   Sue is missed by her entire family and especially by me.  I love you, Sue!
The clock strikes 5:30 AM, and two complete choruses of "Snap, Crackle, and Pop" were plated before arriving in the gentlemen's lounge for morning prayers!  One look around and my fate was sealed for twenty minutes.  Move the clothes, fold the clothes, hang up the clothes, put the shoes away, and throw the towels into the wash!  OK, now it is allowable to proceed to the next room.
Mr. Keruig made a cup of coffee, and the ol' body was headed to the front yard.  Time to clean out the front garden and make was for fall planting.  Tomorrow a quick trip to H&H ought to find cabbage, winter tomatoes, Swiss chard, and other delights which will get planted forthwith!
After a couple of hours, Mr. Tummy was signaling that he thought my throat had been cut.  Giving in, without a fight, the kitchen came into sight.  Opening the refrigerator, which sounded like inner sanctum.
In my younger days, listening to Inner Sanctum was a favorite pastime.  For those of you who are approximating my age, check out the sponsors of the show!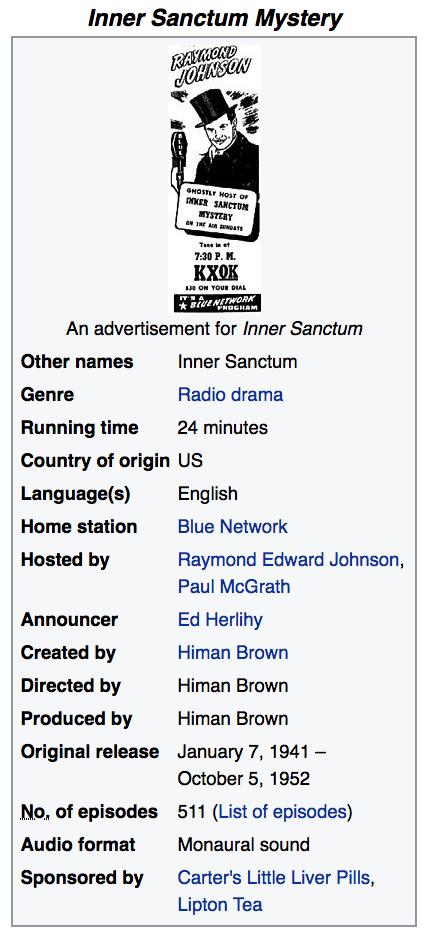 The refrigerator revealed bacon and eggs plus a nice juicy 10-ounce steak, all ready to be cooked up by Chef Pablo (my Spanish nom de plume).
Out came the frying pan and all the tools needed for breakfast.  The bacon and eggs were terrific with the homemade jelly on toasted English muffins.  Then, the steak was seasoned with salt and pepper plus a good dose of A-1 sauce. Into the frying pan and eight minutes later, breakfast two hit the table. Needless today, there were no more signs of humger for the rest of the day!
While cleaning up, the front door opened and that scared me as indicated by me jumping and dropping a small pan into the sink!  Clunk!  It was Zachary, my grandson!  He dropped by to pick up Grandma's Christmas dishes for Rebecca and to assist me in hooking up the Bose Soundbar to the new TV  We visited for almost an hour.
Most of the morning and afternoon was spent in the front yard garden, located on the west wall.  The plot was in dire need of attention! After cleaning the first small garden out, the potato spuds were set in the ground, watered, and now we watch.
While walking to the back yard, a Mourning Dove was sitting on the fence.  Not wanting to scare her, my pace was slowed down to nearly a crawl.  She responded by just watching me.  A few minutes later, she flew by me and decided to sit on the new power distribution box while the back yard garden was inspected.  From that vantage point, she should see everything.
Did You Know? The Mourning dove is symbolic of providence. Know that your prayers are being heard and answered when you see the Mourning dove. Know that the angels are watching over you. You may have suffered a form of pain in your life when you see the mourning dove in your waking life or dreams, visions, and synchronicity.
The dove represents peace of the deepest kind. It soothes and quiets our worried or troubled thoughts, enabling us to find renewal in the silence of the mind. … It is said that if a dove flies into your life, you are being asked to go within and release your emotional disharmony.
Back to the front yard where the mulch was removed, amendments added, soil turned, and then re-mulched. It took about three hours to cultivate the thirty-foot long garden.
The newly refurbished gates look great in the sunlight.  It was well worth the price, and they look better than the vinyl.  Even the locks are brand new.
Finally, the work was done, and it was fun, especially when watering the mulch.  Why do you ask me? Well, Mr. Lizard, my little fat friend, came down to see what I was doing?
As the ground was watered, various bugs attempted to escape the water and walked up the wall.  As they walked, Mr. Lizard visited them. Zot, the bug disappeared.  Mr. Lizard was having a feast thanks to my newly discovered bug-herding techniques.
As the hearing was underway a chorus of "Yippie Ti Yo Ti Yeah," almost happened but deciding that subjecting the neighbors to my singing voice would be hurtful, the tune was summarily canceled.
It's now 5:00 PM, so it was time to walk.  My work jeans hit the dirty-clothes hamper, and fresh new jeans, a new sweatshirt, and the hat were selected for the outing. Although it was warm, the heavy clothes protect me from the wind-friction.  I speed walk and wind-burn is always a risk!
While walking calls we placed to Jan M. and we talked for a half-hour.  Then a call was made to Dr. Mary C. and the meeting with Dr, Younger was revealed.   Mary and I are going out to dinner this week at Patty's Place since it has been November since we saw each other at Starlighter's.  Mary works at the VA in Long Beach a couple of days a week and the VA and Patty's place for very close.
Colleen texted as the walk was finished me saying, "Glad you are home safely". Prior to departing Colleen was sent a link to my pedometer. There is a new feature that allows me to send a link via email or text that keeps someone posted on my progress. It is a safety feature in case there was a problem, someone would know where my location.
Coming up the street, it was realized the trees are getting tall, so it is time to lop off their tops.  After my 75th birthday, my allergy to ladders got terrible, so a call to the gardener will be required.
My ears heard a small voice saying, "I wanna go! Please.  I wanna strut my stuff!" Where was it coming from?  Then it was realized the Silver Lady was whispering to me.
She got unwrapped and started up after sitting still for two weeks.  She purred like a kitten, so tomorrow she gets to go out.  Tonight she must stay in the driveway as I do not want her to be a lady of the night. She is also supposed to go to the spa (the dealer) for her health checkup this week.
Time to get ready to go to movie night! I had to leave a few minutes early as a Katella Bakery pickup was required.
Just as I exited the shower, the phone was ringing so into the office, and it was Lee on the Bat Phone.  I came to close to pushing the button and saying hello, but I saw myself in the mirror and realized my birthday suit was on.  Note to self: Iron the birthday suit!!! It has way too many wrinkles!
My finger jerked back from the Bat Phone, Lee's sensitivities were saved from a catastrophe, and the call ignored.  Once on my way to the bakery, I make the call and explained the situation.  It was a close call!  Lee was relieved.
Amy and Joe hate tomatoes, which is hard to understand but true.  So, my warped mind decided a tomato cake was going to be my contribution to dessert this evening.
My grandsons thought it was terrific, a tomato cake, but they liked the inside better!
Joe gets to take a peek!  He knew I was up to something terrible!
They even put tomatoes on the side of the cake!
We all settled in for the movie as the sun sat in the west.
The movie was "Think Like A Dog". Think Like a Dog is a 2020 American family sci-fi comedy-drama film written and directed by Gil Junger. It stars Josh Duhamel and Megan Fox. The film was released through video on demand on June 9, 2020.  It was quite funny, and everybody laughed.
Dang, time to go home.  It should be reported that a sneaky s' more fell into my hands, and it was devoured! It could not be helped!
When the switch was reached for, my ears heard, "Finally.  I shall take a bite out of Paul tonight!" Poor spicy, the hand was withdrawn and instead turned the light off from the inside!  Fooled him tonight!
11:15 PM was indicated on the chronometer so it was "lights out" for this old buzzard.  See you tomorrow good Lord willin' and the creeks don't rise.