Why should the Sun get into a school? To get brighter!
We are excited…we get to see Star Wars Land AND we get to spend the day with Amy, Joe, Charlie and Alex! We were up at dawn…well, perhaps not dawn exactly but we did leave our place at 10:00 AM. Disneyland is 9.6 miles down Katella from our place to it was an easy drive.
We parked close to Downtown Disney and entered heading for Catal where we had a drink, and appetizer, and then visited with the staff. We needed to be at The Blue Bayou at 11:40 AM so we skedaddled at 11:00 AM sharp! Perfect timing!
We enjoyed a leisurely meal with lots of giggles going on. It was so nice to sit with the family and think about the next couple of hours where we will be transported 500 years into the future.
I did the Jambalaya which was spicy and excellent. Amy found a gooseberry amongst her surprises. She looked a little wary but was a sport and bit into it!
Did You Know? The Gooseberry is native to Europe, the Caucasus and northern Africa. The species is also sparingly naturalized in scattered locations in North America. Gooseberry bushes produce an edible fruit and are grown on both a commercial and domestic basis. Its native distribution is unclear, since it may have escaped from cultivation and become naturalized.
After lunch we made our way to the "round moving building" in Tomorrow Land which is the check-in point for Star Wars Land. We got our wrist bands and awaited further instruction! After perusing the museum/displays we decided to head for our targeted adventure!
We had 45 minutes to kill so we walked slowly…Amy and Joe were going to take the train but it turned out it was filled to capacity. They caught up with us while we watched the band play in fro=nt of the Golden Horseshoe Dance Hall.
We decided to stand in line and see what happened. We got in right on time and walked for quite a while transitioning from the Frontierland to a space port in the year 2400…subtle!
Come on and join the fun! Our website captured the events of the day!
Star Wars: Galaxy's Edge takes place on a new remote planet called Batuu. This planet is rough and tumble, themed to an outer frontier trading post in the Outer Rim Territories just before Wild Space. Although this planet is not specifically mentioned in the movies, it is said to have existed for thousands of years.
Smuggler's Run attraction pulls together six guests to pilot the Millennium Falcon. Each guests is assigned to one of three roles: pilot, engineer, or gunner. We had a lot of time to see the innards of the spaceport and the boys like all the crazy sounds and announcements.
We are going on the Millennium Falcon to deliver supplies to the forces of good! The ride is exciting and not good if you have a bad back (we found out). In and out of light speed, chased by space ships, careening around corders and break-neck speed…all in a days work. Poor Alex, he got to the pilot today!
We arrive at the ship and we get in for the ride of a lifetime! We were all over space going into warp speed many times! Joe is in the Co-Pilot's seat…he will be sorry later!
We went into warp speed several times. Amy is an expert and warp speed as evidenced below:
Joe was feeling just super after the ride…don't know if he was praying or getting sick…it was quite an experience!
After the ride and making adjustments (putting out teeth back in, straightening our attire, etc,) we walked around for quite a while…Alex and Charlie got their picture taken with Chewy.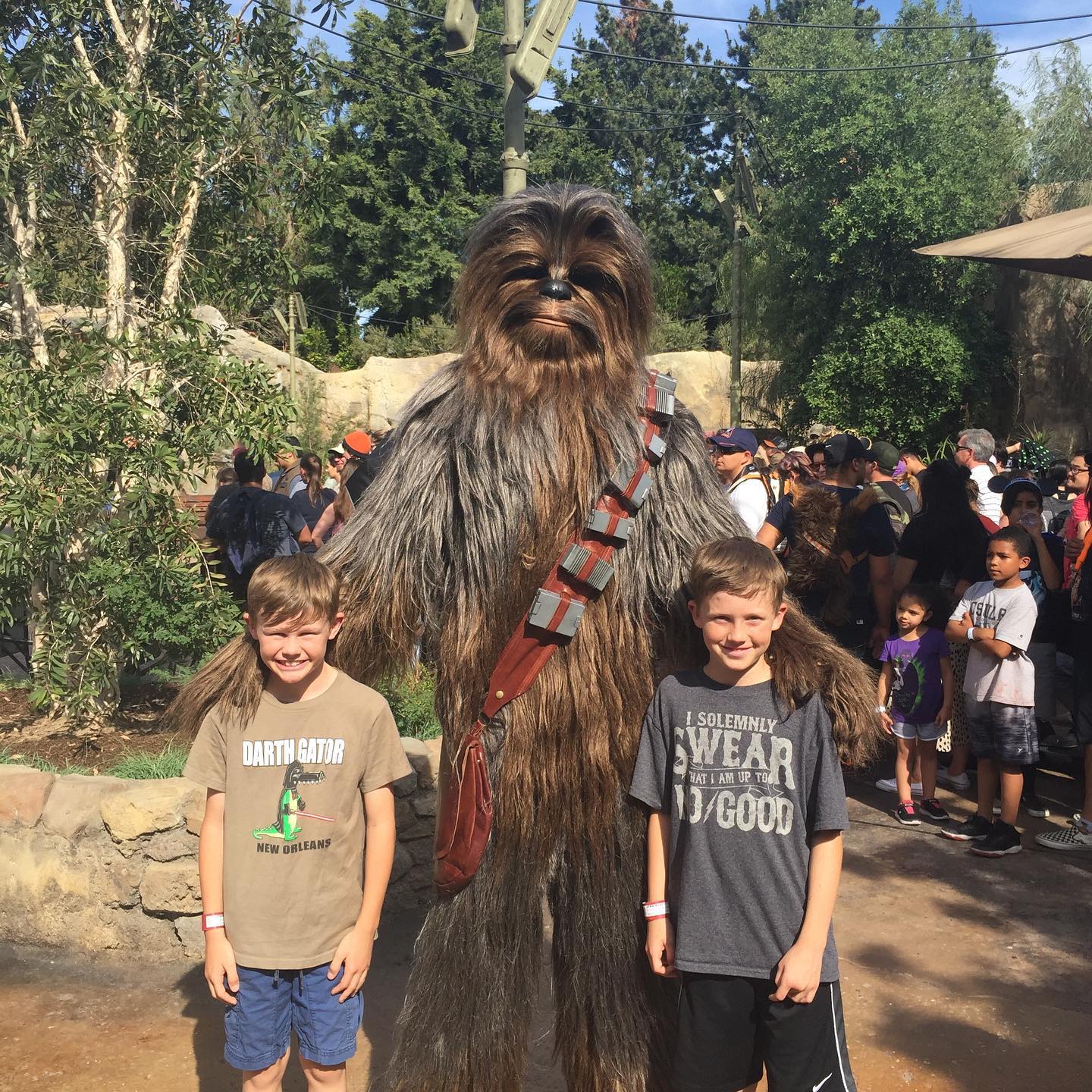 After seeing Star Wars land the kids when on to visit Disneyland and we headed back to Catal (the ol' folks Disneyland). We had a drink and then headed for home. What a disappointment…I hit the hyper-drive button on the Silver Ghost at least ten times and ZIP, NADA, we did not jump. we did get some strange looks as Sue yelled "To Infinity and Beyond"…Note to self, close the windows on the way home next time. We were pooped because the heat and humidity just took its toll!
We managed tookies but hit the sack about 10:45 PM!