I asked my wife if she ever fantasizes about me, she said yes – about me taking out the trash, mowing the lawn, and doing the dishes.
OK…it's Saturday…Time to get serious! The day began with a trip to the market because, examination of the frig revealed we were down to the last half-roll of tookie dough! OMG, this cannot be! A tookie famine can not be tolerated!
So to Ralph's Market here I come! I found other necessities of life such as sugar-free lemon-drops, cool-whip, and jumbo blue berries! Yes, we eat real food also!
Did You Know? Ralphs Grocery Company was founded in 1873 by George Albert Ralphs. The original store was located at Sixth and Spring Streets in Los Angeles, California. In the 20th century, Ralphs became a grocery pioneer, offering self-service markets with checkout stands in distributed locations. The company employed notable architects in designing its stores, and the former Ralphs Grocery Store building built in 1929 in Westwood Village has been photographed by Ansel Adams, declared a Historic Cultural Monument, and listed on the National Register of Historic Places.
In the 1980s, it created a chain of hybrid supermarket/warehouse stores called The Giant, which failed, but the concept returned with the company's merger with the Food 4 Less discount chain.
In 1994, Ralphs was acquired by the Yucaipa Companies for $1.5 billion. Yucaipa owned ABC Markets, Alpha Beta, Boys Markets, and Cala Foods. Soon, all ABC Markets, Alpha Betas, and Boys Markets were rebranded as Ralphs.
I am becoming a market shopping expert because instead of going one a week or so, I go every couple of days as I walk so I get a little bit at a time!
I even have people asking me where things are1 Today a little old lady came up to me and asked there to find Ball Jar Lids and she was shocked when I knew precisely the location of lids inclding aisle number, heigth above the floor and how far from the end!
I keep track pf such mundane things as Korean kimche, phyllo dough sheets , and vegan sauerkraut! Perhaps I should become "The Market Whisperer"?
Back to reality! I tackled the garden adding some new tomato plants and putting in a drip system for the blackberries..the berries need a lot of water and I got tired to standing there with a hose! Now I turn on the spigot and listen to the berries sing their favorite songs while taking a shower!
Did You Know? Oddly enough, these three fruits that actually have the word "berry" in their names…aren't really berries. A strawberry is an enlarged end of a stem, embedded on the outside with seeds. The same is true for raspberries and blackberries. Seeds on the outside means they aren't berries.
We had lunch killing off a lot of the left-overs and then rested the remainder of the afternoon as we have to party tonight…Kathy Robert's 72nd…we hangs with the old folks!
Mid afternoon, Amazon delivered me a new toy! I had to try these things. I have the whole house wired with Alexa so I can turn on/off every light, change the colors and brightness plus she is in every room. But I needed to control such things as the attic fan…yes, it is on a thermostat but in the winter and on cool days, why get rid of the heat in the attic…let is stay and keep the house warmer at night. Hence, the device!
This little puppy is placed in between the source and the load and via connection to the WiFi (and thus the internet), I can control it's on-off condition via the iPhone or remote computer. Now, the attic fan is under MY CONTROL. Wonderful… first the attic fan, then the world! That also means our pool light and several other devices can be switched on/off from our fingertips!
Prior to taking a short nap, I visited my grandkids pumpkins. The grandkids and great grandkids LOVE their pumpkins "Papa" grows! Last year, at our annual pumpkin carving party, we cleaned them in the garden (meaning some of the seeds went into the dirt) so guess what, the little seeds already decided to pop out.
The plant below will get to be 20 square feet and have 4-5 large (60+ pound) pumpkins on it! I will have to trim it back as some of the stems grow 30 feet long if left alone.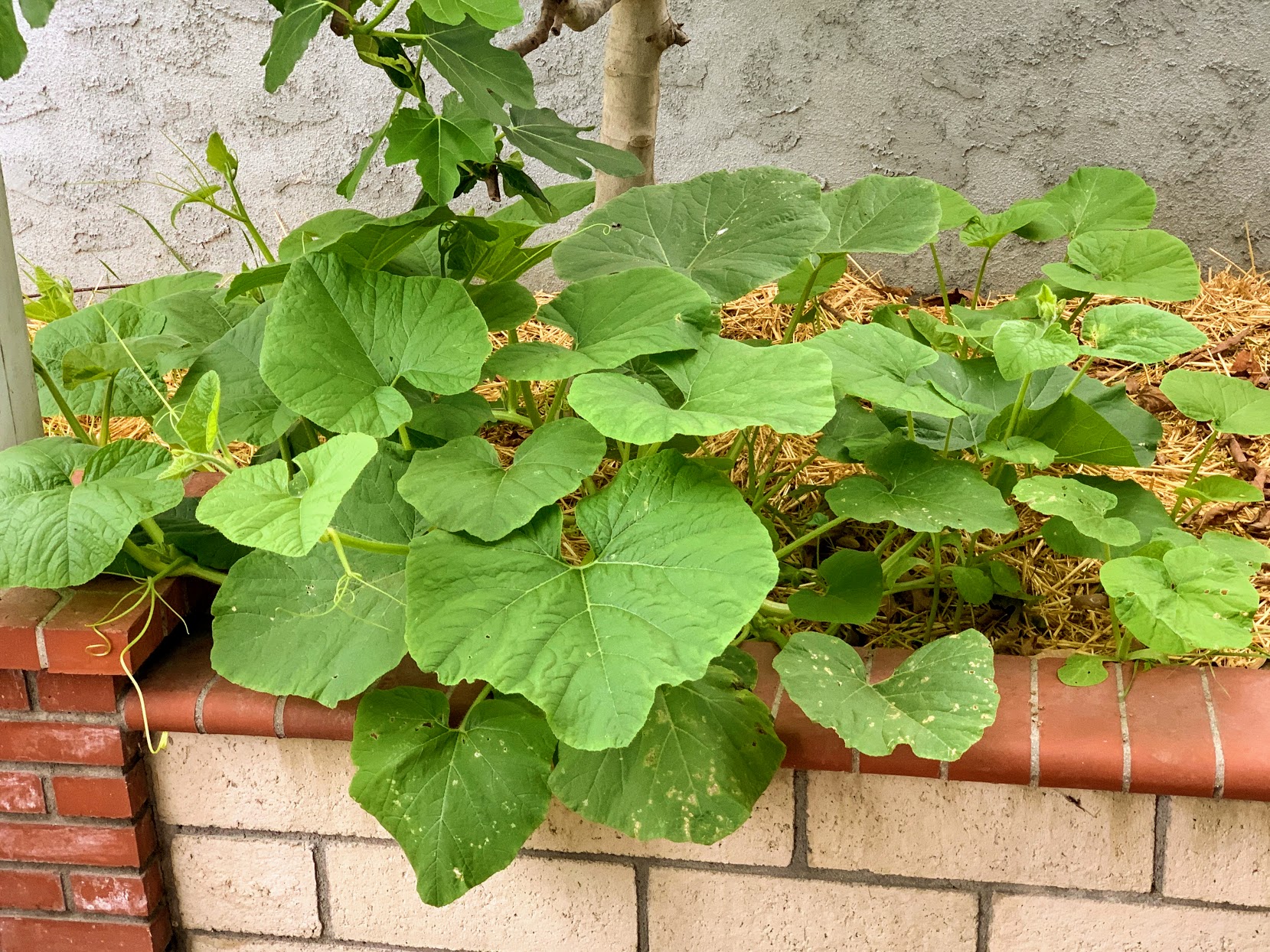 We will probably see Lilly tomorrow because Mitch is babysitting them over the weekend as Mom and Dad are out and about!
It's 6:00 PM and time to hit the road…into the Silver Ghost and off to Garden Grove for another great evening of fun!
After getting there and getting our drinks…Sue's fake wine and my O'Doul's, the lodge officer came around wanting us to buy lottery tickets. Well, knowing Brin was leaving the country on Monday I decided he had to win so I bought twenty tickets…it's for charity. When the drawing was made, he somehow won. He was shocked since he didn't buy and tickets.
Now he had to get up and select the Jack Of Spades card plus go to the dance floor for the announcements!
The part continues…we dance, drink, and make berry with our friends (and in some cases neighbors). The band was quite good, especially after we went into the dance floor with napkins stuffed in our ears to let them know they were too loud!
Time for Happy Birthday!
So the "theme" was Hawaiian since Kathy and Ed just got back from the islands. The cupcake decorations had little sandals on them….well, to the sick mind (yours truly) when I turned the decoration around…looked to be like someone bending over! What do you think?
Sandals

Buttocks?
Bad Paul…. back to dancing! We departed about 9:30 PM as we wanted to visit the Gilmore Girls and Agents of S.H.I.E.L.D. one more time today!