Don't trust atoms, they make up everything!
The weekend began with a walk!  Today the target was Staples (the store) as I need a staple remover, huh? Yes…my fingernails are wearing out so the proper tool is needed.
I listened to the news to find out about the conservatives rioting but alas, I was disappointed.
While I was at Staples I also got a small box to help organize my desk and a box of pens that were on sale (I really didn't need them but I could not pass up a sale).
I fixed ham and eggs for breakfast while Sue made a creative dish from her Mexican food left overs.  After breakfast, I headed to the office where I worked about three hours organizing the desk. 
I went through all the stationary and put everything together…like always I found things I have bought over and over.  I do not need to buy any address labels for years, I have many kinds of blank certificates,  I found five boxes of staples which have never been opened and I was able to clear out an entire drawer in the desk!  Love it!
In the afternoon, I hit the garage finishing off the garden chimes.  It's fun working on stuff when you ave all the tools necessary!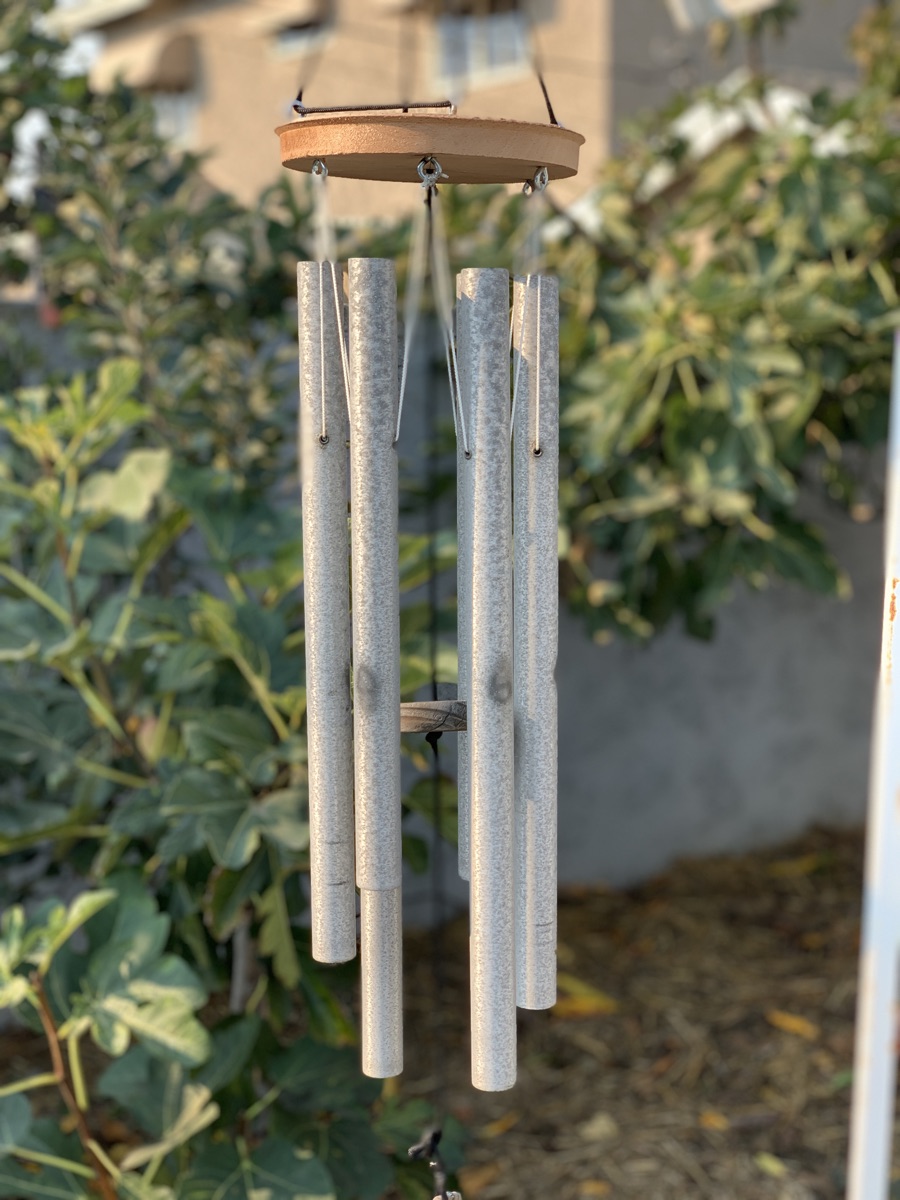 I worked in the garden putting up netting for the winter peas and watering them with some fertilizers.  While that was going on, I listened to my computer show and am now convinced I need a new mesh wifi system.  After the first of the year I guess.
Coming in the house, we decided to take a nap but I was so happy about the desk, I attacked the computer table instead…I have an hours worth of scanning to do that that is for tomorrow.
I did write a nine page letter to my aunt and uncle, nine pages because they are both in their 90's and I user 18 point type plus included pictures with the letter.
We got ready to go out this evening to Cerritos Performing Arts Center to see Bill Engvoll.    We had extra tickets for Connor but he never returned our calls/messages so we gave them away?
Bill had us in stitches for an hour and forty minutes straight. From his explanation of his trip to Africa to menopause to kidney stones, we has hilarious! 
When he talked about kidney stones I thought Sue was going to fall out of her chair laughing so hard!  He talked about menopause and the dishwasher and I nearly keeled over in pain laughing so hard!  A great evening.
The funniest thing is when he gets tickled by himself.  When he went through the Sasquatch (Bigfoot) story in his back forty, we both nearly died!
I pulled out the trusty iPhone and snapped a picture of my bride.
On a serious note, he did say several times that America has forgotten how to laugh and the audience was in total agreement.  We have such anger in the country and it seems the leftist are just out of control with their hate for everything American…this is got to stop and stop soon!  The news is not news, it's a continuing attack on something or someone!
I though Barry was a horrible president..a true little whinny weenie with no idea what he was doing but I sure didn't overtly protest (except in the ballot box) …I put up with it.  But the left so hates Trump, they have gone off the rails and now the loonies are popping up all over.  It's coming time when we are going to have to assert some parental control and punish the crazies.  Enough!
We watched some TV after getting home and then crashed and yes, we did have our tookies!