Colleen and I woke up early  (6 AM and departed at 6:45 AM) as she was going to go with me to my blood test.  She is so nice, on the way there she helped me study so I could pass the test.  I once donated a pint of my finest red corpuscles to the great American Red Cross.  The doctor opined my blood was beneficial; it contained so much alcohol they could use it to sterilize their instruments.
We returned home at about 8:00 AM and decided to go to Rockwell's for breakfast.  The ladies shared a veggie omelet while I devoured a mess of biscuits and gravy, plus a side of ham!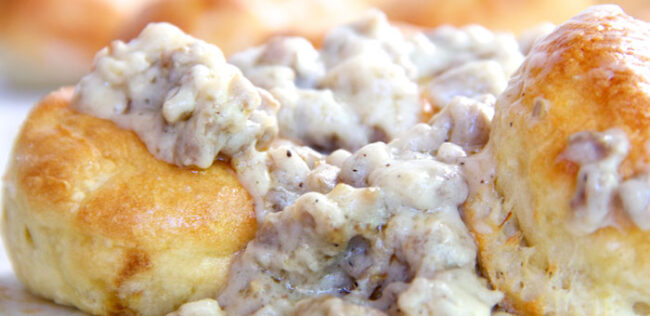 Did You Know?  February 21st and December 2nd are considered National Biscuits and Gravy Day, and Biscuits and Gravy Week is always the 2nd week in September.  This meal emerged as a distinct regional dish after the American Revolutionary War (1775–1783), when stocks of foodstuffs were in short supply.
After breakfast, Colleen headed to her mother's house to visit while Mary and I continued to work around the house.  The sun was so lovely and warm that Mary and Scout headed to the patio to do their chores (Scout sleeps, and Mary makes doctor's appointments!)
We have two planters of herbs and small veggies on the patio, including Mustard Greens.  Mustard greens are the most pungent of the cooking greens and lend a peppery flavor to food.  They originated in the Himalayan region of India more than 5,000 years ago.  Like many other cooking greens, mustard can be found in many Chinese, African-American, and southern dishes.
We took a quick tour of the yard, and to our amazement, we spotted a bald eagle just sitting on the fence looking away from us.  At first, I thought it might be an owl because of the glasses!
I tried to get its attention, but he was concentrating on something; he must have spotted a prey… perhaps a wild bowling pin?  I looked up this type of Bald eagle and found they get their prey and fly-thru fast food joints.
I wanted to ask (but I do NOT speak fluent Eagle), "When bald eagles wash their face, how far up do they go?
I was also going to tell him, "Don't go outside wearing a turtle neck because you would look like a roll-on deodorant!"
We went to the Elks lodge for lunch and visited with Bob Z and Bill C; we had coordination to do with them about the next few days.  We were so full from breakfast that we ordered a cup of soup!  Oh, and a glass of vino!
We returned home via CVS Pharmacy and continued working in the office until 6:15 PM when it was time to visit Jan.  We needed our "Jan Fix."
We made some calls, including Mike Andersen and Nancy Adamson. We invited Nancy to the Sunday dance, and her son will take her.  We discovered that Vince, Nacy's long-time friend, passed three weeks ago.  He was a good guy but was in his mid-90s and failing health.
Jan was doing great and offered us additional water glasses for our dining adventures.  We plan several dinner parties this year using the formal dining room.  With Jan's offer, we now have a complete set of crystal water glasses to use.
We jumped in the Silver Fox at 8:13 PM and were at home at 8:16 PM; it is a mere 1.25 miles from Jan's front door to ours.   We called Irene to get an update, and she was doing well.  When we arrived, Colleen was home from watching Charlie's soccer game at Sunny Hills High School, so we had a good hour's visit with her; that is always fun!