You know you are old when you can cough, fart, sneeze and pee at the same time.
It was supposed to be hot but alas, it was not! In fact, it was a pleasant day. We didn't even leave the premise. More odd jobs such as re-potting some of our house plants as the soil was getting compacted. Over the years, the soil continues to get compacted through natural processes but with some new dirt, a real good mixing, and moss/bark, the soil can be revitalized.
I spent some time in the shop reorganizing some of the tools. I finally got the power tools like I want them. I have three drawers full of battery operated devices and they are organized by function and by battery size (12V and 18V). Sounds silly until you are working on something and need a tool!
While in the shop I got several calls from our kids. Robin checked in from Alaska, Colleen checked in from New Hampshire, Joe called and we set up a lunch with the family, and Michele called to arrange lunch mid week! Then three of our grandkids called in to check with us. We are blessed with such a wonderful family!
Speaking of family, we got confirmation of our Christmas play reservation for 2020! Since we take 100 people, we get reservations sixteen months ahead of time! This picture is from last year…just family. The large group picture is too large to post here.
This year our Christmas picture will be more complete as Colleen and Mark will be out and will be attending the play along with perhaps Jackie and Nate. Yeah family!
Communications Central is at the east end of the workshop: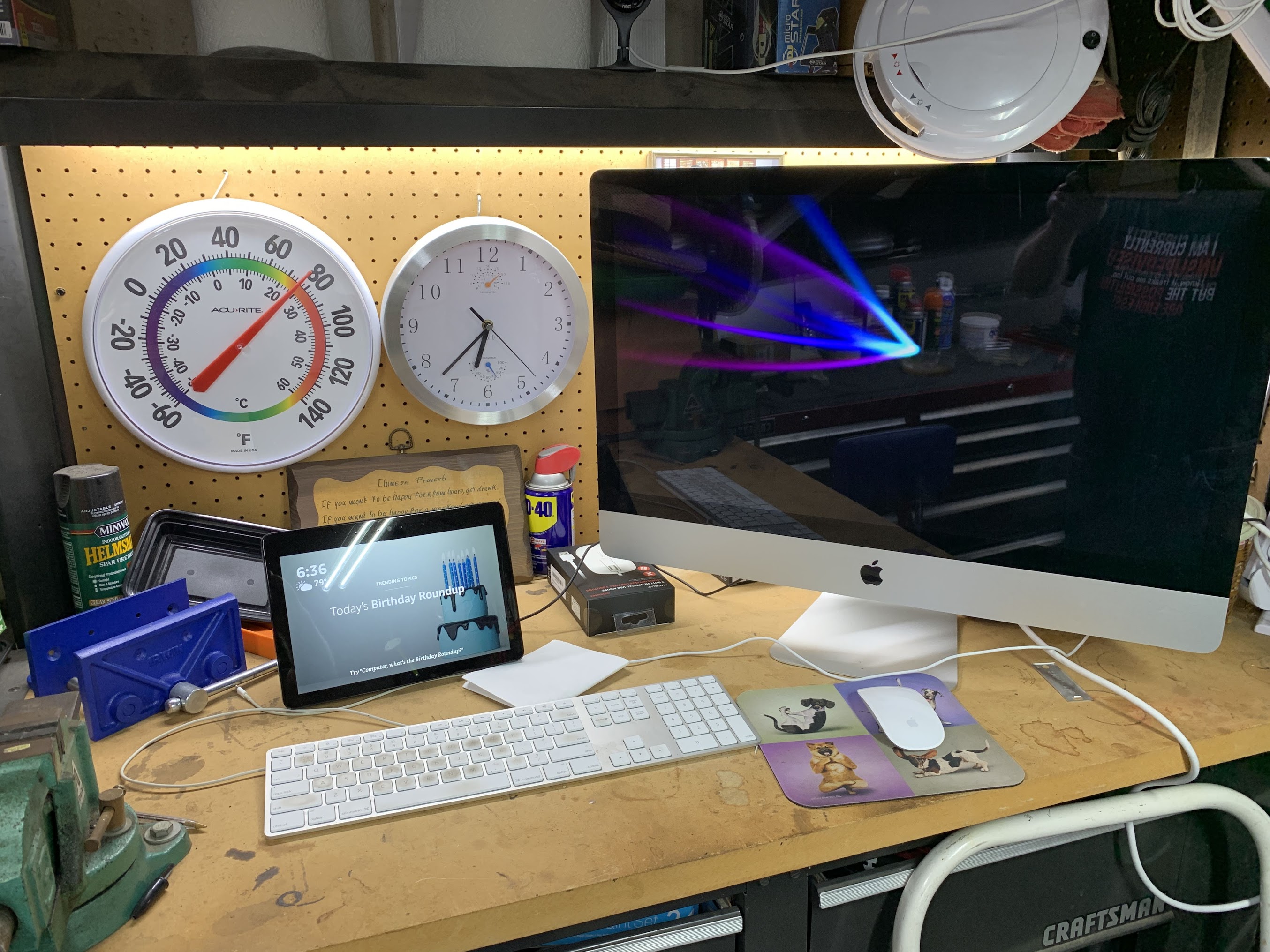 I love walking in the garden and looking at the fruits of our labor and just admiring how Mother Nature has created such an amazing world. There is hardly a place in the entire yard where we are not growing veggies or fruits.
Later on in the day, Sue pointed out the interesting sunset so I snapped a couple of pictures. A view from out back yard looking east:
What would a sunset be without looking to the west? The high tension lines run along the 605 freeway on the distance. As the sun sets, the view always changes and some evening we sit, looking of the front twelve foot sliding door and just let Mother Nature entertain us.
It's dark, Sue turned on the porch light so I have to come in from playing. We poured a glass of wine and asked Alexa to turn on the TV and headed for an evening with Netflix. We watched a movie this evening called "Tall Girl"…a little sappy but pretty good.
Summary: When the tallest girl in high school falls for a handsome foreign exchange student, she becomes embroiled in a surprising love triangle and realizes she's far more than her insecurities about her height have led her to believe.
We finished the evening with Designated Survivor, had our tookies, and then crashed. Monday is going to be busy!