Smoking will kill you… Bacon will kill you… But, smoking bacon will cure it
It was six years ago today that Sue and I were dancing at the Santa Elks when a call came in and I answered it recognizing it was Kat's assisted living facility caretaker. The voice on the other end said Kat was taken to the hospital so I naturally asked how she was. The voice said, you better call the hospital…we did. They said we better come straight away. We did!
On the way there we suspected it was not going to be good news. The attending doctor told us she had passed of heart failure. They tried to recessitate her but it was too late. Wow, it was a shock and although she was well into her 90's, I never expected that part of my life to stop!
She had an "OK" life but I will never forgive her parents for not allowing her to have a real life. They were quite controlling and just did not let her live a life she could have had. We still have her notebooks as she was a prolific writer but alas, she never was "allowed" to go to school until she was grown and then was criticized for "wasting her time".
I will always thank my beautiful wife Sue for having/allowing Kat join our family and being received with open arms! Like the rest of my side of the family, Sue was welcomed and appreciated for the wonderful and loving person she is!
Sue was so helpful when we had to move Kat from her life-long home into an assisted care facility. It must have made an impact because as Kat's dementia got worse, she would gradually "loose people". In the end, Kat did not know me anymore but Sue was ALWAYS recognized my Kat to the very end.
We began a new puzzle today entitled "History of Cars" and I expect it to be another challenge! Calling all car lovers, it's time to reeve up your engines, travel in style, and make your competition jealous! Cars throughout history are coming together in one of Eric's folk art paintings, polished to shine like they were made yesterday. Invented in 1886, the automobile became one of the top inventions that changed the world in better travel, convenience, and independence, thanks to men like Karl Benz, Henry Ford, and Louis Chevrolet. Shortly after, the first automobile race was held, bringing the sport quickly into popularity.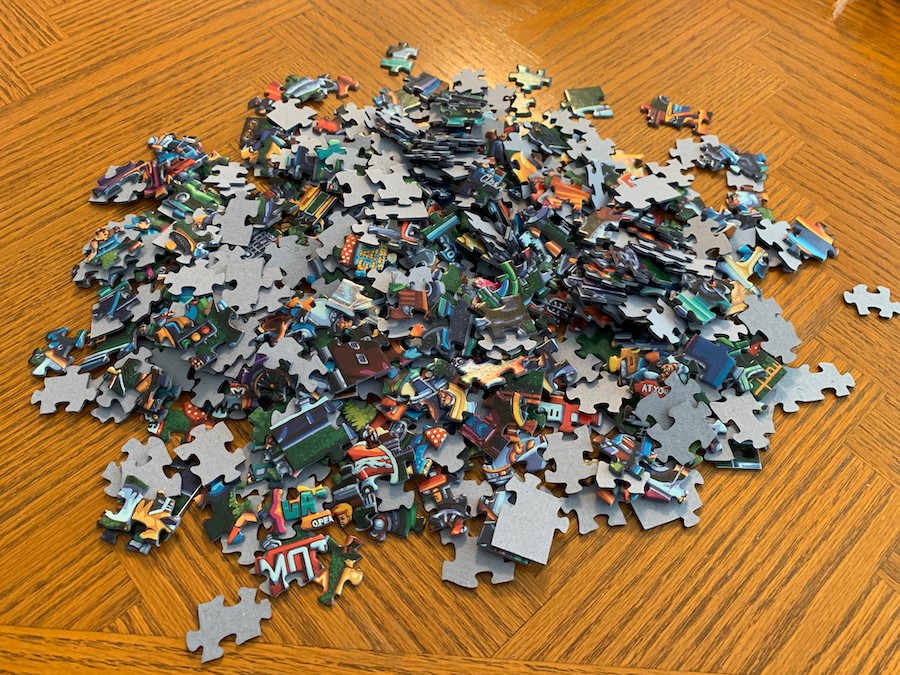 This is definitely a two-weeker! We just play with it a few minutes at a time as we pass by the dining room table.
Before lunch, I zoomed to the Royal Khyber to get Sue's cane which we left behind on Wednesday. While there, I picked up some vegetarian vindalo which we gobbled down for lunch.
On the return, I saw some trucks out front of our house… Yeah, we are getting the new LED street lighting! It was announced that Edison was going to replace almost 3,000 old incandescent lights with new brighter LED lights. They began about two weeks ago at the south end of Rossmoor and are working their way north.
In the afternoon I worked in the garage straightening up some things. There is always something to do in the shop! I found a brand new Bosch stud finder that I vaguely remember buying. So I tried it and wow, it was bang on!
Just at the end of a movie we decided to watch called Big Fish, I looked at the phone and saw I had received a call from Craig Colby. Craig, president of Topper's, was having a meeting at Old Ranch regarding using Old Ranch as the new home for Topper's. I dropped everything and headed over there but alas, I was too late. Sounds like they had a good meeting and we might have a new home for Topper's…we will know after he reviews the contract which will be forwarded tomorrow.
We got gussied up and pointed the trusty steed in the direction of Garden Grove for a coupe hours of dancing! Us "old folks" have a load of fun…. get our rendition of "patty cake". Nita and Pat were having a ball and rest of us just egged them on! I grabbed the phone and captured a few seconds of the madness.
I shard a picture from Robin from yesterday with the gang…it is snow at Robin's house in Corona! The hills behind their home was covered in the shite stuff.
Around 9:30 PM we decided to head for home as tomorrow is a busy day! We are going to a charity event for women returning to normalcy after bouts with alcohol. It is the Ashland Home sponsoring the event at the Irvine Imrov. Chuck Armstrong turned us on to the event!
Ashland Home's doors opened on Ashland Drive in 1998 thanks to a group of women with a vision to provide a facility in Orange County that provides support and loving care at no charge to alcoholic women. We are proud to support the event. The Improv is providing a light lunch and two "G-Rated" comedians for entertainment.
We just do not do the R/X-rated "comedy" as that is an oxymoron…dirty and funny don't mix…besides, any fool and draw a laugh being dirty…takes some talent to see the world and express feelings without crossing the dirty-line!