"Our hearts grow tender with childhood memories and love of kindred, and we are better throughout the year for having, in spirit, become a child again at Christmastime." ? Laura Ingalls Wilder
Today we are off like a rocket…Sue goes to the barber promptly at 10:00 am and then we needed to get an x-ray so clever me, I called to get an appointment. Just enough time to cut the har, dine at Gourmet Pies, and dash to Total Care.
Lunch was amazing…Sue devoured an entire sandwich! I had a large burrito and we both asked for "to-go boxes"…we didn't fill them…instead we filled us! Lookit this puppy!
Speaking of cute…. the sandwich-chomper is really enjoying the meal. She finished the whole thing!
After lunch, we headed for Total Care and got the x-ray the doc wanted…he is looking for the formation of kidney stones. We had a CD we will bring him on Friday.
After lunch, we both took a nap and it felt really good. When I woke up, I ran tot he store, got gas, and passed by the cleaners. Fall is in all it's glory. I stopped on our street and took the following picture. Who needs to east coast to see fall foliage?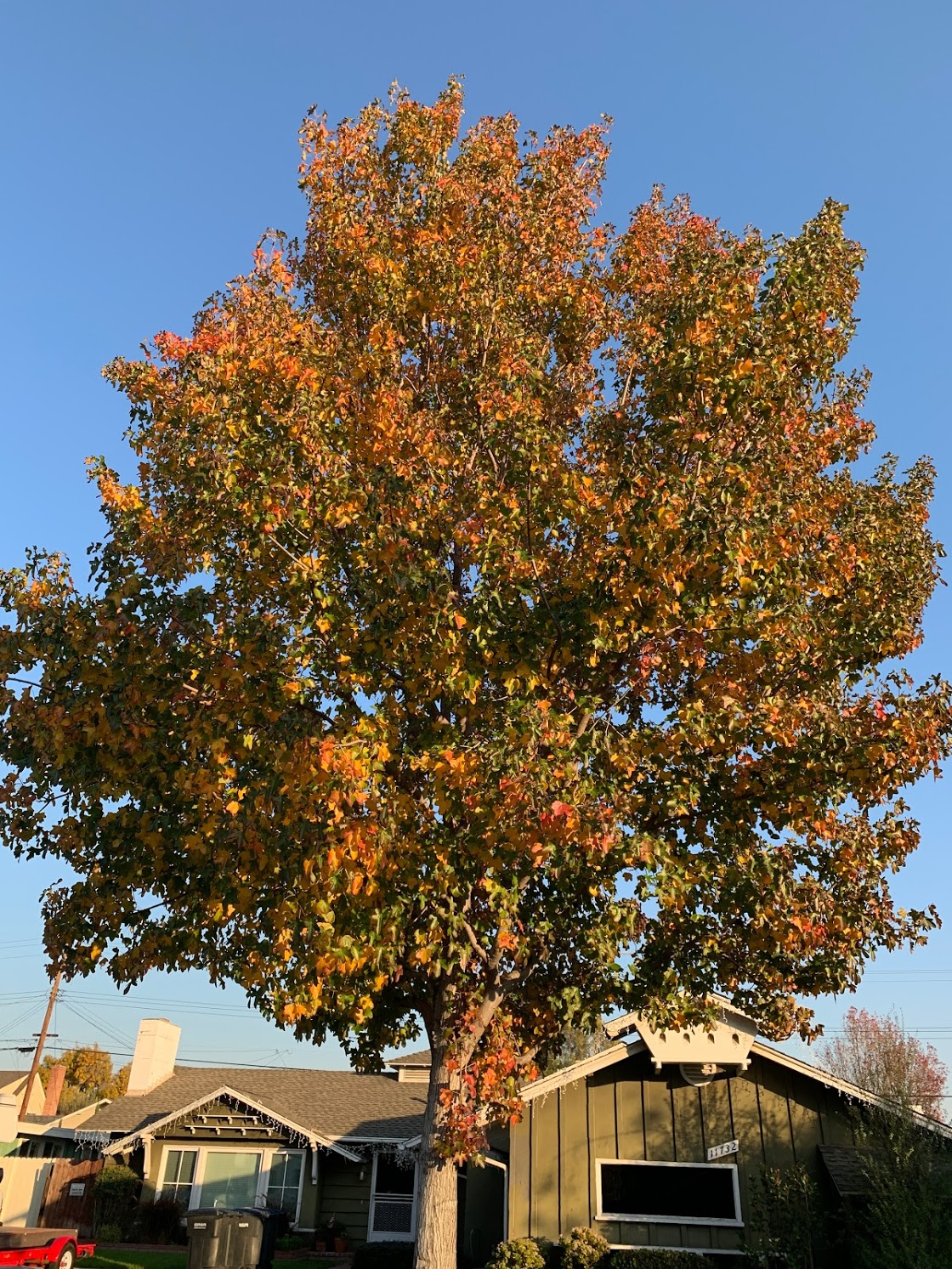 Christmas Memories #11 – Little Kitchen – Large Meals

We were not wealthy growing up with Mom being from Oklahoma having finished the 11th grade and Dad from Arkansas hacing finished the 6th grade, their careers were somewhat limited. Mom was a homemaker and Dad worked hard in the dime store.

Our extended family was the same…my uncles were glaziers, mechanics, and coal miners…my aunts were seamstresses, secretaries, and dental assistants.

At Christmas for Christmas Day we would drive to PAramount California and all the ladies would go into the small houses (my two aunts lived next door to each other and their houses were about 600 square feet each) and work in the kitchen. I have no idea how they did it as the kitchens were about the size of our master bathroom today!

They would sing, talk, yack, and carry on while creating the most beautiful and great tasting dishes ever made. Magnificent turkey and ham and prime rib, incredible ambrosia salads, awesome home made cranberry sauces, baked potatoes, and much more.

We would eat all over the tiny houses as one room would never handle the family. Saying grave was an honor bestowed upon the oldest of the family and that fell to "uncle" Otis and Aunt Alma. BTW, they were boyfriend and girlfriend back in Arkansas in the 1920's but married other people in the late 1920's and became close friends again ion the 1950's!

Dessert was also astounding as those women could make cakes and pies to die for…born natural bakers!
After getting back from the stores, we watched TV…three Christmas movies to be exact!
"Cancel Christmas" gave Santa a challenge. Santa Claus discovers children have become too greedy and must prove otherwise before his favorite holiday is canceled. Santa's mission is to teach two incorrigible children the importance of charity.
"Angels and Ornaments" Three suitors pursue a hopeless romantic after she makes a wish to find true love before Christmas. Although she is still upset from a recent breakup, Corrine (Gilsig) happily prepares for her favorite holiday: Christmas! A gifted musician, Corrine auditions for a solo in a community Christmas concert and plays Christmas carols on the piano to patrons of the music store where she works with childhood friend Dave (Abbey). Her holiday season gets an unexpected dose of romance, when Harold (Di Zio), a mysterious new coworker, tries to form a love connection between Corrine and Dave. With Harold's help, Corrine begins to view Dave in a new light, though she questions Harold's intense interest in her love life. Unbeknownst to Corrine, Harold is on a Christmas Eve deadline from a higher power to fulfill this holiday fairytale! As the clock ticks down to Harold's fairytale mission deadline, Corrine must decide if she will open up to Christmas love.
"Baby's First Christmas" was cute! When a pair of feuding colleagues, Kyle and Jenna are thrown together after their siblings, Jim and Trisha fall in love, they have to learn to get along in time for their nephew's birth on Christmas. Realizing Jim and Trisha have major money troubles, Kyle and Jenna band together to help and end up on a snowy New York adventure that will prove miracles really do happen at Christmas.
Needless to say we are movied-out so we crashed at 11:30 PM as we have a 9:00 AM appointment with the vascular surgeon tomorrow!