Thursday morning we headed to the course to meet up with Ernie for a round.  That was a memorable day as Paul ended up riding in a because of a bad toe.  The the 18th hole, Sue and Ernie had visitors.. Canadian Geese.
After a visit to the 19th hole, we headed for the Phoenix Club and danced until about 10:30.
Donna needed the bottle opened… Paul tried all the normal methods but alas, the teeth worked!
BriJanisms (things we learn about the UK) – Bangers and Mash! Bangers and mash, also known as sausages and mash, is a traditional English dish made of mashed potatoes and sausages, the latter of which may be one of a variety of flavoured sausage made of pork or beef or a Cumberland sausage.
The dish is sometimes served with a rich onion gravy. It can also often be found served with fried onions.
This dish may, even when cooked at home, be thought of as an example of pub grub — relatively quick and easy to make in large quantities as well as being tasty and satisfying. More up-market varieties, with exotic sausages and mashes, are sold in gastropubs, as well as less exotic alternatives being available in regular public houses.
Along with jellied eels and pie and mash, the dish has particular iconic significance as traditional British working-class dishes. Similarly, in the north, black pudding and leeks have a similar reputation.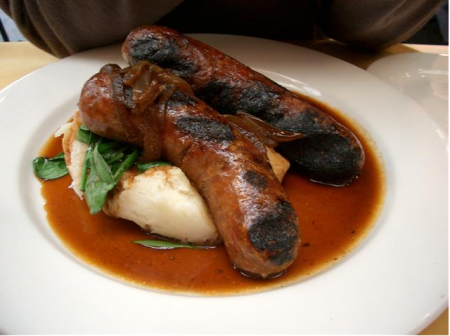 Etymology: Although it is sometimes stated that the term "bangers" has its origins in World War II, the term was actually in use at least as far back as 1919.[1] The term "bangers" is attributed to the fact that sausages, particularly the kind made during World War II under rationing, can explode under high heat if not cooked carefully; modern sausages do not have this attribute.