?:*´¨`*twinkle twinkle little star…point me to the nearest bar *´¨`*:.? HAPPY FRIDAY!!!! (Note: too bad we don't drink!)
First things first…to the puzzle. We are making progress. Currently there are three clumps coming together and hopefully they may be connected by next week!
The Silver Ghost was wanting to take a drive so she got to go to the shoe repair! Three pairs of shoes are now getting the TLC they deserve. Two of the pair are over 15 years old…had them when I was working. They go to the Shoe Spa every two years and get their special treatment. Another few years and they will be broken in!
After the run to the shoe repair, the great Silver Ghost turned north and we headed to the 60 minute eyeglass shop! I selected my new glasses, gave them the prescription, and found out the 60 minutes applies…if, and only if… they have the lenses in stock. Well, duh, out of stock so I get them Tuesday! It's no biggie as my eyesight is now 20-30 which is pretty good for an old man!
Returning home, Sue and decided to send flowers to Portland where Irene is staying with her daughter for two weeks. We miss her a lot. She got the flowers and sent back a nice note.
I did some quick watering in the back yard as we still have corn, tomatoes, tomatillos, eggplaant, raspberries, Anaheim chilies, watermelon, and pumpkins growing.
Lunch time…so I fires up the griddle and gets out the skillet…time to be creative. Two bell pepper halves were selected for their color…yellow and red…and my dicer (me) when into over-drive. Since bell peppers have seeds and come from flowering plants, they are actually fruits, not vegetables.Lunch time…so I fires up the griddle and gets out the skillet…time to be creative. Two bell pepper halves were selected for their color…yellow and red…and my dicer (me) when into over-drive.
Sautéed in butter until soft I threw in some small chunks of pork sausage and some soyriso and let things simmer. On the griddle there were five nice pieces of center cut bacon sizzling along with some 10 grain bread being toasted. When the pork/peppers were about ready, I tossed in two eggs and salted and peppered them stirring every 30 seconds.
Did You Know? The bell pepper tops the list of foods with the highest levels of Vitamin C. A large red pepper provides more than 300% of your daily requirement of the nutrient; and has three times more Vitamin C than an orange.
I fried up another eggs and put it onto the toast…the time was here. Using my newly acquired tossing skills, the bacon, eggs/toast, and peppers/sausage/egg combination hit my nice warmed plate…time to dine!
We had a super lunch and of course afterwords I always do dessert. Today Sue had vanilla & chocolate ice cream with fresh figs from our tree. Pour me…I did the low fat Cool Whip with raspberries.
To the shop where I did some work on tool instruction manuals making sure I had a manual for every power tool. On the way into the house for my beauty nap, I put chemicals into the spa as I may use it later.
By 2:00 PM the old buzz saw was churning out the z-z-z-z-z-z's. We watched a little TV and at five hit the showers as we are off to the Garden Grove Elks for a dinner dance.
The lodge was serving Mongolian Beef tonight and it was outstanding! It even got better because when I tried to pay the bill, someone already bought out dinner and it wasn't anyone from our table! Wow!
While at the Elks, Joe…our Son…called and said howdy. He ran into a guy who knew Sue and I from the Apollo program. It's a small world. Our grandson's birthday was today…TWELVE YEARS OLD… So now we have a 31, 29, 24, 20, 13, 12, and 10 year old grandsons! Amazing!
Returning home we again studied for our medical school activities by watching Grey's Anatomy and ER. Tookies at 10:30 PM. One more season and Sue and I are going to wear stethoscopes around our necks when we watch TV.
We retired at 11:30 PM and while I was sitting in the office writing the "Great American Novel" I heard noised in the fig tree. My ears perked up..I listened again…some thing or some one was in the fig tree. Knowing this is the case when the figs begin to ripen, I reached for by 5,000 lumen LED yard-lighter and snapped the switch to the on position.
Rattle..scamper…stare! It was a racoon complete with mask on…he had no bad to carry the loot so I assumed he was eating and leaving. Well, I lunged for the water faucet, aimed the high pressure nozzle, which was ready to go, into the tree and cut loose with a water blast suitable for taking chrome of a bumper hitch! More scampering was heard.
The critter was gone by alas, the stream of water hit the tree trunk and send a nice quantity of cold H2O 180 degrees from whence it originated…me! Damn that was a) cold and b) a surprise! So, I am standing outside with a hose squirting critters while looking like a drowned rat myself. Why me?
Heading inside, to dry off, I heard a small noise and I turned around…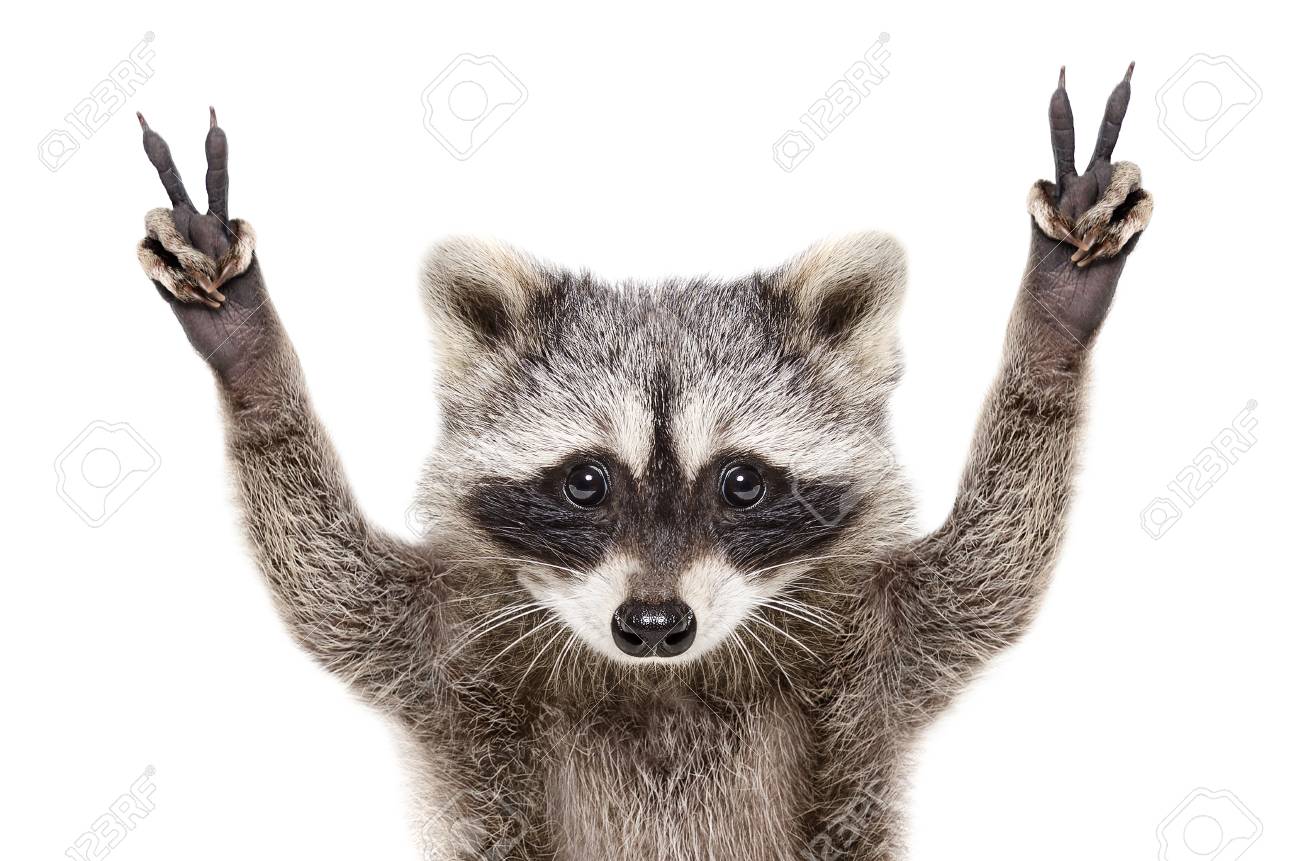 Sometimes you win…Some times you lose!