?:´¨*twinkle twinkle little star…point me to the nearest bar *´¨:.? HAPPY FRIDAY!!!!!
First things first… I made three more apple doo-hickies and took them next door…I really want Del's opinion on my cooking!
Next was orange juice! From the "Blood Orange" tree! We had some kids stop by this week after school and they were looking at everything with their Mom so I invited them inside the gate so they could see more. When I said "Would you like a blood orange" their faces lit up like Christmas Trees! Guess it is the word that gets them going!
Indeed blood red!

20 oranges make 1 1/2 quartes
It's going to be a good day! I decided not to walk but go attack my electrical system in the front yard…MISTAKE! So, here is the deal! I could turn all the wall lights on and off form my phone but after the last rain, I noticed two of the lights were on when the power was OFF! Say what?
I measured, probed, cussed, and scratched every part of my anatomy and am still puzzled! When the Belkin plug is commanded off, it still puts out about 25 VAC…enough to excite one of the LED lights into blinking! When it is turned on, the lights all go on. Do I have a ground loop somewhere. I worked on it for an hour and gave up for the day!
Enough,,, we ate lunch with Sue fixing the Basque Garlic Soup we made two days ago! Wonderful…easting at home is so much better than going out!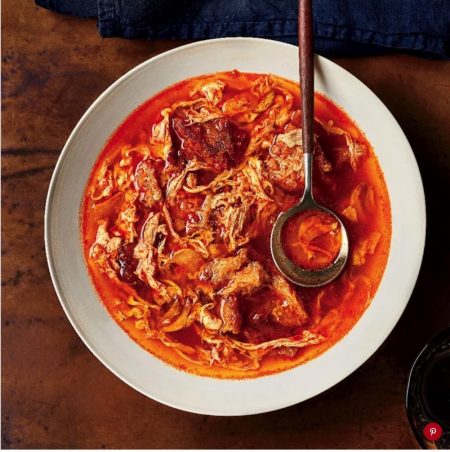 Then time for errands! I went to the cleaners where they cleaned me out…$135 for the cleaning but it was OK because they found my $160 ear buds I have been missing so it was "a wash". To CVS where I did battle with the pill person. They also tried to sell me a $130 opioid allergy nose spray…what the heck is an opioid? Turns out that some people are allergic to cortisone and they need an emergency nose spray… I decided three days later I did not need it! Yeah! Saved money!
Then to the market for cards, tookies, ice cream…you know, the necessities of life. After returning I battled the light circuit one more time and gave up again… I even ran the air compressor down the underground conduit to make sure it did not have water in it? Tomorrow is another day!
There is an old saying,,, "You reap what you sew". So, here I am minding my own business and I get a text from our son, Joe! His sense of humor appears to have a weird connection to mine because he presented the following:
So we were supposed to go to Rondeliers but it is an hour drive and after this frustrating day and the possibility of rain, we decided to stay home and go to GG Elks. We had a part at the Elks with the Branders, Zaitz, Finch's, Woolston's, Irene and others! We departed there just ahead of the rain about 9:30 PM. We would have stayed longer but Street Corner Symphony started playing loud again and we will not stay where the music drowns out conversation!
We watched Mrs. Maisal and a Blue Bloods before going to bed. I wanted to watch Madam Secretary but they had the second part of "child separation" feature on and I refuse to watch nonsense. Liberal politics BS at its best! If people come across the border, they know they are doing wrong…if they drag children then they should be punished! If they are separated, it is for a reason as we are NOT bad people. We need a wall….NOW!