Fact: The English word 'Halloween' comes from "All Hallows' Eve," being the evening before the Christian holy days of All Hallows' Day (All Saints' Day) on 1 November and All Souls' Day on 2 November.
Last night was the first time in a year that Mary and I sept apart as she was fighting a cold, and it was too close to the operation for me to catch anything.  I went to the guest bedroom down the hall.
I could not sleep, so I spent a lot of time in the office.  Finally, I got to sleep at about 4:00 AM, and the phone went off at 5:06 AM.  "Your Security System Has Seen Someone In The Front Yard!"   I pushed some buttons, and a spirit floated up the walkway.
Did You Know?  In Greek mythology, Chronos, called Father Time, was the king of titans and the father of Zeus.  Cronus was a harvest god and carried a sickle, a tool used to harvest grain.  The Grim Reaper holding a scythe is derived from a combination of Chronus and Cronus.
On the bright side, it was not an older man with a scythe over his shoulder.  I was getting somewhat worried.
The second alarm went off, and I spotted who it was!  The logo on his back gave it away; Amazon was delivering.
After my heart settled down and I knew I wasn't being whisked away, I walked to the backyard to check on the progress.  We are ready to pour next week!
We then got ready to go to Huntington Beach to check Colleen's eyes by Mary.  After the check, we went to the Huntington Beach pier and had lunch, and it was so foggy we could not even see the pier.
We came home, and we all took a nice long nap, hoping to get better from our respective colds.  On the way, we stopped at Dunkin Donuts and got iced lattes.
It is the season, and we are getting started.  I asked Mary, "Why do demons and ghouls hang out together?"  Being an intelligent lady, she immediately replied, " Because demons are a ghoul's best friend!".
We reordered Mary's favorite Halloween decoration and plan to put it on the flag pole tomorrow.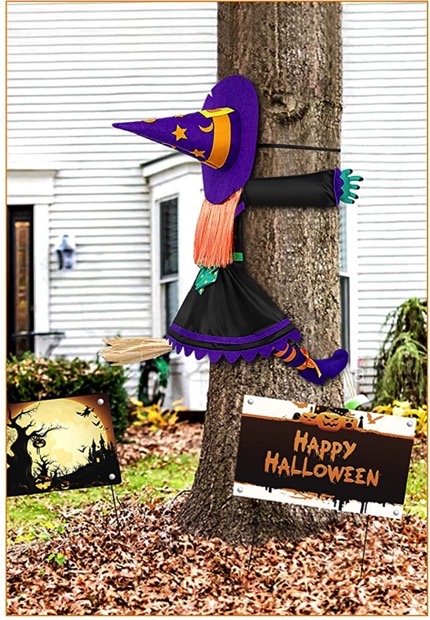 We put the finishing touches on the decorations, although more are coming in every day via Amazon!  See what we have done so far!
We were a little under the weather, so we went to bed early.