What do you do with a dead chemist? You, of course, barium.
Why two months?  Well, it was two months ago I asked Mary out to Patty's Place for dinner.  We have been enjoying each other's company and getting to know each other ever since.
I was up with the chickens this morning, the very lazy chickens.  It was a wonderful weekend, and my carcass began to move around 7:30 AM.  I paid some bills and called the insurance company to get the new car on my policy.
More importantly, Dr. Vannata was called, and I got an appointment, so see him at 3:00 PM.  Mary noticed an irregular heartbeat over the weekend and insisted I see the heart guy.
Lunchtime was lazy for me; I nuked a bag of chicken fajitas.  Low cal and high protein, just what an older man needs!
Dr. Vannata told me Mary's diagnosis of heart issues was right on.  Something is going on inside of the heart. From a cursory exam, it looked like it could be treated with medicines or other devices.  OMG, here comes the rack!  The guillotine?  I was feeling my thumbs going numb as I was tied to the fence!   He decided to monitor me for a day and see what happens.
I must turn in the recorder tomorrow at 4:20 PM and then make appointments for two other tests.  I hope I can study for them!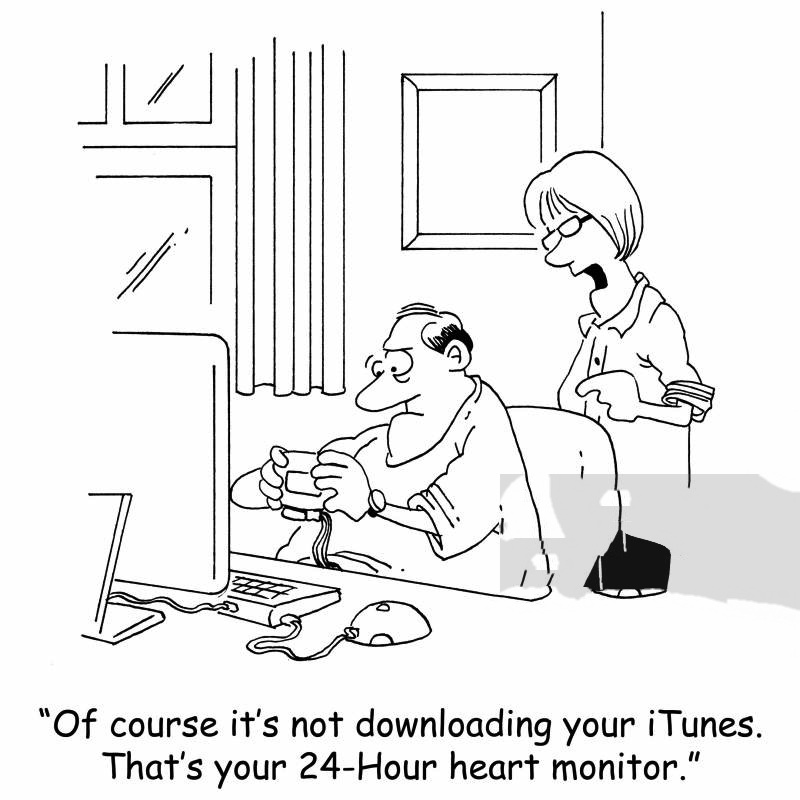 I am now sporting a new look, with wire, clips, sensors, and hookups.  With my shirt off, something I seldom ever do in public, I look like a Christmas Tree out of  Disney's Nightmare Before Christmas.  OK, I can do this, but I fear that I could get caught in the maze of wires and choke myself.
Now the day gets better, and the text arrives via the trusty iPhone.  The message was, "I'm on my way!".  That is the secret code for "work is done, let's play!"  The Silver Fox was primed and ready to go! As I sat in the captain's seat and I merely mumbled the name "Mary," the Silver Fox came to life, backfired twice (I think he was clearing his throat),  gunned the silent electric motors in defiance of the posted noise abatement signs, set the radio to the NASCAR channel, and slowly rolled out of the driveway heading due east.
The Silver Fox is pretty smart as he turned into Ralph's parking lot and parked.  "Why Ralph's," I asked the Fox.  It became apparent; Mary revealed her nefarious plans for this evening; she used the "A" word, artichokes.
That means I am doing a "meals on wheels" delivery to Jan on my way home, which means we better have enough artichokes for Mary's lunch tomorrow and Jan tonight.  Two more artichokes were needed.
Now we are ready to fly!  Entering the freeway at breakneck speeds, the Silver Fox zoomed right up to 64.9 MPH without hesitation.  My ETA 5:24 PM, courtesy of the Lexus GPS.
Mary was a few minutes behind us as she had to return to the office to retrieve her phone.  See, she is human, after all!
We visited for a few minutes, had a glass of wine, and then the work begins. Mary gave me a black apron to wear, and I found out later why!  Black does not show spills; after all, I am a boy!
We work well together in the kitchen together, and I am getting to know where everything is. I love this part of the day, working together to make a beautiful dinner to sit down to and continue our conversations about life, liberty, and the pursuit of happiness.
I slaved over the onion and then the artichokes.  I heard the faint sound of a cracking whip in the background, so I moved with the utmost speed while keeping track of where my fingers were at all times.
The chopping sounds I made sounded like a Tommy gun from the 1930s mobster movies.  The blade was traveling near the speed of sound and the diced onions piled up rapidly.  I dressed out the artichokes and readied them for their plunge into the boiling water—a little snip here; a little snip there; everywhere a snip snip.
It was like magic; this girl cooks spaghetti in a white jacket?  If that were me doing the cooking, the coat would look like it had been to a murder scene.  How does she do that?
Dinner is about ready, the meat and sauces are simmering together, and the pasta is ready to plunge themselves into the boiling hot water to make a meal for us; gotta love pasta. They are so thoughtful and self-sacrificing!
Dinner is now ready.  My job, should I choose to take it, is setting the table, lighting the lights, chasing off any wildlife (except our own), and making sure the wine is topped off.
After a few words of grace, we plowed into the meal with vigor.  Since we had spaghetti sauce, it was an excellent decision to dine outside; that way, the walls do not have to be wiped down afterward!
After dinner, we cleaned up, and with both of us working together, it seemed like a five-minute process.
Before TV, we called Robin and talked with her and then Vicky as we wanted to know about the chair Del used Sunday.  Elvira used the chair in some of her shows! Somehow through magic, Vicky found a neighbor who loaned it to then for the "drive-by birthday."
We watched "The Amazing Miss Maisel" season one, episode 4 before I headed out.  It's a work night, so my curfew is 9:30 PM.  Mary needed to crash, and Scout wanted one more visit to the backyard.
I got my goody bags, one for me and one for Jan, and headed to Jan's home, just a few miles away.  Jan and I visited for a few minutes as it was beginning to get chilly outside. I need to get a unique sounding horn, so she knows "Meals On Wheels" delivery waiting. Try the one below (click the arrow)!
The Silver Fox turned westward, and we were off like a herd of snails tickling the speed limit as we zoomed home.  I was in the house by 10:15 PM, when Vicky called and needed some IT help! I popped over and got a chip containing pictures from Sunday's parade.  It will be fun to put the images altogether.
On my drive home, I thought of what Mary said this evening, which shows what kind of lady she is!  Mary said she was happy for all the years Sue and I had together because that made me, me!  What a lovely and caring thought. I am a lucky guy!