Knowledge is knowing a tomato is a fruit. Wisdom is not putting it in a fruit salad.
Today we have the doctors at 10:00 AM, lunch with the Duda's at Noon, and Topper's Dance Club at 5:30 PM. We can do this but we must take super care of Sue;s back all day!
This weekend is going to be long as we are awaiting the arrival of "Life Day". Life Day is the celebration of Sue being with us after receiving the diagnosis of cancer and not given a long time to have!
October 23, 1997 cancer found and confirmed by Dr. Mark Janis! Life Day #1 was October 23, 1998 when one of many scans were done revealing the small cell lung cancer was amazingly gone!
So, after receiving the diagnosis we went after a cure with everything we had..alternatives, chemo, radiation, meditation, etc.  We decided that going to the "Happiest Place On Earth" would also help so we bought yearly passes.  We go all the time but on October 23rd, it is kinda special. We go every year and the Duda's have joined us since 2013! This year the Liles (Joe, Amy, and the varmits) will be joining us for this special day!
Did You Know? All in all, small-cell carcinoma is very responsive to chemotherapy and radiotherapy, and in particular, regimens based on platinum-containing agents. However, most people with the disease relapse, and median survival remains low.
In limited-stage disease, median survival with treatment is 14–20 months, and about 20% of patients with limited-stage small-cell lung carcinoma live 5 years or longer. Because of its predisposition for early metastasis, the prognosis of SCLC is poor, with only 10% to 15% of patients surviving 3 years.
The prognosis is far more grim in extensive-stage small-cell lung carcinoma; with treatment, median survival is 8–13 months; only 1–5% of patients with extensive-stage small-cell lung carcinoma treated with chemotherapy live 5 years or longer.
This year is twenty-one years cancer free!  As I tell everyone (annually whisper so Sue won't hear me), "She a tough old bird!"
It's a hop, skip, and a jump to visit the urologist and at 10:00 AM is are planned arrival time eventhough the appointment is at 10:30 AM.  We want to be out early so we can go to lunch with Robin/
While waiting for the doctor, I caught up on my latest Spanish lessons.  Today's word is "Nada"!
We got a date for the surgery; next week on Wednesday.  It's an outpatient and we got early morning, well, 9:00 AM meaning she has to be in at 7:00 AM!
We were out of the office at 11:15 AM and slugging out way down the trusty 605 to the 91.  Side street would be shorted=r but with Sue's back so tender, a longer ride on a smooth no-stopping freeway was a better idea!  Panda Inn, get ready for Bob & Robin and Sue & Paul!  
We laughed, giggled and coordinated the upcoming Life-Day, Thanksgiving, Christmas Play, Christmas Dinner. and New Years Eve!  Plus, Robin is going to attempt a "reunion" at a happy hour for our old group, some of whom we have not seen in many years!
We returned home via "The Lab" as Sue needed to give some more blood pre-surgery!  After arriving home, Sue rested and I went to the computer room and continued my fight with Carbonite. 
I had bought their backup service for four years now and for the past three it has not worked.  I finally decided either it is going to work or I quit so I talked to them now every other fay for a week.  My backup is stuck at 93.3 GB (442351 files) and it says it needs to backup another 62 GB,  The battle will continue on Monday.
We we got gussied up and headed to Topper's knowing we would not stay the entire evening. We attended the Board Meeting as we are on the Board as the Newspaper/Photographers.
We sat with the Zaitz, Branders, and Jan Mongel so the evening was full of chatter and other hilarity.  Kathy Roberts also joined the fray.  We had 56 members there this evening so it was a pretty good turnout!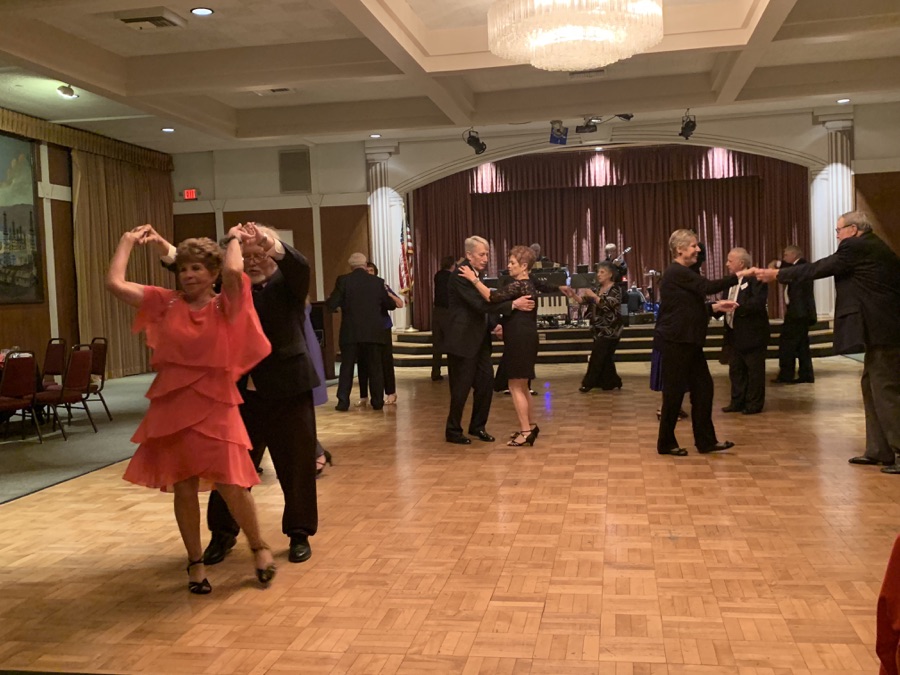 The pain killer began to wear off about 8:30 PM so at 9:00 PM we departed which was OK as the dance only goes until 10:00 PM.
Returning home, I fixed some tookies and we watched three episode of Gilmore Girls… another season and a half and we are done. Saturday is a day of rest except for perhaps Garden Grove Elks on Saturday evening.