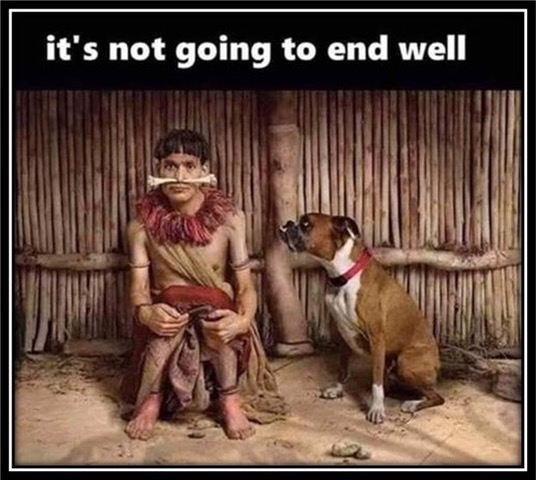 Considering we went to bed at 1:00 a.m., Mary decided to sleep in and requested breakfast delivered to the room at 10:00 a.m.  She has her first conference meeting at noon.  Meanwhile, I woke up at 8:00 a.m. and worked on the Daily Diary.
Did You Know? Bar Harbor got its name from the sand bar that connects Bar Harbor to  Bar Island  at low tide. The sand bar goes underwater at high tide and there is a sign warning people!
I studied the "walking tour" of Bar Harbor.  I got excited when I saw an Indian Restaurant that specializes in lobster prepared in the Indian method!  Tandoori Lobster is made with lobster tails marinated in spices and yogurt grilled in a tandoor grill and served with yogurt and mint sauce.  These grilled lobster tails taste as good as the clay tandoor oven grilled ones and are the perfect appetizers for any elegant meal.
When Mary finally came too, she sashayed over to me, batted her eyelashes, and kissed me;  I immediately knew she needed coffee.  I donned last night's attire, raced to the restaurant, and got her hot coffee with half and half.  Then I swam through shark-infested waters to bring the coffee to my baby!
Did You Know? Cadillac Mountain is located within Acadia National Park. It is the highest point on the United States' East Coast.  It is 1530 feet tall.  Our Mt. Wilson in LA is 5,800 feet tall!
Mary and I walked to her conference center next door to our hotel.  The white car behind the sign is ours for the week.
Mary enters, and I exit, returning to the hotel to study the street maps and walk for two hours around time.  A tourist I became.
I saw many attractive houses, all 100 years old or older.
I strolled around the town for the next two hours, covering several blocks.  On my way back, I walked on the next street over.  The pier had some fascinating places to eat and drink.  Since Mary wasn't with me, I settled for a Canada Dry ginger ale and a "homemade" blueberry pie.
I continued my walk and came across boats moored in the harbor.  We plan to take the smaller one for a two-hour tour at 5:00 p.m.  We took the Freedom 7 just a few hours later.
After exploring the tourist area on foot, I found various sweatshirts that caught my eye.  There were so many options, but I eventually settled on a cute stuffed fog as a gift for the doctor.  I also picked up a new coffee mug that proudly displayed the name of Bar Harbor.
As I walked through the graveyard of the old church dating back to the late 1700s, I couldn't help but notice the prevalence of granite walls and buildings.  It's no wonder they use so much granite, as it lasts forever.    I came across a wall over two hundred years old and was amazed at how it looked brand new.  The craftsmanship and durability of the granite truly stood the test of time.
After walking for two hours, I returned to the hotel.  It looked different in the light.
While at the hotel, Mary called and invited me to the expo, where we visited various companies advertising their products.  Some fantastic things are happening there.  One interesting item was a lens they put into someone's eye, and after it's installed, they use light to "tune" it.
Once again, I venture into the wilderness of Maine, searching for super glue, cold medicine, and a particular item for Dr.
I located the pharmacy and purchased all the items on Mary's shopping list.  Additionally, I couldn't resist buying a small package.  I discreetly placed the items in Mary's carry-on luggage, under her pillow, and two on her side of the bed.  Unfortunately, the loud screams from the blood circulation could be heard for miles.
After the meeting, we returned to the pier to find that the tide had receded significantly.  This was surprising, given that the water had been up to the sea wall earlier in the morning.
There were lobster signs everywhere.  We may try this one tomorrow evening if we want another lobster.
The boat ride was about an hour and a half, and sailed up the coast.  The captain was quite full and knew this area well.  We learned a lot about history and who lived in which of these mansions and when.
On board, we hung out with Steve and Diane for the rest of the evening.  Diane is a doctor, while Steve works as a financial advisor.  We enjoyed our time together as we indulged in four glasses of wine.  By the time we had our lobster dinner, we were all in high spirits.
It was dark by the time we returned to the pier.  We had two blocks to walk for the Lobster Bake.
After the walk, we were hungry and were offered BBQ, steak, or lobster.  This little guy came to my table and sat quietly next to me.  I picked one for Mary, but Mary looked puzzled; there was no zipper.  Being the consummate gentleman, I "de-shelled" her little guy and gave Mary the goodies.
How does a lobster answer the phone? "Shello?"
We needed to have a face-to-face discussion about the situation!
Where does a lobster keep its clothes? In the clawset!
The poor lobsters must feel bad!
After de-shelling three of these babies, we had a bone plate stacked twelve inches tall.
Did You Know? Each year, Bar Harbor visitors consume roughly 5,316,000 lobsters. These lobsters are caught
directly off the spectacular rugged coast. In the early years, lobster was inexpensive and nutritional. So, it was often served to servants and prisoners. It is now a coveted delicacy. Maine lobsters taste better and are more tender than lobsters found elsewhere because of both the water temperatures and rocky terrain. The Maine lobster industry is highly regulated to ensure its sustainability.
The girls were also stuffed, and the wine helped a bit!
We tried to get Steve to look our way, but the wine gripped him.  It appears boxed wine is not his favorite.
We look forward to having dinner with these people tomorrow because we know it will be a fun and enjoyable evening.  It would be a guaranteed giggle-fest!
We left the bake at 9:00 p.m., exhausted, and quickly fell asleep.  It had been a busy day, and Mary needed to wake up early at 7:00 a.m. for a breakfast meeting.
We crashed, readying for another fantastic day in Bar Harbor, Maine.