Sadness and grief are the price of admission for the experiences of joy and love.
Sue loved celebrations and especially birthdays, as long as it was NOT hers.  Never would she ever draw attention to herself, always taking care of others and lavishing her feelings in unique, and often unknown, ways on everybody else!
The party for all three grandkids (Theo, Zack, and Nick) was at Old Ranch, and she had to pick out the cake, make sure the cake was exactly what she wanted for them, and made sure everybody had a great time.  In 2014, it was getting hard for her to stand for a long time, but when she needed to be up and visiting everyone, she ignored the pain.  She was indeed an extraordinary lady.
Today I beat the rooster getting up, but I did not sit on the fence crowing this morning.  The old shoes that came flying across the wall yesterday to quiet me down hurt; I learned quickly!
Robin stayed over last night.  I just needed a human to talk to and who better than my daughter.  I only wish Colleen were on the west coast as she is also delightful to be around. I had toast for breakfast even though I offered Robin a protein delight like last week (eggs cooked in bacon grease, ham, sausage, and crispy bacon).  She had coffee and read the news on her tablet, and I finished off yesterday's "daily diary." We discussed the movies from last night, and now I have to find another John Wayne movie for her to see next Tuesday.  I may watch either "The Shootist" or "True Grit" because I know she will like them!
We decided to take an abbreviated walk even though we should have stayed inside, according to the video below.  Play the video and get ready to rock!
OK, decision made, time to walk!   We walked twice today, once around the extended block, and once at COSTCO, so we ended up with the mileage needed (almost four miles) but in two pieces!  This morning we went south instead of north, and we passed by several people we know.  Time to put the cell phone to work!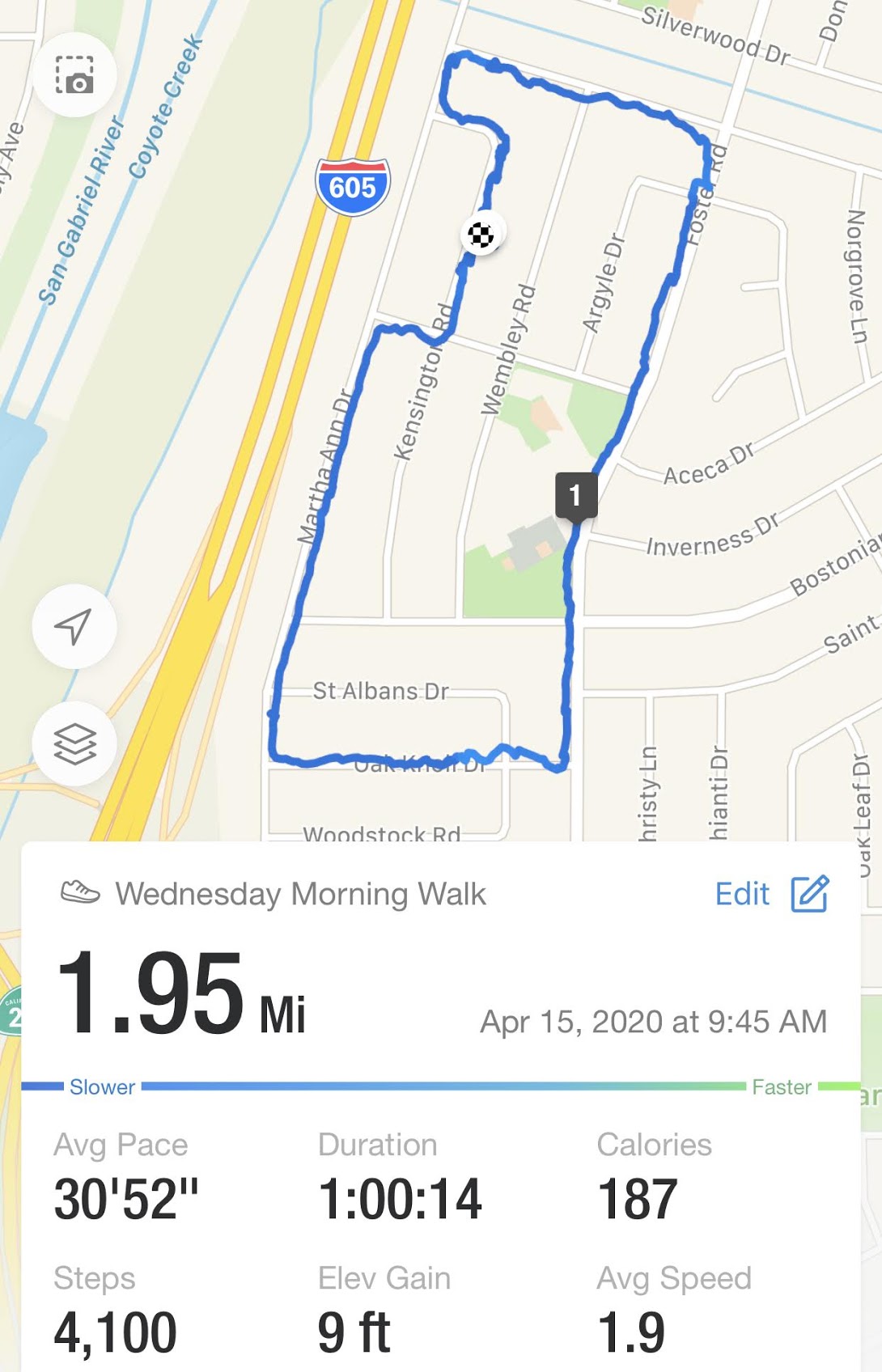 While on our walk, I called folks we knew along the path, and we waived and visited with them at a long distance.  I called the Seburns', Woolston's', and Burns as we progressed toward home.  We talked to Kim for quite a while.  I had NO ideas she lived within crawling distance of my house.  I could throw a rock and hit her place.  Now I have two people I can call about cooking who live within three blocks.
The "chalkers" had been out in full force in the past couple of days.  The artwork looked pretty good, especially since there has been no rain to wash the work away.  Rebecca mentioned she could not find chalk and resourceful Colleen, from 3,000 miles away, found some on-line and ordered it for the west coast what she didn't realize it that she ordered 30 pounds of chalk. We will have the artwork for years!
Stained glass window??
I just stopped, aimed the camera up, and took a shot!  Clear blue skies from horizon to horizon.  The springtime green was beautiful against the blue sky backdrop!  In another few weeks, this tree will be loaded with spring leaves and will await summer so it can provide shade for its owners.
More artwork ahead and I would suspicion an older person drew these as the colors were in perfect harmony, and you could almost see the blossoms move in the breeze.
We came home, and the folks were still cleaning, so we took off to COSTCO.  There was a long line, but since people were six feet apart, the time in line was about six minutes!  I could handle that!  We just "shopped," something I never do myself, but it was fun seeing all the stuff they had.   I especially like the electronics section!
Robin wanted a new TV, and I just wanted to wander around and see what I desperately needed.  I am thinking about a 40″ TV in the office so I can listen to the news while I work.  I have a pretty good place for it, but I need to take measurements first! $400 for a large 4K TV, too good of a bargain to pass up!
We bought two hot dogs and cokes at COSTCO.  A whopping $1.39 per meal, we splurged a bit, but that's OK.  We decided to dine in the park again, so I called ahead for reservations.  The phone answered, and it was a Sea Gull, and obviously, he did not speak good English.  He did ask, in pigeon English, "Will you be so kind as to leave your leftovers on the table, me and the boys are hungry."  We lucked out. Our table was ready when we arrived.
A pidgin language is a grammatically simplified means of communication that develops between two or more groups that do not have a language in common. Typically, its vocabulary and grammar are limited and often drawn from several languages. It is most commonly employed in situations such as trade, or where both groups speak languages different from the language of the country in which they reside (but where there is no common language between the groups).
Fundamentally, a pidgin is a simplified means of linguistic communication, as it is constructed impromptu, or by convention, between individuals or groups of people. A pidgin is not the native language of any speech community but is instead learned as a second language.
A pidgin may be built from words, sounds, or body language from a multitude of languages as well as onomatopoeia. As the lexicon of any pidgin will be limited to core vocabulary, words with only a specific meaning in lexifier language may acquire a completely new (or additional) meaning in the pidgin.
Oh yes, the COSTCO walk is below, and no, we were not intoxicated, it just looks that way!  We walked into the store, walked around the electronics department, and then up and down most aisles checking out the goodies.  We were both surprised that we had stepped almost two miles inside the store.
Robin departed for home after we arrived back at the homestead.  I spent the afternoon in the garage, attempting to make more room and figure out how to expand the shop.  I do not need as much room in the garage adjacent to the car as I used to since I will be the only one getting in and out of the car?  I put a bunch of stuff out on the parkway, hoping folks will take it with them.  Included was a 30″ computer monitor, never even opened plus several sets of almost new tennis shoes and an electronic picture frame.
No dinner tonight, I am hoping to break the 200-pound barrier tomorrow.  Then I can celebrate with a double burger and two chocolate Sunday's, just kidding.
In the living room, I listened to Fox News and saw some of the President's Virus Update.   I am encouraged, and it is so apparent that the liberal media just want to destroy the economy to damage our country as much as they can, horrible people.
I plan to paint the front entrance-way and then go to the hardware store and get some wood patch to fix the termite damage before I paint the trim.  There will be lots of up and down the ladder tomorrow.  Zack said he would stop by and paint the highest points as being my age, no balancing acts on the top rung of the ladder for me.