I'm Serious: The advantages of easy origami are two-fold!
Off and walking this morning as the bathroom scale just gave me some horrible news…if I eat a lot the scale reads higher in the morning!  Food quantities are going to be drastically reduced until I am well back under 200 again!
On the walk I went to Target (for safety pins), Ralph's (for blueberries), and CVS Pharmavy (for coated aspirins).  Another four miles notched in my belt but at mile 660, I had a flat! I had to keep my left toes pointed up to keep the sole from catching on the sidewalk!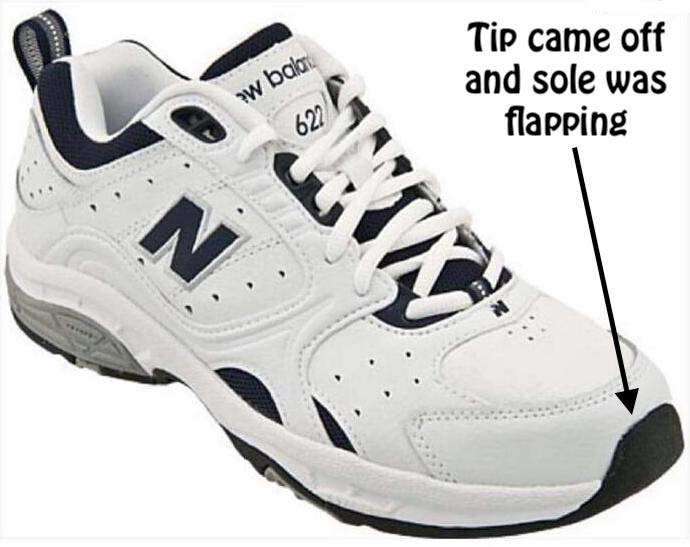 Guess it has to go to the shoe repair…only lasted 660 miles!  I am going to look at the guarantee next time!
Random Memories:  Walking does not seem to be things kids do today.  From the time I was on the 4th grade I walked to and from school and I remember begging my Mom to let me walk home in the rain!  In Jr. High School.  It was a whole 1 1/2 miles, although it seems it was a lot longer these days…of course it was up hill and in the snow both ways!
That was almost 60 years ago and I remember walking through the empty lot where the KHJ radio towers were located.  There was a huge apartment complex we walked through and jumped over the fence to save a few hundred feet…it is not a Kaiser Hospital.  
We would walk down Venice Blvd and over the "viaduct) where the red cars used to run so we could watch the traffic at the intersection of Venice and La Cienega.
The viaduct was removed in 1963 to make way for the Santa Monica parking lot…oops, I mean freeway.   My first ticket was in 1963 and it was for driving on the freeway before it was open!
I worked a bit in the garage as I had to put 2'x2′ stiffeners on my swing cover…the 1 1/2″ PVC just sagged entirely too much!  3 1/2″  bolts  1/4″ in diameter did the trick.  Now the PVC is quite stiff and the 2″x2″'s are being tested for a week.  If they stay straight, I am either going to paint them to match the PVC or replace the PCV with 2″x2″'s and paint them…we will see soon enough.
Tonight instead of going to the GG Elks, we went to the Aquarium of the Pacific for Dive Night.  It's an adults only (that means "bugger free") evening with no yelling and screaming…alcohol to drink…live "music".
The place was loaded with youngsters (over 21 but our grandkids ages!) so the music was horrible…deafening is a better description!  We still enjoyed the experience but why do they have to have it turned up so loud it scared the fish?
We decided to go home about 9:30 PM as the noise was just too much!  We watched NCIS and then crashed.