Ever wonder what the speed of lightning would be if it didn't zigzag?
Up on the roof…. I am again reaching for the sky going up and down ladders with the greatest of ease, would be easier if I were on a trapeze! Enough rhyming…back to work! If all goes well, I should be done tomorrow morning and I can then cancel Zack's planned visit as I hate to tie him up as a new father already working hard, he needs to be home!
I was on the phone making appointments for the hospital stay follow-ups…batting 33% so far this morning. Now I have to remember the doctors names and carry my trusty brain with me…iPhone to the rescue. While on the phone, I called the Catalina Hospital and made arrangements just in case we have an issue while being on the island!
I spent another 90 minutes on the patio and am thinking tomorrow I should finish the job by noon and can call off Zack and Mitch from coming over…they are so bust at work I hate to bother them!
We decided to do Taco Surf for lunch…we need to fill up the refrigerator again. Their vegetarian burrito is wonderful. Full of beans and therefore proteins.
After lunch we had to visit the dentist again as the temporary cap popped off! It took about 20 minutes and it is back on again. Good part is we got to drive down by the beach coming and going…kites were flying and all was well with the world. We listened to Dr. Laura and realized again how lucky we are to be married 30+ years and be so in love with four kids who do love us! Thank you Robin, Michele, Colleen and Joe!
We went to the South Coast Repertory this evening to see a play. Reading the writeup, I wasn't too keen on it but it was well acted and the libs didn't push their agenda too badly. We had a drink (or two) at the Westin before entering SCR. The sunset was pretty nice!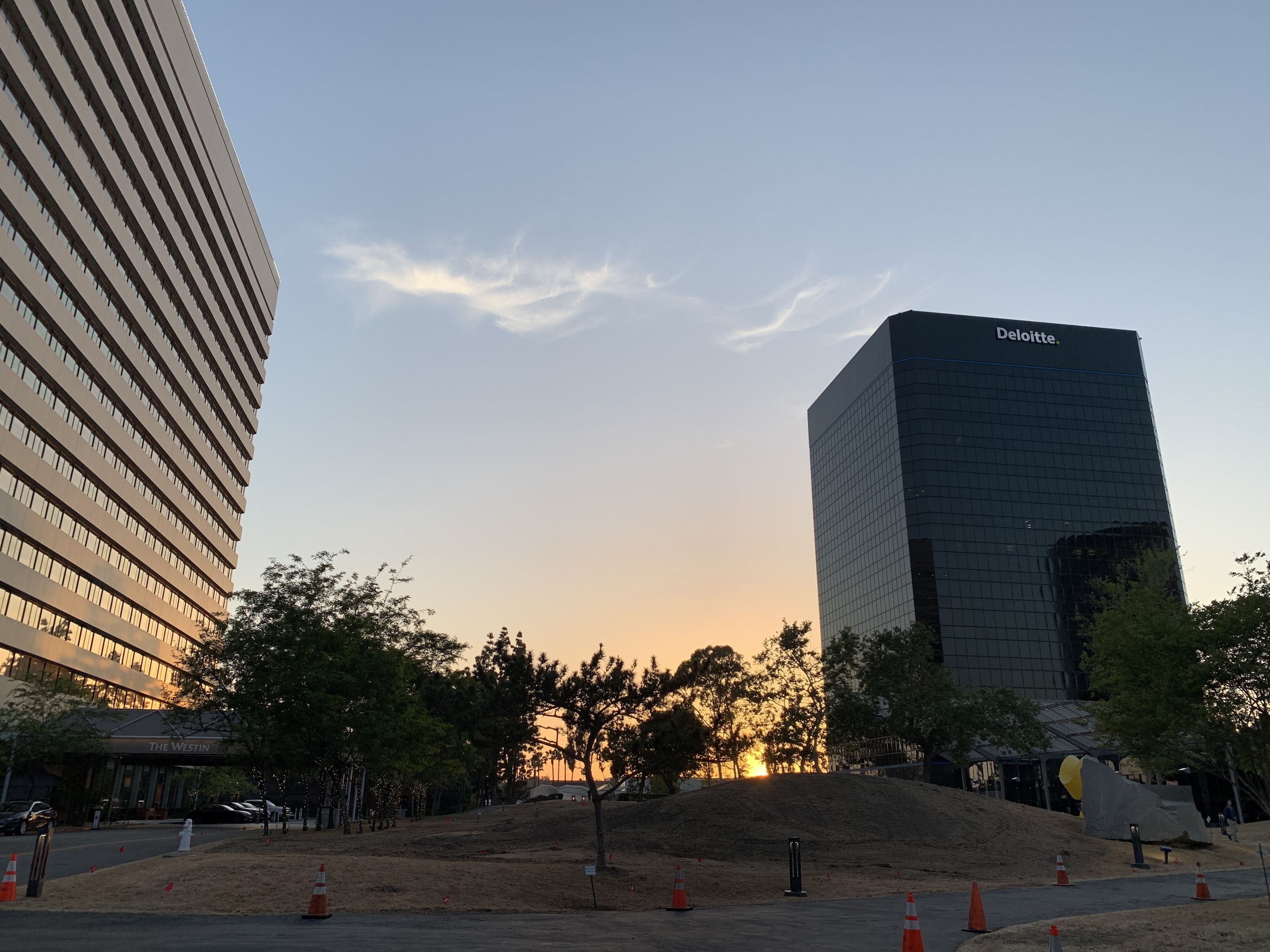 We departed the hotel and headed directly to SCR Second Stage. The play was "interesting" but not as bad as I had guessed from the writeup. My take was that the shooting was caused by the motion of the mans hands and NOT because he was black. The writeup made me believe it was otherwise.
Summary: What begins as a love story about two Cleveland cops?—an African-American woman who falls for her white male partner?—changes when he shoots a young black man in the line of duty. Amina loves Ryan. But can she trust her heart when the truth about the shooting, and her man, becomes more and more slippery? A relationship gets shaken to the core,
We returned home to watch Gilmore Girls and Grey's Anatomy…plus tookies of course!