"I've never once been able to explain my car trouble to a mechanic without resorting to sound effects."
OK, we are going to try something new. Every day this month I am going to attempt to extract from my grey matter (and, BTW, most everything I have is grey or getting greyer) a Christmas time memory from our past! It will likely be boring to most but a) I want to see if I can remember 25 things, and b) I want to be able to remember them in another couple of years! Sooo, when you see a red or green box for the next month…it is a memory that we have extracted and wish to share.
Christmas Memory #1 – Santa Comes To Visit!

We are going back to 1948. I was five and I can remember Christmas Eve when Mom and Dad would get frantic phone calls from the neighbors letting us know where Santa was and when he would arrive at our house. Mom and Dad relayed all the information directly to me of course! The closer Santa got, the more excited I got!

The last call came from Mae and Brownie, our next door neighbors and they said "He is on his way he just left our house!"…moments later the back door began to clatter, the glass door knob  turned, and Santa burst in barely fitting through the door!

I was only five so I didn't ask about why he used the door and not the fireplace…of course, the fire place had a fire in it!
Santa would laugh, put down his bag, ask for his milk and cookies which Mom had ready to go!

Knowing Brownie, the "milk" was likely 50% eggnog and 50% anything else alcoholic! Santa would laugh, look into his bag, and pull some packages…I do not remember what they were but I remember the warmth and happiness I felt being with Santa and my loving parents.

When Santa departed, Mom and dad kept me busy so I did not see Brownie walk next door but I do remember Dad pointing out the window yelling something like "There he goes with all the reindeer"…or something like that! I, of course, had to run to the window facing the opposite direction of where Brownie was jogging back home.

Brownie did this for many years and when I was approaching the end of believing in Santa, during his visit he sent me on a "wild goose chase" telling me that his sleigh was not big enough for the present and I had to find it….

Santa Brownie passed me a map which had directions on it! The map sent me next door on the map was instructions: "Open Mae's refrigerator and look for another note!"   I did, and  there was another note saying "Go look in the BBQ".

I ran to the BBQ out in the back yard with my flashlight in hand, looked inside the BBQ, and there was another note saying "Go look in the washing machine"…and so on.

After 20 trips all over the neighborhood, the note finally instructed me to "Look in the laundry room" (in our little home the laundry  room was behind the garage and contained the old Maytag ringer-washer)…and there was a magnificent Schwinn Bicycle!

Bright cherry red with a horn and lights and a basket…all the bells and whistles a boy could every want! I rode that sucker for years and years and probably put 100,000 miles on it!

Thank you Santa Brownie (and of course, Mom and Dad) for those wonderful memories!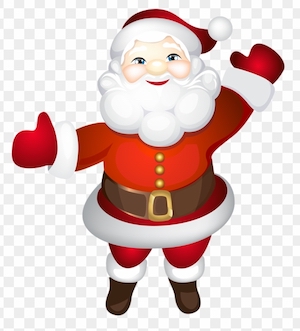 I took off for a walk with Ralph's being the target…we were in dire need of spicy jack cheese! It was a good walk and I stopped by Staples on the way to Ralph's to look at their discount shelf…I picked up some plastic laminating covers for our Social Security/Medicare cards…they get a lot of use there days!
Why not decorate a tree in the front yard? It looked pretty good as I strolled by!  It even looks better in the evening as the street turns dark.  The neighbors are getting clever about hiding the extensions cords and keeping then form being tripped over! While walking, I was talking t Colleen, our New Hampshire daughter.  She and our great grandchildren were going out ot get a tree in 40 degree weather with snow expected later on that day! One word: B-R-R-R-R-R!
I passed by a flag and captured a bit of its movements,  It's almost like Santa to talking to you as his face moves with the wind!  I iPhone 10 XS Max captures great pictures! 
While talking to Colleen, I decided her Christmas present this year would be a subscription to SirisXM Radio so she also could listen to Dr. Laura!  Sue and I often say to each other, "Colleen ought to be listening to that advice!".
After getting home, we had our brunch and then we did some chores before getting gussied up and heading to Nightlighters at the LAX Marriott Hotel!  We departed about 5:30 PM and arrived at 6:10 PM, perfect for taking pictures!
The dance was excellent and we returned home arriving about 10:30 PM so we watched some TV, had our tookies, and crashed!
I get better with every puzzle!