Remember: Age is a function of mind over matter; if you don't mind, it doesn't matter
Happy birthday Aunt Kaye… Born in 1911 in Oklahoma, she has seen a lot and is healthy enough to see a lot more!.  This past year, Aunt Kaye lost her only son at the age of 73…we so miss him!
Did You Know What Happened In 1911?
The Morton Salt company began adding magnesium carbonate to their product, which stopped the salt from caking during damp or humid temperatures. Hence their tag line, "When it rains, it pours".
Crisco Shortening was introduced by Procter & Gamble.
The world's first official airmail flight was piloted by Henri Pequet, who flew with 6,500 letters a distance of 13 km (8.1 mi) from Allahabad to Naini – the nearest station on the Bombay-Calcutta line, in British India, on February 18, 1911
The first airplane to ever land on a ship occurred on January 18, 1911. Eugene Ely landed on the USS Pennsylvania in San Francisco Bay.
Samuel J. Battle became the first black police officer in the city of New York City.
Paul's Mom, her older sister, was born four years earlier making Mom 100 in September.  We only wish she were here to celebrate it!
So, today was a very slow day as Paul woke up a tad under the weather…seems the old back and legs are giving him fits once in a while so no walk…just little chores and some TV around the house.
We got cleaned up about 5:00 PM and then headed to the GG Elks to dine and dance with our friends.  On the way to the dance, we called Aunt Kaye and sang Happy Birthday to her and she sounded just fine!  We plan to do a trip to Stockton and San Jose in the near future!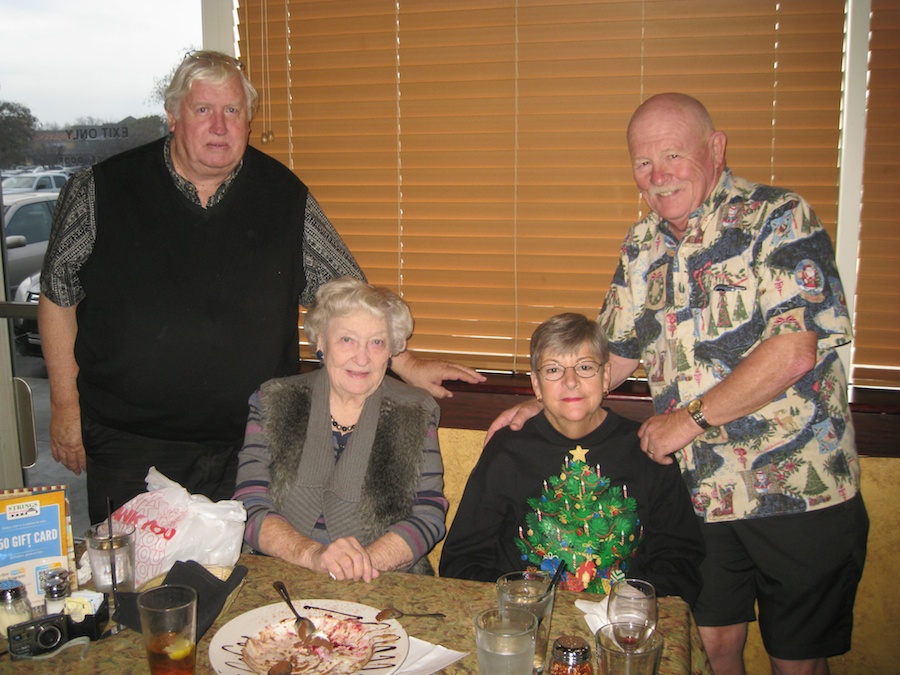 Tonight the band is pretty good as long as the volume controls stays put!
It didn't and we didn't…Sue had a headache to start and the loud music put her over the edge so we came home about 8:30 PM and watched TV until 11:30 PM. Yes, it was tookie night but Paul only hand a single as the battle of the bulge is not going well for him…205 pounds so the bulge is now under attack!