Fact: The term "dog days of summer" comes from astronomy.  Lethargic, overheated pups didn't inspire this phrase.  According to National Geographic, the "dog" in question is Sirius the Dog Star, which rises in the sky during late July as a part of the Greater Dog constellation.  To the Greeks and Romans, the "dog days" indicated the hottest time of the year, a period that was said to bring fever and other types of catastrophe.
As usual, we were up early, and we attacked the office.  Both of our desks were up to the top with paperwork!  Paperwork wouldn't be so bad if it weren't for all the paper.  And the work.
So we sat at the desks from 6:30 AM until noon.  My tuchus was tired.  I did get my yearly SoCal Edison bill which was $800; not too bad!
We had a great lunch, and then Mary went swimming as the pool was 80 degrees!  The 90+ degree weather is helpful!  Paul stayed under the patio cover and enjoyed a cool drink!  We plan to call Joe and Zachary and let them know the pool is open for business.
When I talked to Jow, I asked him, "If you don't pay your exorcist, do you get repossessed?" He had no answer but promised to get back with about that.
We cleaned up and readied for the Beach Boys concert this evening at the Santa Ana Elks Lodge.  I got my poodle skirt on, but Mary said that was too 1950s.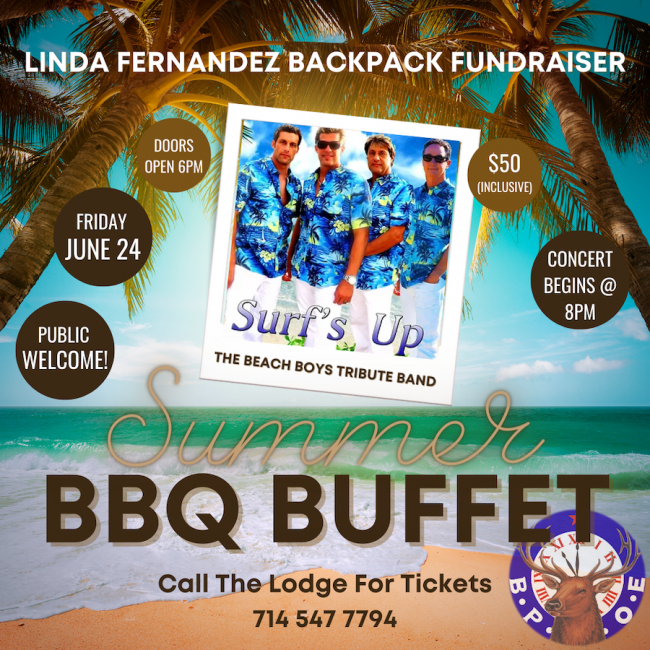 We had a load of fun with the gang.  The Beach Boys tribute band was excellent.  They played all the old songs and gave us some old memories of the 1950s and 1960s.
Our table kept getting bigger and bigger; we had eleven at a table for eight.   We played the "I was so poor growing up that _______________" game.  Everybody laughed and cried, sometimes at the same time.   I told everyone that when I was growing up, I was so poor that I could not even pay attention.  Vicky thought that was a hoot!
Hang on; Mary is sitting down and NOT dancing?  What is the meaning of this??
We laughed and giggled all night long.  Having such excellent friends makes the day.  We missed Irene, the Branders, Mike and Bridgette, and the Capps.  Iris called and said Wil came down with COVID-19, so they stayed home this evening.
OK, one more dance!
The band played until 10:00 PM, but we "old farts" decided that 9:30 PM was our tipping point.  Then I had a thought, always something to worry about.  Blunt pencils are really pointless.
On the way out, I whispered to Bob, "Pollen is what happens when flowers can't keep it in their plants."
We are heading toward our first anniversary and second year together.
We got home at 10:00 PM and crashed.