Click for full sized image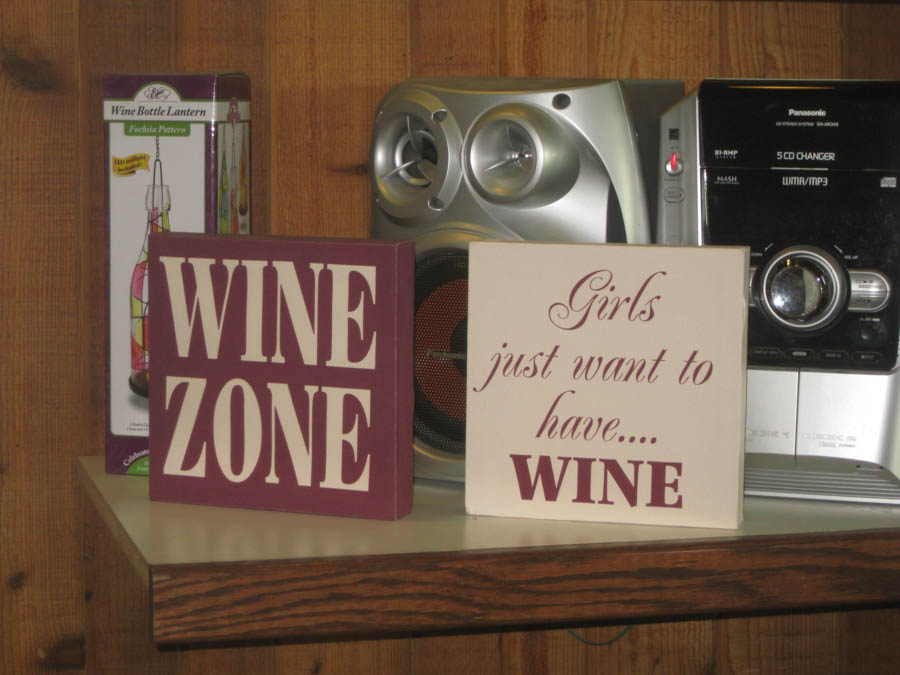 We ARE in the Wine Zone

Bob and Sue taste while Paul peers in the window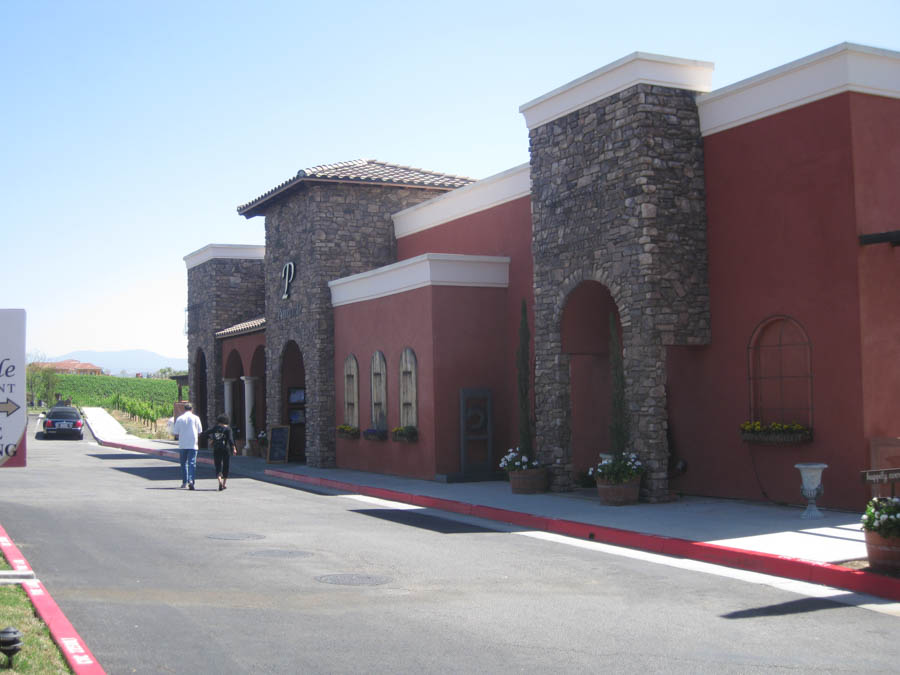 Time to walk across the parking lot and down into the caverns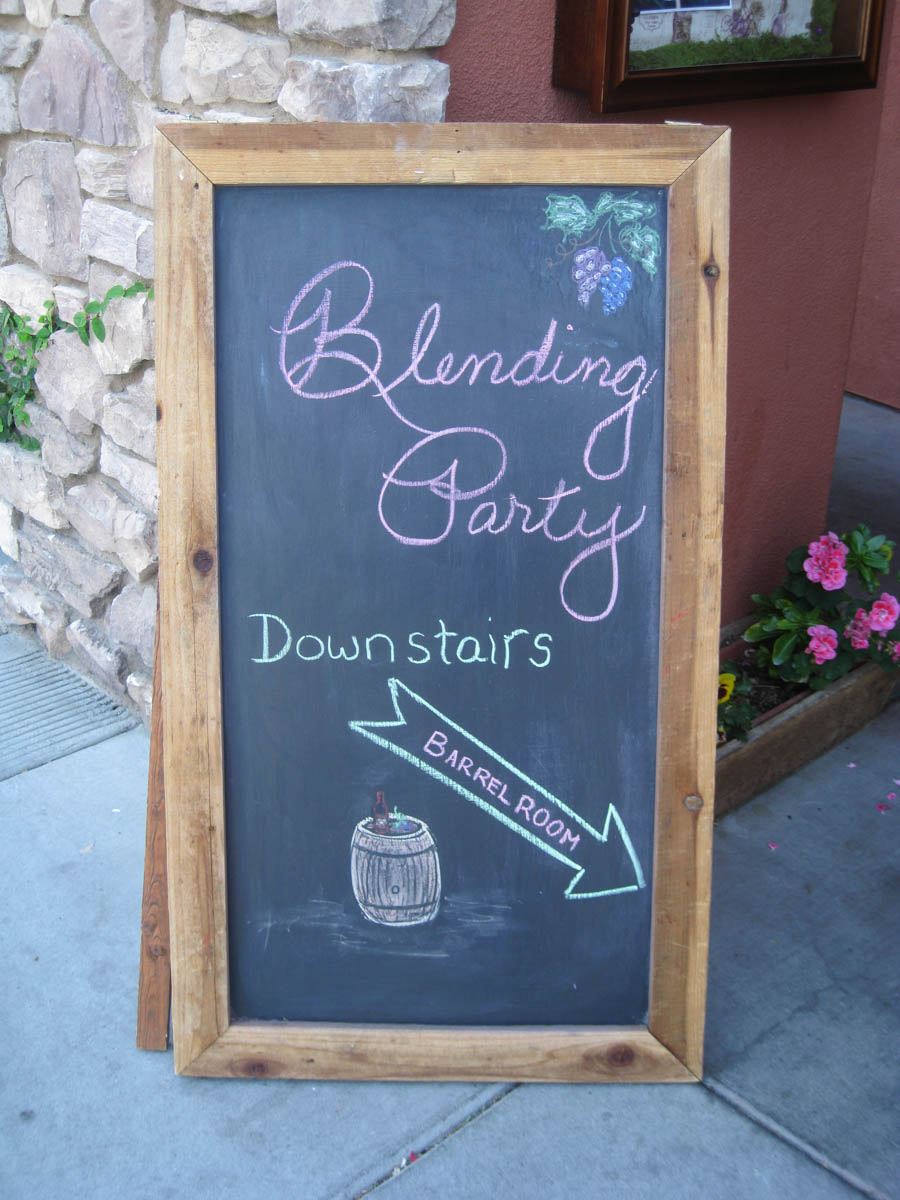 Barrel room? Sounds good!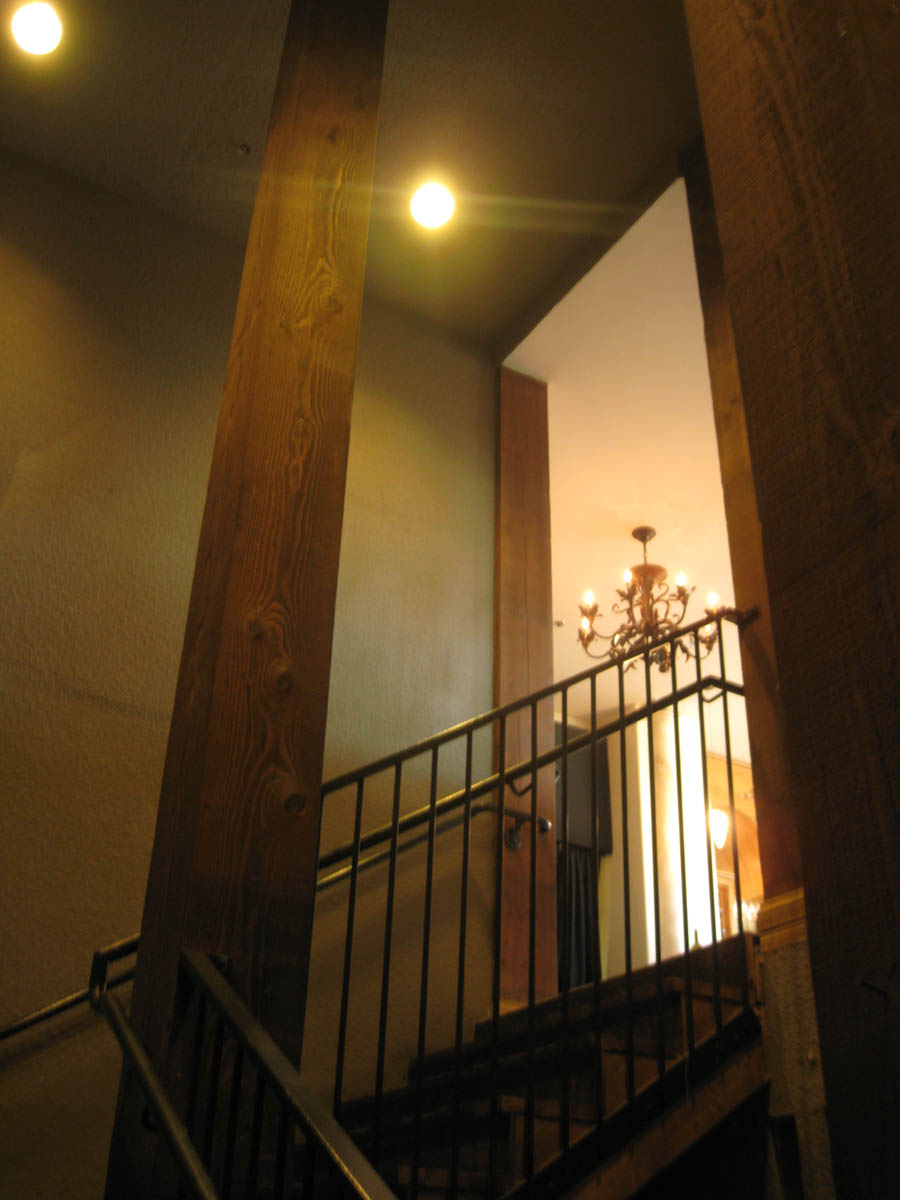 Down we go into the "The Pit" or "The Barrel Room"
Did You Know? - The history of wine cave construction in the United States dates back to the 1860s in Sonoma, and the 1870s in the Napa Valley region.
In 1857, Agoston Harazsthy founded Buena Vista Winery and in 1862, Buena Vista Winery's Press House was completed, and in 1864, a second building now called the Champagne Cellars was completed.
In total, Buena Vista Winery had five caves among the two buildings in operation in 1864. Jacob Schram, a German immigrant and barber, founded Schramsberg Vineyards near Calistoga, California in 1862.
Eight years later, Schram found new employment for the Chinese laborers who had recently finished constructing tunnels and grades over the Sierra Nevada Mountains for the Union Pacific Transcontinental Railroad.
He hired them to dig a network of caves through the soft Sonoma Volcanics Formation rock underlying his vineyard.
Come join us on the 11th of April from 1:00 to 4:00 pm for a Falkner Winery Member's only blending party!

This event will allow members a "behind the scenes" opportunity to work with the owner Ray Falkner and winemaker Duncan Williams in blending some of their latest wineswines.
Ray and Duncan taught us the key flavors of each wine and blending considerations, to prepare to put our own artistic blending skills to the test.
We had the opportunity to work with new wines and to produce our own custom blend. We liked what we produced so we corked the masterpiece and took them home for $15 per bottle.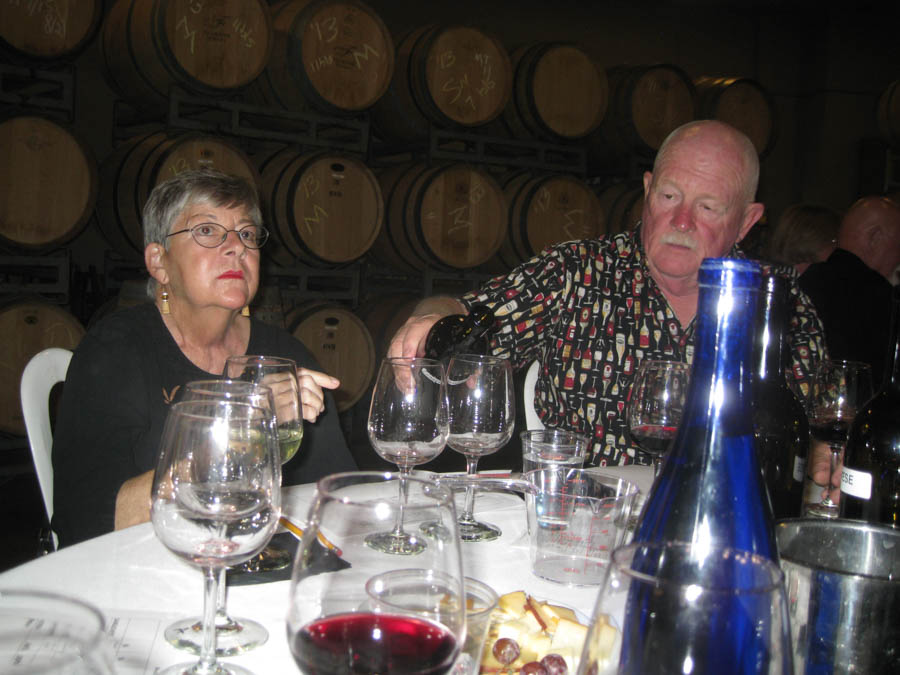 We got under way immediately
Quotation To Remember: Quickly, bring me a beaker of wine, so that I may wet my mind and say something clever. - Aristophanes

Found the appetizers....
Eat and drink, two of our favorite things to do

For Sue this was the main course...

Palate cleansers?
Did You Know? - The English synonyms palate and palatum, and also the related adjective palatine (as in palatine bone), are all from the Latin palatum via Old French palat, words that, like their English derivatives, refer to the "roof of the mouth."
The Latin word palatum and its derivatives mentioned above are all unrelated to a similar-sounding Latin word meaning palace, palatium, from which other senses of palatine and the English word palace itself derive.
As the roof of the mouth was once considered the seat of the sense of taste, palate can also refer to this sense itself, as in the phrase "a discriminating palate". By further extension, the flavor of a food (particularly beer or wine) may be called its palate, as when a wine is said to have an oaky palate.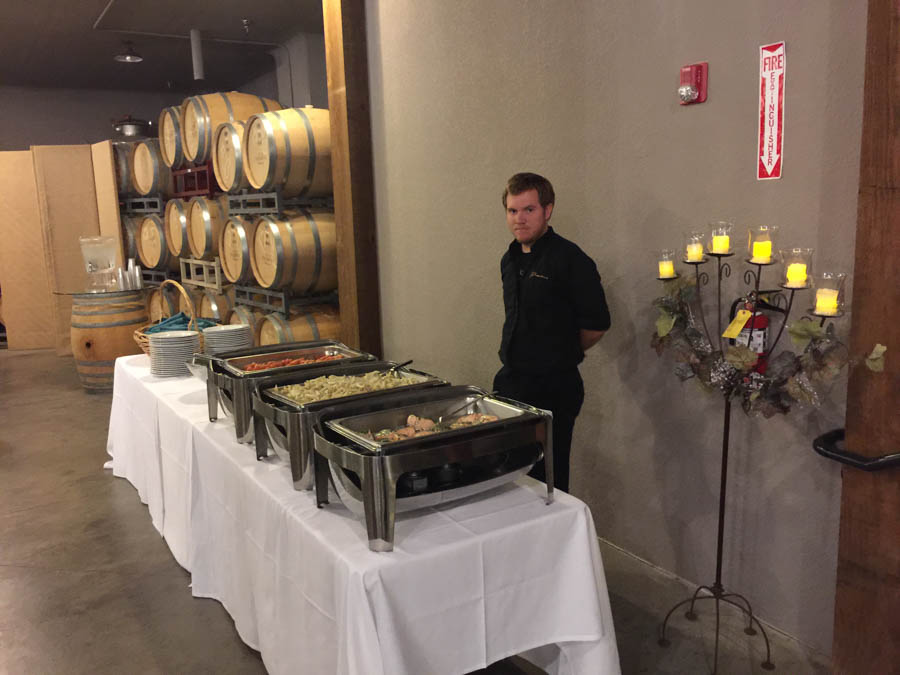 Standing guard...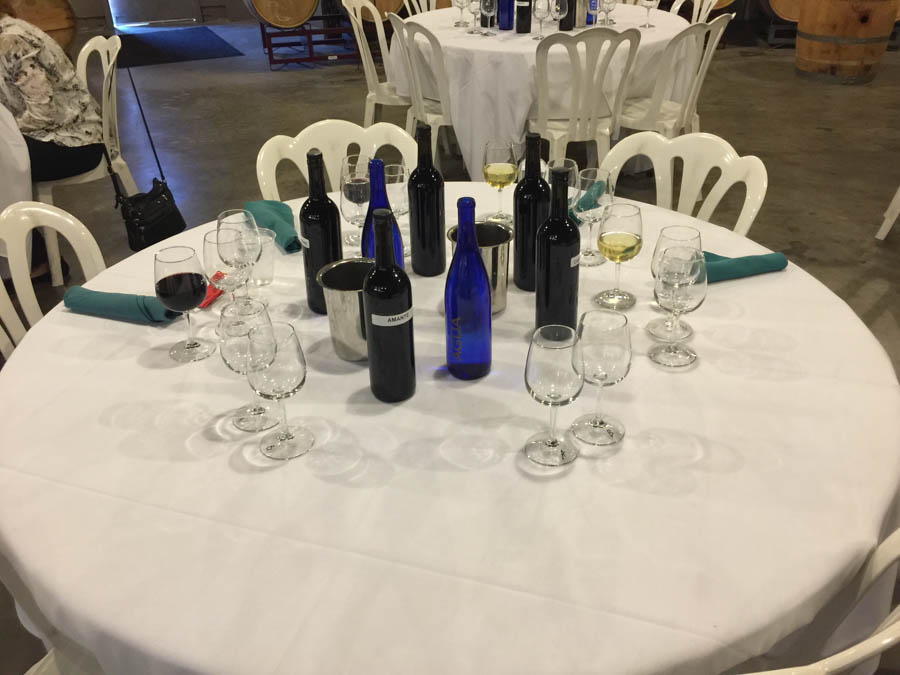 Our table was nicely set up and the Falkner's gave us a
large glass of wine to get started which begged the obvious question...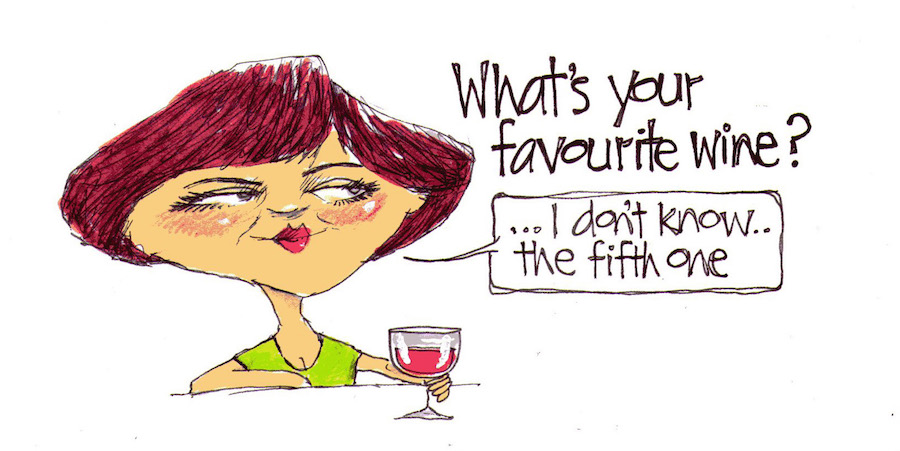 We got excited seeing all the wine on the table for the four of us...

A drop here.. A drop there... Everywhere a drop drop

Other guests begin to arrive

Donna is testing what it is like to see double ...
Kust doing what the shirts said to do

We were fortunate in having two other couples join us! New friends!
They were members of Laguna Canyon Winery...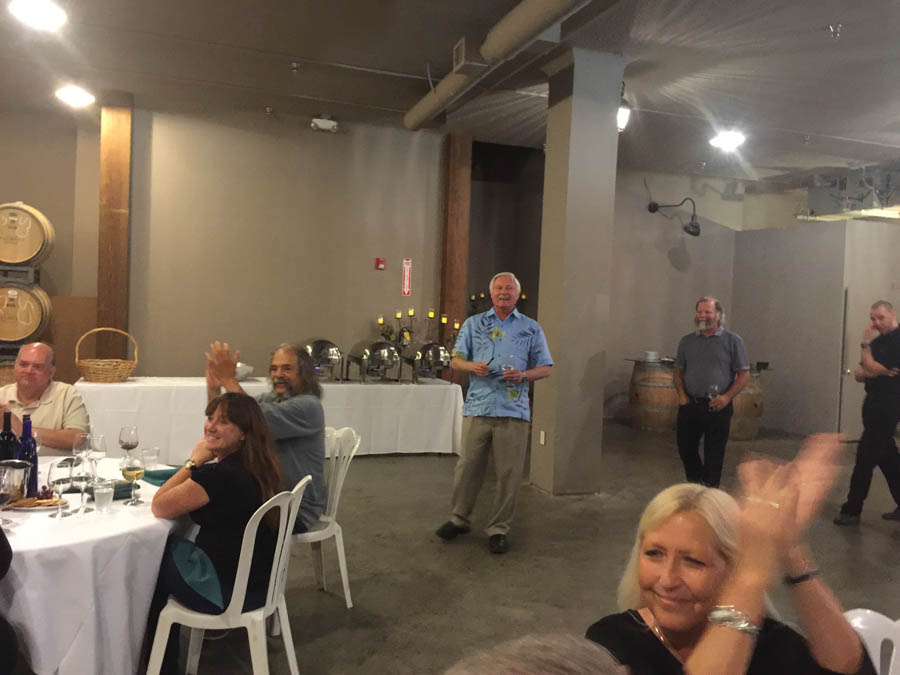 The opening speech was a rip-roaring explanation of blending
Did You Know? - At its most basic, vintners blend wine made from different grapes in order to add more complexity to the flavor and texture of a wine. The goal of blending wine made in different vintages is more to balance out the flavor characteristics. Both reds and whites can be made from blends of varietals. In some cases, they may even blend whites and reds together in order to create the best possible combination of aromas and flavors.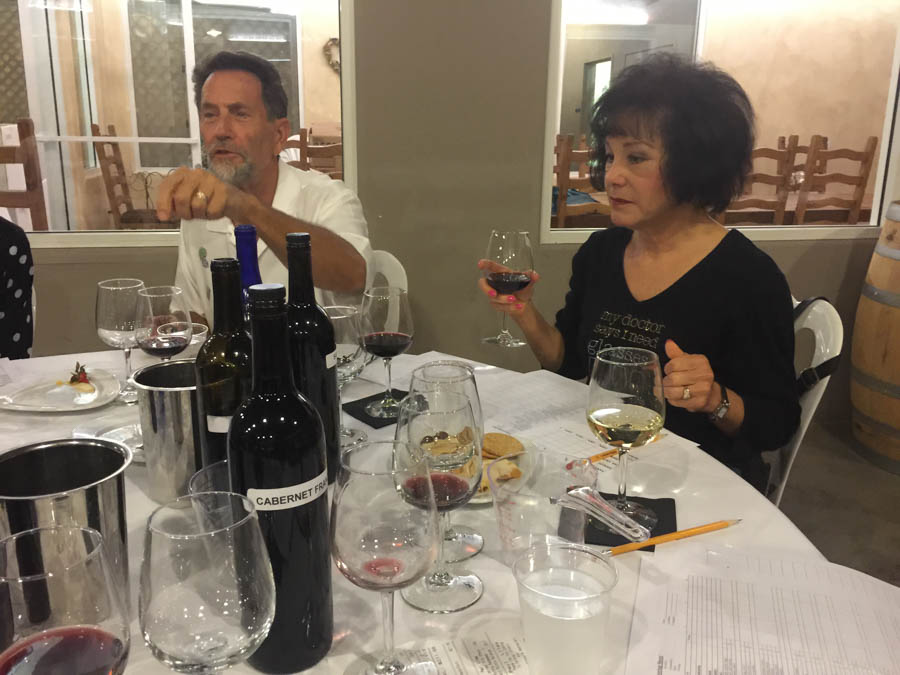 The process begins...
Did You Know? - There are several reasons why a winemaker might want to blend wines:
To enhance aroma
To improve the color
To add or minimize flavors and tastes
To adjust the pH of a wine
To lower or raise acidity
To raise or lower alcohol levels
To adjust the sweetness of a wine
To correct a wine with too much oak flavor
To raise or lower levels of tannin

Additional insights are provided by the winemaker and his assistant

Donna listens very carefully... Carefully taking copious notes
Quotation To Remember: We are all mortal until the first kiss and the second glass of wine. - Eduardo Galeano

Bob drinks... More important!

Savoring the wine...
Did You Know? - Savoring is the use of thoughts and actions to increase the intensity, duration, and appreciation of positive experiences and emotions. It is a topic commonly studied in the domain of positive psychology.
It can also be referred to simply as the up-regulation of positive emotions.
Traditional psychology attempts to develop methods of coping and dealing with negative emotions, but the concept of savoring was designed with the intent to maximize the potential effects that positive experiences and emotions can have on peoples' lives.

We met some delightful people who knew what they were doing!
John and Debbie with Tim and Nancy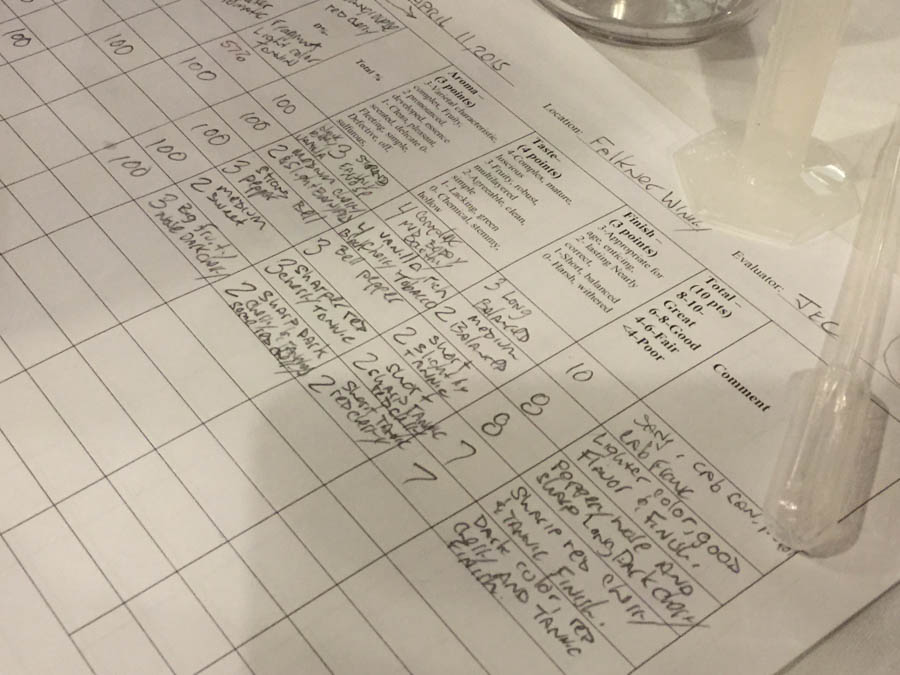 John and Debbie had charts and spreadsheets and chemical instruments

"Nancy measures exactly 3.2 furlongs of wine into this glass"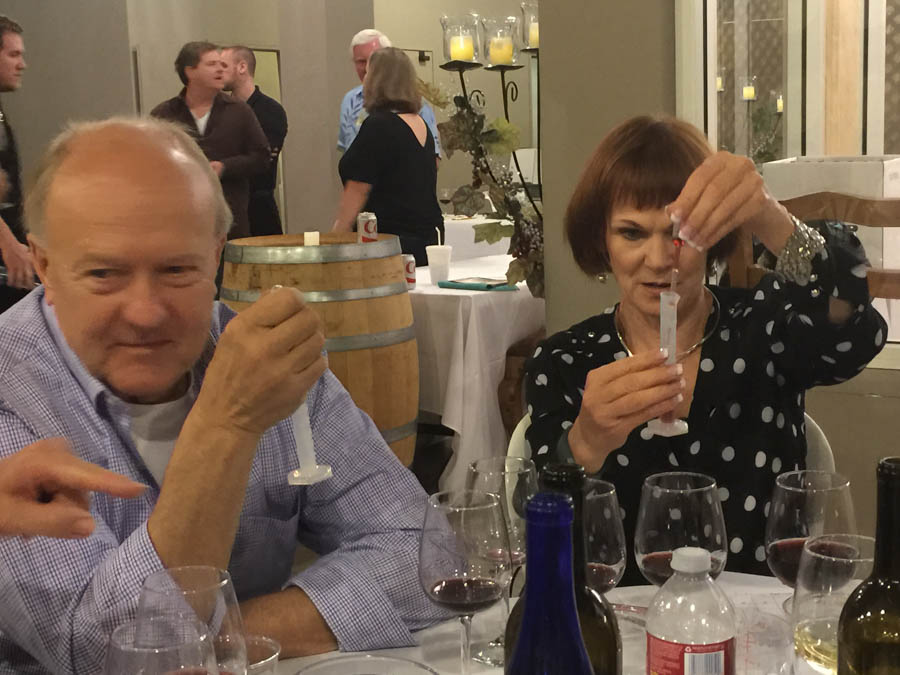 The concentration and precision was a delight to behold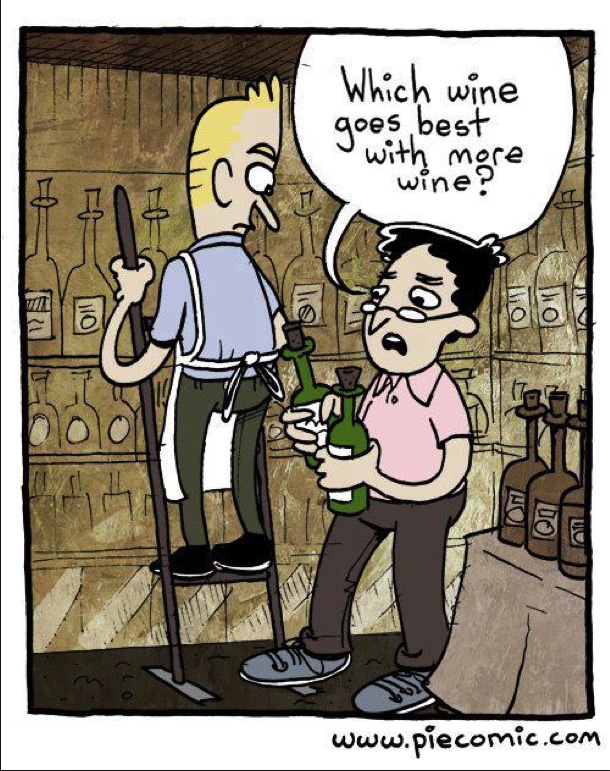 Bob and Paul had significant discussions about the wine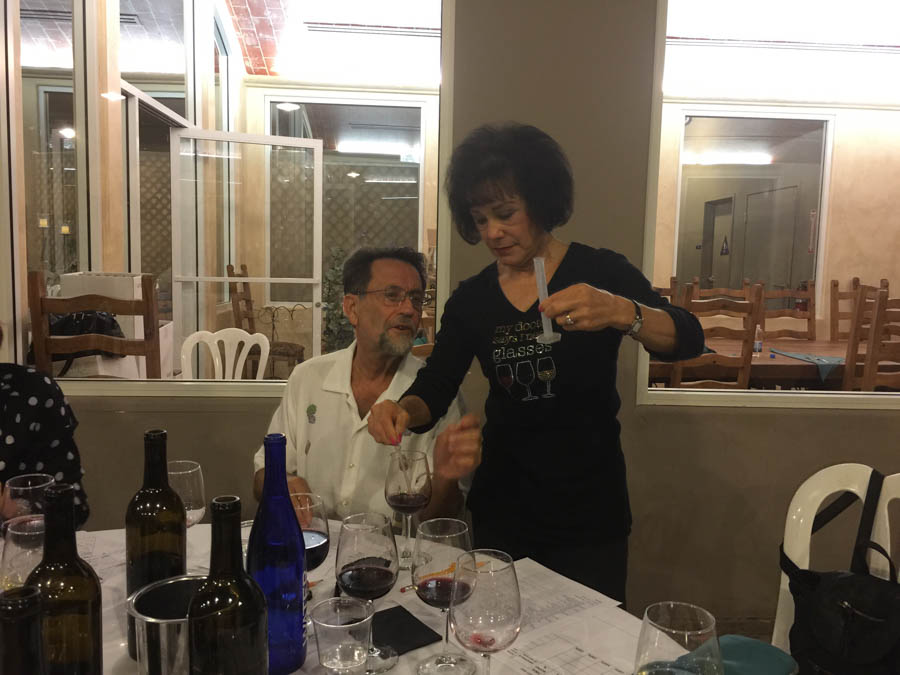 Donna gives it a try...

Bob's job is to count the drops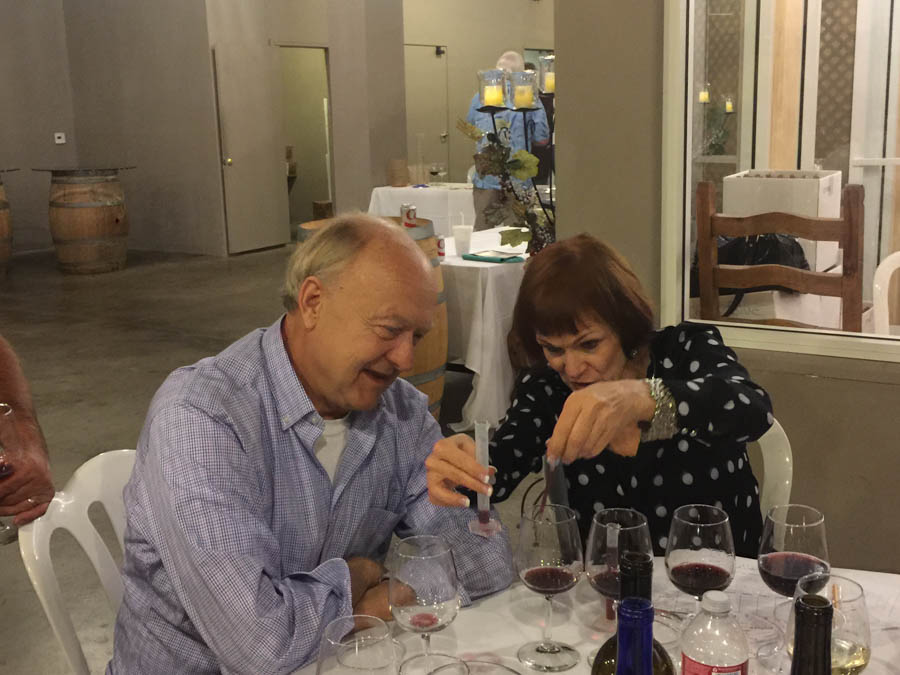 Tim and Nancy are serious about their blend...

We are getting a visit...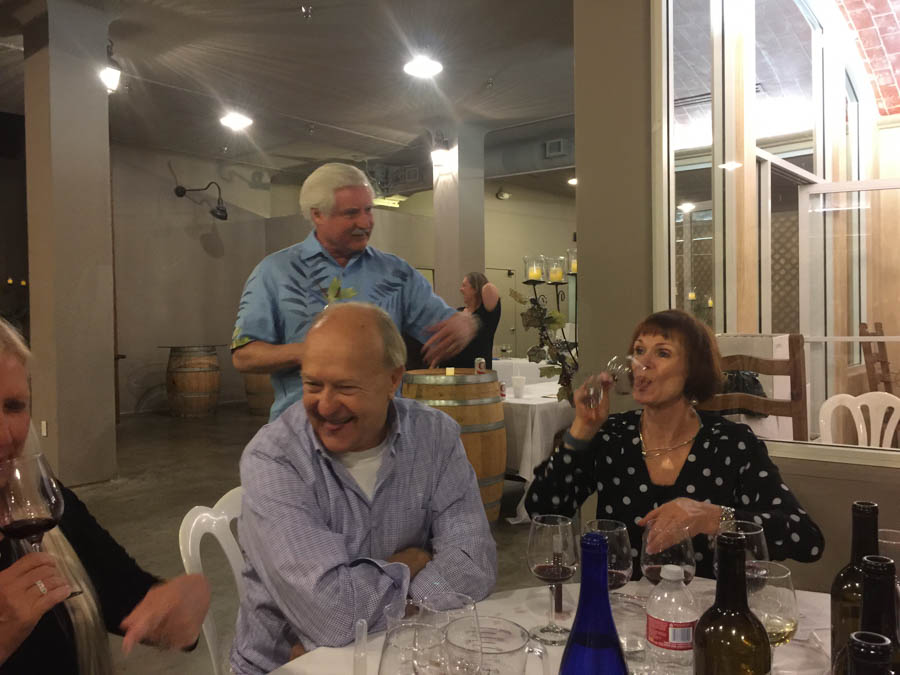 Slurp... Not too bad... Needs a little turpentine to take the edge off

Debbie! No fair smelling the wine...

Giggles are running at 95%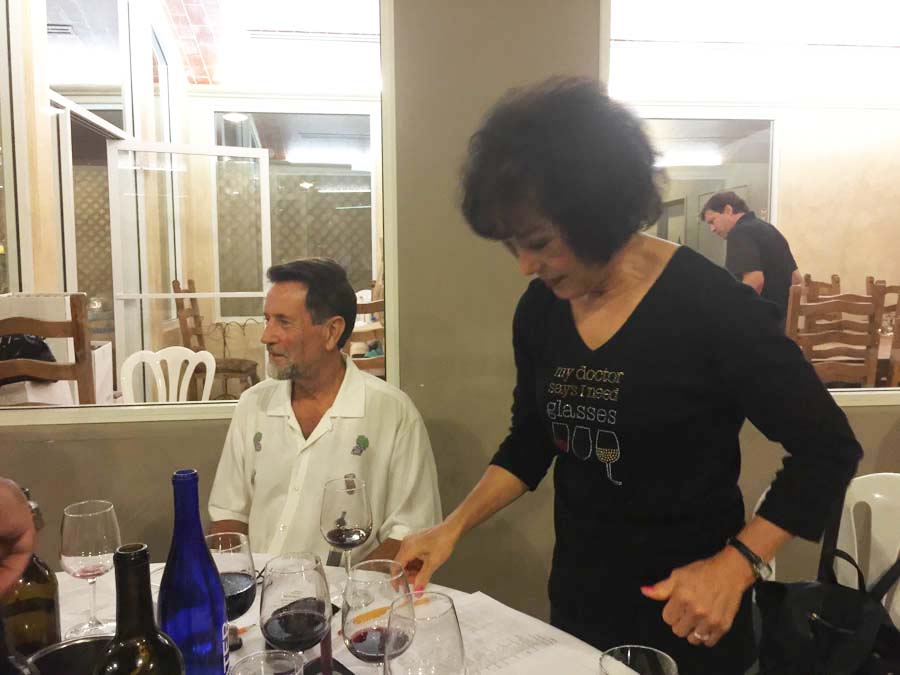 Donna is on "Magic Potion #9"
Remember The Lyrics??
I took my troubles down to Madame Ruth
You know that gypsy with the gold-capped tooth
She's got a pad down on Thirty-Fourth and Vine
Sellin' little bottles of Love Potion Number Nine
I told her that I was a flop with chicks
I'd been this way since 1956
She looked at my palm and she made a magic sign
She said, "What you need is Love Potion Number Nine"
She bent down and turned around and gave me a wink
She said, "I'm gonna make it up right here in the sink"
It smelled like turpentine, it looked like India ink
I held my nose, I closed my eyes, I took a drink
I didn't know if it was day or night
I started kissin' everything in sight
But when I kissed a cop down on Thirty-Fourth and Vine
He broke my little bottle of Love Potion Number Nine
I held my nose, I closed my eyes, I took a drink
I didn't know if it was day or night
I started kissin' everything in sight
But when I kissed a cop down on Thirty-Fourth and Vine
He broke my little bottle of Love Potion Number Nine
Love Potion Number Nine, Love Potion Number Nine
Love Potion Number Nine

We walked around and visited the bomb shelter

Our table as viewed through the looking glass

The judges are set up and ready to make large batches of blends

The ladies are serious about their efforts

We look on with great interest... Glad we are not doing the cleanup!

"Hang on Debbie... We are almost done!"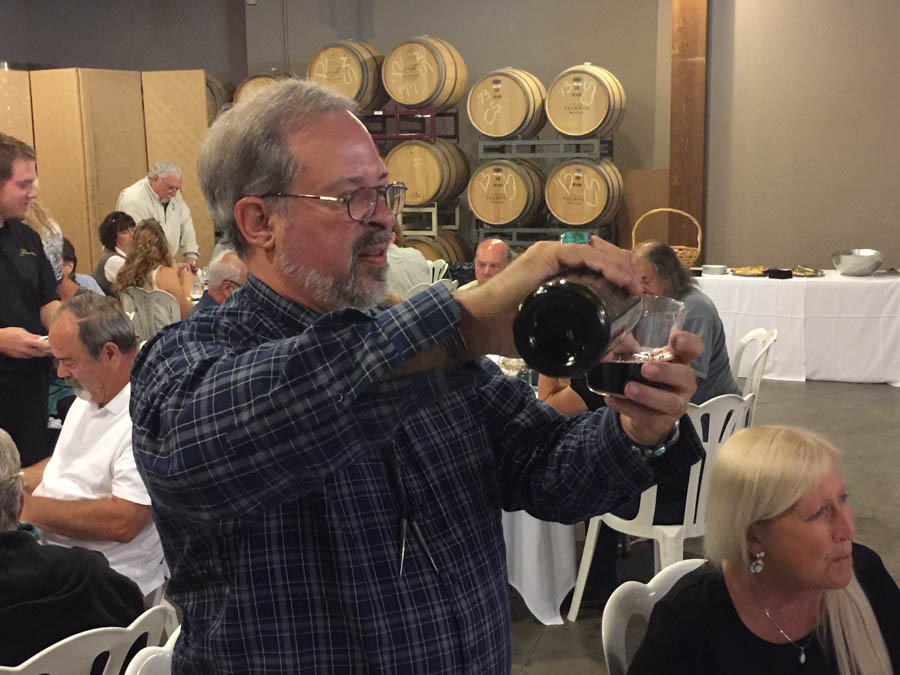 "All it needs is three teaspoons of eye of newt"
(This item is almost certainly a reference to the Shakespeare play
Macbeth (Act 4, Scene 1), in which the witches add eye of newt to their brew.)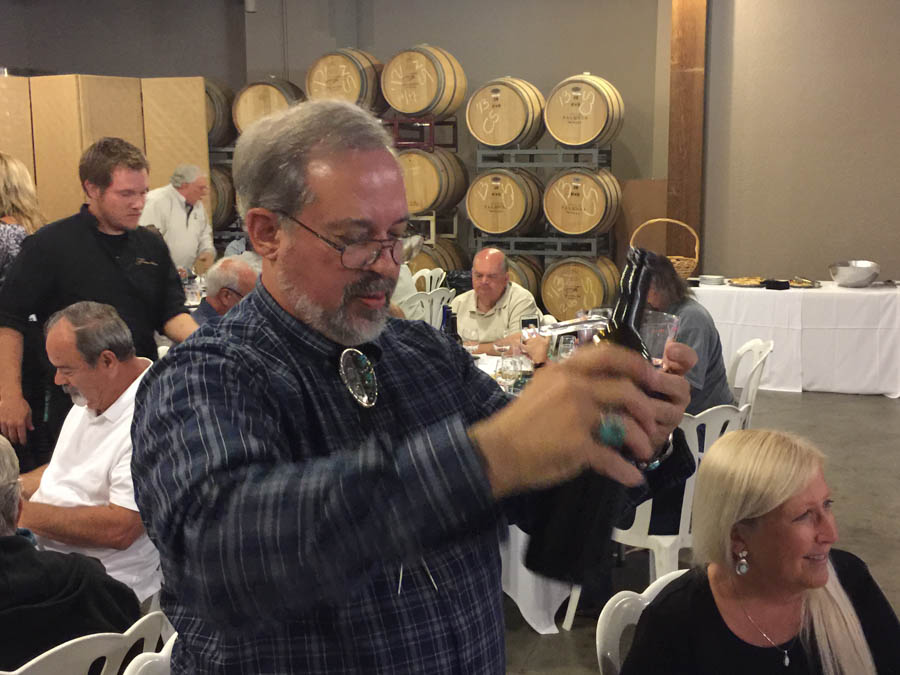 The judges needed five onces only... Oh my... What should we do with the remainder?
The term "Slug it down" comes to mind!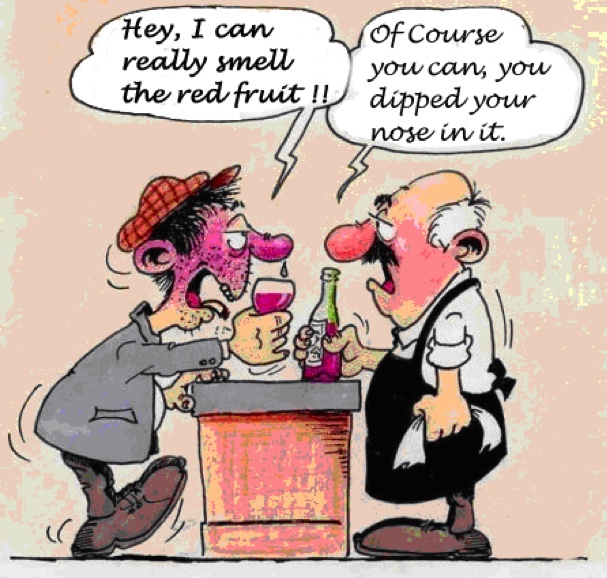 There goes all of our work... Soon to be judged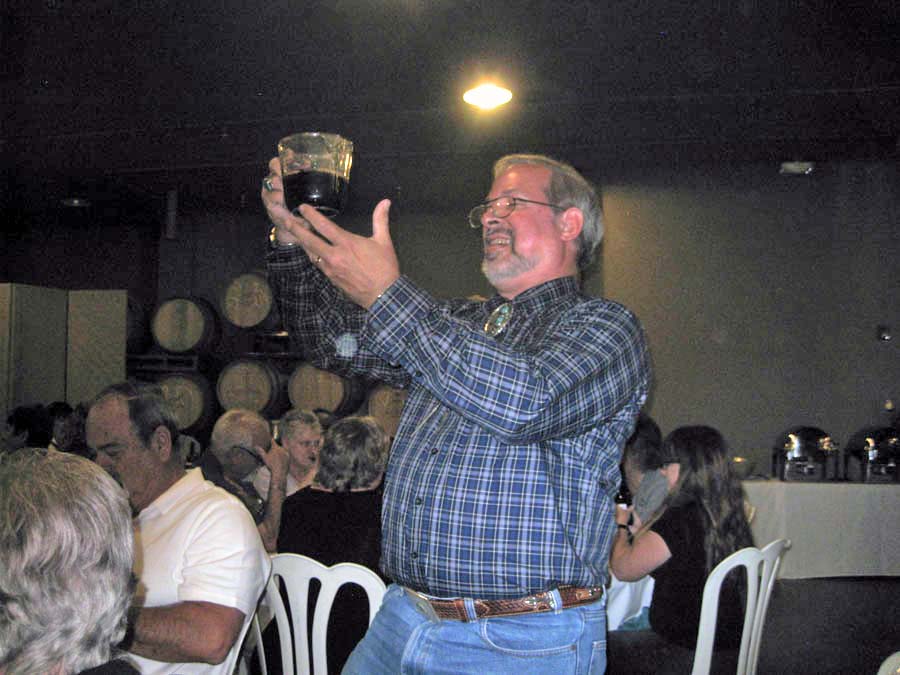 One last look... Oops! Someone drained the crankcase!
Quotation To Remember: Age appears to be best in four things; old wood best to burn, old wine to drink, old friends to trust, and old authors to read. - Francis Bacon

"Just a minute and I will return"

Debbie and Tim are still sorking... Caroline asks "Any questions?"

Caroline visits the tables... Always a smile!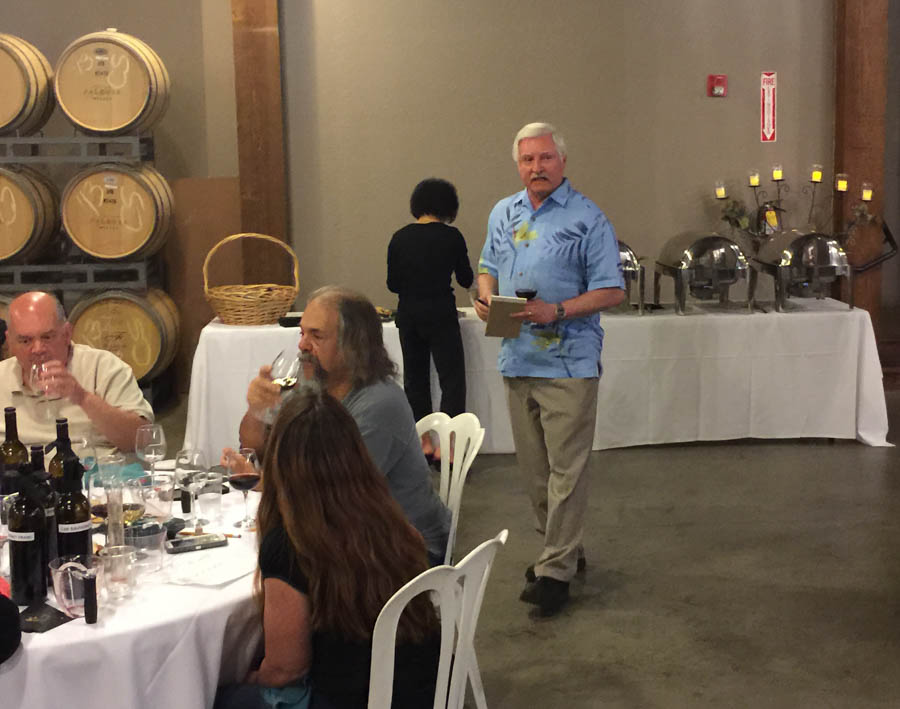 The answer is coming...or... "Here Come Da Judge"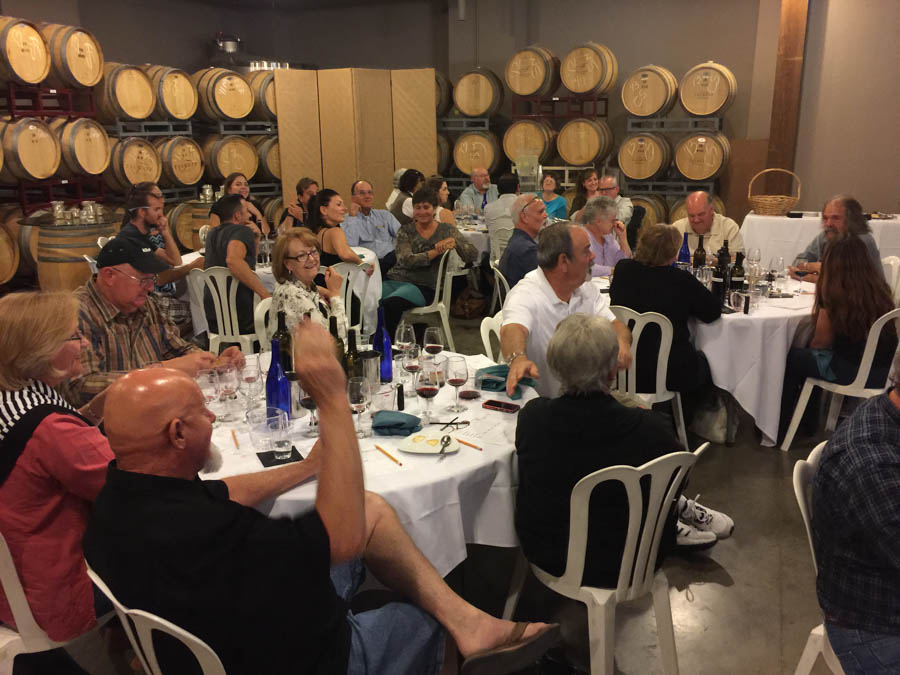 Table Number Three was the winner
(We believe industrial espionage was involved)

Applause... An excellent formula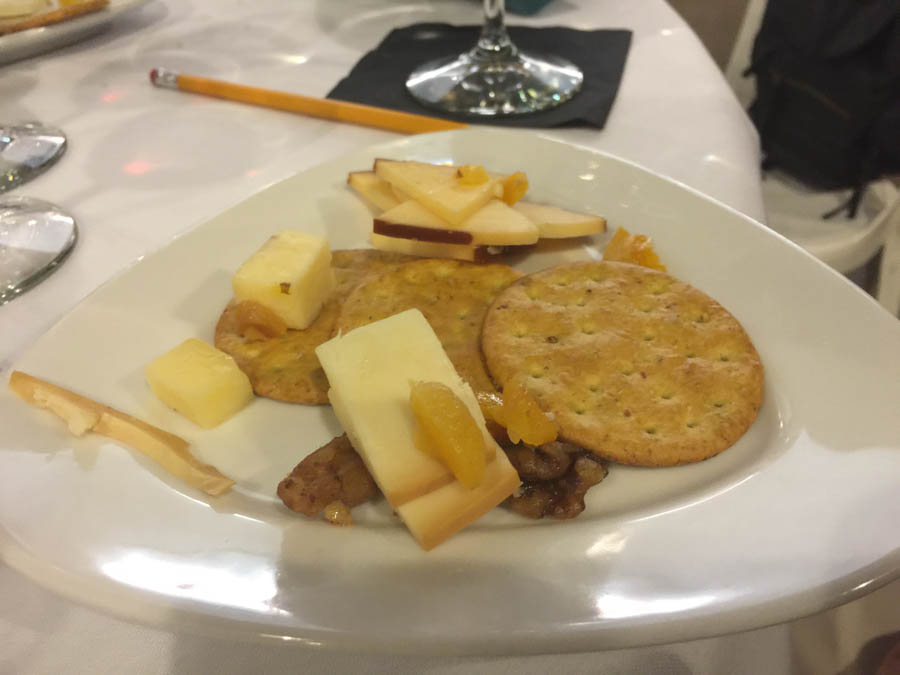 More crackers means more wine!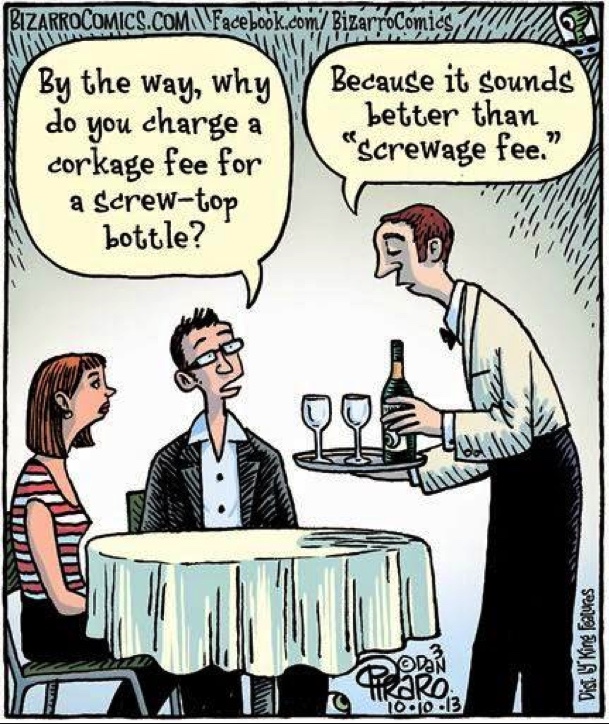 All that work.... But it was fun! Time and Nancy take time to rest...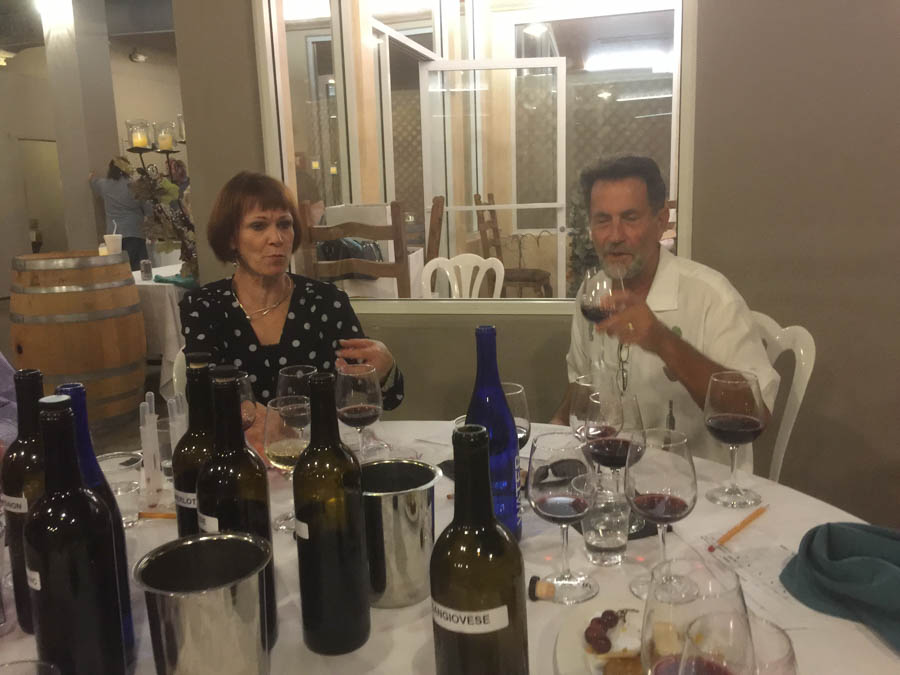 Bob is still blending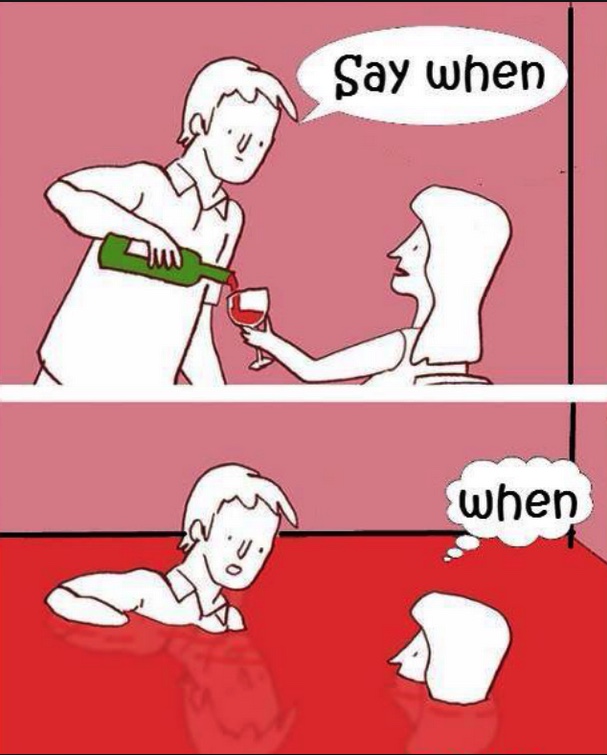 When is NOT in our vocabulary

Blending the winning formula in large batches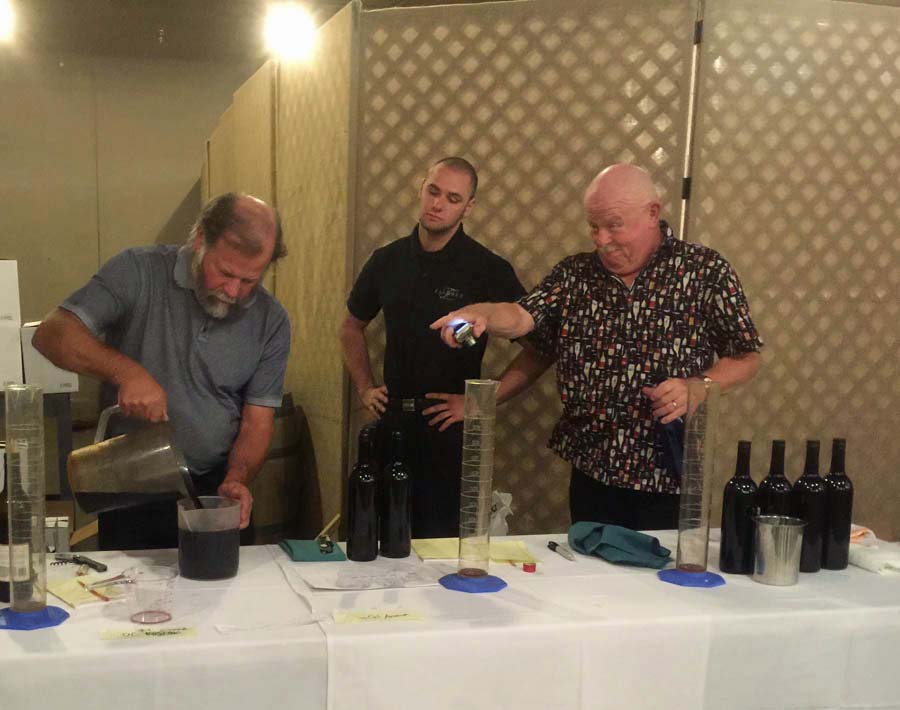 Paul makes sure there is no spillage

So far... So good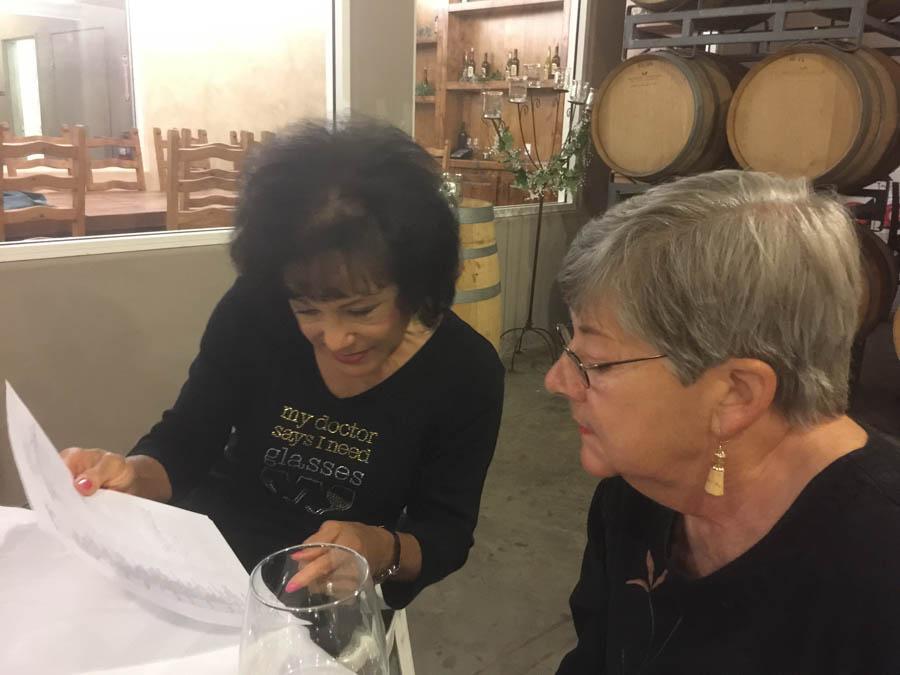 The girls check the formulas

Science in action... We had the experts!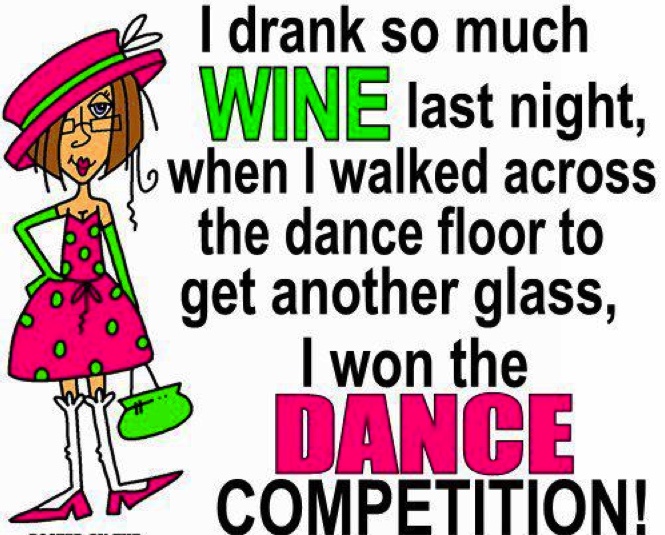 Off To South Coast Winery For A Pickup!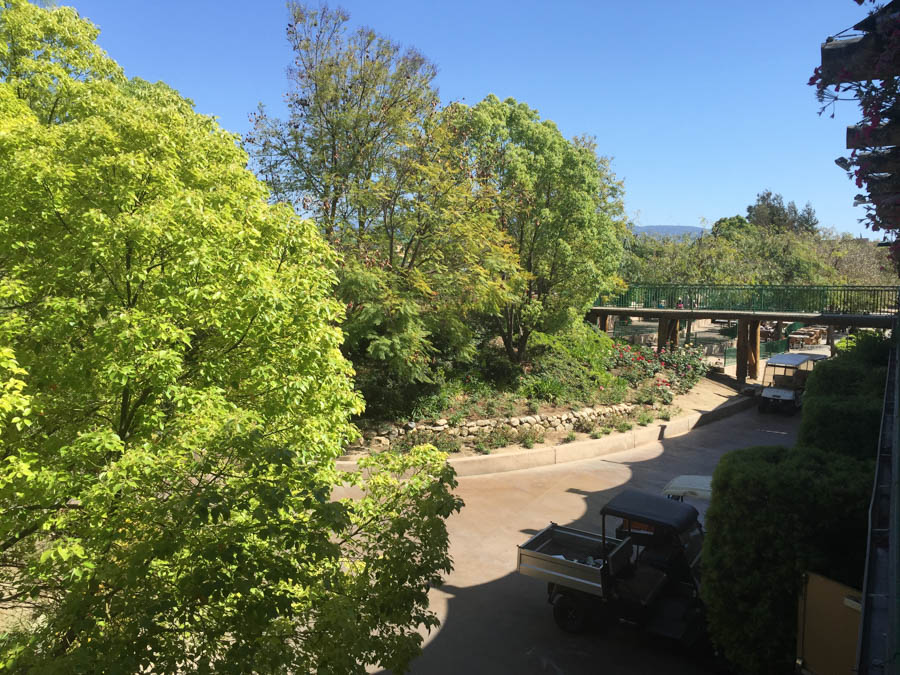 We stopped by South Coast Winery to get some champagne before heading home
Someone suggested we might need a cab...

In all seriousness there was a police sobriety check point we tried to go
through but it was so slow, we took an alternate way out of the wine country!

We made it... Now off the Redondo Beach for dinner-dancing