Temecula is a city in southwestern Riverside County, California, United States with a population of 100,097 according to the 2010 United States Census. It was incorporated on December 1, 1989. Temecula is bordered by Murrieta on the northwest and the Pechanga Indian Reservation on the south, with unincorporated areas of Riverside County on all of its other borders.
It is served by Interstate 15 (Temec ula Valley Freeway), Interstate 215 and California State Route 79 (Winchester Road to the northeast and Temecula Parkway to the southeast).
With neighboring Murrieta, Temecula forms the southwestern anchor of the Inland Empire region. It is almost equidistant to San Diego, Los Angeles, and Orange County, California. Temecula is also home to military families from nearby Camp Pendleton, MCAS Miramar, March Air Reserve Base and the Naval bases in San Diego.
It is roughly 75 miles from our home to the first winery and it is a nice weekday drive as long as you leave around 9:30 and miss the traffic. Even coming home we are going the "right way"... Against all the traffic going east on the 91.
Friends Make The World Go Around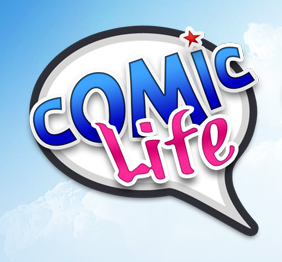 See the comics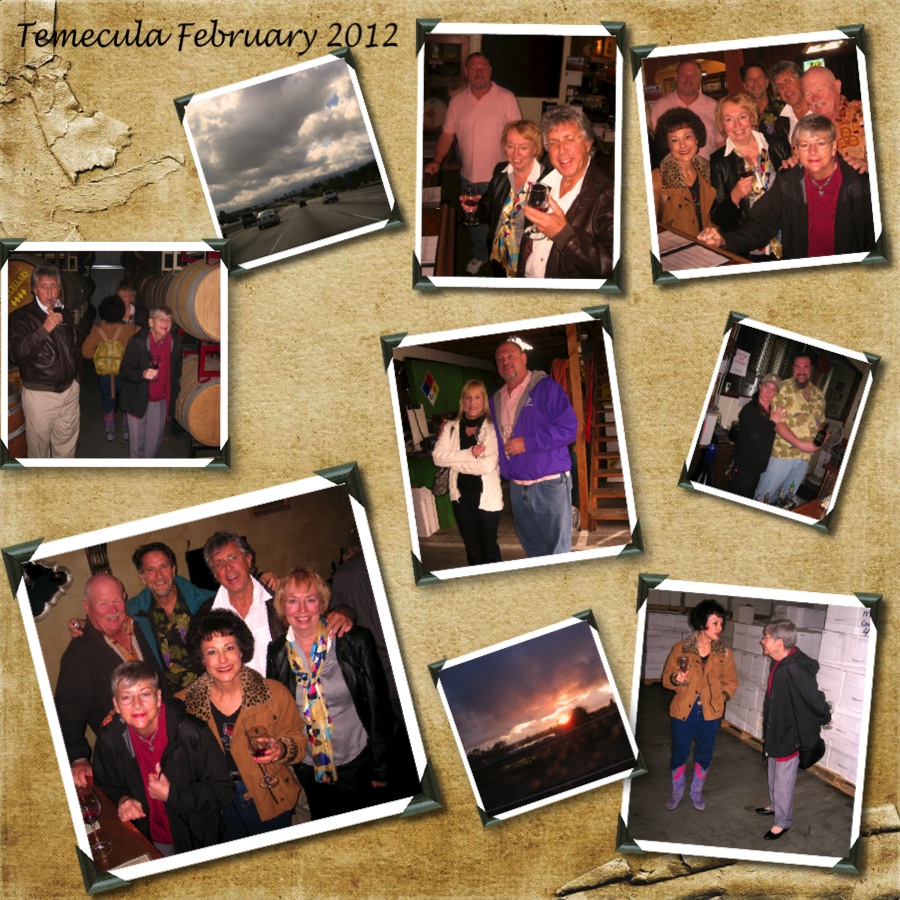 Off We Go....


It was a stormy day and the van was chugging right along!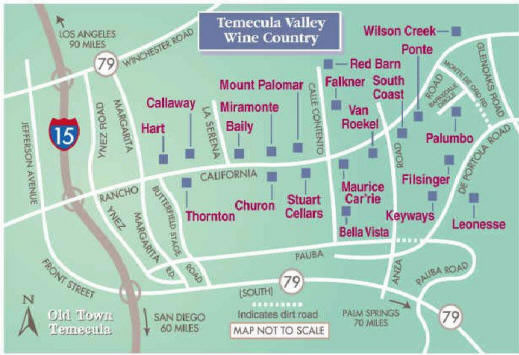 Once we arrive, we have many choices
Arrival At Falkner Means Visit Trinket & Shelly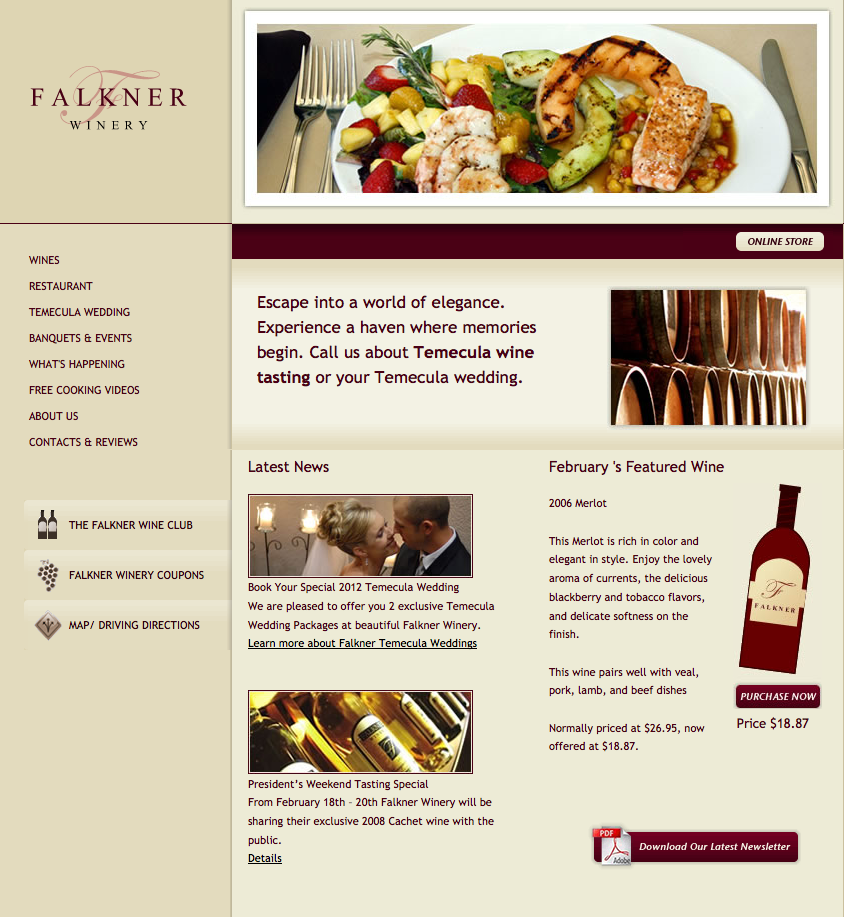 We arrived right on time at 10:45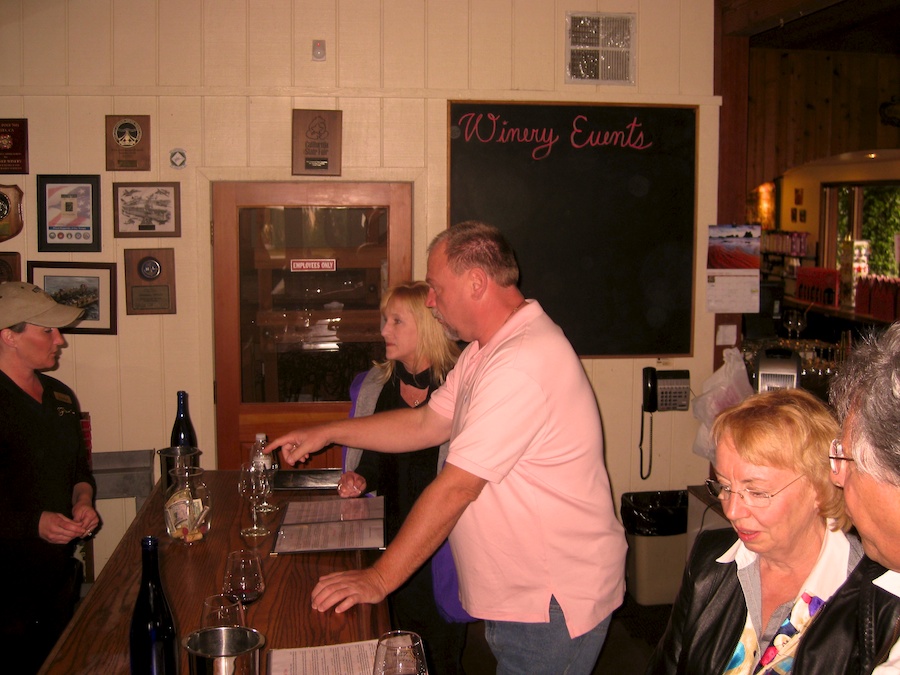 Trinket talks to Colleen and Pablo while Jan and Brian figure things out!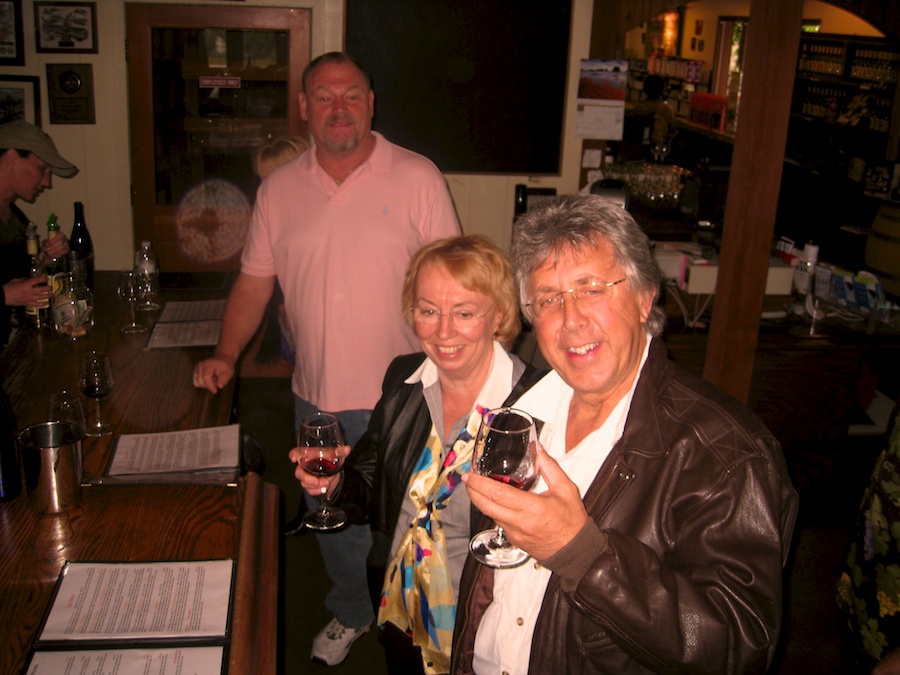 "Blimy... This is pretty good!"
Did You Know? - From [God] blind me!, corrupted to disguise the blasphemous nature of the oath. Compare 'sblood, strewth, zounds, etc. (UK, Australian) Expressing anger, surprise, excitement, etc. [From 1889.]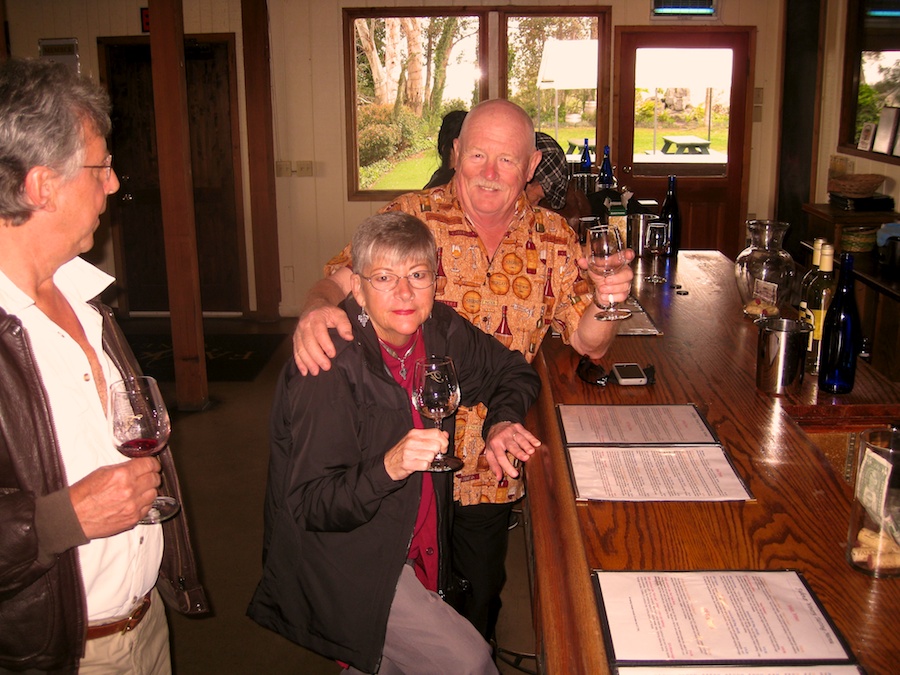 Brian watches us carefully.... Something he should never do!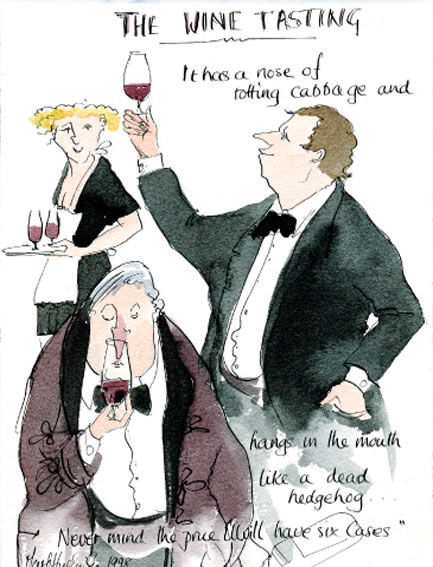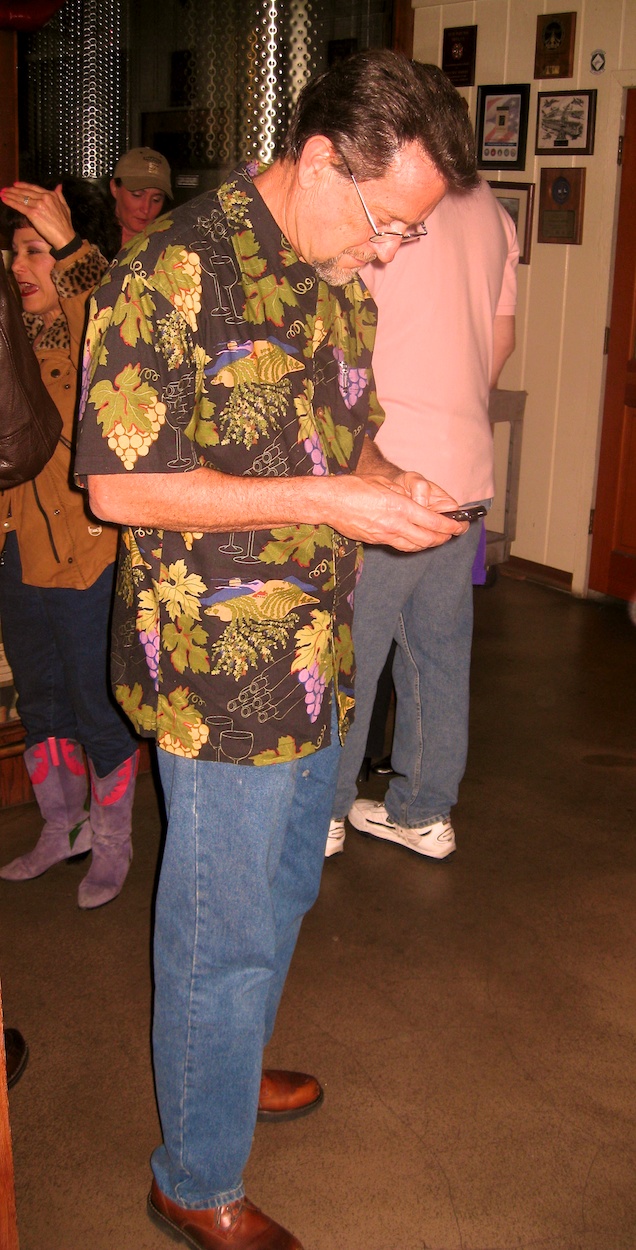 "Yeah! Cyndy is coming this evening to join us at Alpine Village!"

Colleen and Pablo check out the vino

The guilty are found!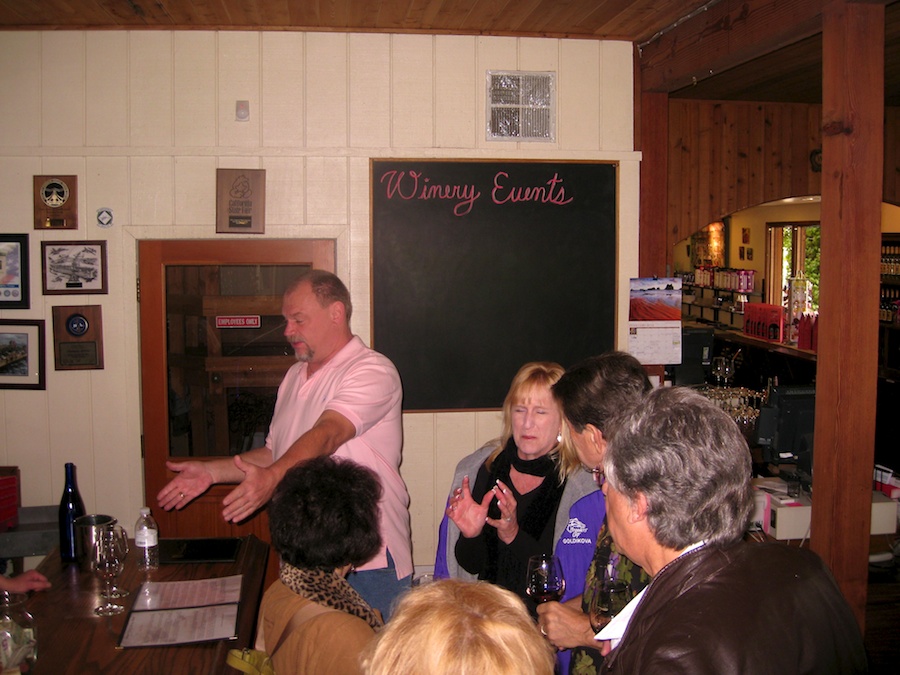 Pablo must think it is longer than Colleen thinks it is????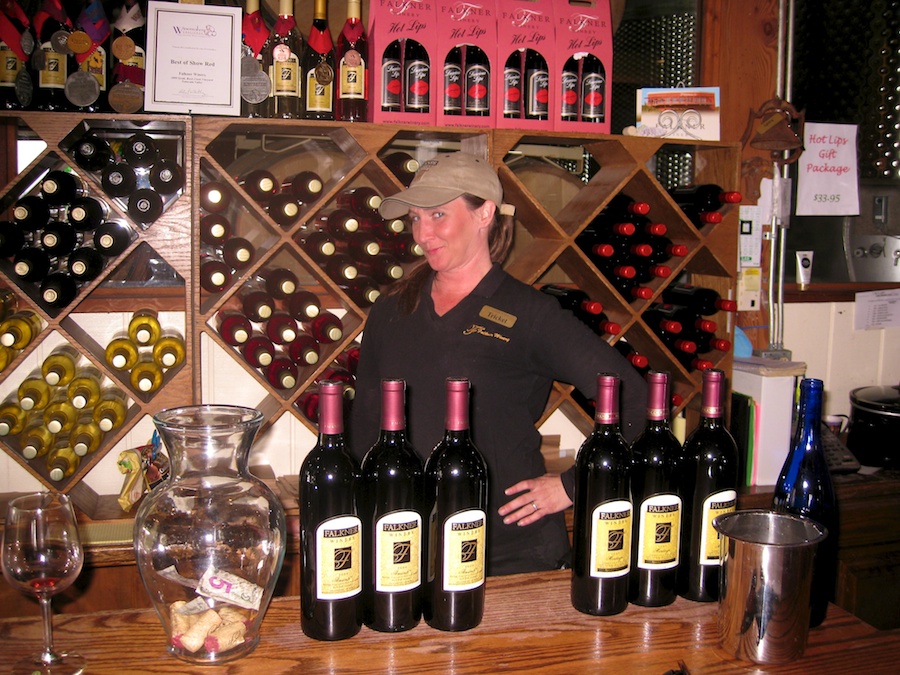 Trinket poses for a snapshot
Did You Know? - A trinket is a small showy ornament or something that is a mere trifle. Or (as we defined it) a charming lady with a beautiful smile that provides great insight into wines and makes everybody fell at home!!!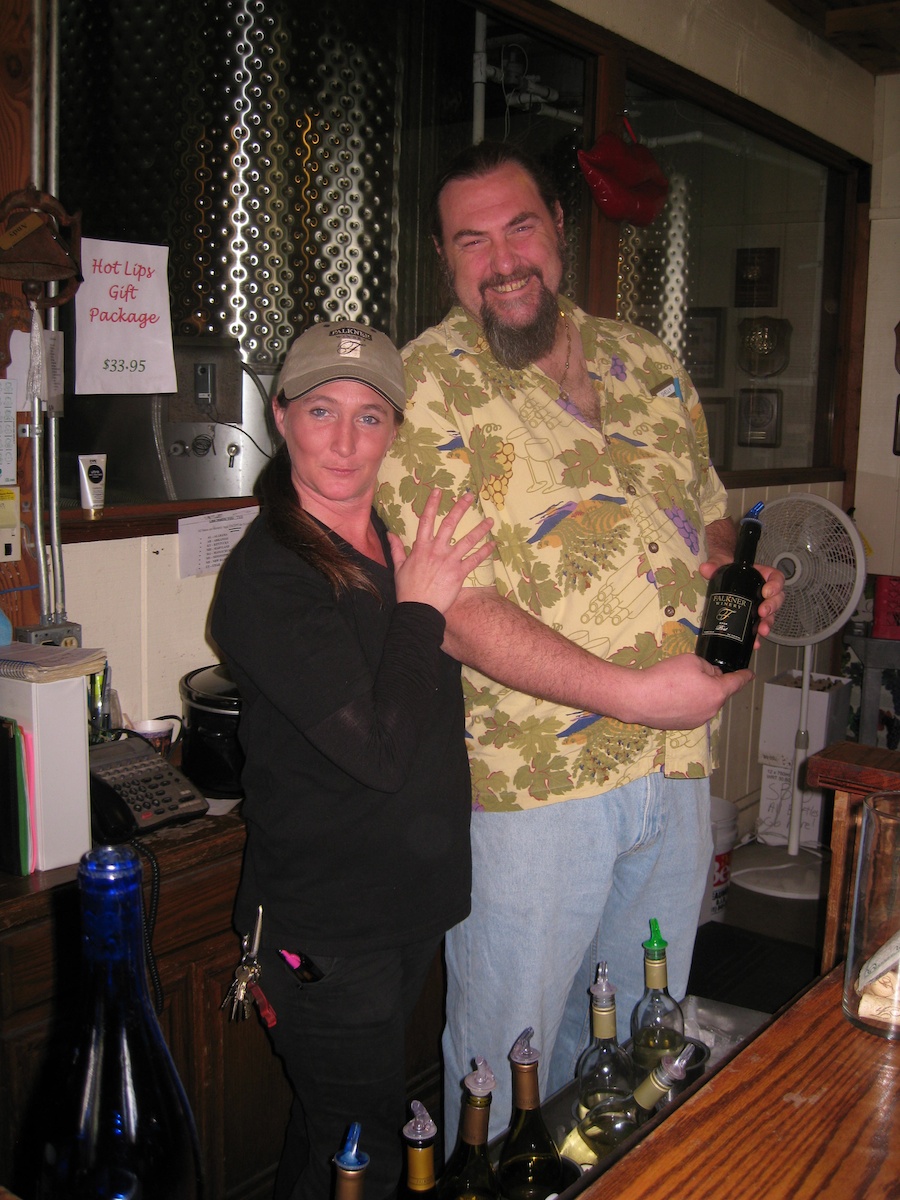 Trinket and Shelly.... Very helpful and friendly members of the Falkner staff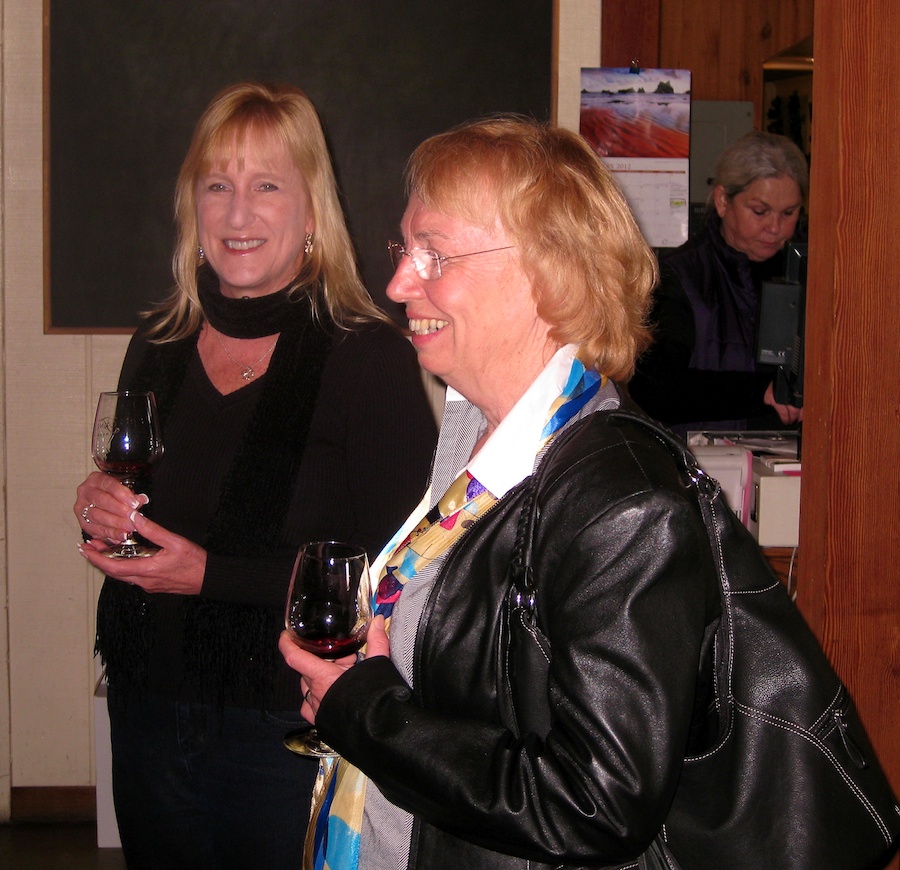 All smiles... Pre-lunch wine tasting, who would have ever think it possible?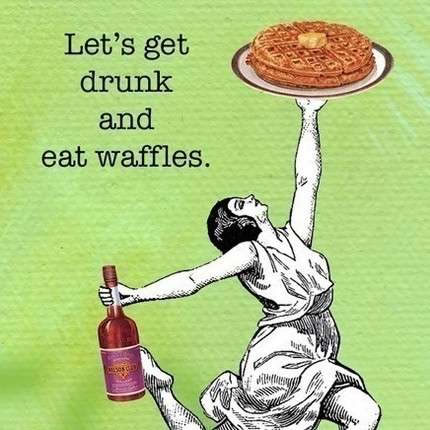 Jan has a great idea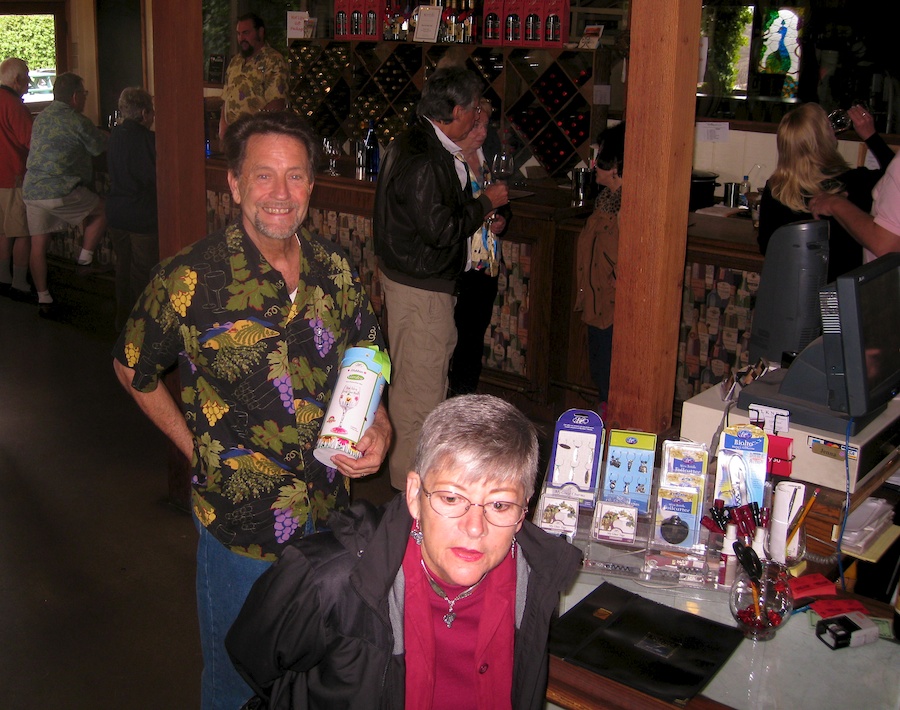 Checking out was exciting.... Prying Jan and Brian from the bar was more exciting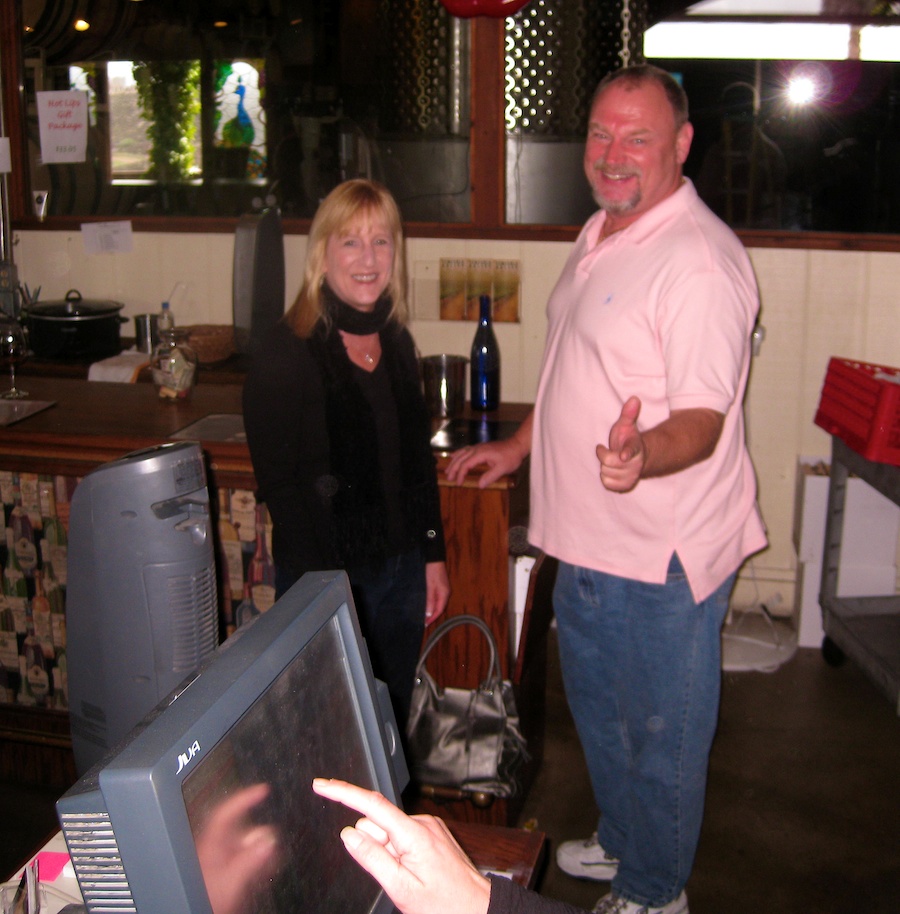 Colleen and Pablo are our heroes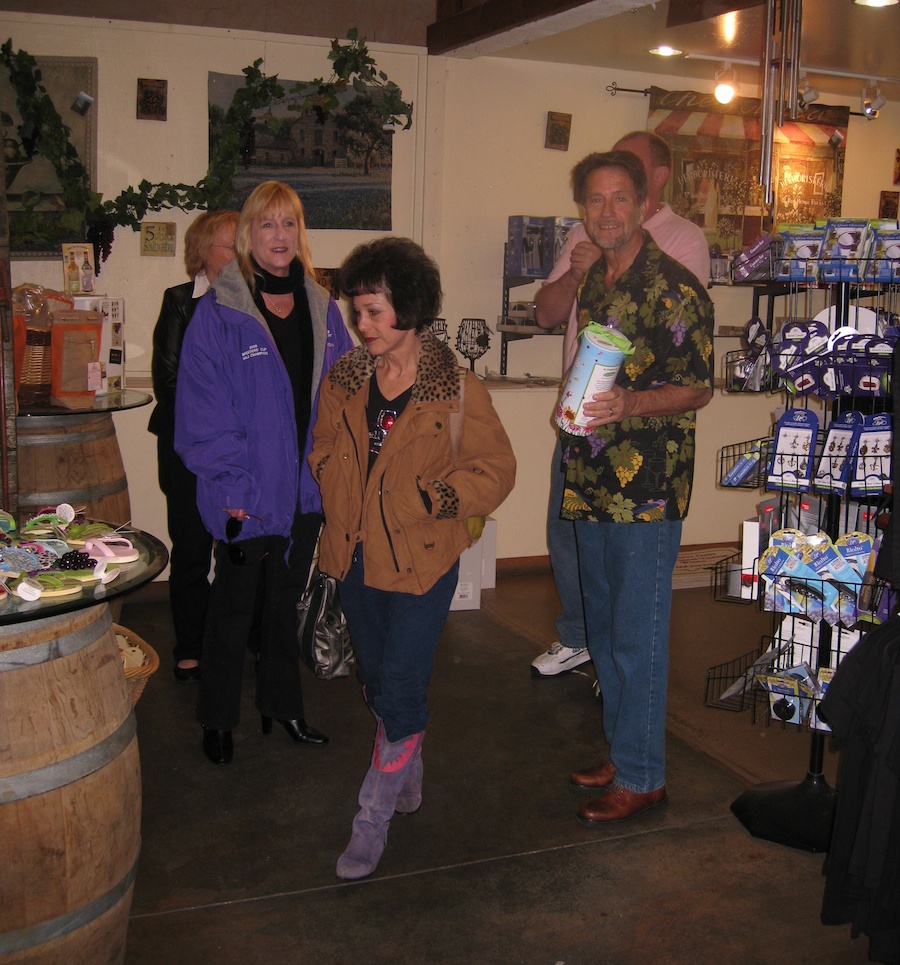 Got to find some goodies to take home

Lunch At Pinnacle (Falkner Winery)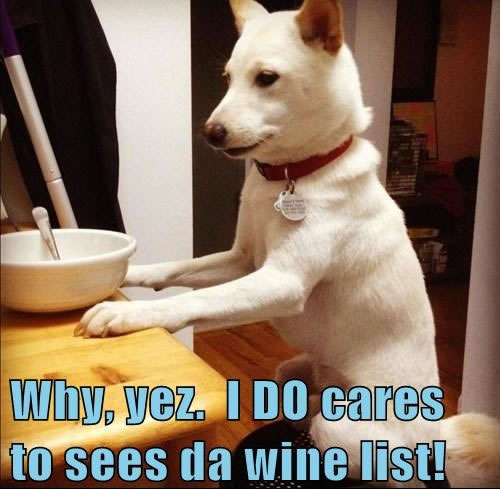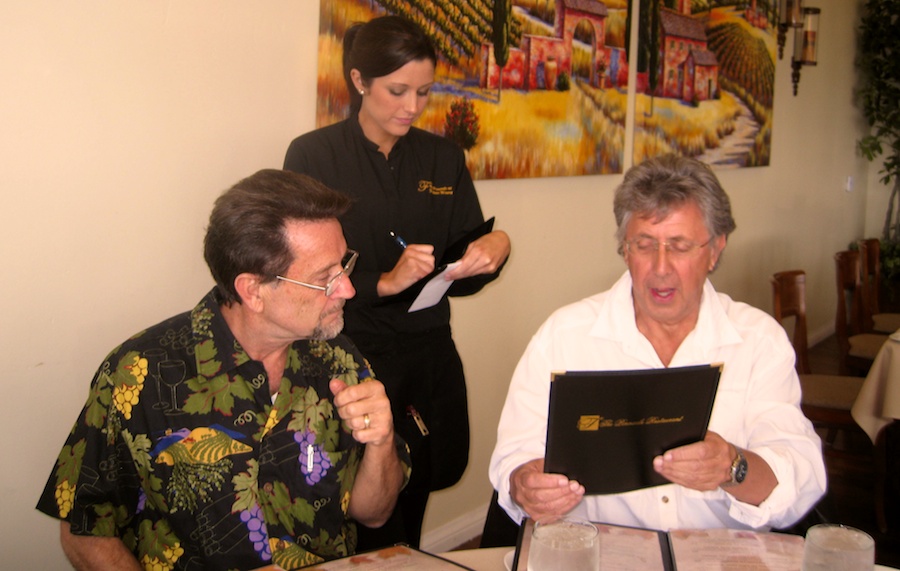 All the way to Temecula and Brian has a hamburger.... How does he do it?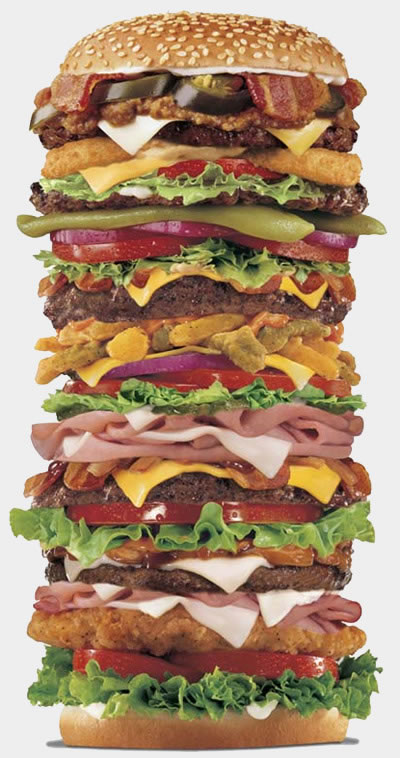 The famous "Brian Burger"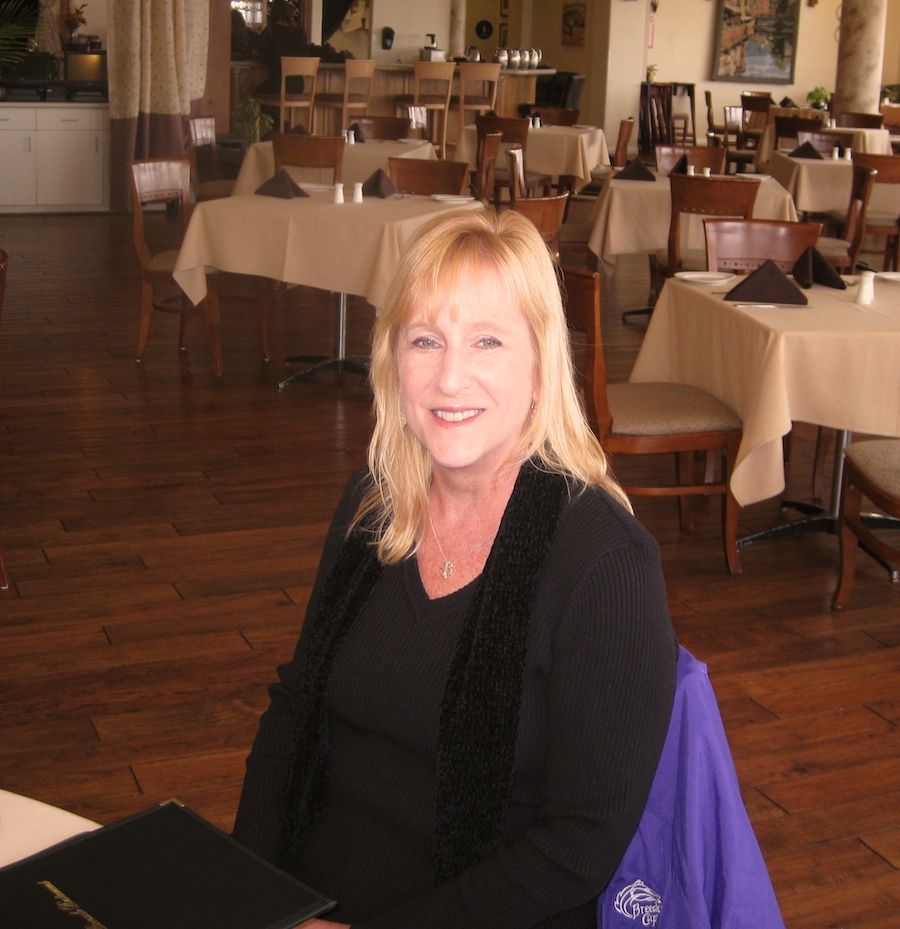 Colleen and Paul ordered the swordfish
Did You Know? - Swordfish (Xiphias gladius; from Greek ξίφος: sword, and Latin gladius: sword), also known as broadbill in some countries, are large, highly migratory, predatory fish characterized by a long, flat bill. They are a popular sport fish of the billfish category, though elusive. Swordfish are elongated, round-bodied, and lose all teeth and scales by adulthood.

These fish are found widely in tropical and temperate parts of the Atlantic, Pacific and Indian oceans, and can typically be found from near the surface to a depth of 550 m (1,800 ft). They commonly reach 3 m (9.8 ft) in length, and the maximum reported is 4.55 m (14.9 ft) in length and 650 kg (1,400 lb) in weight.
Contrary to popular belief, the "sword" is not used to spear, but instead may be used to slash at its prey in order to injure the prey animal, to make for an easier catch. Mainly the swordfish relies on its great speed and agility in the water to catch its prey.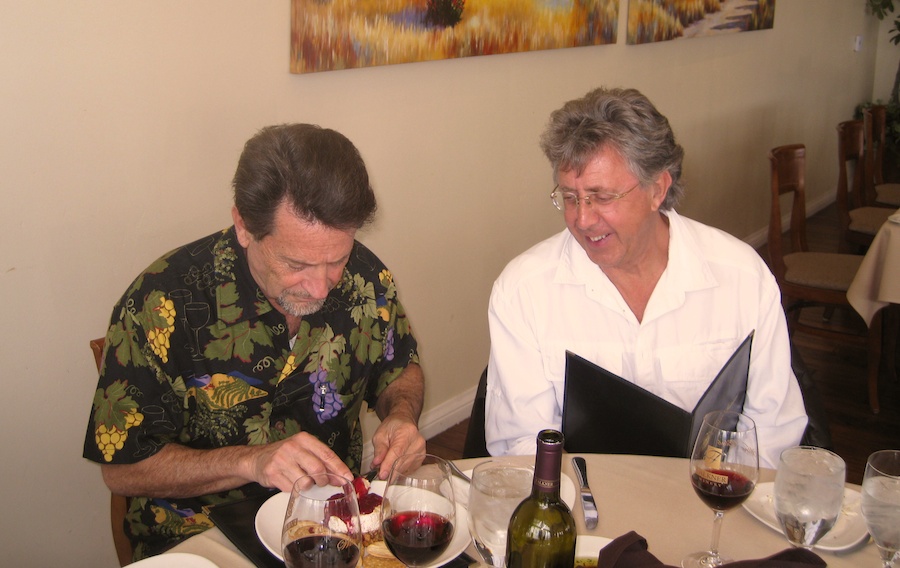 Bob does the Brie
Did You Know? - Brie /ˈbriː/ is a soft cow's cheese named after Brie, the French region from which it originated (roughly corresponding to the modern département of Seine-et-Marne). It is pale in color with a slight grayish tinge under a rind of white mold; very soft and savory with a hint of ammonia. The whitish moldy rind is typically eaten, the flavor quality of which depends largely upon the ingredients used and its manufacturing environment.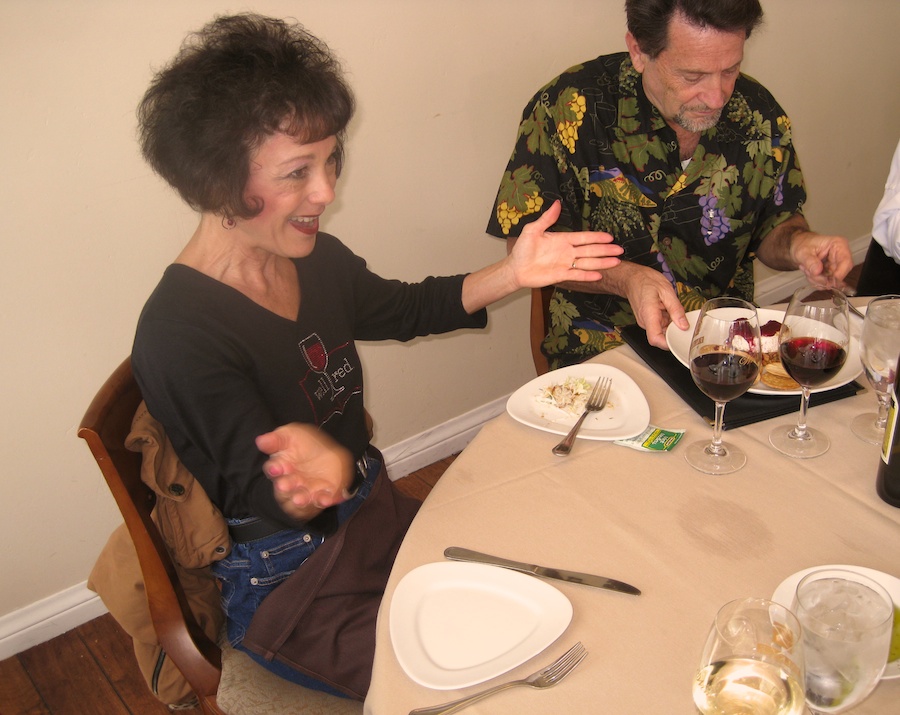 "Yep! The last time Bob cut the Brie the raspberry stain was this long on his shirt!"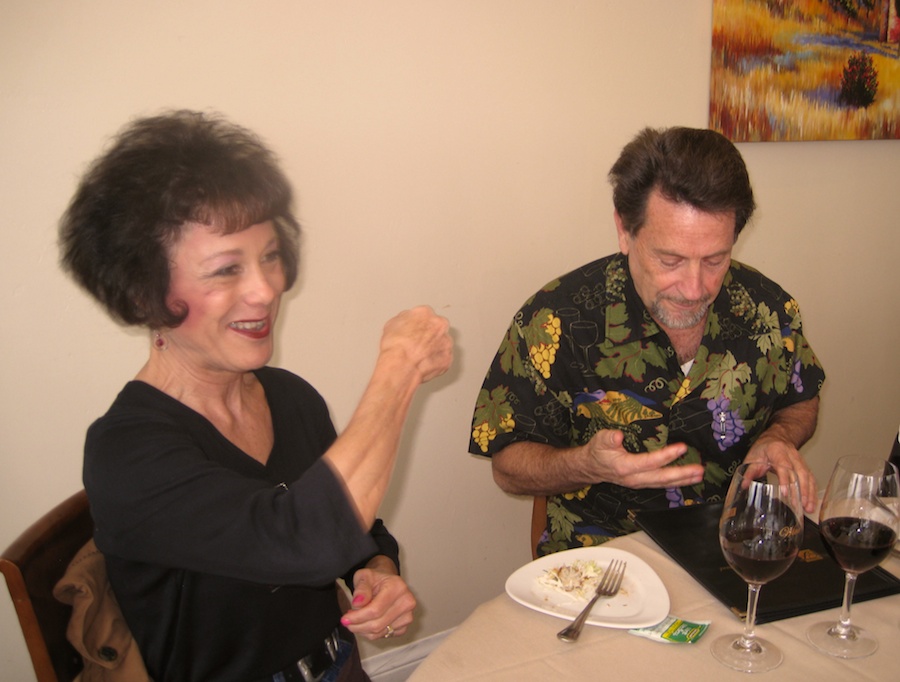 "...and that was before the plate flipped upside down and landed on the waiter!"

"It was Bob!"... We cannot tell a lie

Tummies full... Smiley faces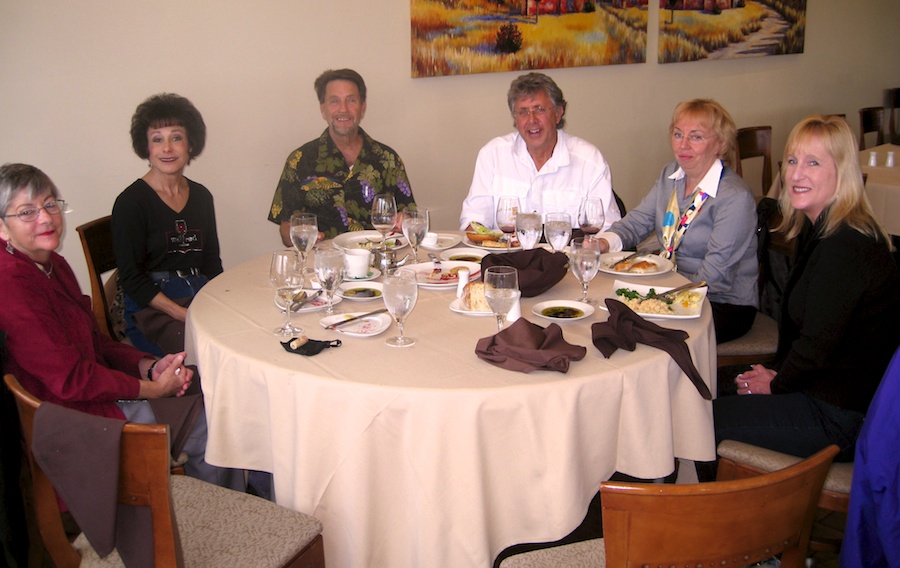 Oh oh... caught in the act
Down The Road To Maurice Carrie Van Roekel Winery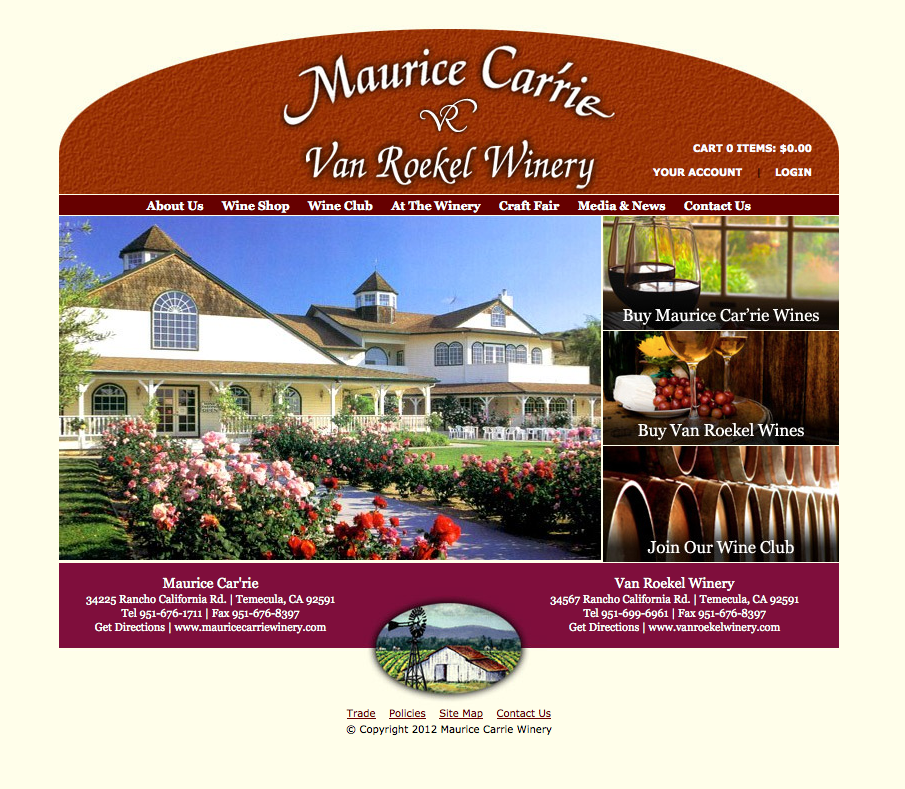 What an enjoyable visit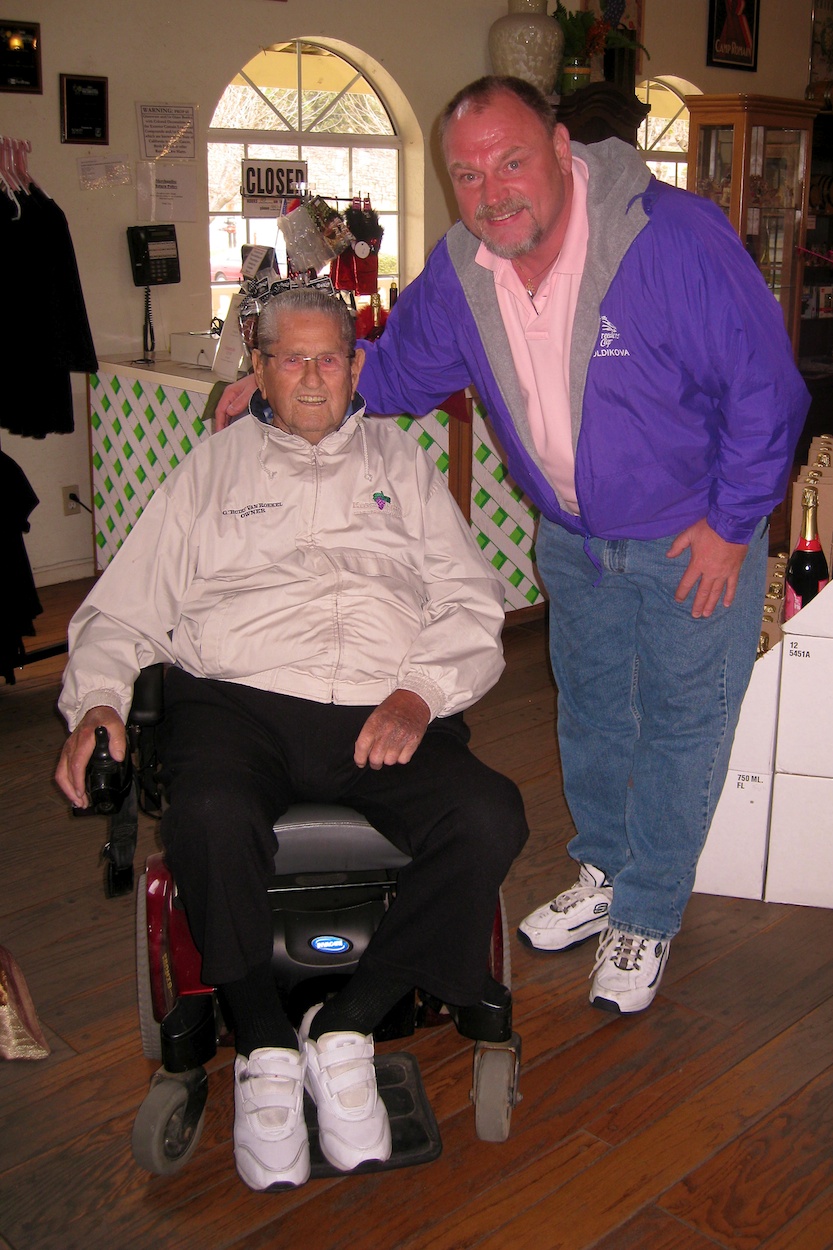 Pablo visits with the owner of the winery Budd Van Roekel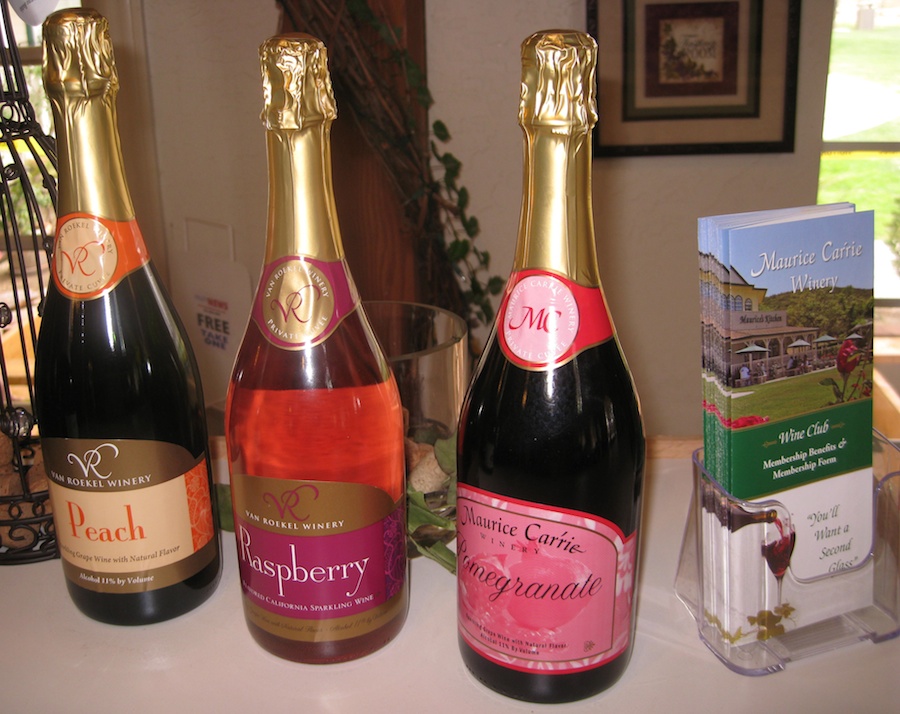 Fantastic champagnes
Time For A Tour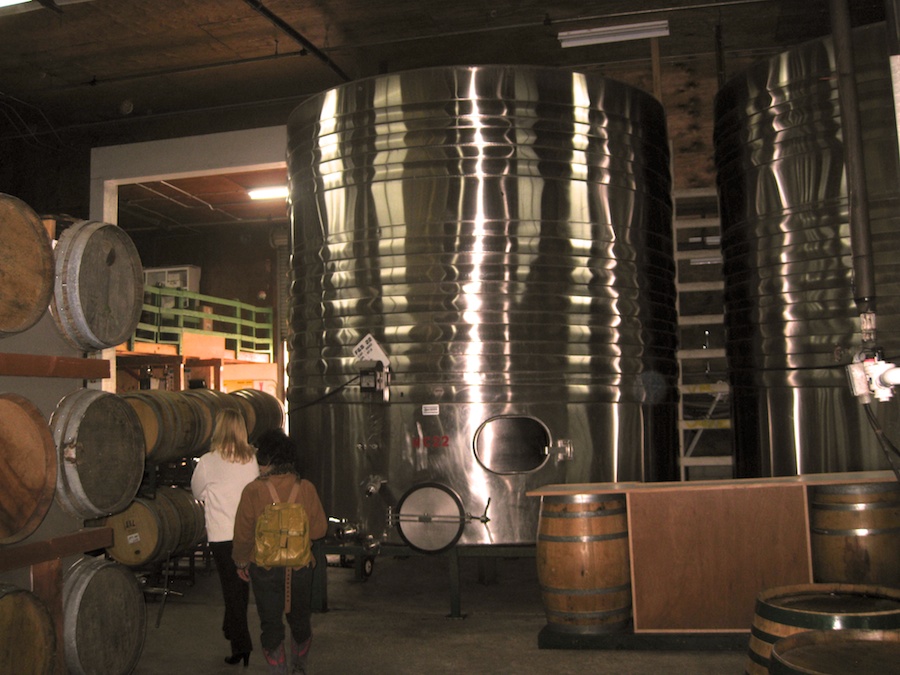 1,000 to 8,000 gallon stainless steel vats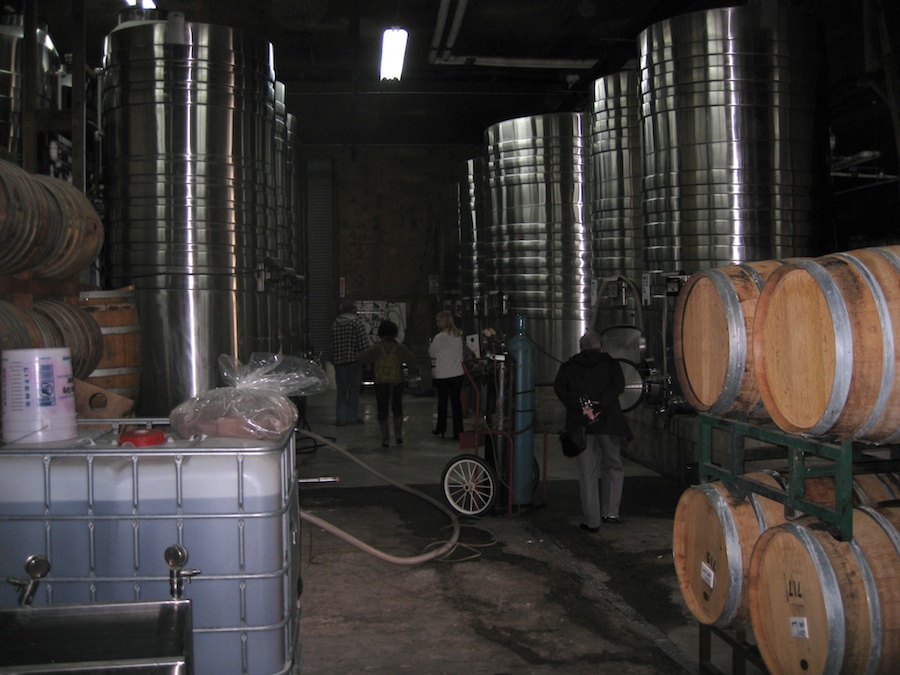 Oak casks are also used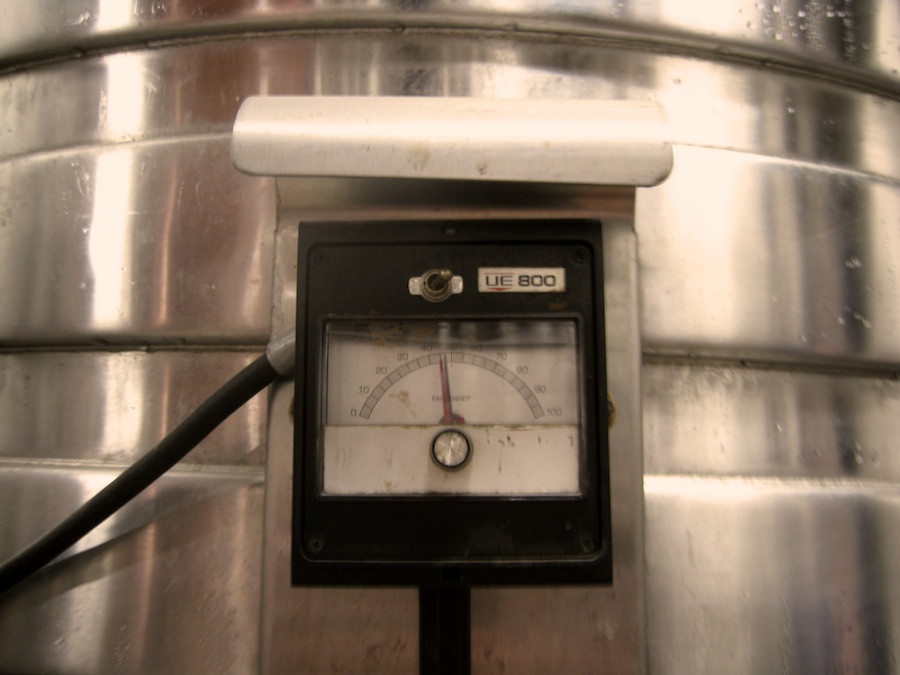 The rings around the outside contain propylene glycol
Did You Know? - Propylene glycol, also called 1,2-propanediol or propane-1,2-diol, is an organic compound (a diol or double alcohol) with formula C3H8O2 or HO-CH2-CHOH-CH3. It is a colorless, nearly odorless, clear, viscous liquid with a faintly sweet taste, hygroscopic and miscible with water, acetone, and chloroform.
Propylene glycol is used:
As a solvent in many pharmaceuticals , including oral , injectable and topical formulations (notably, diazepam , which is insoluble in water, uses propylene glycol as its solvent in its clinical , injectable form)
As a humectant food additive , labeled as E number E1520
As a moisturizer in medicines , cosmetics , food , toothpaste , shampoo , mouth wash , hair care and tobacco products
As a carrier in fragrance oil
To produce polyester compounds
As a base in deicing solution
As an ingredient in massage oils
In hand sanitizers, antibacterial lotions, and saline solutions
In smoke machines to make artificial smoke for use in firefighters ' training and theatrical productions
In electronic cigarettes , as a vaporizable base for diluting the nicotine liquid
As a solvent for food colors and flavorings
As an ingredient, along with wax and gelatin, in the production of paintballs
As a moisture stabilizer (humectant) for snus (Swedish style snuff)
As a cooling agent for beer and wine glycol jacketed fermentation tanks
As a nontoxic antifreeze for winterizing drinking water systems, and in applications where the used antifreeze eventually will be drained into the soil, water, or a septic system
As a solvent used in mixing photographic chemicals, such as film developers
In cryonics
As a working fluid in hydraulic presses
As a coolant in liquid cooling systems
To regulate humidity in a cigar humidor
As the killing and preserving agent in pitfall traps, usually used to capture ground beetles
As an additive to pipe tobacco to prevent dehydration
To treat livestock ketosis
As the main ingredient in deodorant sticks
To deice aircraft
As an ingredient in UV or blacklight tattoo ink
As a lubricant in air conditioning compressors
As a wetting agent, used to determine drying time in paints and coatings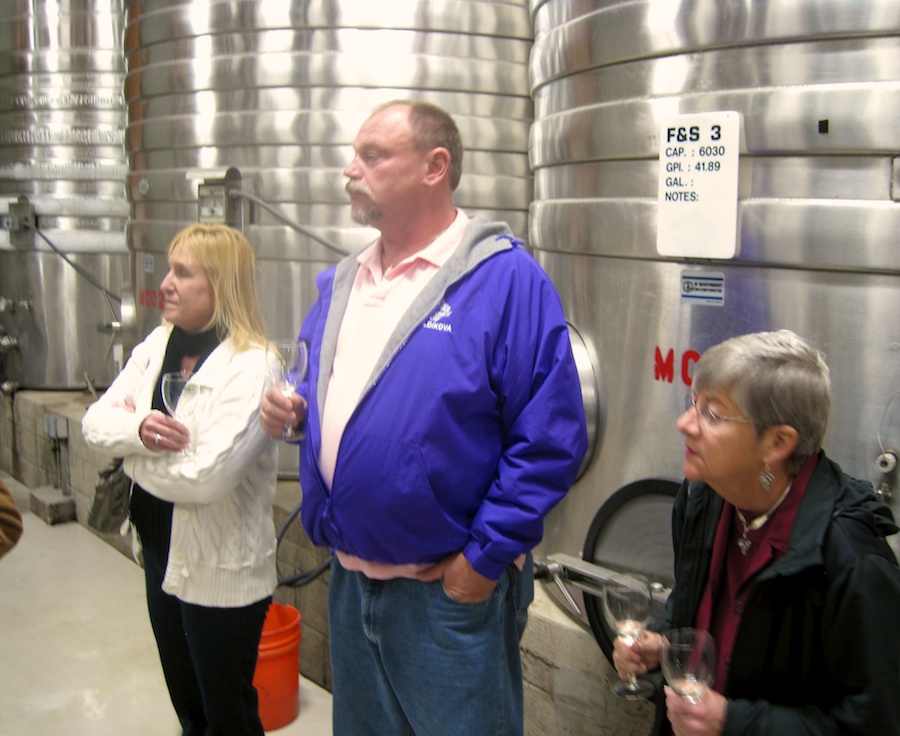 Notice wine glasses in hand ... Death grip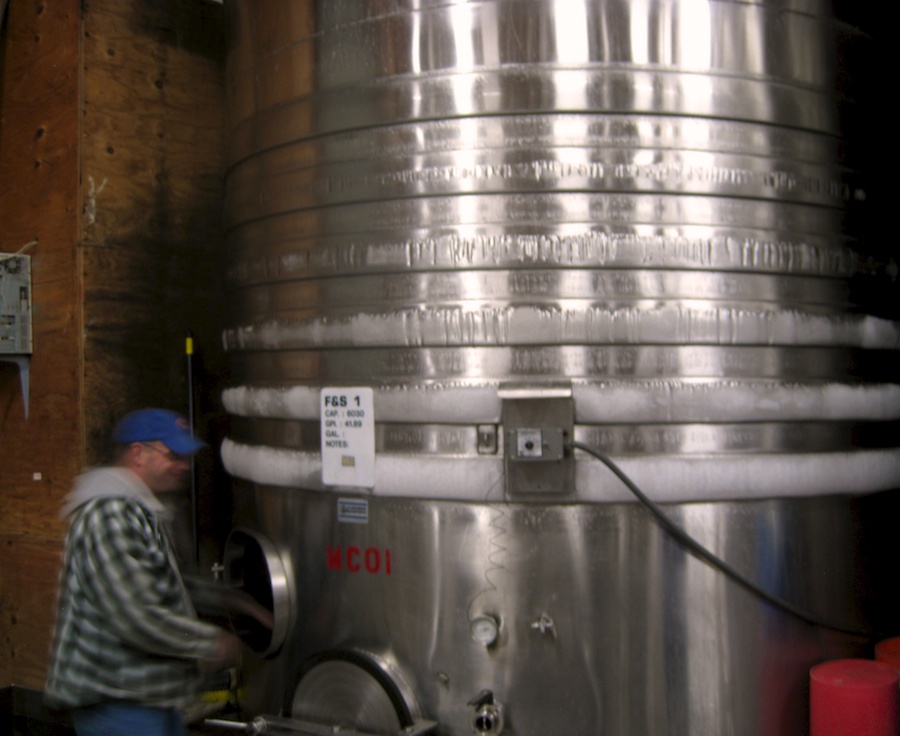 Cuttings are kept at 28 degrees so they can be grafted in the spring... Notice the cooling rings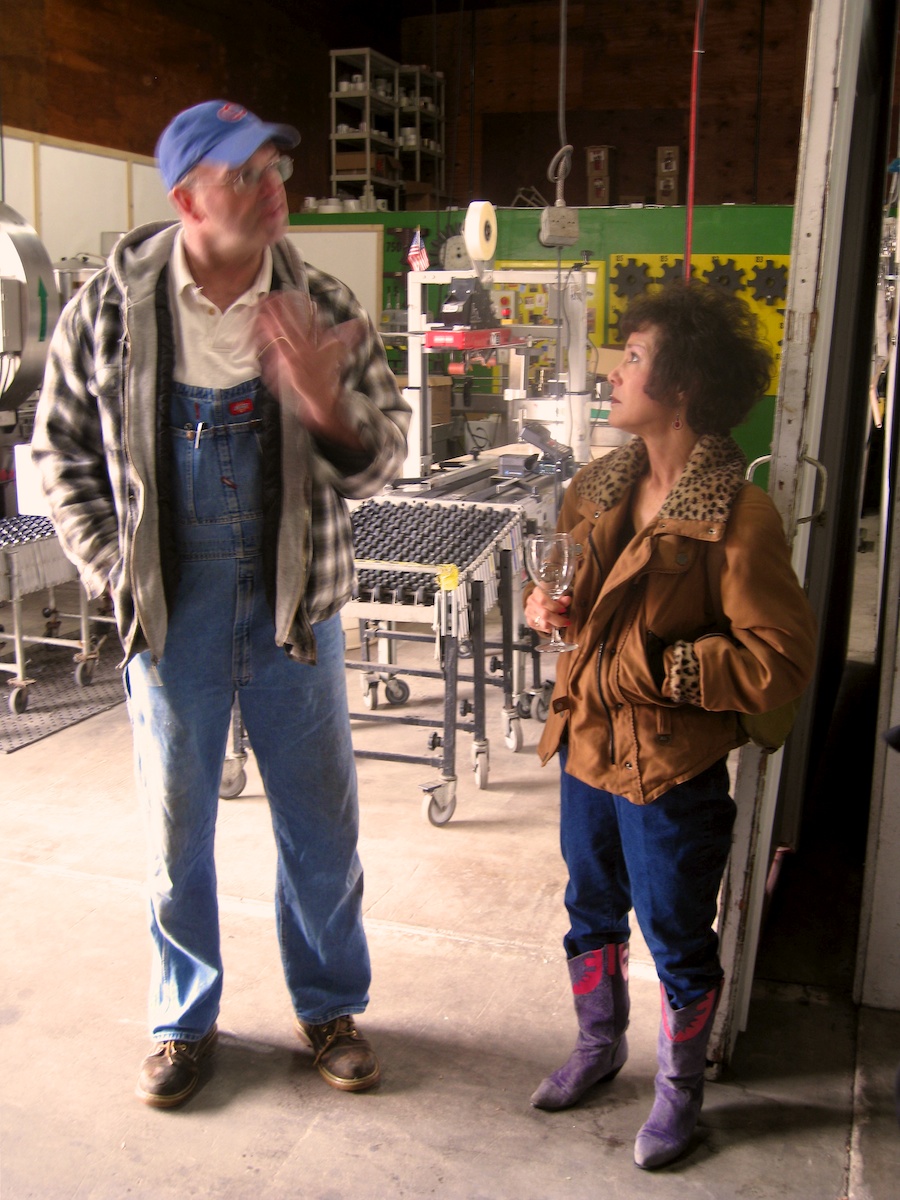 Gus 'splains to Donna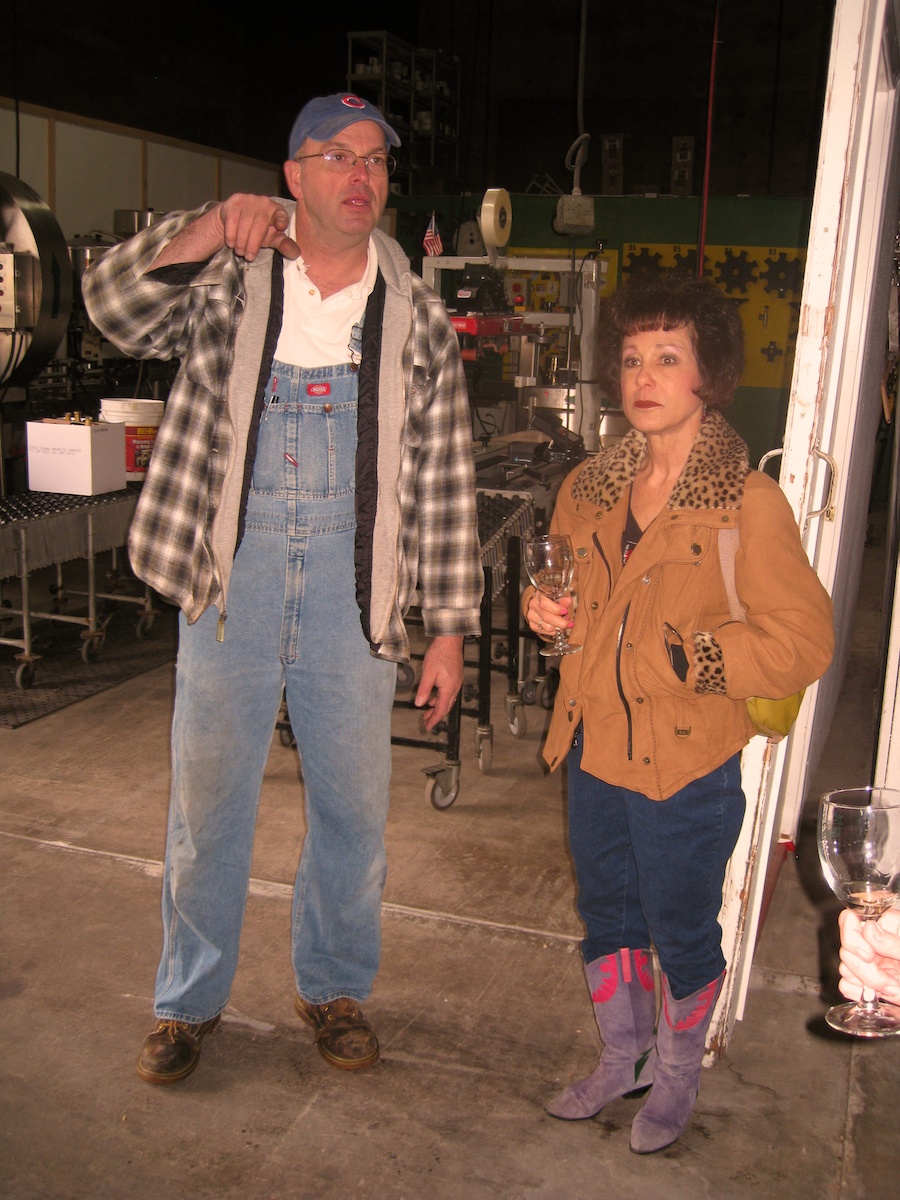 It's amazing the work that goes on behind the scenes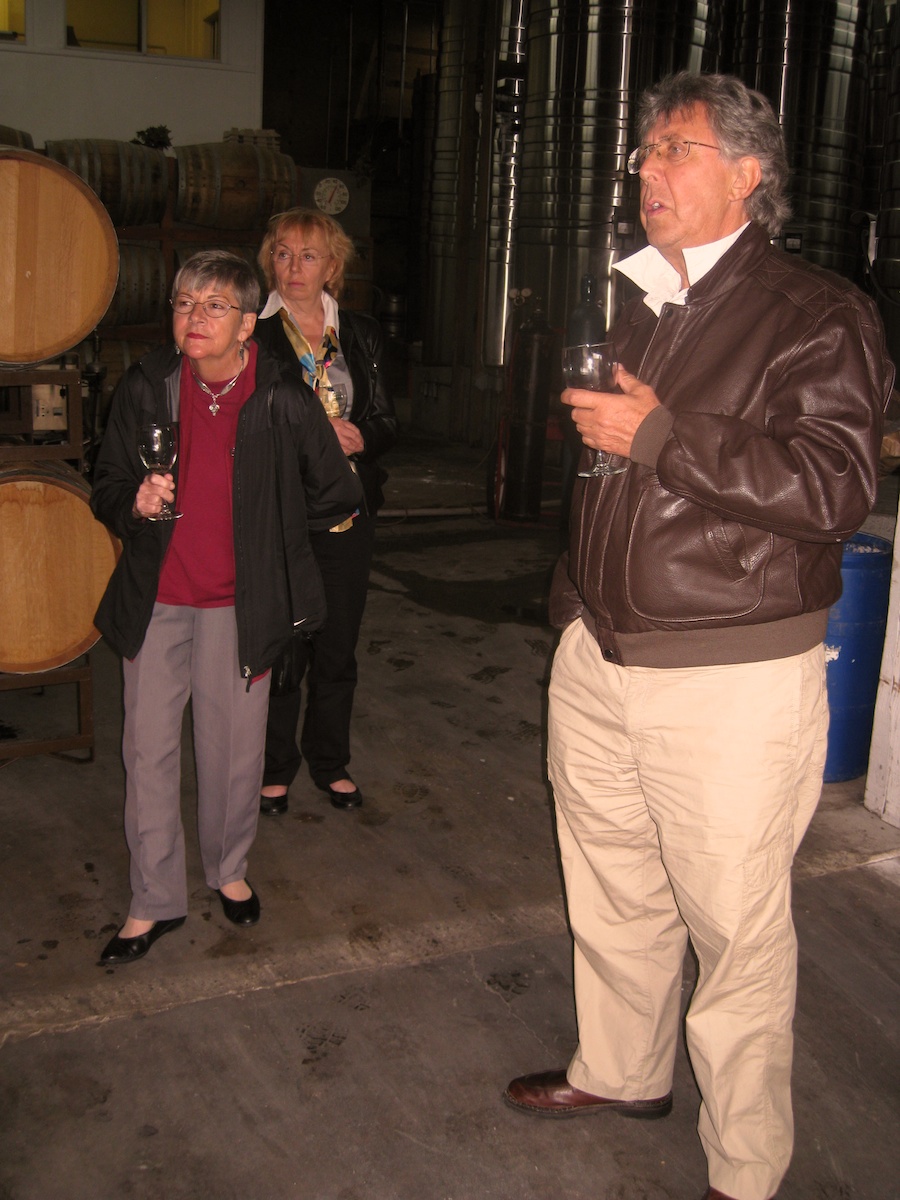 Brian is being "Gee Whizzed" as we go through the tour. The chemistry required is amazing!
Did You Know? - Whether the wine is aging in tanks or barrels, tests are run periodically in a laboratory to check the status of the wine. Common tests include °Brix, pH, titratable acidity, residual sugar, free or available sulfur, total sulfur, volatile acidity and percent alcohol. Additional tests include those for the crystallization of cream of tartar (potassium hydrogen tartrate) and the precipitation of heat unstable protein; this last test is limited to white wines.
These tests are often performed throughout the making of the wine as well as prior to bottling. In response to the results of these tests, a wine maker can then decide on appropriate remedial action, for example the addition of more sulfur dioxide. Sensory tests will also be performed and again in response to these a wine maker may take remedial action such as the addition of a protein to soften the taste of the wine.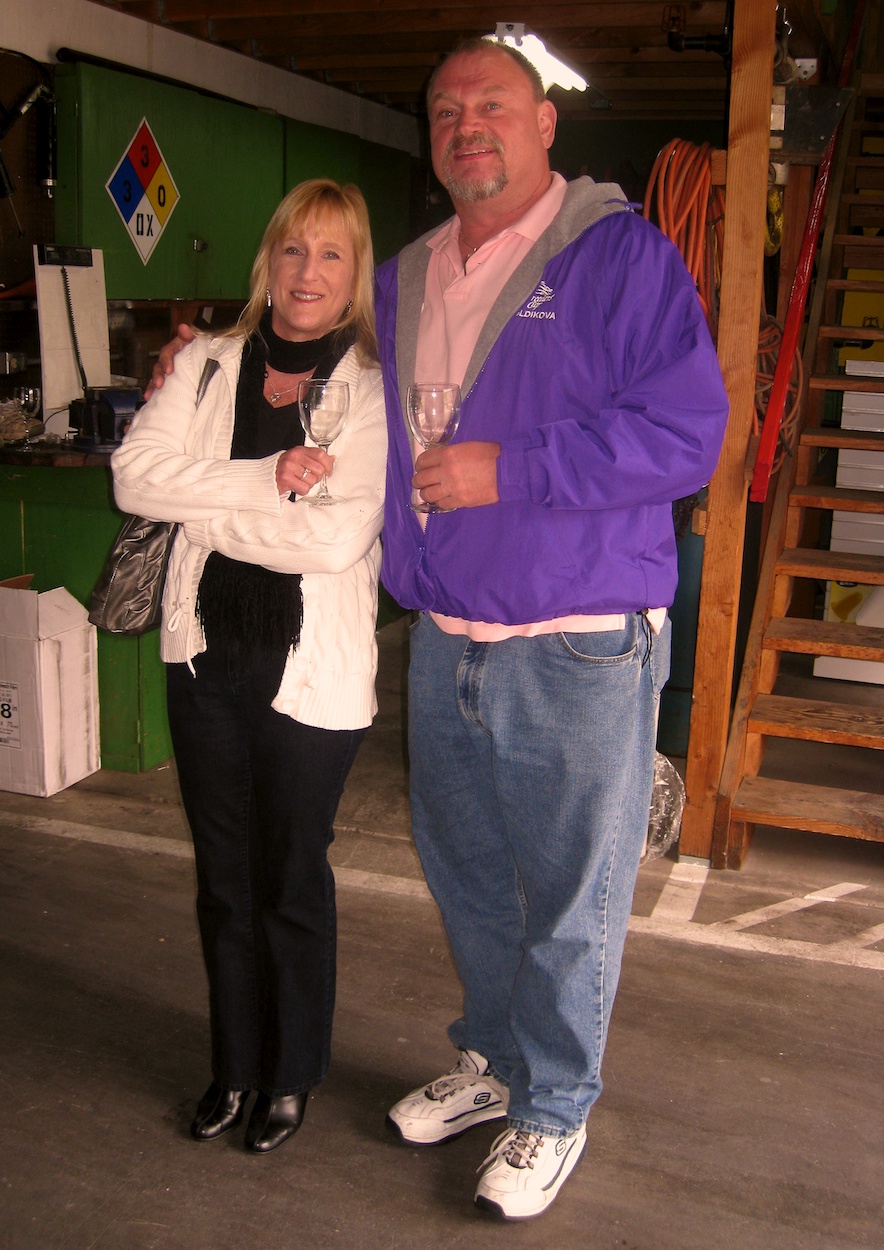 Colleen! Pablo! Empty glasses???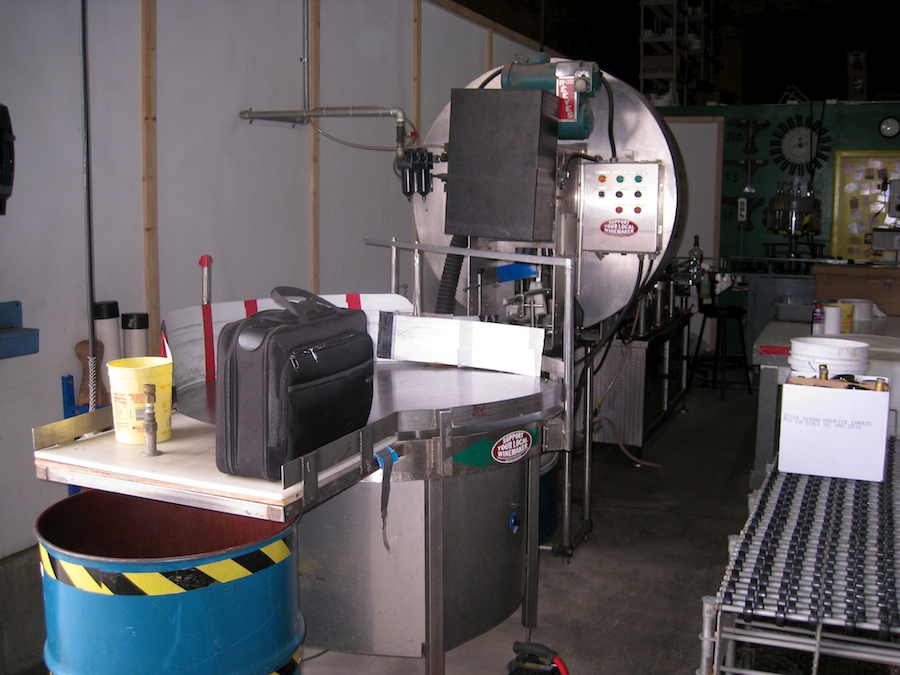 The bottling machinery was quite interesting
Did You Know? - The first step in bottling wine is depalletising, where the empty wine bottles are removed from the original pallet packaging delivered from the manufacturer, so that individual bottles may be handled. The bottles may then be rinsed with filtered water or air, and may have carbon dioxide injected into them in attempt to reduce the level of oxygen within the bottle.
The bottle then enters a filler which fills the bottle with wine and may also inject a small amount of inert gas (CO2 or nitrogen) on top of the wine to disperse oxygen. The bottle then travels to a corking machine (corker) where a cork is compressed and pushed into the neck of the bottle. Whilst this is happening the corker vacuums the air out of the bottle to form a negative pressure headspace.
This removes any oxygen from the headspace, which is useful as O2 can ruin the quality of the product by oxidation. A negative pressure headspace will also counteract pressure caused by the thermal expansion of the wine, preventing the cork from being forced from the bottle. Some bottling lines incorporate a fill height detector which reject under or over-filled bottles, and also a metal detector.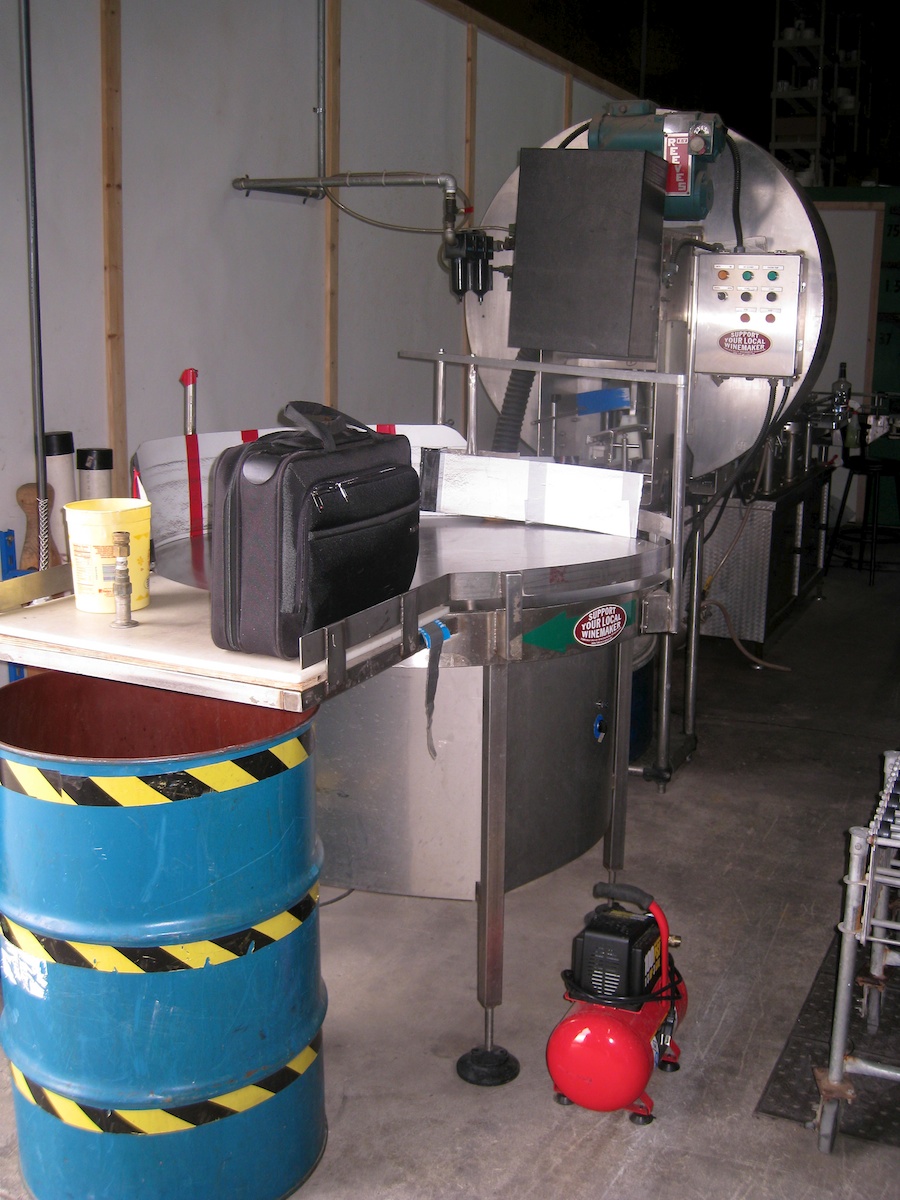 Bottles begin here....

This would be fascinating to see in action!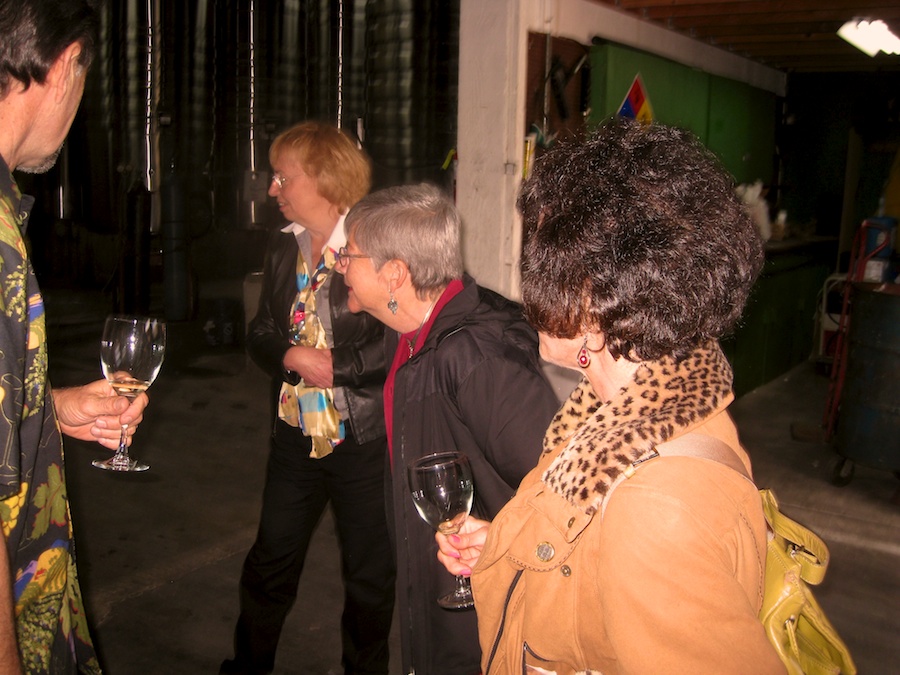 Gus gets some cork material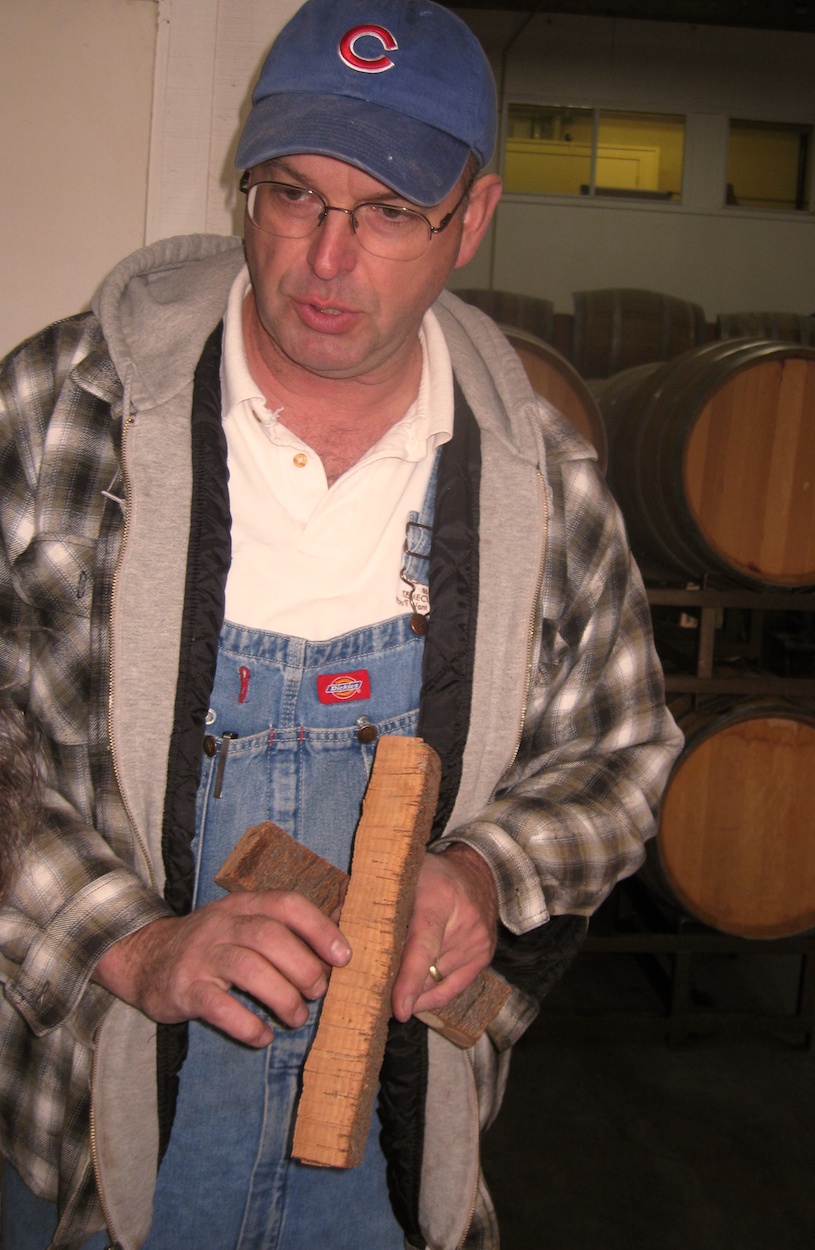 They cut (punch) their own corks
Did You Know? - Cork is an impermeable, buoyant material, a prime-subset of bark tissue that is harvested for commercial use primarily from Quercus suber (the Cork Oak), which is endemic to southwest Europe and northwest Africa. Cork is composed of suberin, a hydrophobic substance, and because of its impermeability, buoyancy, elasticity, and fire resistance, it is used in a variety of products, the most common of which is for wine stoppers.
Portugal produces approximately 50% of cork harvested annually worldwide, with Corticeira Amorim being the leading company in the industry.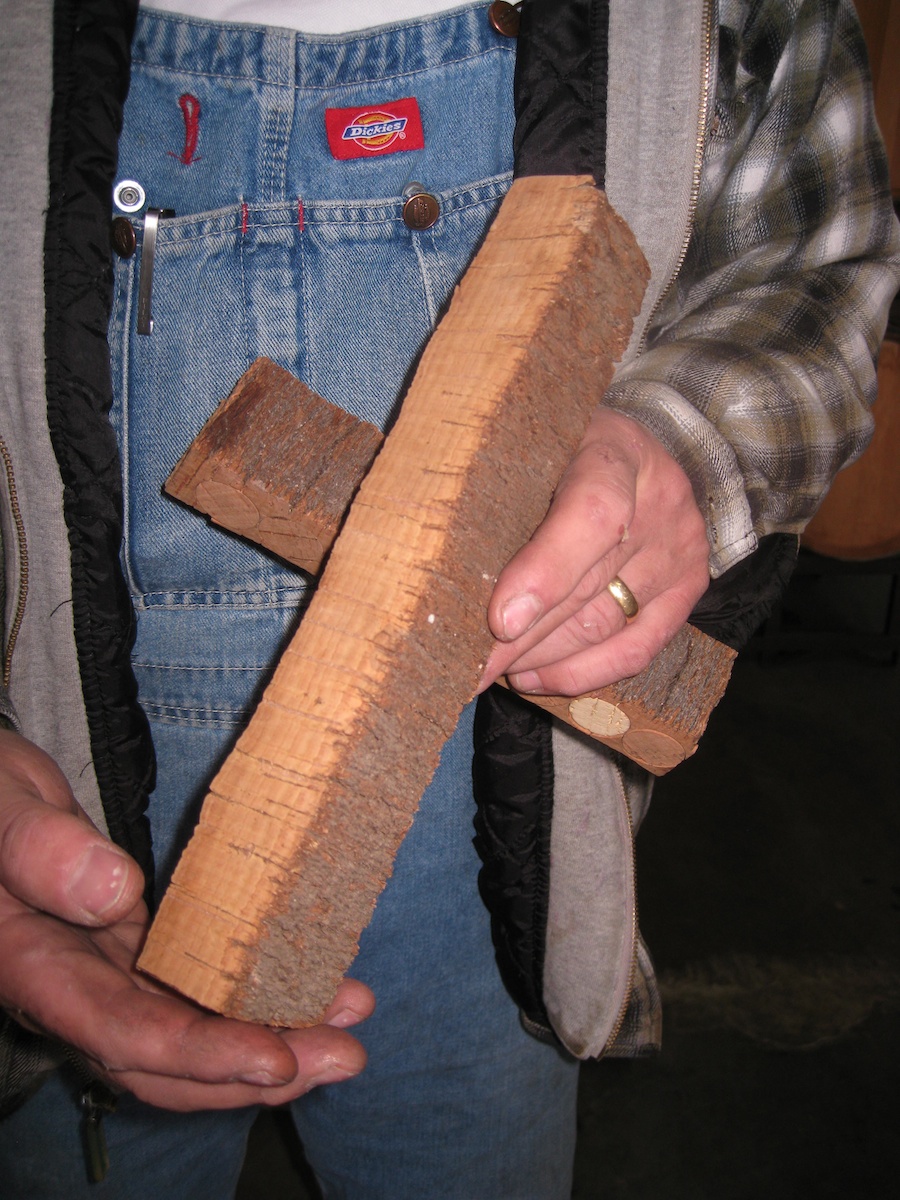 An examination of the graining is essential
Did You Know? - There are about 2,200,000 hectares of cork forest worldwide; 32.4% in Portugal, and 22.2% in Spain. Annual production is about 300,000 tons; 61.3% from Portugal, 29.5% from Spain, 5.5% Italy.
Once the trees are about 25 years old the cork is stripped from the trunks every ten years. The trees live for about 200 years. The first two harvests produce poorer quality cork.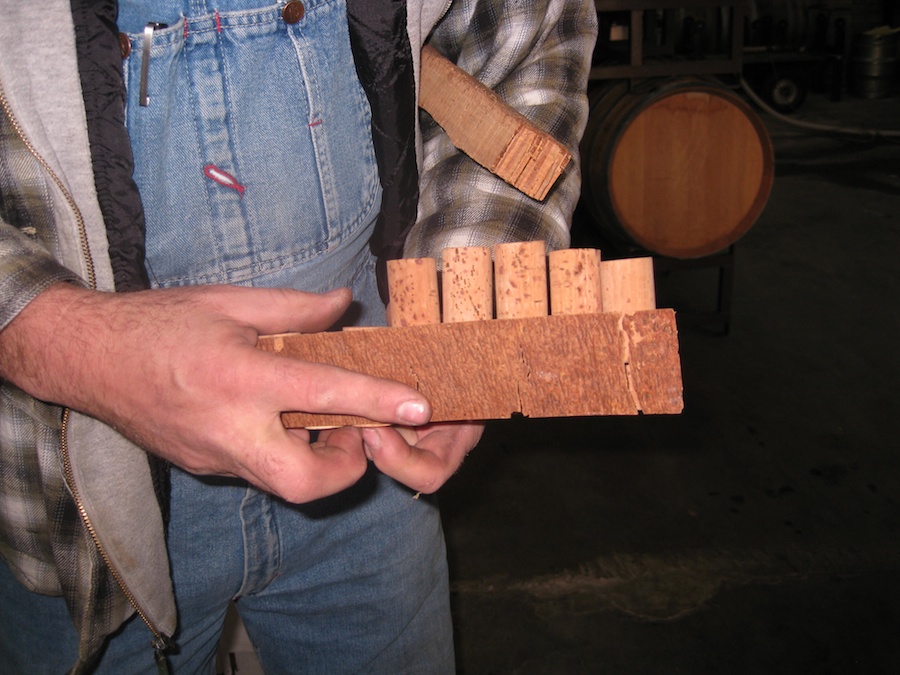 The corks are punched and examined manually to assure the graining will not effect the seal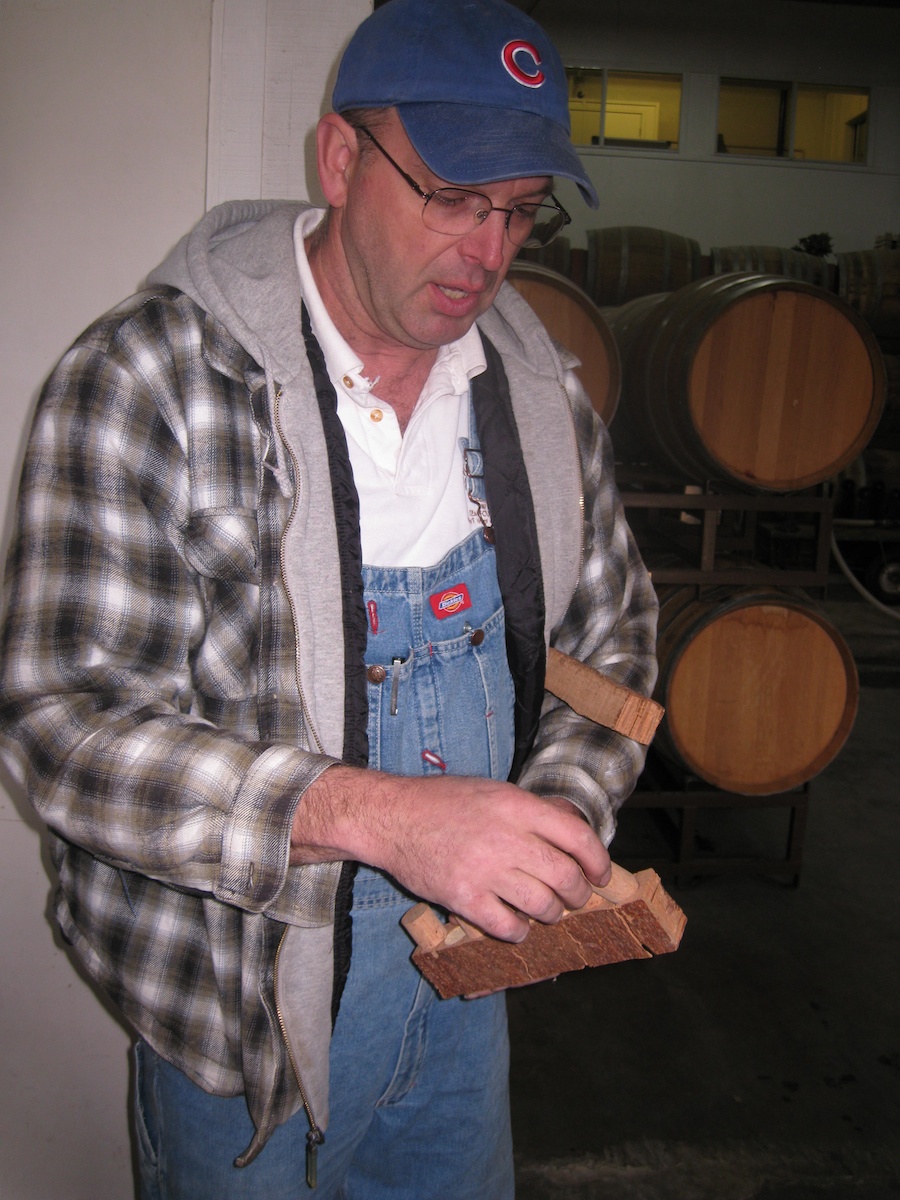 Like a puzzle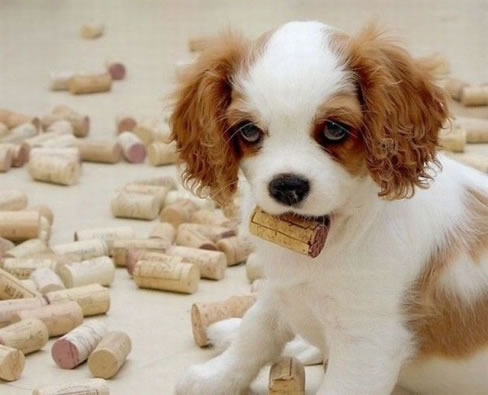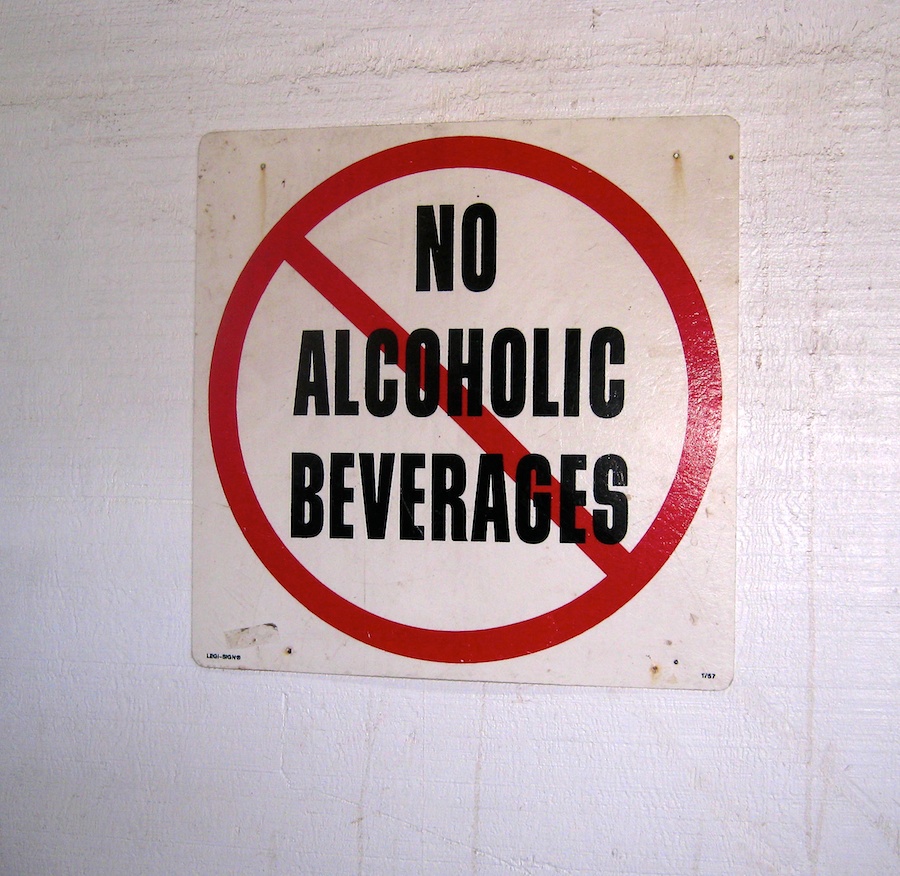 Say what???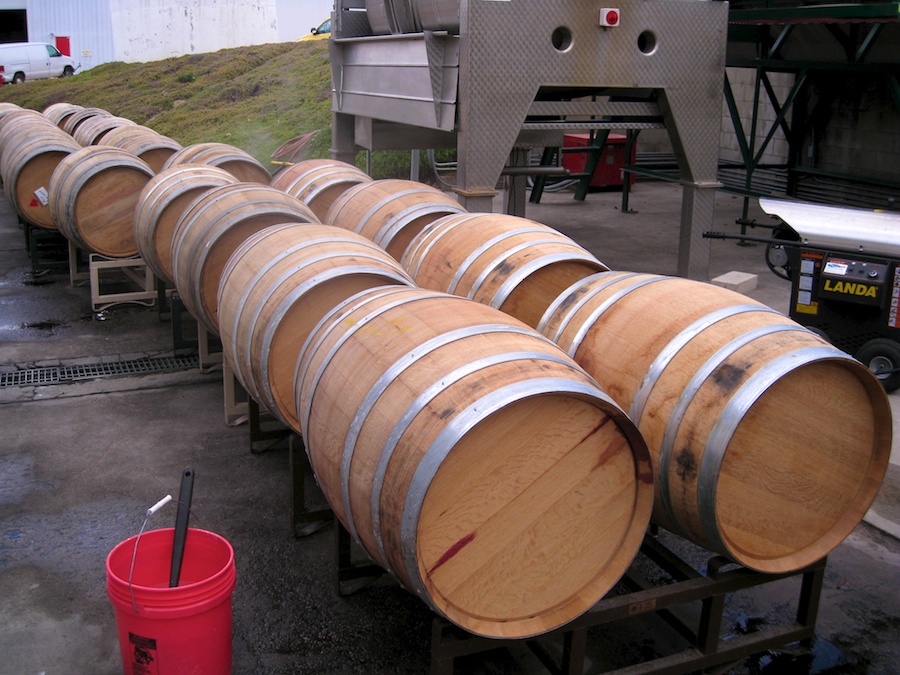 Barrels being cleaned... These guys are about $1200/barrel
Did You Know? - A barrel or cask is a hollow cylindrical container, traditionally made of vertical wooden staves and bound by wooden or metal hoops. Traditionally, the barrel was a standard size of measure referring to a set capacity or weight of a given commodity. For example, a beer barrel had originally a capacity of 36 US gallons (140 L) while an ale barrel a capacity of 32 US gallons (120 L). Wine was shipped in barrels of 31.5 US gallons (119 L). A small barrel is called a keg.
Modern wooden barrels for wine-making are either made of French common (Quercus robur) and white oak (Quercus petraea) or from American white oak (Quercus alba) and have typically these standard sizes: "Bordeaux type" 59.4 US gallons (225 L) and "Cognac type" 79.2 US gallons (300 L).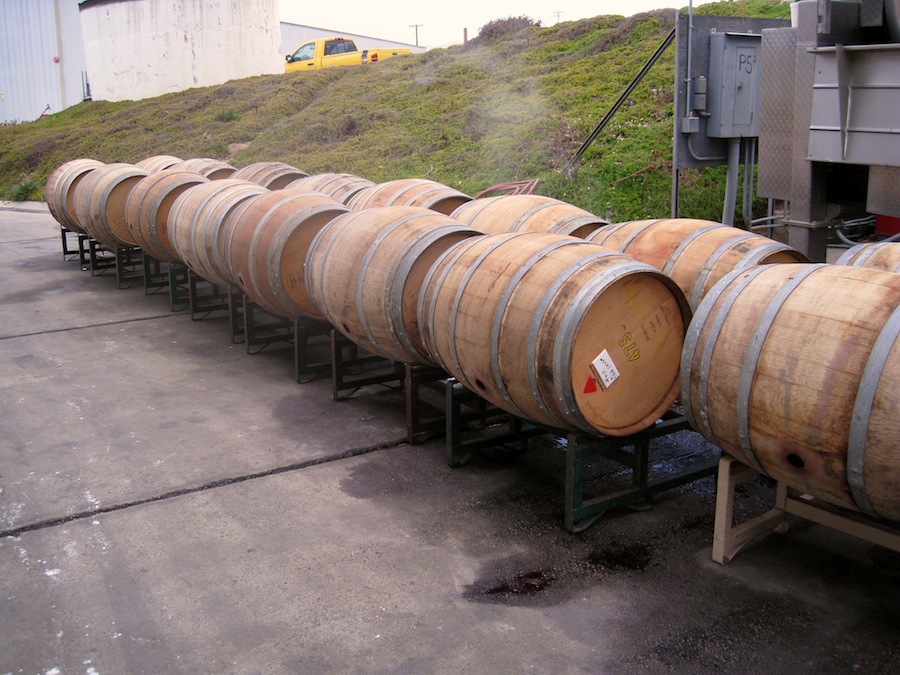 A bit of stream and voila,,, Ready to go!

After 4-5 years they become "inert" and are retired usually to the garden
Did You Know? - Someone who makes barrels is called a "barrel maker" or cooper. Barrels are only one type of cooperage. Other types include, but are not limited to: buckets, tubs, butter churns, hogsheads, firkins, kegs, kilderkins, tierces, rundlets, puncheons, pipes, tuns, butts, pins, and breakers.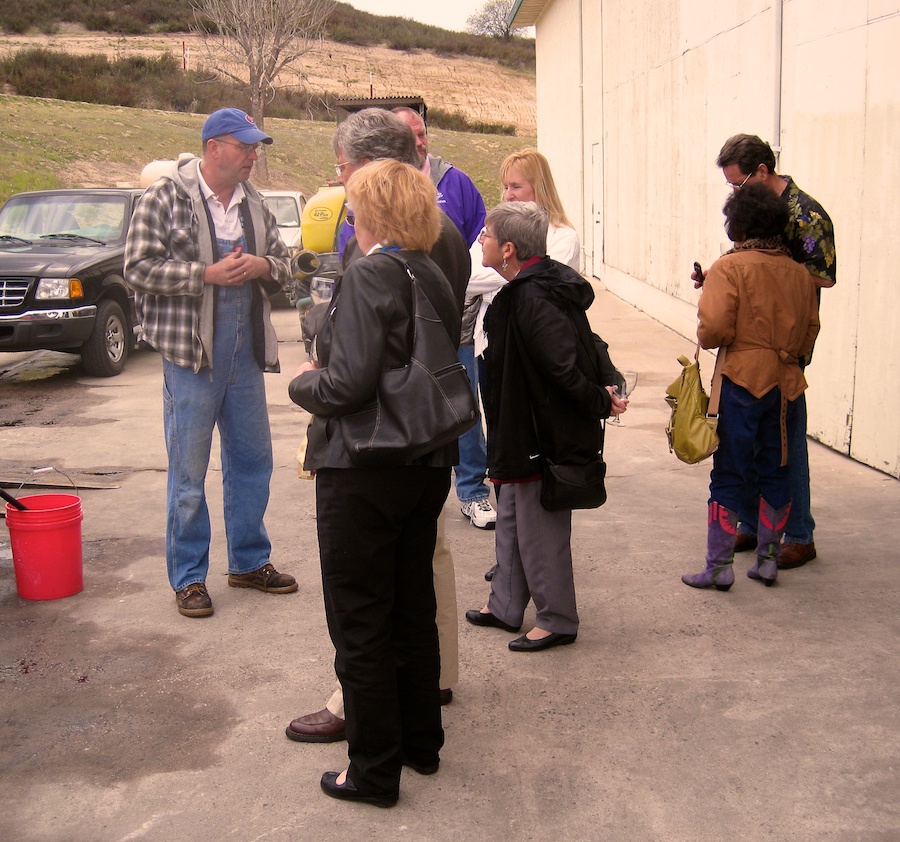 "Let's go to the cold storage area"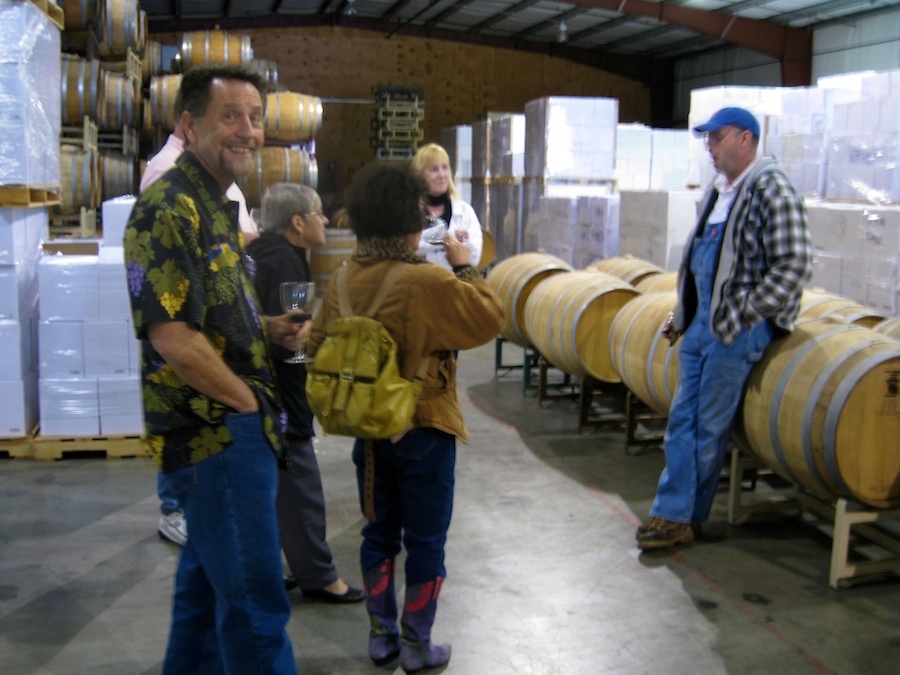 Bob and Paul try to brave the cold.... Not for long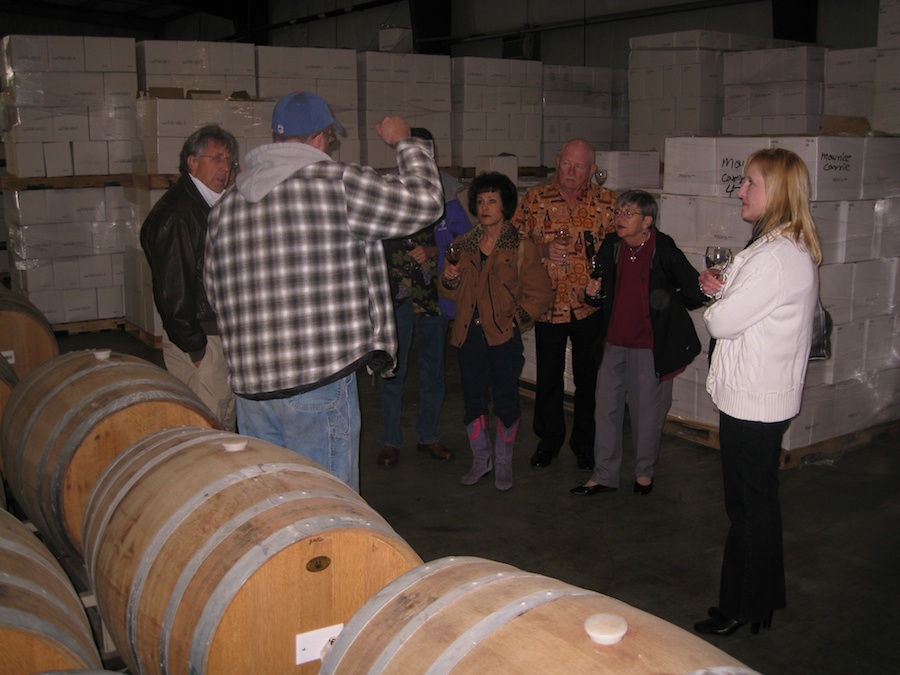 Gus explains "blending and fining"
Did You Know? - Different batches of wine can be mixed before bottling in order to achieve the desired taste. The wine maker can correct perceived inadequacies by mixing wines from different grapes and batches that were produced under different conditions. These adjustments can be as simple as adjusting acid or tannin levels, to as complex as blending different varieties or vintages to achieve a consistent taste.
Fining agents are used during wine making to remove tannins, reduce astringency and remove microscopic particles that could cloud the wines. The winemakers decide on which fining agents are used and these may vary from product to product and even batch to batch (usually depending on the grapes of that particular year).
Gelatin has been used in winemaking for centuries and is recognized as a traditional method for wine fining, or clarifying. It is also the most commonly used agent to reduce the tannin content. Generally no gelatin remains in the wine because it reacts with the wine components, as it clarifies, and forms a sediment which is removed by filtration prior to bottling.
Besides gelatin, other fining agents for wine are often derived from animal products, such as micronized potassium casseinate (casein is milk protein), egg whites, egg albumin, bone char, bull's blood, isinglass (Sturgeon bladder), PVPP (a synthetic compound), lysozyme, and skim milk powder.
Some aromatized wines contain honey or egg-yolk extract.
Non-animal-based filtering agents are also often used, such as bentonite (a volcanic clay-based filter), diatomaceous earth, cellulose pads, paper filters and membrane filters (thin films of plastic polymer material having uniformly sized holes).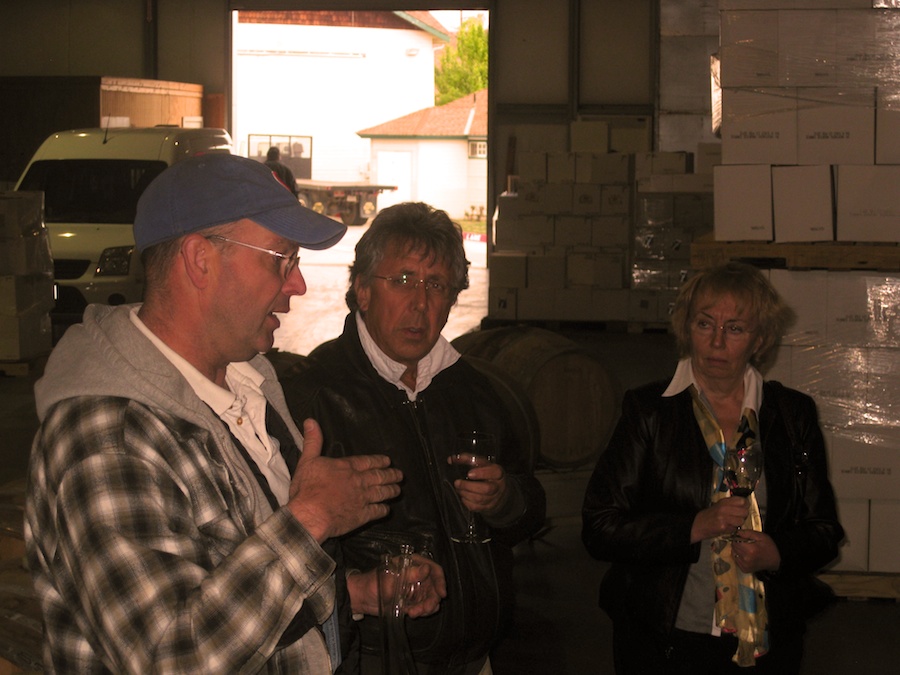 It's chemistry, luck, and taste buds"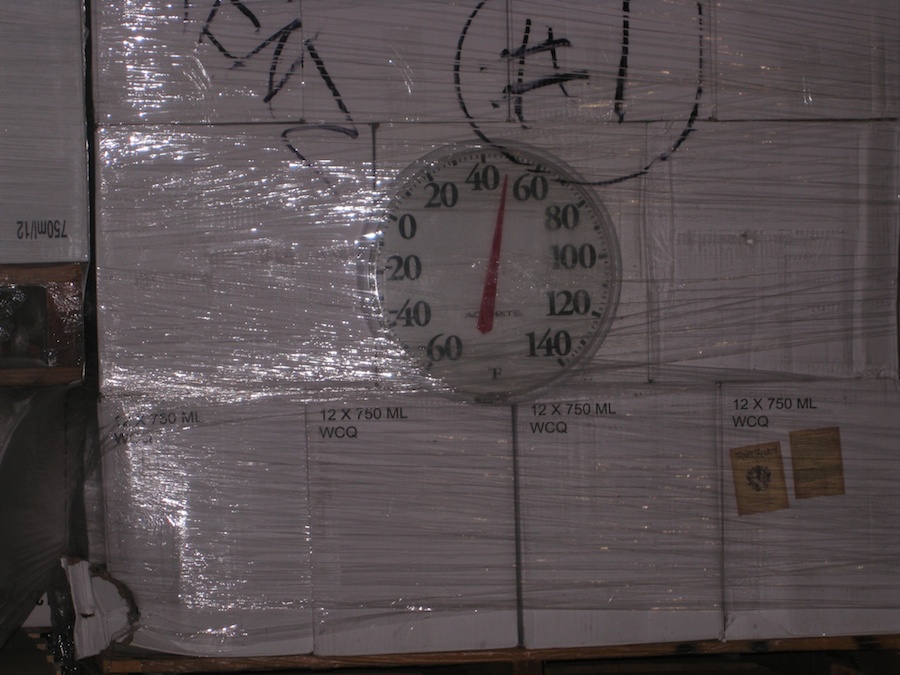 No wonder it feels cold in here... It is!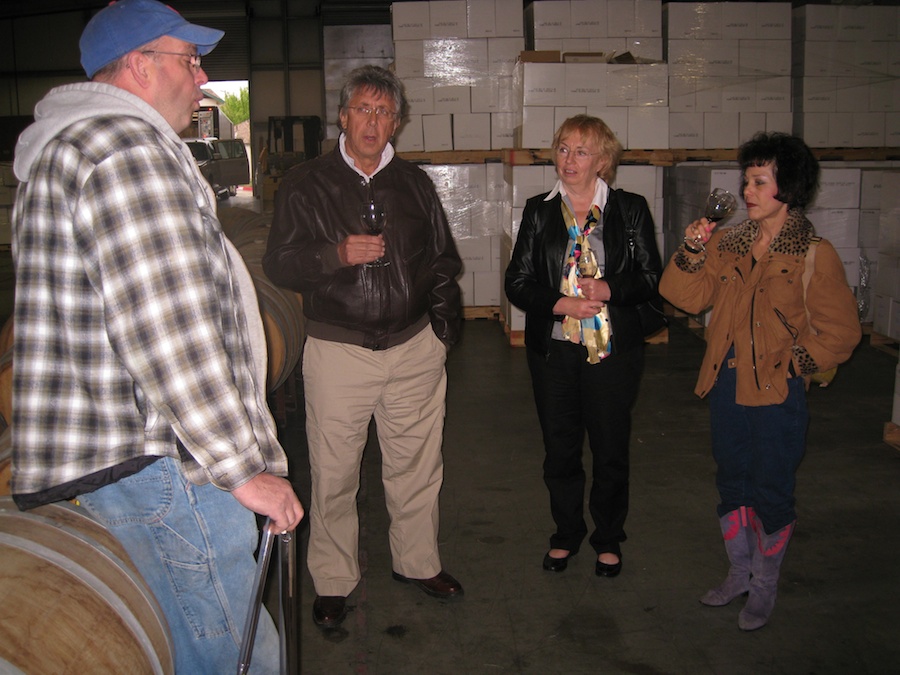 Donna drinks quickly before her red wine becomes too chilled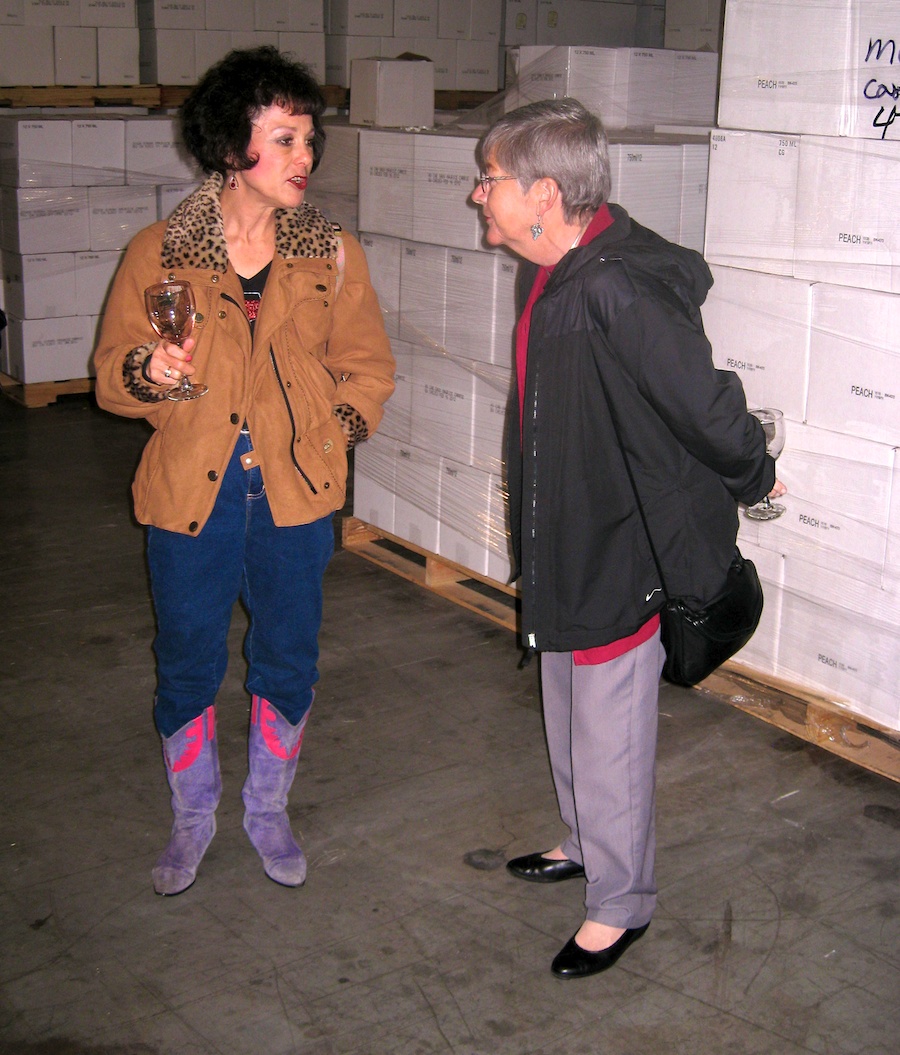 The girls exchange thoughts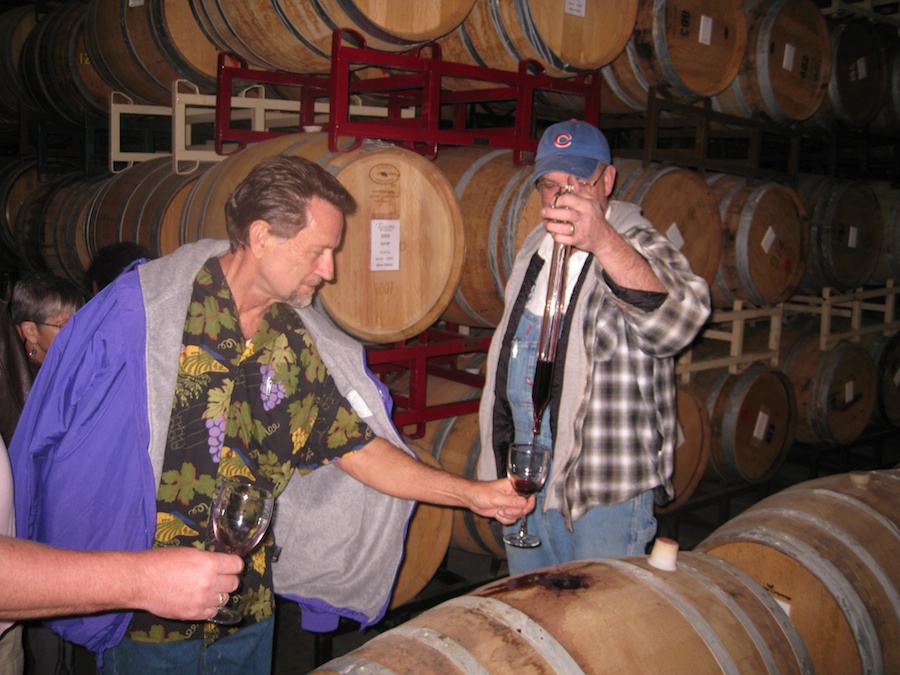 The pipette is used to extract the wine form the barrels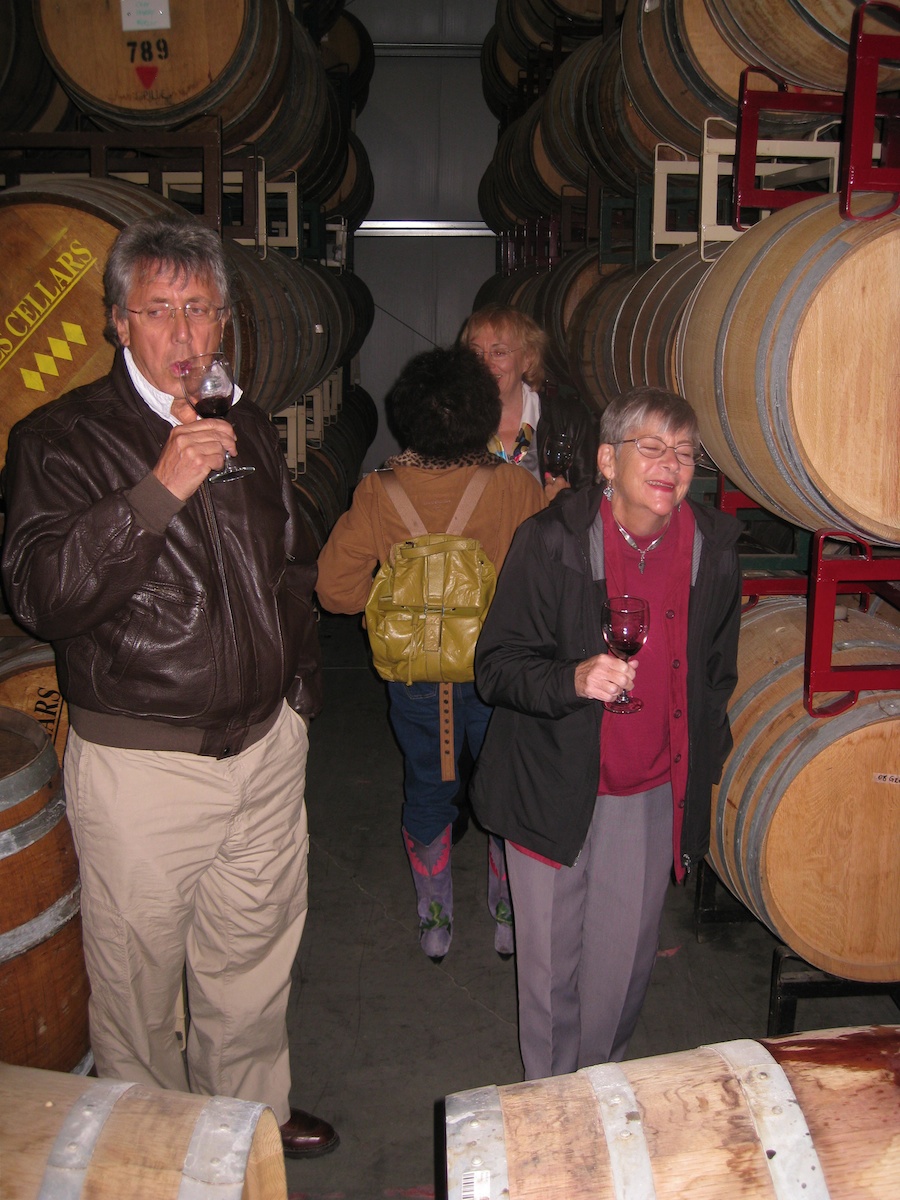 Sue gots the giggles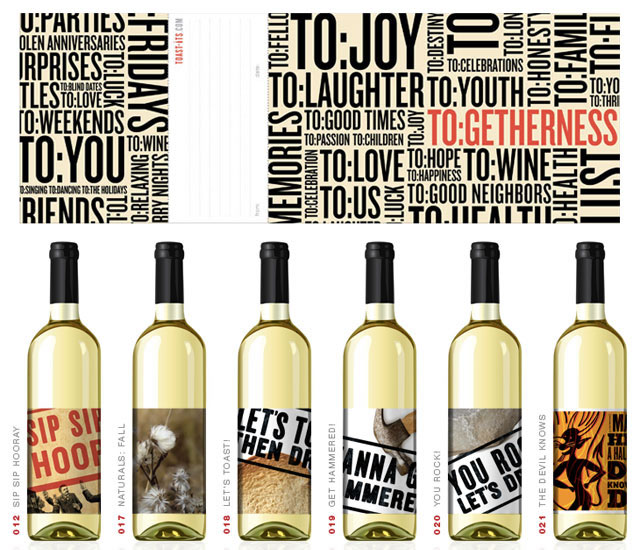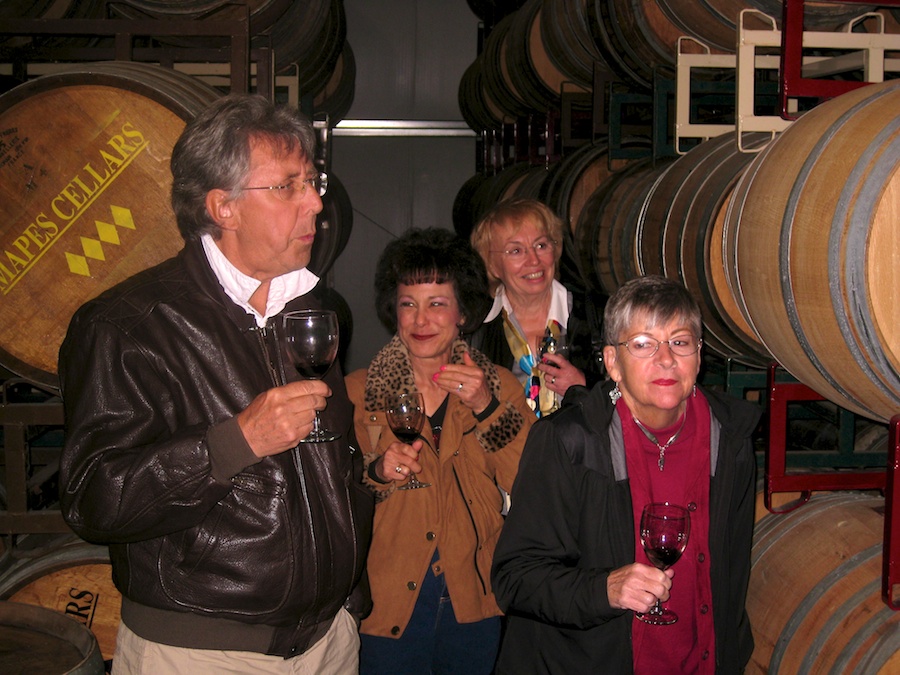 Jan is worried about the earthquake (could we get out??)
Brian is thinking about an earthquake (could be get locked in??)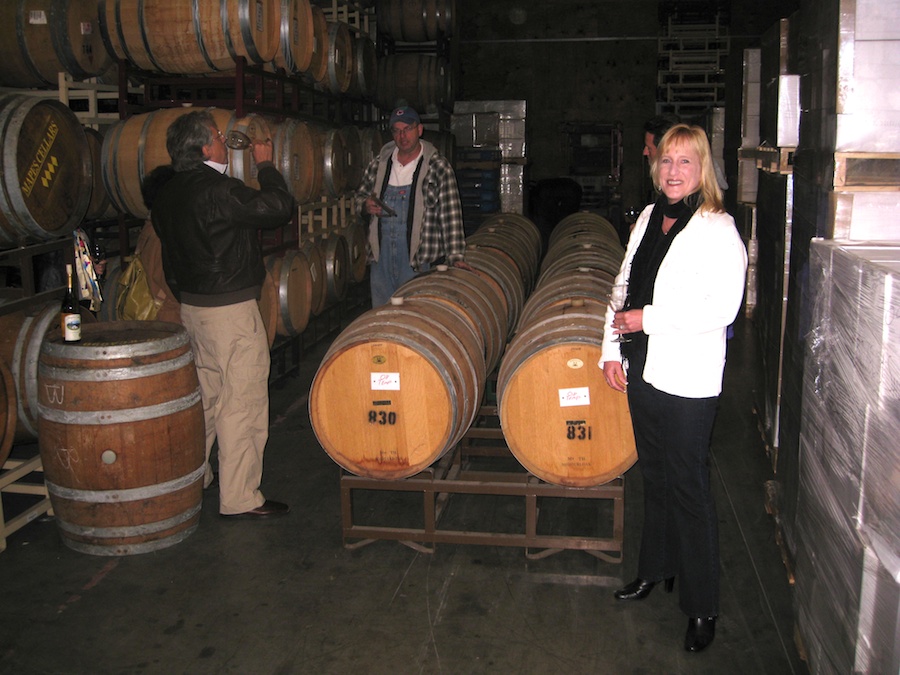 Colleen says let;s start with the first one and work backwards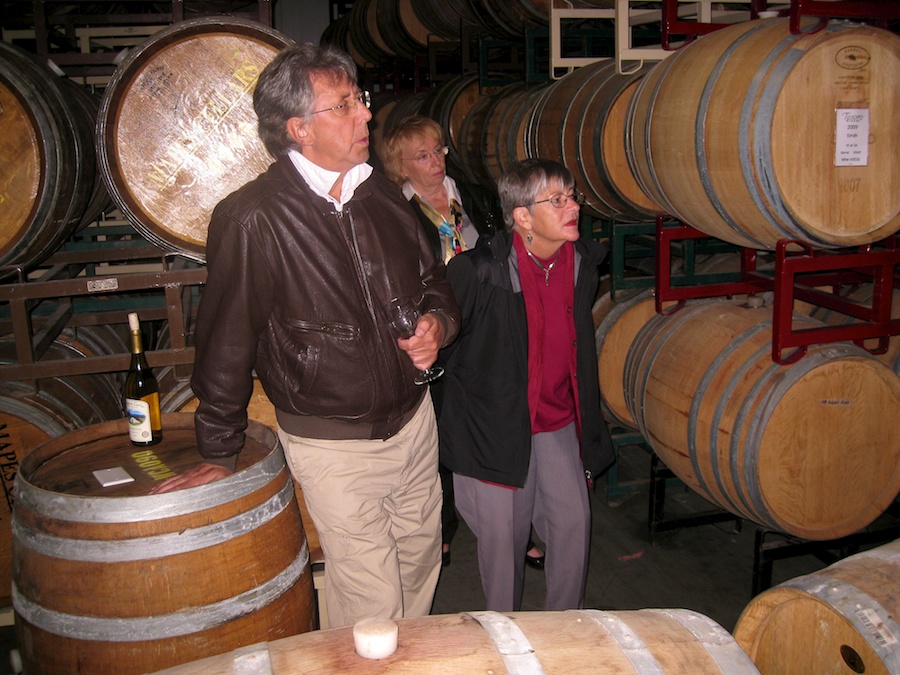 ...an amazing tour ... Thank you Gus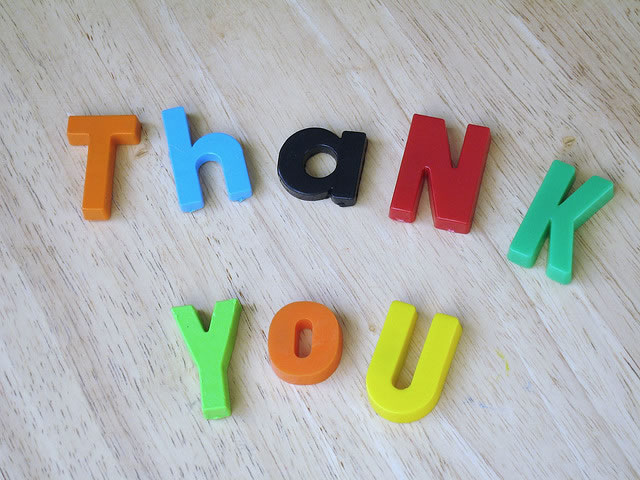 Thank you Pablo and Colleen for arranging the great tour
Up The Street To The Scene Of The Crime
Crime? Maybe not but we did have some excitement here in December 2011 when Sue took a fall outside the door on our way home. But it is almost two and a half months later all is well.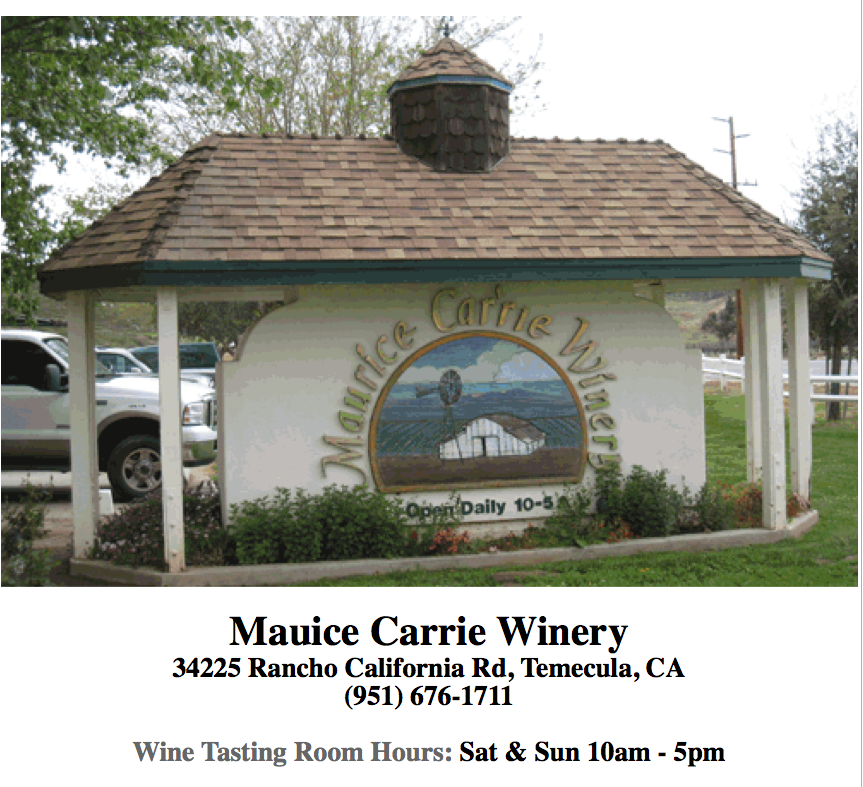 Just up the road (and part of the previous winery)

Donna indicates it is raining outside

She remembers the incident....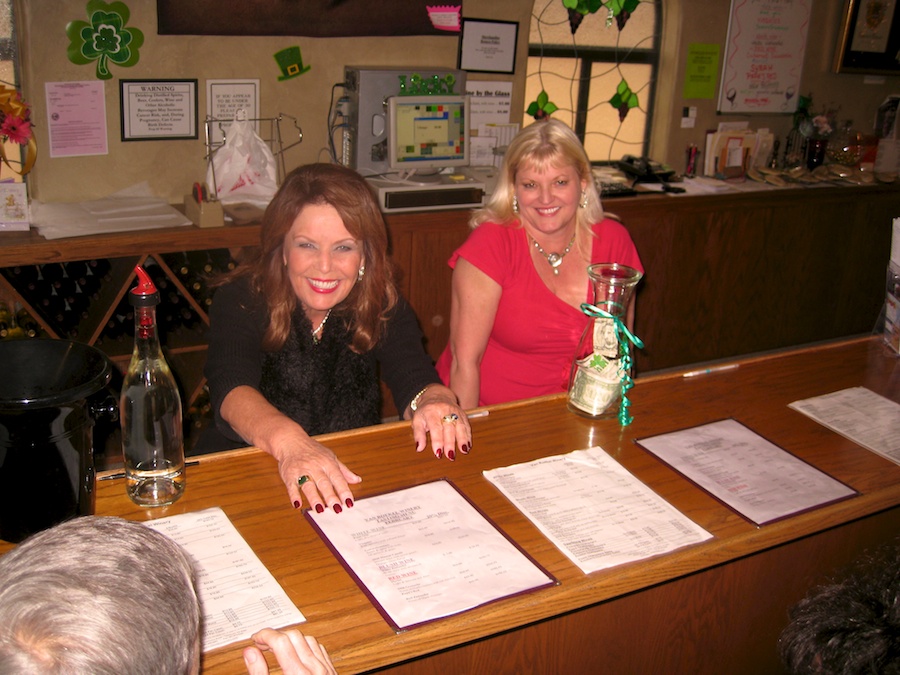 They were here when it happened...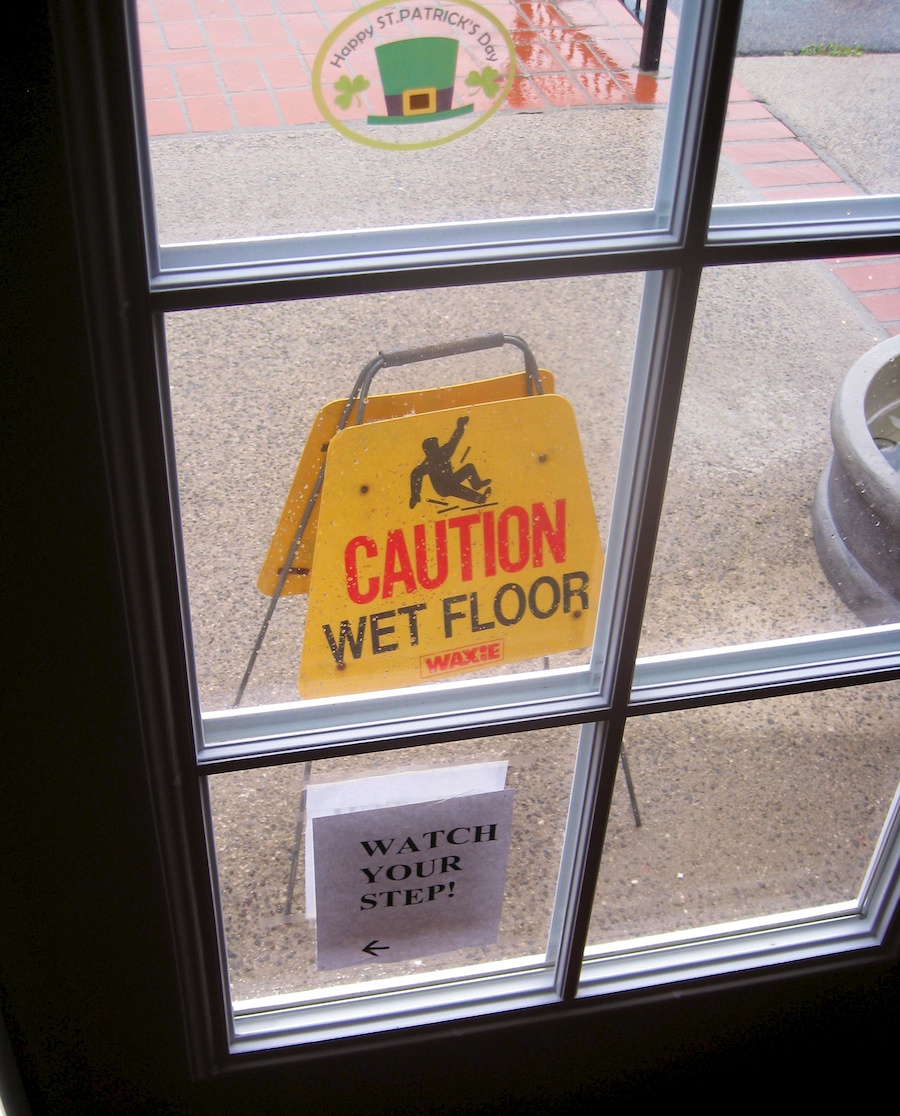 Courtesy of Miss Sue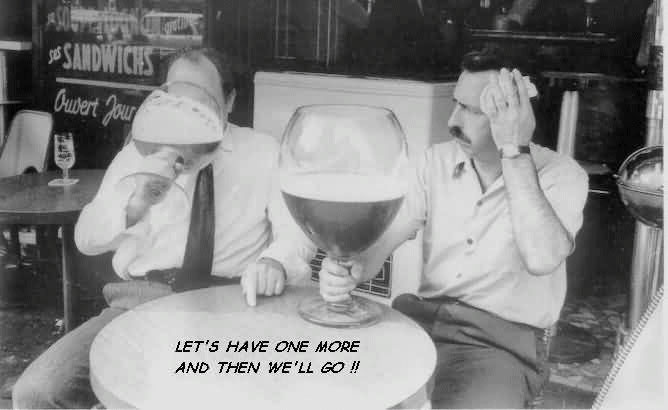 Brian was wondering how many more???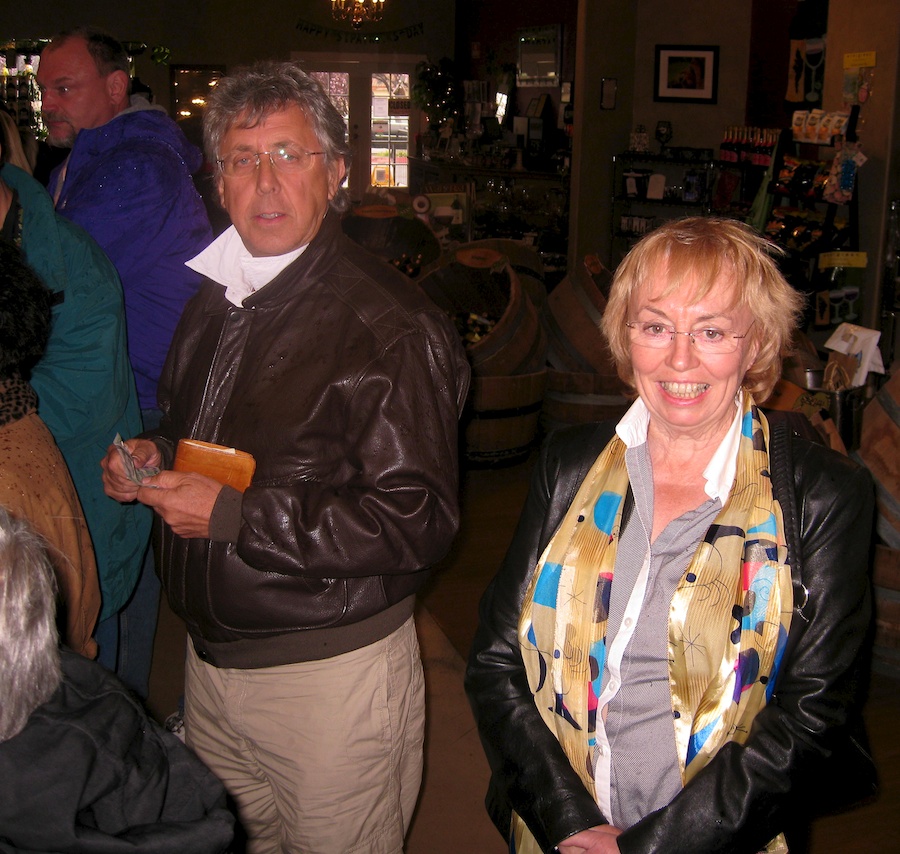 It was cold inside

We all line up for a taste... Before we go to the next tasting location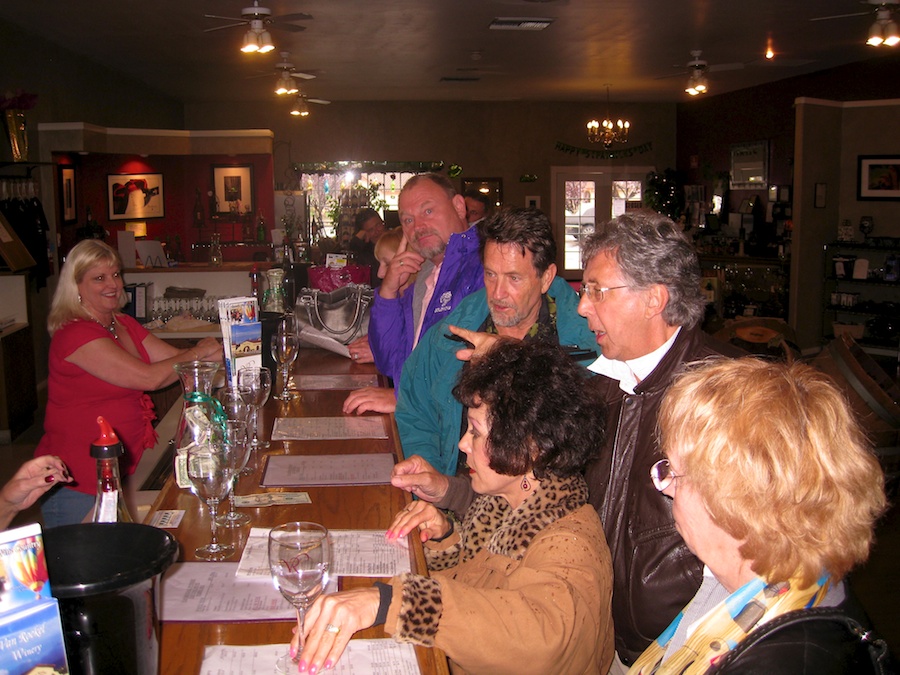 Pablo was taking care of everything....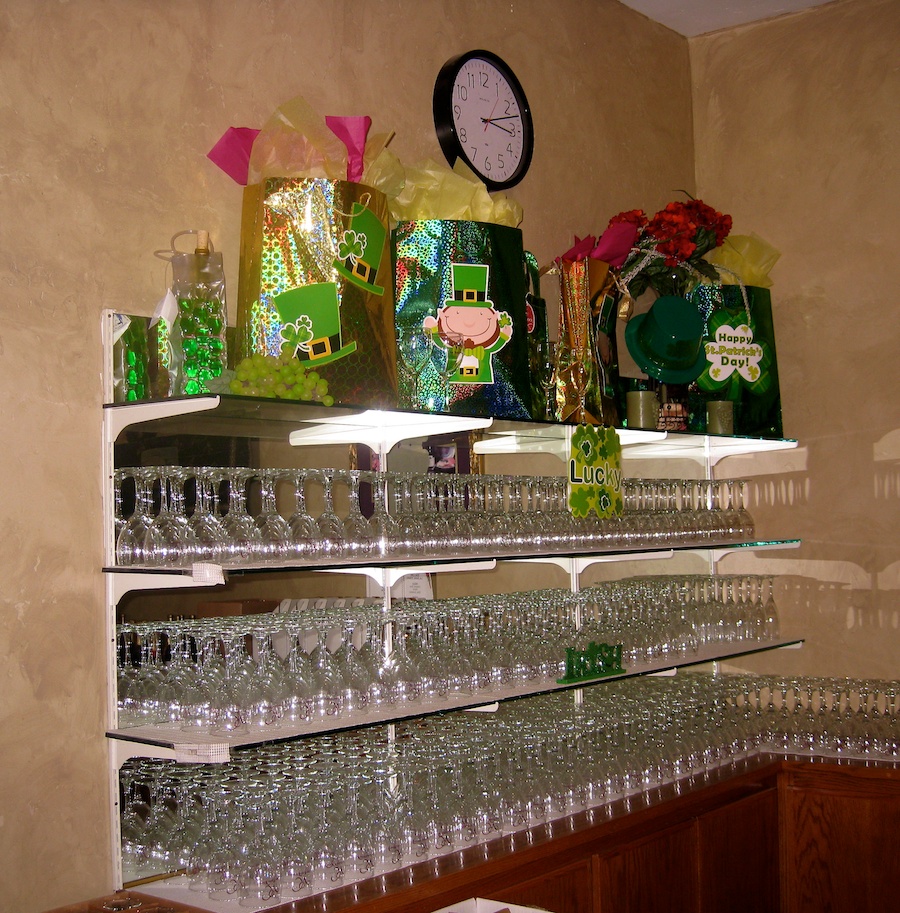 It's almost that time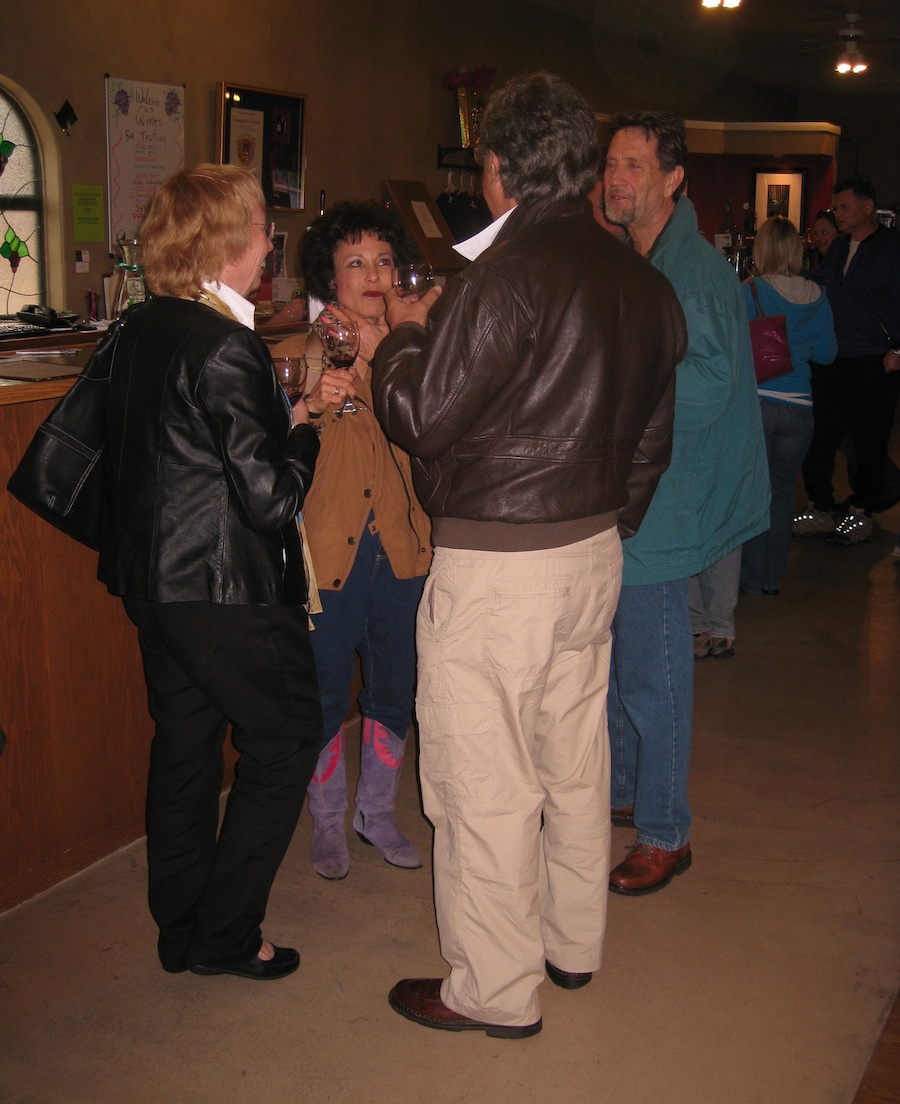 Bottoms up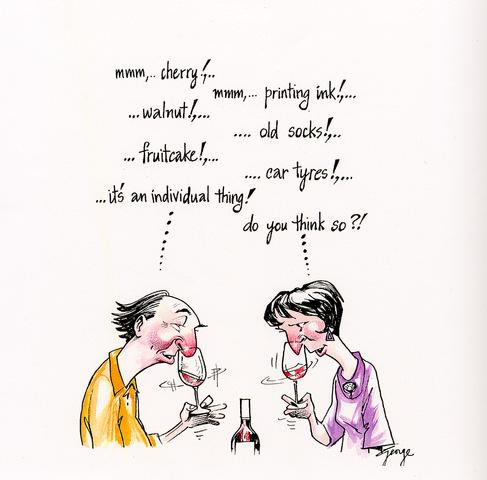 "Ah... Please can I have two bottles?? Just wanna make sure!"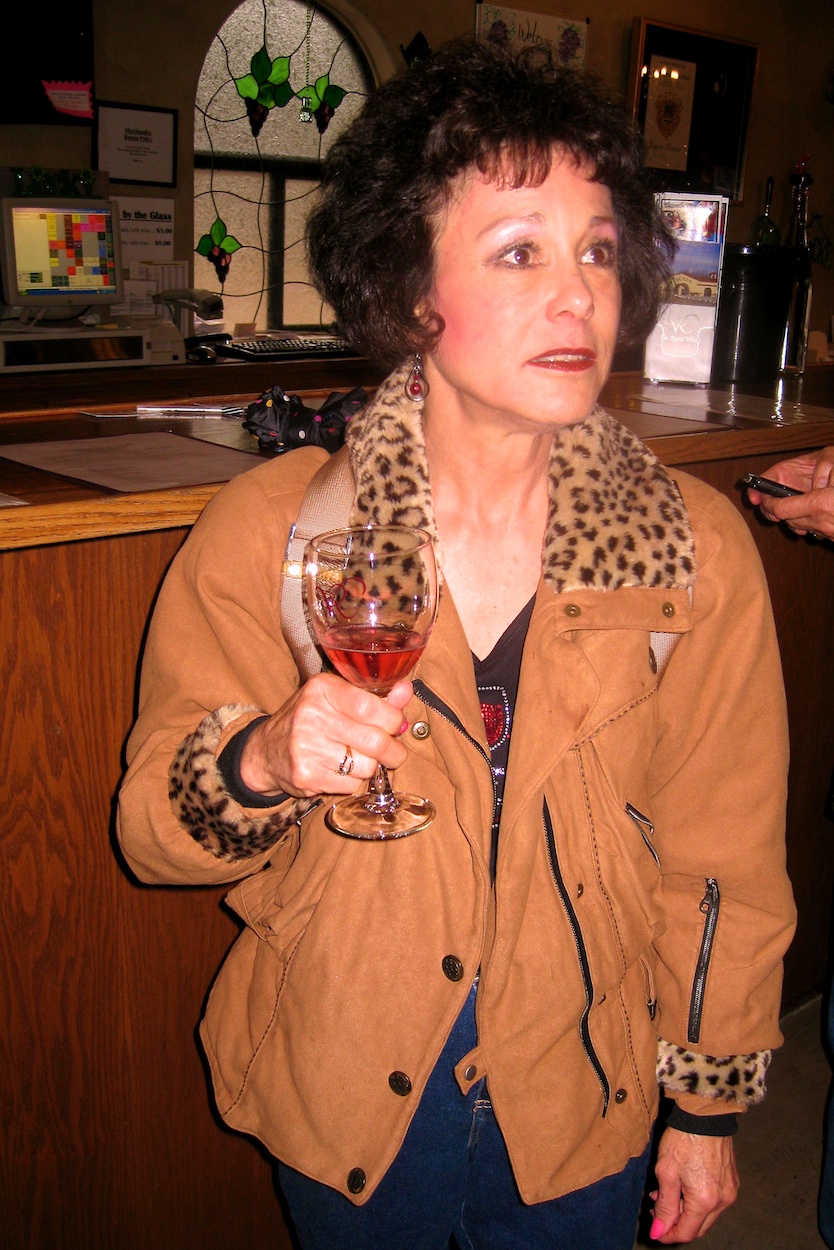 "What.... This IS my second bottle???"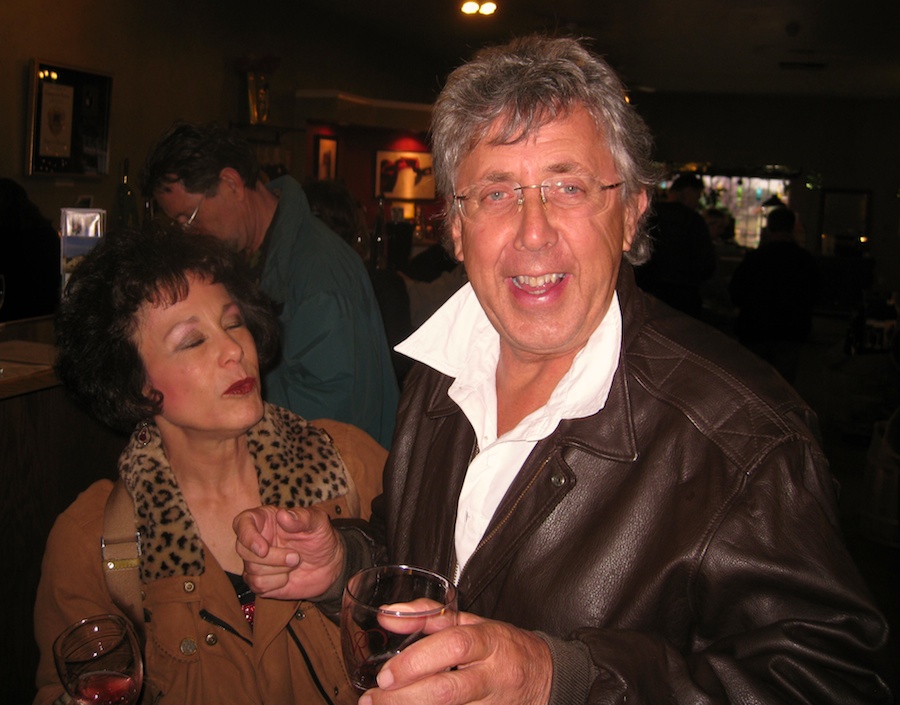 Donna says "Pucker up big boy!"..... Brian says "Gee, I like wine tasting!"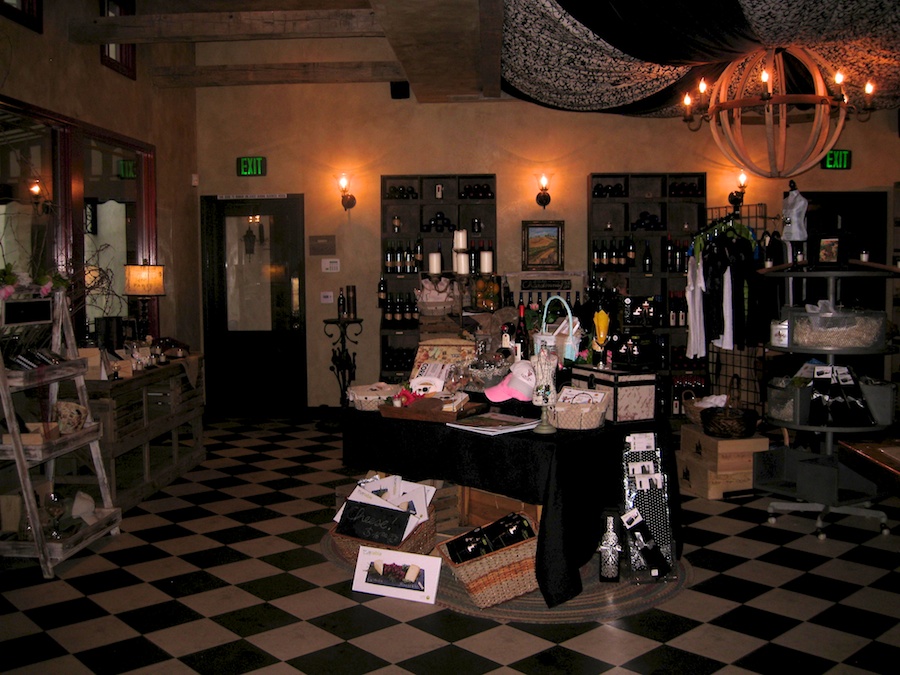 Great store for wine related goodies
Down The Road To Europa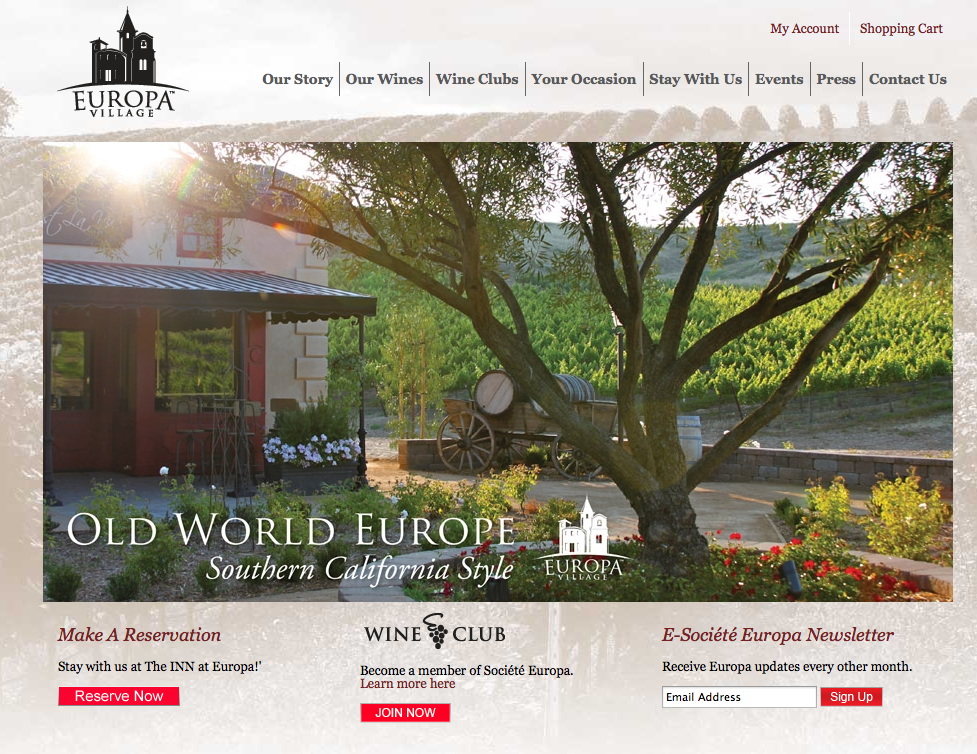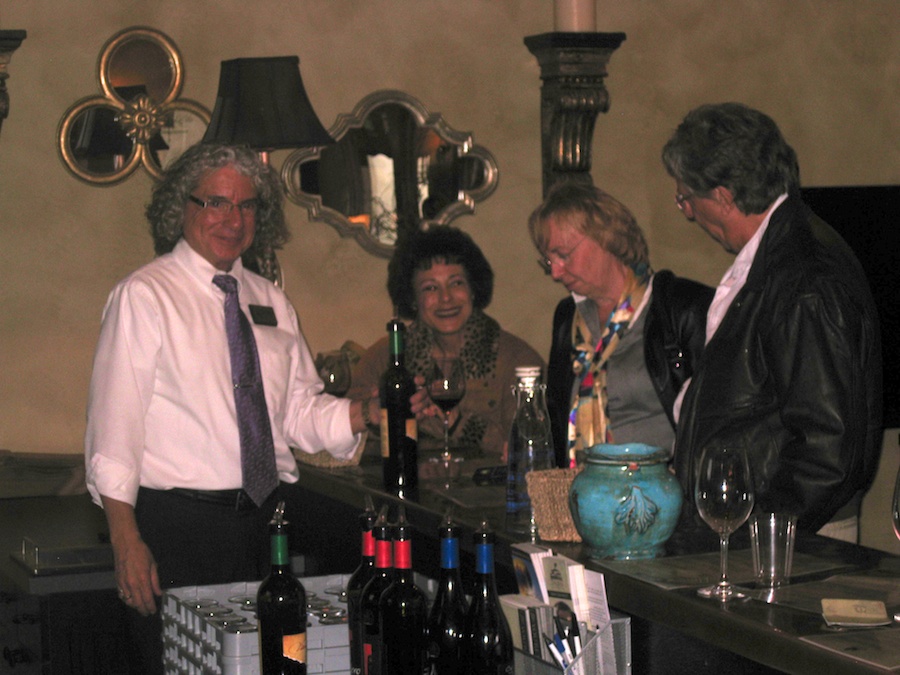 Dr. Doug pours the European wines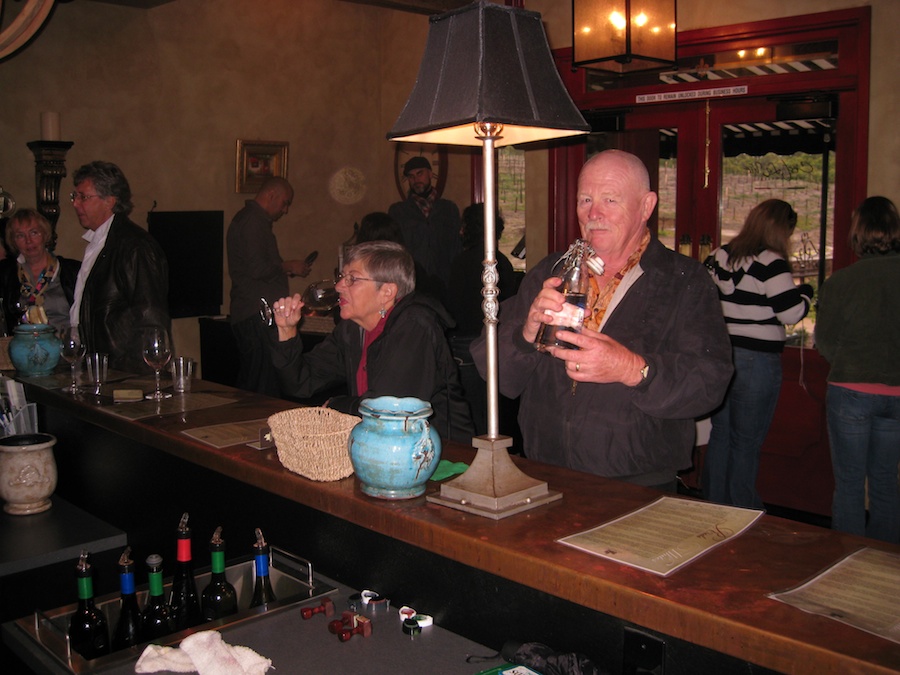 Paul has a memory loss.... That is the water bottle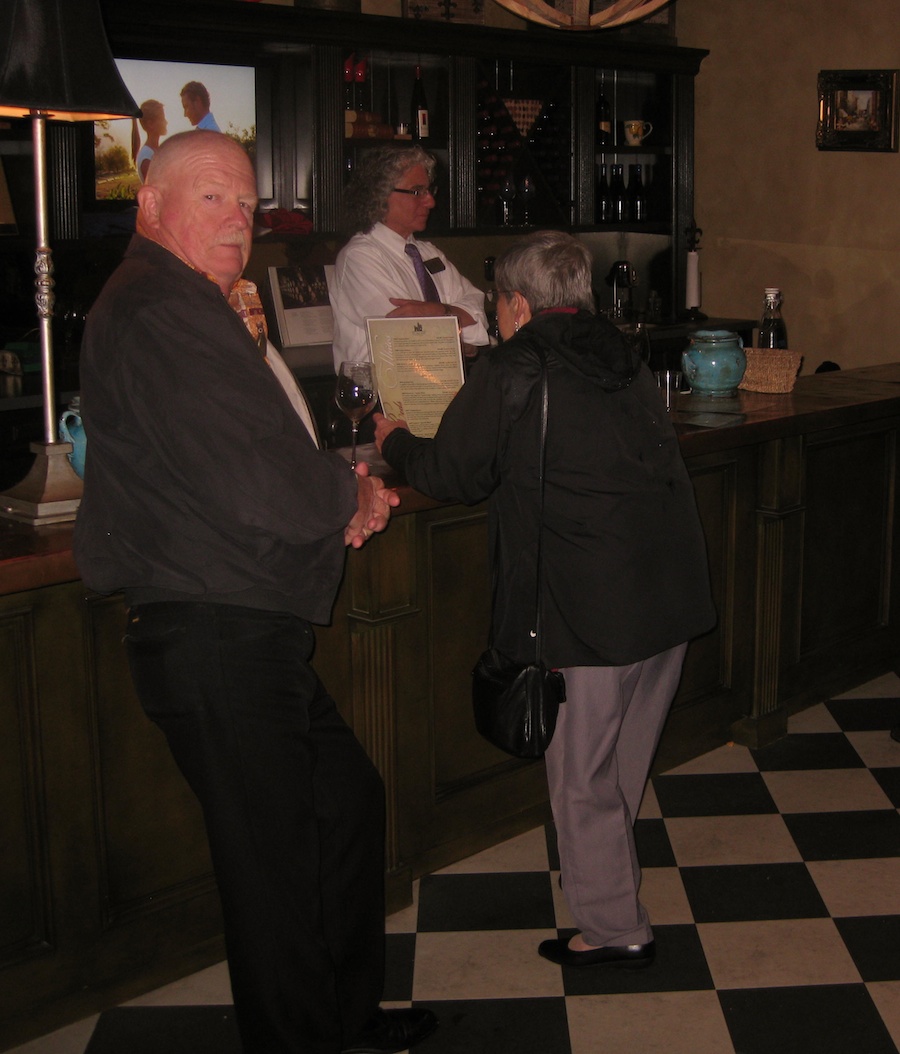 "It's a country bar... you are supposed to lean!"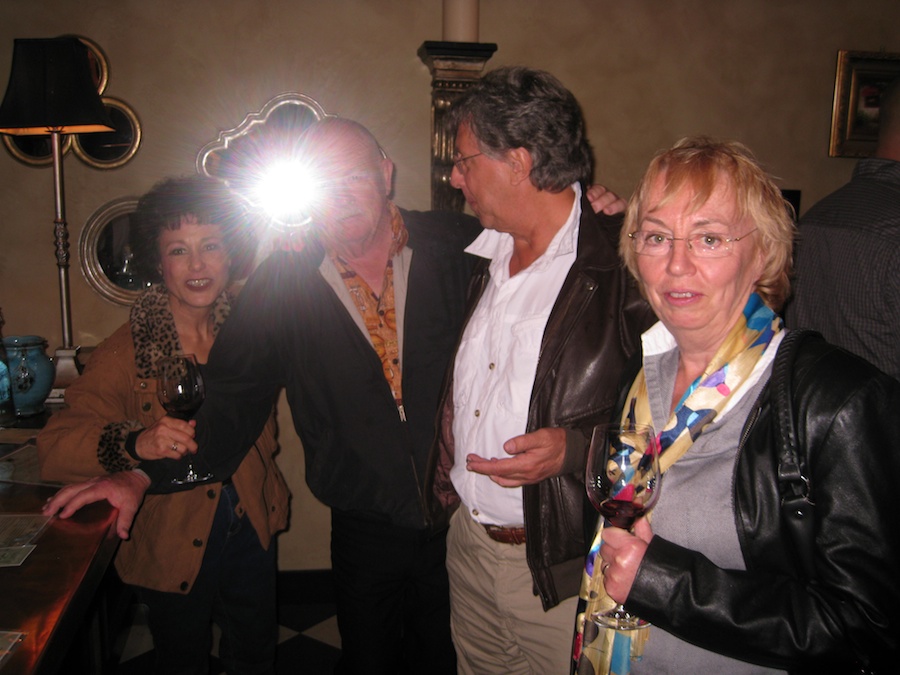 Paul has a flashing personality

We are all here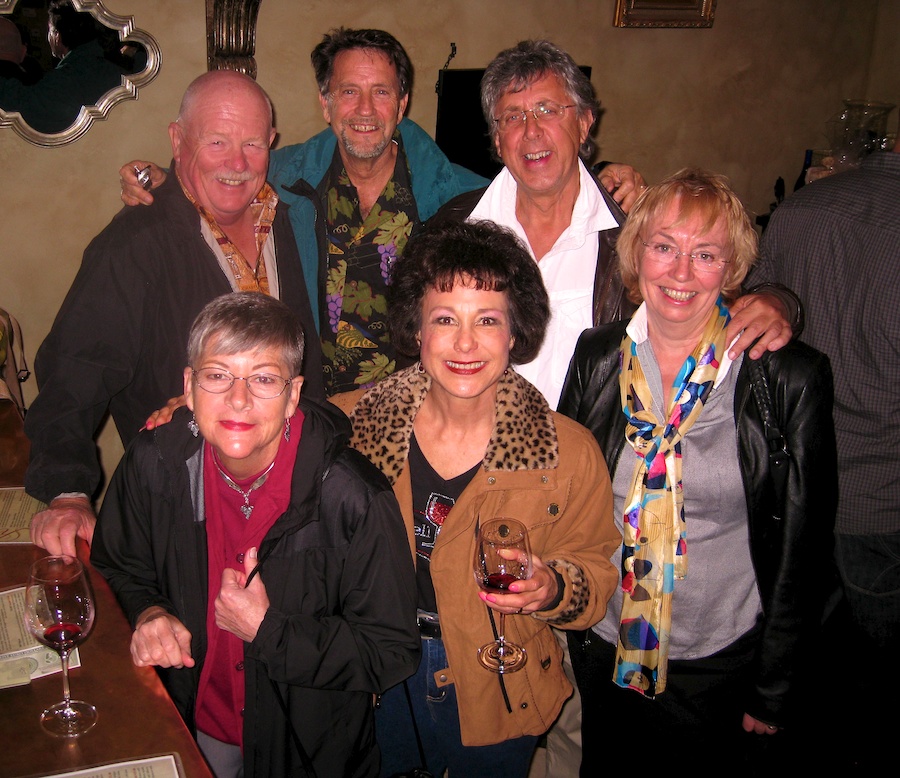 Everybody smile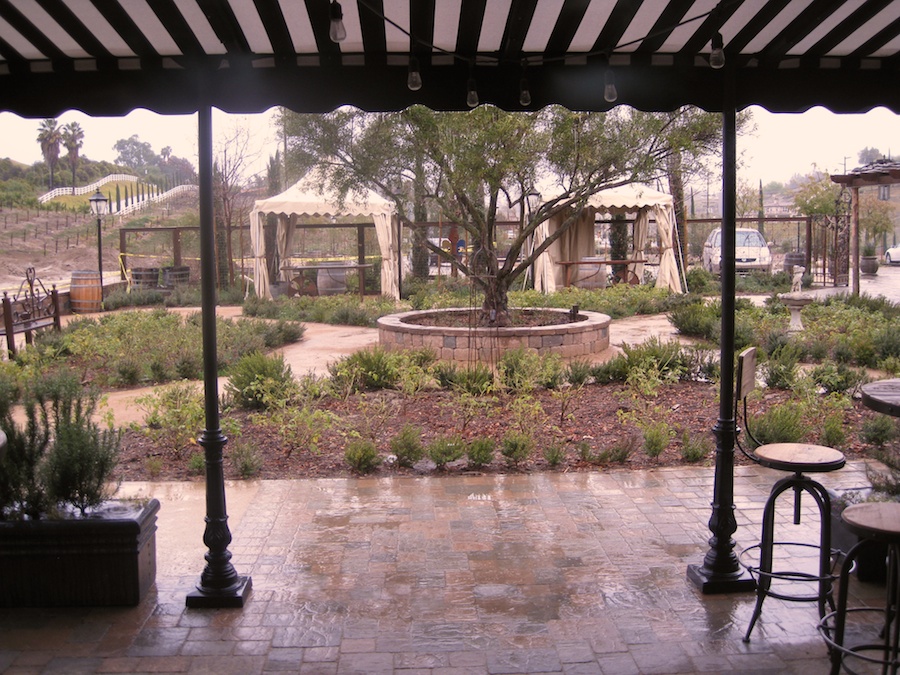 It was raining now...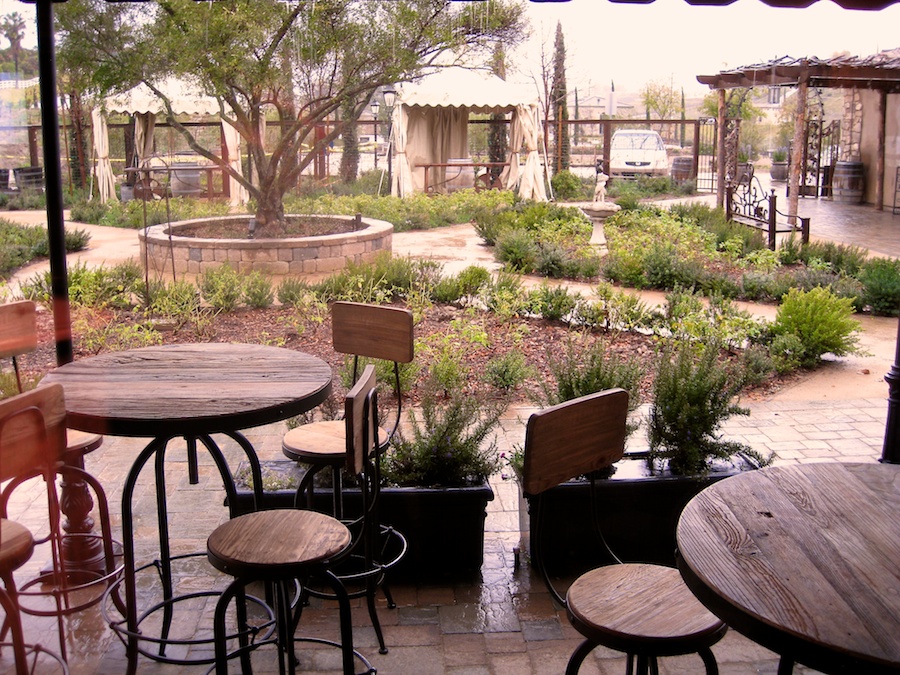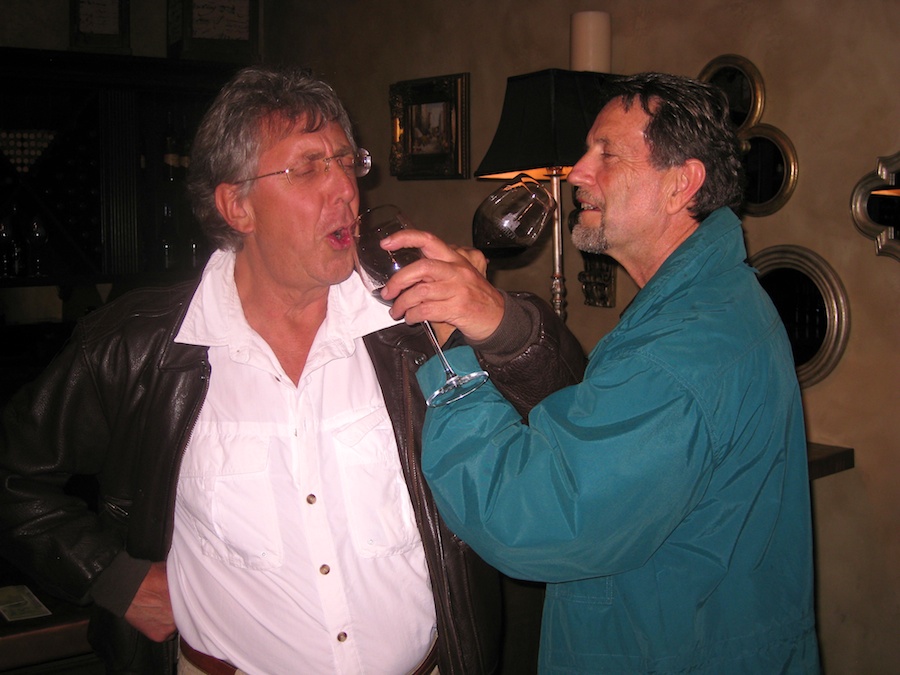 Nice pose gentlemen ... Brian is brave wearing a white shirt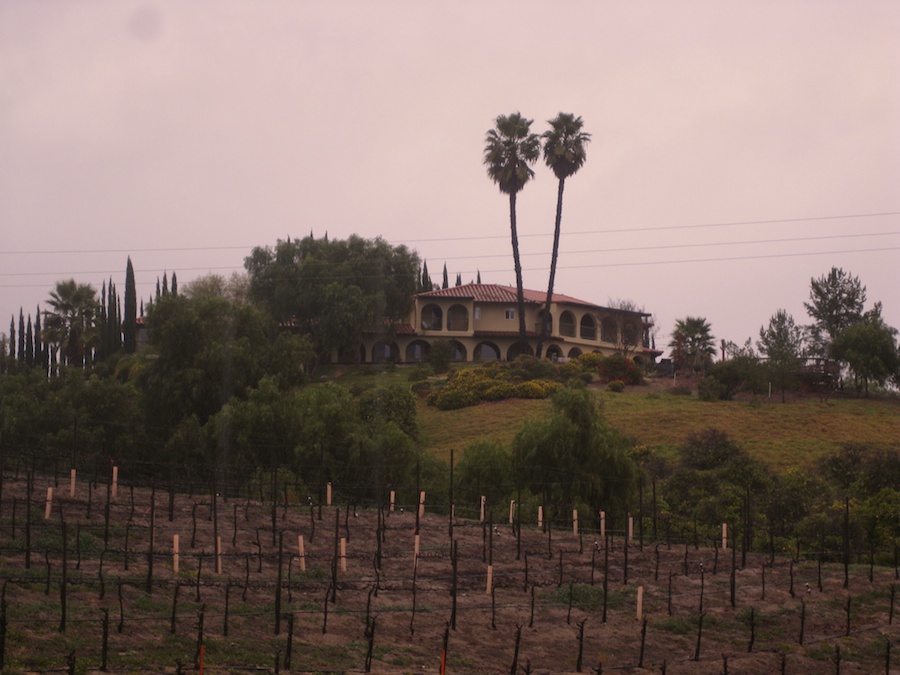 Meanwhile up on the hill
Heading Home On A Rainy Afternoon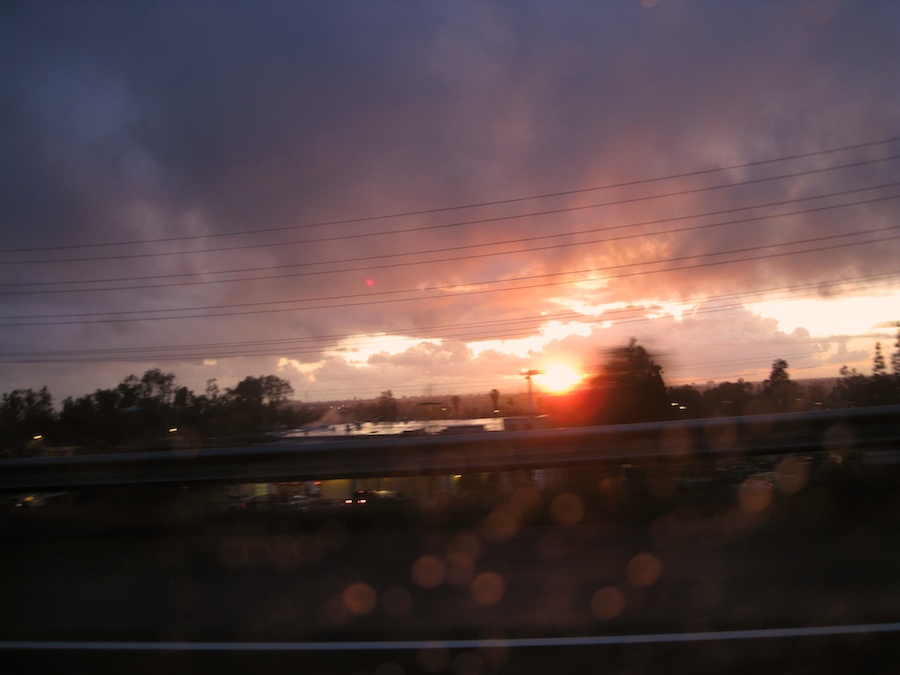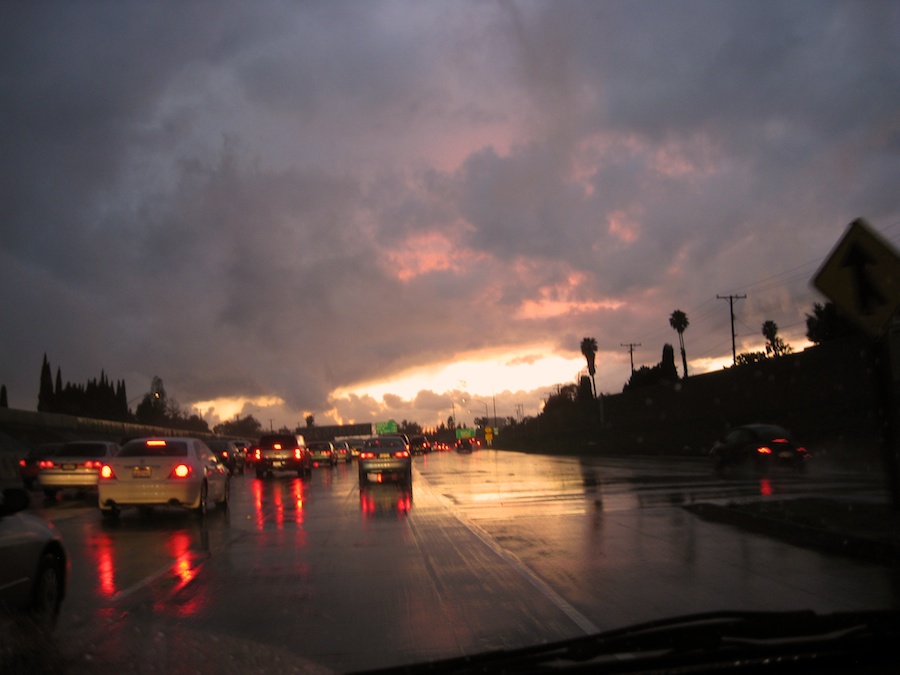 The sun finally broke out of the clouds just before setting into the sea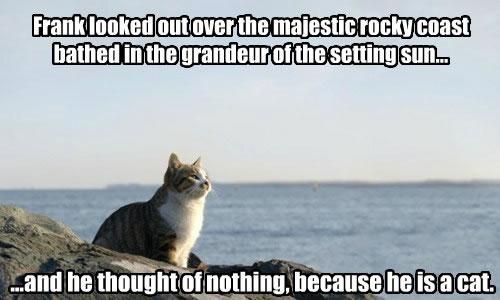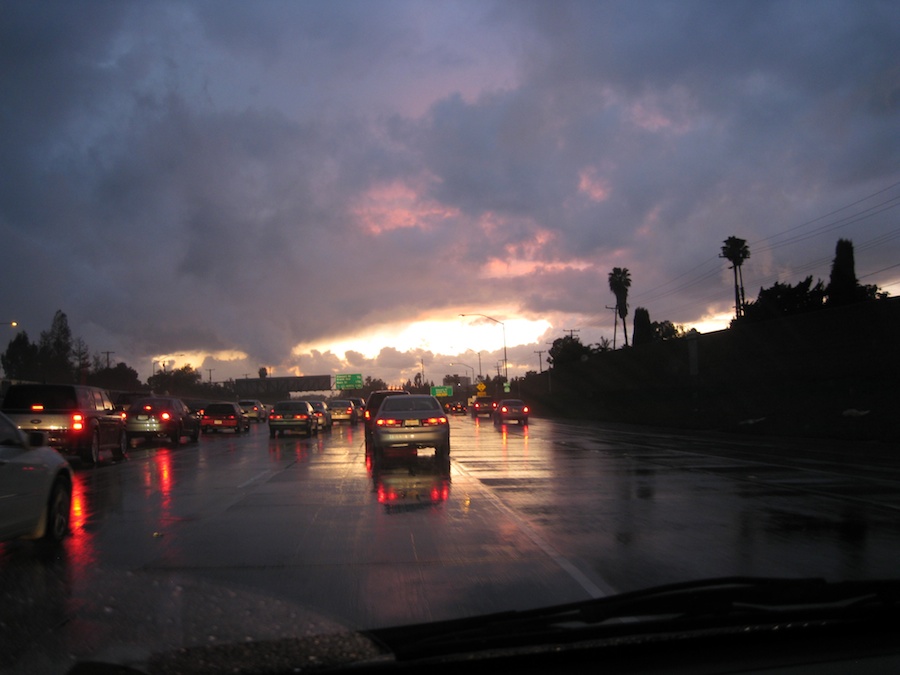 The streets are wet

Almost to the Zaitz... The Discovery Museum is right ahead of us