Click for full sized image (3200 x 2600 pixels)

Laura & AJ Saam were planning to join us for a wine tasting activity when we found out that Kathy & Ed Roberts were going to be in the Temecula area with Kathy's brother Jule and wife Sandy. The day was amazing... new friends and new adventures.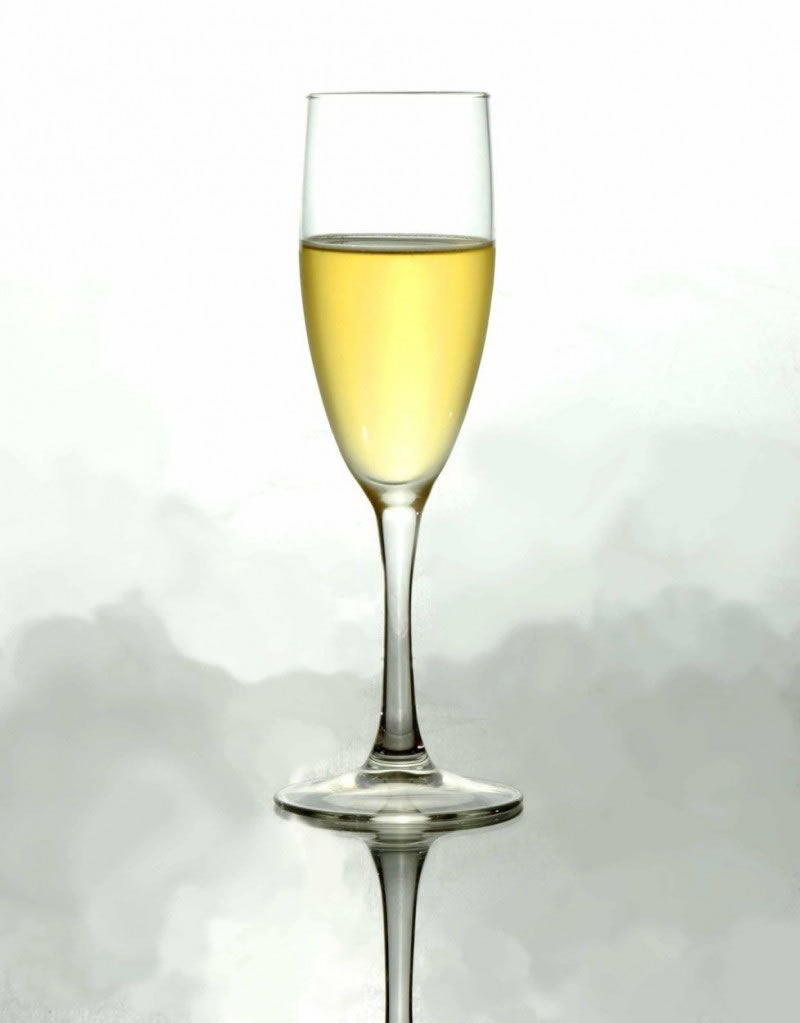 The culprit was caught
Did You Know? - A culprit, under English law properly the prisoner at the bar, is one accused of a crime. The term is used, generally, of one guilty of an offence. In origin the word is a combination of two Anglo-French legal words, culpable: guilty, and prit or prest: Old French: ready. On the prisoner at the bar pleading not guilty, the clerk of the crown answered culpable, and states that he was ready (prest) to join issue. The words "cul. prist" were then entered on the roll, showing that issue had been joined. When French law terms were discontinued, the words were taken as forming one word addressed to the prisoner.

Falkner winery in Temecula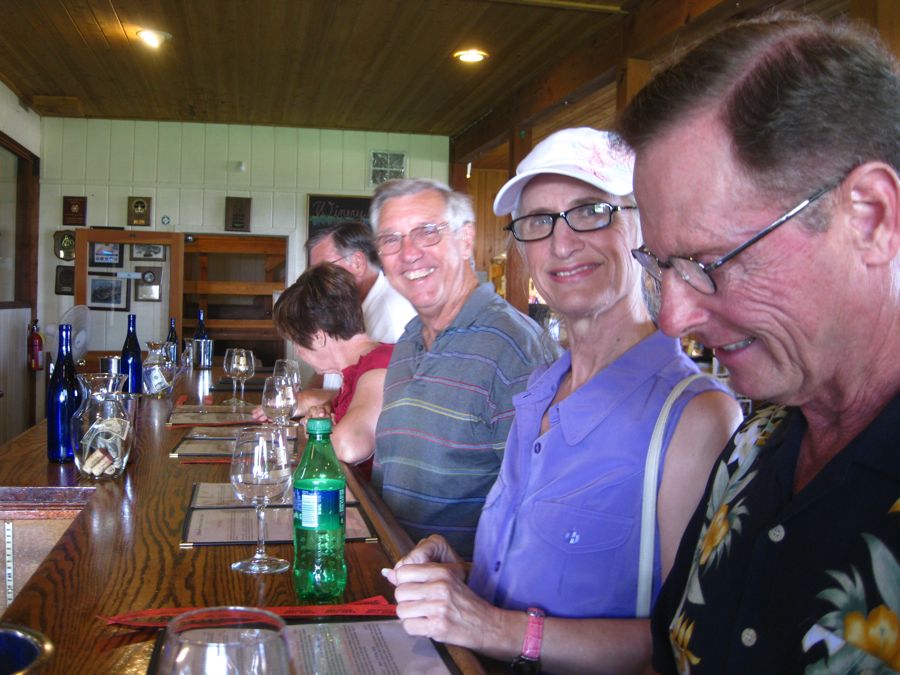 "We will try one of each!!"
Faking It.... Wine Tasting
If you want to pretend like you know what you are talking about, try to use big confusing adjectives when describing the wine. Dropping a few words of wine jargon may help your game.
*Warning: Use this only to impress wine novices, a professional will see right through the act.
For example:
"This wine is a delectable symphony which tantalizes my taste buds."
"This robust wine has supple tannins and a lively acidity."
"This wine is jam packed with ripe fruit, yet not cloyingly syrupy."
Don't be afraid to give criticism to a wine as well. If the wine has cork taint, or has become oxidized it could have any or all of the following characteristics:
Mousey, horsey, bovine, sweaty, fishy, papery, soapy, moldy, rubbery, leathery, rotten eggs, wet dog... you get the idea.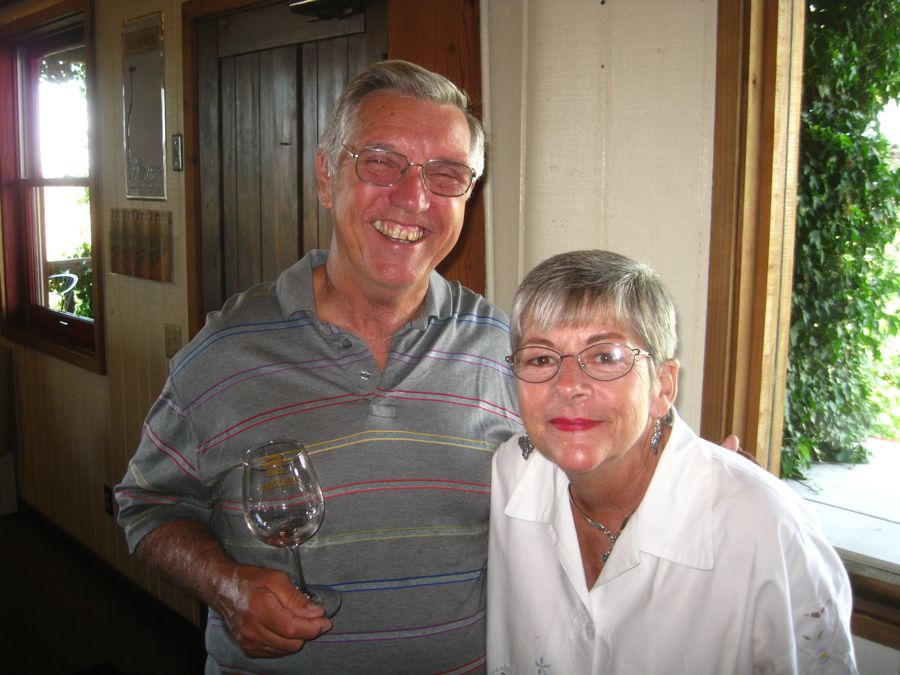 Ed and Sue enjoying all the cavorting

We have been telling Ed this for years

AJ, Laura, Kathy, Jule, and Sandy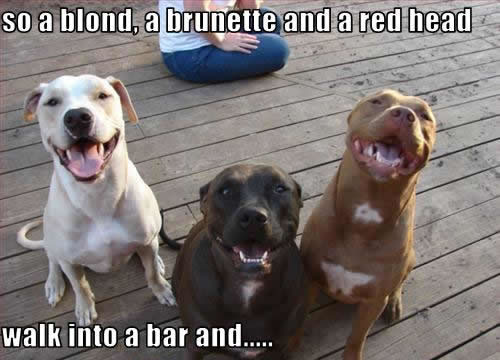 We could NOT say it better
Boys Day Out....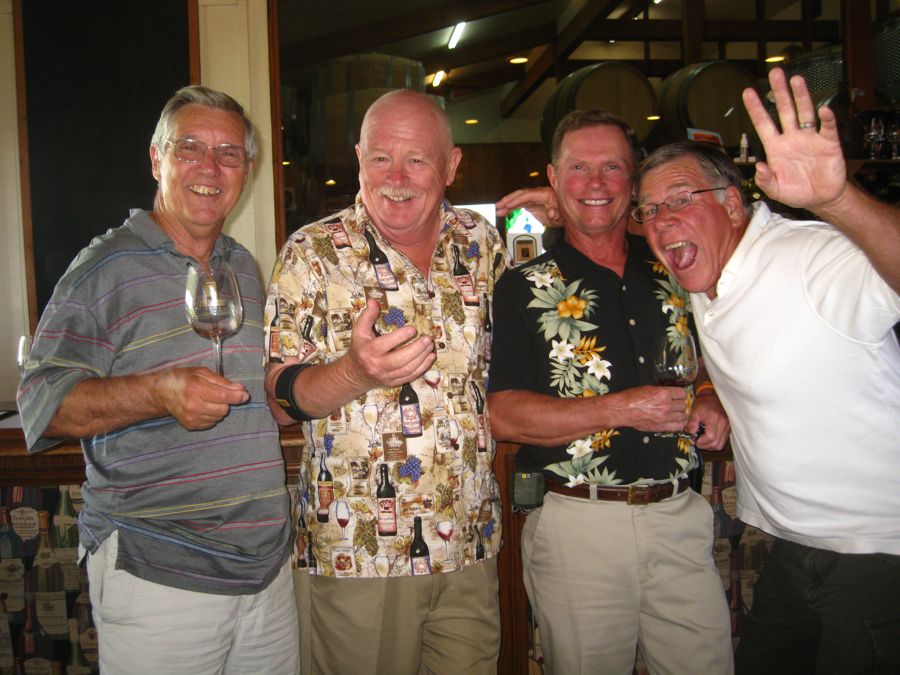 Ed, Paul, AJ and Jule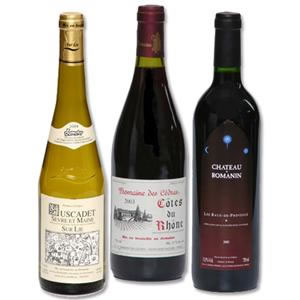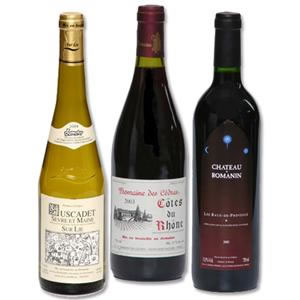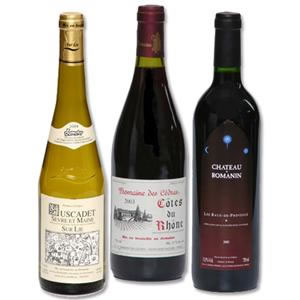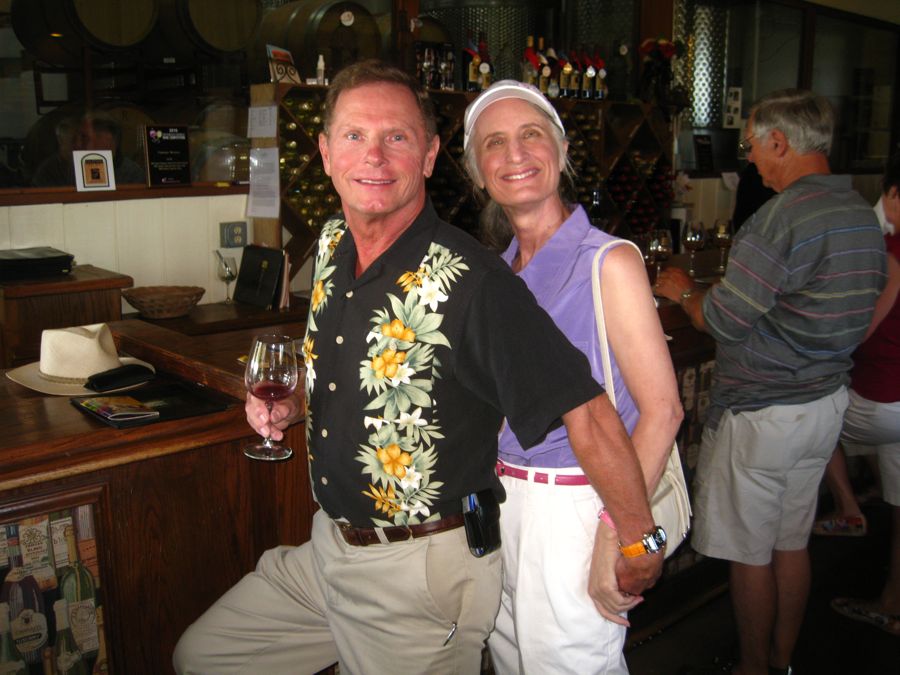 AJ! Watch those hands... there are impressionable adults nearby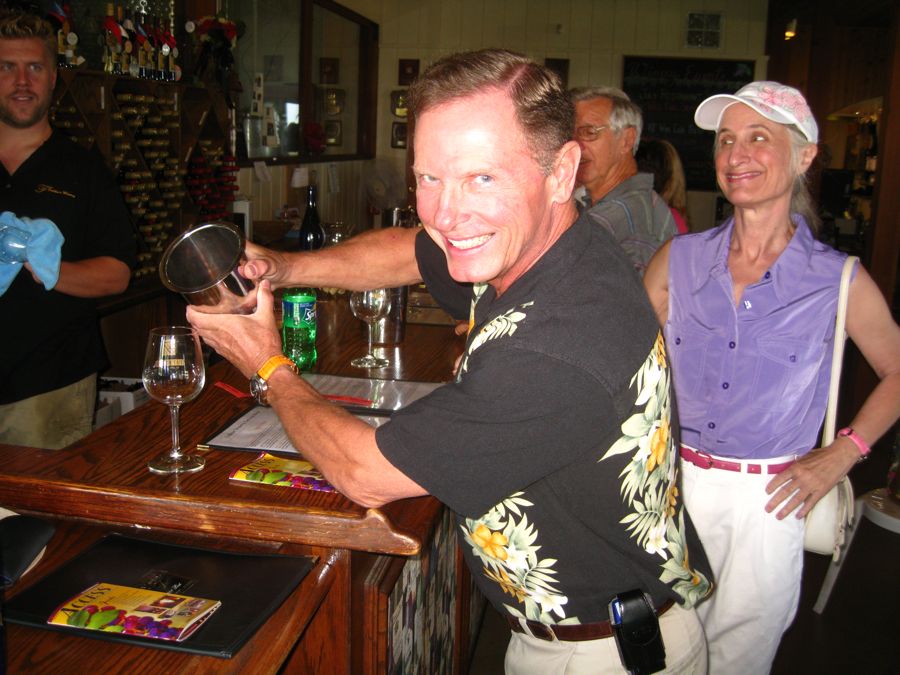 AJ learned about how to taste many kinds all at once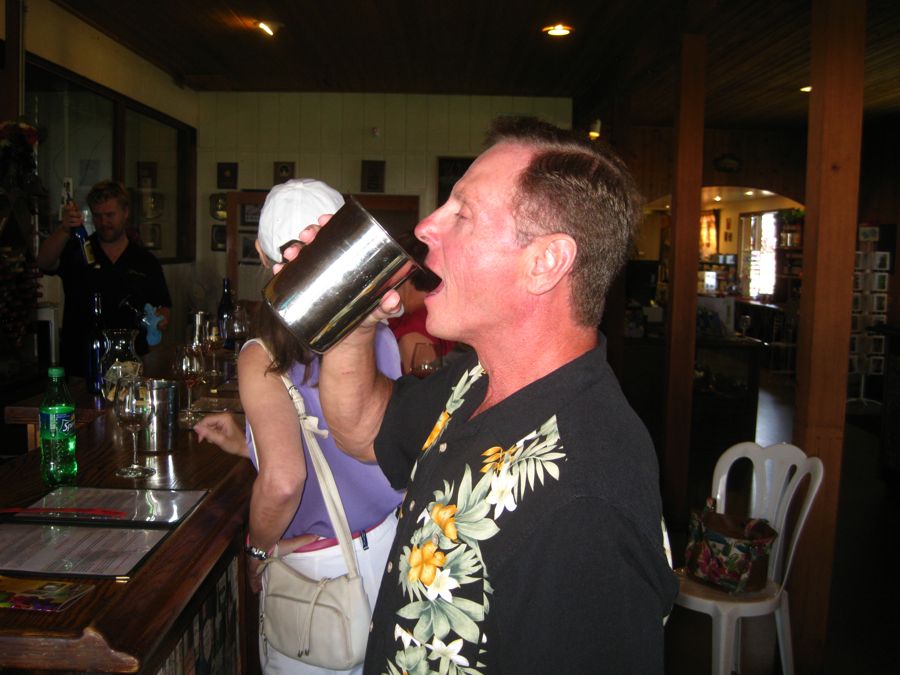 OMG.. He is going VFR to the sippy-cup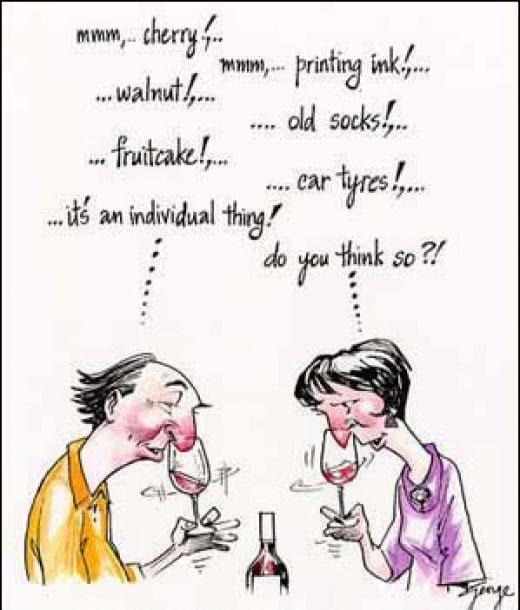 It's A Short Crawl To The Pinnacle Restaurant
Four years of planning and construction was completed in September 2006 with the Grand Opening of The Pinnacle Restaurant at Falkner Winery. The Pinnacle offers great panoramic views, outstanding Mediterranean style food, and high quality service. This outstanding restaurant is open for lunches 7 days a week. Best of all, it offers the finest Temecula wine. Set on a 1,500 foot hilltop, The Pinnacle offers customers seating in the air conditioned indoors or on the open-air outdoor balcony.

"Come on ladies... We can do it... Only another 200 feet!"

Yeah for our team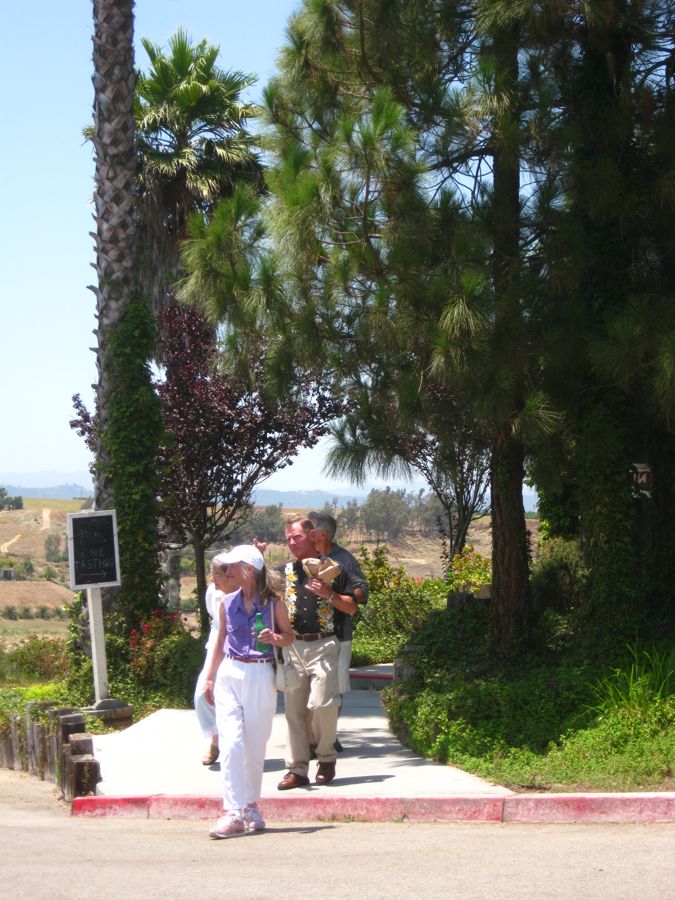 Sue, Laura, Ed and AJ bring up the rear
Amazing... After Last Time They Still Let Us Inside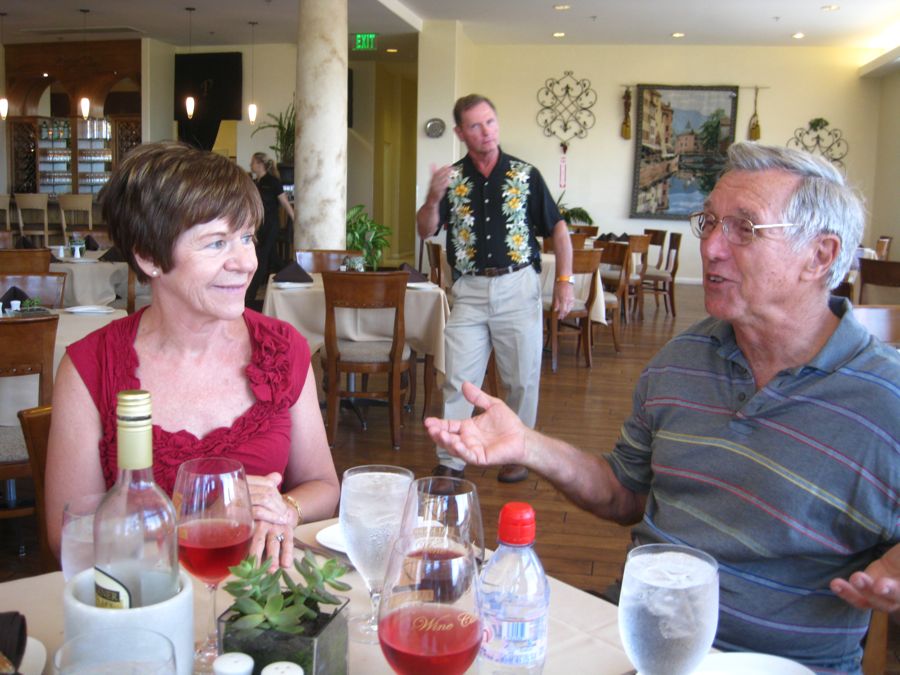 Ed doing some serious 'splaining

Jule and Sandy tell of the great balloon ride and how they found their beautiful home///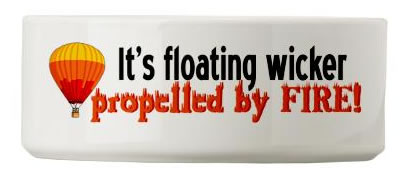 Kathy regales us with the story of her younger brothers and the baby carriage with missing wheels
Did You Know? - Baby transport (commonly known as a baby carrier, buggy, carrycot, child carrier, perambulator, pram, push-chair or stroller) consists of devices for transporting and carrying infants. A "child carrier" or "baby carrier" is a device used to carry an infant or small child on the body of an adult. Such on-the-body carriers are designed in various forms such as baby slings, backpack carriers, and soft front or hip carriers, with varying materials and degrees of rigidity, decoration, support and confinement of the child.
William Kent developed an early pram in 1733. He was a garden architect in England who had become well known for his work. In 1733, the Duke of Devonshire asked Kent to build a means of transportation that would carry his children. Kent obliged by constructing a shell shaped basket on wheels that the children could sit in. This was richly decorated and meant to be pulled by a goat or small pony.
Benjamin Potter Crandall sold baby carriages in America in the 1830s which have been described as the "first baby carriages manufactured in America" His son, Jesse Armour Crandall was issued a number of patents for improvements and additions to the standard models. These included adding a brake to carriages, a model which folded, designs for parasols and an umbrella hanger. By 1840, the baby carriage became extremely popular.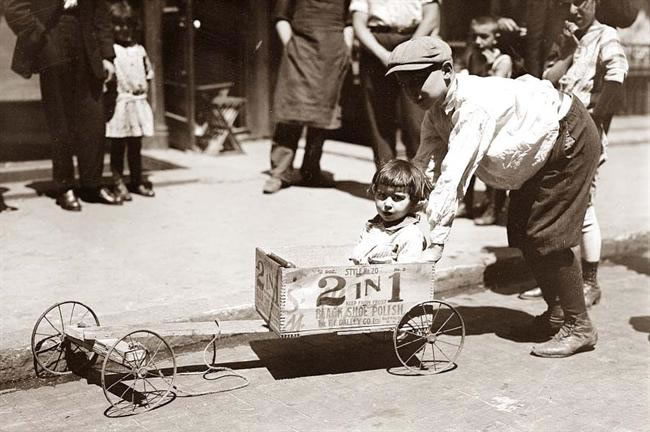 However... Kathy got to ride in the race car because it was her wheels...

Ed just finished his gargling demonstration
Group Mug Shot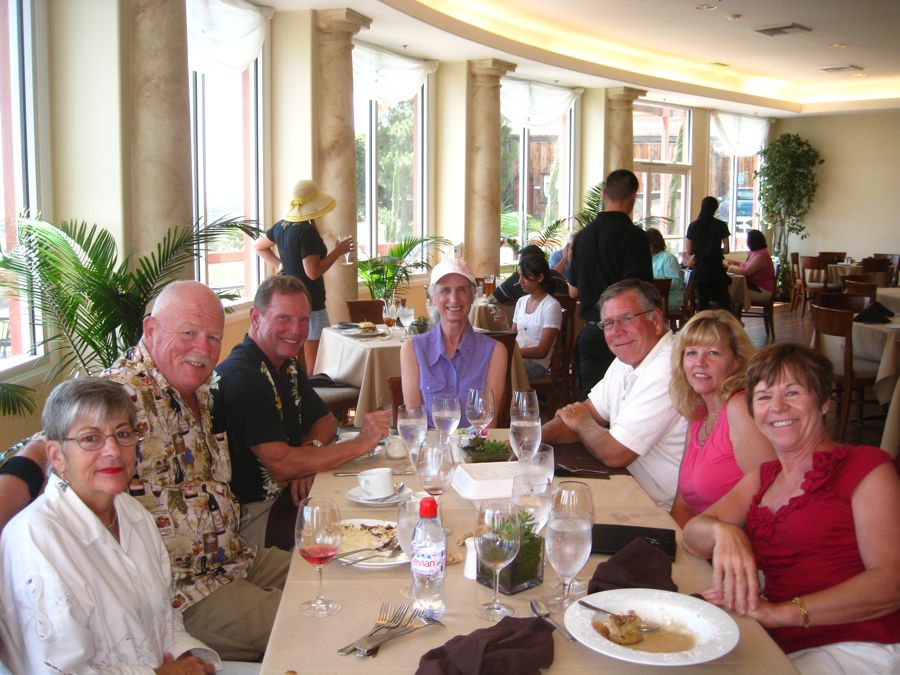 Ed is missing but not forgotten
Artistic License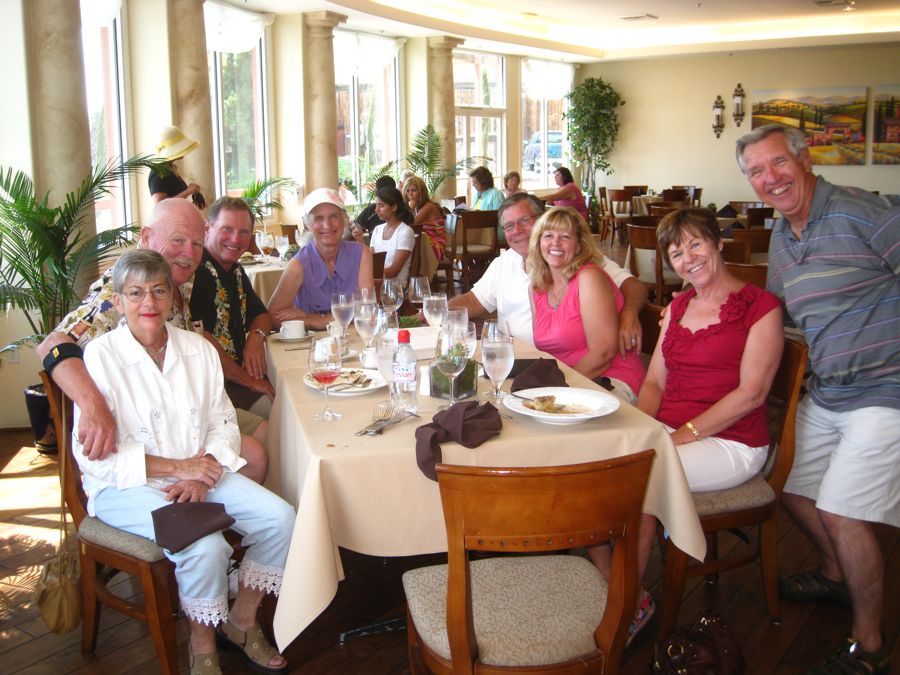 Notice... Paul hides his legs! Ed's are out in plain view of women and children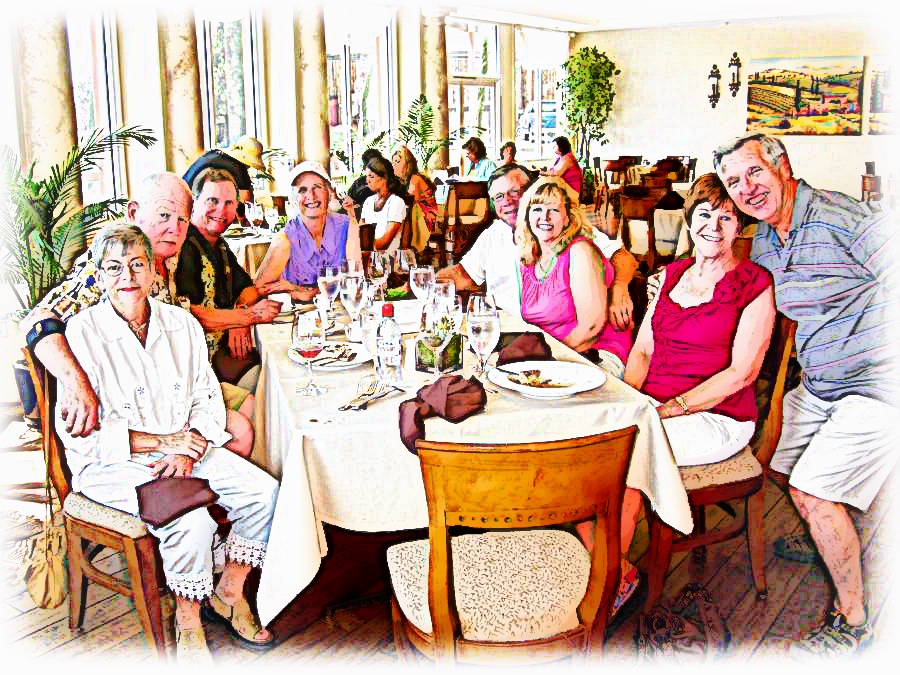 Pencil and pen

The old polaroid camera at work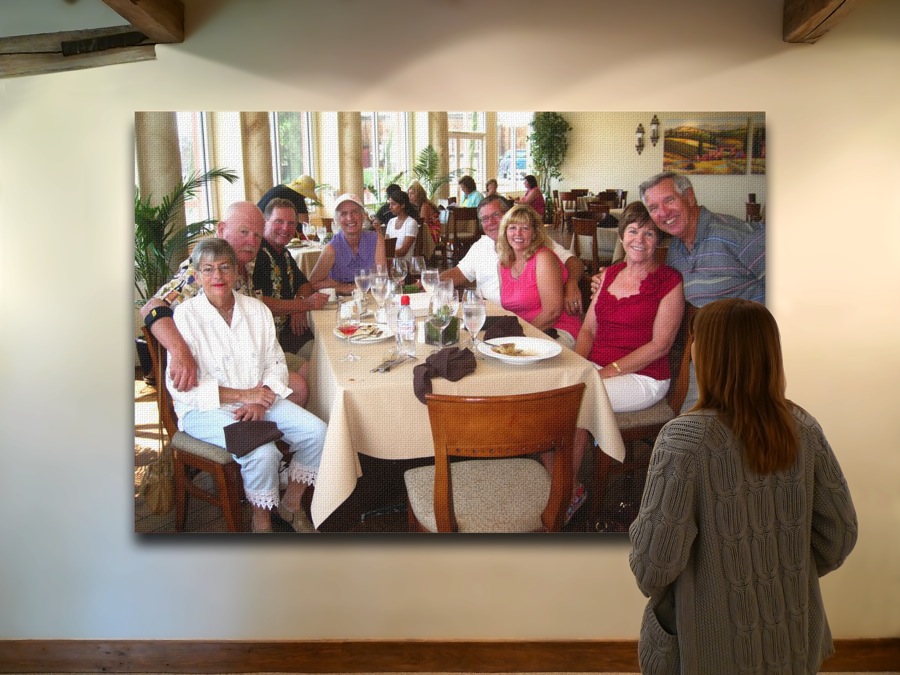 Who is watching us????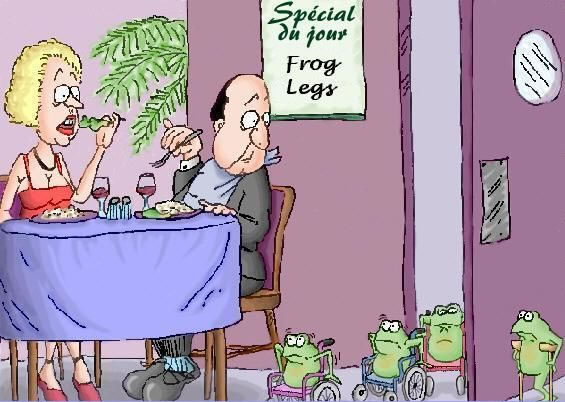 Ed ordered frogs legs much to the chagrin of the other diners

Gives a new meaning to...
DON'T ASK... DON'T TELL
The Routy Table Achieves A New Level Of Sillyness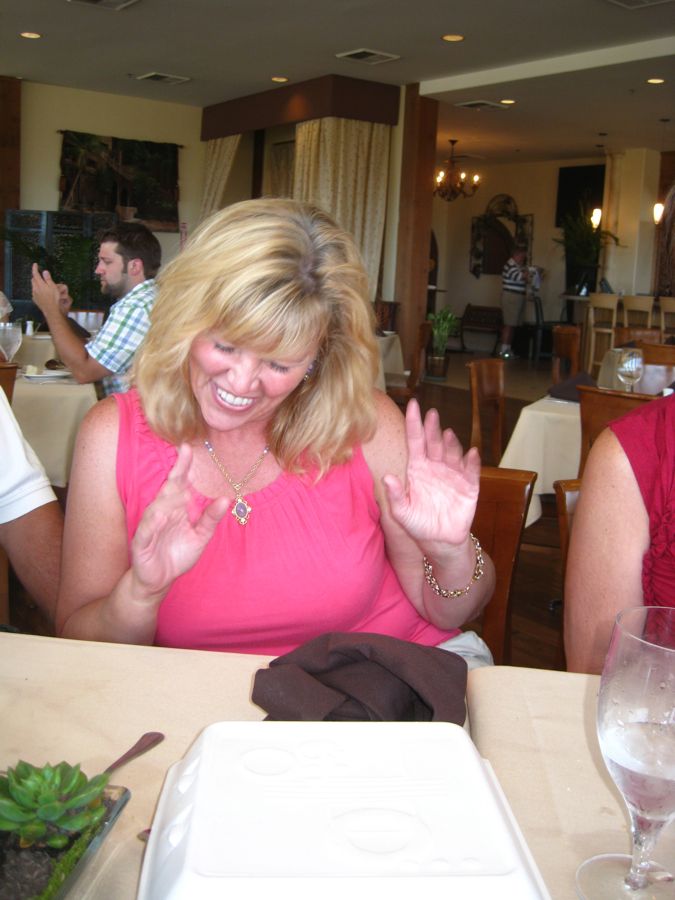 Sandy demonstrates a new dance step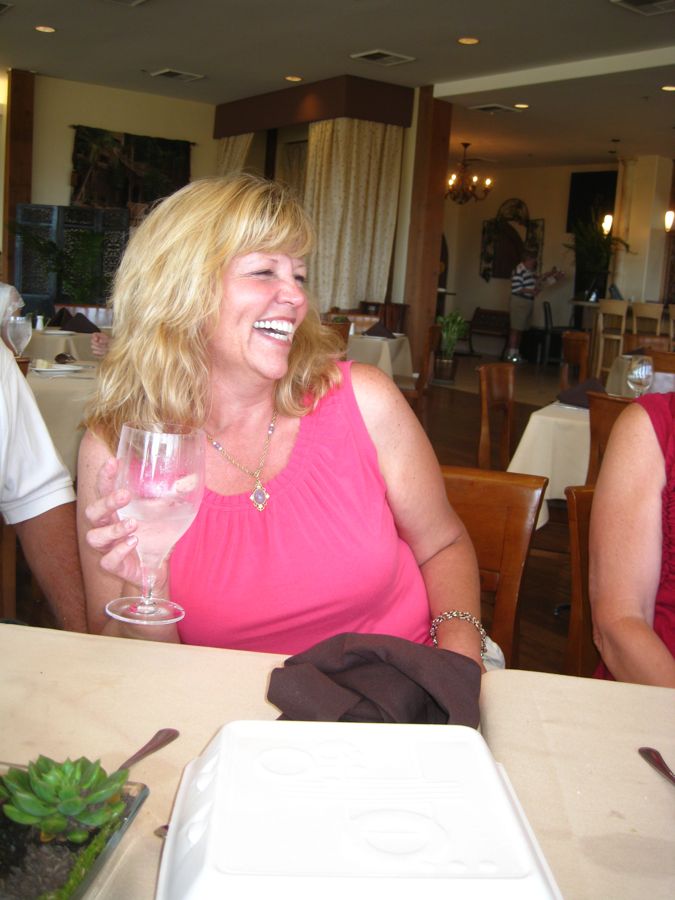 ... and follows up with her vodka chaser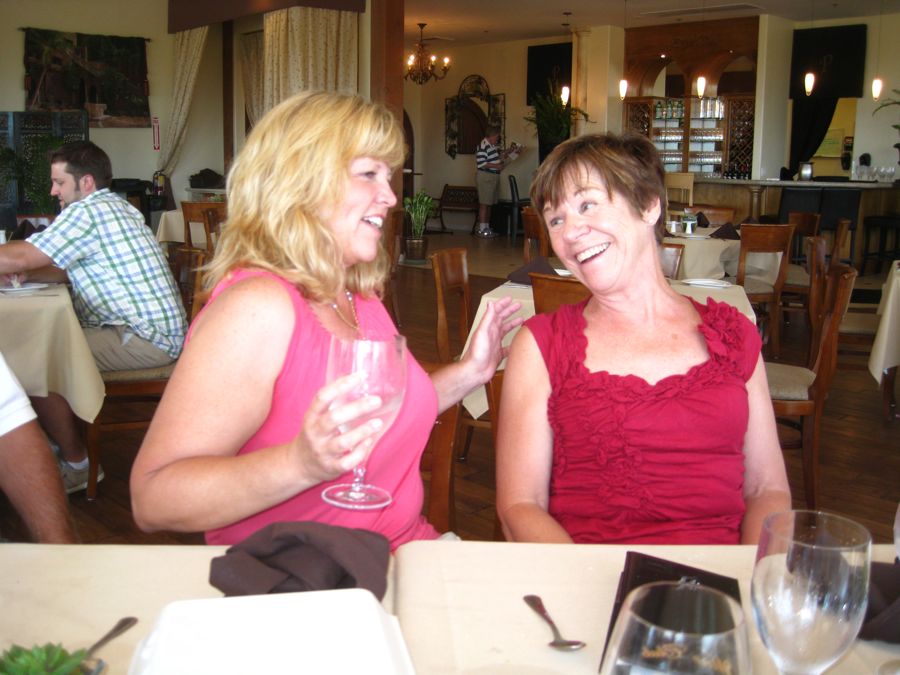 "ah... Maybe we ought to go... That other table is looking this way"
"Hey... we are leaving and they are applauding us!"
We Were Invited To Continue The Cavorting At Jule's & Sandy's Home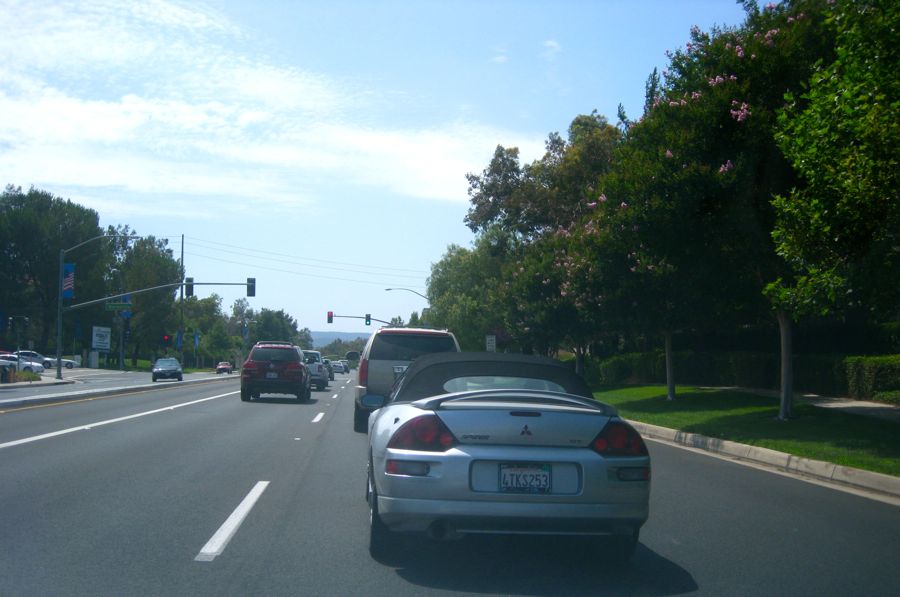 It was a short drive... We were behind Mario (AJ) Andretti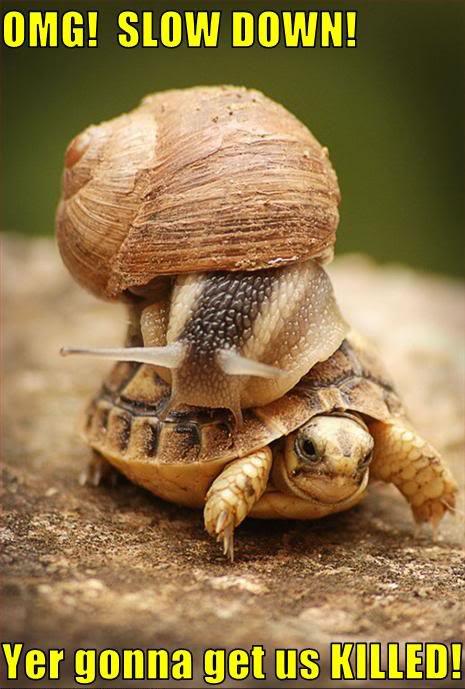 After the winding road into the highlands it was time for a drink..... hic!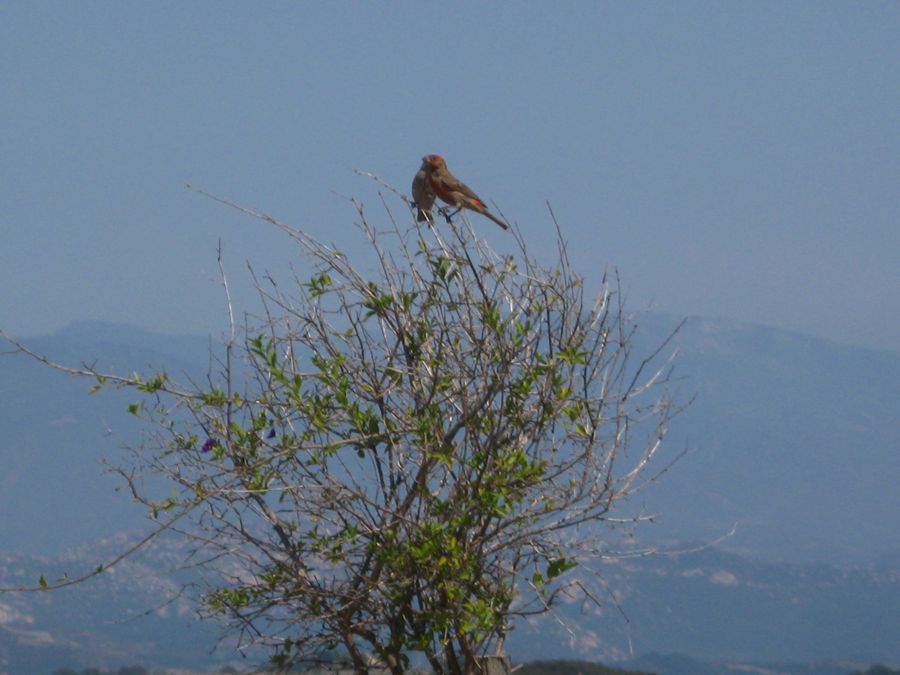 We had little visitors

"Herbert! Those noisy people are back again!"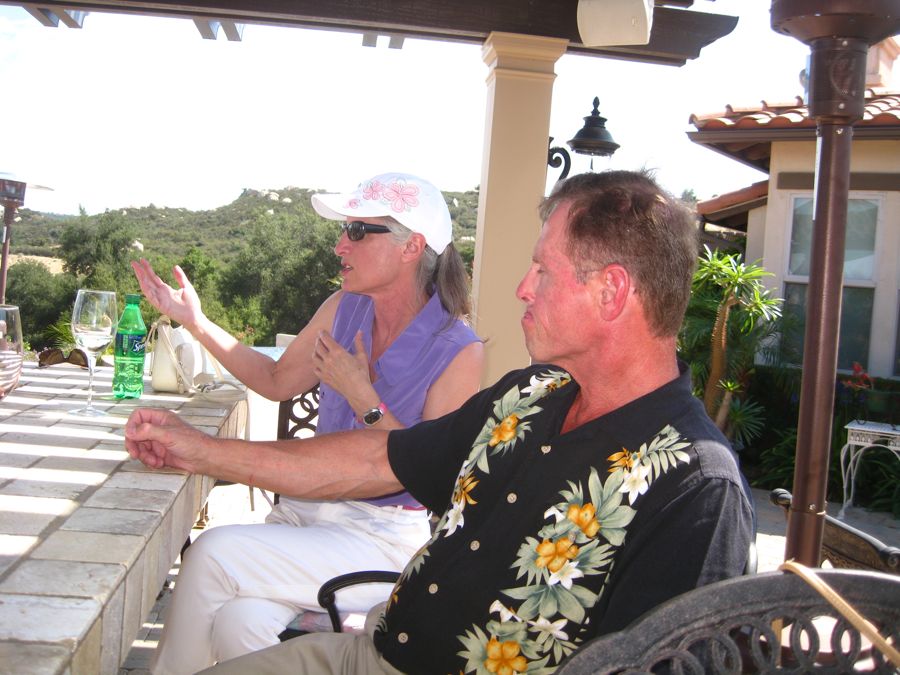 The stories continue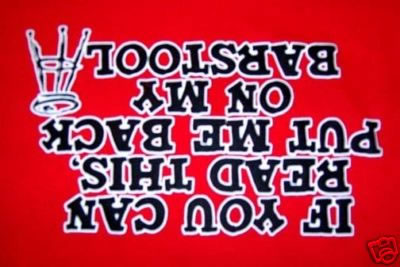 Kathy & Sandy are getting the giggles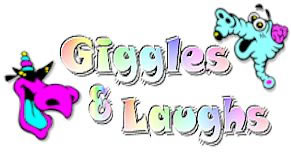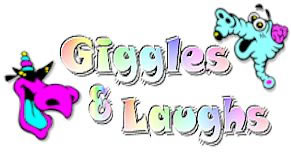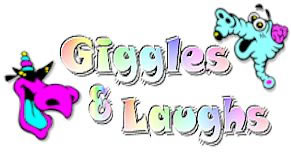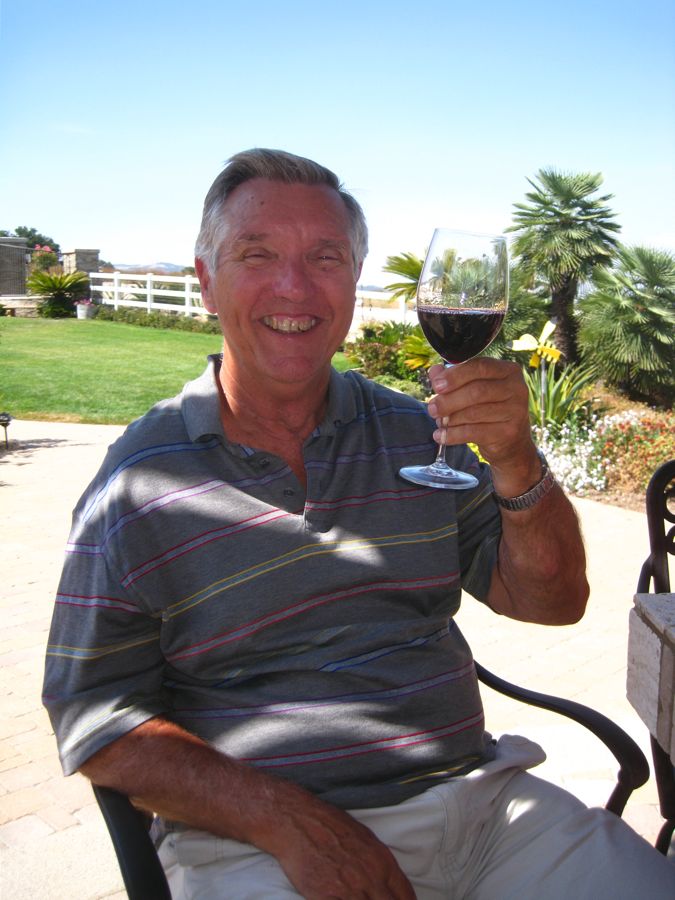 Time for a toast... Ed will drink to that.... Ed's favorite toasts were recorded this afternoon
To wine. It improves with age-the older I get, the more I like it. - Ed Roberts
"What contemptible scoundrel stole the cork from my lunch?" - W.C. Fields
The wine-cup is the little silver well, Where truth, if truth there be, doth dwell. - William Shakespeare
Too much of a good thing is wonderful. - Mae West
When I read about the evils of drinking, I gave up reading. - Henny Youngman

Paul finds a new friend! Daisy

Paul needed glasses to get a better look