December 6th (Robin's Birthday +1)
The annual trek to Sherman Garden was punctuated with a super meal at Rothschild's just two short blocks away! We arrived at 5:30 PM and headed to the gardens by 7:00 PM which was perfect, we beat the crowds and we had parking!
Rothschild's has been the cornerstone of Corona Del Mar for over 40 years. It has been family owned since early conception and has become a place where our customers and staff have come to call home.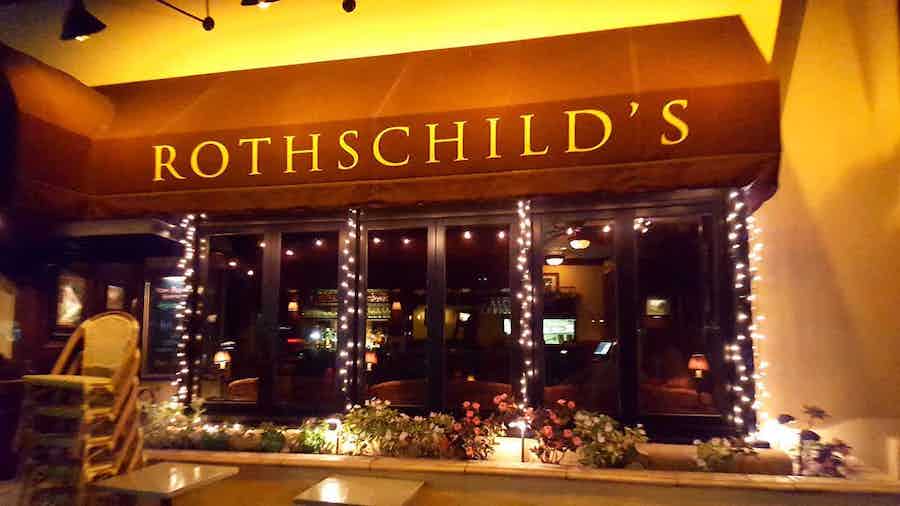 Right on PCH and Mac Arthur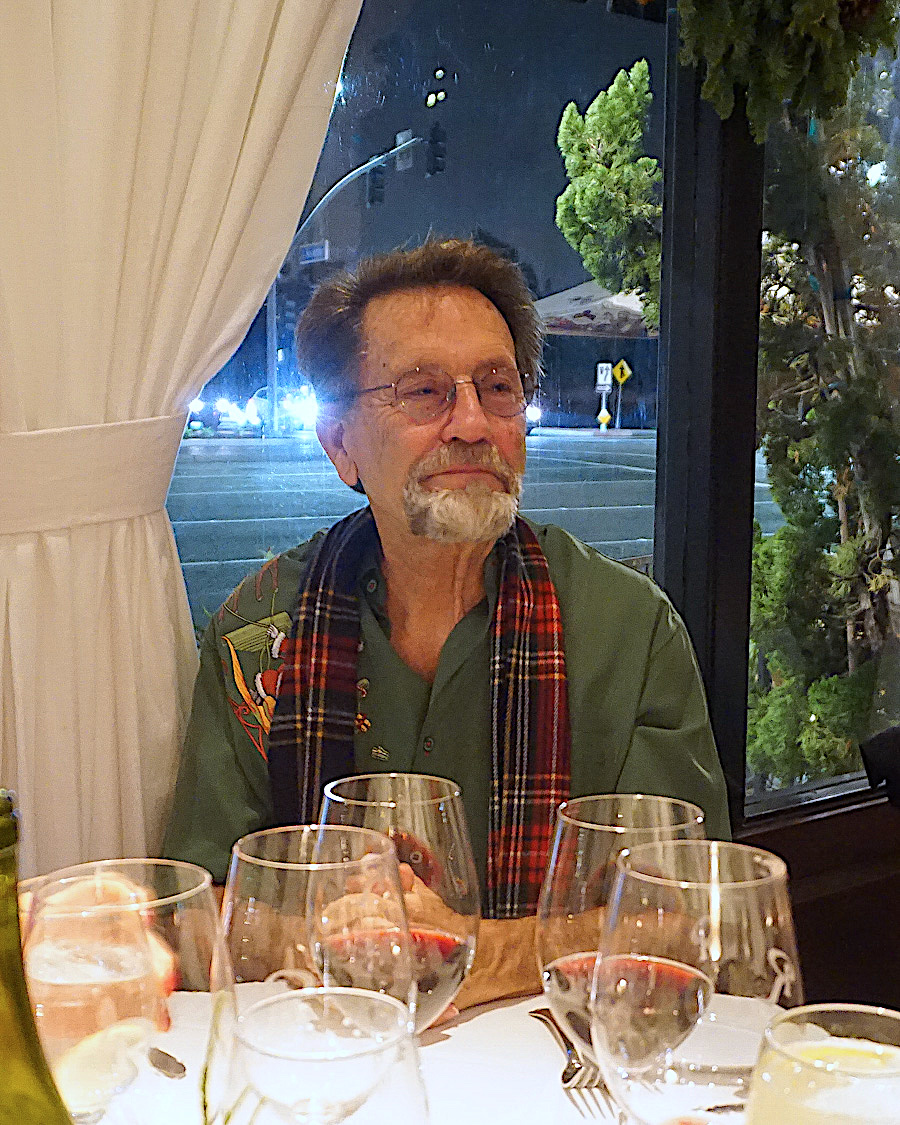 Bob just finished his sixth glass of wine!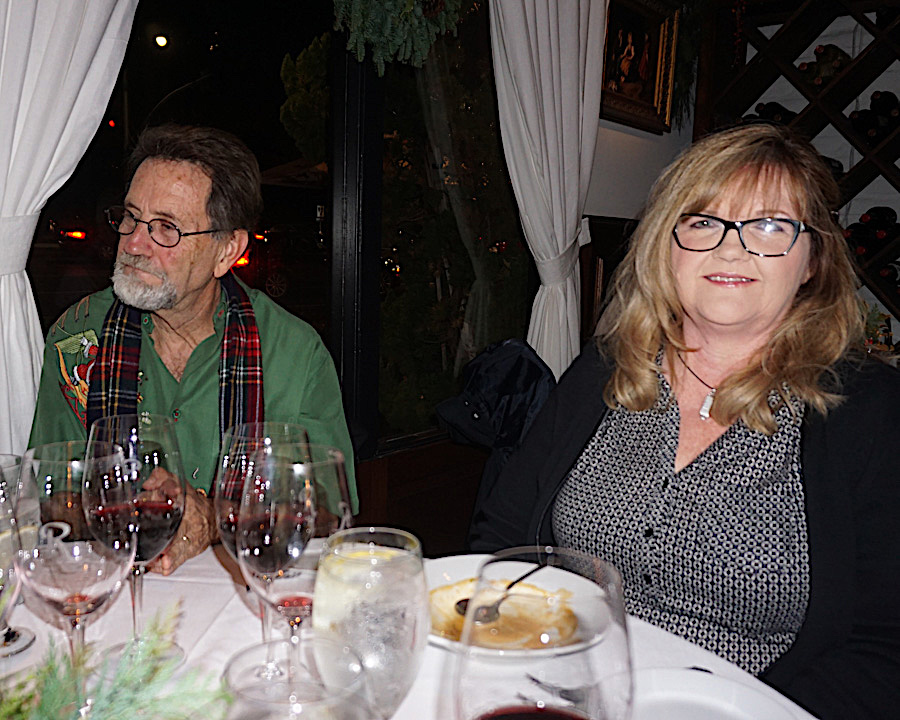 The wine keeps coming ... Dinner was outstanding!

We all await for Donna to tell the story!

Donna tells a story or is she singing?

Is she animated or what???

It's an excellent story, they lived happily ever-after!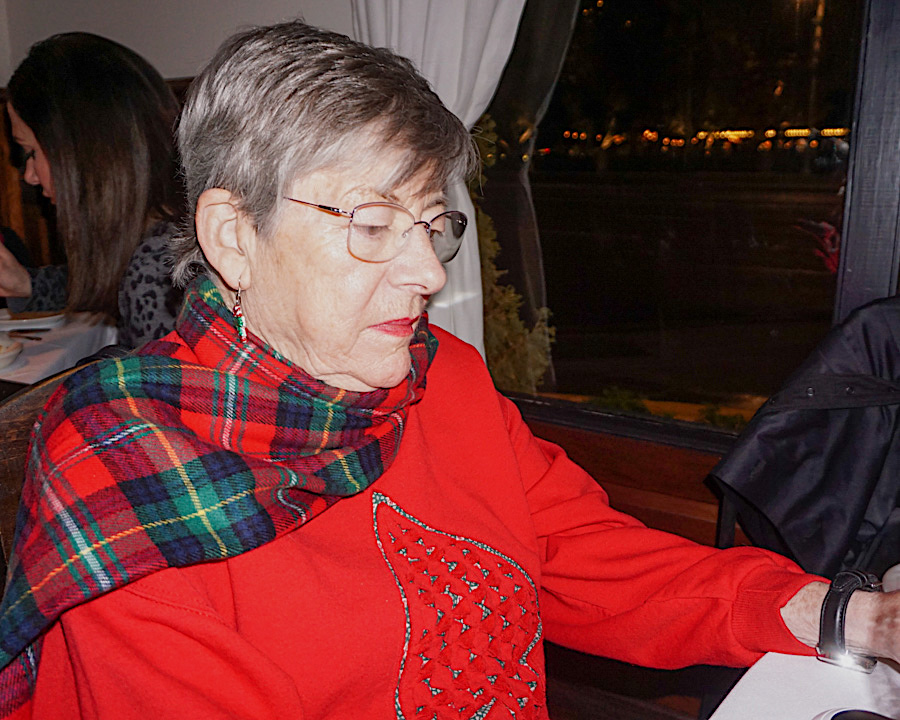 We wore matching sweatshirts this evening!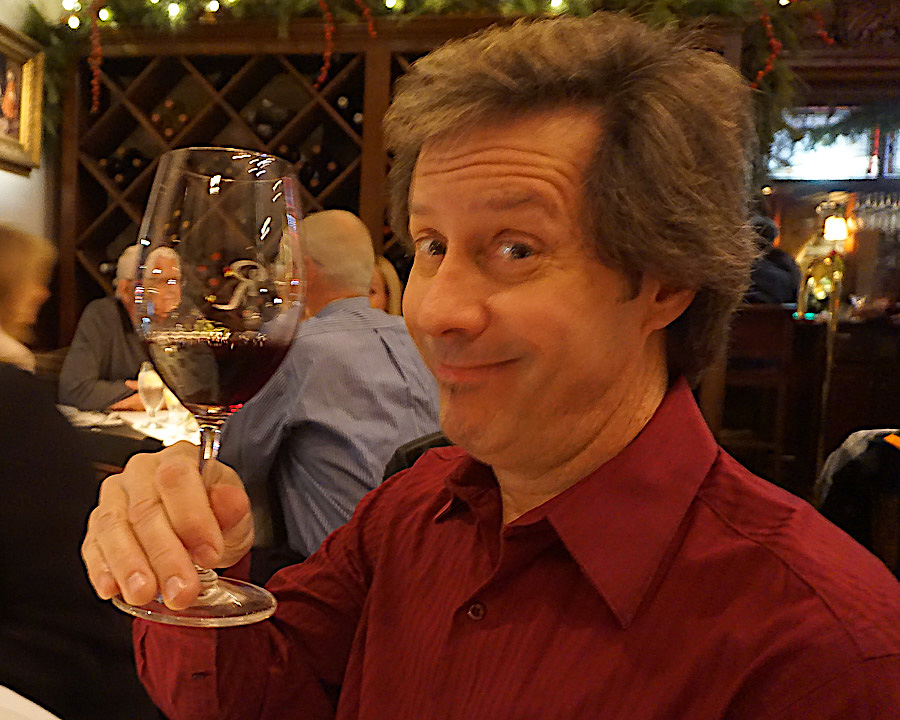 Bob is a little out of focus but he gets better as the evening progresses

He found a grape in his wine!

Deciding on dessert?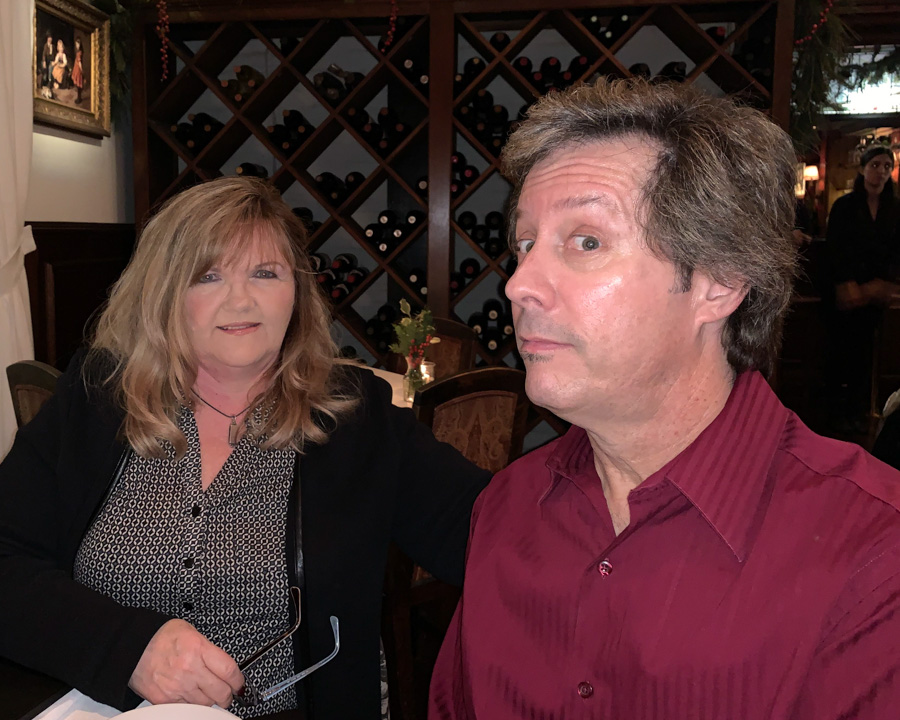 Bob keeps an eye on Paul tin order to slow down the wine deliveries

We are matching!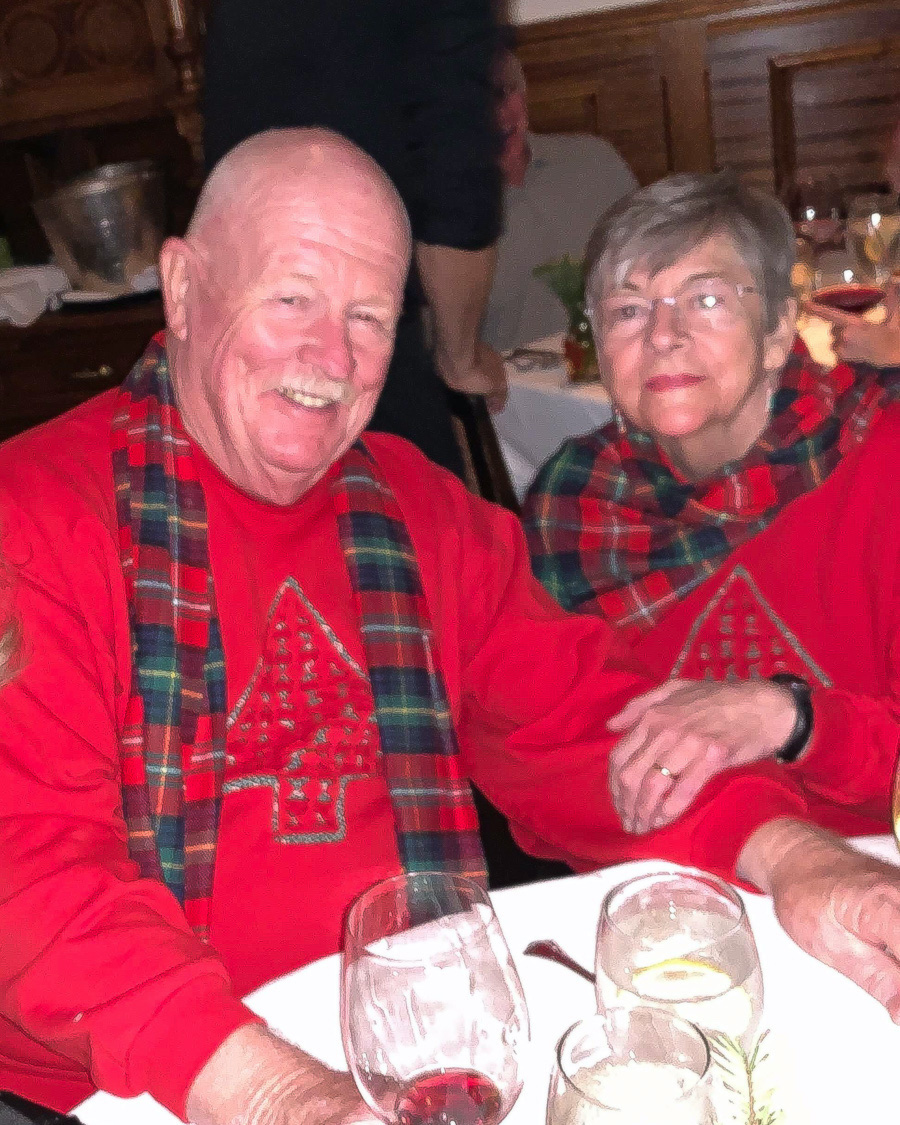 Dinner is done... Let's begin counting the 10,000 lights!
We all decided to drive to Sherman Gardens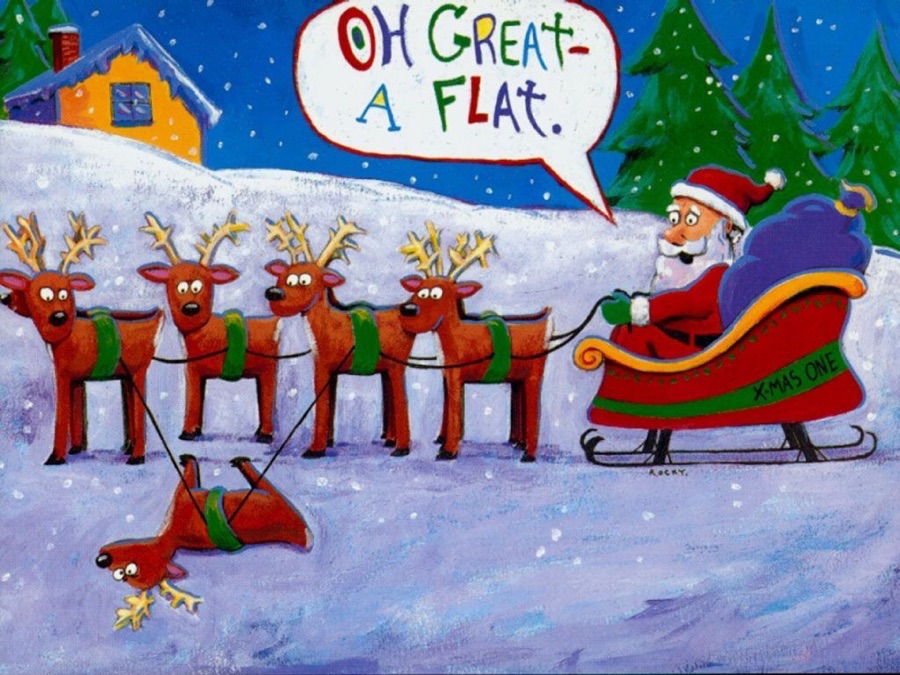 If Santa ran out of money, would he be Saint Nickel-less?

Every night on December 6, 7, 8, 9, 12, 13, 14, 15, 19, 20, 21, and 22 from 6-9pm enjoy a 'Blue Christmas' with Elvis, take a stroll in the glistening light tunnel and boogie through the disco inFERNo at Sherman Library & Gardens. Enter a world of sugary sweets in Gingerbread Land, experience the magic of a Scandinavian Christmas in the Tea Garden, and make a traditional Julehjerter (a Christmas heart decoration). Ticketed guests can take free photos and enjoy coffee, hot chocolate and a make your own s'mores station. Additionally, there will be a no-host beer and wine bar, and delectable food prepared by Chef Pascal Olhats available for purchase. The Garden Shop will be open and is a must-see for unique holiday gift ideas.

Now we are talking blue!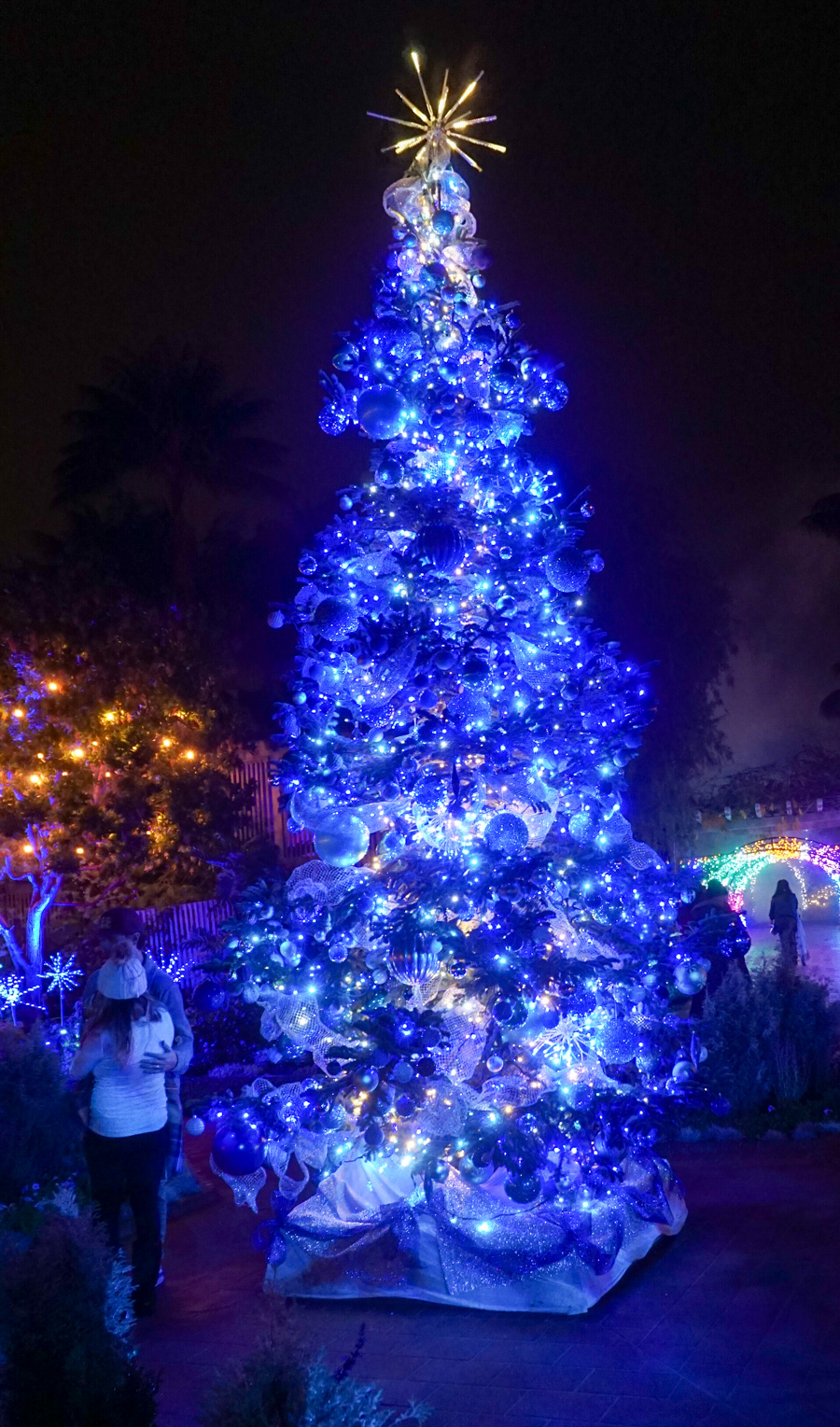 The tree was beautiful, quite a centerpiece
If you ate Christmas decorations would you get tinselitis?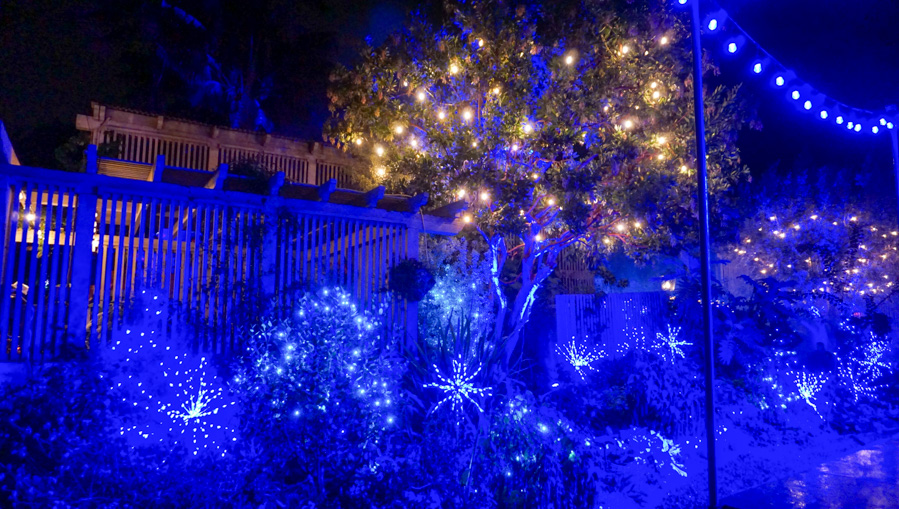 Each area of the garden had its own color theme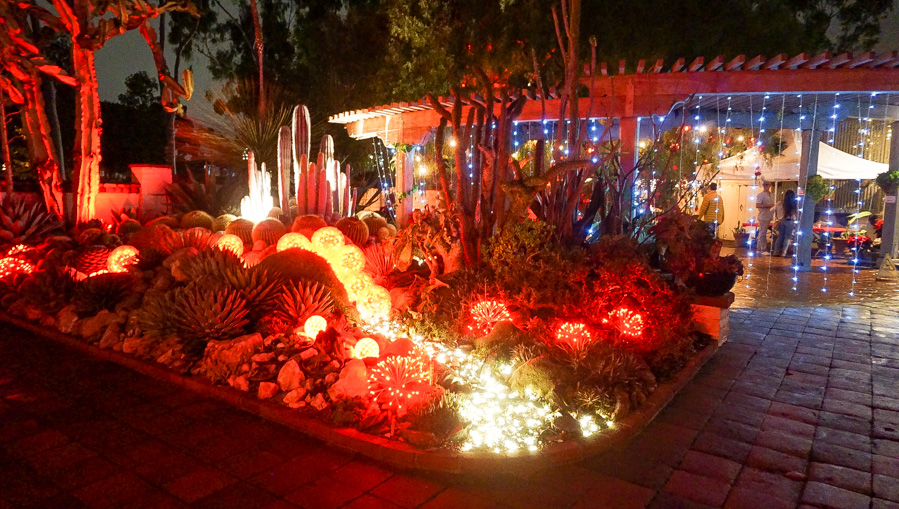 Lots of heat in the cactus garden

Someone worked hard to wrap all the trees!
When Santa's in your room, can you sense his presents?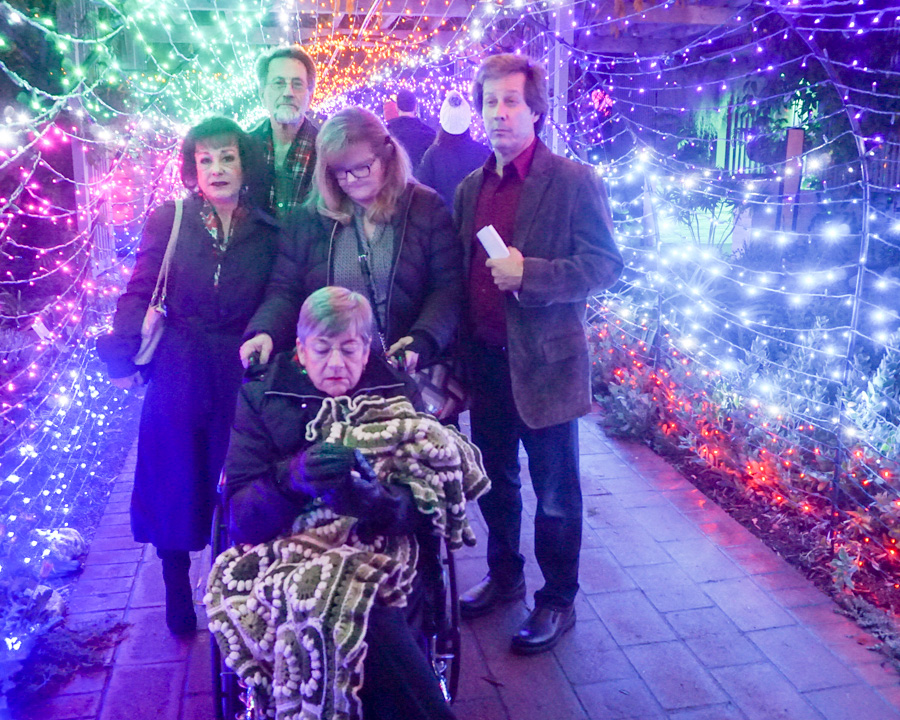 The Bob's kept whispering... "Warp speed Scotty"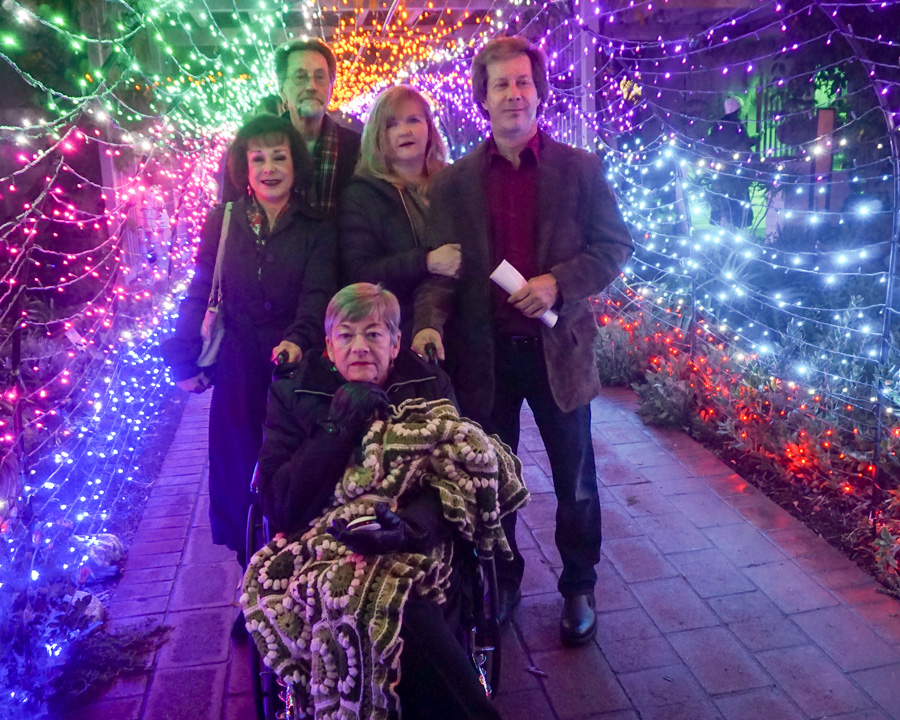 Someone is missing... Let's find a budding photographer!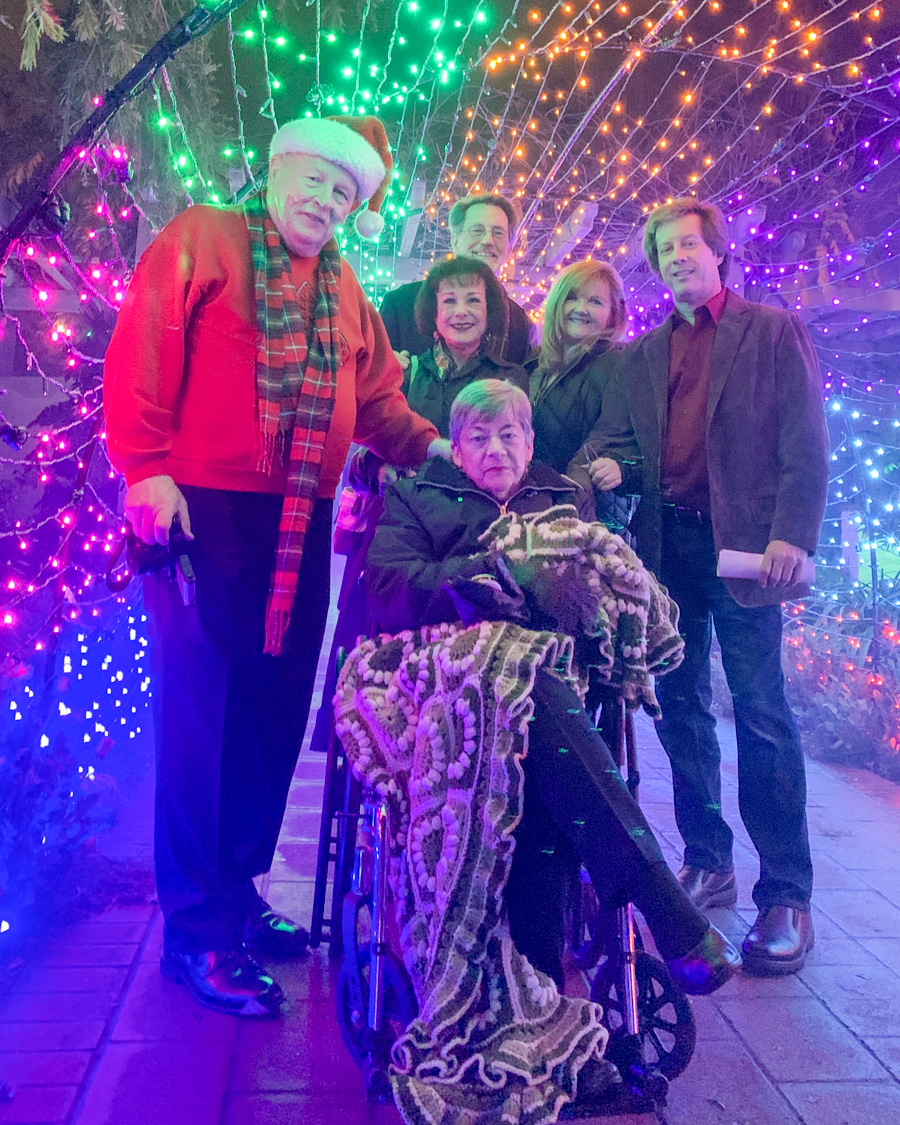 The fearless six-some now that the fat boy is back!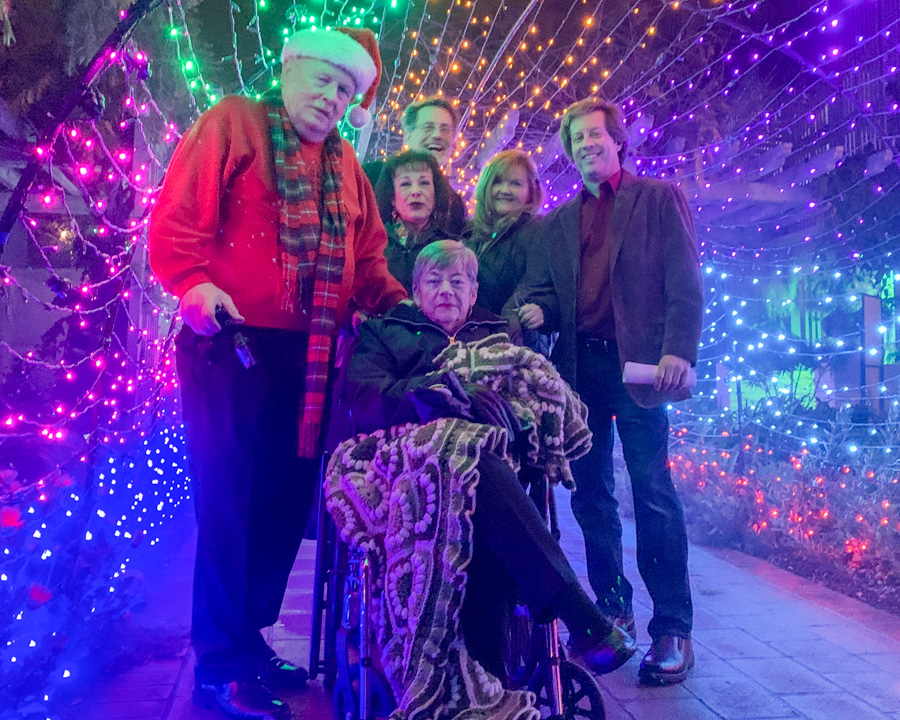 All smiles! Transitioning to Warp 5
Did You Know? - A warp drive is a theoretical superluminal spacecraft propulsion system in many science fiction works, most notably Star Trek and I, Robot by Isaac Asimov. A spacecraft equipped with a warp drive may travel at speeds greater than that of light by many orders of magnitude. In contrast to some other fictitious FTL technologies such as a jump drive, the warp drive does not permit instantaneous travel between two points, but rather involves a measurable passage of time which is pertinent to the concept. In contrast to hyperdrive, spacecraft at warp velocity would continue to interact with objects in "normal space." The general concept of "warp drive" was introduced by John W. Campbell in his 1931 novel Islands of Space.
All that research when the could just build a tunnel with Christmas Lights and have the same effect!

Once Paul gets down it may require all the kings horses
and all the kings men to get him up again!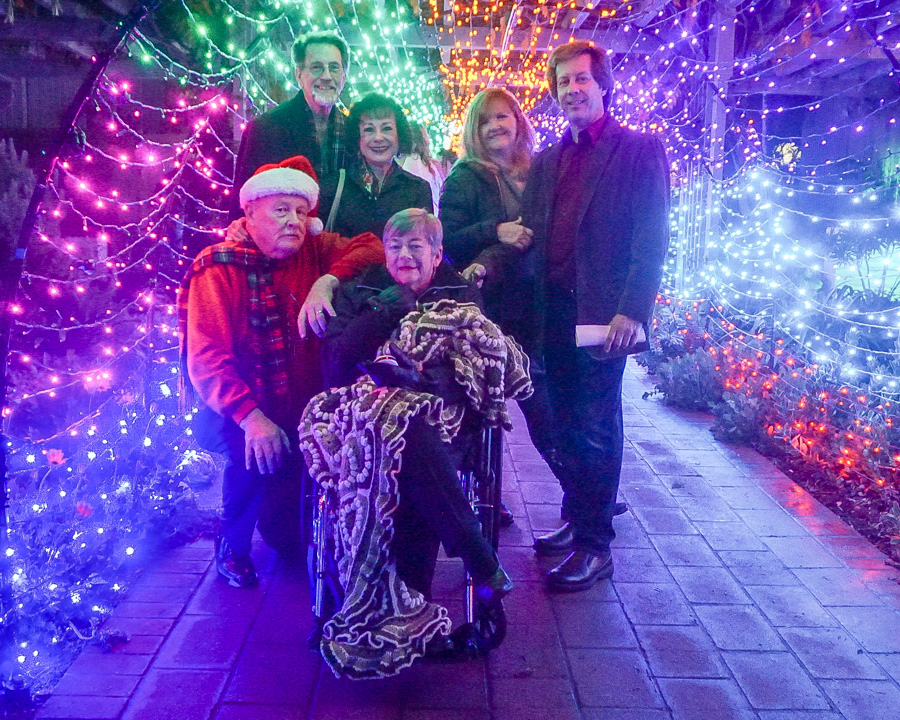 Time to leave the worm hole!

When I was a child, my family was so poor that at Christmas we exchanged glances.

We continued our journey through the gardens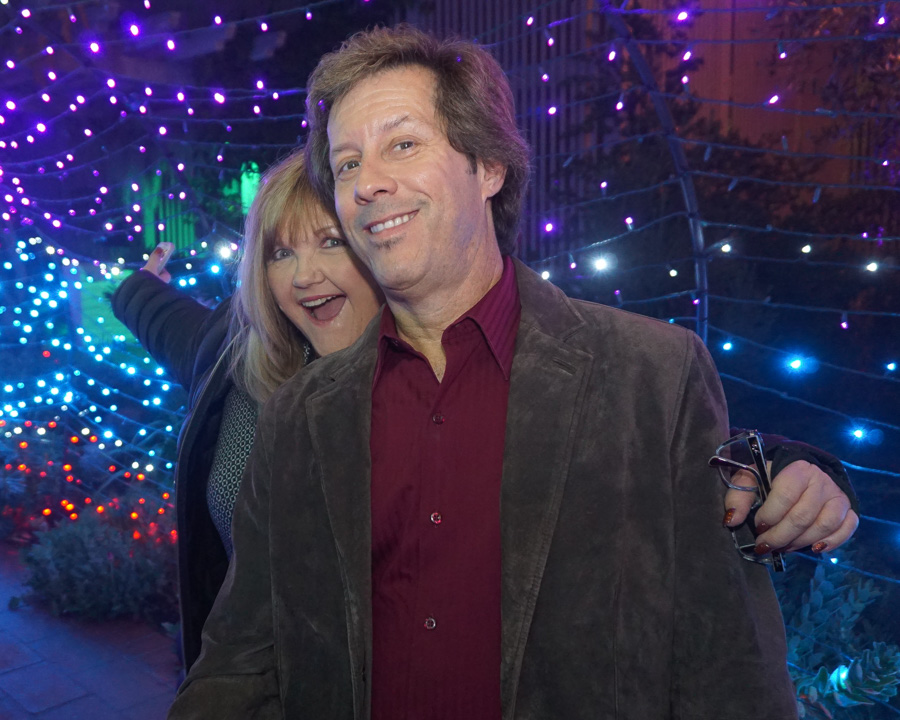 Would you buy a used car from these two?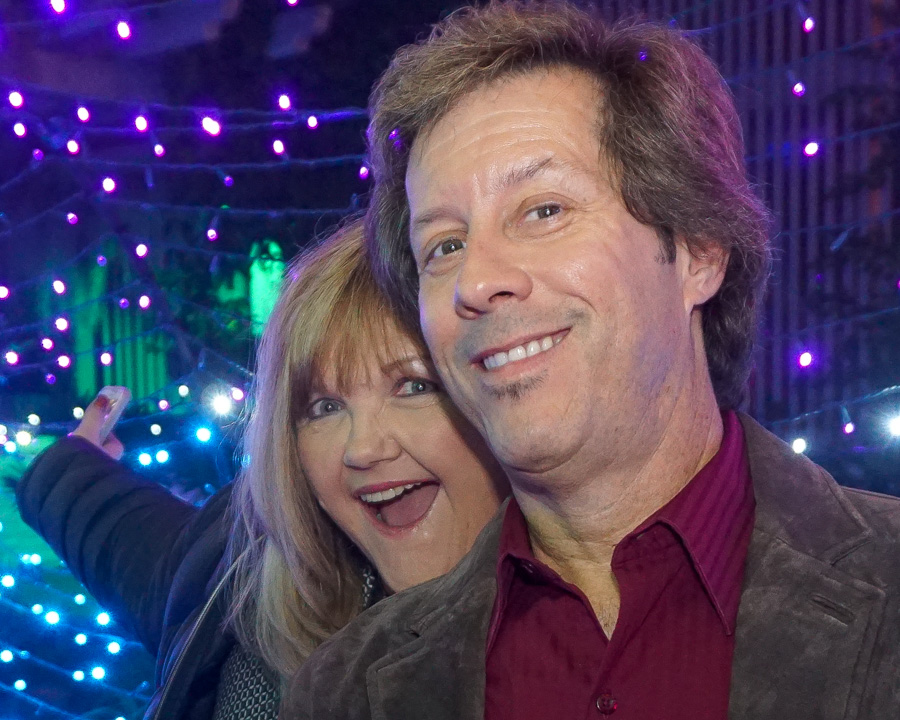 Definitely we would!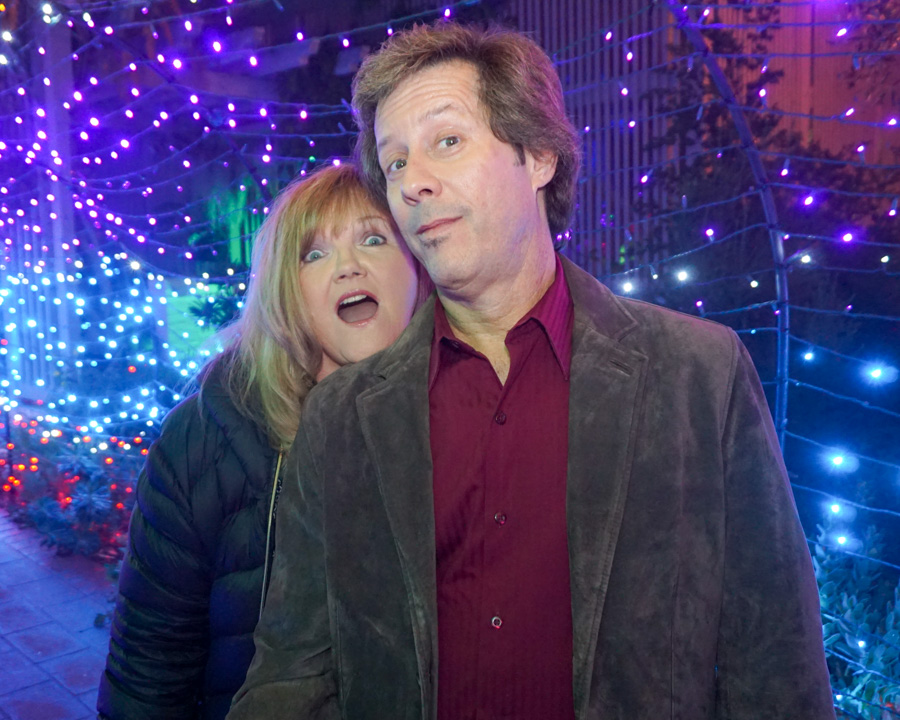 The surprised look?

Indeed!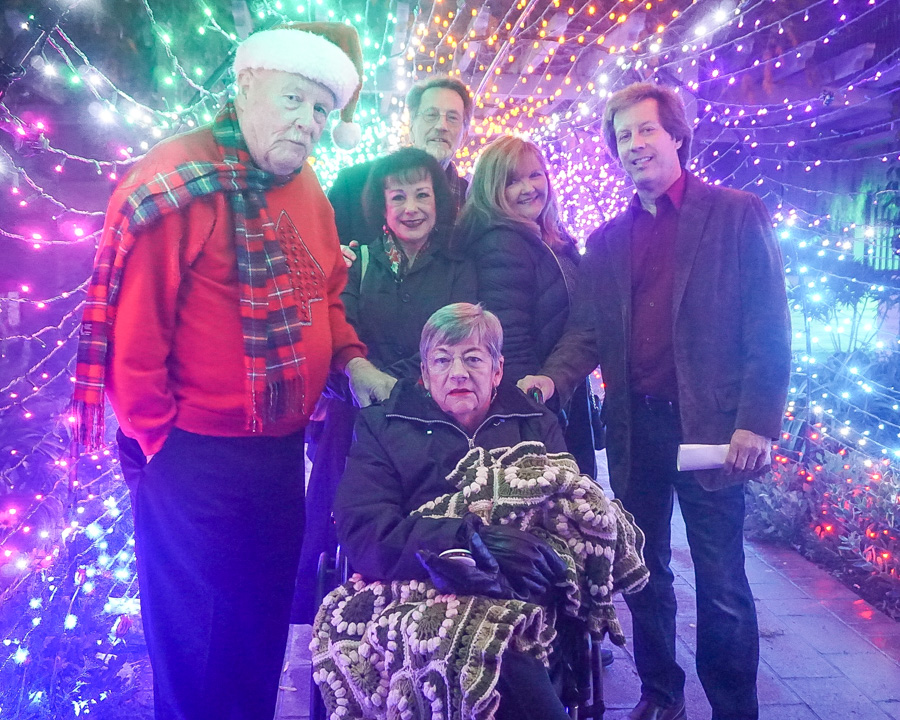 One last time through the tunnel of love!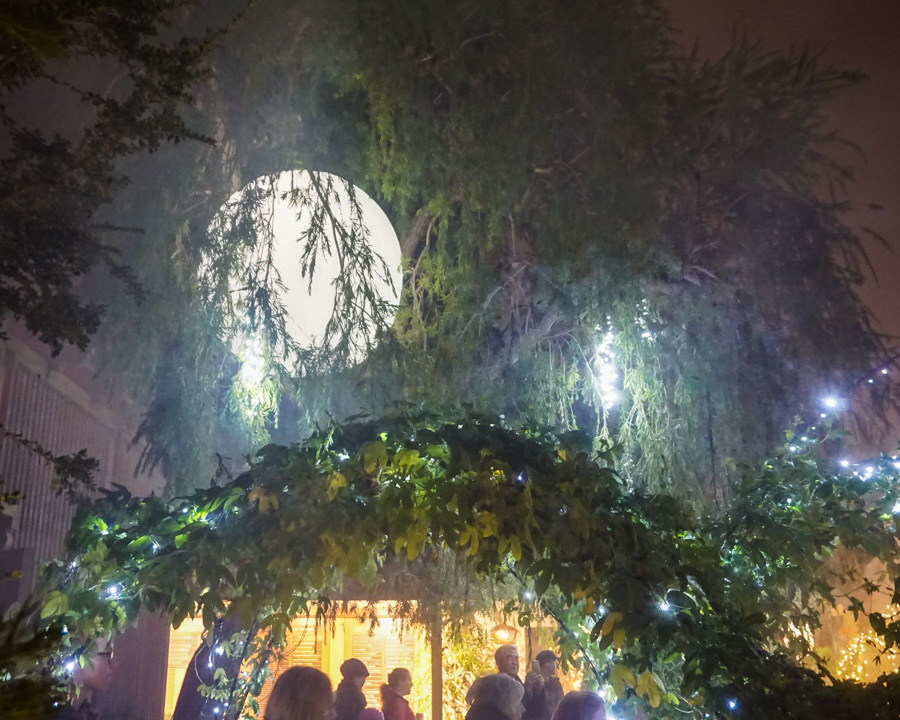 We are being mooned!

The statue was really alive (and probably freezing)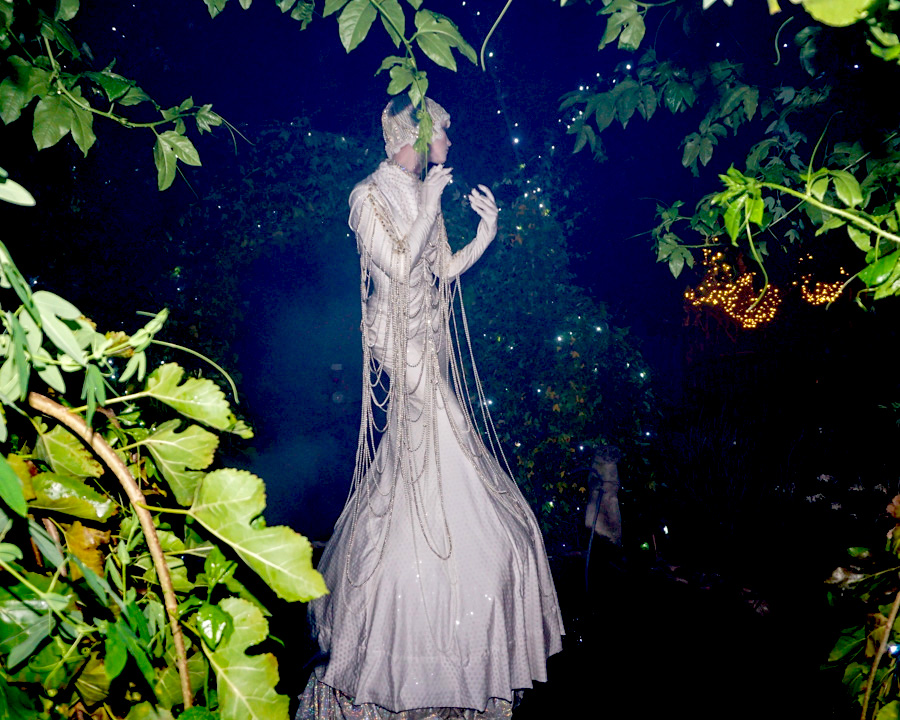 We were cold for her!!!

She was amazing...In addition to being beautiful, she spoke fluent frog!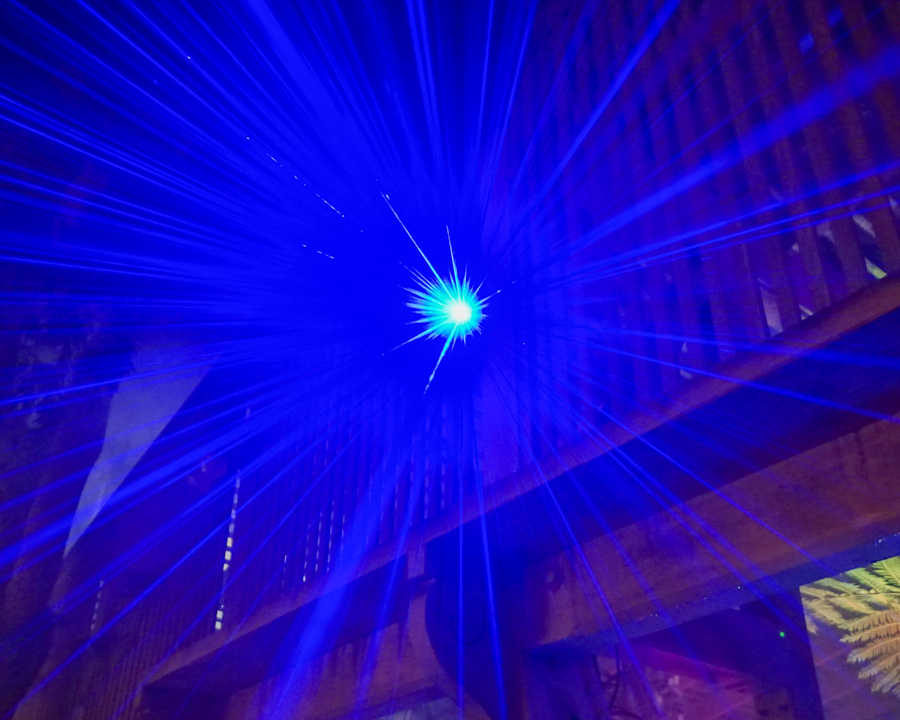 Lasers were all over and cast an amazing light show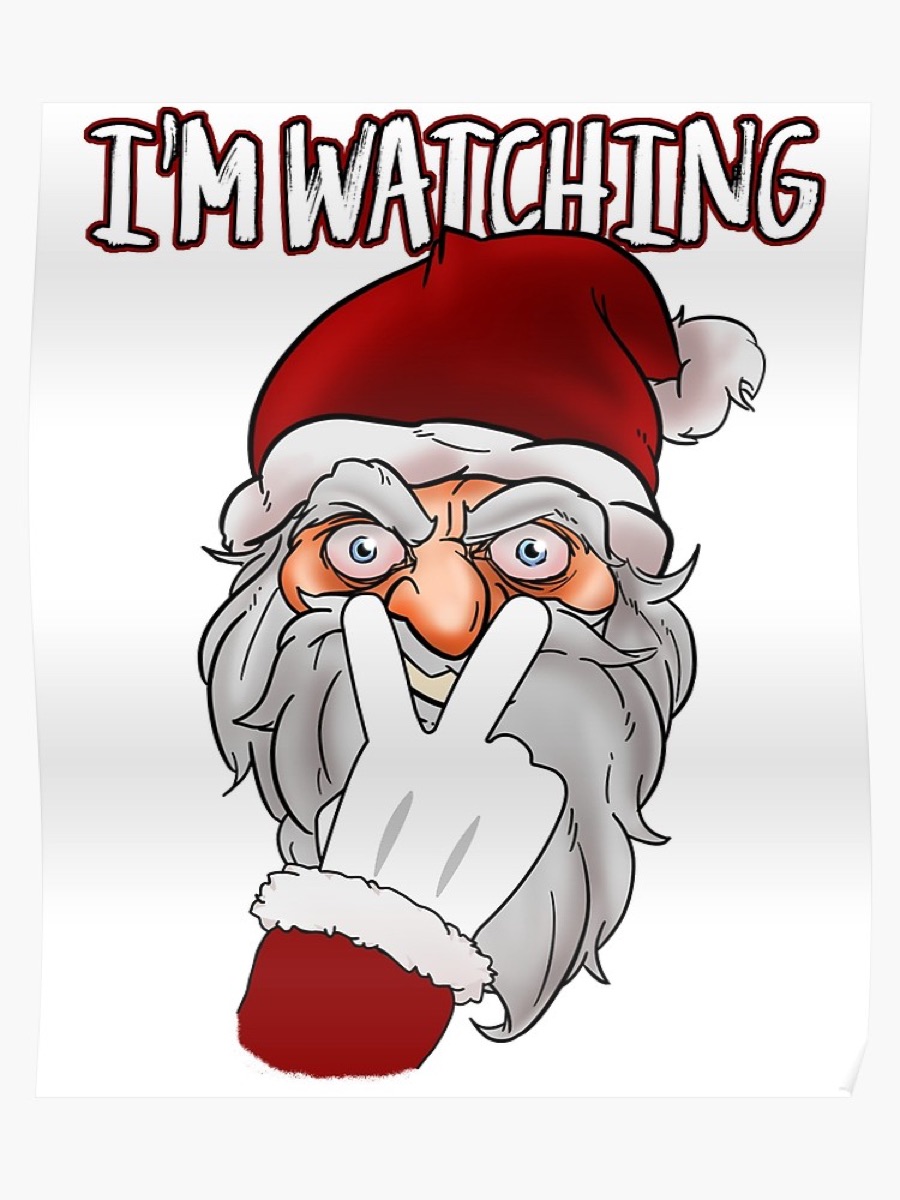 The Bob's and Paul have to behave

The fog machines were working overtime
Are Santa's elves just a bunch of subordinate Clauses?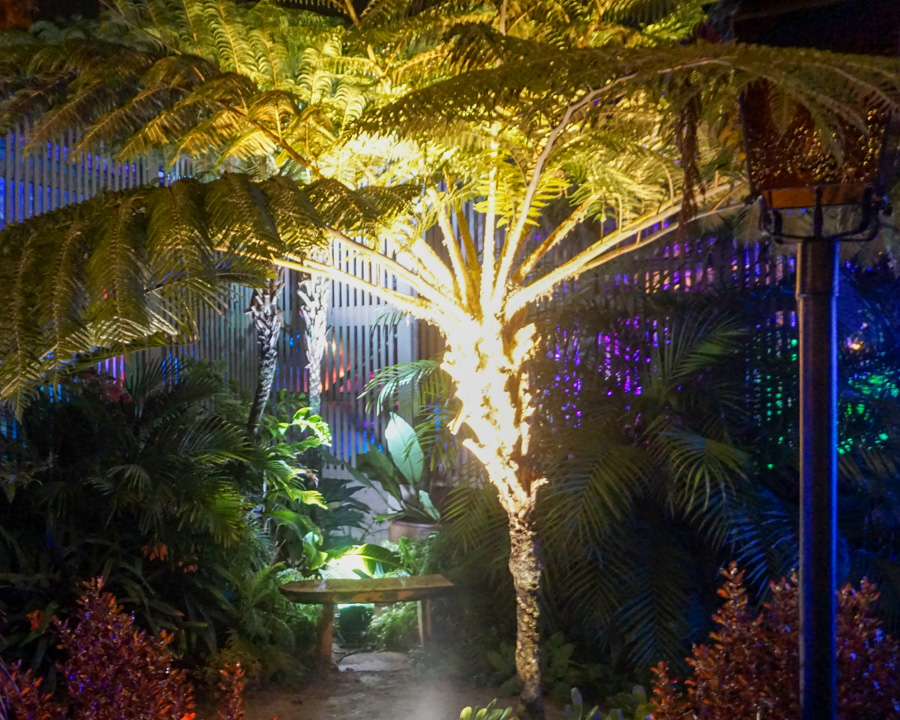 A desert Christmas Tree?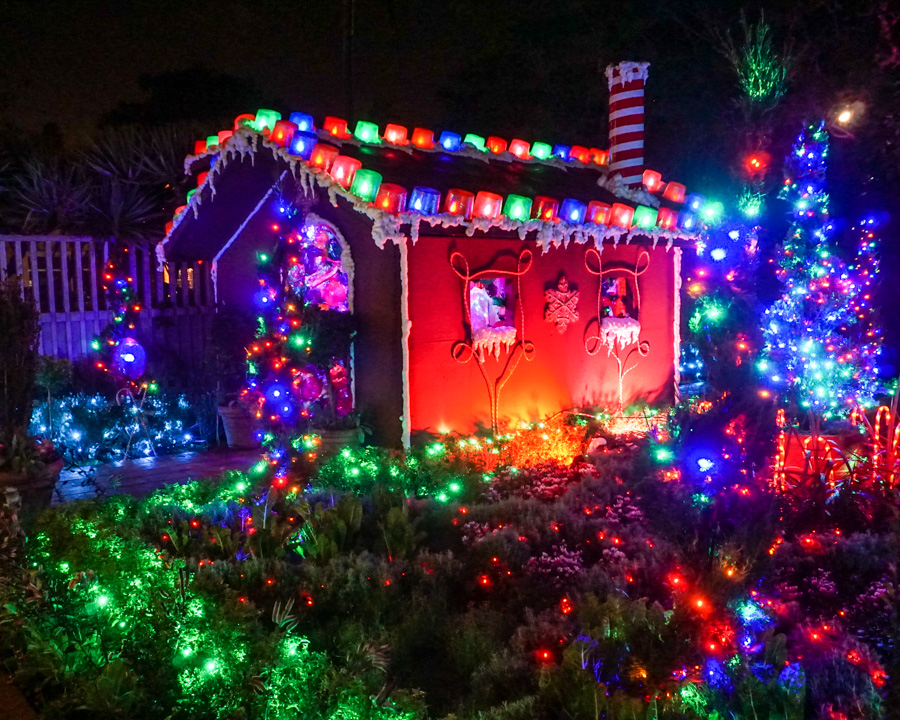 We approach with caution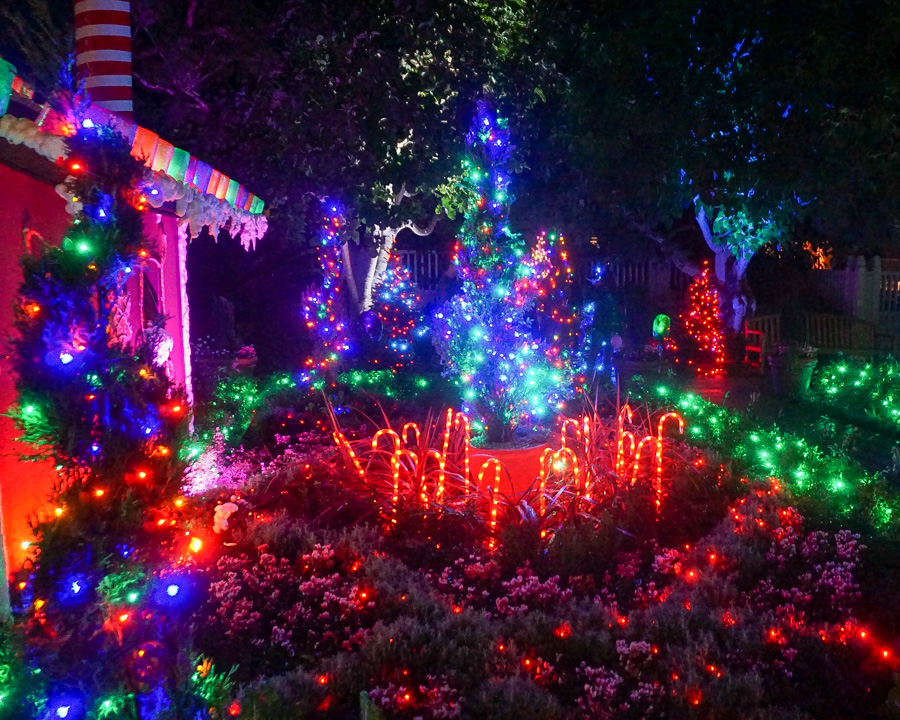 Can't be too bad, they have a candy cane garden

We are enticed to enter by the garden nymph... We can do this!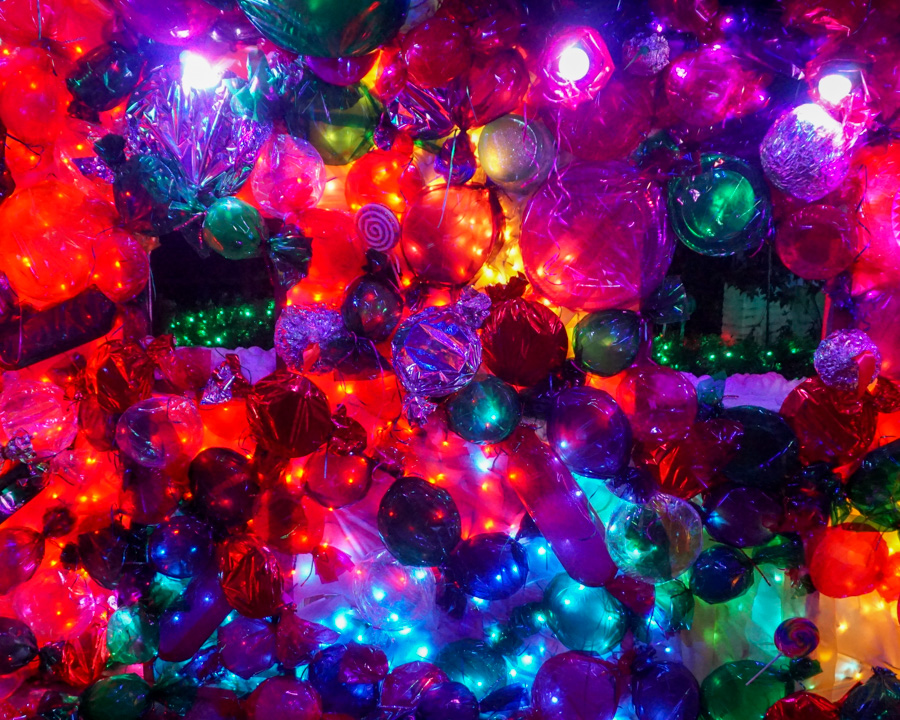 The walls were colorful and transparent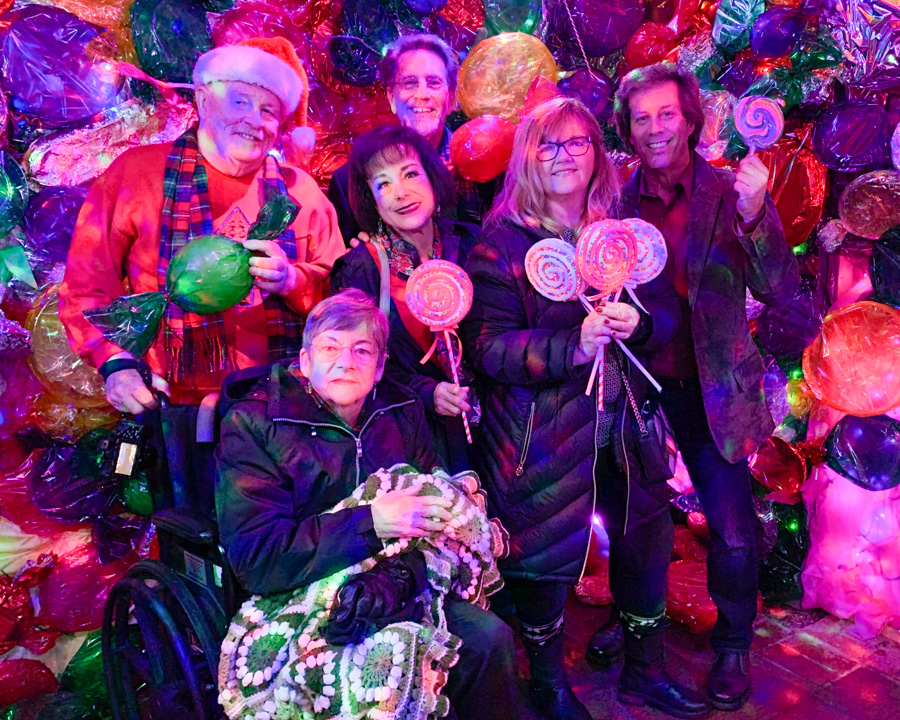 We melted right into the background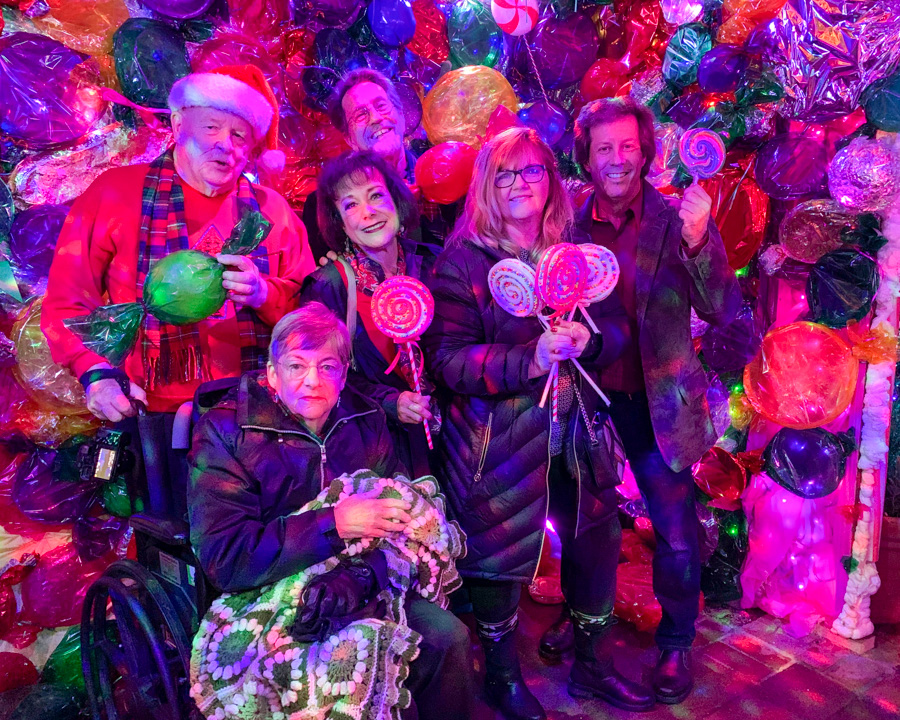 Just like kids....Wait! We are (at least at heart!)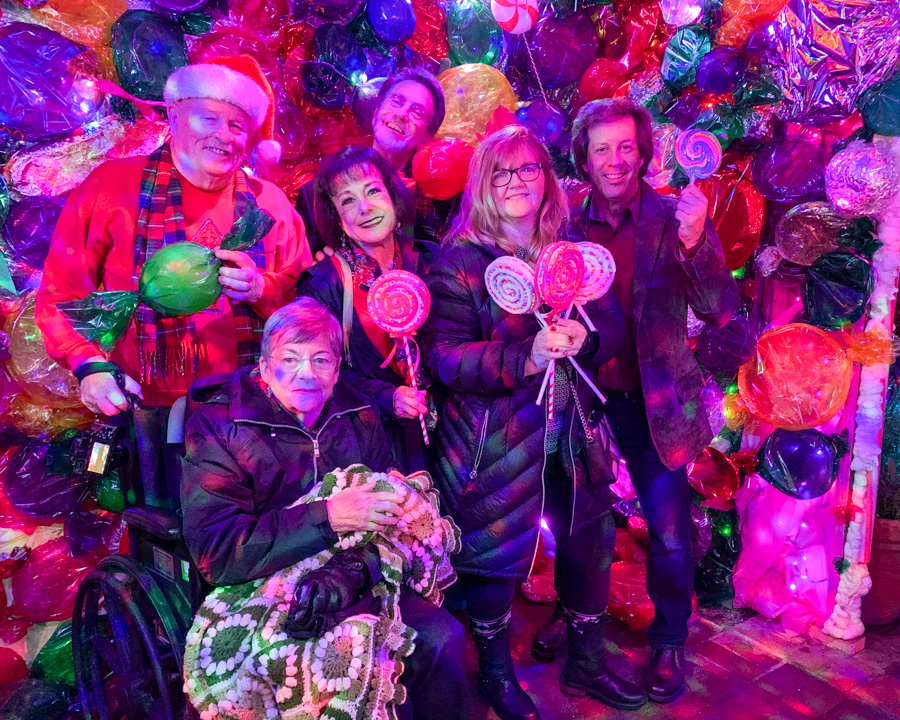 Big smiles!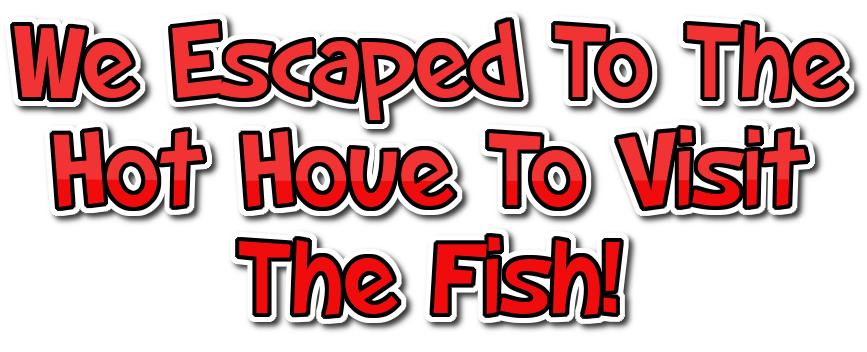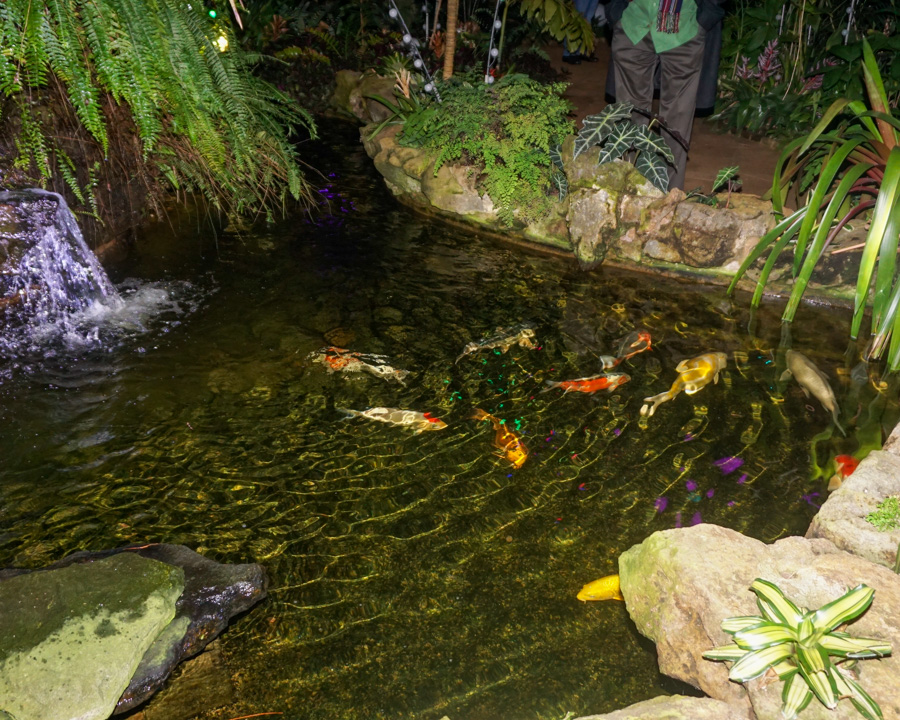 Come on ladies, don't be koi tonight!

Their colors seem to be even more brilliant in the bright light

"Hey Bob, what are you using for bait?"

As we exit we observe strange color globes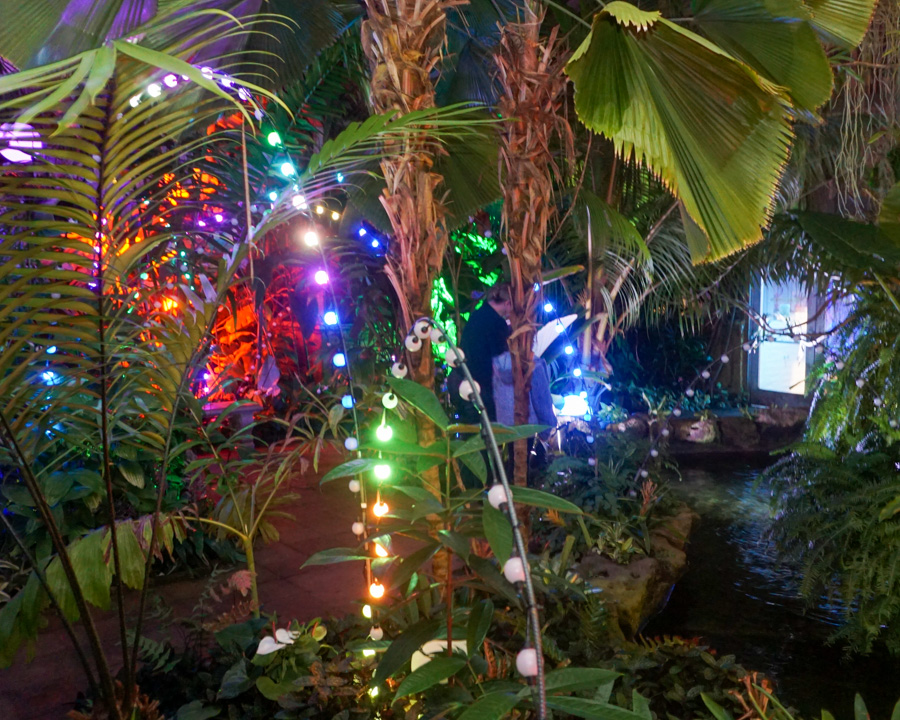 We must visit the pelican!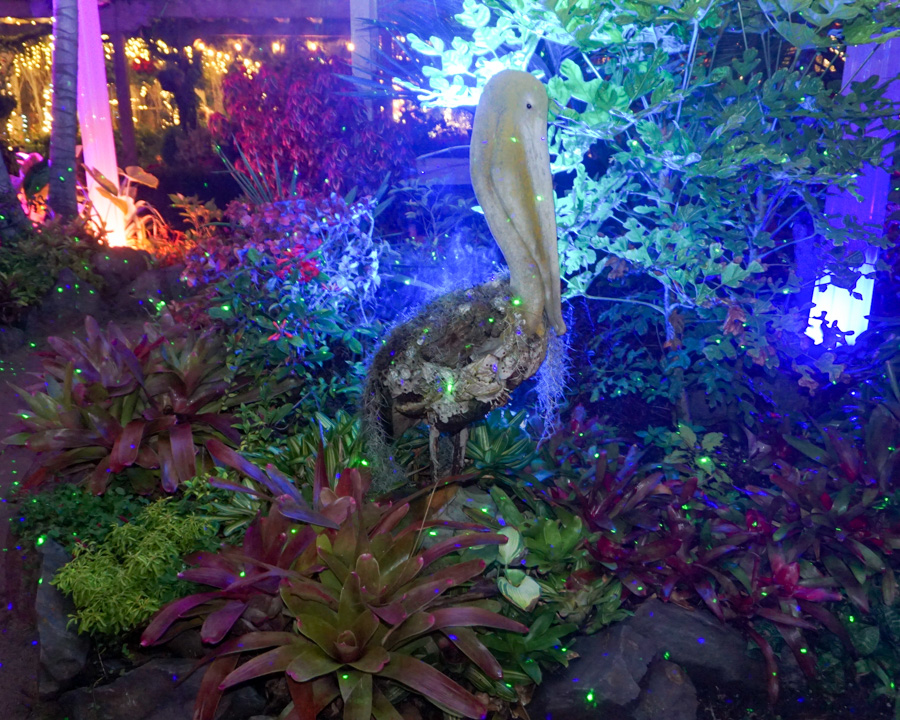 Look like he has the green measles?
If you ate Christmas decorations would you get tinselitis?

Donna immediately goes into action!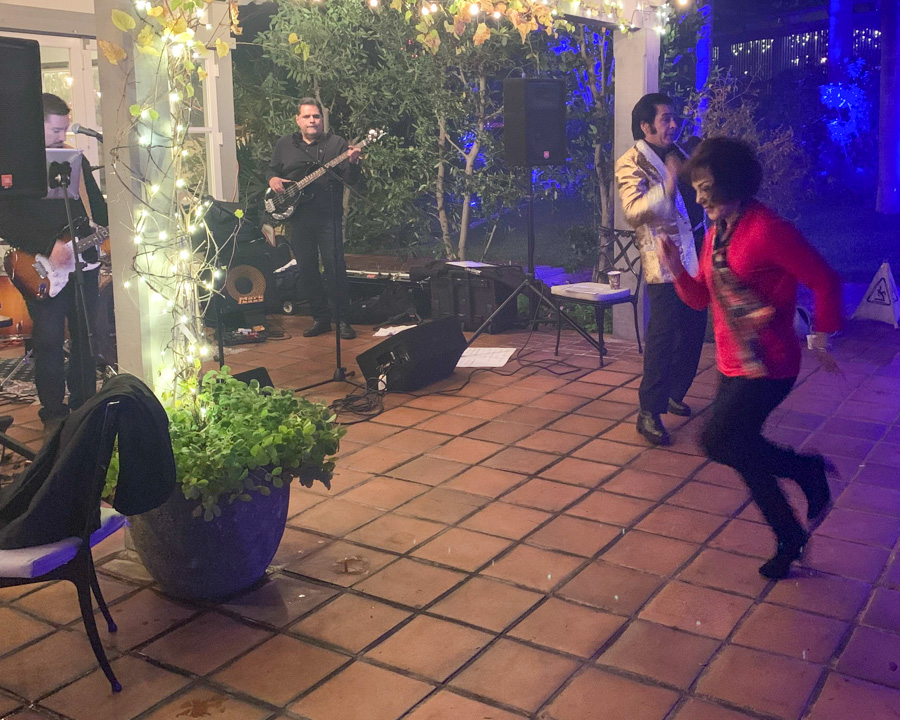 It's a new dance called the _______________
(Email us with a suggested name for the new dance)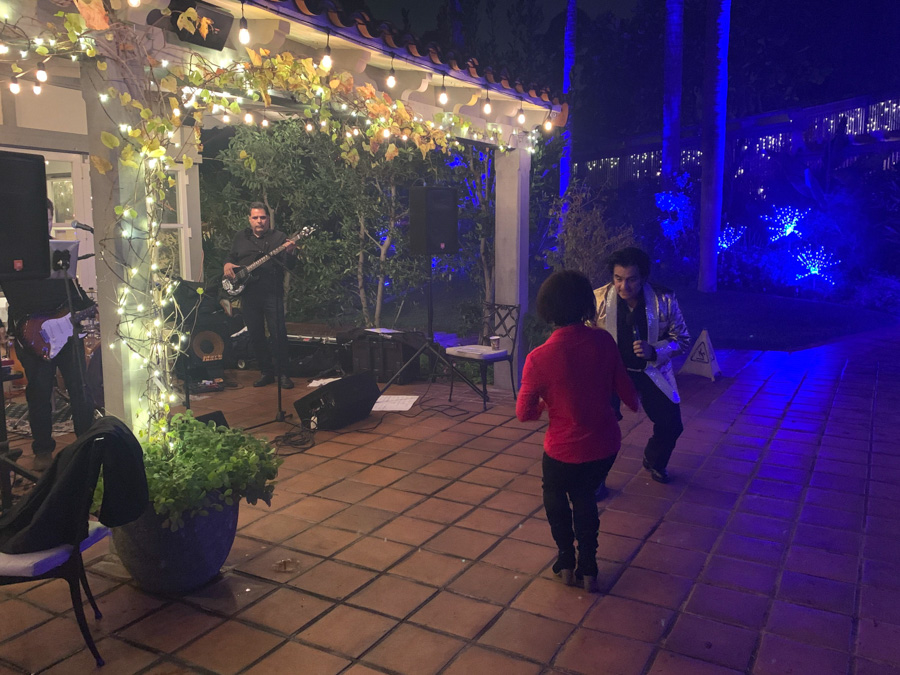 Donna and the vocalist dance to a little Elvis!

We watch the goings-on!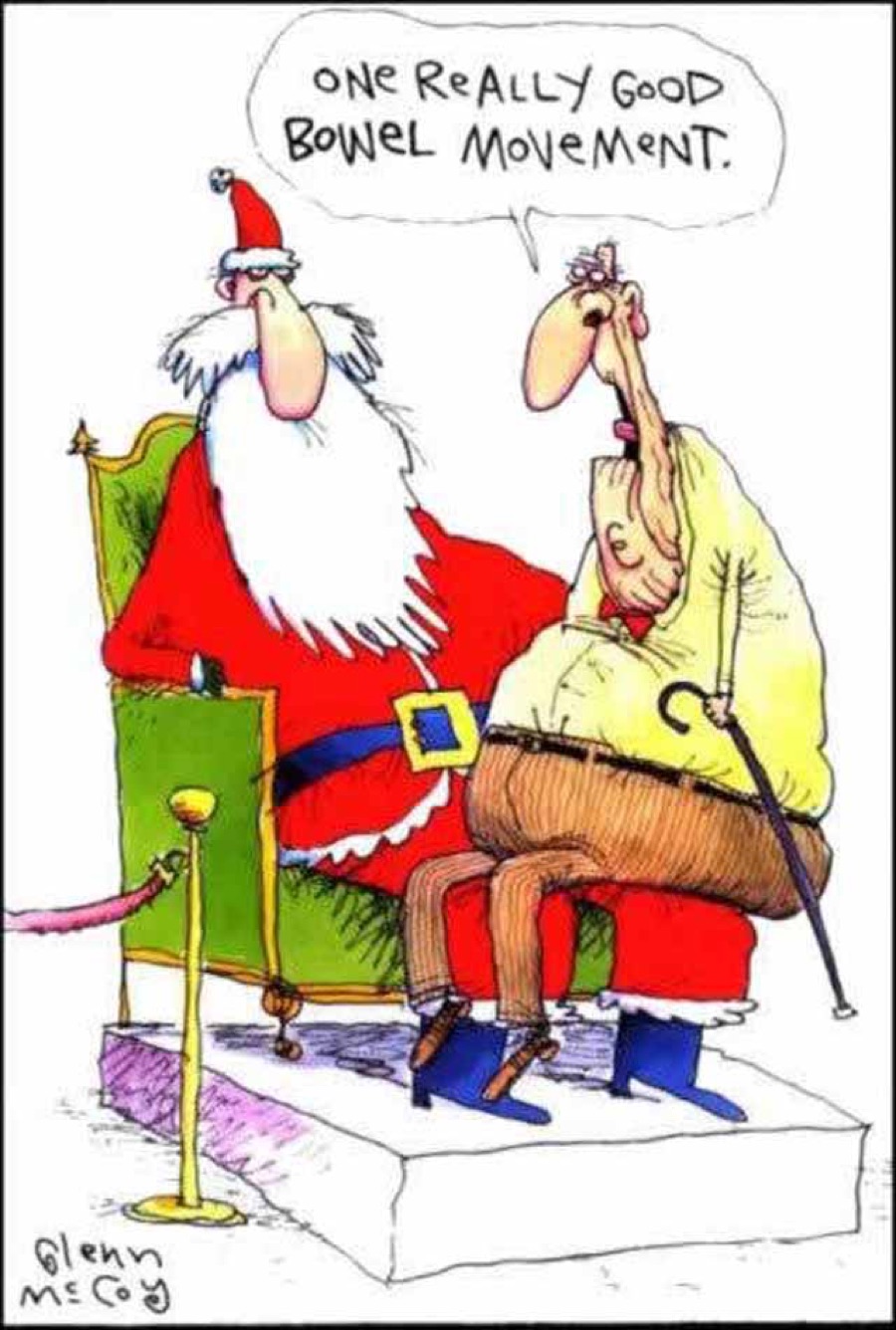 Bob Z saw Santa and made a quick stop

At 8:45 we were the last people "standing"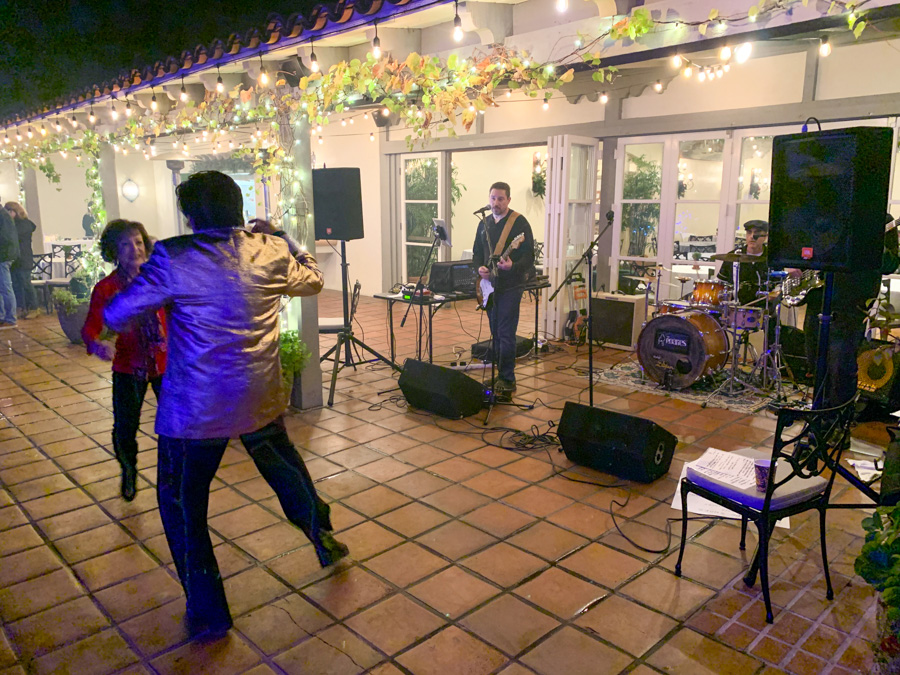 Donna is slowly wearing the vocalist down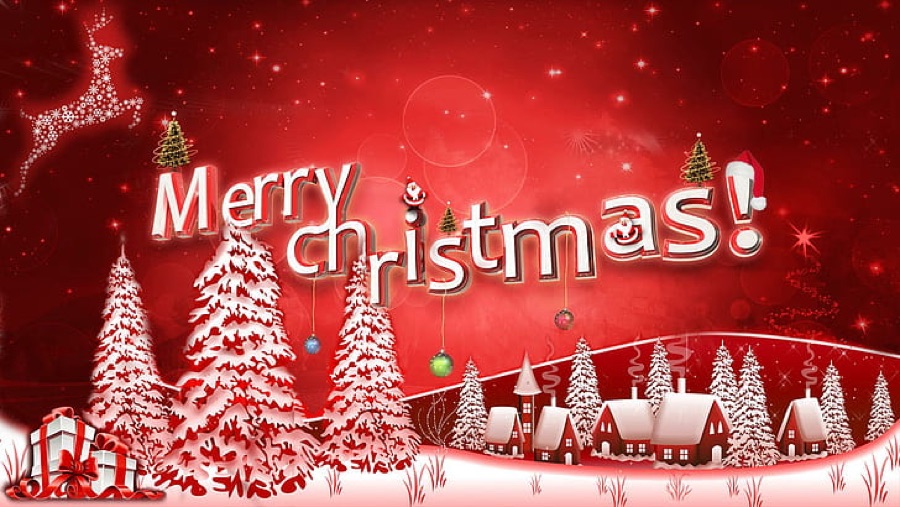 Bob has just finished his "dancing fluid" so he is ready to go!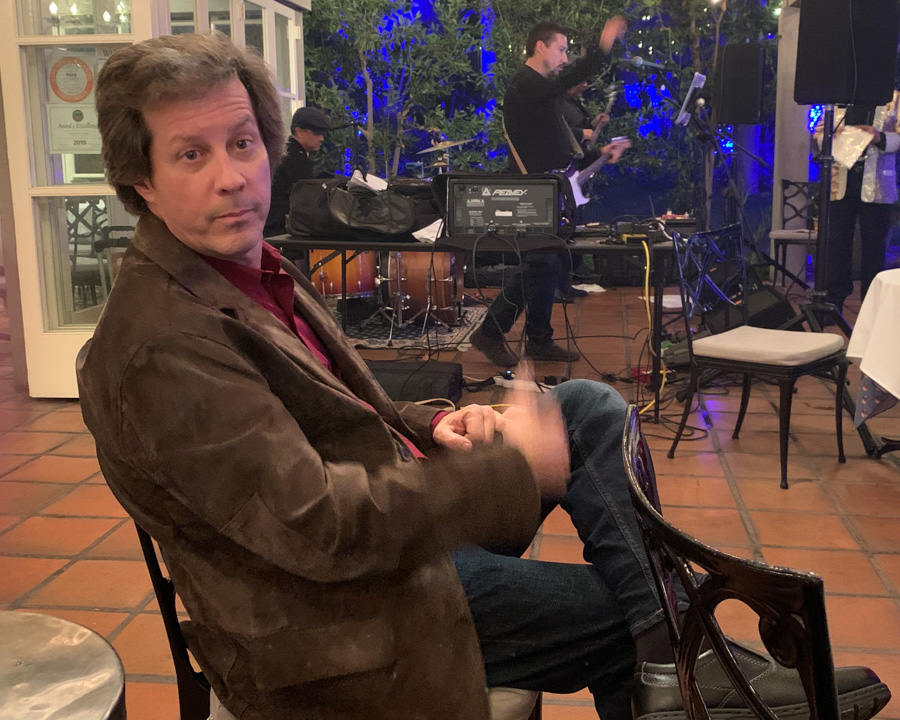 Bob is drumming away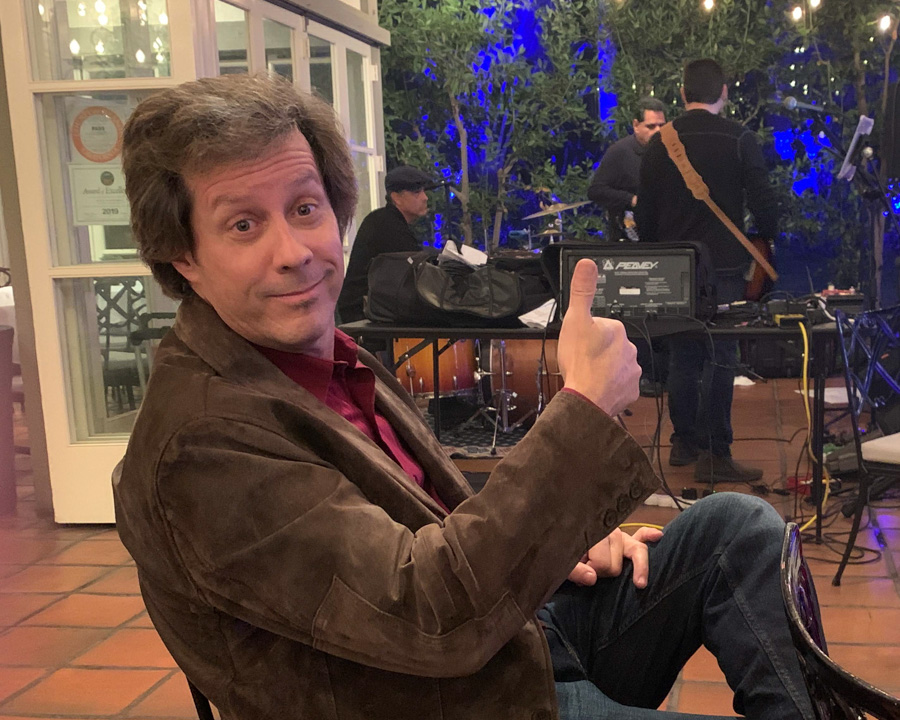 They get the Duda Seal Of Approval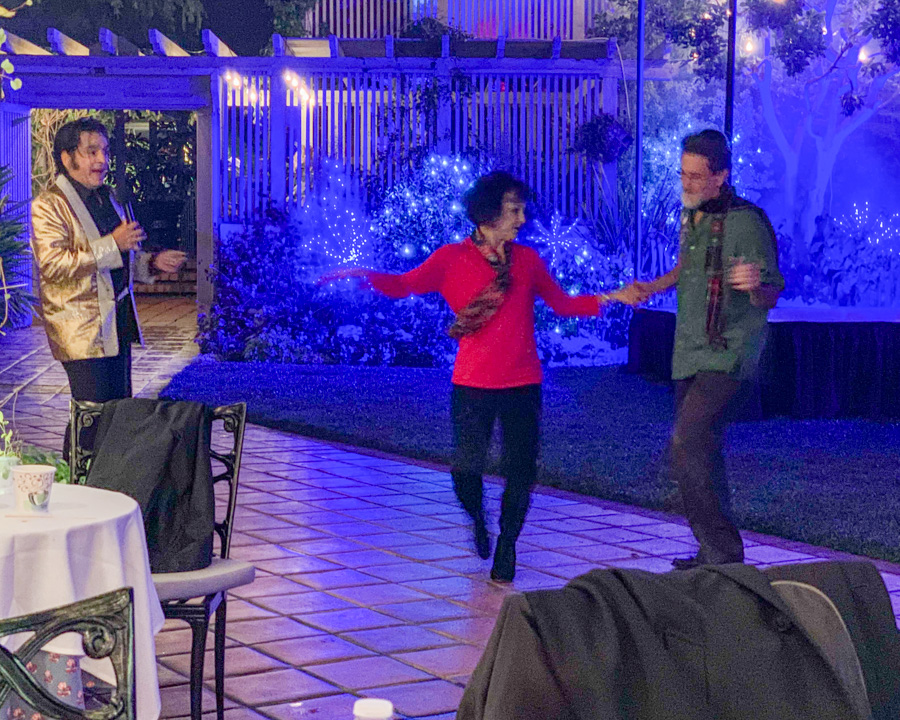 The band wakes up and plays several more songs than they had planned!

Bob shows them how it is done!
(Put mouse on image, click on the left hand bottom arrow to see movie)

Goodnight guys... See you tomorrow!!