Temecula Visit To Wilson Creek (08/29/2010)
We are off to visit Laura and AJ for an afternoon of food and wine! This time we choose Wilson Creek!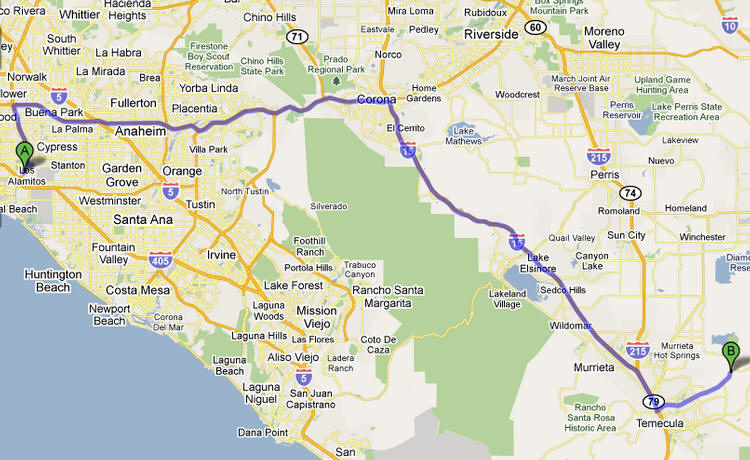 84.3 miles door to door and 1 hour and 38 minutes (normal traffic)
Allow The Cavorting To Begin; First Stop Falkner!

From the air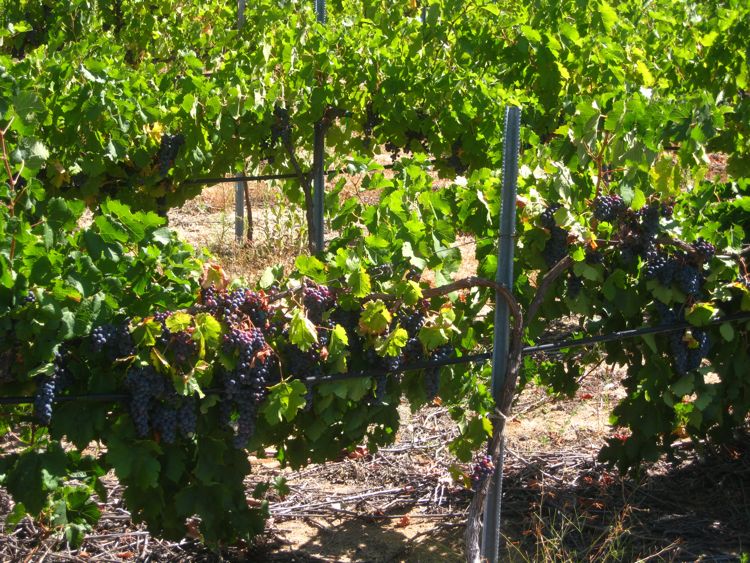 The grapes looked fantastic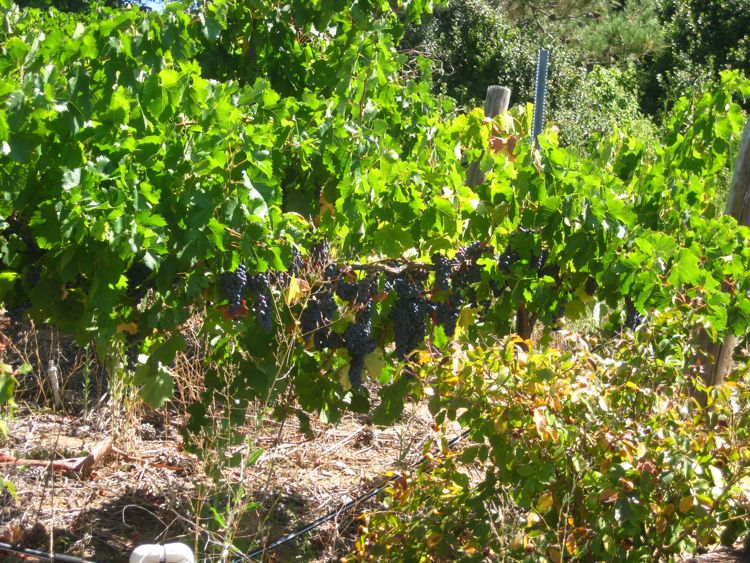 We wished we could sneak in and eat them right there!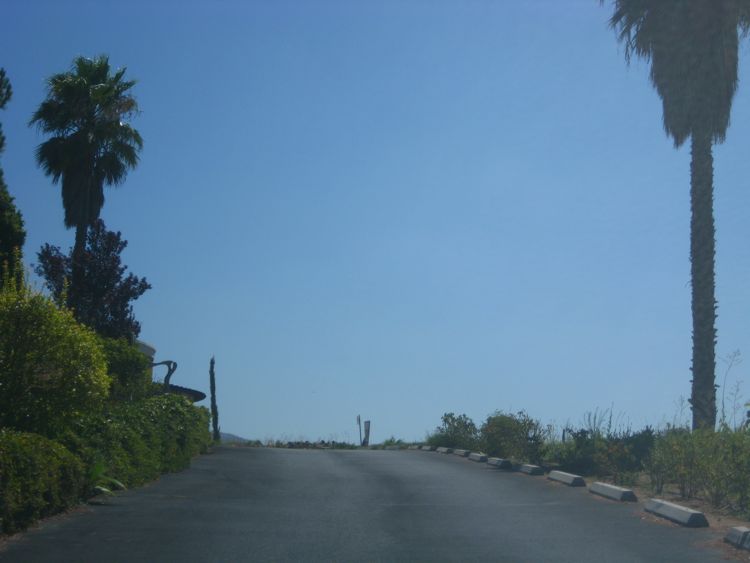 Up the road to high ground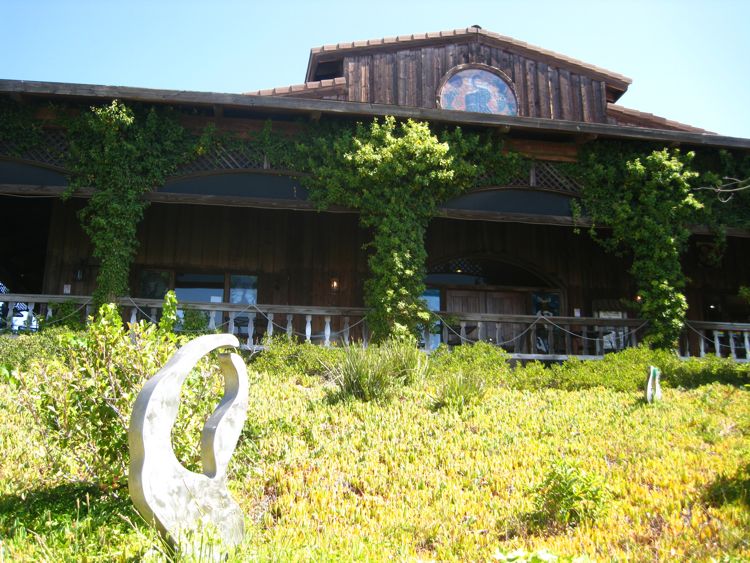 The Falkner Winery tasting room is beautiful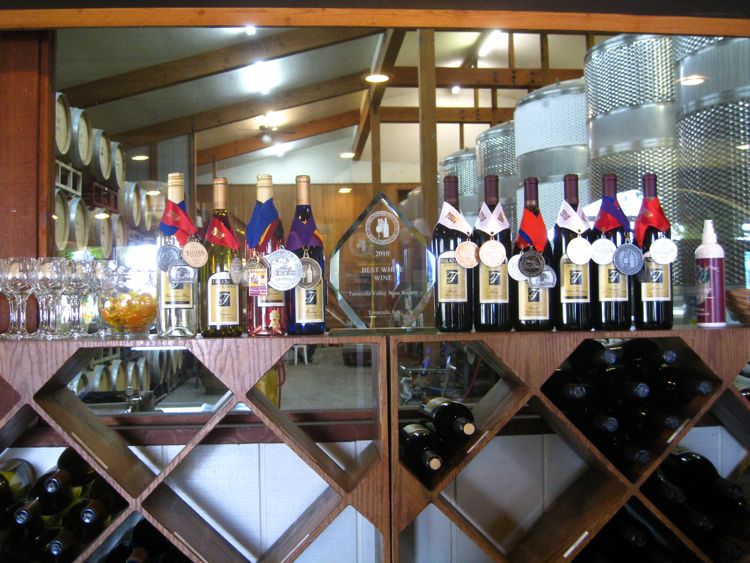 Prizes everywhere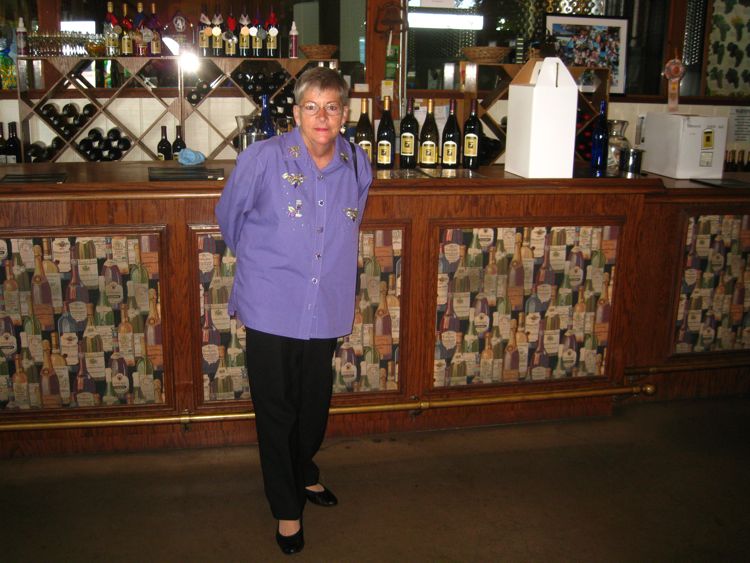 We had made our selection plus picked up our wine club selections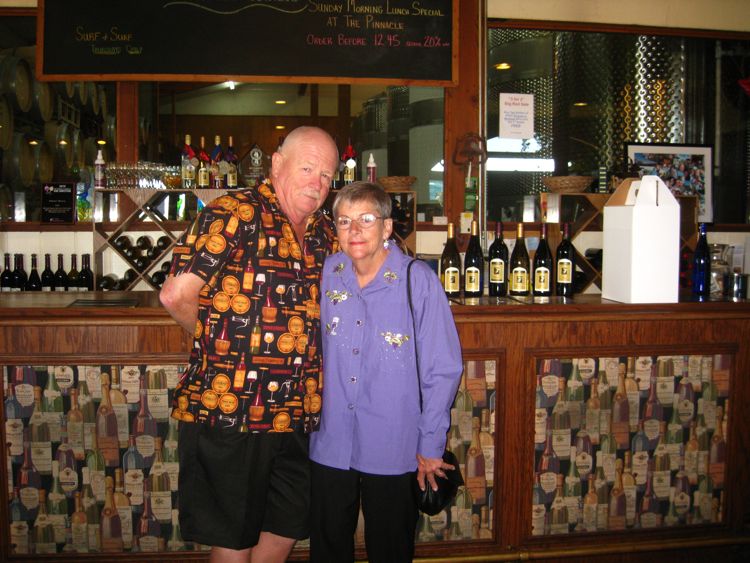 We are dressed for wine country

Kathleen is the greatest! Sometimes we call her "Dusty"
Did you know? - Dust is a general name for solid particles with diameters less than 20 thou (500 micrometres). Particles in the atmosphere arise from various sources such as soil dust lifted up by wind, volcanic eruptions, and pollution. Dust in homes, offices, and other human environments contains small amounts of plant pollen, human and animal hairs, textile fibers, paper fibers, minerals from outdoor soil, and many other materials which may be found in the local environment.
House dust mites exist on all indoor surfaces and even suspended in the air. They feed on minute particles of organic matter, the main constituent of house dust. Dust mites flourish in the fibers of bedding, furniture, and carpets. They excrete enzymes to digest the organic particles, and excrete feces, that together become part of the house dust, and may irritate allergies.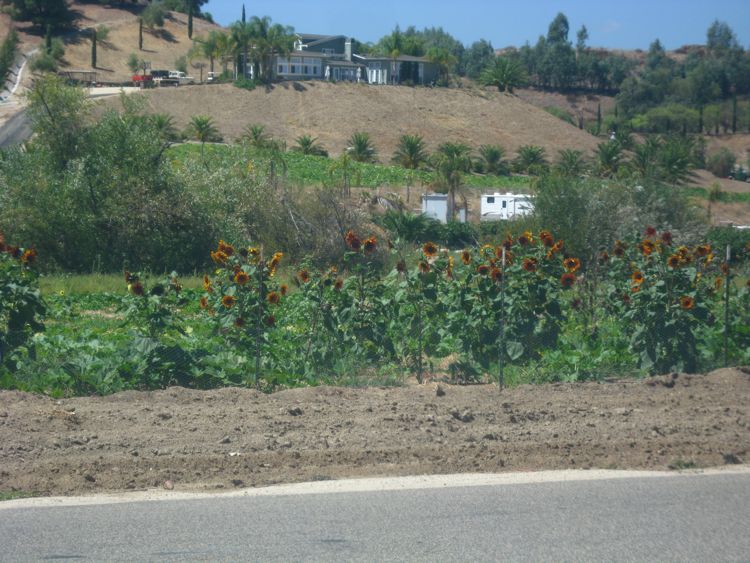 Neat looking sun flowers
Did you know? - Sun flowers have a type of phototropic response called heliotropism (sun turning); the leaves and flower heads of young sunflowers follow the sun and their orientation therefore changes from east to west during the day. The movements become a circadian response and when plants are rotated 180 degrees, the old response pattern is still followed for a few days, with leaf orientation changing from west to east instead. The leaf and flower bud phototropism occurs while the leaf petioles and stems are still actively growing and once mature the movements stop. The movement occurs as the petioles bend or twist during the day and at night they unbend or untwist.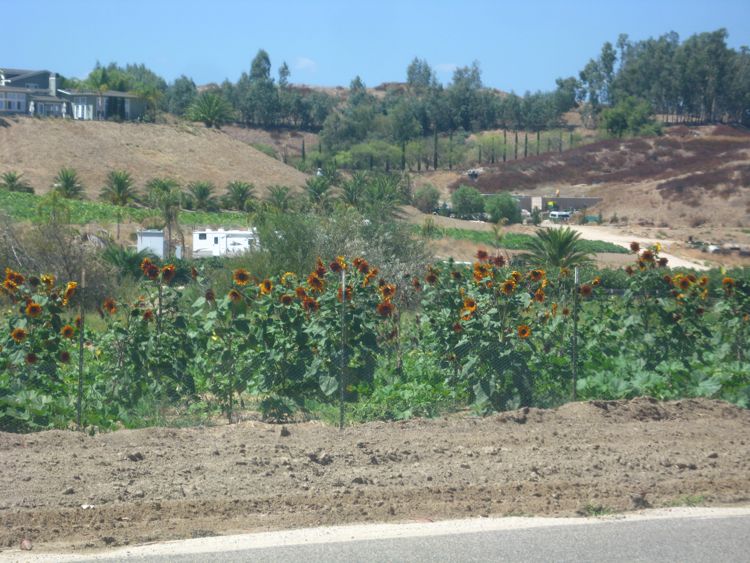 Yup! They are all looking one direction!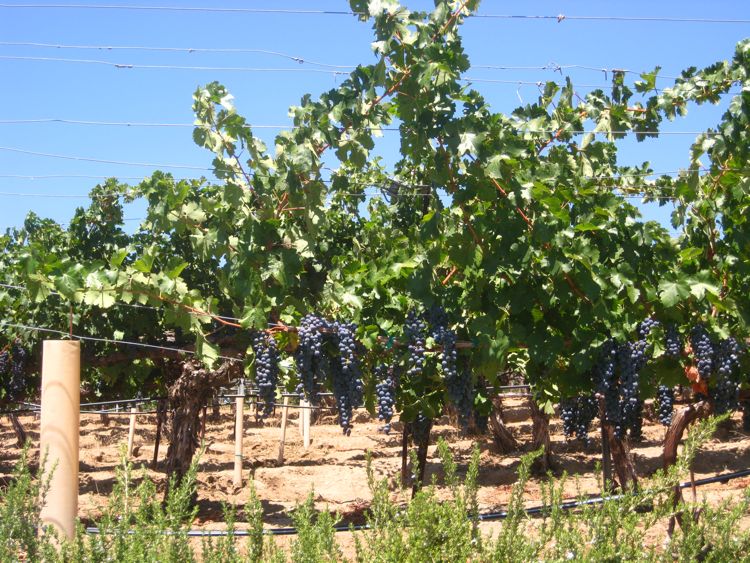 Grapes everywhere!
Did you know? - The domestication of purple grapes originated in what is now southern Turkey. Yeast, one of the earliest domesticated microorganisms, occurs naturally on the skins of grapes, leading to the innovation of alcoholic drinks such as wine. Ancient Egyptian hieroglyphics record the cultivation of purple grapes, and history attests to the ancient Greeks, Phoenicians and Romans growing purple grapes for both eating and wine production. Later, the growing of grapes spread to Europe, North Africa, and eventually North America.
Off To Wilson Creek Winery

Easy drive from our home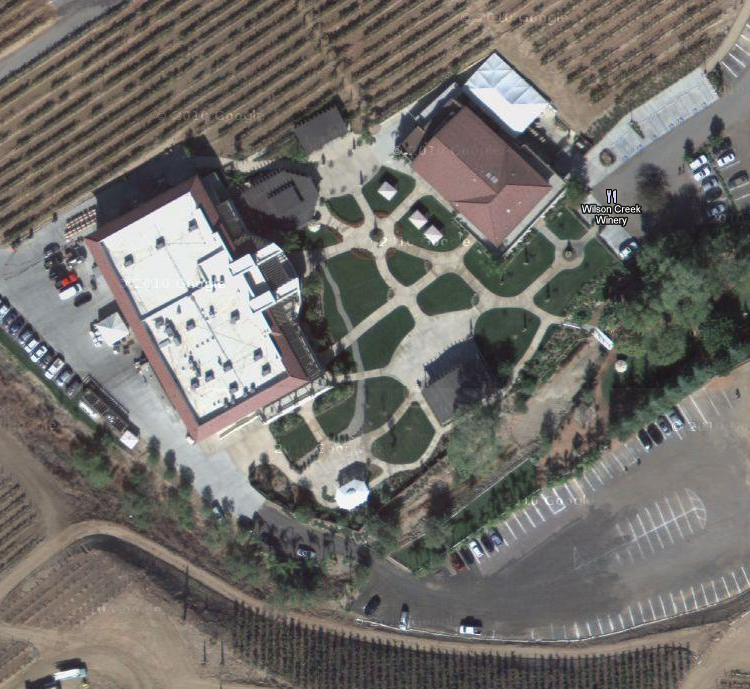 From the air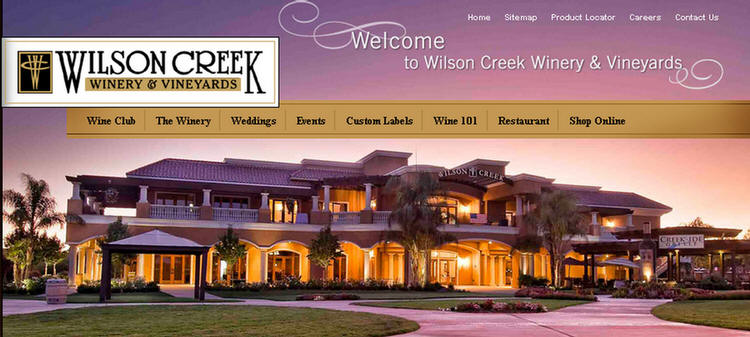 Enjoy the wine country cuisine in our restaurant, The Creekside Grille. Already a local Temecula favorite, the Grille is open daily 11am - 5pm.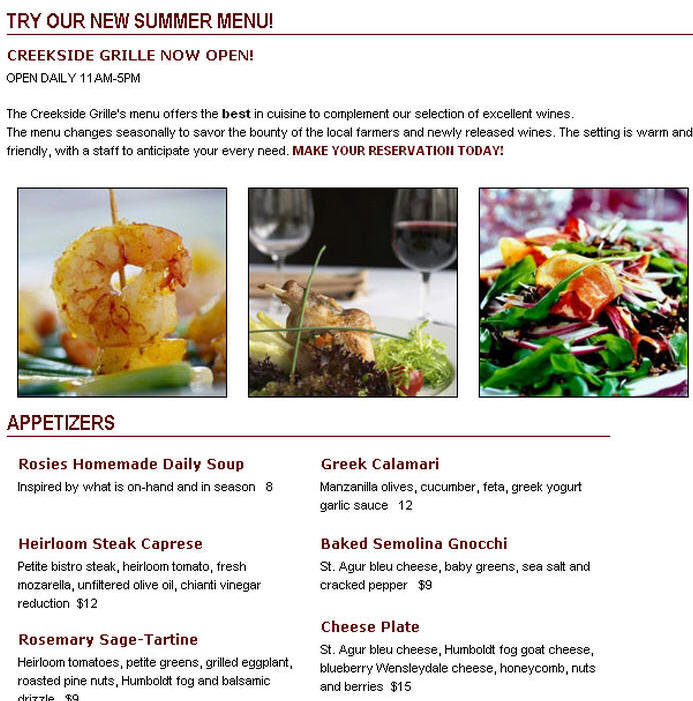 The Almond Champagne is fantastic... in fact, we drank three bottles today

AJ had the same idea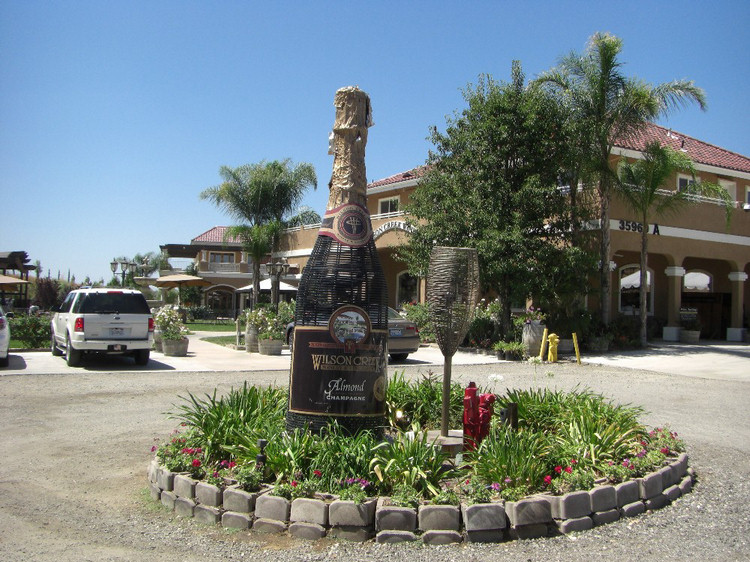 From AJ's camera
Did you know? - Almond Champagne is a sparkling wine that's typically made by the Charmat process and flavored with almond essence. The Charmat process is known as Metodo Charmat-Martinotti (or Metodo Italiano) in Italy, where it was invented and is most used.
The wine undergoes secondary fermentation in stainless steel tanks or steel vessels covered with vitreous enamel rather than individual bottles, and is bottled under pressure in a continuous process. Many grape varieties, including Prosecco, are best suited for fermentation in tanks. Charmat method sparkling wines can be produced at a slightly lower cost than m?thode champenoise wines.

Picnic area in front of the gift shop
Did you know? - In contemporary usage, a picnic can be defined simply as a pleasure excursion at which a meal is eaten outdoors (al fresco or en plein air), ideally taking place in a beautiful landscape such as a park, beside a lake or with an interesting view and possibly at a public event such as before an open air theatre performance, and usually in summer. Descriptions of picnics show that the idea of a meal that was jointly contributed and was enjoyed out-of-doors were essential to a picnic from the early 19th century.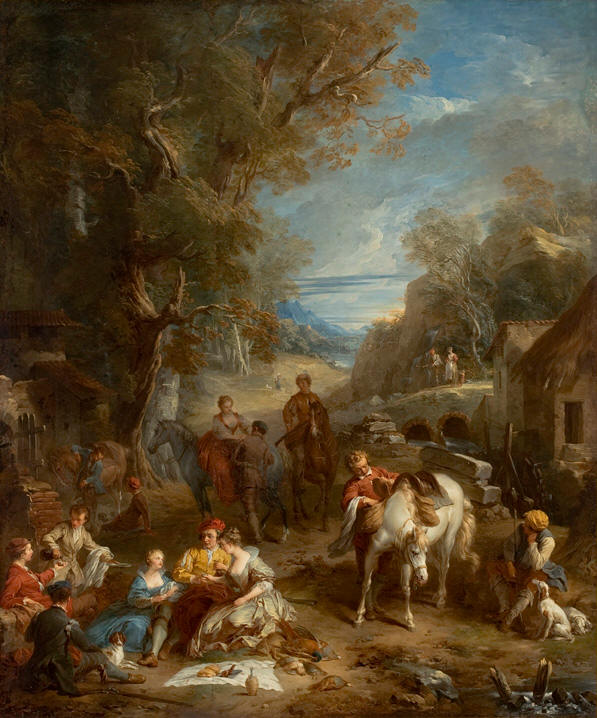 Picnic During the Hunt - Fran?ois Lemoyne (1688?1737)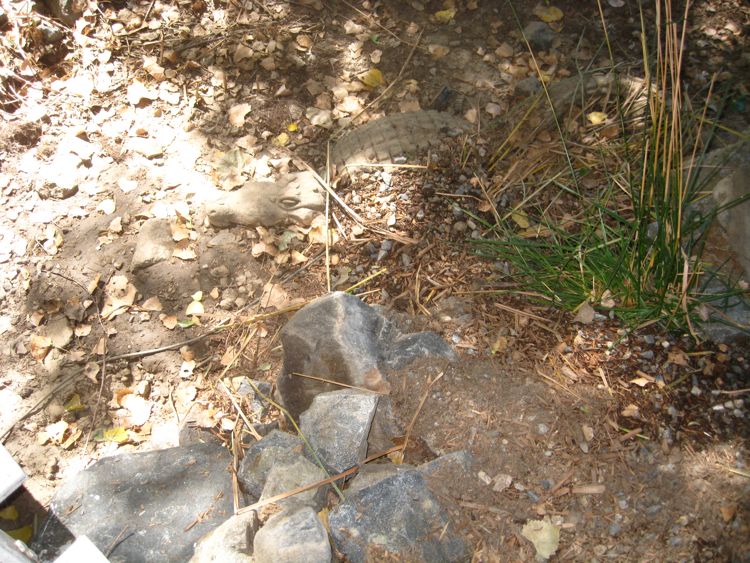 See the alligator in the dry creek?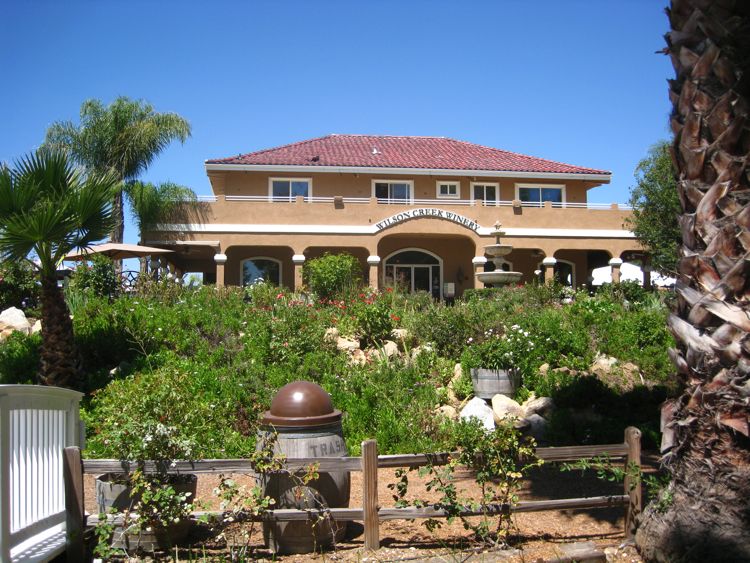 The gift shop from the creek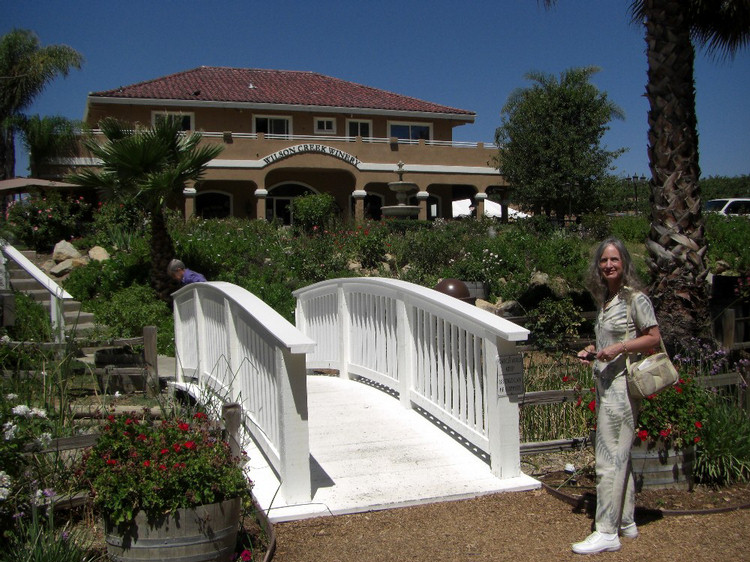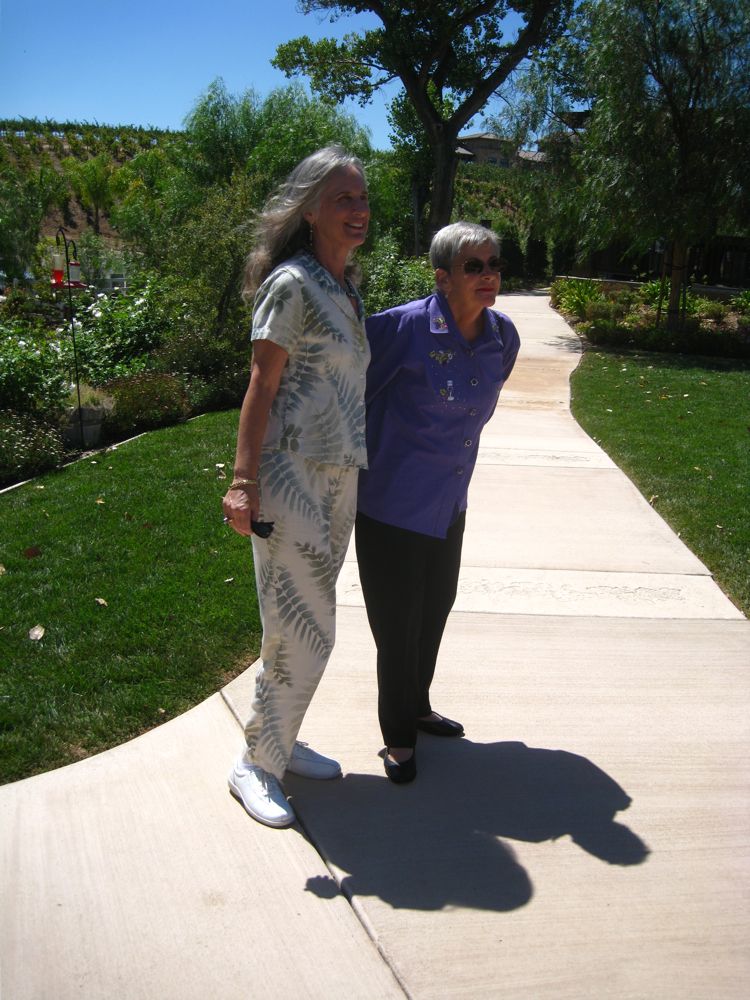 Laura and Sue coming up from the creek

"Let's go girls"
Time To Head Toward The Cafe...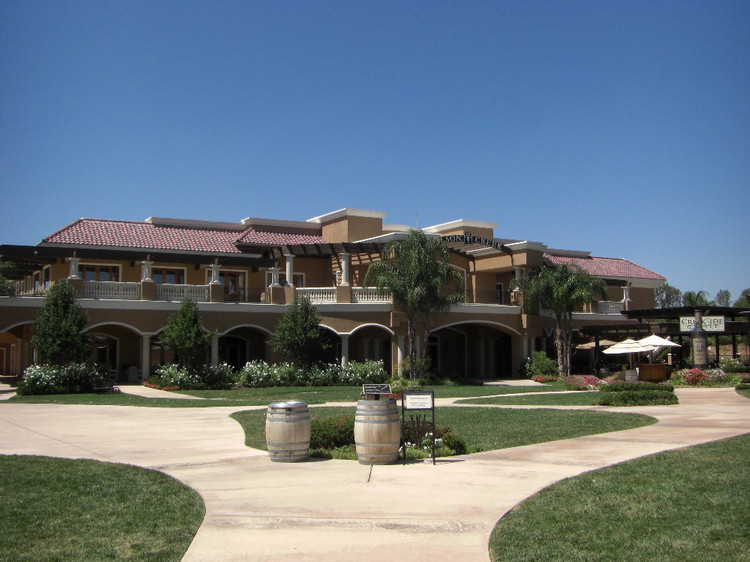 Beautiful building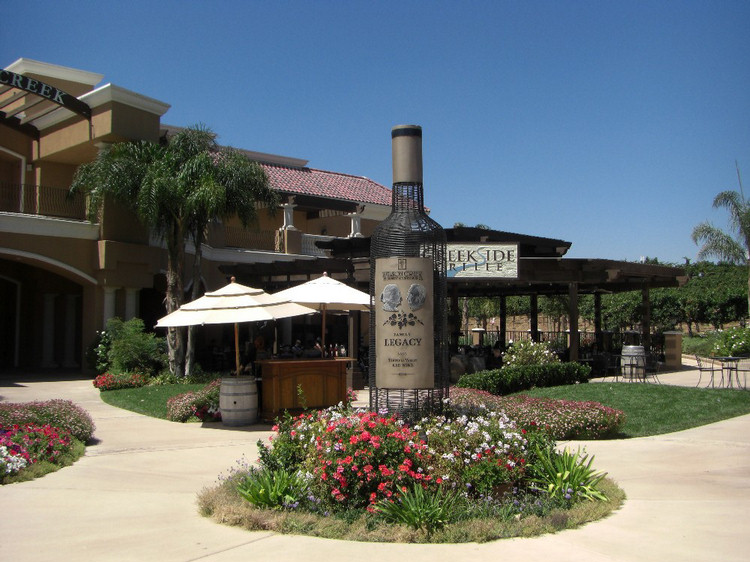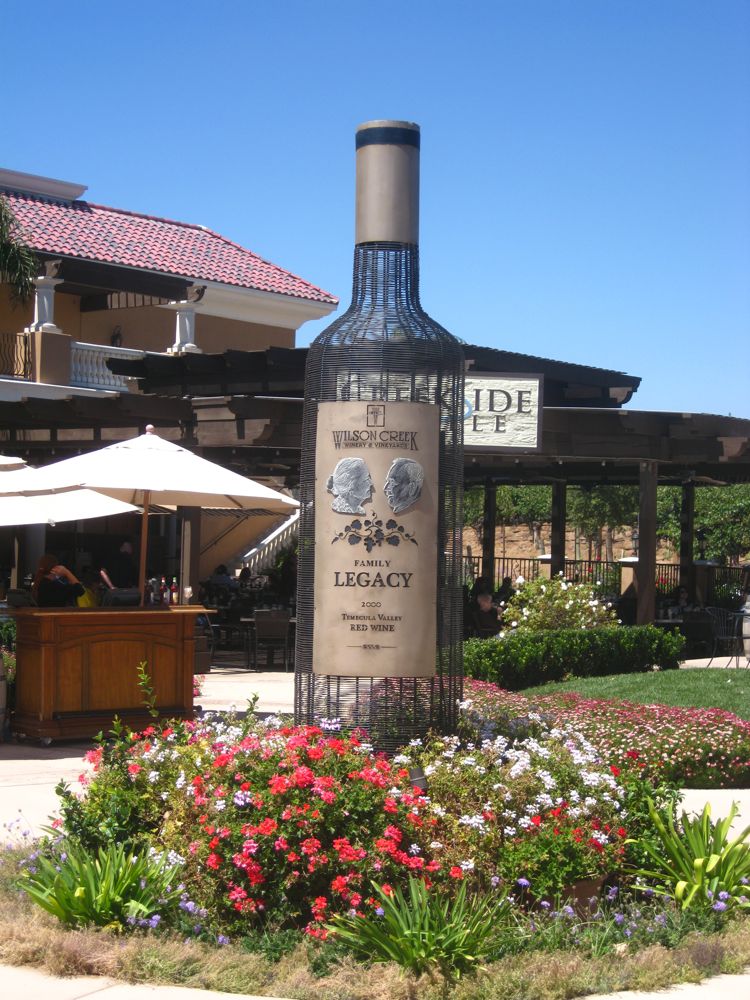 ...and we will have a bottle of that also!
Time To Dine

Dining outside was super today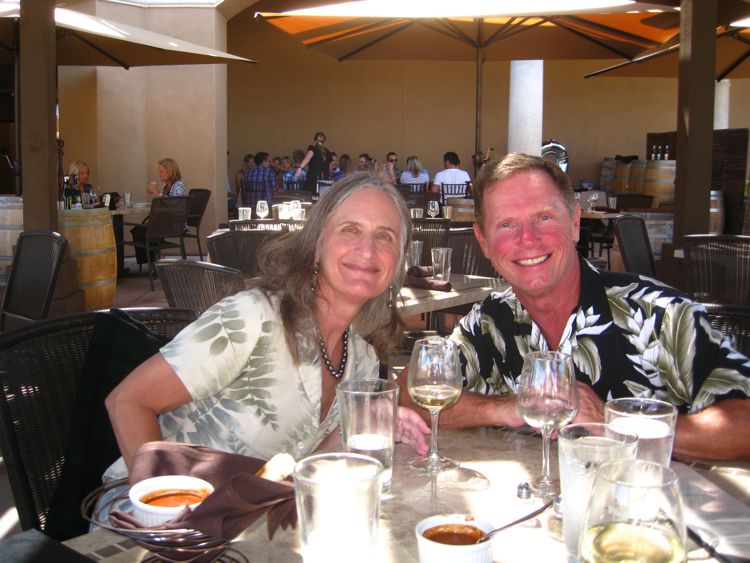 Smiling after one bottle

Happy birthday AJ.... The big Six-Oh!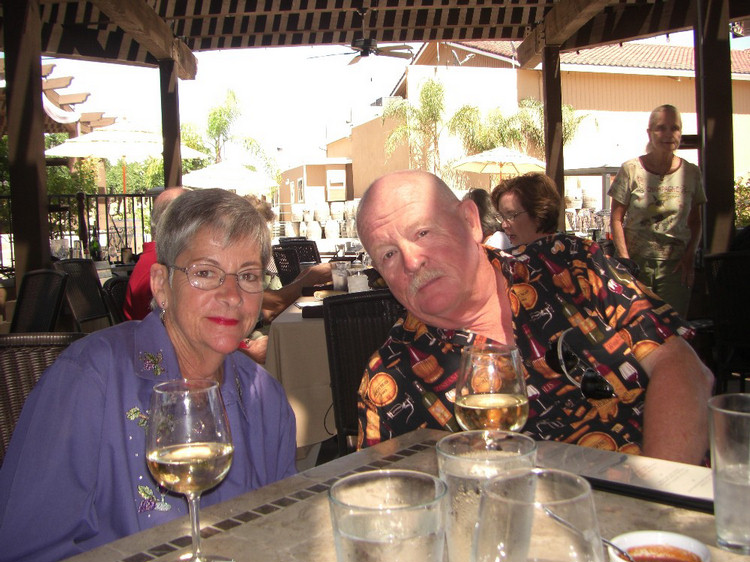 We love the Almond Champagne
We Had Visitors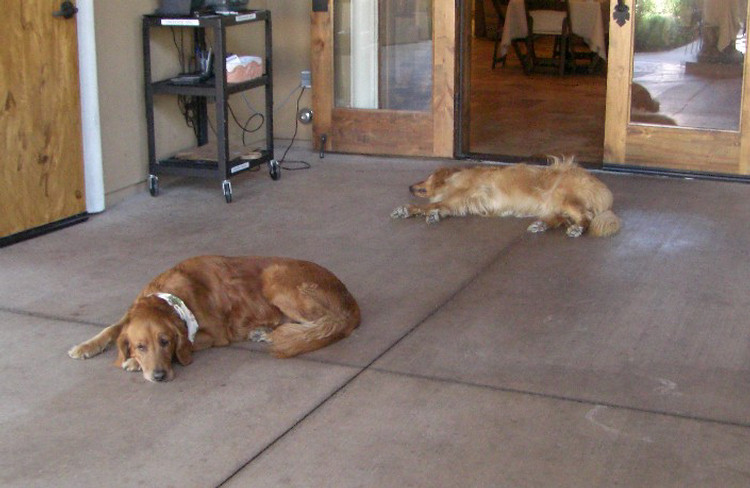 Meet Chardonnay and Cab
Wineries Are To Beautiful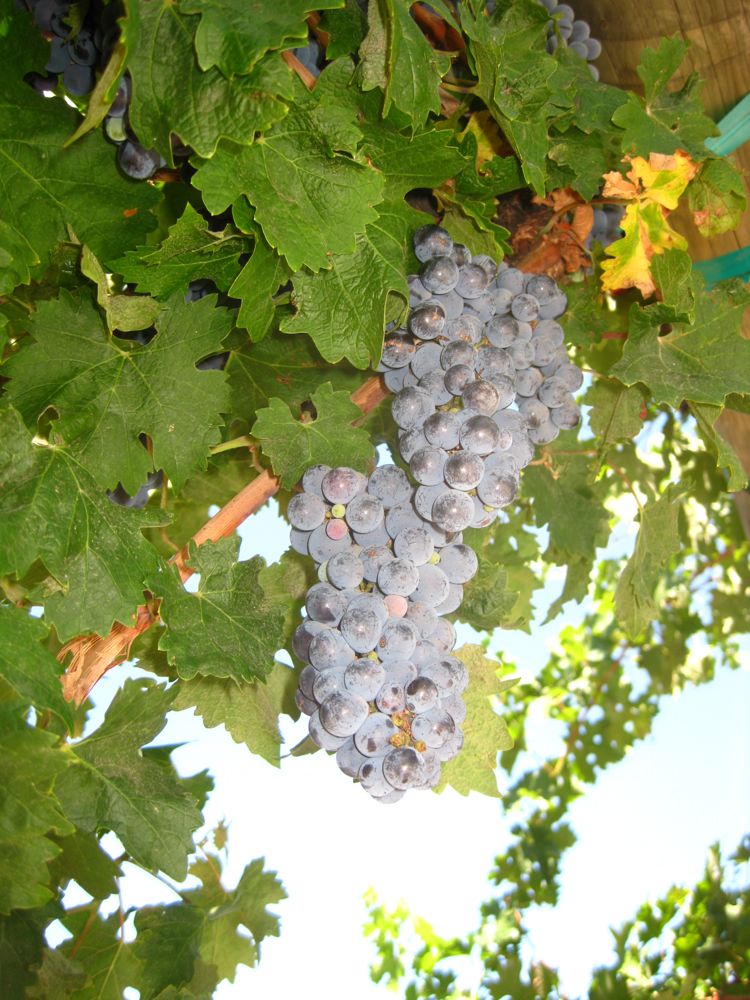 They look like they want to jump off and become wine
Did you know? - Grapes grow in clusters of 6 to 300, and can be crimson, black, dark blue, yellow, green and pink. "White" grapes are actually green in color, and are evolutionarily derived from the purple grape. Mutations in two regulatory genes of white grapes turn off production of anthocyanins which are responsible for the color of purple grapes.
Anthocyanins and other pigment chemicals of the larger family of polyphenols in purple grapes are responsible for the varying shades of purple in red wines. ~Wikipedia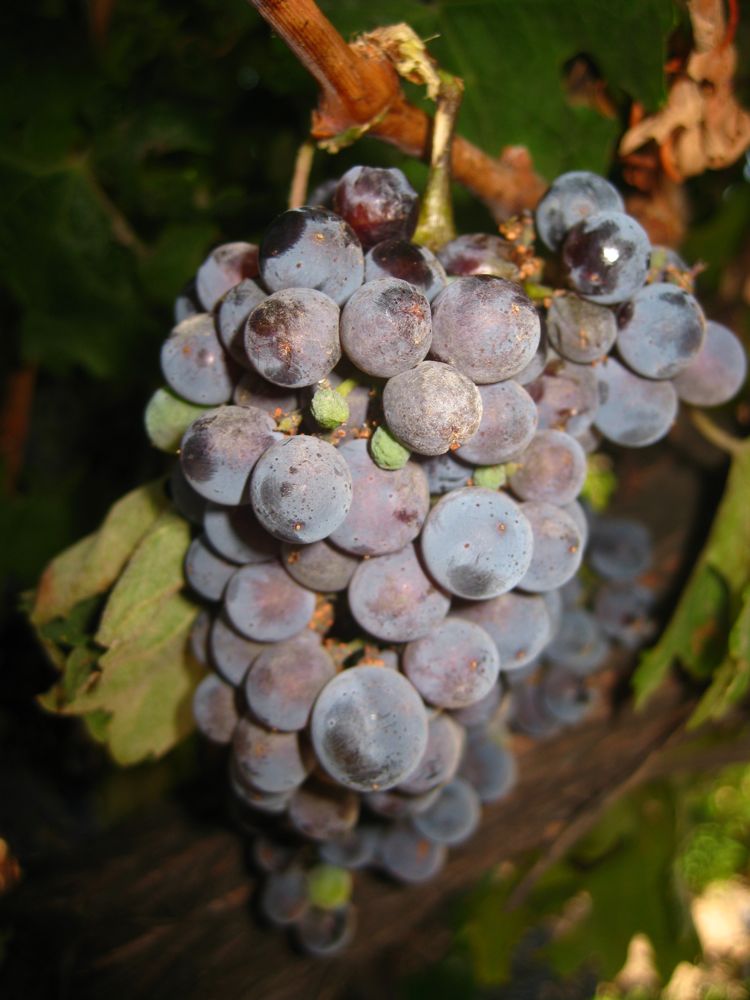 Wow!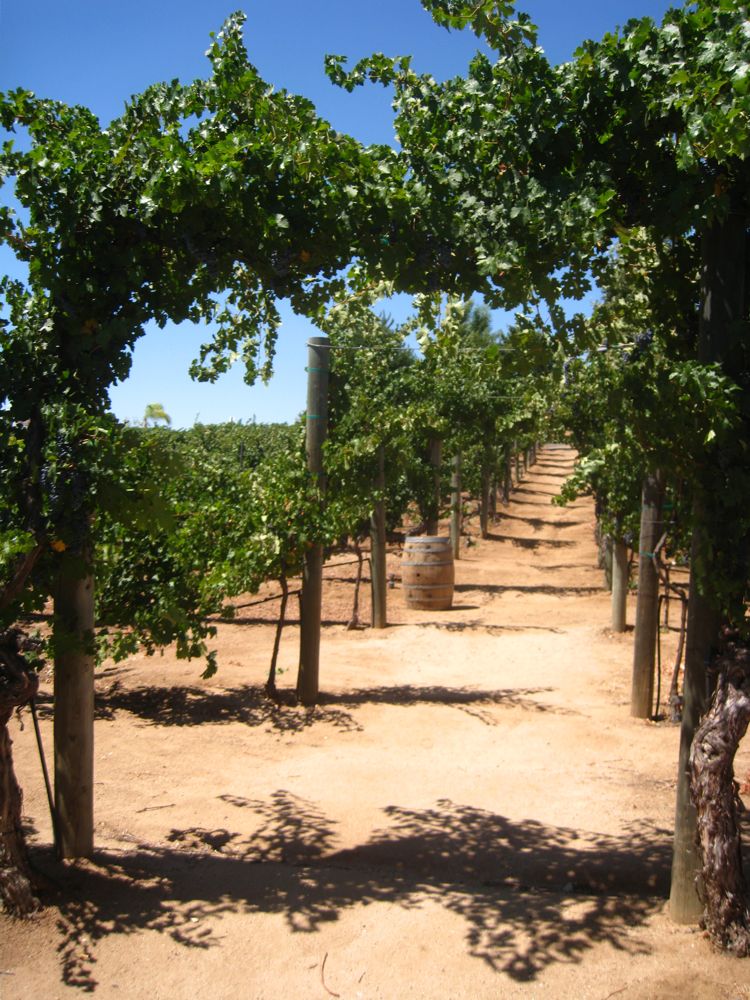 Nice afternoon walk... of stumble after three glasses of wine
Did you know? - A pergola is a garden feature forming a shaded walk or passageway of pillars that support cross-beams and a sturdy open lattice, upon which woody vines are trained. As a type of gazebo, it may also be an extension of a building, or serve as protection for an open terrace or a link between pavilions. The origin of the word is the Late Latin pergula, referring to a projecting eave. ~Wikipedia

More grapes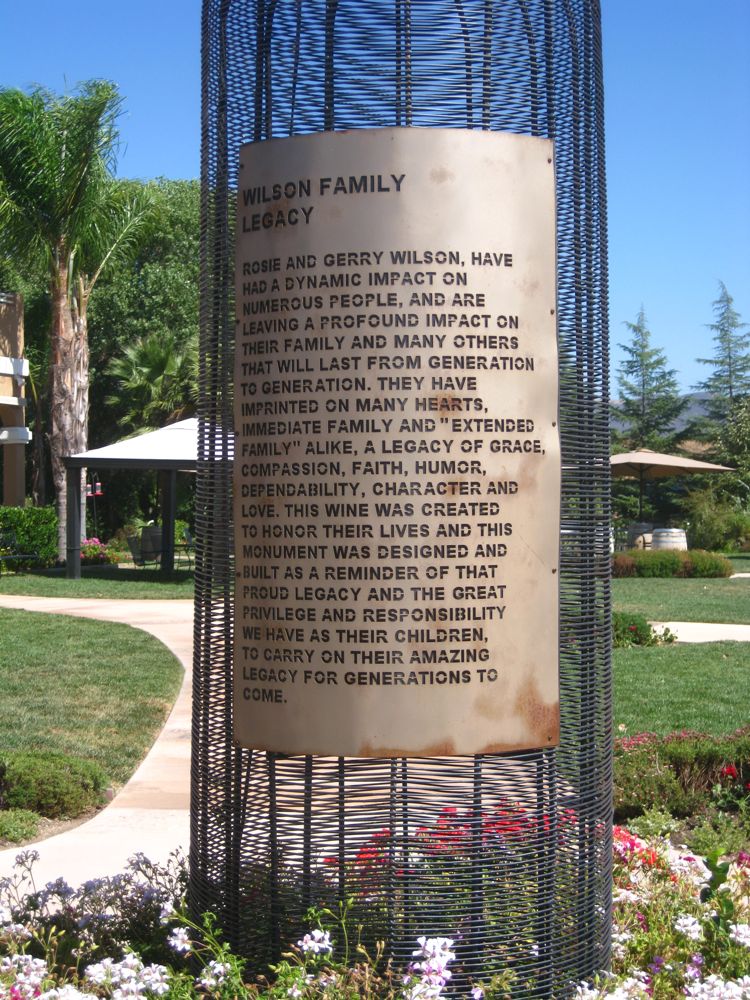 A wonderful tribute
Heading For Home We Went Via The Ortega Highway (Highway 74)
Did you know? - State Route 74 (SR 74), a part of the Pines to Palms Scenic Byway, is a mostly scenic highway in the U.S. state of California. It runs from Palm Desert in Riverside County westward to San Juan Capistrano in Orange County. The route has been signed as Route 74 since the establishment of state routes in 1934. A portion of Route 74 in Orange and Riverside counties is named after the famous Spanish explorer Sgt. Jose Ortega, who led a small party of men around the newly discovered San Francisco Bay from Palo Alto to the Carquinez Straits.
Ortega Highway construction began in 1929 and continued through 1933 by the State of California, Orange and Riverside Counties. In August 1933, the Ortega Highway dedication ceremonies were held at Jameson Point overlooking Lake Elsinore.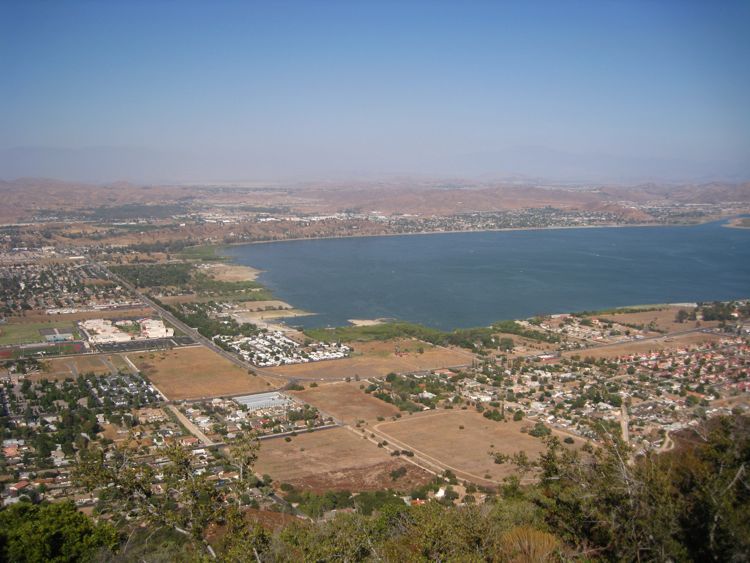 Lake Elsinore
Did you know? - In the 1920s Elsinore became a resort for the rich and the glamorous from Hollywood and also hosted teams for Olympic training and for high speed boat racing. The lake went dry in the mid 1930s but refilled by 1938. During World War Two the lake was used to test seaplanes and a Douglas Aircraft plant making wing assemblies for B-17 bombers was located in the city.
The lake ran dry during most of the 1950s and was refilled in the early 1960s. More than a week of heavy rains in 1980 flooded the lake, destroying surrounding homes and businesses. Since then there has been a multi-million dollar project put into place to maintain the water supply at a consistent level allowing for homes to be built close to the lake. Unfortunately there are no provisions to allow the water to spill out via a river, so the overflow must be diverted into the Temescal Canyon Creek. In 2007 there was an aeration system added to help with the lake's ecosystem.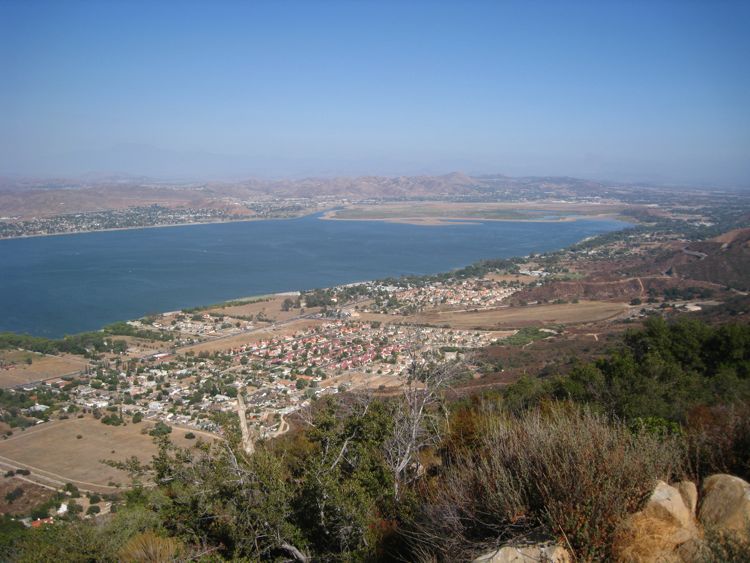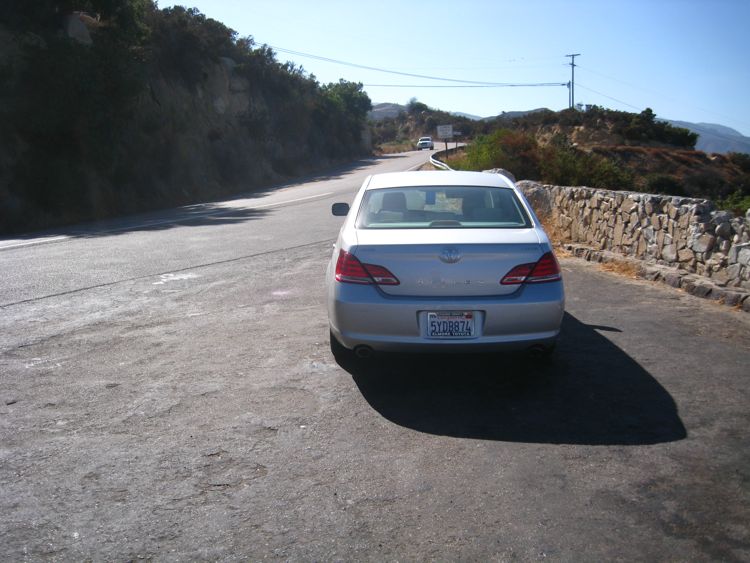 Up and over the mountains

Almost home... 23 miles