What Are We Up Too?
Mary and Paul decided that Mary's 50th High School reunion was a excellent destination for our practice run at driving across the country to visit Colleen and family in New Hampshire.
The "term reunion" is perhaps overstated because her official reunion was canceled twice because of COVID-19.
Now, it's two years later and the event is a birthday party for one of the guys in Mary's class. He was kind enough to throw the invite open to the entire class. So, off we go in a cloud of fur and a "Hi Yo Silver Van"... Yes, Scout is coming along! He packed his "moosey" and he was ready.
Mary, called "Egg head" by her loving classmates, graduated well before she was eighteen and this picture came from her annual from 1967.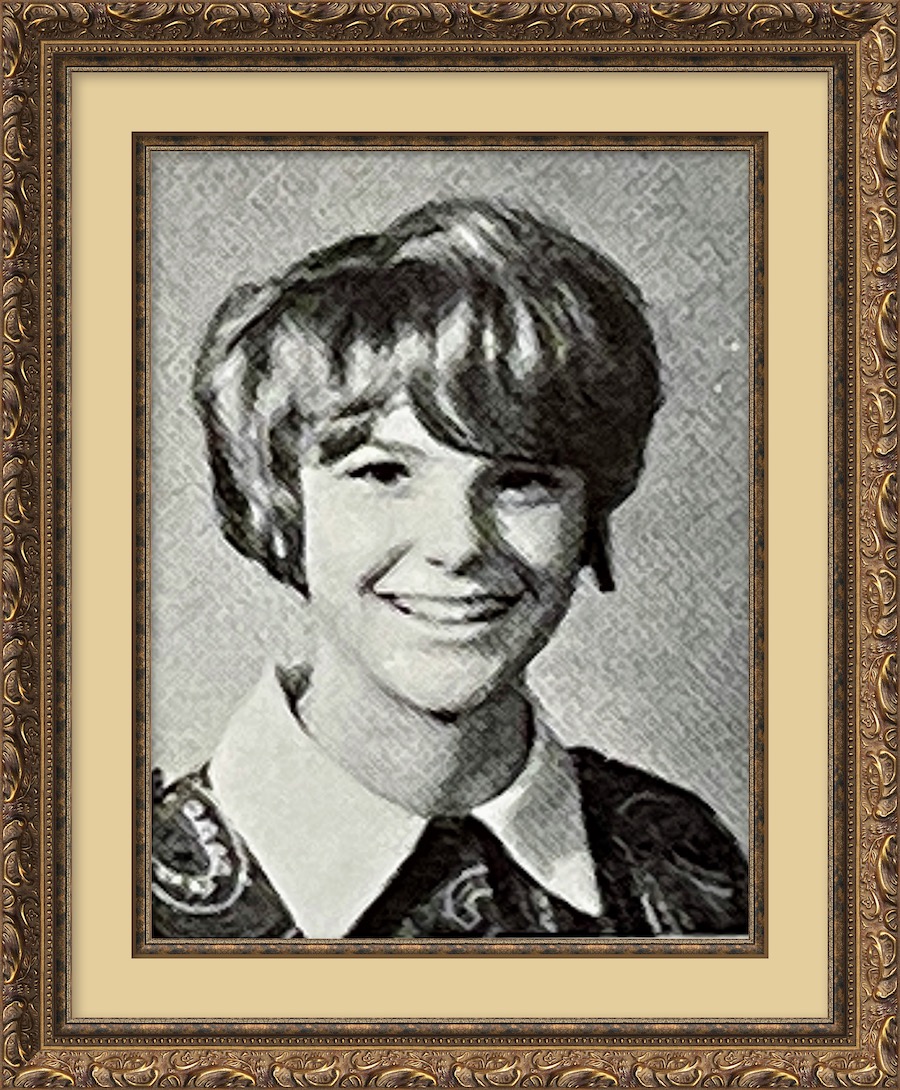 The Adventure Begins!
This is the first time Scout, The Wonder Dog, has been on a road trip of this distance. He volunteered to drive but his license was out dated.
We wanted to go to Bora-Bora, but we are too Pora-Pora.
I have an irrational fear of speed bumps, but I'm slowly getting over it.
The We Visitged Family & Friends On Our Adventure.
We enjoyed seeing these folks and meeting Cousin Melody (thanks to Colleen) .
| | |
| --- | --- |
| | |
| Cyndy Harrington; Daughter of Donna and Bob Zaitz | Bob and (REAL) cousin Melody who kindly offered Mary her grandmothers hope chest. |
| | |
| Lanette, friends since 1970. | Ty and Steve, Mary's friends for many years! |
| | |
| Sally, Mary's High School best friend. | We are still friends after days on the road. |
Wonderful Memories!!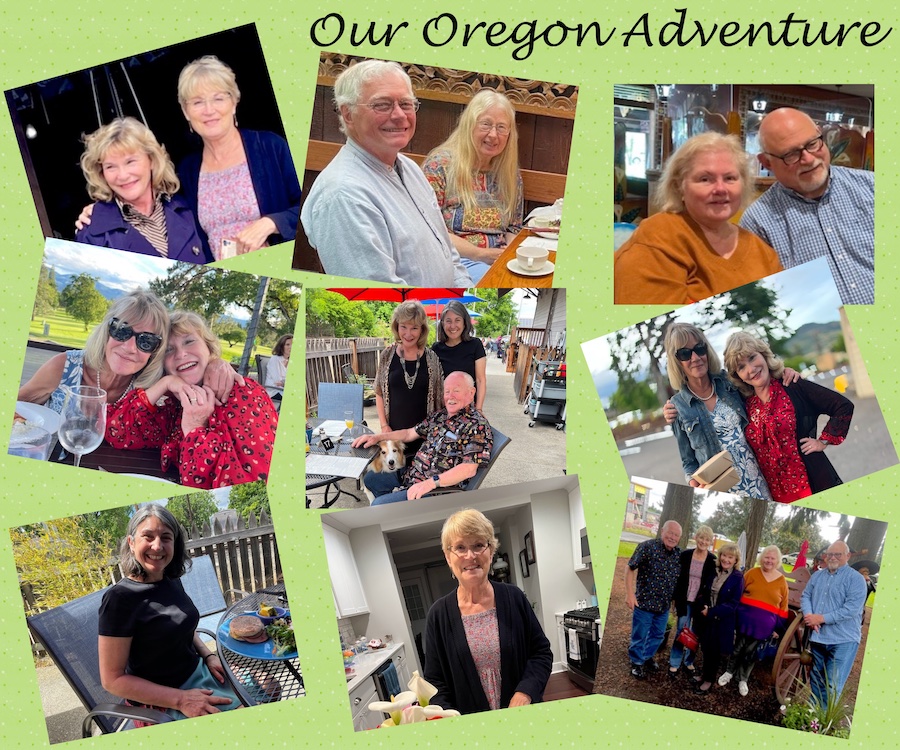 Click for a full-sized image
The Itinerary Was Followed With Scientific Expertise!
We traveled just a little over 2,000 miles and it took exactly 64 hours and 13 minutes of driving time (the Van has a trip elapsed timer). We burned $425.00 in gasoline.
The carefully put together (courtesy of Mary) itinerary follows:
Day
Destination/Activity
Comments
T-3
Rounding Up Things
We had to get the dogie goodies ready. Mary ironed and Paul worked on the car getting it ready for packing!
T-2
Packing
Mary packed and lucky Paul threw everything is a paper sack and declared victory!
T-1
Final Preparations
We packed the car for an early morning exit from the LA traffic. 6:00 AM arrives early
Day 1
June 9
Thursday
Drive to Sacramento
(6+ Hours)
The forecast is for 106 degree temperature! We did not get to see the train museum because there was no place for Scout; that means another trip north!
Day 2
June 10
Friday
Drive to Medford
(5 Hours)
Off to Medford where we visited Mary's early history and the places she remembers growing up. We settled in and then went to meet Sally and Paul at the country club where Paul is a member.
Day 3
June 11
Saturday
Party Time from 5-9 PM

Dinner 9-11 PM
Visited Medford and dined with Cyndy in the morning.

Later we went to the reunion at the Walk-About Brewery.

After the reunion, we went to Porter's for dinner (a surprise for Mary)
Day 4
June 12
Sunday

Drive to Eugene To Meet Melody and Paul (3 Hours)

Drive to Oregon City ( to see Lanette 2 Hours)

Lunch with Melody in Eugene. and Paul. We picked up Mary's grandmother's hope chest; the other reason for the trip.

Stayed with Lanette in Oregon City .

Day 5
June 13
Monday
Stay in Oregon City Visiting With Lanette

Tour the city and go to McMinnanan OR

We toured Oregon City with Lanette in the morning.

Lunch with Steve & Ty Wilson & Lanette at McMinnanan's.

Afterwards, we went to the Evergreen museum and saw the Spruce Goose.

Day 6
June 14
Tuesday
Drive to Crescent City
(5 1/2hours)
Off and running, we went to Crescent City and Mary had us stay at the Hitchcock Hotel.
Day 7
June 15
Wednesday
Drive to Santa Rosa
(5 1/2 Hours)
It was a seven hours drive but we saw the redwoods up close and personal. We walked the Trees of Mystery for two hours and drove the Avenue of the Giants.
Day 8
June 16
Thursday
Drive to Solvang
(4 1/2 Hours)
We went right through the heart of San Fransisco! We had a great lunch at Subway.
Day 9
June 17
Friday
Drive home
(5 1/2 Hours)*

*Mostly slow traffic!
Three hours and we were home. We took 101 to the 405 and stopped at Old Ranch for a drink

After an hour of recuperations, we hit the 22 to the 55. It's nice to be home
Day 1-9
Comic Format!
Let the imagination run wild.
If I owned a DeLorean…I'd probably only drive it from time to time.
Did We Have A Good Time?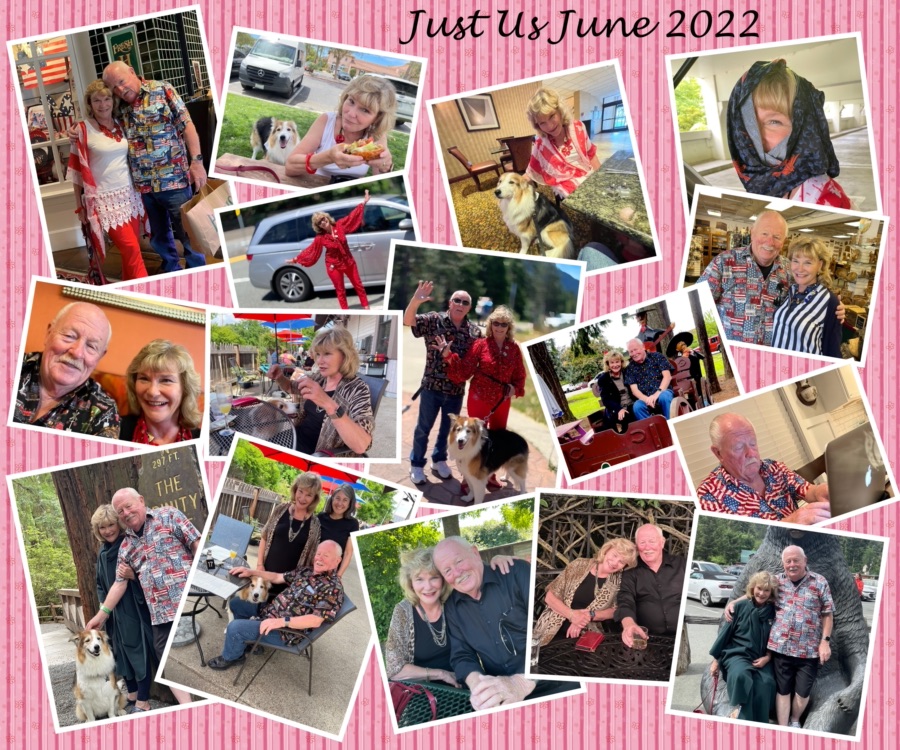 Click for full sized image
Meet Mr. Beaver, he will guide you through the next several pages. He is trustworthy. What did the beaver mention to a tree? It has been nice gnawing you.
What is a naughty beavers' favorite type of wood ever? Knotty pine.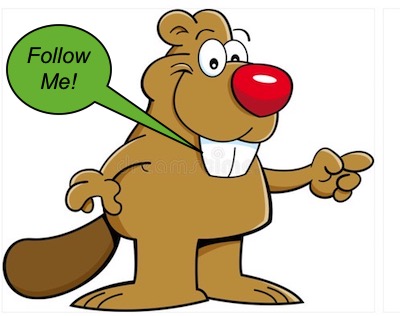 Come on... Let's get started! ---->