Day 6 - Hello Crescent City
We decided to go to Salem via I-5 and then turn west to go along Highway 1 from Newport to Crescent City because we wanted to save some time and get into our hotel a little early; before nightfall.
We got cleaned up early and departed about 9:30 AM after a great cup of coffee. We visited with Lanette and Scout, The Wonder Dog, said his goodbyes.

Lanette found the high ground.

A short walk down the street to look at the trees.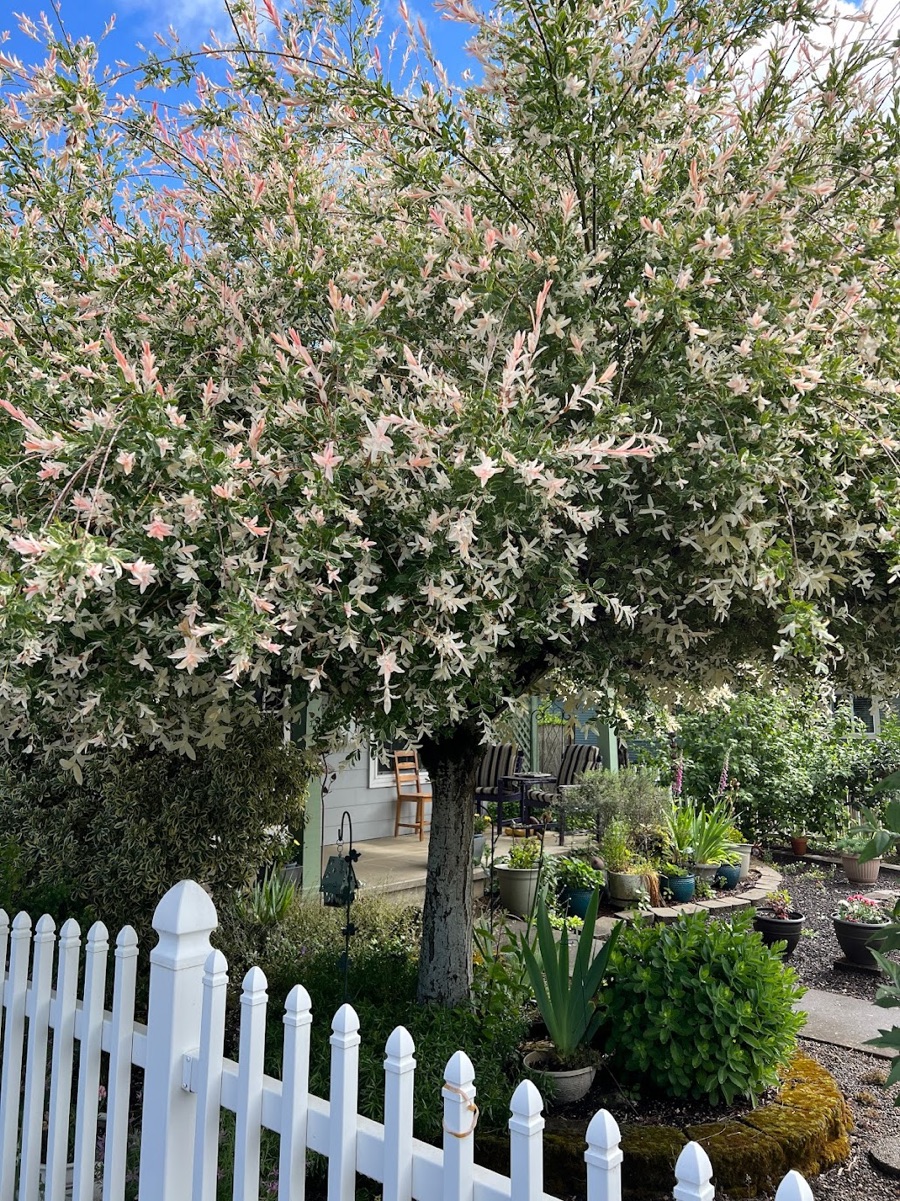 Definitely white. It is called a Dappled Willow.
Salix integra is a species of willow native to northeastern China, Japan, Korea and Primorsky Krai in the far southeast of Russia.
It is a deciduous shrub growing to 2–6 m tall with greyish-green bark and reddish to yellowish shoots. The leaves are 2–10 cm long and 1–2 cm wide; they are pale green both above and below, and unusually for a willow, are often arranged in opposite pairs or whorls of three, rather than alternate. The flowers are produced in small catkins 1-2.5 cm long in early spring; they are brownish to reddish in colour. It is dioecious, with male and female catkins on separate plants.

Lanette has artichokes next door.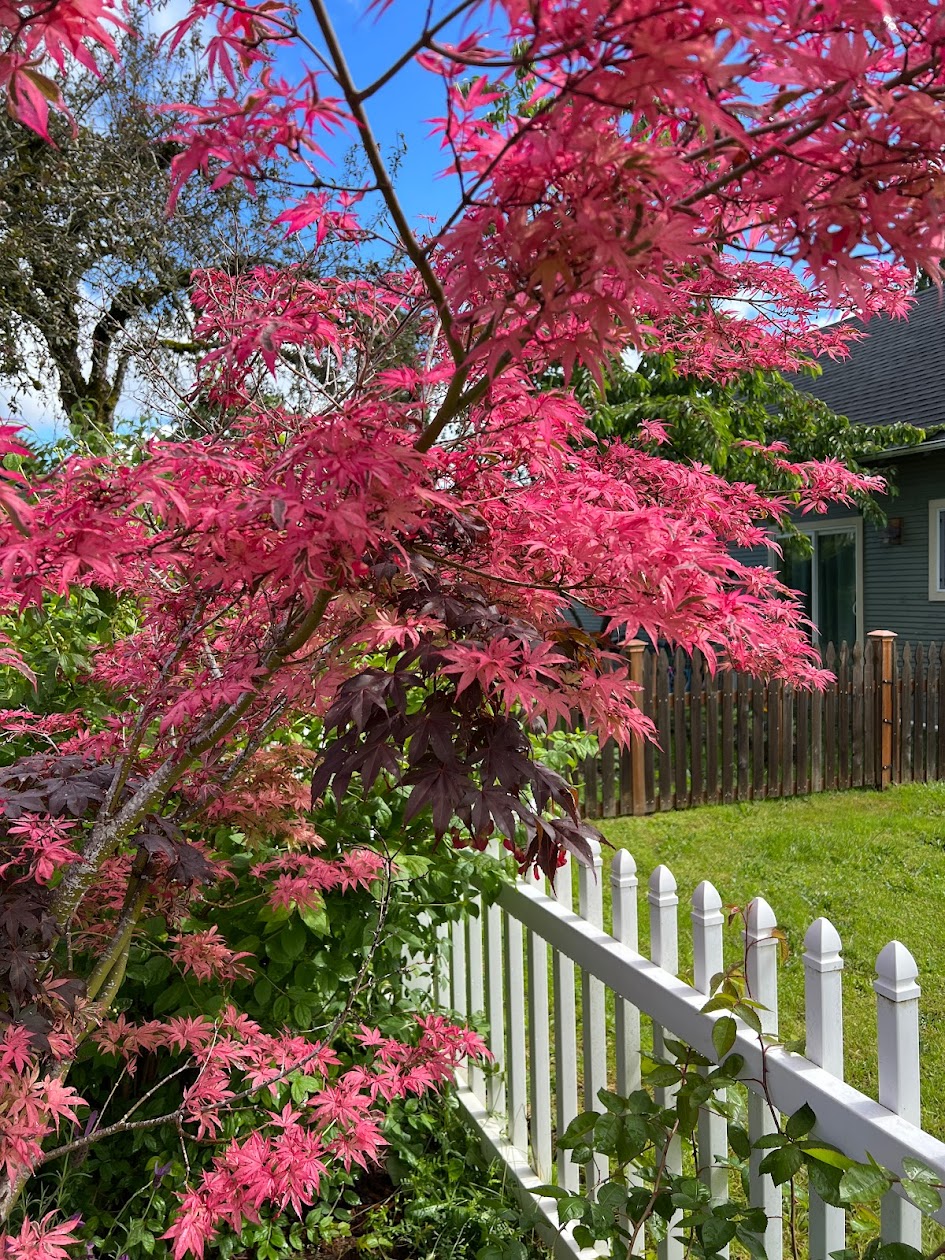 The Maple was magnificent.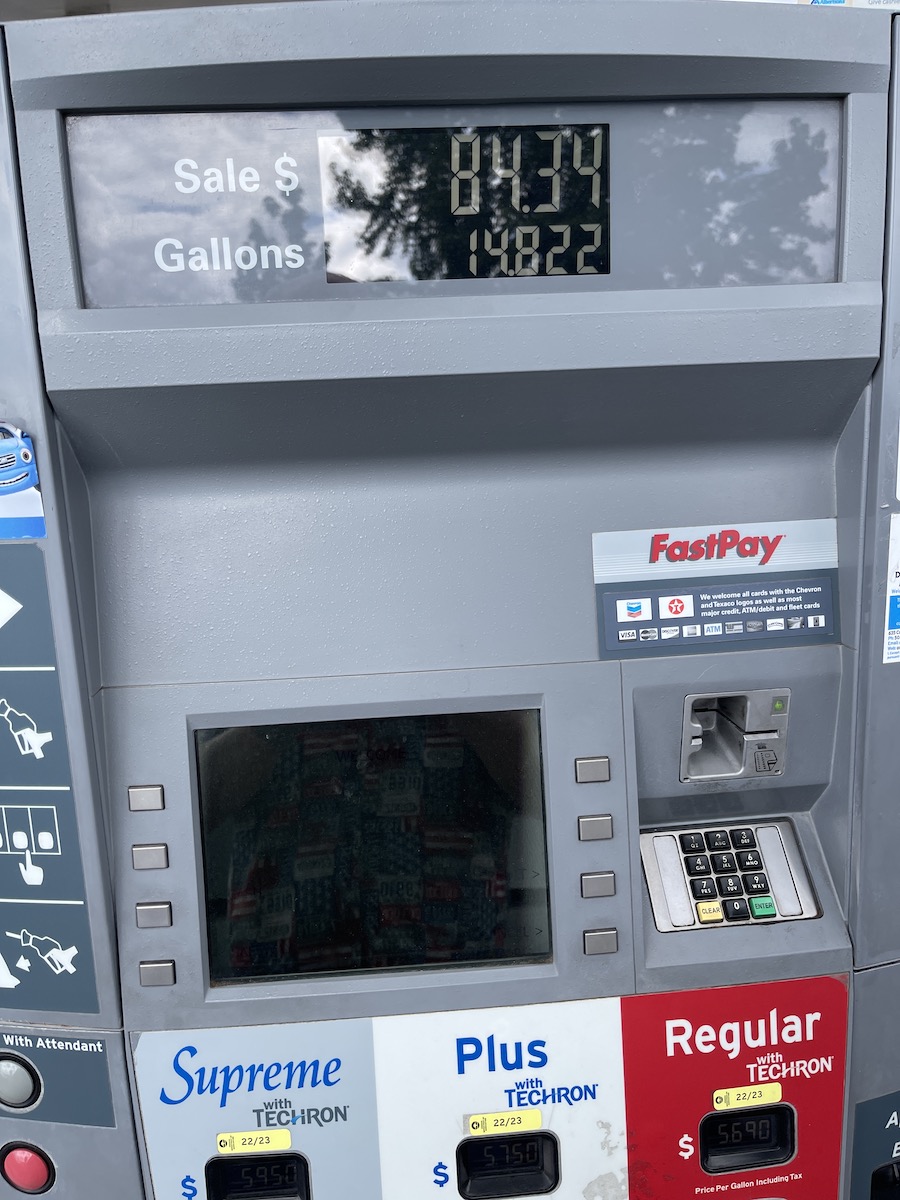 We were robbed again.
Kilometers are shorter than miles. Save gas and take your next trip in kilometers.
We looked at the map and decided to have some time off our trip so we went to Eugene Oregon and then turned west to Florence.
The Oregon Coast is known for its bridges. Many of them were built in the 1920s and 1930s to complete the Oregon Coast Highway and they are known for graceful arches, Gothic spires and art-deco details. Still, the coast's most beautiful bridges can only be attributed to Mother Nature.
After 2 hr 47 min (168.5 mi) via I-5 S and OR-126 W we were starving.
Florence is a small city at the mouth of the Siuslaw River, on the Oregon coast. Its vast Sea Lion Caves are home to Steller sea lions. Nearby, trails around the restored 19th-century Heceta Head Lighthouse offer views of seabirds and migrating whales. Shops and galleries fill the city's Historic Old Town district. Across the river are the towering sand mounds of the Oregon Dunes National Recreation Area.
We dined at Mo's on the wharf having salmon and clam chowder. It was delightful.
I thought of my second cousin, Dave Mall as he visited here often. His parents lived in Florence until they passed.

Right on the water.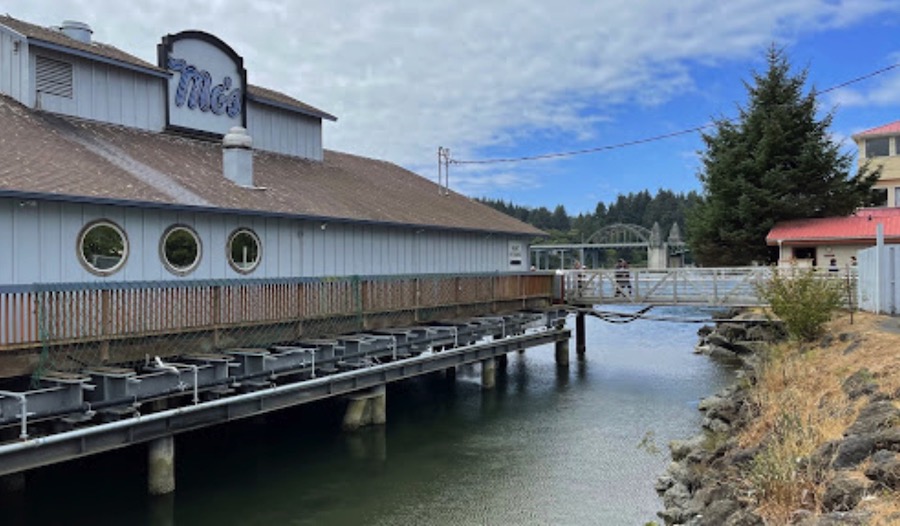 It was a cool day so Scout guarded the car .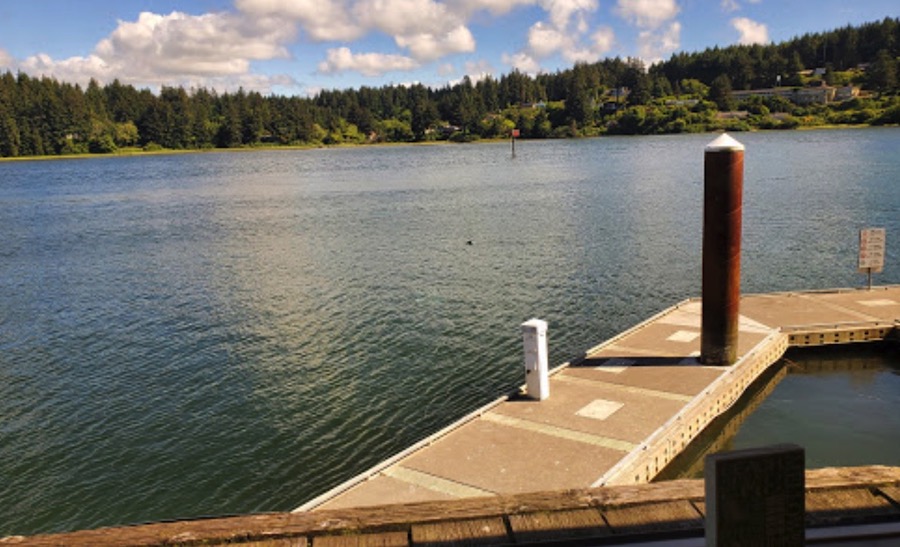 It must have been high tide.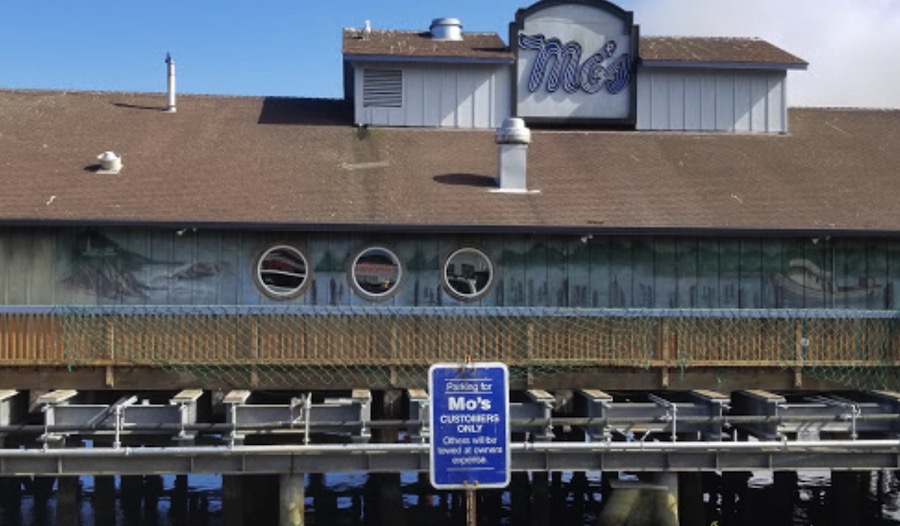 The restaurant was very busy.

We await our wine and dine.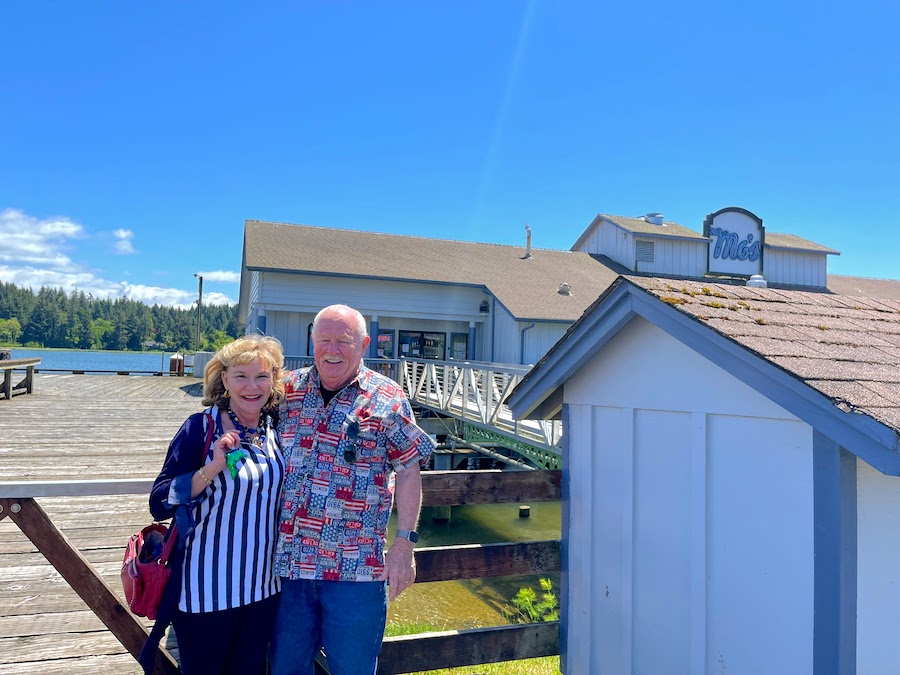 Tummies full, ready to blast off to the next stop.
Scout did just fine in the parking lot since it was 60 degrees outside.
Next stop was Coos Bay.
I need 6 months of vacation, twice a year.

Coos Bay is a city located in Coos County, Oregon, United States, where the Coos River enters Coos Bay on the Pacific Ocean. The city borders the city of North Bend, and together they are often referred to as one entity called either Coos Bay-North Bend or Oregon's Bay Area.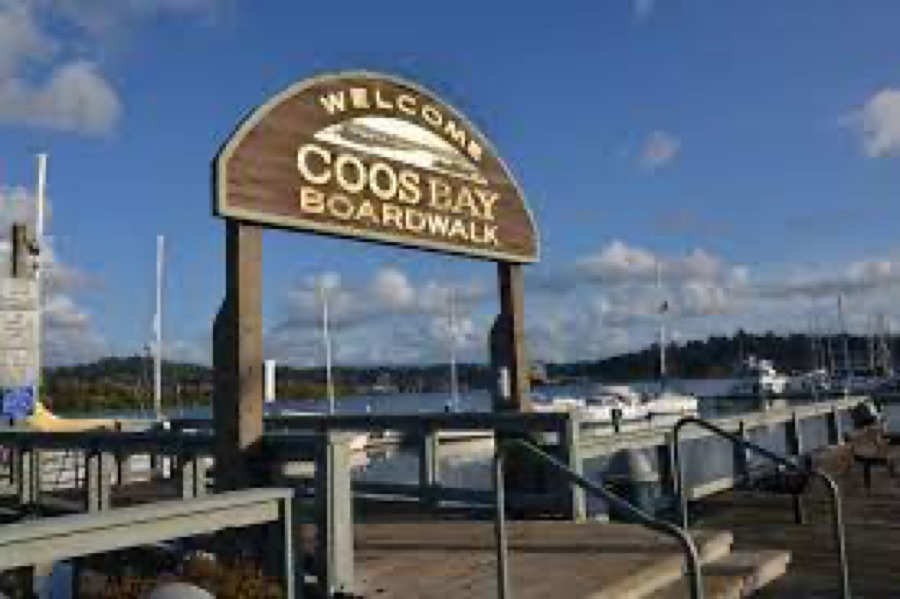 It was very windy.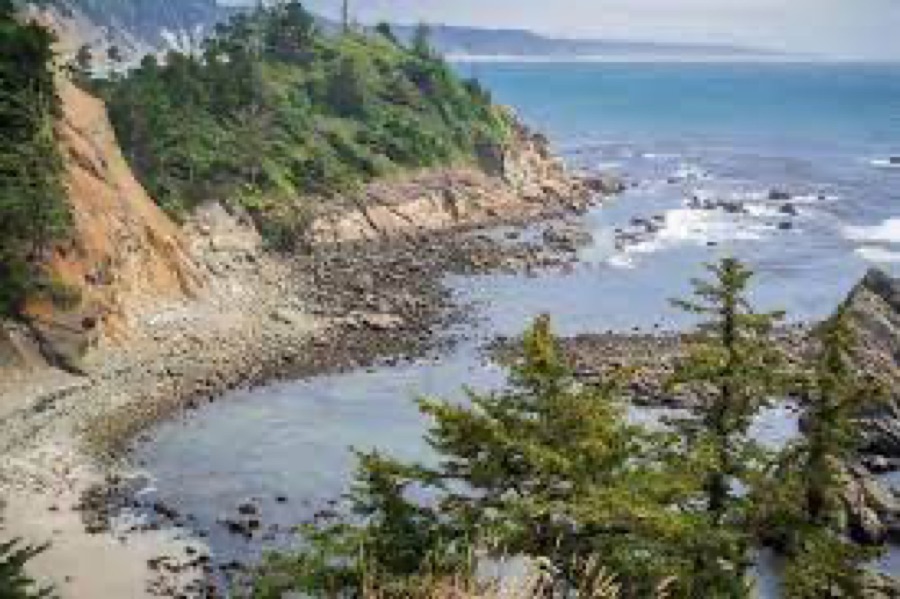 The shore line was rough, no swimming here.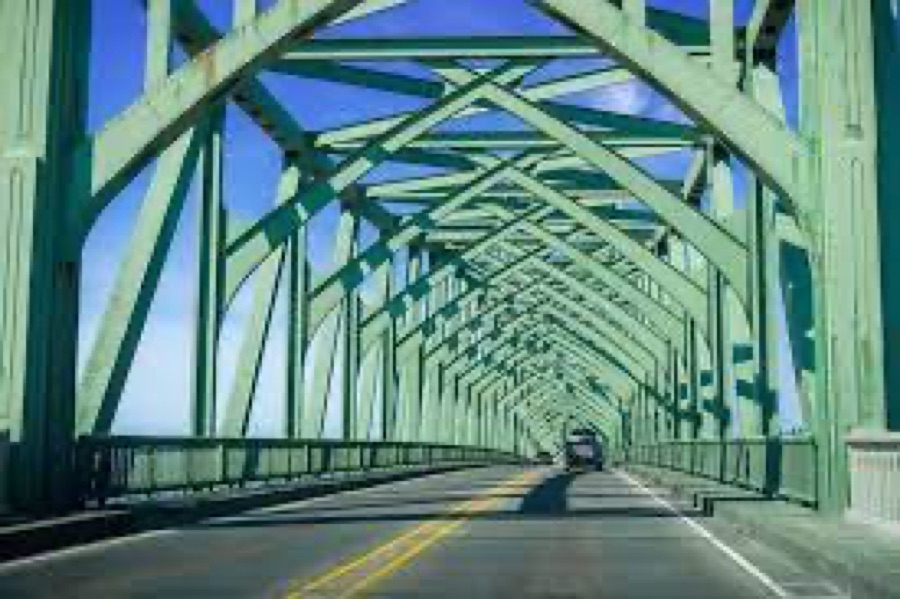 The bridge was recently painted and looked great.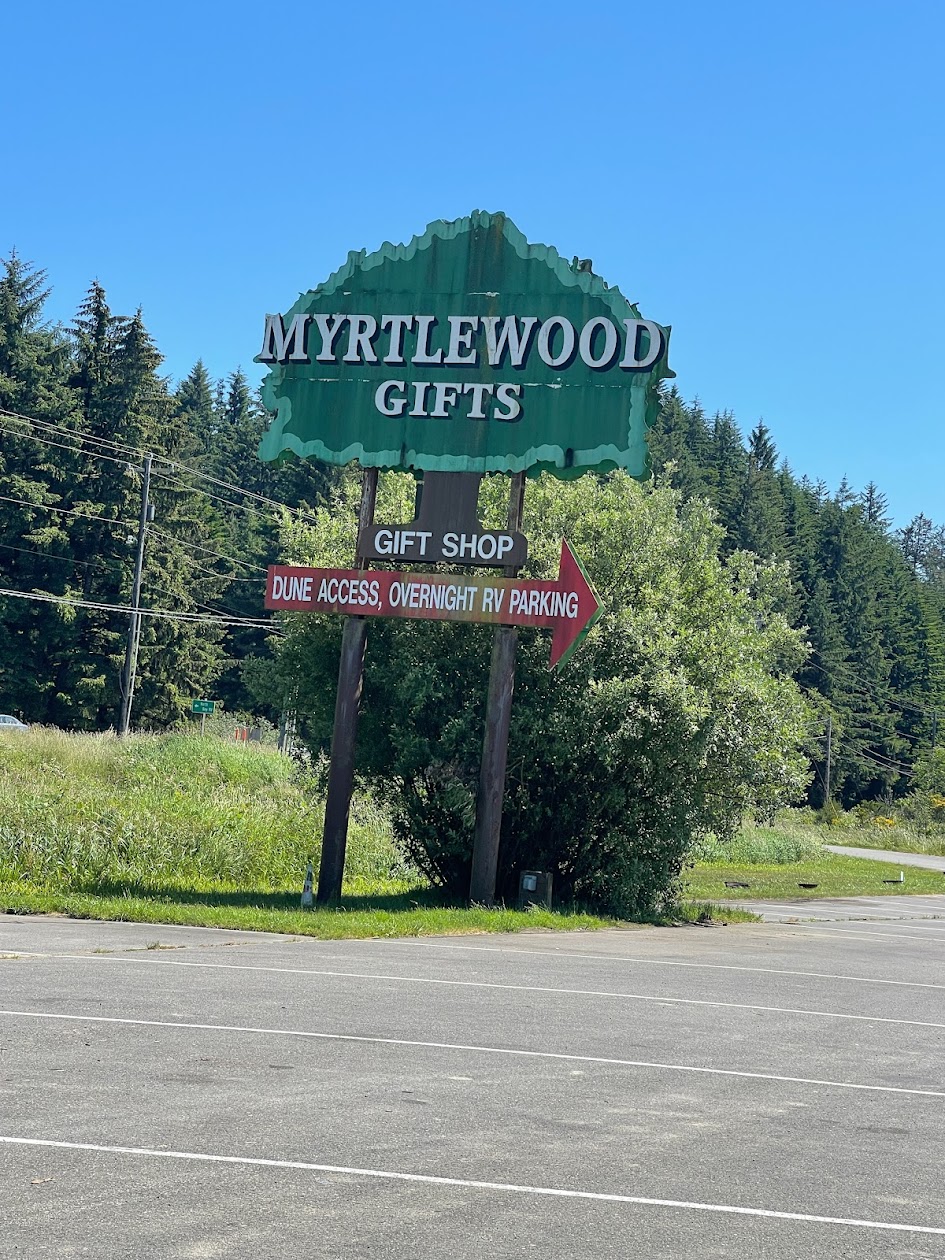 Screech, Paul did a 180 degree turn at 65 MPH when Mary spotted this sign.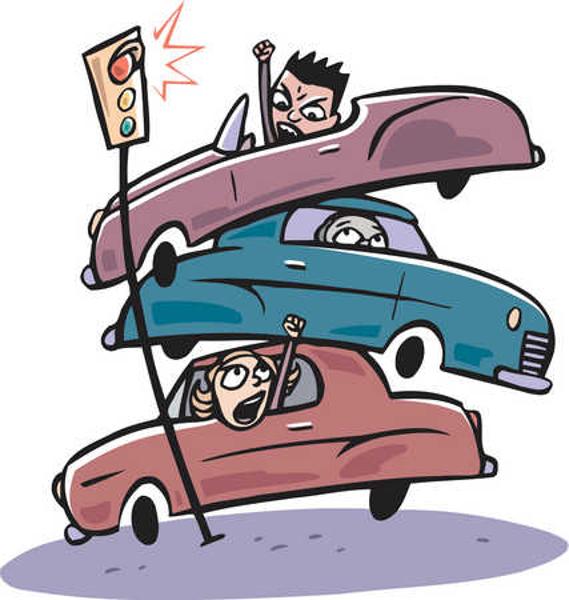 The people behind me were a little unhappy!
Over pack. It's why suitcases have wheels now.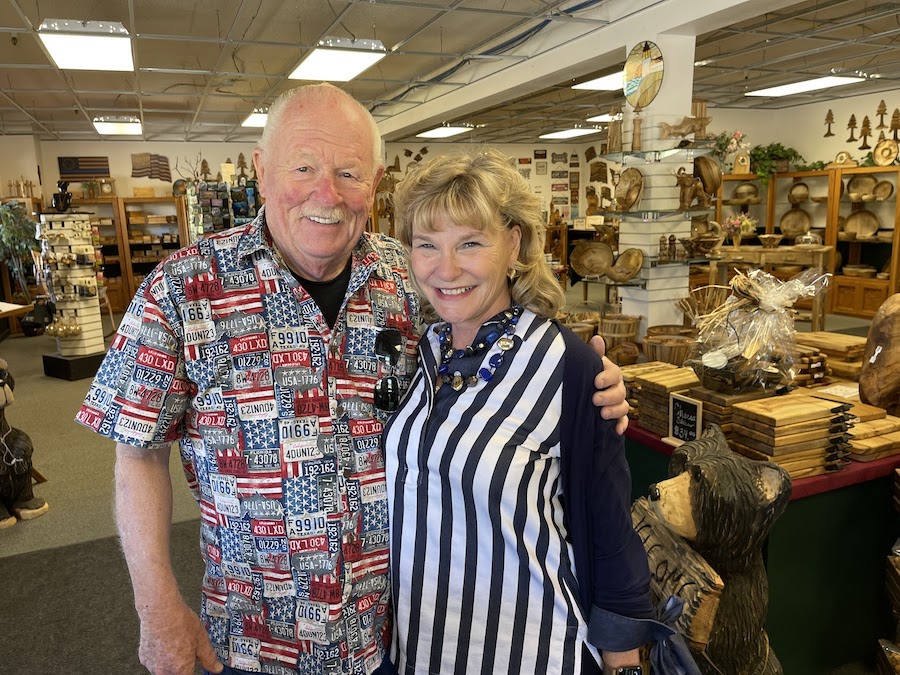 We looked around.
Did You Know? Oregon-myrtle(Umbellularia californica) grows along the Pacific Coast from Douglas County, Oregon, to San Diego, California, in the Coast and Klamath mountains and along the west slope of the Sierra Nevada. The tree is also known as California-laurel, California bay laurel, pepperwood, or some fifteen other common names. The oft-repeated claim that this tree grows "here and in the Holy Land" is false. Umbellularia californica grows only on the west coast of the United States.

Oregon-myrtle grows under various topographic and soil conditions if moisture conditions are adequate. The Oregon Champion tree, 4.7 feet in diameter and 88 feet tall, is near Lobster Creek, Curry County, Oregon. In the right setting and climate, Oregon-myrtle, with its handsome willow-like evergreen leaves, clusters of yellow flowers, and relatively large yellow-green fruits, makes a fine ornamental planting.

The odor of the aromatic plant is pungent enough to cause sneezing and headaches when leaves are crushed and sniffed. Culinary use is discouraged because it contains umbellulone, a toxic mucous irritant, and safrole, a known carcinogen. One acceptable culinary use is to place a leaf or two in flour or cornmeal as an insecticide to keep the mealworms away.

Native Americans used Umbellularia as a medicine to treat various aliments, from headaches and menstrual cramps, to washing vermin from the head.Seeds were eaten roasted or raw. One group used the smoke to drive ground squirrels from their burrows, and to rid themselves of fleas.

The next stop was Gold Beach. The City of Gold Beach sits just south of the Rogue River, about forty miles north of the California state line. The section of coastline received its name after placer miners discovered gold in the sands near the mouth of the Rogue River in 1852.
I have been to almost as many places as my luggage.

The bridges were 1930s in design but still working well.

Too bad we did not have enough time for the Jet Boats.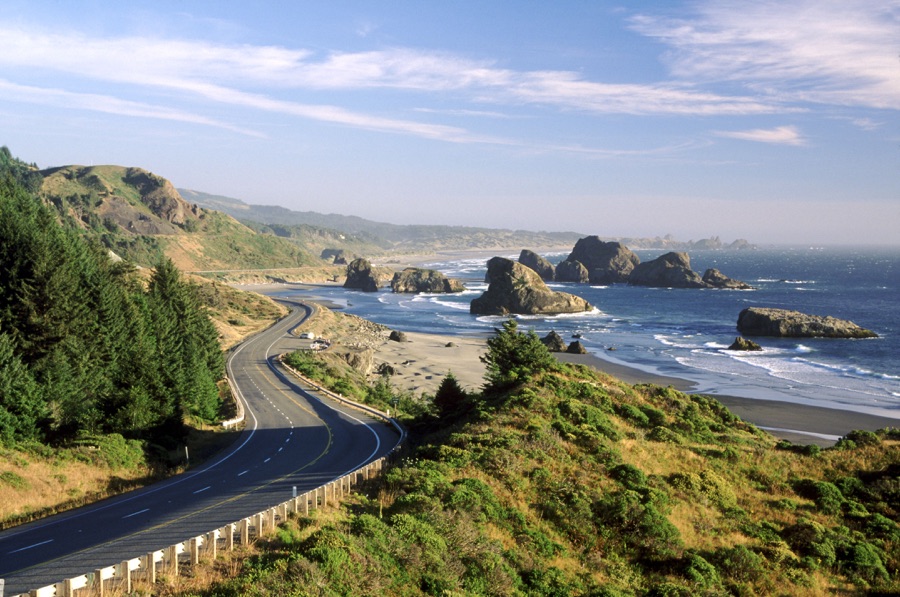 The coastline was ominous but there were people going down and visiting the water.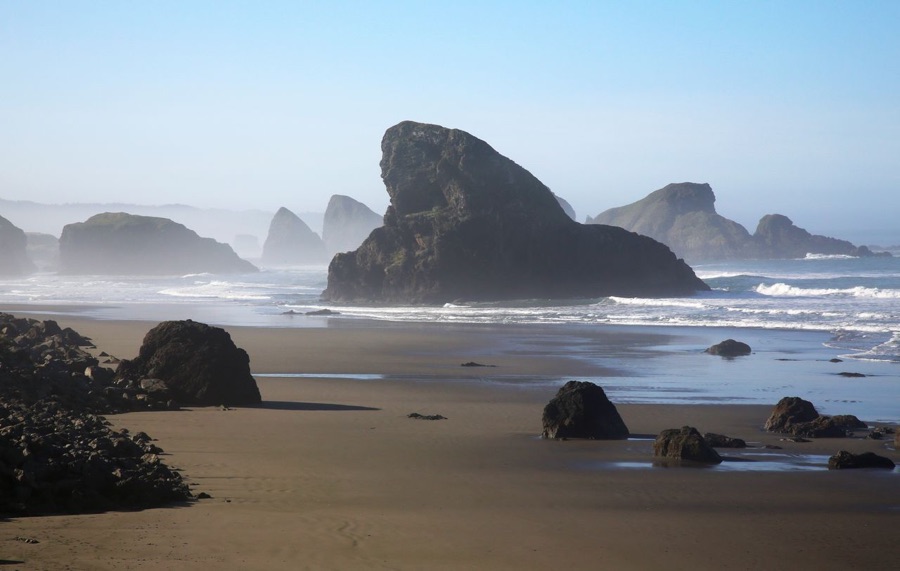 Sharks fin? Maybe.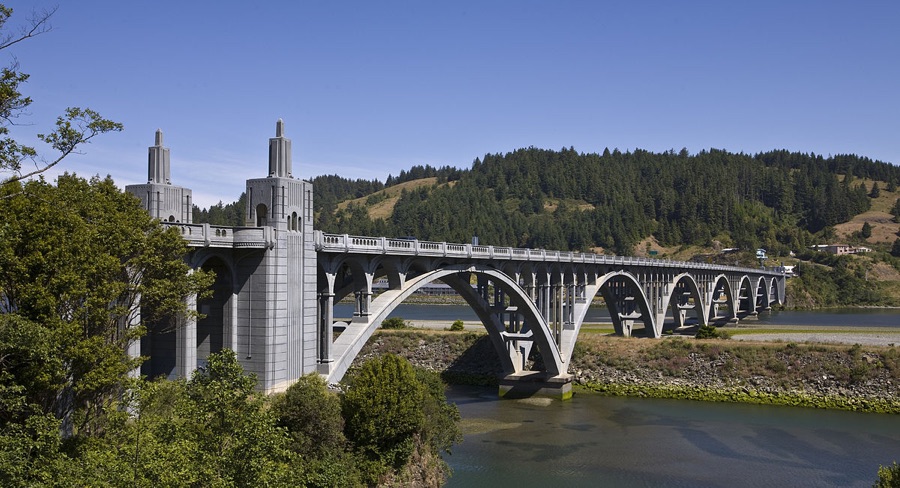 We said goodbye bridge, see you next time
Crescent City is the only incorporated city in Del Norte County, California; it is also the county seat. Named for the crescent-shaped stretch of sandy beach south of the city, Crescent City had a total population of 6,673 in the 2020 census, down from 7,643 in the 2010 census.
We found our hotel about 10 miles out of town. It was not bad but it not a first-class place. It was very dog friendly; Scout loved his romp in the grass specially at 6:00 AM after waking Daddy up out of a sound sleep.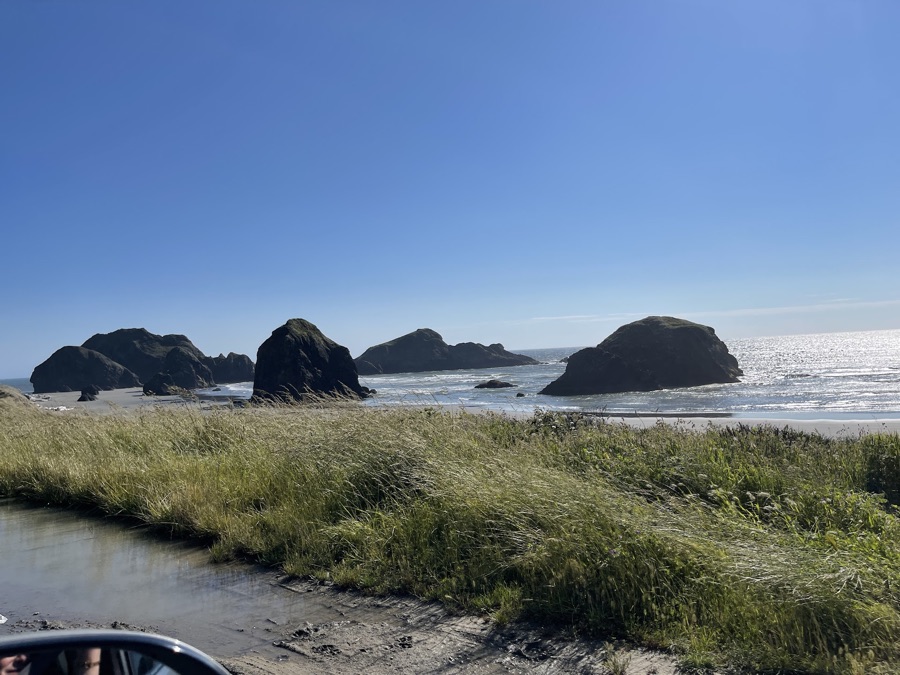 Coming into town was scenic.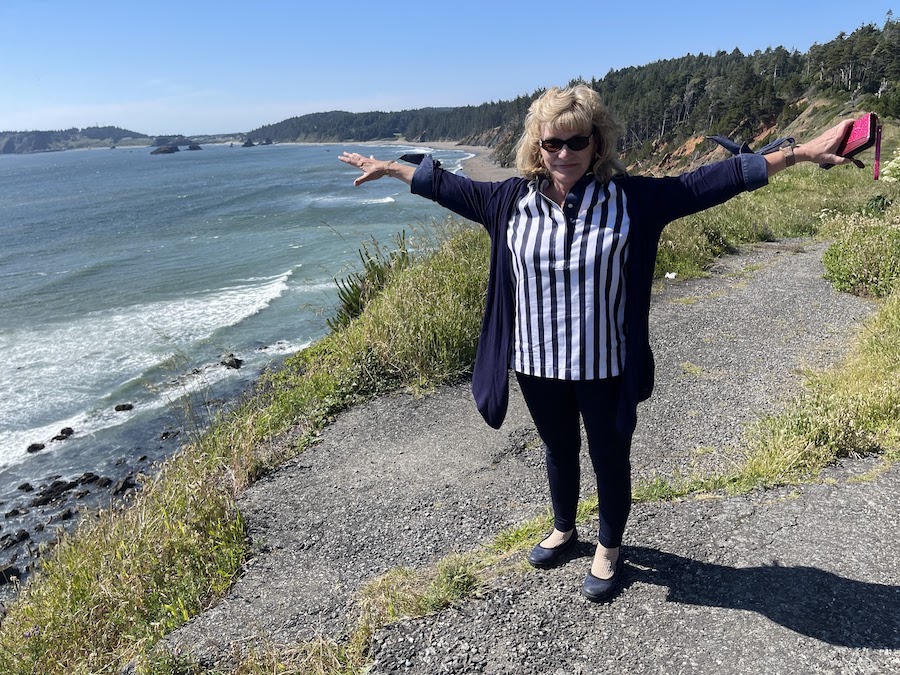 Mary almost lifted off the ground because of the wind.
Traveling in the company of those we love is home in motion.

Queen Ann's Lace was everywhere.
The Queen Anne's lace plant, also known as wild carrot, is a wildflower herb found in many parts of the United States, yet it was originally from Europe. While in most places the plant is now considered an invasive weed, it can actually be an attractive addition to the home in a wildflower garden.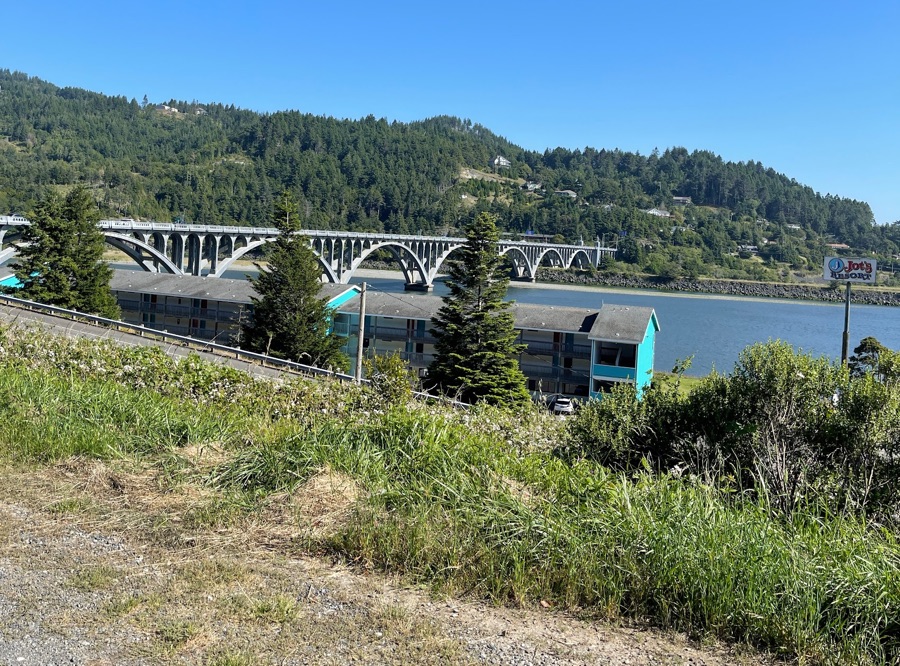 The bridge into town.

We found our hotel out in the boonies.
&

I expected someone with a large knife to enter the shower with me

This would make a great setting for a horror movie. Alfred Hitchcock, where are you.
Tomorrow the Redwoods!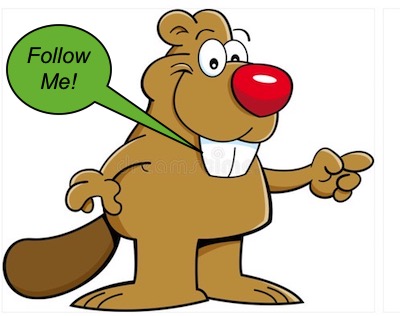 We are off to Santa Rosa City