Day 7 - Destination Santa Rosa
An easy five hour drive we thought. We did not think we would be at the "Trees Of Mystery" for two hours! We also forgot Hwy-101 is a winding highway. We departed Crescent City at 9:30 Am and got to Santa Rosa at 7:30 PM, a ten-hour trip! But, listen to the story.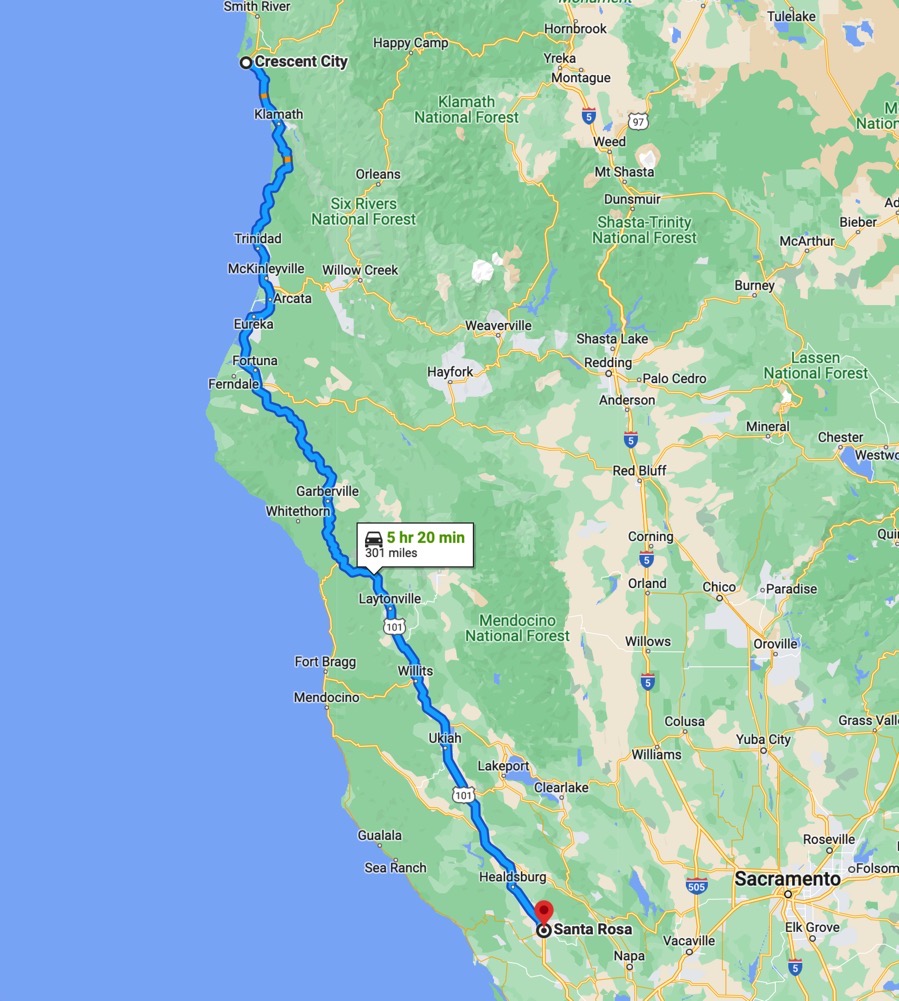 We remember the way the hotel looked last night when we got in. It was scary. This morning, not so much.

Norman's mother checked us in.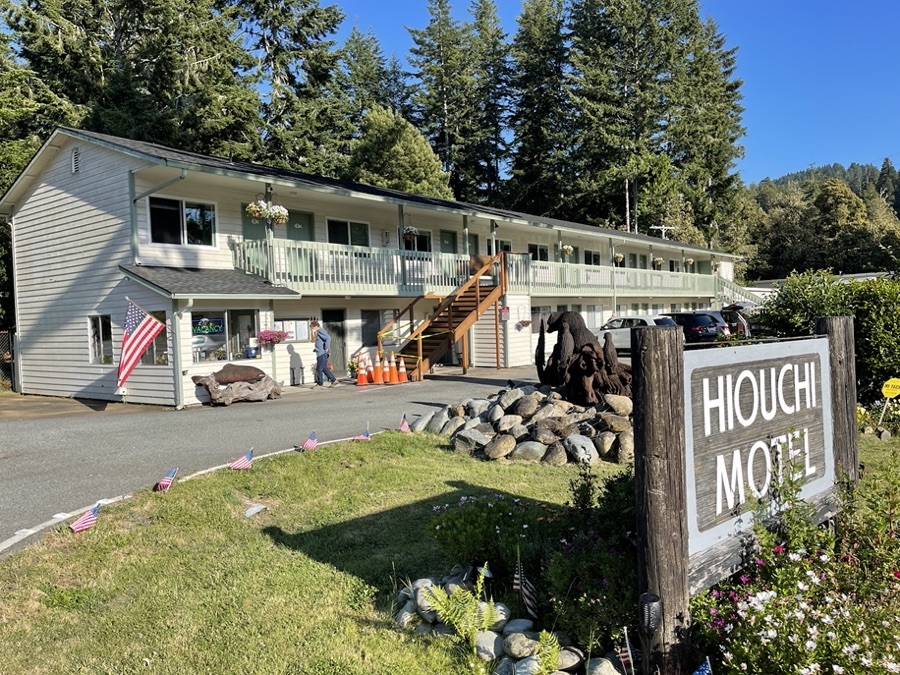 Norman Bates didn't interrupt us last night!
We had many stops so the CalTrans folks could get the roads updated. Being behind a septic tank clean-out machine was NOT ideal.

We kept our distance!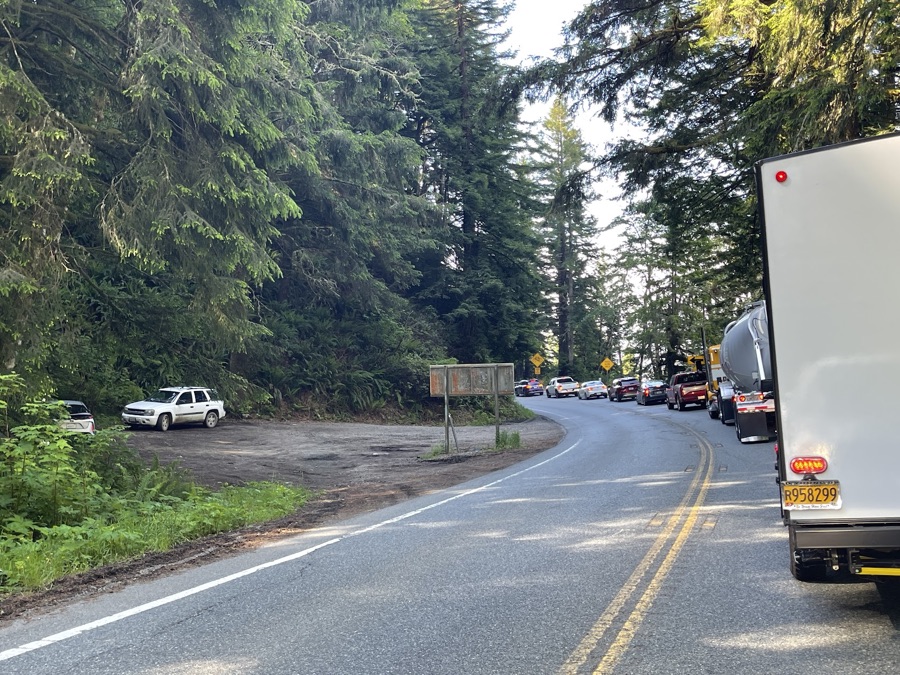 And you thought LA traffic was bad!


The fog/marine layer was thick, just like the redwoods need!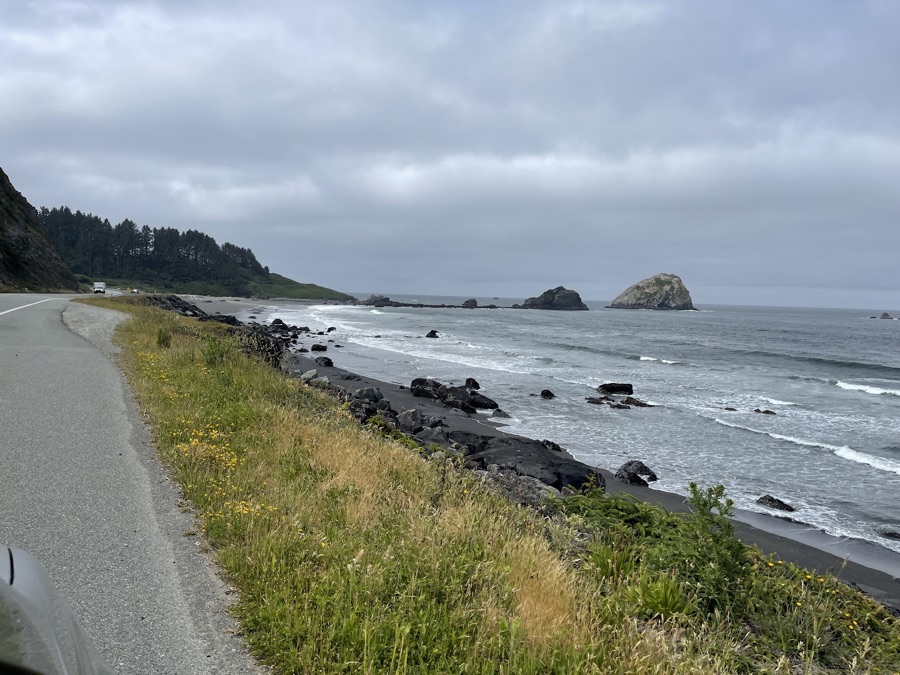 Pretty mean looking rocks.


To see more of our Redwoods pictures click here.
The first time Paul was here was in 1953, Mary was a year old. Mom and I took the walk as dad was not able to do it. It has changed just a bit.


Years ago it was just a walk...now we have sky trains and sky walks!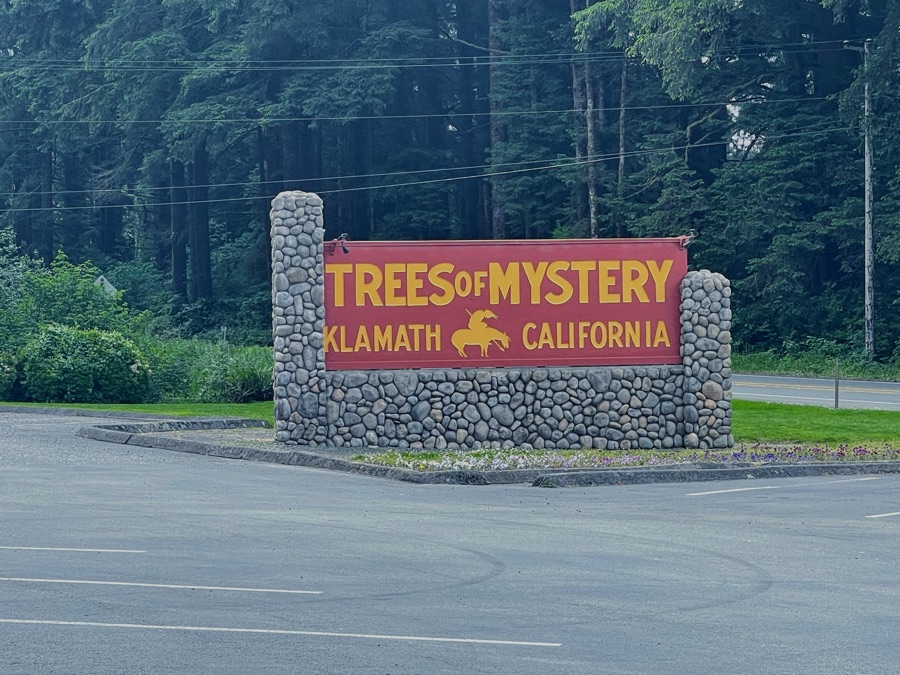 Did You Know? Trees of Mystery is a park and tourist attraction along U.S. Route 101 (US 101) near the coastal town of Klamath, California. It features interpretive trails through Giant Redwoods and a number of unusual tree formations, many of which can be seen from its Trail of Mysterious Trees. Its Trail of Tall Tales displays some 50 chainsaw sculptures and carvings illustrating stories of legendary logger Paul Bunyan and his crew.
Trees of Mystery is best known for its 49-foot (15 m) statue of Paul Bunyan and 35-foot (11 m) statue of Bunyan's companion Babe the Blue Ox, which are visible from US 101. Constructed largely of wooden beams, chicken wire and stucco, the current Babe was built in 1950 and the current Bunyan in 1961. The original Bunyan was built in 1946, but was destroyed by rain that winter.
An early 1950 brochure referred to the attraction as "Unbelievable but True, World's Largest Group of Natures Living Wonders".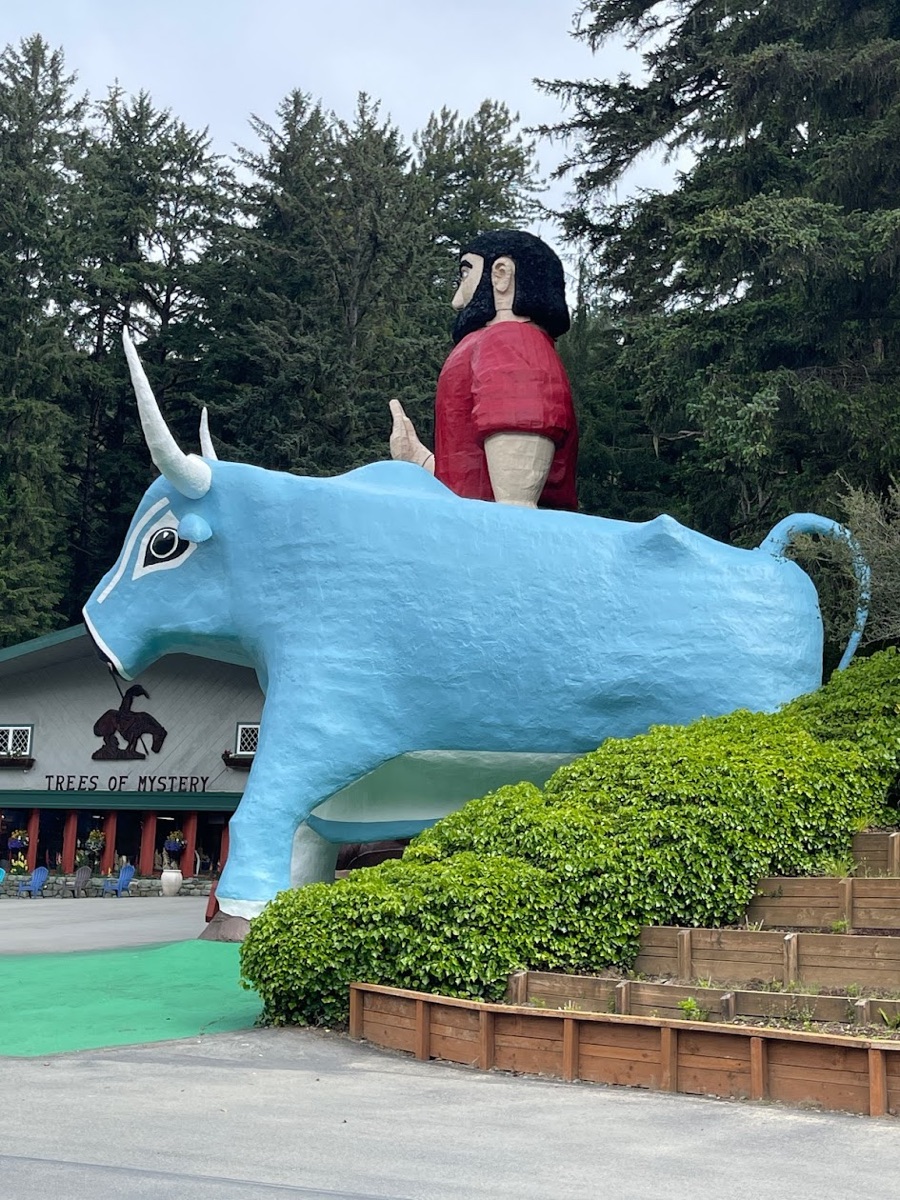 There is Babe and Paul . In late 2007, the half-ton, 9-foot-wide (2.7 m) head of Babe fell to the ground as the result of rain damage; it has since been replaced.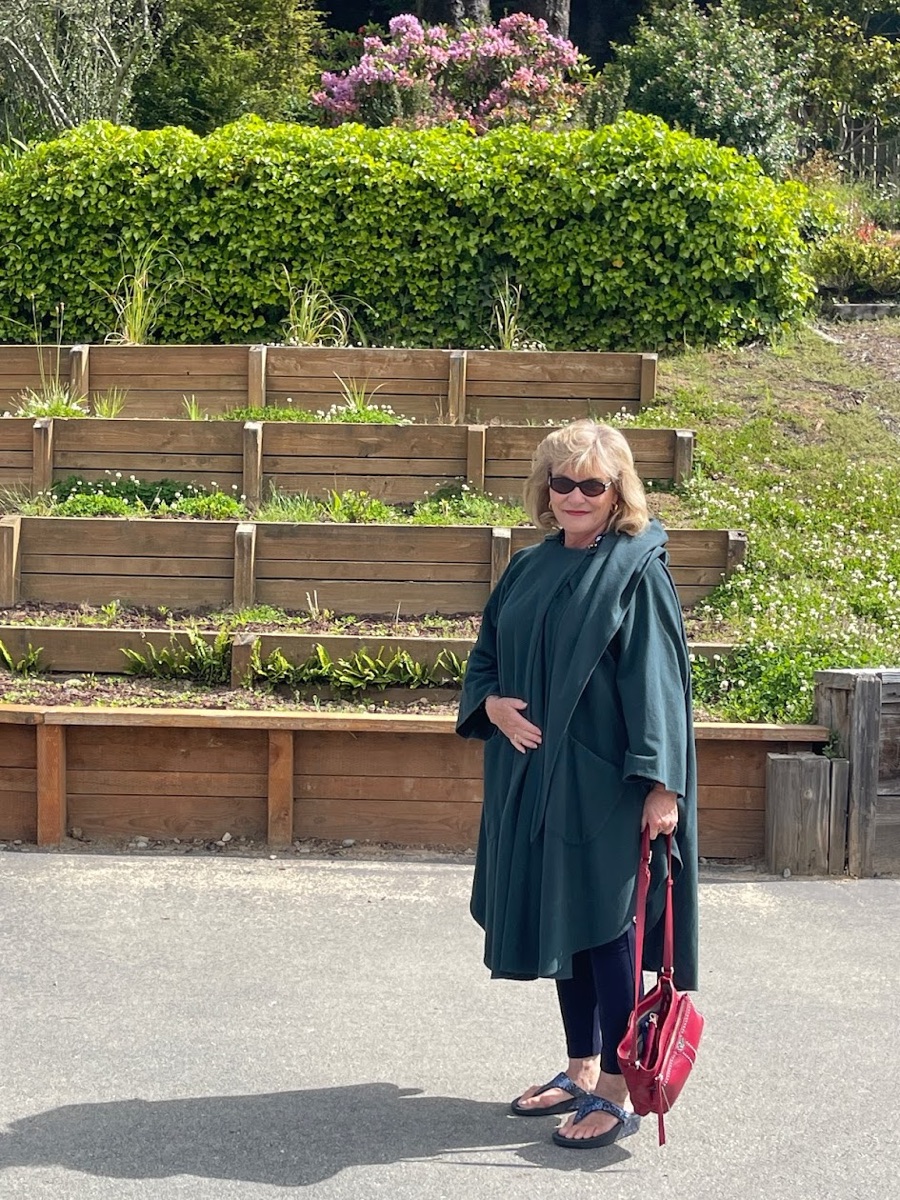 Mary loved the Rhododendrons
Did You Know? Rhododendron is a very large genus of about 1,024 species of woody plants in the heath family (Ericaceae). It is either evergreen or deciduous. Most species are native to eastern Asia and the Himalayan region, but smaller numbers occur elsewhere in Asia, and in North America, Europe and Australia.

It is the national flower of Nepal, the state flower of Washington and West Virginia in the United States, the state flower of Nagaland in India, the provincial flower of Jiangxi in China and the state tree of Sikkim and Uttarakhand in India.

Most species have brightly colored flowers which bloom from late winter through to early summer.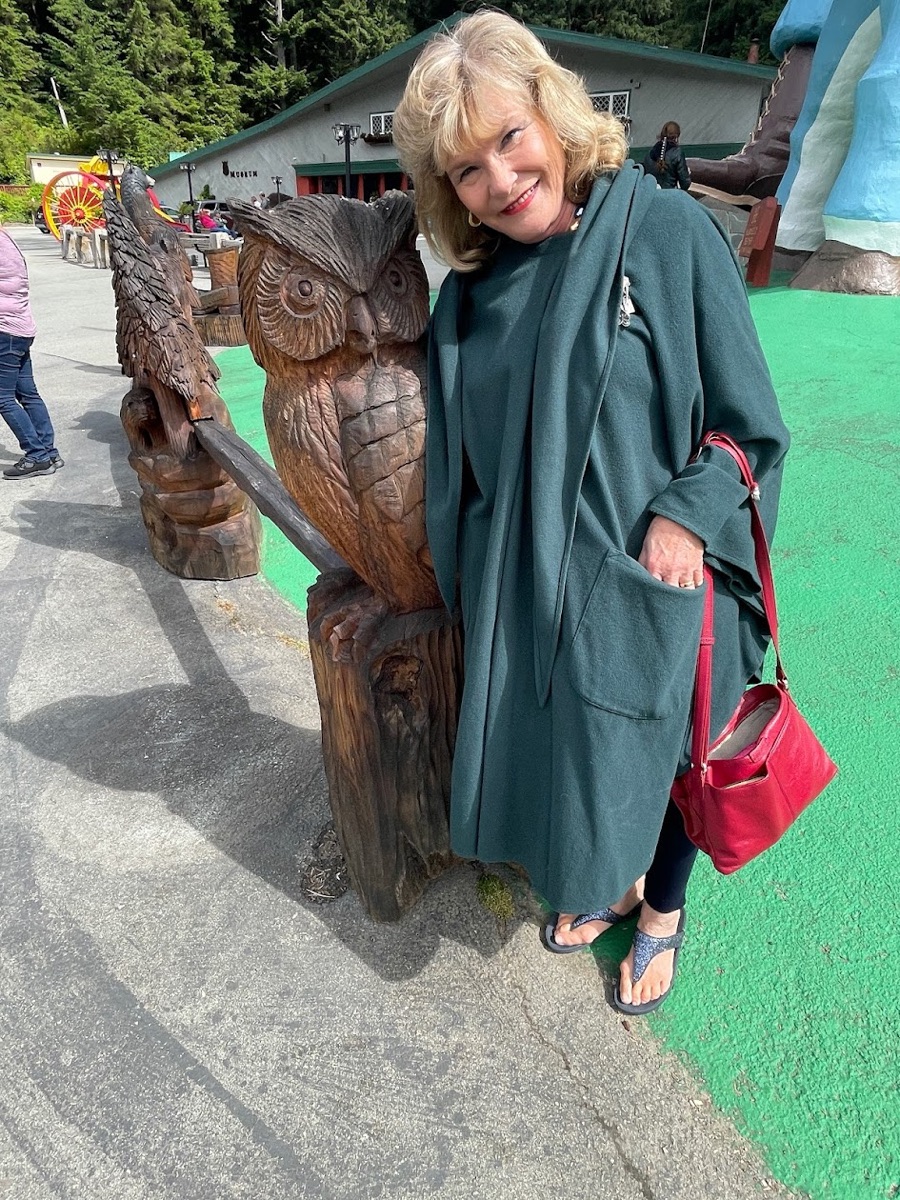 She does give a hoot!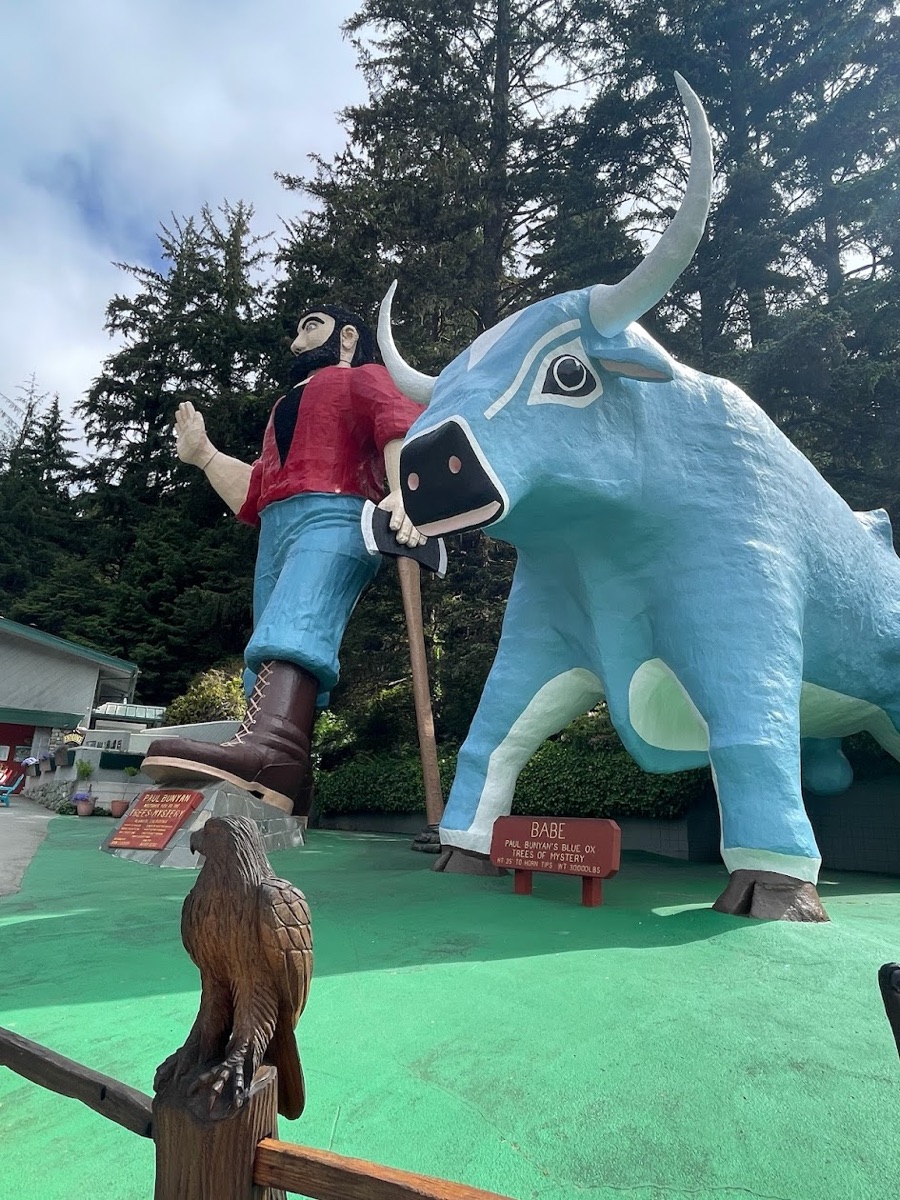 Just as I remember in 1953!
We took pictures of other couples and they us; everyone said, "It was nice to have proof we were here with my significant other".

We are Beary much in love!
This was a mile plus walk but neither of us had any trouble specially since everyone on the trail wanted us to stop so they could visit Mr. Scout.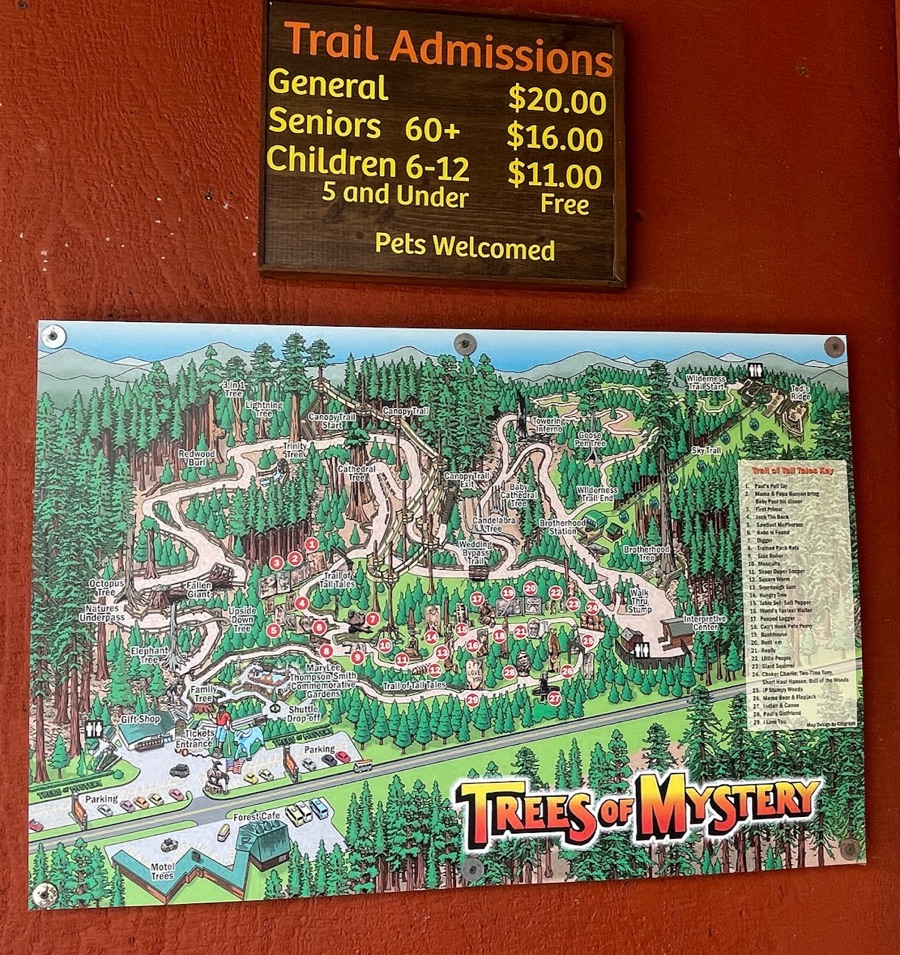 Its good to be a senior! Scout got in for free!

We walked 5,000 steps and went up about 500 feet into the forest!

With bare feet?
Scouts nose was working overtime.

Scout got petted by every person he passed; he was ecstatic!
If Mary or I tried to go under here they would need a tractor to pull us out!

We decided NOT to go into the cave!

They are so cute!
Before you ask, NO, my legs did not scare small children and tiny animals!

We were all there!
We did not know how Scout would react to the SkyTrain. We saw other dogs go into panic mode. Scout just walked into the gondola like we owned the place, sat down, and with a shallow bark commanded, "Let's get this thing moving!"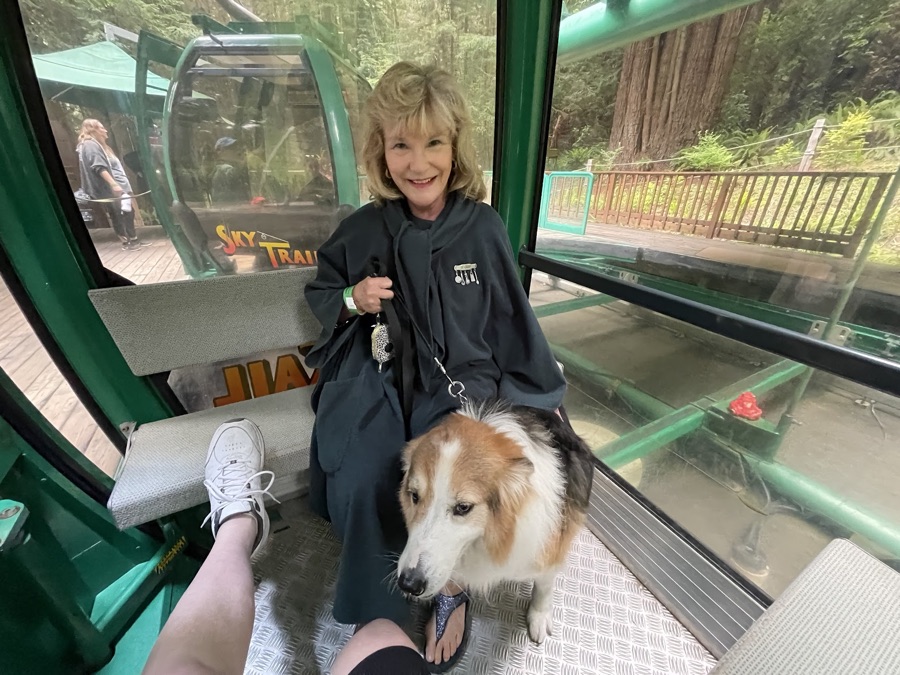 Scout walked into the skyway just like he knew what he was doing! I, on the other hand, offered to stay behind!
Did You Know? In 2001, an aerial tramway was installed called the Sky trail. It takes guests on a 1/3-mile ride through the forest, allowing them to see parts of the attraction from a different point of view. It culminates at an observation deck where the Pacific Ocean is visible above the surrounding forest.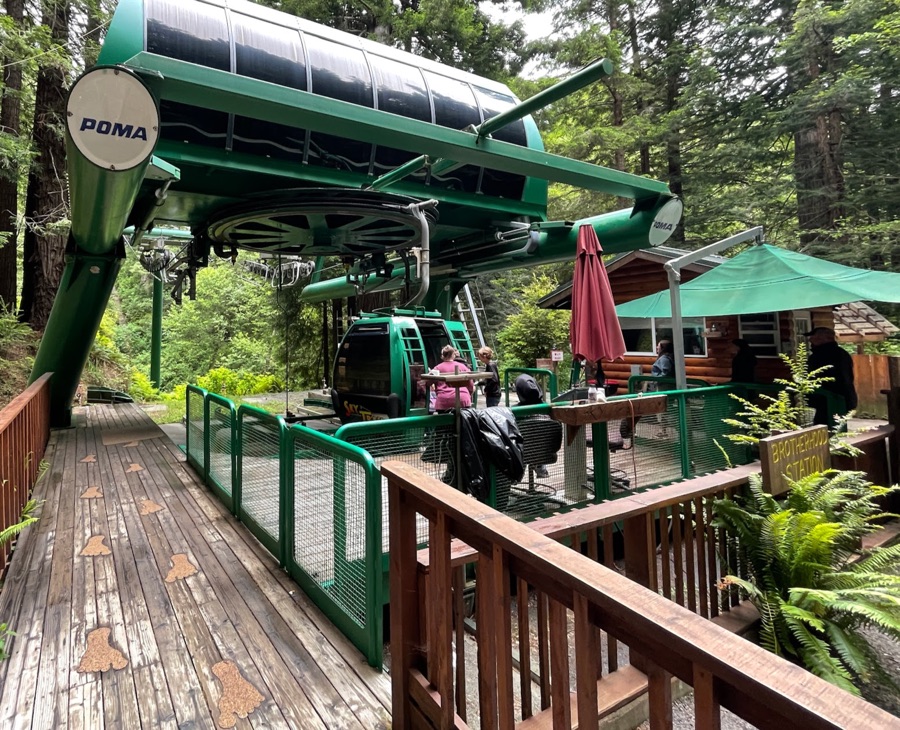 It was quite a ride; we did not stop at the top, just rode back down... we were hungry.

Someone said my PULL TOY was different?
Did You Know? The oldest chainsaw artist records go back to the 1950s, which include artists Ray Murphy and Ken Kaiser. In 1952 Ray Murphy used his father's chainsaw to carve his name into a piece of wood. In 1961 Ken Kaiser created 50 carvings for the Trees of Mystery.

Looking good guys!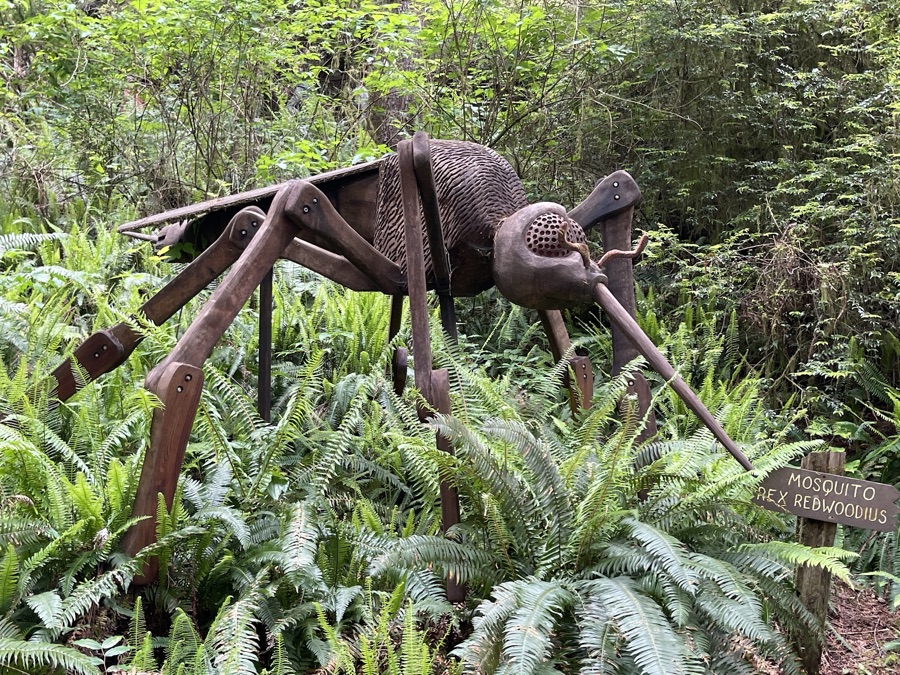 Beware; this puppy could hurt!

Me too you!!!
We had spent two hours walking around and seeing the sights; we read all the signs.

It was time to eat!!! We stopped at Café Marina & Woody's Bar in Eureka.

The drive was pretty. We stopped several times to enjoy the sights (and let Scout, The Wonder Dog, stretch his legs.

Here puppy puppy puppy! Oops, that's Poppy Poppy Poppy.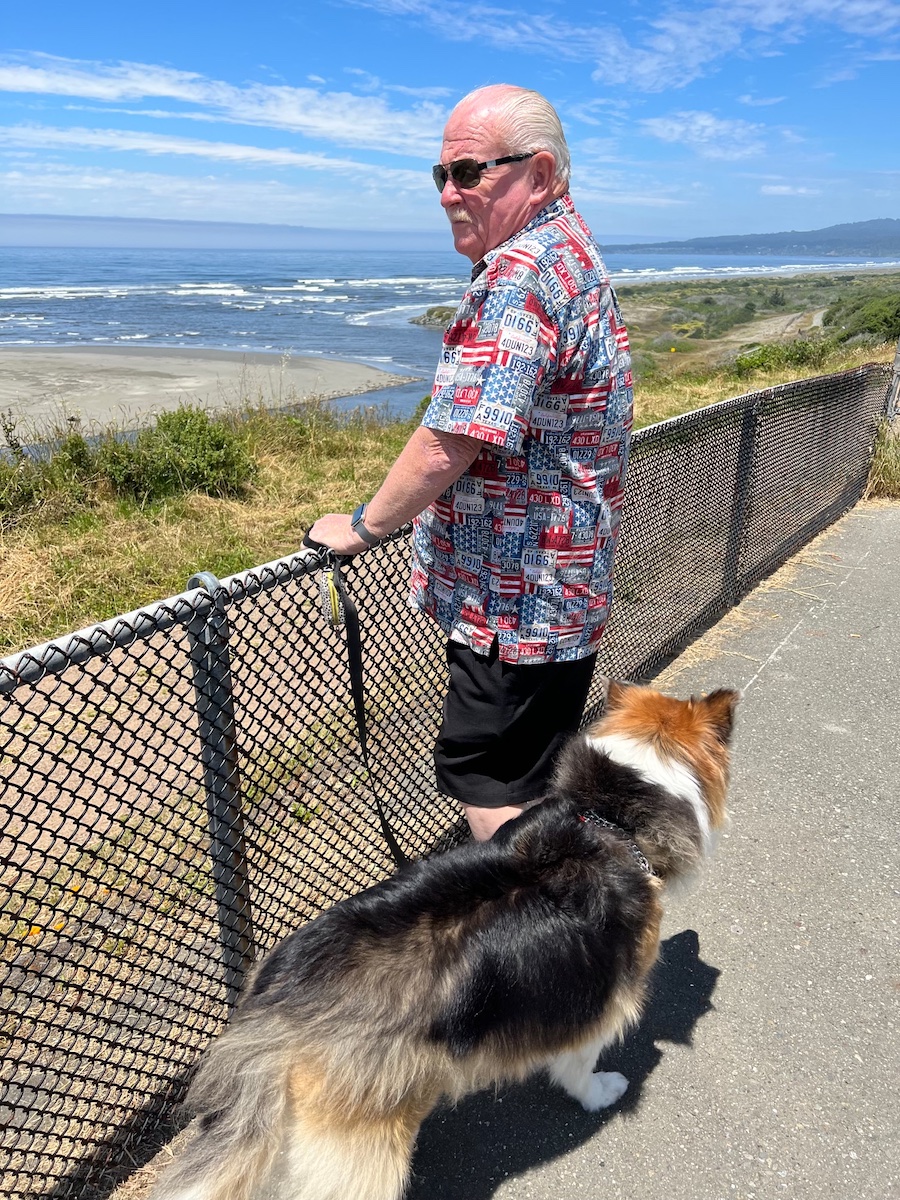 Time to stretch.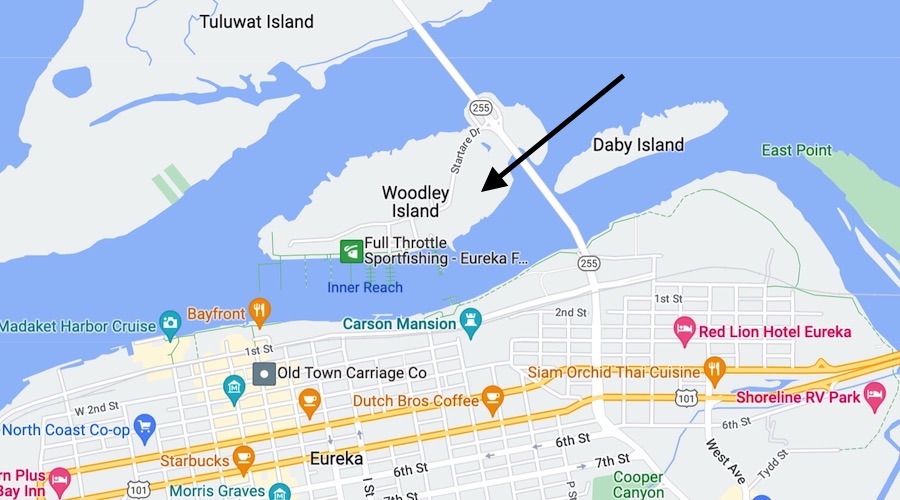 We went over a large bridge to get there.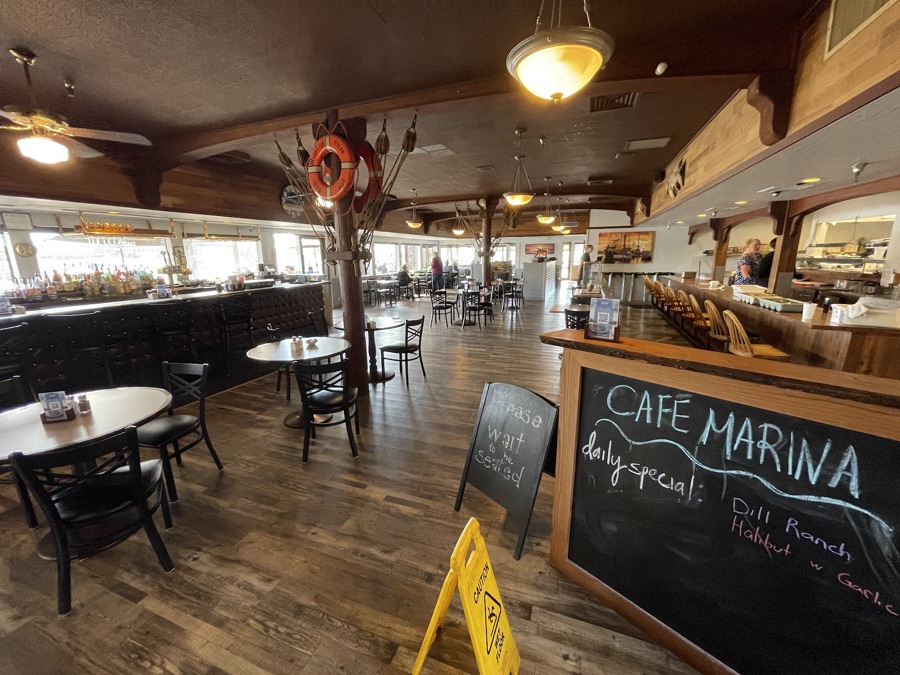 Fantastic food and a great view right on the water.

The room was large and most people sat outside.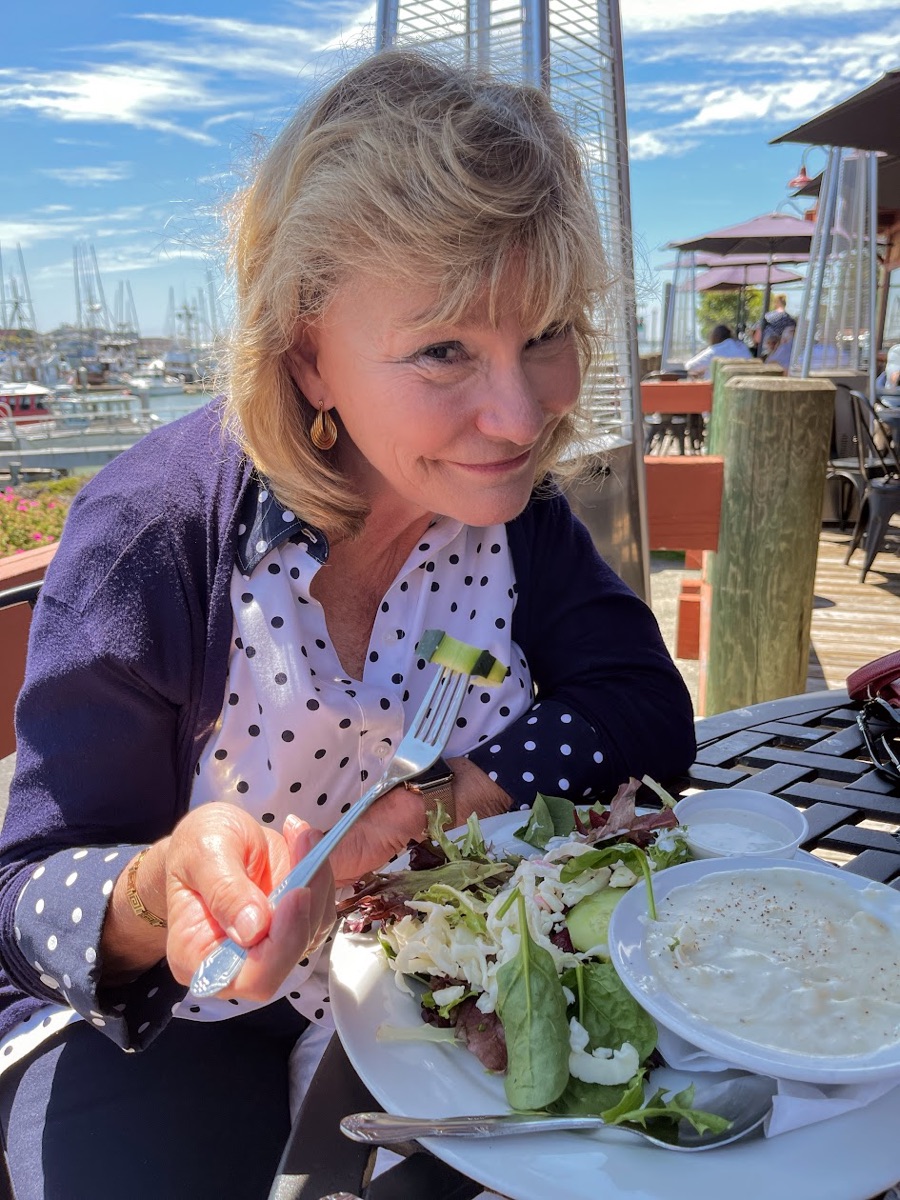 Nummy nummy!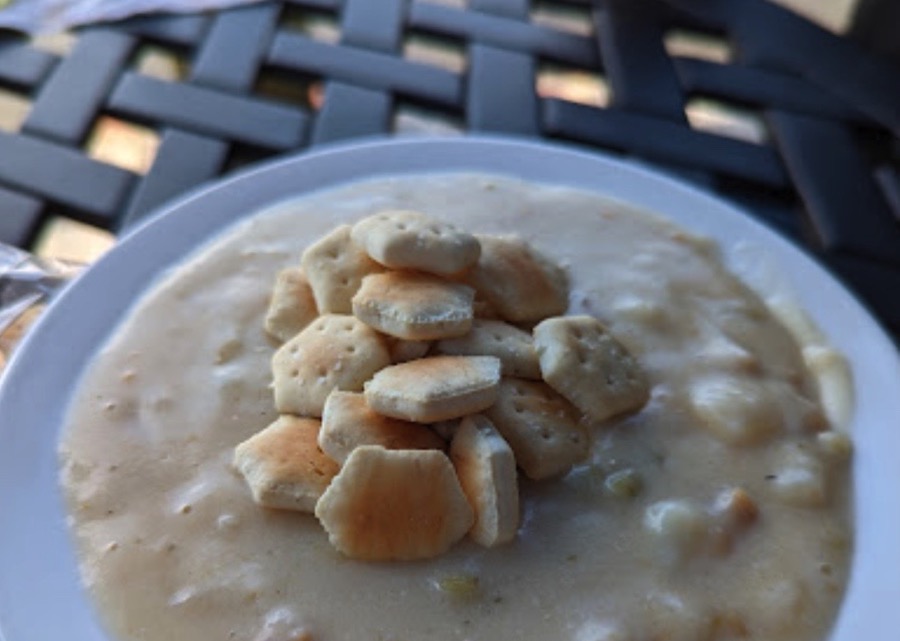 It hit the spot!

Tummy is full; time to drive.

Great view

The wind knocked off several of the oranges from the tree.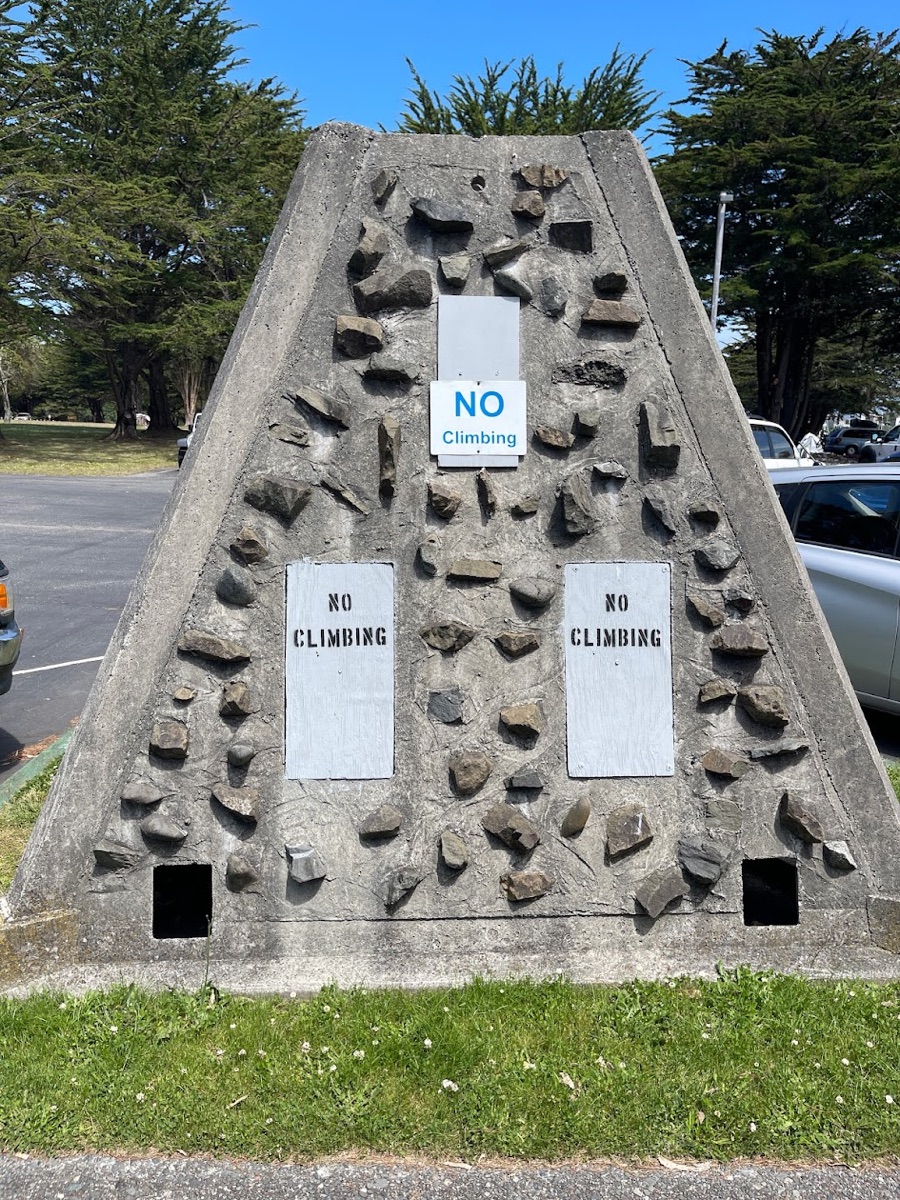 Why would they build something to climb and then say "Do Not Climb"?
Did You Know? The Avenue of the Giants is a scenic highway in northern California, United States, running through Humboldt Redwoods State Park. It is named after the coastal redwoods that tower over the route. The road is a former alignment of U.S. Route 101, and continues to be maintained as a state highway as State Route 254 (SR 254).

It was easy to find.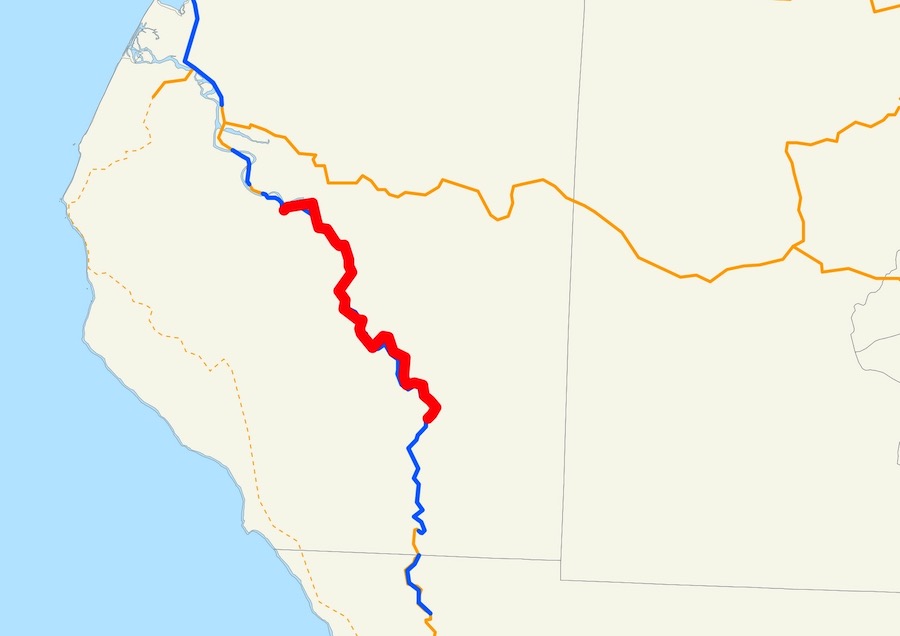 It's a short drive of 30 miles.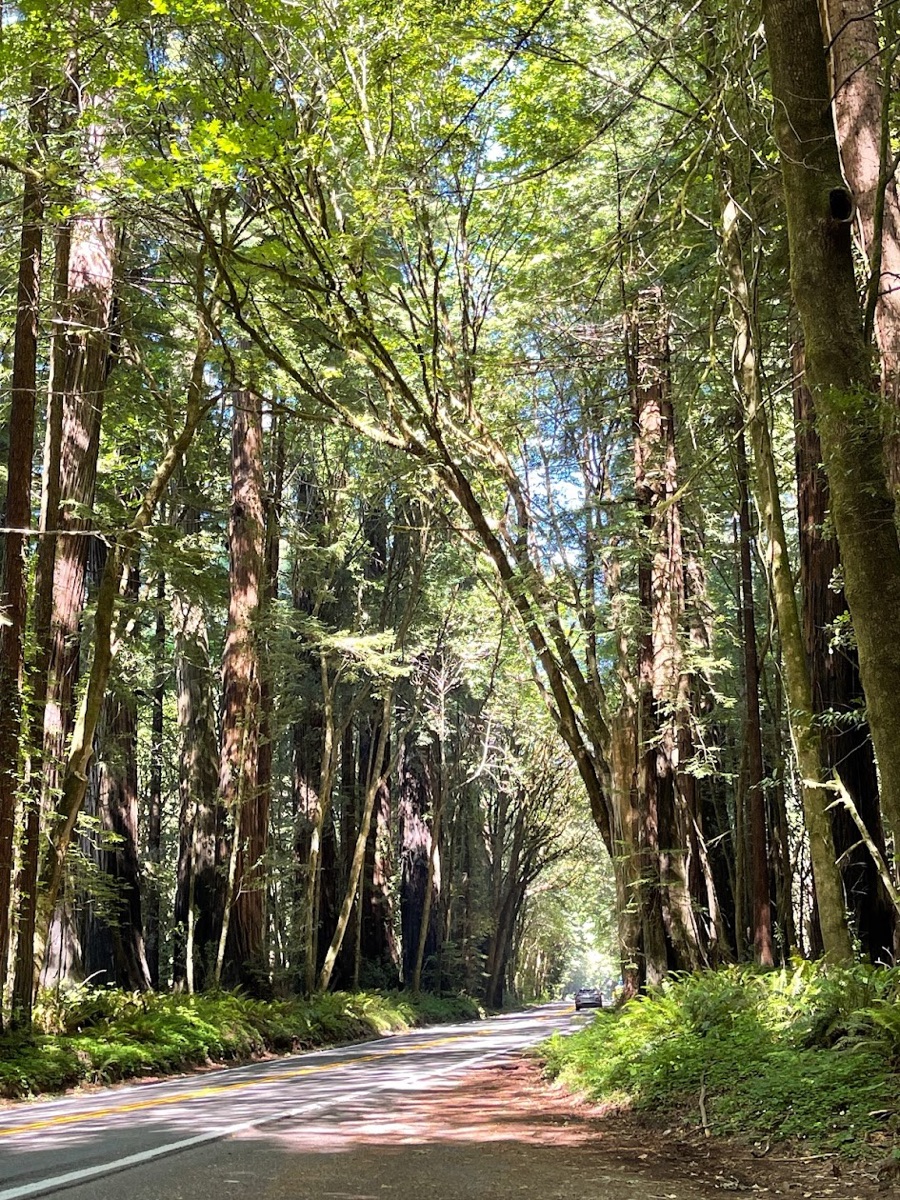 Thirty miles of amazing sights

The road was narrow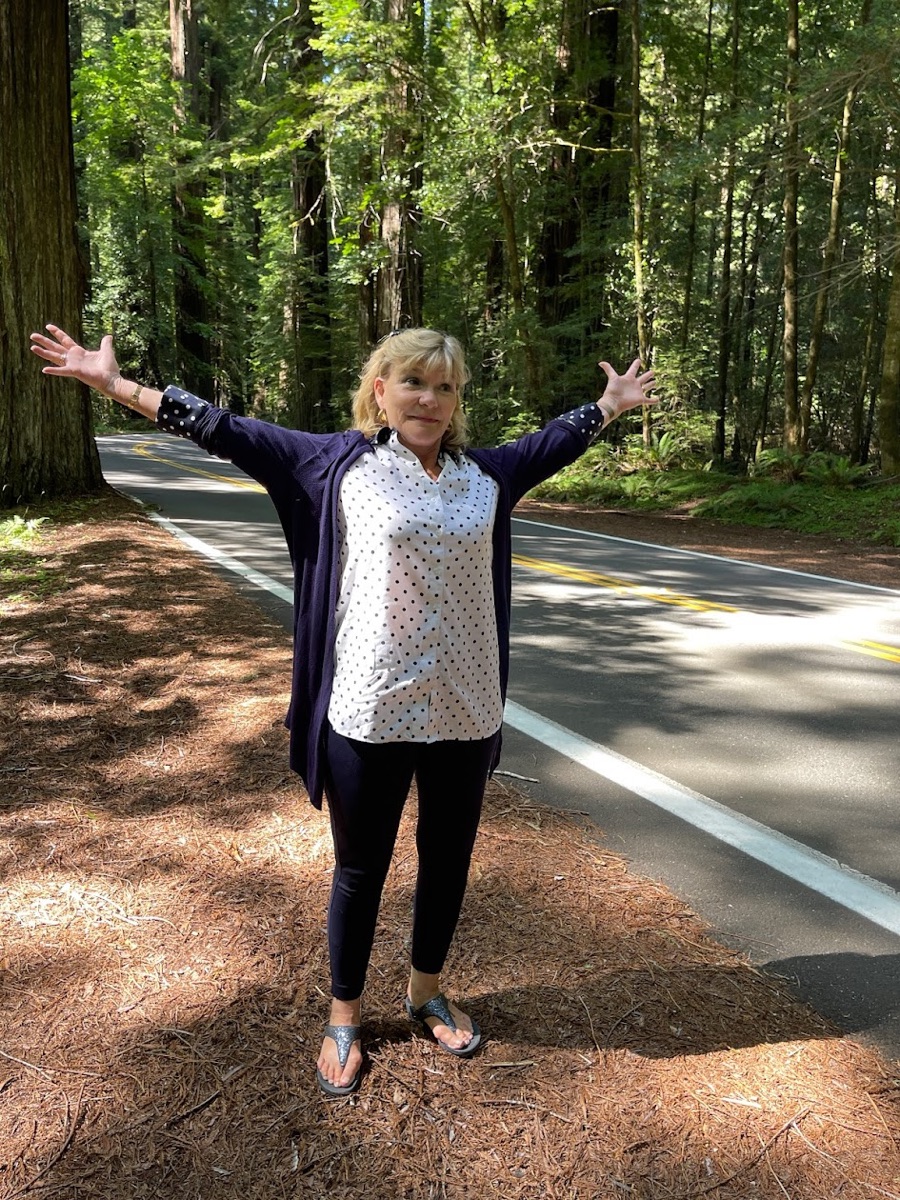 How big was the tree, Mary?

How big??

We are headed for Santa Rosa next.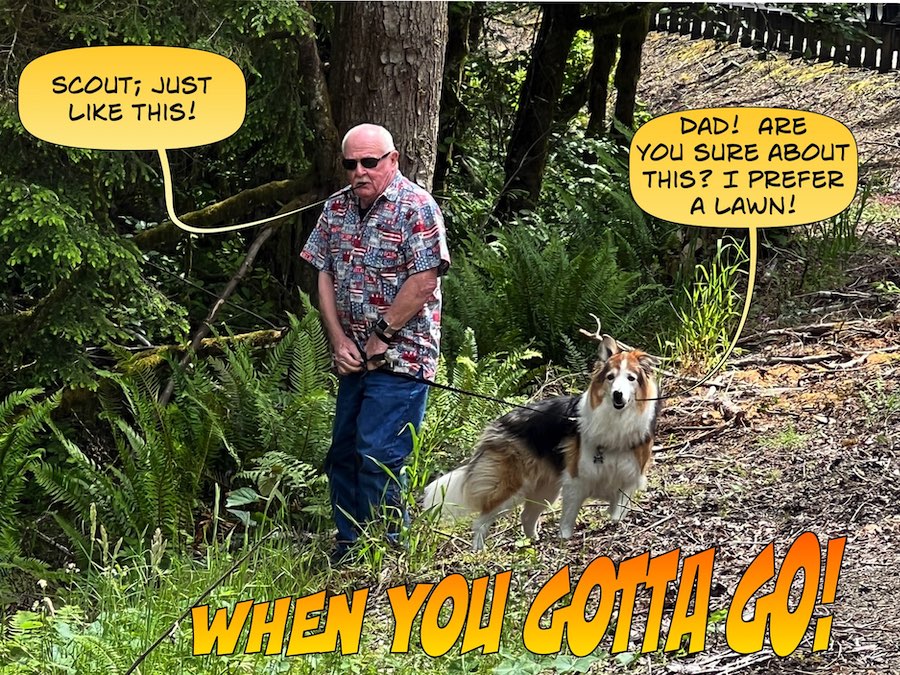 Scout is such a city dog!!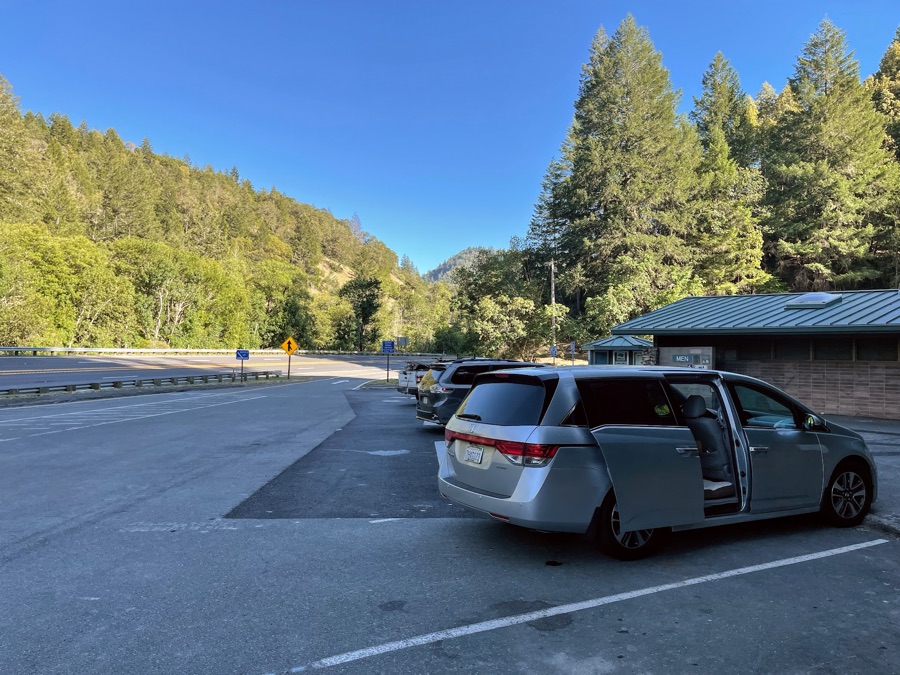 The last stop before Santa Rosa. Scout and I stayed in the car.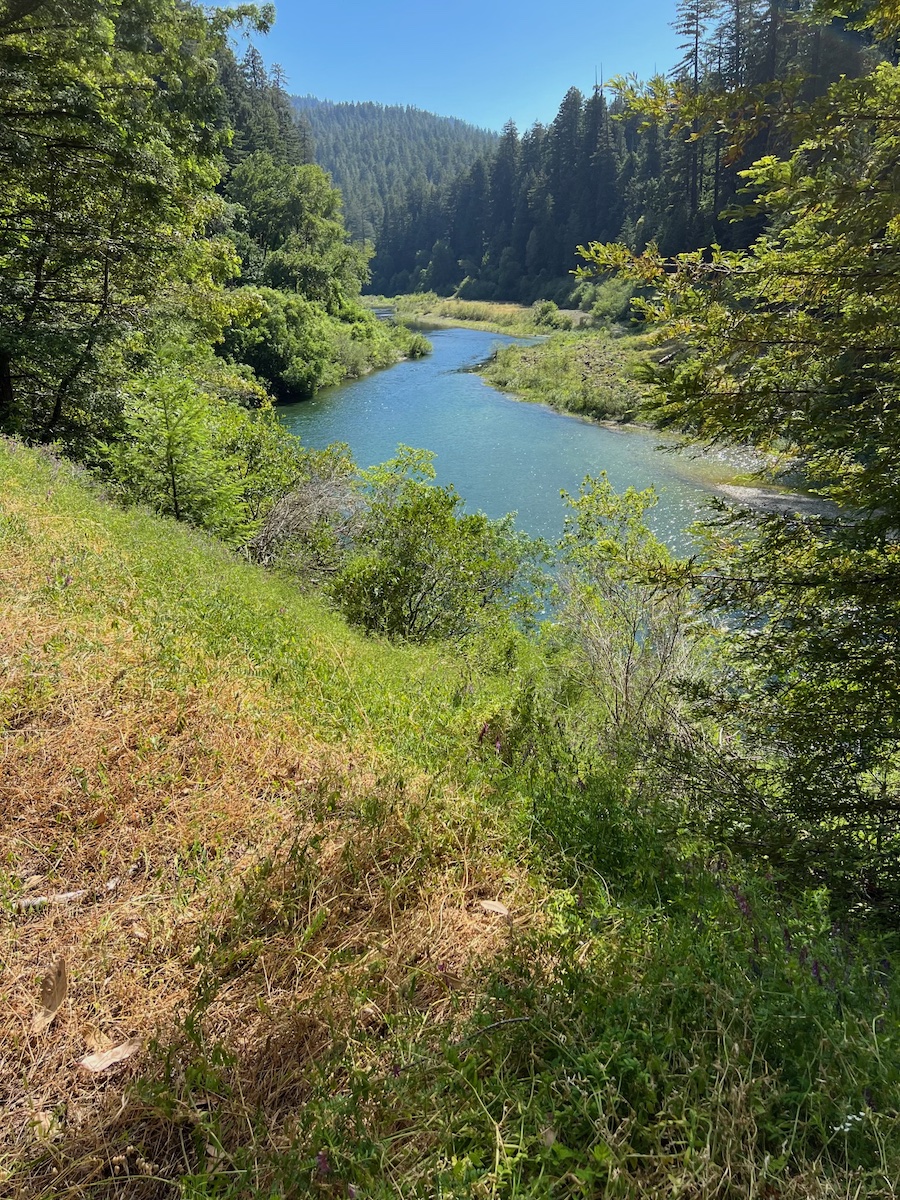 It was an amazing drive.

Santa Rosa (Spanish for "Saint Rose") is a city and the county seat of Sonoma County, in the North Bay region of the Bay Area in California.[9] Its estimated 2019 population was 178,127. It is the largest city in California's Wine Country and Redwood Coast, as well as the fifth most populous city in the Bay Area after San Jose, San Francisco, Oakland, and Fremont; and the 25th most populous city in California.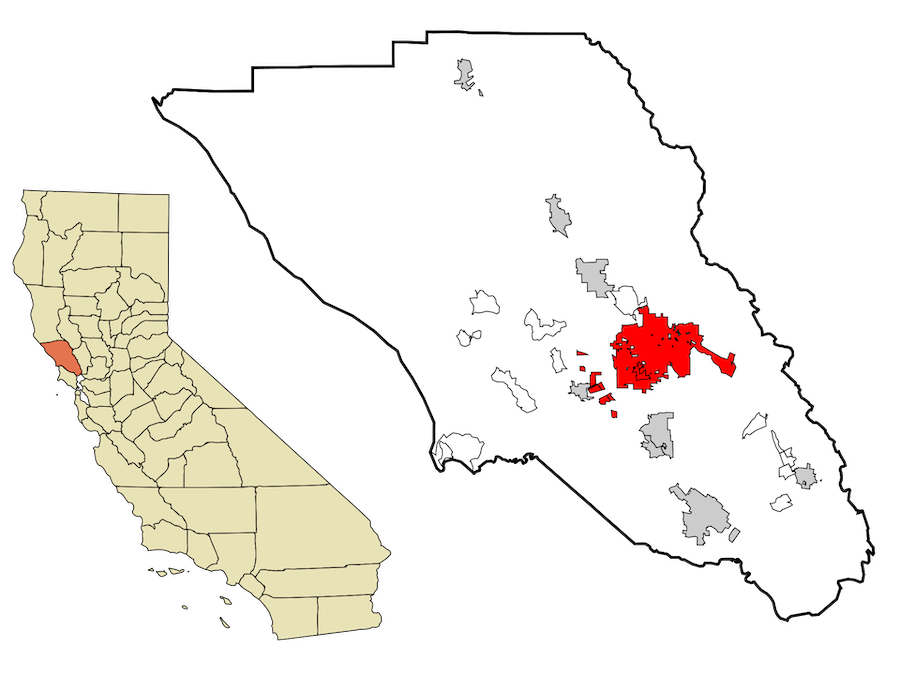 We planned to go out to eat but we were tired so we went to the bar and had a drink plus buffalo wings, three meatballs, and some hummus with veggies for dipping. It was a feast.
It was dark so we did not take any pictures.
We did not even turn on the TV; we were pooped.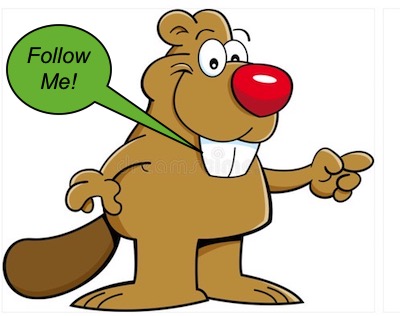 Do you speak Danish?