Day 1 - We Are Off To Sacramento Where It Is Hot!
We departed bright and early!, prior to 6:00 AM! We took 57 north to the 210 to avoid downtown LA since Biden was in town; great place to be far away from!
After hours on the road we had to eat so we stopped at the Scottish Restaurant in Gorman on the ridgeroute. It's called McDonald's. We did not want to leave the baby alone so we got our breakfast to go.
We pulled up in front of a small school and parked in the shade and devoured the delightful breakfast. Mary ordered the breakfast Mac's "well done". They were, the buns were burnt. We tried the McLatte and it too was less than desirable.
Today's good mood is sponsored by coffee. Or as Mary says, "Sometimes I go hours without drinking coffee. It's called sleeping."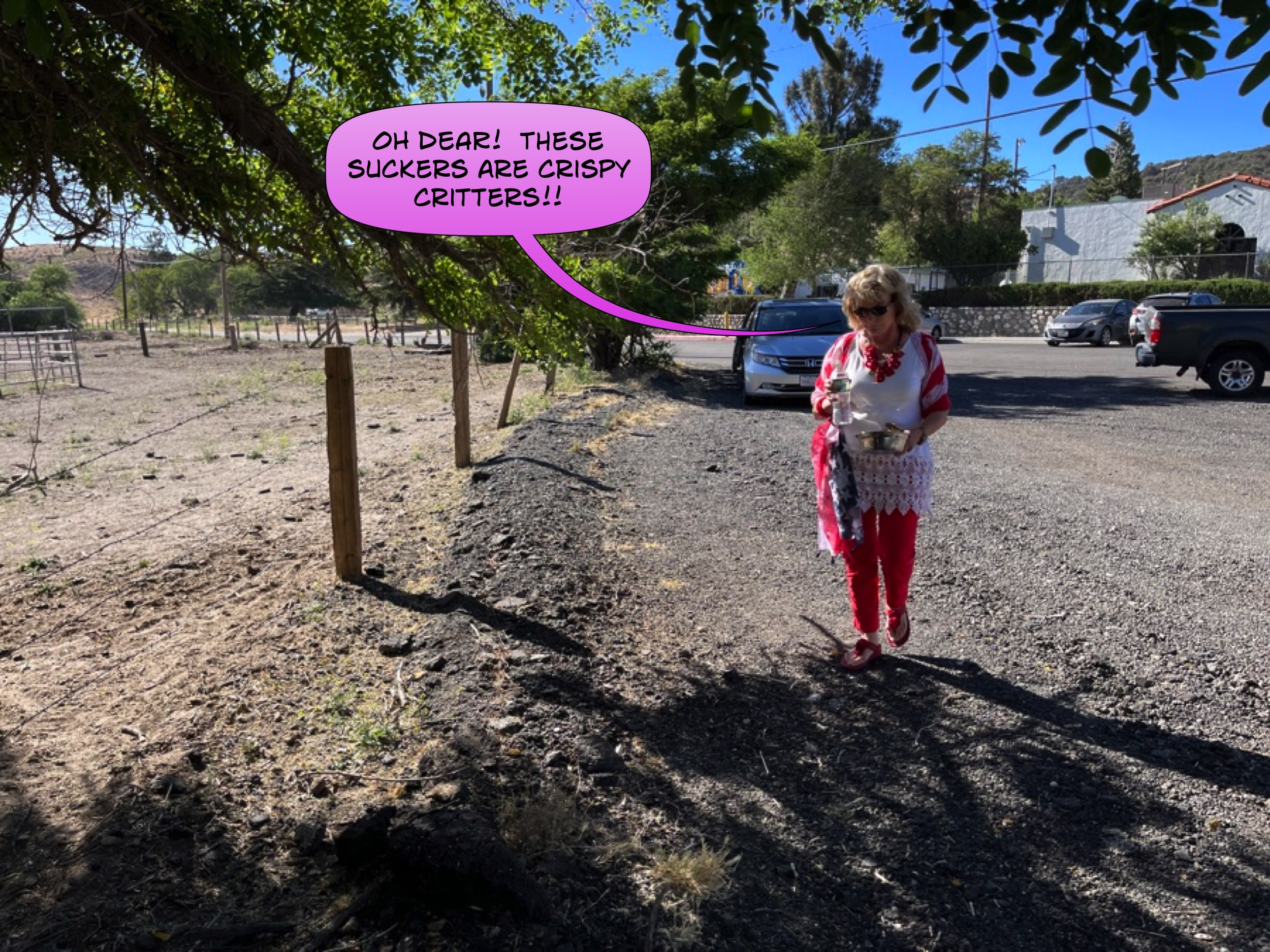 Mary came over with a nice bottle of water for the baby!
Is Scout spoiled or what?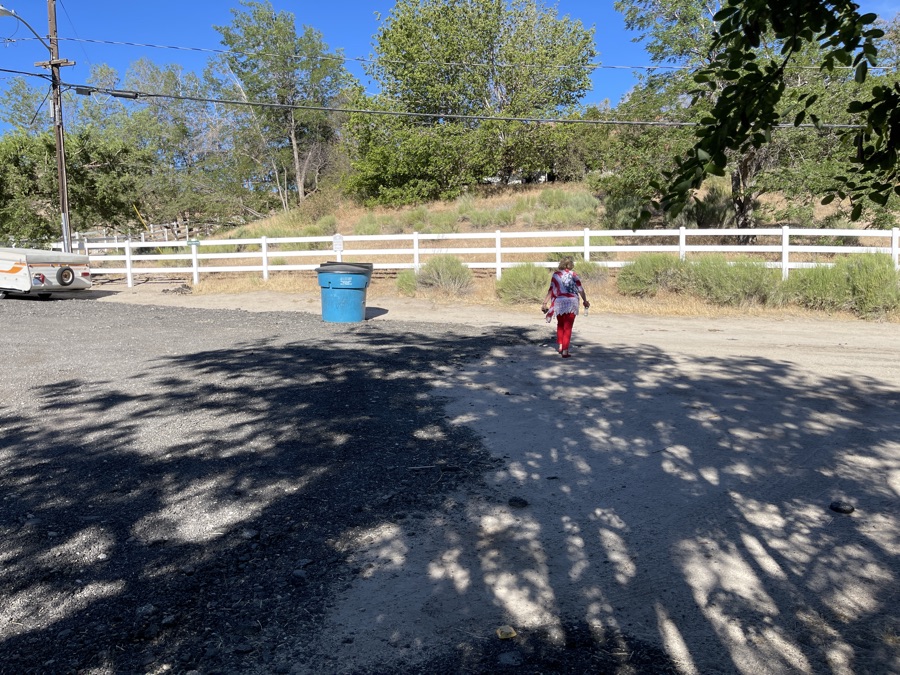 The trash cans were handy!
Scout had some friends but he was not interested in them! Then Scout told us a funny, "Where do horses go when they're sick? The horsepital".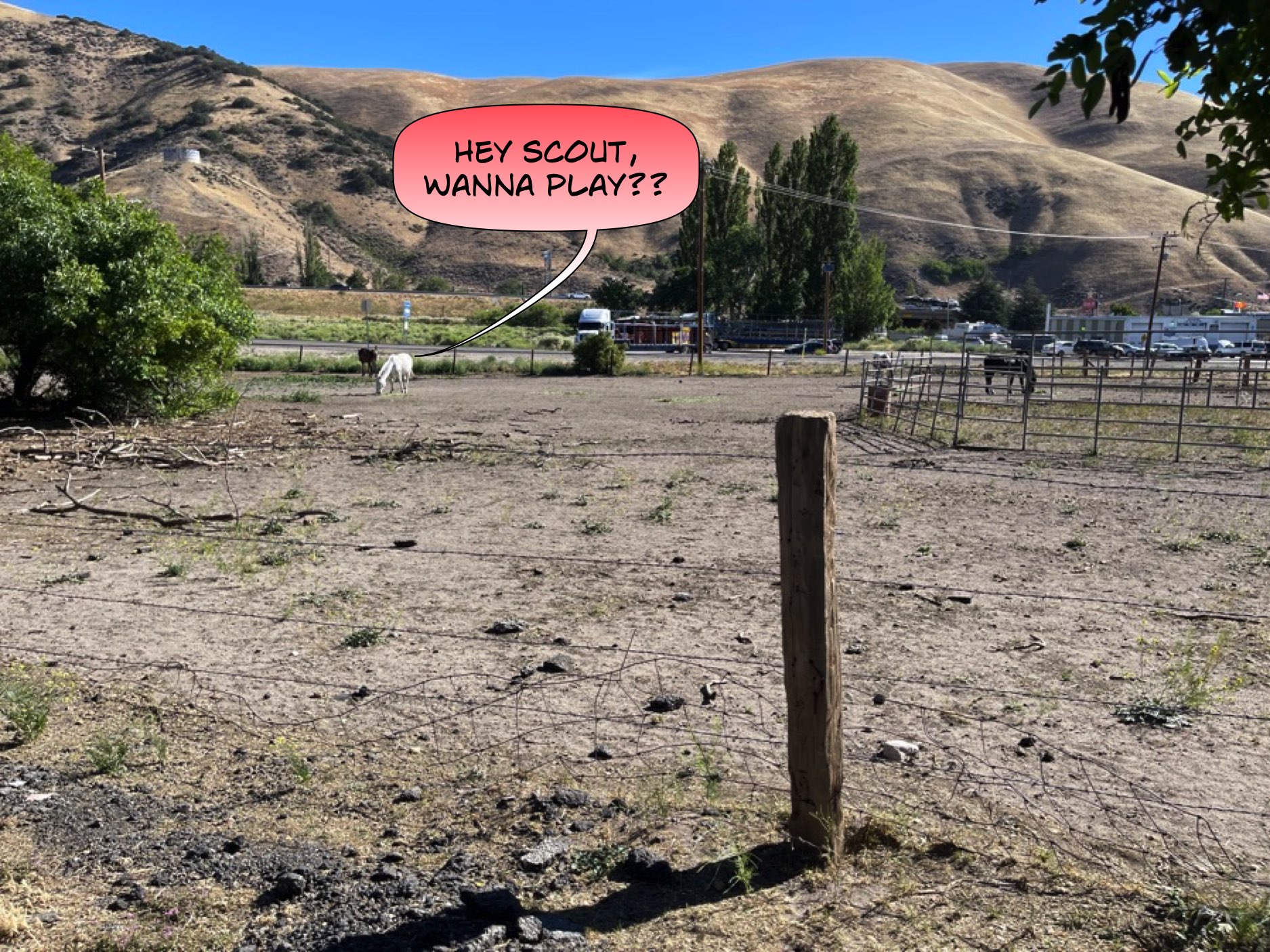 The horses were enjoying their breakfast!
We headed down the Grapevine and went to Harris Ranch; a secret location only known to Mary and Dianne. We, of course, let Scout out to scout. One minor piddle and he was ready to go!
Did You Know? The Harris family's commitment to agriculture spans over 100 years, four generations, and four states, from Mississippi to Texas, to Arizona, and eventually into California. The Fresno County farm has been under continuous family operation since 1937. Since its founding, Harris Farms has grown into one of the largest agribusinesses in the nation.
In the late 1880s, the Harris family moved from Mississippi to Texas. In 1916 J.A. Harris and his wife, Kate, arrived in the Imperial Valley to establish one of California's first cotton gins as well as other cotton-related businesses. They later farmed in the San Joaquin Valley in the 1920′ s and moved up to the Sacramento Valley where their only son, Jack Harris, graduated from Chico High School in 1932, prior to attending Cal Poly in San Luis Obispo.
In 1937, their only son, Jack, and his wife Teresa, began what is now known as Harris Ranch, starting with a previously unfarmed 320 acres of desert land on the Valley's Western edge. With vision and determination, Harris Ranch has grown into the most integrated, diversified, and one of the largest agribusinesses in the United States.
Beginning with cotton and grain, Harris Ranch now produces over thirty-three crops annually, including lettuce, tomatoes, garlic, onions, melons, oranges, lemons, almonds, pistachios, walnuts, and wine grapes. Harris Farm's thoroughbreds are raised and trained to compete internationally.
Under the leadership of Jack's only child, John Harris, the Harris name has probably become best known for producing the finest beef, which retails under the Harris Ranch Beef label and brand. In 2018, Harris sold its highly acclaimed beef operations, including Harris Feeding Company and Harris Ranch Beef Company

Harris ranch had some neat decor in the doggie bathroom.
Mary went in and checked; the baby could go into the store but not the restaurant.

She gave us the news; Scout was heart broken. He had to stay outside.
We went inside the store with Scout. HIs nose went wild at all the extraordinary smells.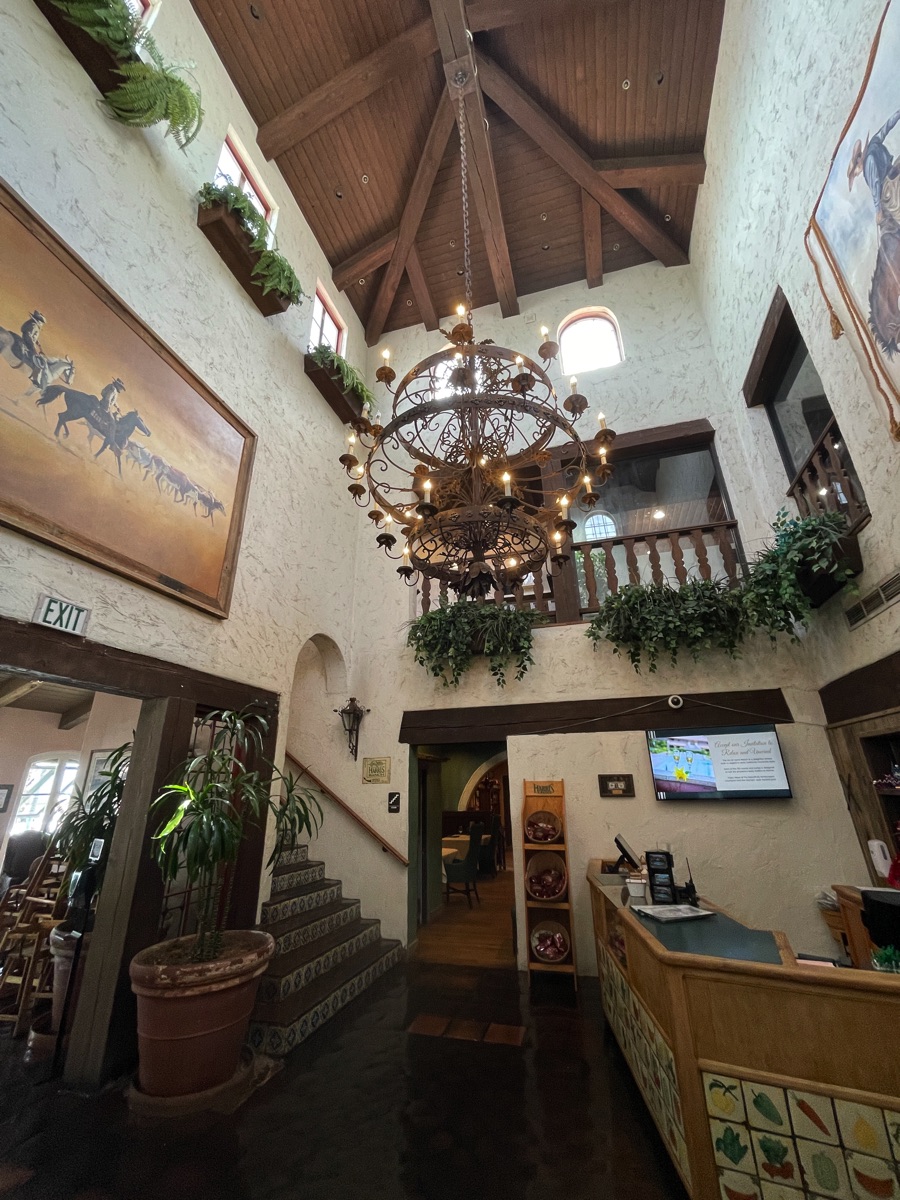 Wonderful entrance!
The restaurant and store was decorated up for Memorial Day and Independence Day.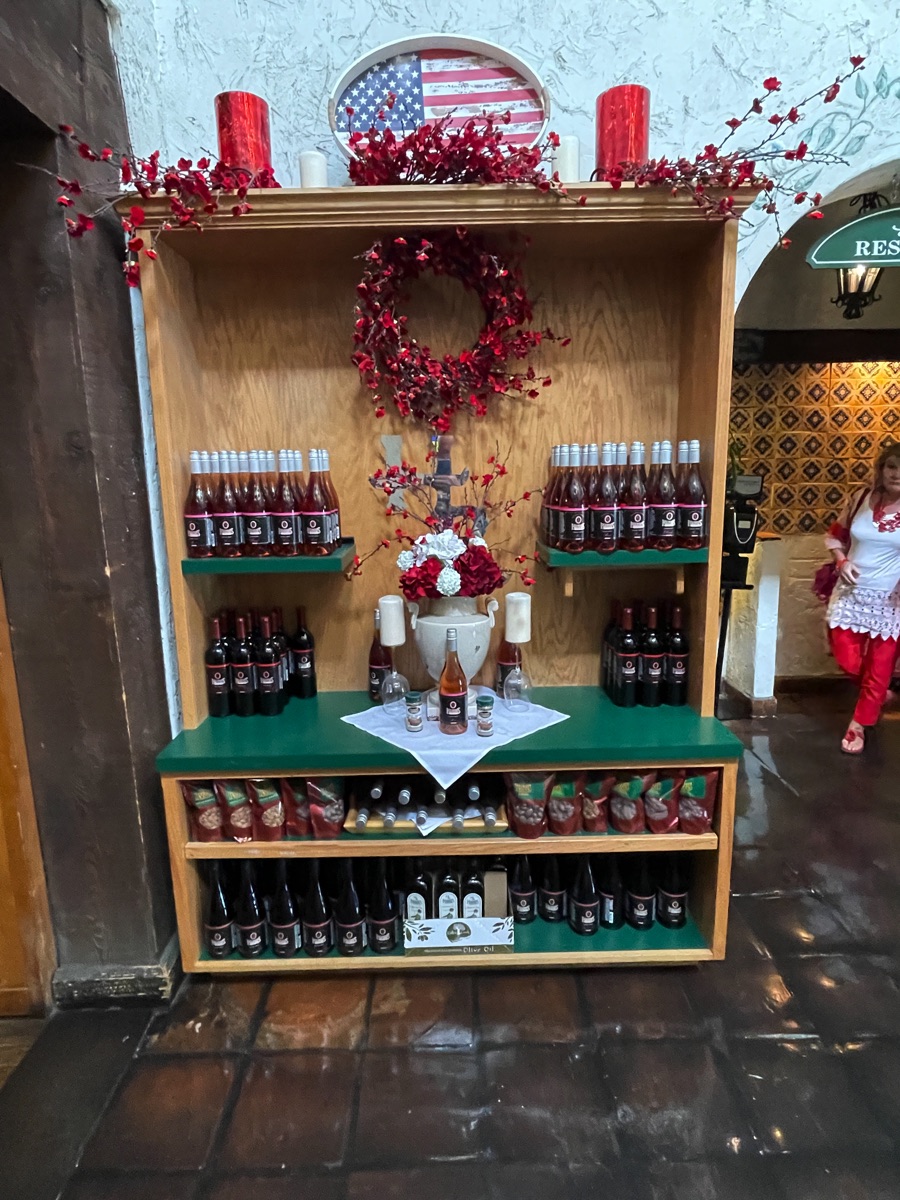 Did someone say wine???
The place was spotless and cool; it was in the 90s outside.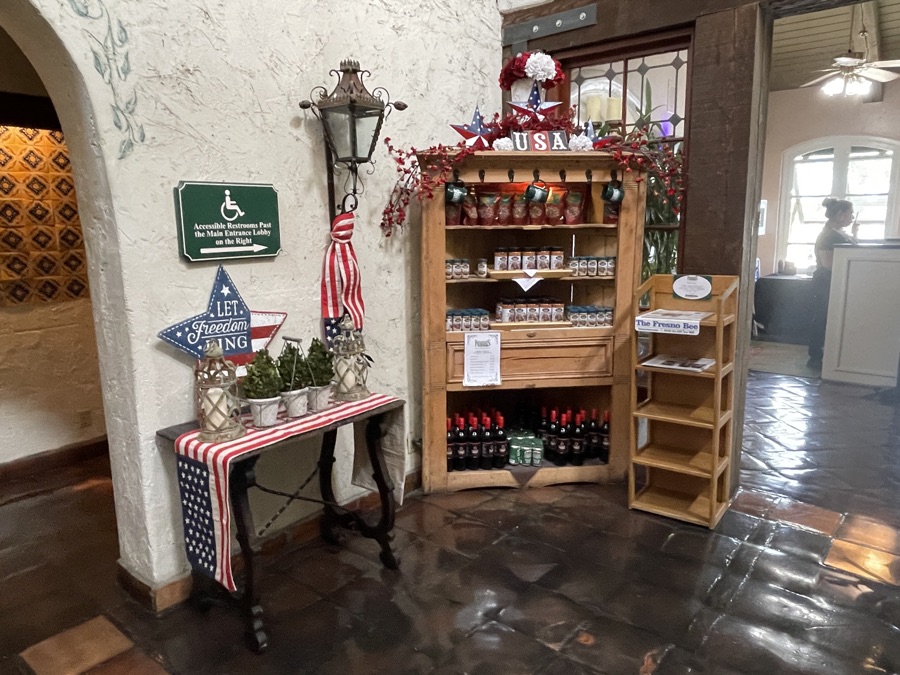 Ready for July 4th
We walked around in the store with Scout for quite a while; Scout was not sure what was happening.

The store was amazing!
They do have beef! We had a burger to go and the patty was fantastic.

Did someone say meat?????
We had to wait in the restaurant for our order so I took Scout to the car, started the car, turned on the air conditioning full blast and told Scout to bite anyone whjo comes near!
Scout stayed in the Gray Ghost, seen in the center of the picture, while we awaited our meal. I let the engine idle and ran the air conditioning so he was just fine!

Scout waited patiently in the ultra-air-conditioned van!
While our "to-go" order was being prepared, we had a drinkie-poo!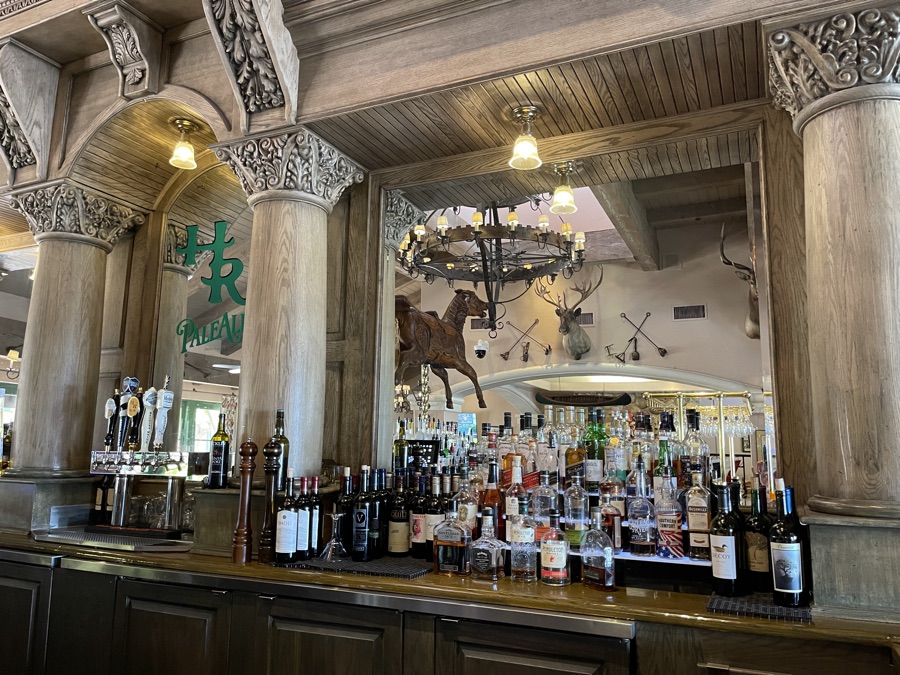 Nice bar!
The waitress snapped our picture and of course cut off our feet.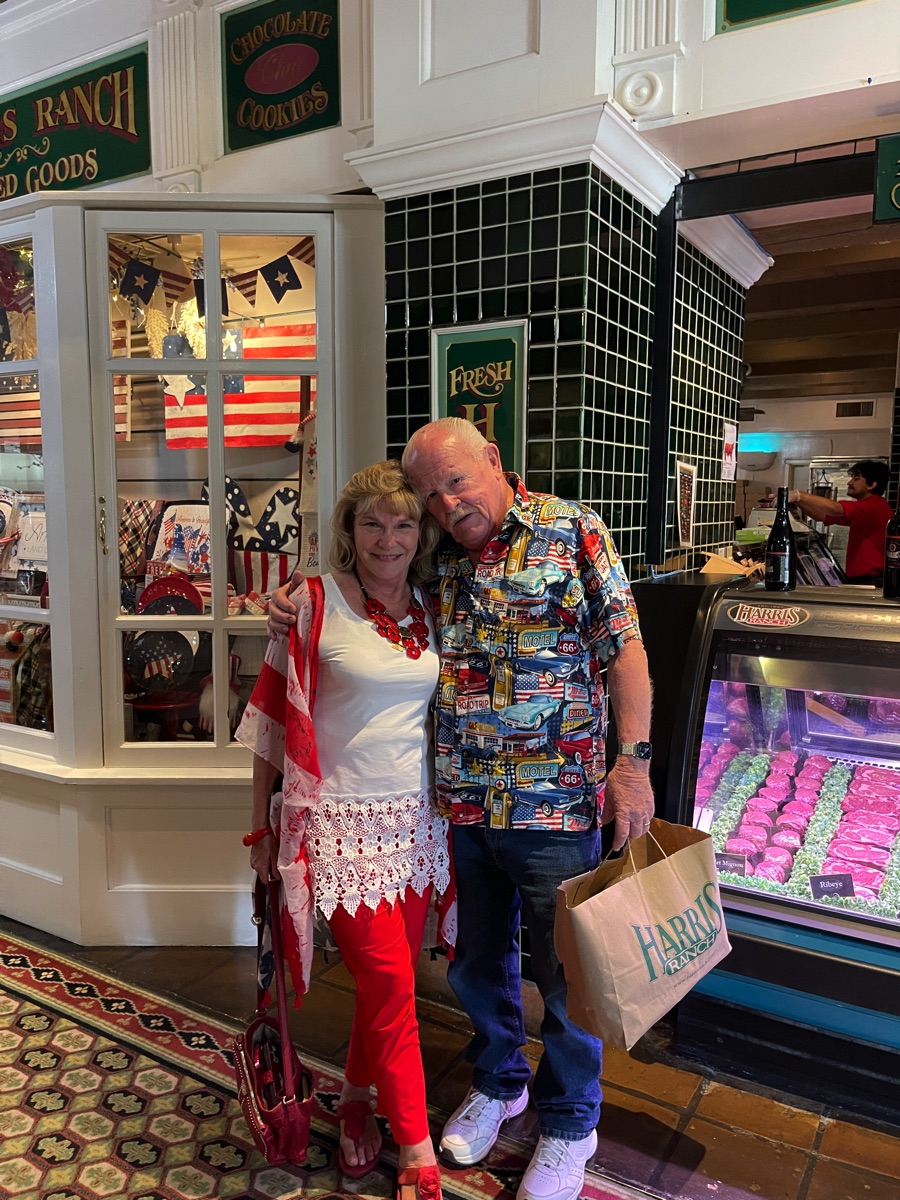 Just us!!!
Scout invited us to dine with him outside in the 95 degree heat!

CHOMP!
We stopped for gas as we had a 1/4 tank remaining! 16 gallons was $110????? Thank you Joe!!!

We are 90 minutes from Sacramento!
Our hotel was at 300 J Street which is one short block off the I-5 Highway; it was super easy to find.

We may drive by the railroad museum but the temperature made it impossible to leave the baby!
Did You Know? The railroad museum has its origins in 1937, when a group of railroad enthusiasts in the San Francisco Bay Area formed the Pacific Coast Chapter of the Railway & Locomotive Historical Society. This organization worked for years to promote the idea of a railroad museum, donating 30 historic locomotives and cars to the California Department of Parks and Recreation to be the nucleus of a State-operated museum in Sacramento.

The Museum's first facility, the Central Pacific Railroad Passenger Station, opened in 1976. The Railroad History Museum was completed in 1981. Steam-powered passenger train service on the Sacramento Southern Railroad began in 1984, with the Central Pacific Railroad Freight Depot opening three years later.

Railtown 1897 State Historic Park in Jamestown was added to the Museum complex during 1992. The museum became a Smithsonian affiliate in June 2017.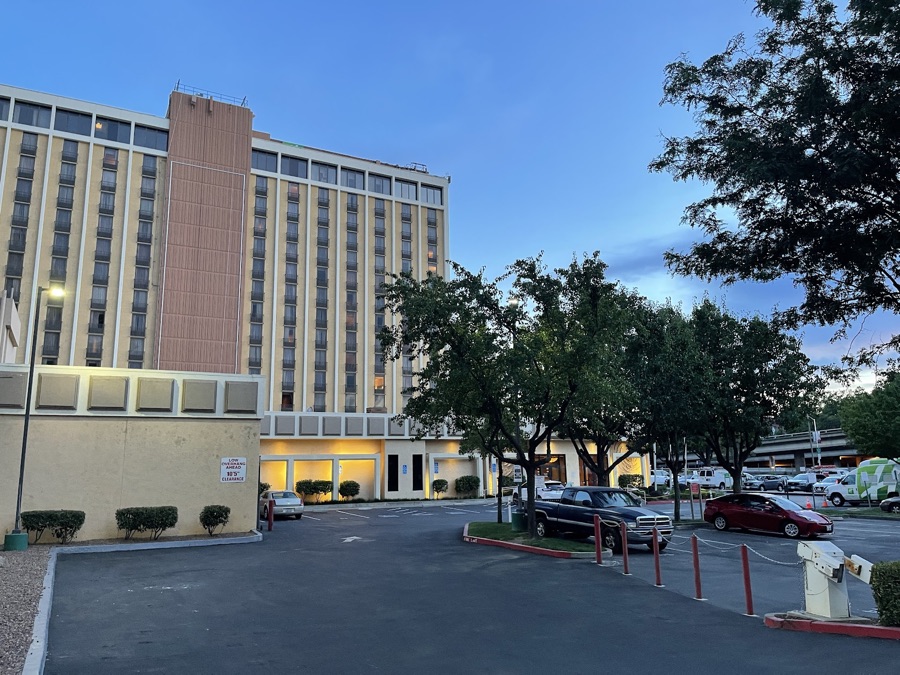 We pulled in, checked in, and then spent thirty minutes attempting to park!
It is 4:00 PM, that's 5:00 PM American; Mary and I went to the dining room/bar with Mr. Scout in tow! Many visitors thought him "beautiful". His trip to the hair parlor paid off.
We parked the car and walked to our room! We then walked to the bar downstairs where Scout was carded. He could go to the bar so we had dinner there. Mary did a salad and I did Salmon.
We talked to the waitress and she was so nice, she gave us an extra glass of wine! Scout is a real charmer!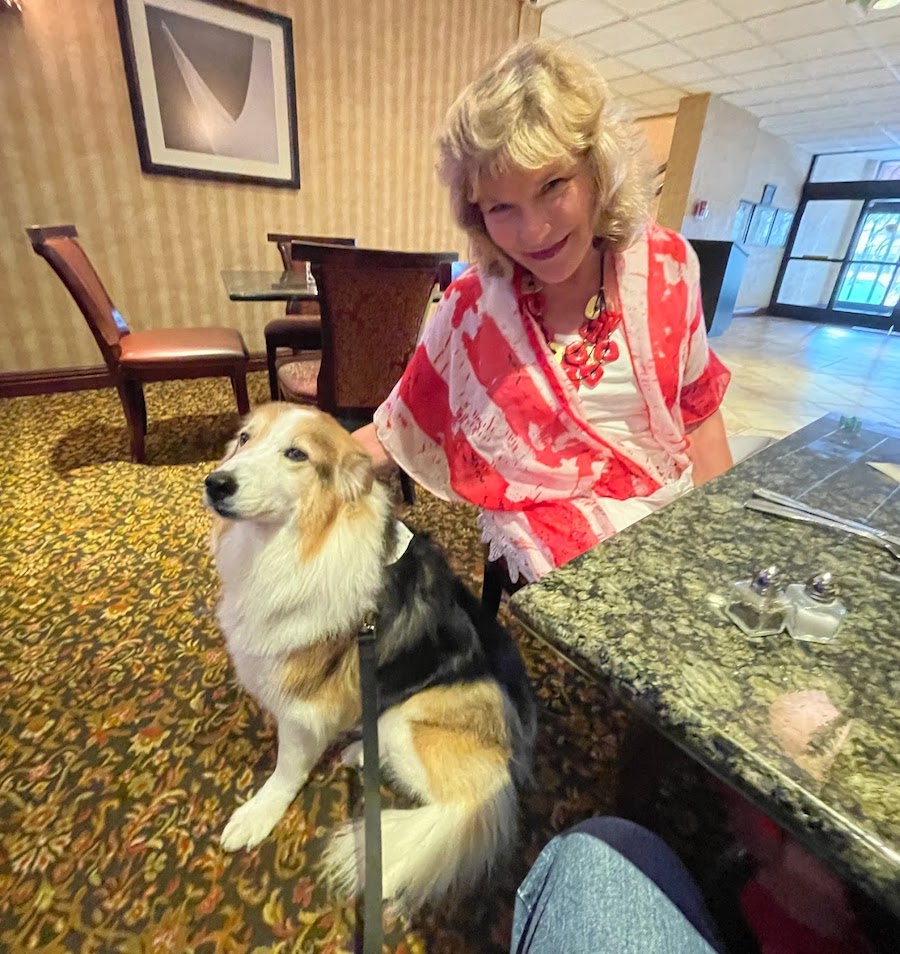 Scout was well behaved and made friends with several people!
Before heading back upstairs, we went to the car to get some last minute things. Mary wore her new hijab just in case we were attacked by a group of wacko rag-heads.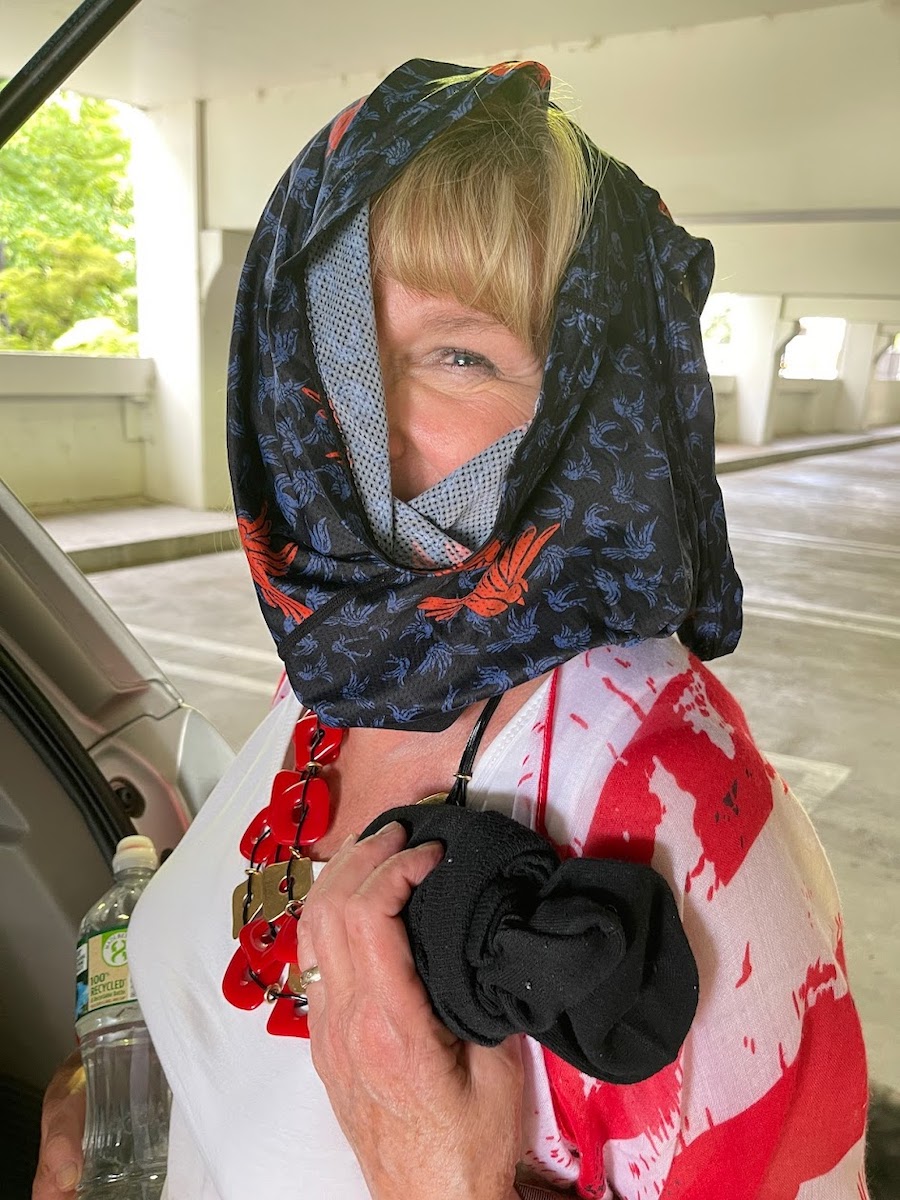 Looks pretty good!
Back at the room we watched an old Top Gun movie and before crashing. Before crashing means Scout had to go find the loo.

We walked around the building.
There were so many new smells Scout's nose went into overdrive! I thought I may have to pour water on the nose to cool it down!


The hotel is two blocks from the capital.
Everyone he passed remarked how beautiful he was. There will be no living with him the rest of the trip!

He likes showing off his new hair doo!
It was beginning to get dark and Scout and I decided to go inside.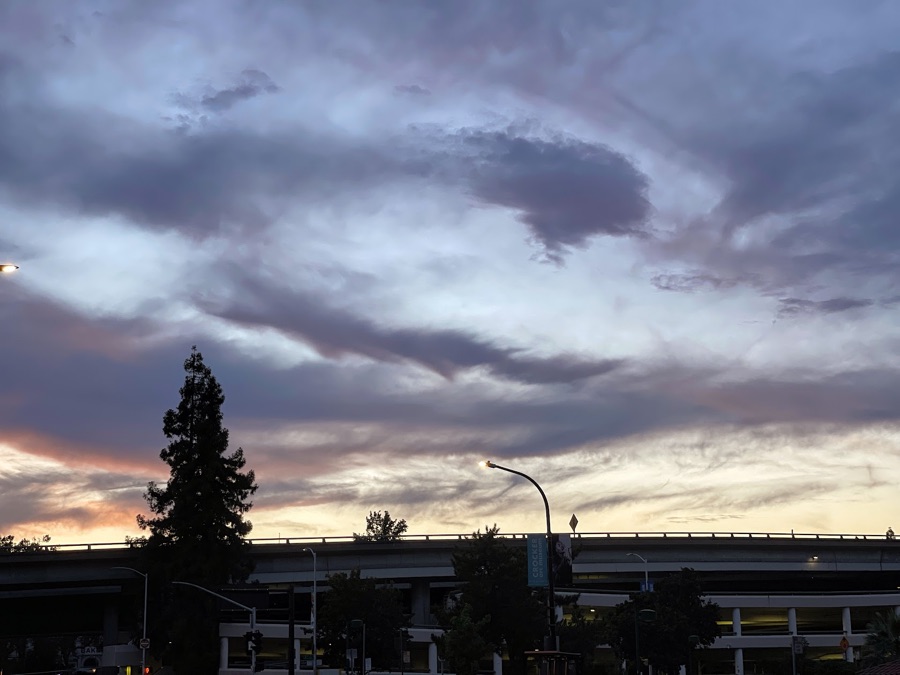 See you in the morning.
Tomorrow we have a five hour drive to Medford so we plan to leave early and stop several times.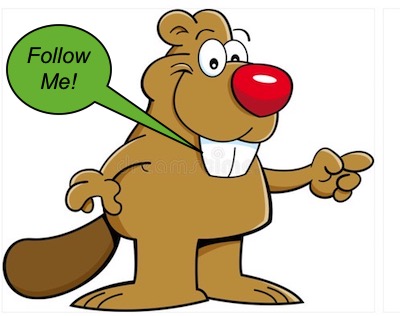 Let's go to Medford, a mere five hour drive.