Day 4 - To Eugene And After Lunch Oregon City
It was a rainy morning but we managed. The receptionist at the front desk called and asked if we had two of anything to put into the ark.
Scout went out about 6:00 AM and could not figure out what the wet stuff was about! I stood under a tree awaiting for lightning to strike. I asked myself, "Why don't sheep shrink when it rains?"
We stopped for gas before getting to I-5.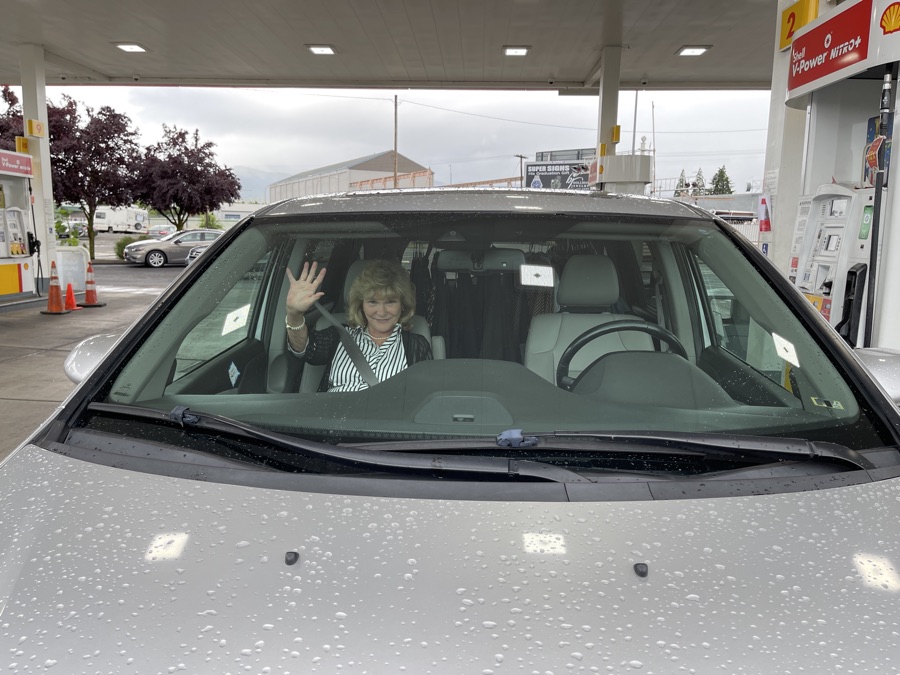 We stopped and got robbed first thing.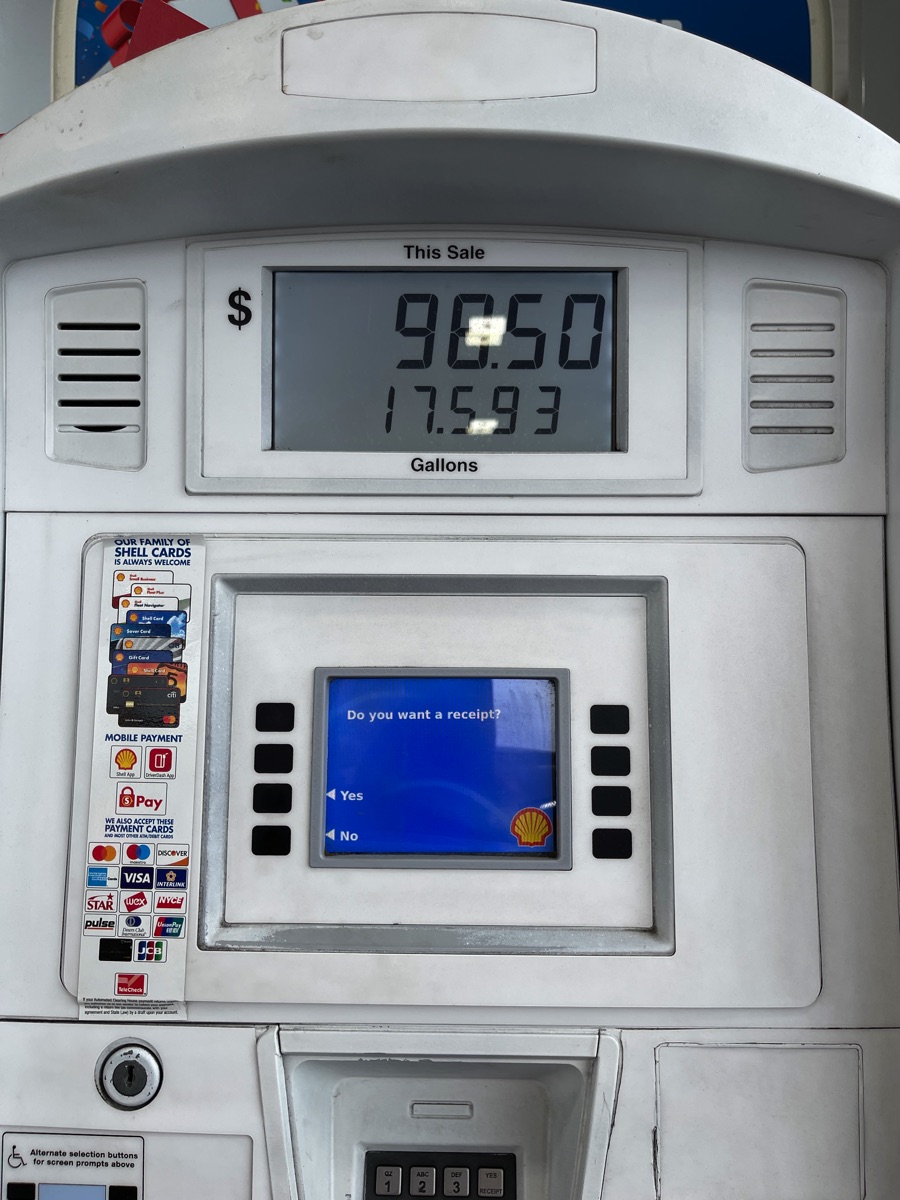 A mere $99 dollars!
Leaving Medford, we first stopped at Sutherland Oregon so Mary could visit Rose who is Dianne's mother.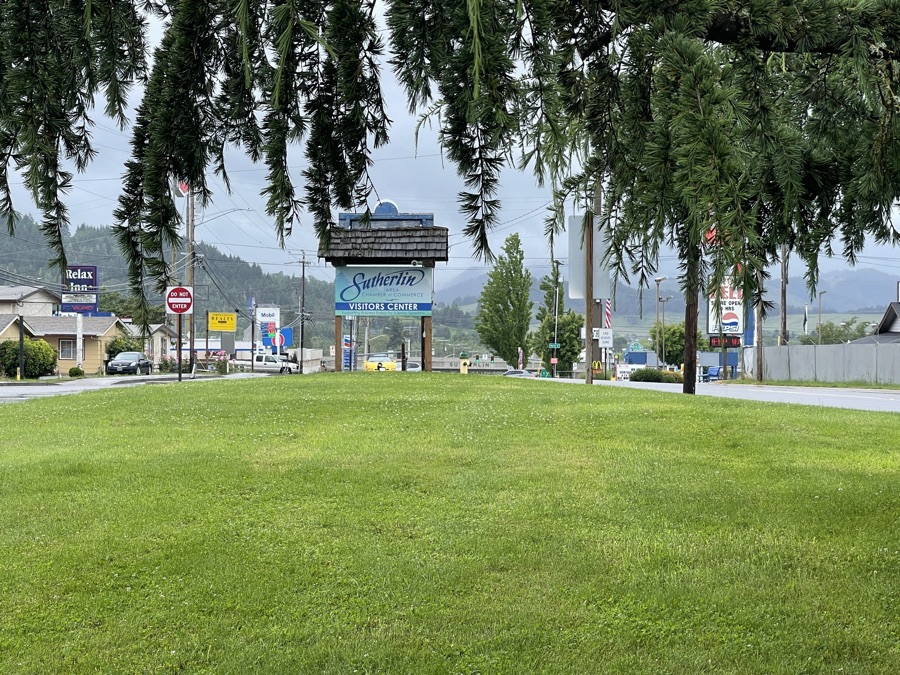 Scout loved the park, it was time for him to run around.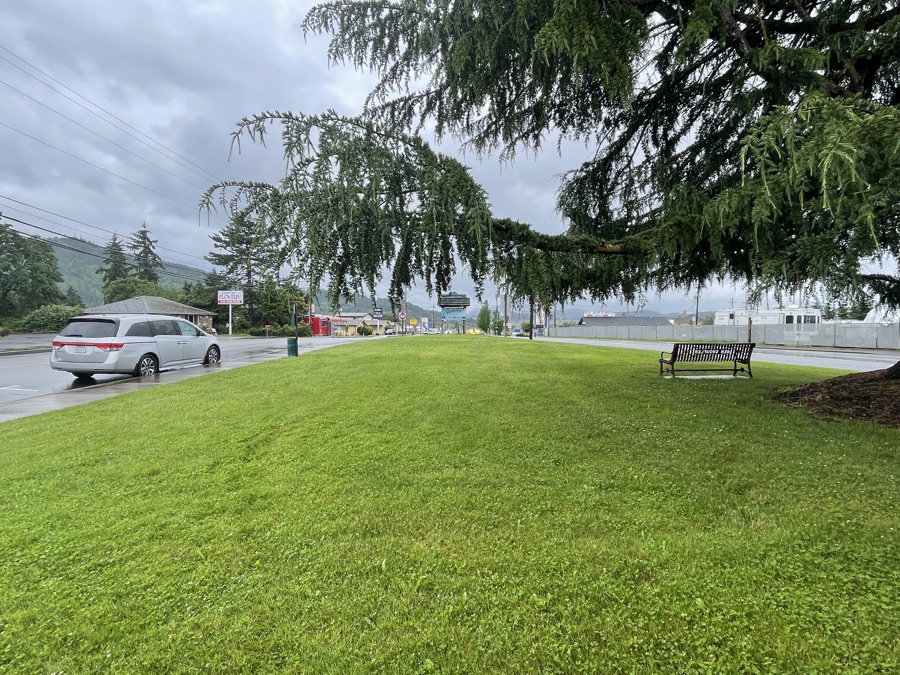 The van was perfect, he did not even have to jump down!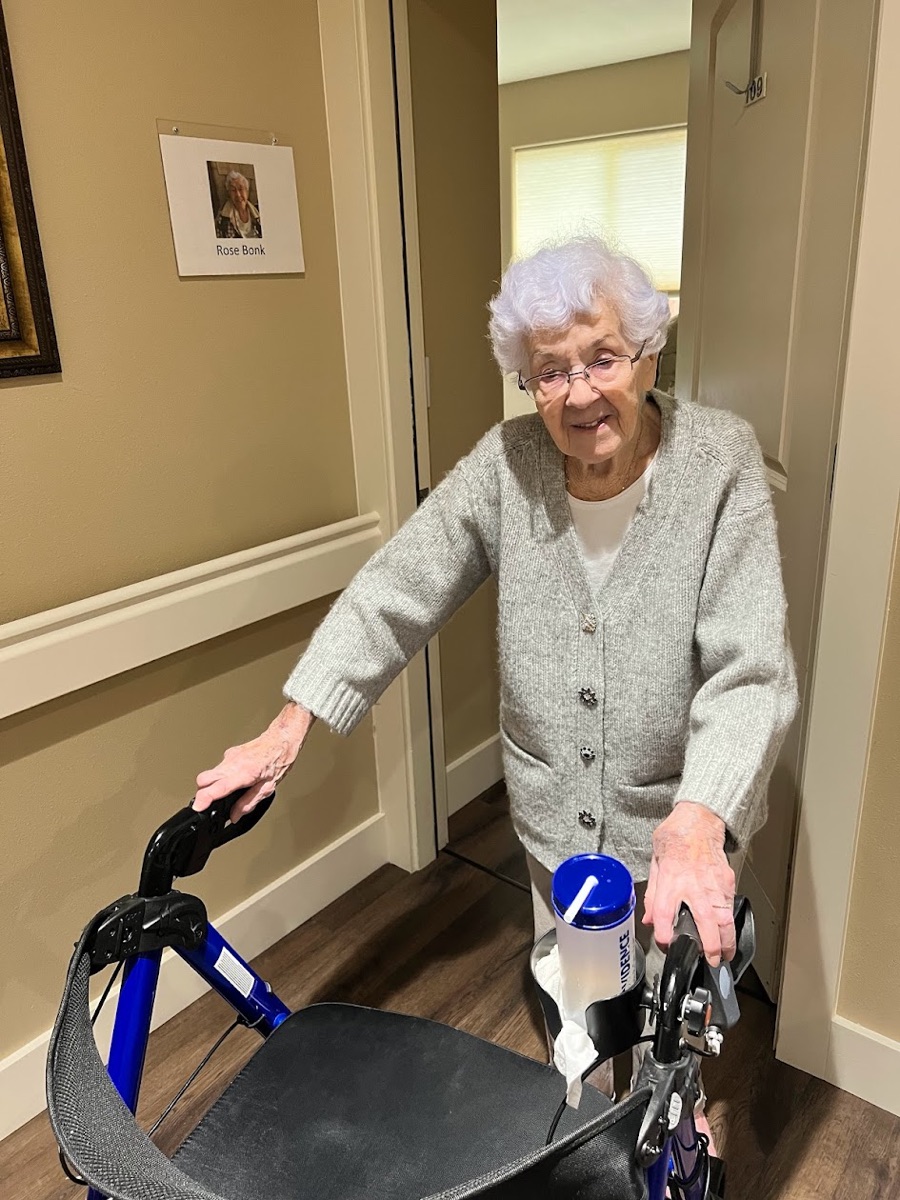 Rose and Mary visited for a while.

They enjoyed their visit and shared stories of how Rose taught Mary to make pies!

We then hit the very wet road on our way to Mary's cousin, Melody, who is in Eugene.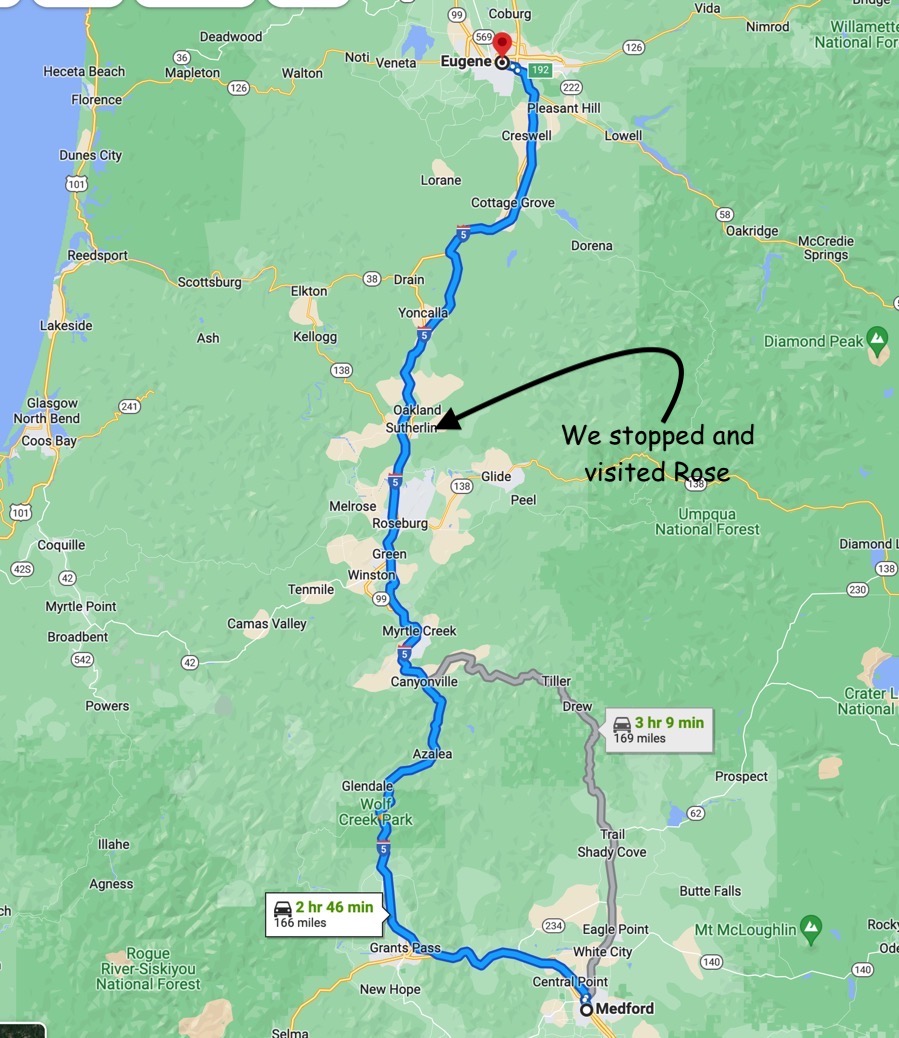 We took almost four hours because of the weather.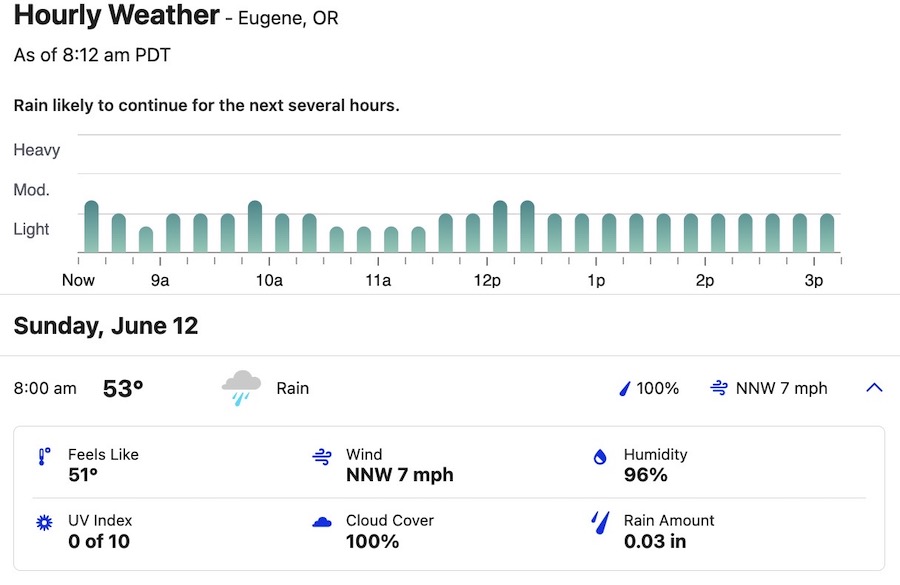 Did You Know? Eugene is a city in Oregon, on the Willamette River. The University of Oregon is home to the Northwest-focused Museum of Natural and Cultural History and the Jordan Schnitzer Museum of Art, known for its Asian collections. The Fifth Street Public Market has cafes and locally owned stores. Green spaces include riverside Alton Baker Park, with extensive trails, and Hendricks Park, featuring a rhododendron garden.
Phil Knight, Nike's current owner, founded the company in 1964 with his track coach at UO, Bill Bowerman. Originally known as Blue Ribbon Sports, the first iteration of the company had Bowerman and Knight simply acting as distributors for the Japanese shoe company, Onitsuka Tiger, by selling pairs out of the trunk of his car at track meets. Bowerman began designing and manufacturing his own track shoes using a waffle iron, eventually forming his own company with Knight in 1971 after their relationship with Onitsuka Tiger ended.
I used to get bummed out when it rained; then I realized that it's God's way of washing off hippies. I-5 goes right through the center of town.

Eugene City Map
Rivers and streams wind their way through the city of 110,000 people.

Water everywhere!

We thought we would get just a little rain; WRONG!
We then hit a very wet road on our way to Mary's cousin who is in Eugene.
We visited Mary's real cousin Melody and her husband Paul. Melody was kind enough to offer Mary a hope chest that belonged to Mary's real grandmother. We placed it in hour home in a place of honor!
What is a hope chest? (Or rather, what was a hope chest?) The term tends to connotate a lot of different ideas and notions (it's that "old thing" from the 19th century, right?), but have you ever thought about the actual history of the design, what it means and why it once flourished and is now all but perished? Something as simple as a piece of furniture might not seem that exciting, but, as it turns out, the hope chest has quite the history. Here, we take you through its journey – and give you our argument for looking at it in a whole new way.
Historically, hope chests were large trunk chests that mothers would pass on to their daughters. Oftentimes, a mother would start preparing a hope chest from the time her daughter was a young age and slowly build the collection as the years went by.

The chests contained many of things that were considered "essentials" for a young woman about to start a new life in marriage; things like silverware, china, linens, clothing and jewelry. It was also standard practice to include family heirlooms and mementos. Things like albums or photographs, letters or treasured objects passed down through the generations that may not have much monetary or practical value – but in which the young woman could find comfort.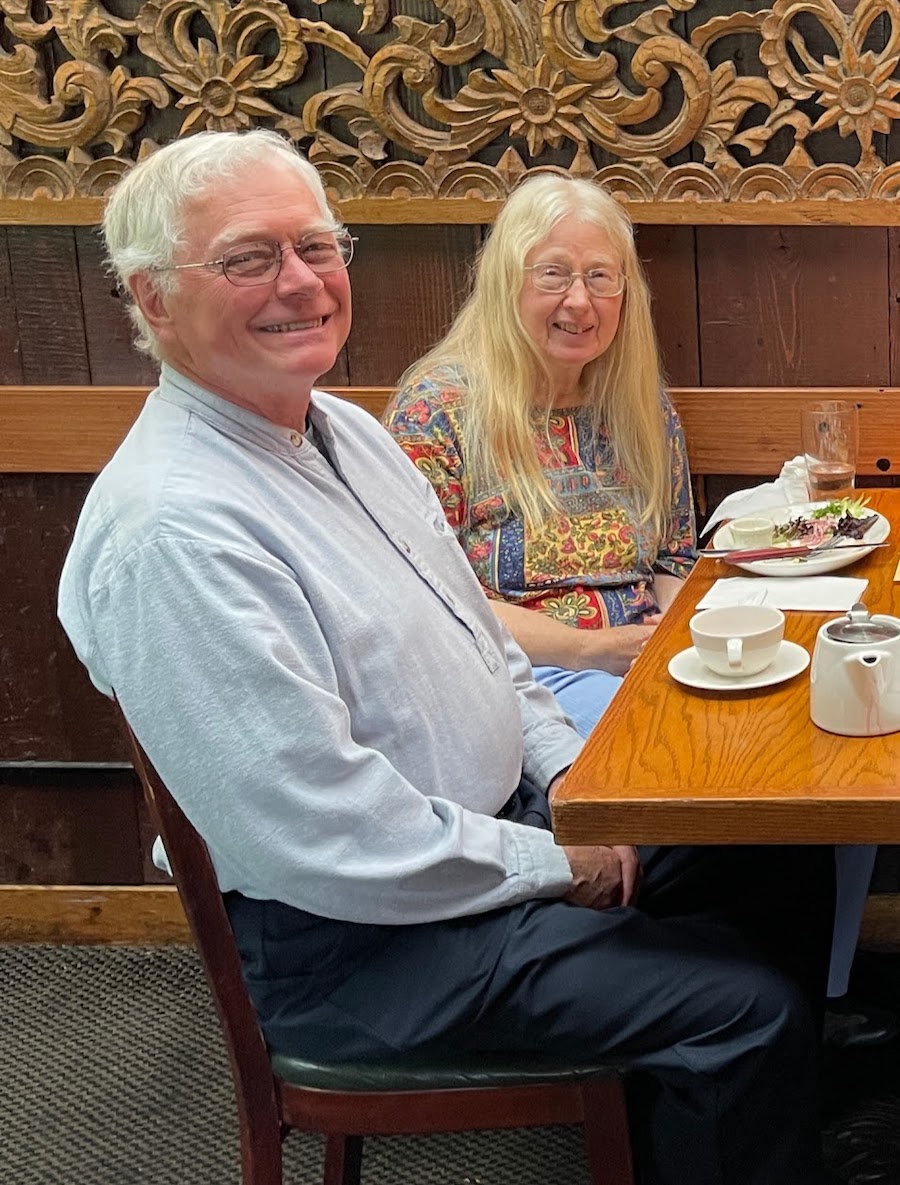 Paul & Melody
Melody and Paul are gardeners and we took the $2 tour! I think it was the $1,000 tour as I learned a lot of new things. Paul has been gardening in this plot for forty plus years.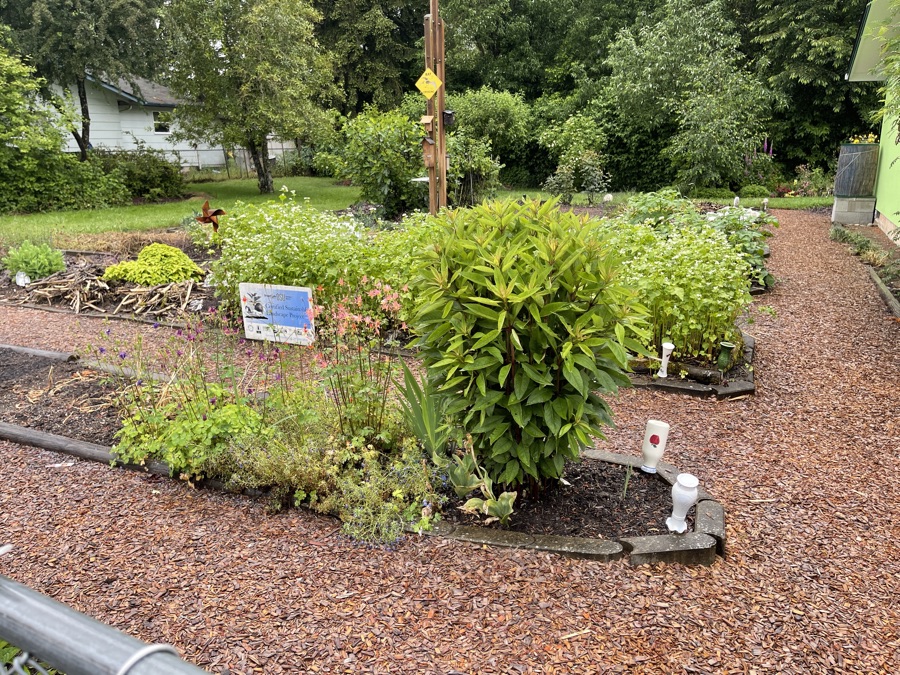 The milk containers are used to keep the hoses from hitting the plants. The roll as the hose passes by, great idea!
The sign in the garden below says, "Bat House" and indeed there are baby bats living there. This is wonderful as they catch their own weight in bugs/insects.
Did You Know? Bats can greatly reduce the population of mosquitoes and other bothersome insects that ruin your backyard activities, such as moths, wasps, beetles, gnats, midges, and mayflies. A single bat can consume more than 1,200 mosquito-sized insects per hour, usually eating 6,000 to 8,000 bugs each night!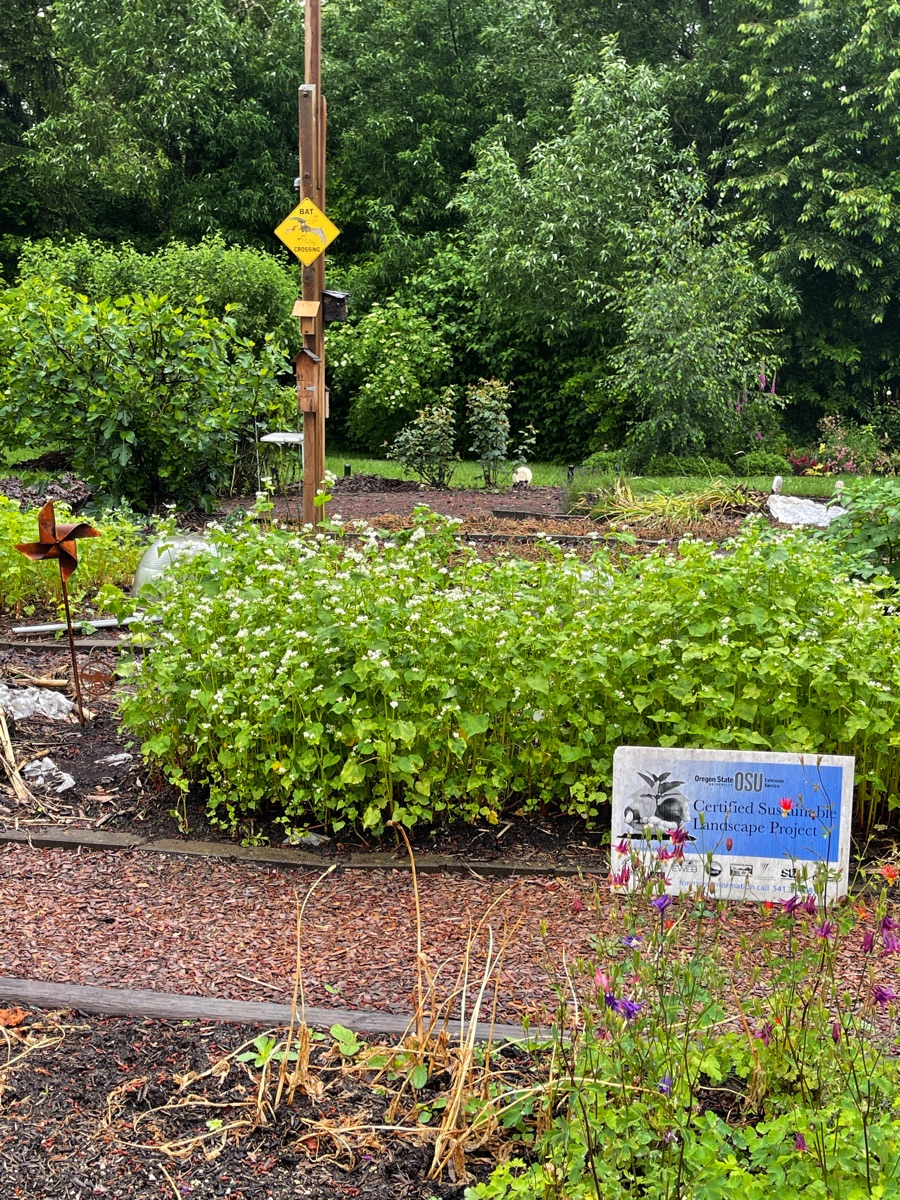 They do have bats in the bat boxes!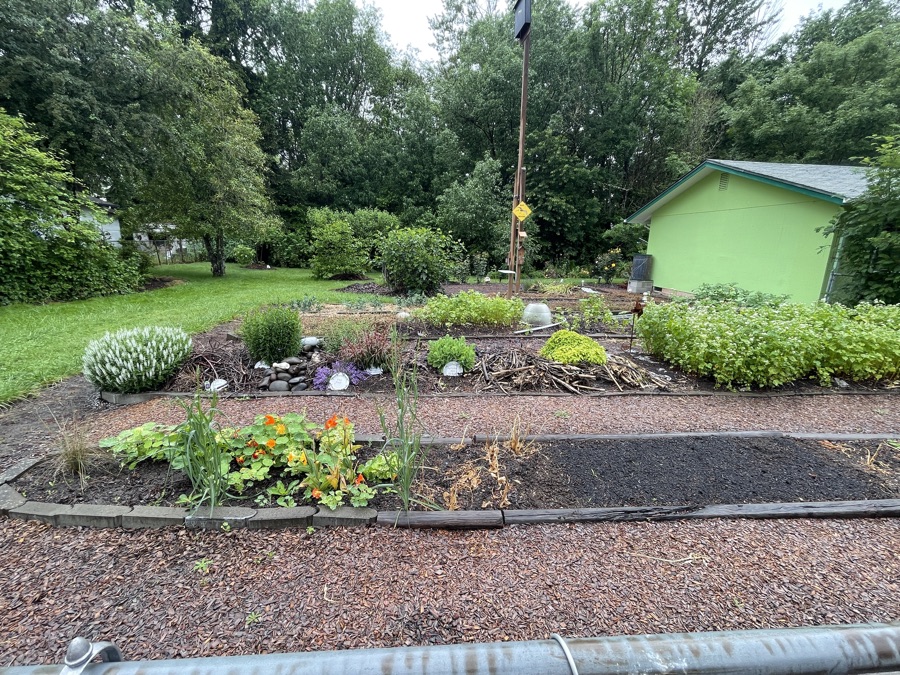 The garden is beautiful
Their home is on a small seasonal stream and the sounds are quite relaxing.

They have gardens on both sides of the house.
Clever ideas; using plates to tell which plants are which! The ink does not wash off easily but it can be washed off and changed if need be. We will be going to the Salvation Army or Goodwill and collect some plates very soon.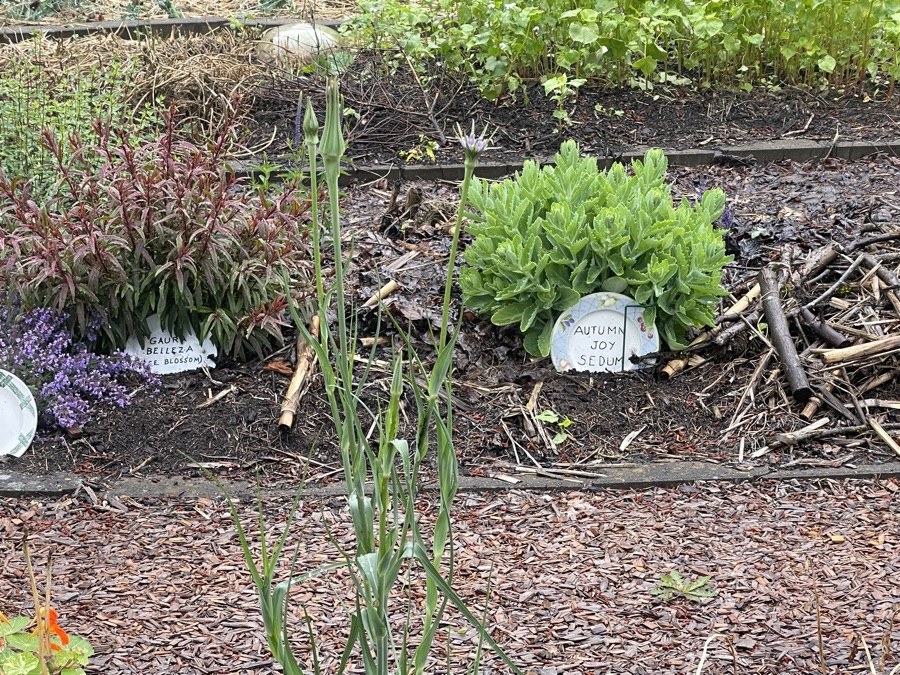 I see a trip to the Salvation Army in our near future!

Scout went on tour also!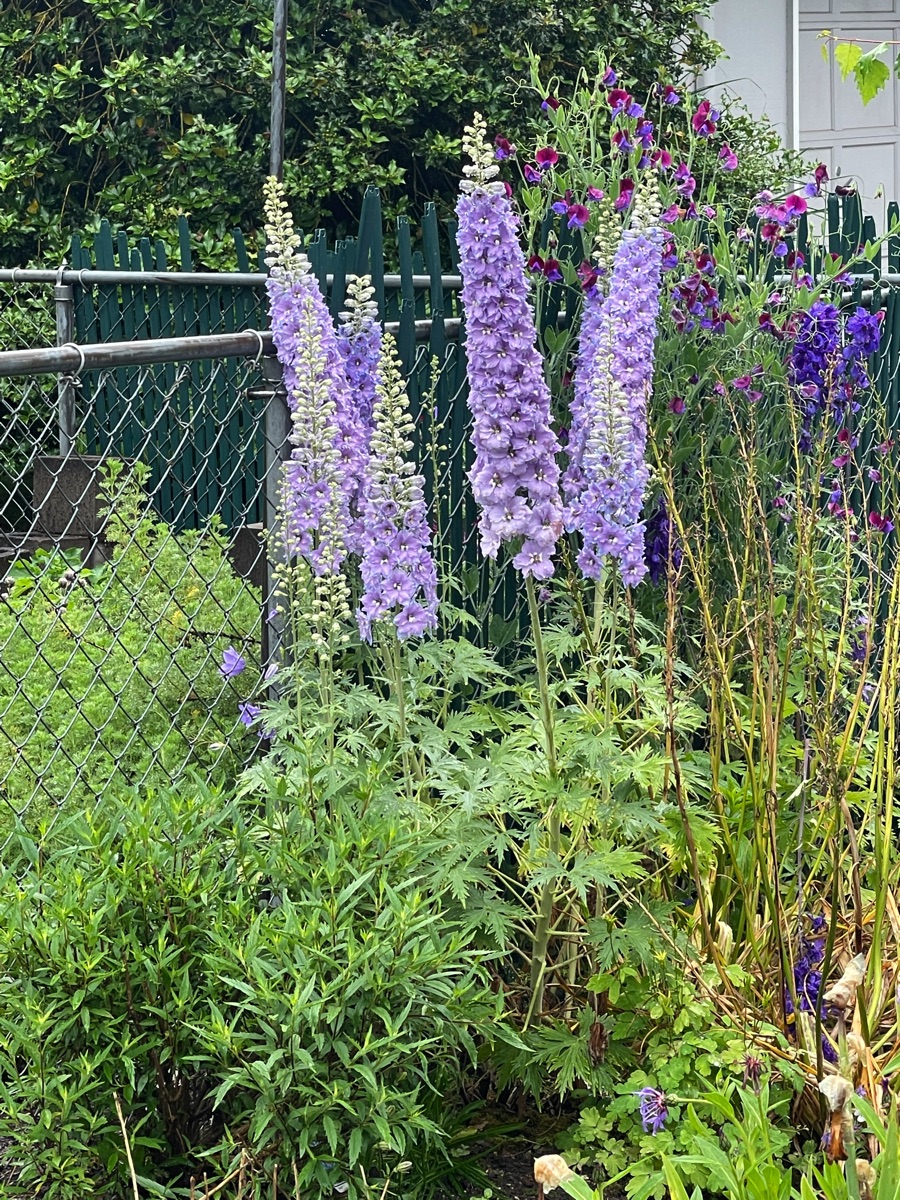 The Delphinium flowers were amazing. They enjoy all the rain.
Did You Know? Delphinium is a genus of about 300 species of annual and perennial flowering plants in the family Ranunculaceae, native throughout the Northern Hemisphere and also on the high mountains of tropical Africa. The genus was erected by Carl Linnaeus. All members of the genus Delphinium are toxic to humans and livestock

Hello froggy!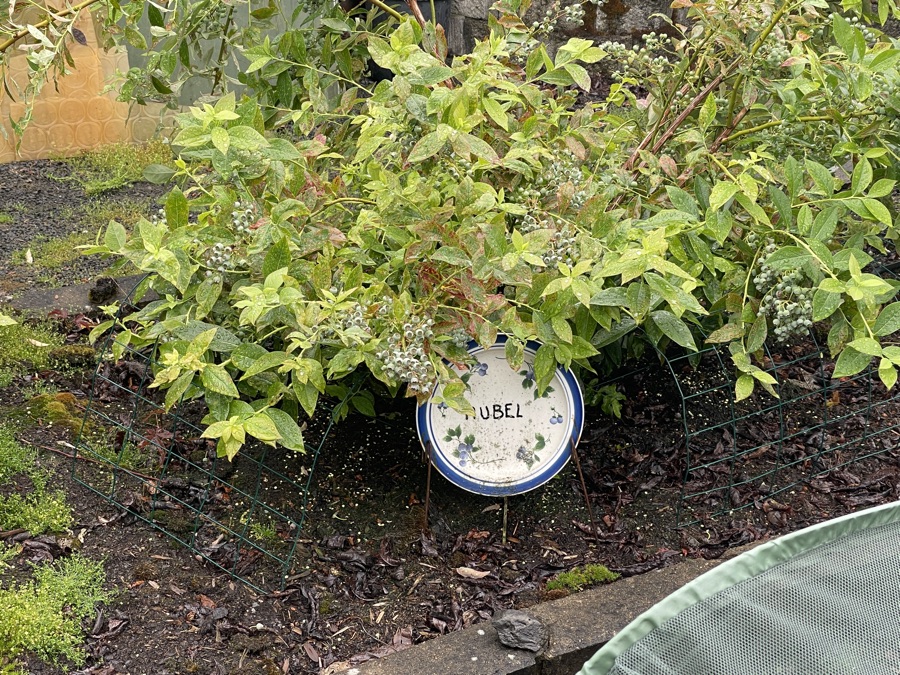 Blueberries everywhere!

The blueberry plants to well in the ground.

We got details on the garden. The white container is a compost bin with holes in the bottom so the worms can get our! We are going to try that!
Enter the McMenamins North Bank and you'll instantly know why you've come: every table has a Willamette River view, indoors or out. The 1979 building has the retro-cool feel of a lounge-y steakhouse with warm woods and booths tiered and tucked at all angles to capture the views. But surprises await! North Bank's Kapu Hut is a tiki bar with a Brobdingnagian drink menu featuring Lilliputian cocktails.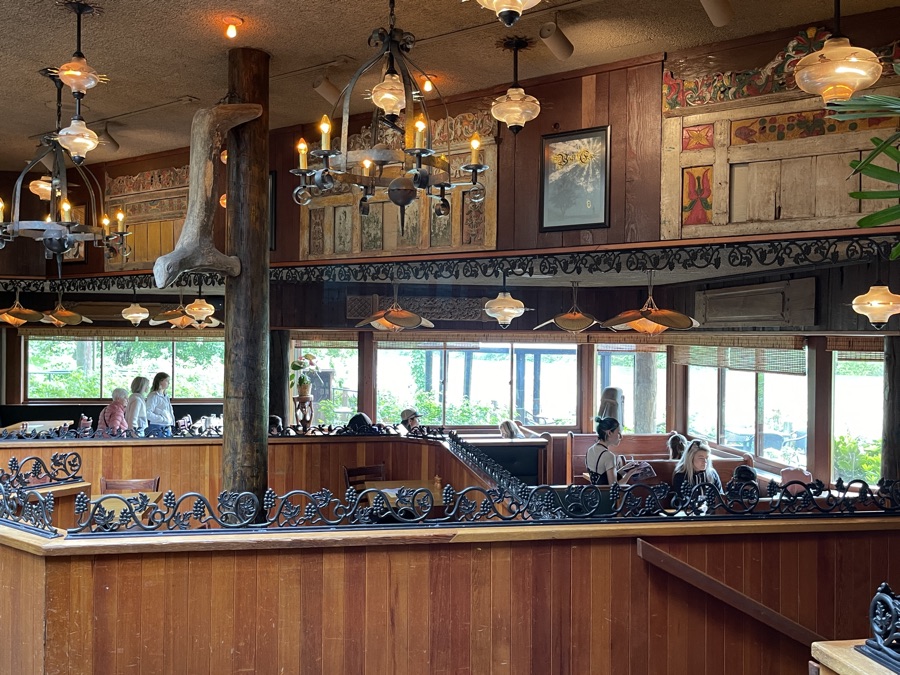 The restaurant was located on the Willamette River.

The Willamette was full and running fast.
Did You Know? The Willamette River is a major tributary of the Columbia River, accounting for 12 to 15 percent of the Columbia's flow. The Willamette's main stem is 187 miles (301 km) long, lying entirely in northwestern Oregon in the United States.

Flowing northward between the Oregon Coast Range and the Cascade Range, the river and its tributaries form the Willamette Valley, a basin that contains two-thirds of Oregon's population, including the state capital, Salem, and the state's largest city, Portland, which surrounds the Willamette's mouth at the Columbia.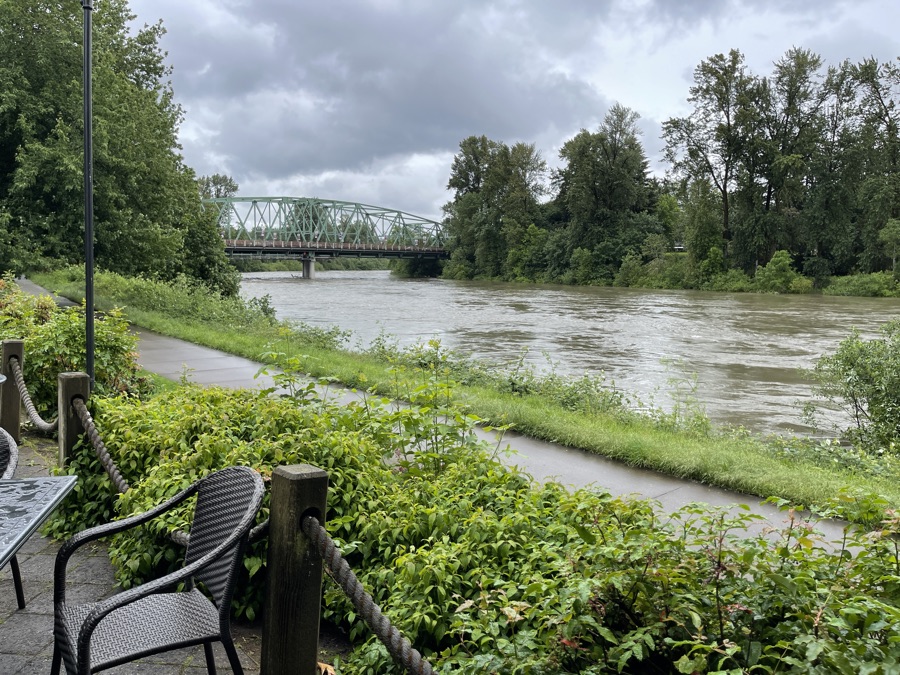 The rain was not too bad in the afternoon.

The river was moving fast.

The doggie was sound asleep in the van.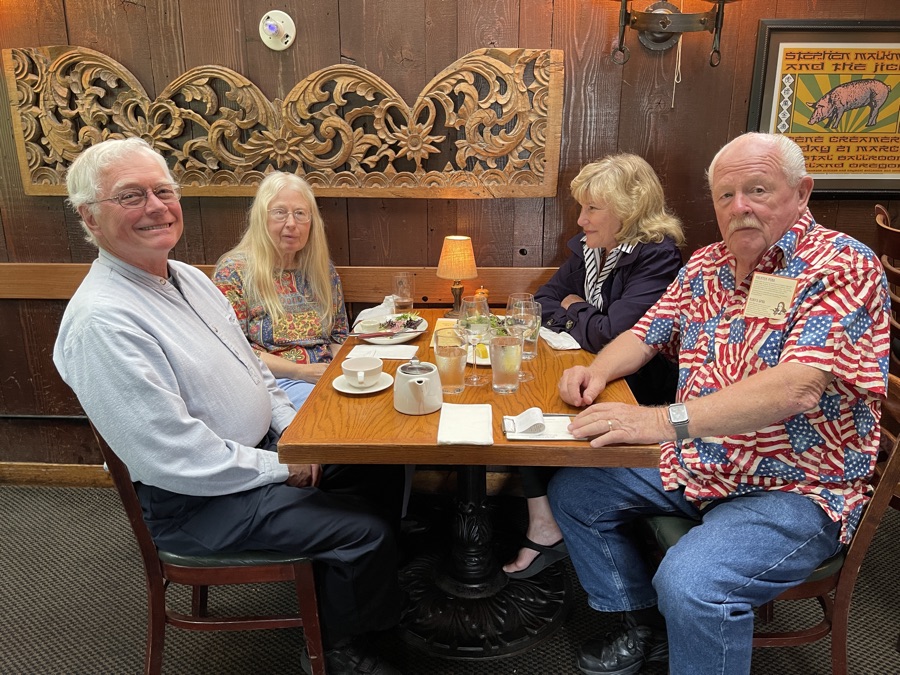 We had a great meal.

Great fun!
We departed lunch and headed for Oregon City. Time for the baby to tinkle since he was in the car for a while!
The two hour drive was more that two hours thanks to the rain!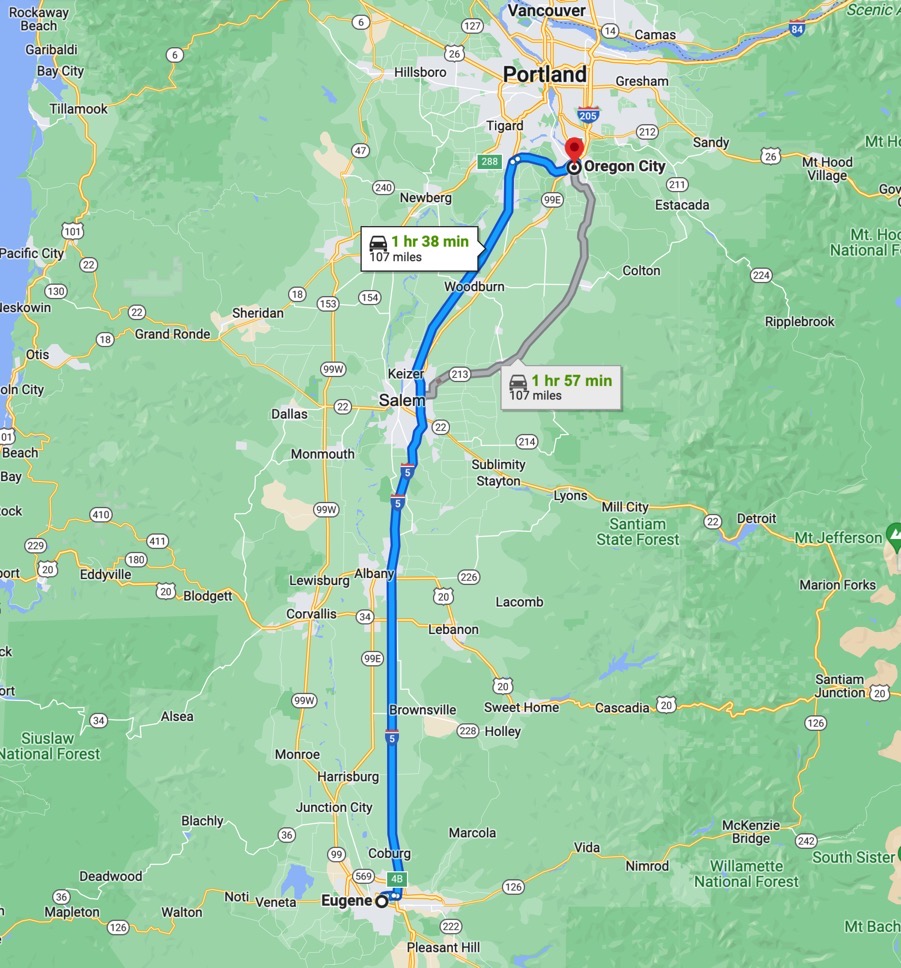 Oregon City is the county seat of Clackamas County, Oregon, United States, located on the Willamette River near the southern limits of the Portland metropolitan area. As of the 2020 census, the city population was 37,572.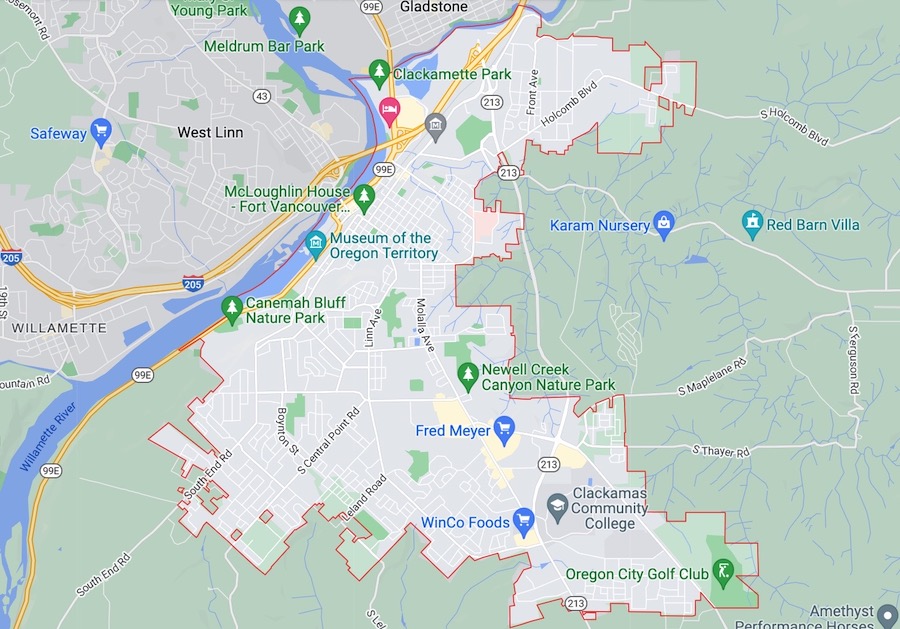 Just outside of Portland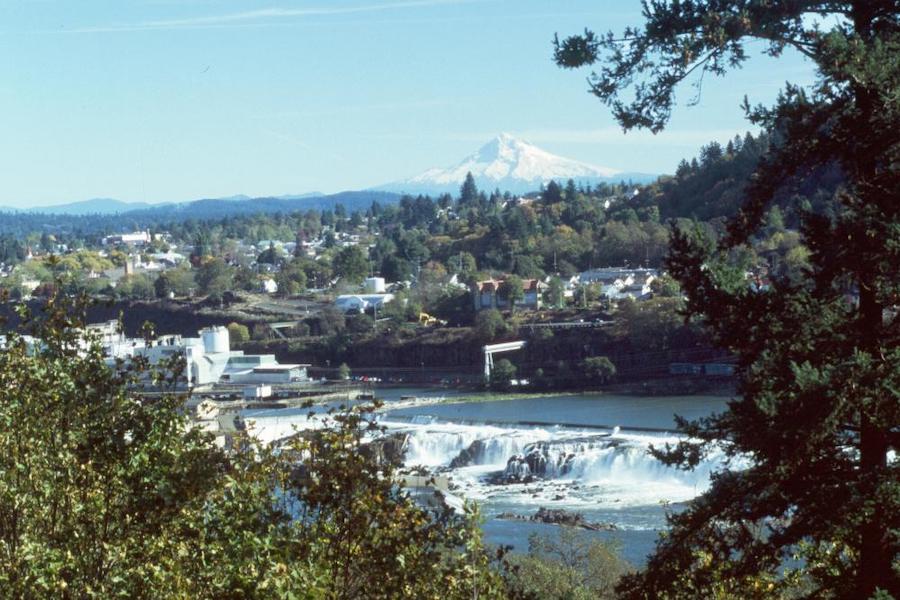 There are many sights to see.
We got in just at dusk so we took few pictures. We met up with Lanette and jabbered until past 10:00 PM. Mary and Lanette go back to 1969 where they worked at Pinecrest Camp for children together in 1969. They have stayed friends for fifty years. Lanette's mom and dad ran the camp and Mary and Lanette hit it off big time.
Lanette's parents, Tom and Dori, came down to Mary's home after her husband left on Christmas Day 1995. They stayed with Mary for a couple of months assisting Mary in moving from Villa Park to Orange. (Mary had three young kids and had to make the move by herself; Tom and Dori were angels! )
Mary's kids referred to them and Grandpa Tom and Grandma Dori.
When Mary went to school in Austria, they kept some of Mary's belongings as it was too expensive to ship.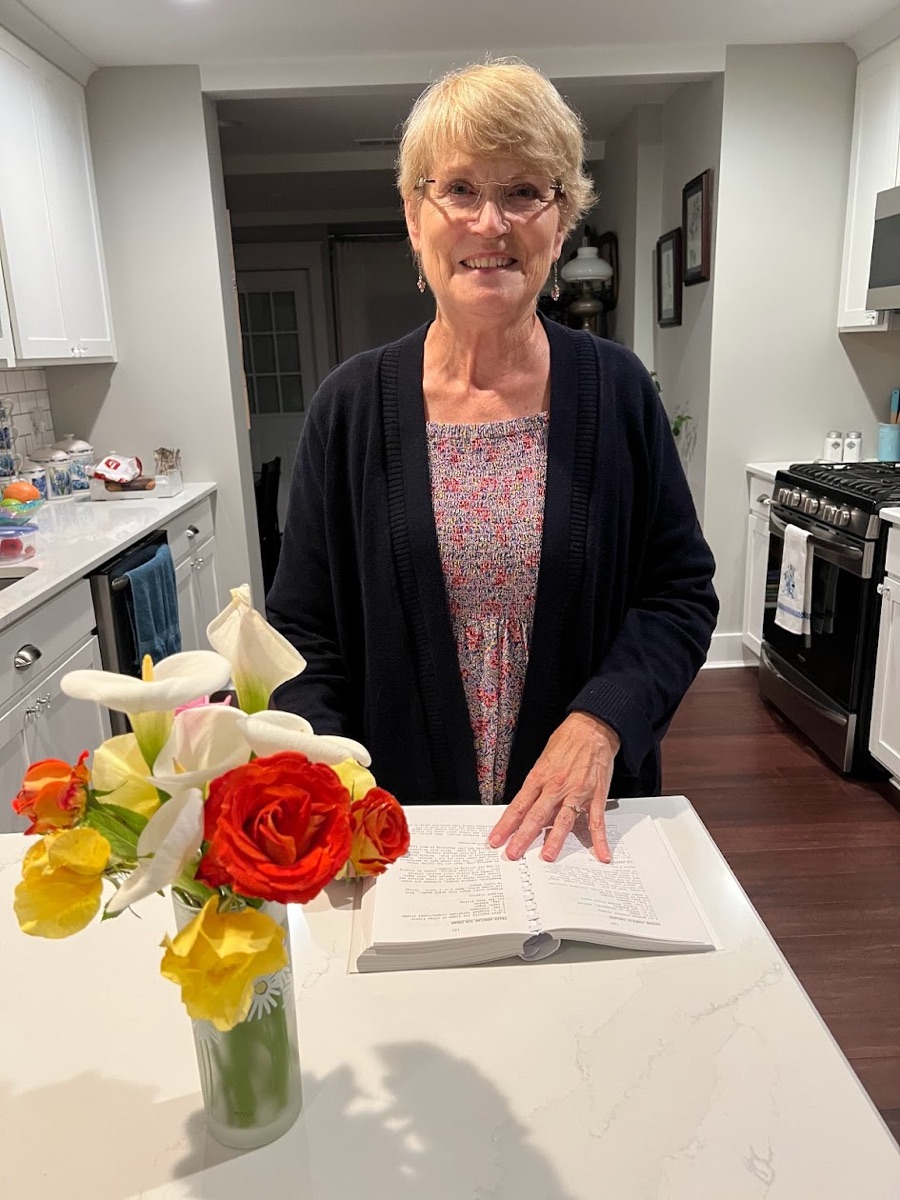 Lanette got a signed cookbook from Jan Mongel and they went through the book with a fine tooth comb.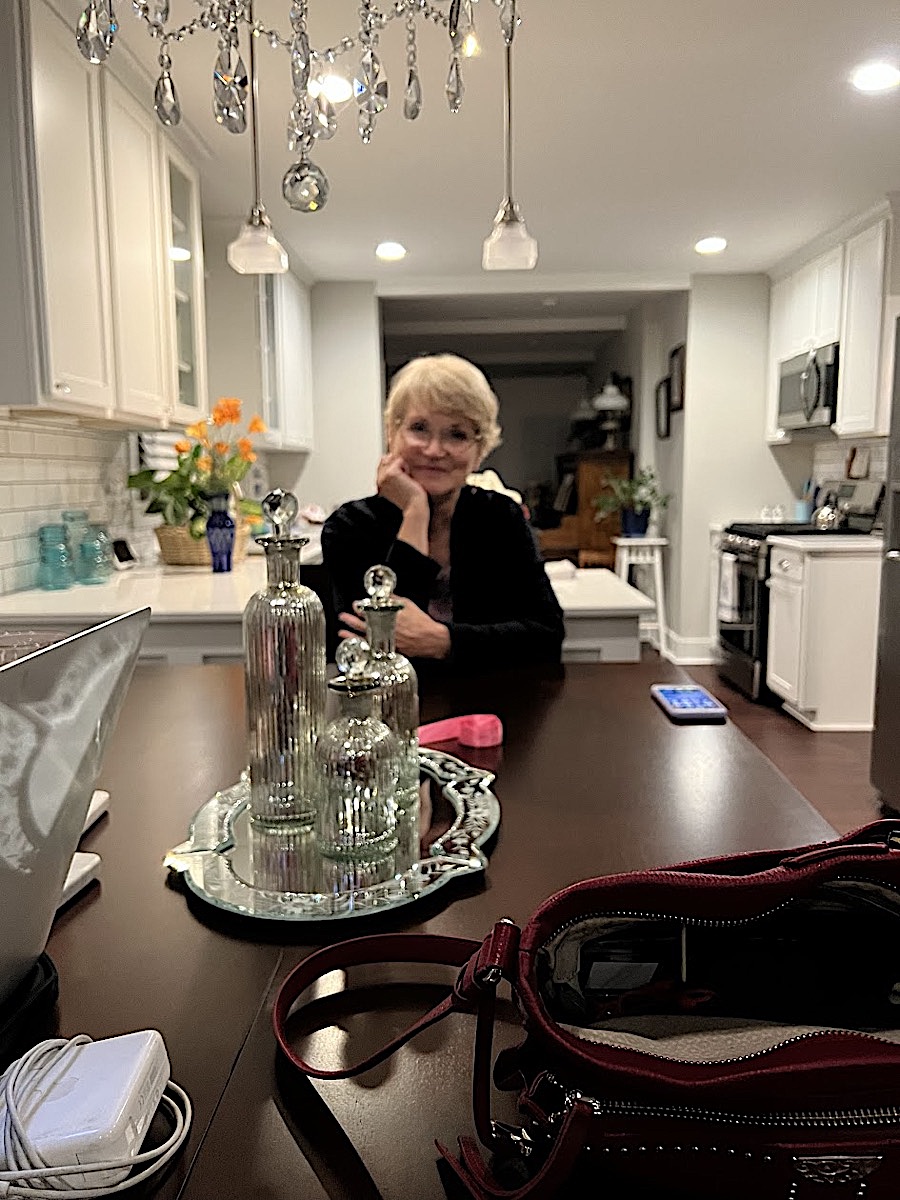 Lanette has a lovely home she is renovating. It is like a doll house!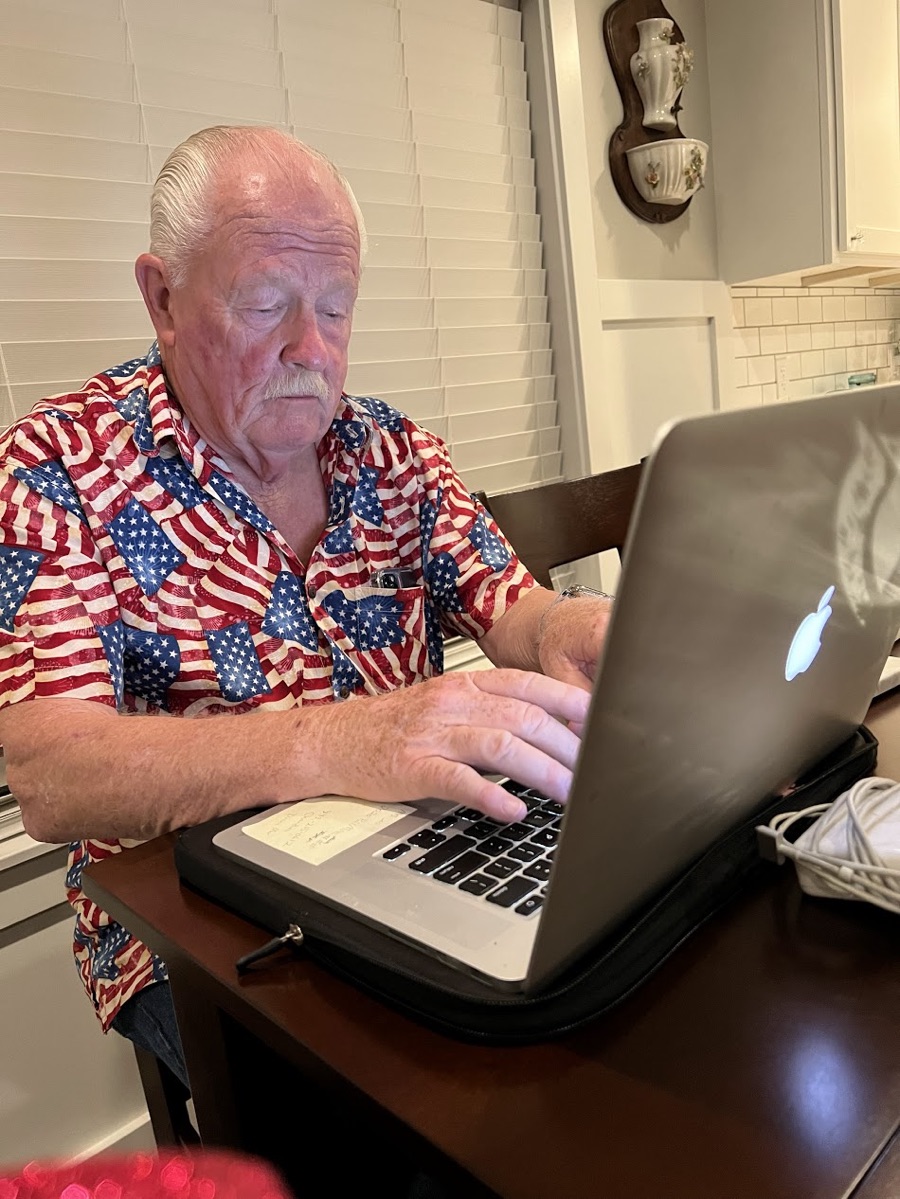 Yes, the old buzzard it putting together todays events.
We hit the sack because tomorrow we are going to tour and meet up with some friends of Mary's.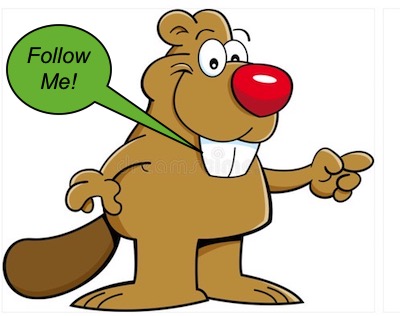 We continue visiting in Oregon City With Lanette