Saturday Breakfast and Golf (Page Six)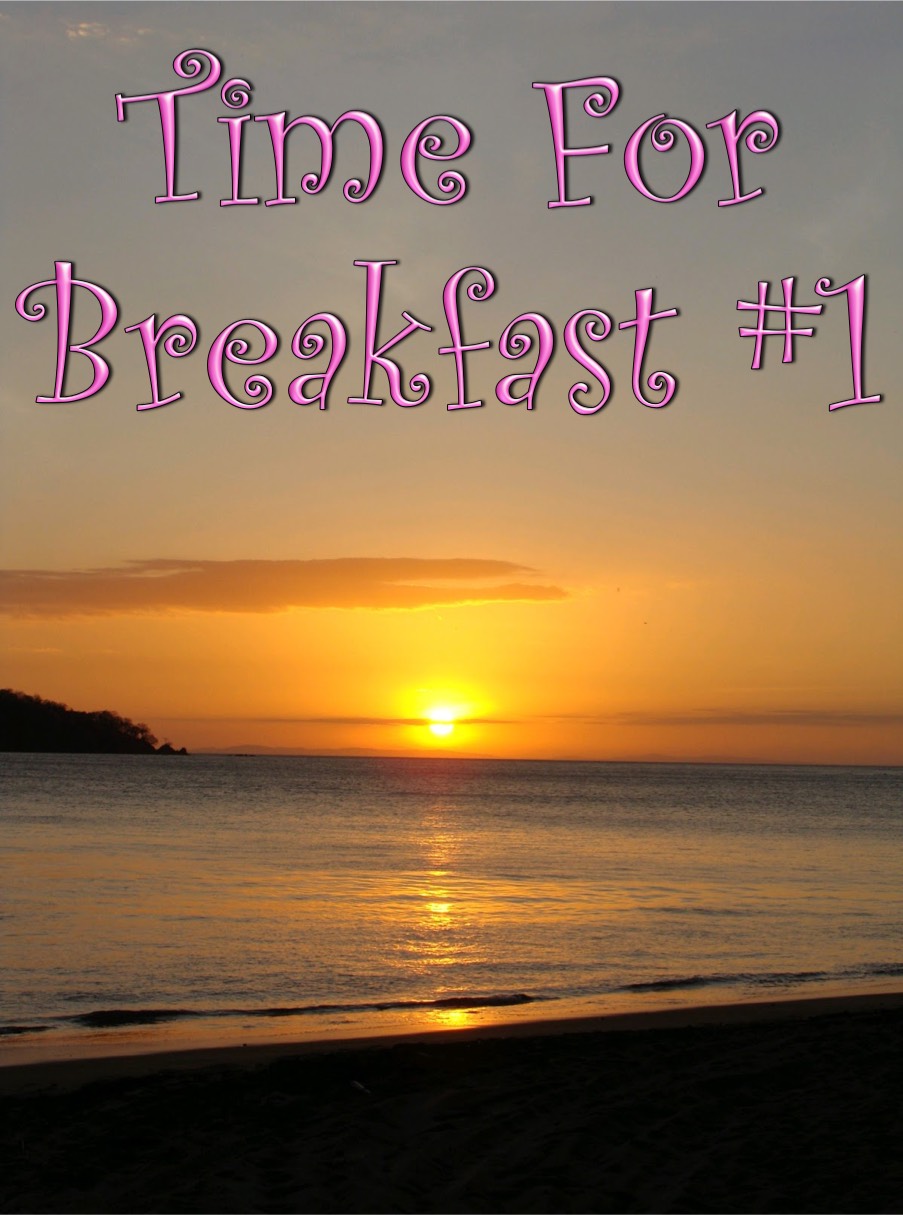 Tradition requires that, at a minimum, Bob and Paul "sneak out" and go for a nice greasy early breakfast before the girls are ready! Coordination this morning was difficult as AT&T had no service!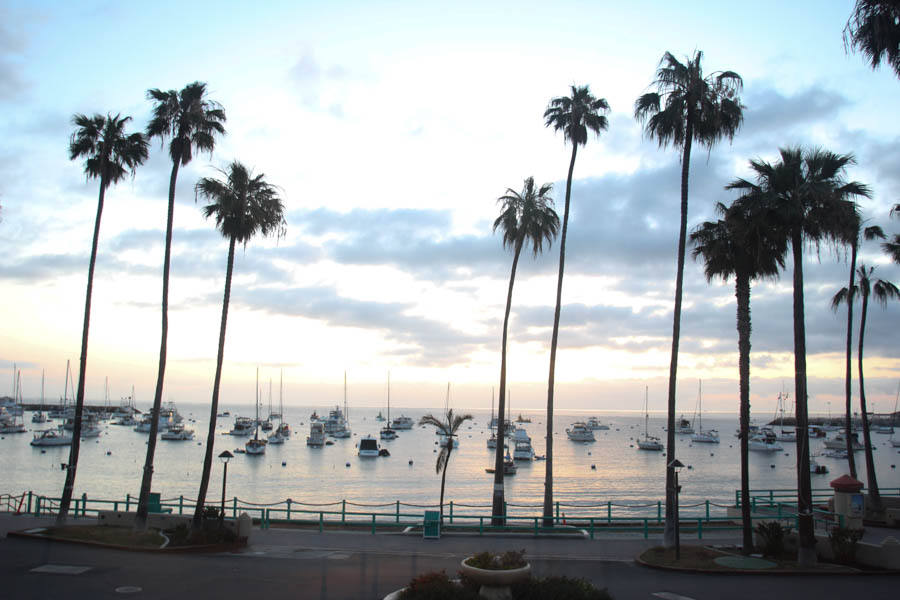 Paul was first out at 6:00 am sharp and was greeted by no one!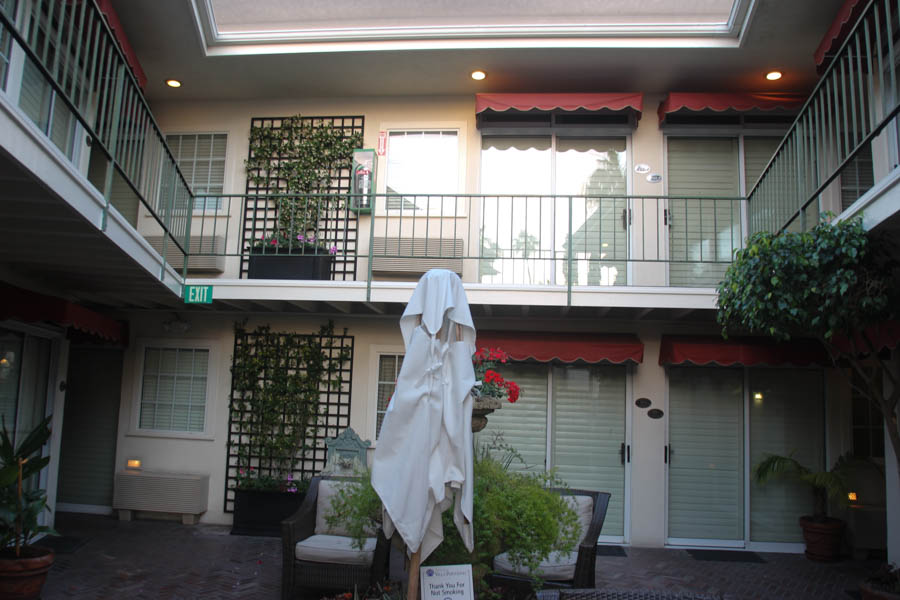 The thought occurred to knock on all the doors and run
Good judgement took over

The sun was just coming up

Our hotel was quiet

It was actually quiet nice out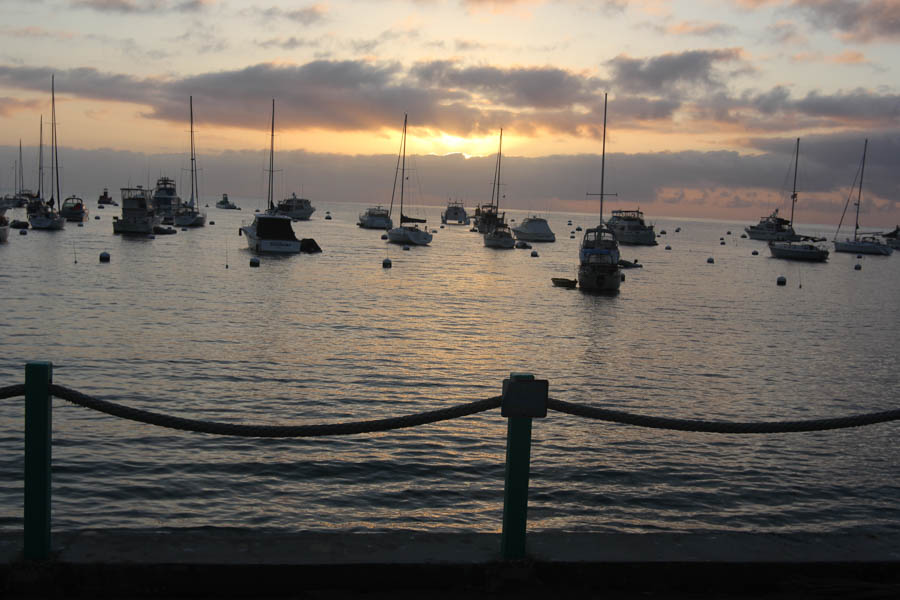 We were told once that.... "If the boat is rockin' don't come knocking"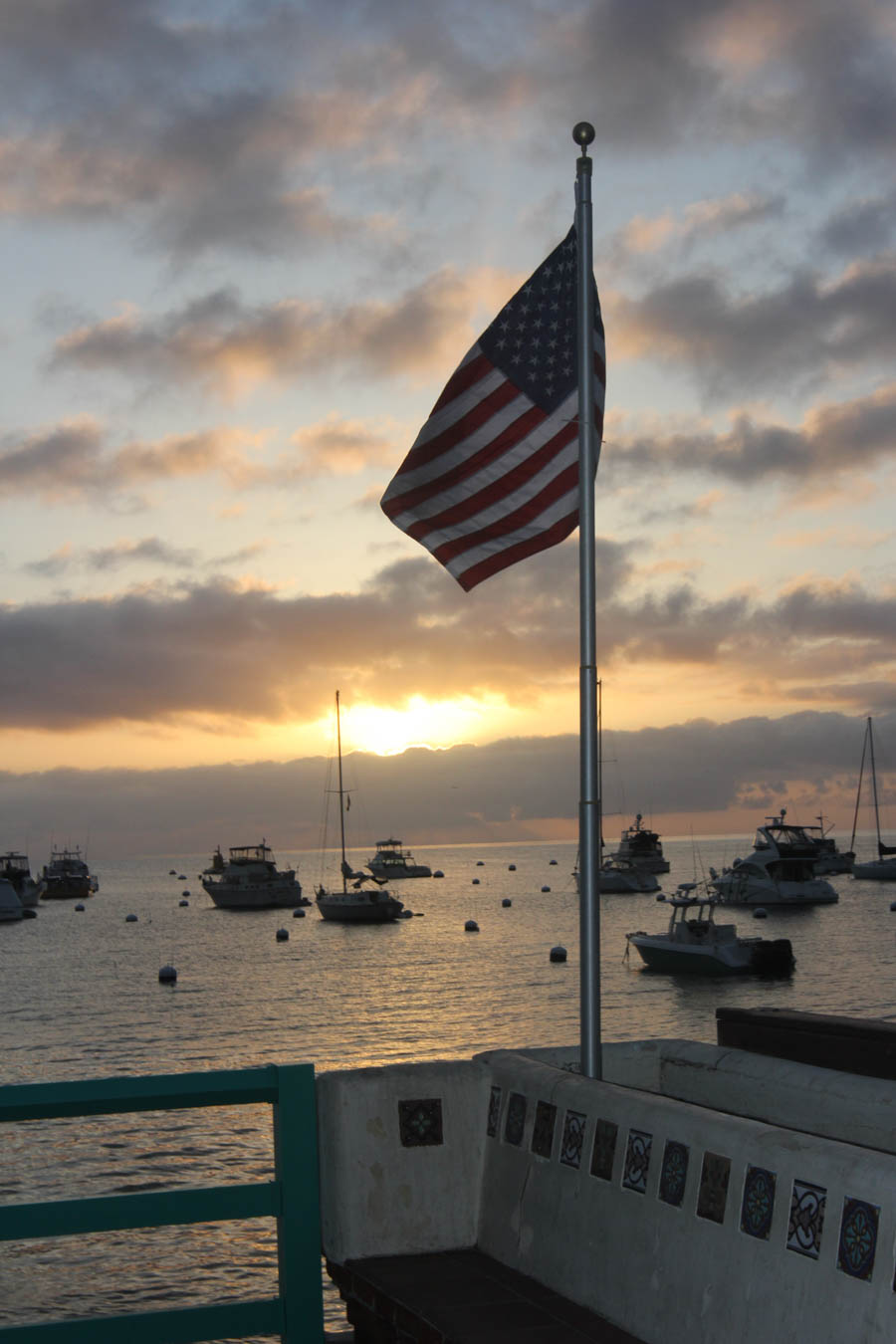 The sun is peaking out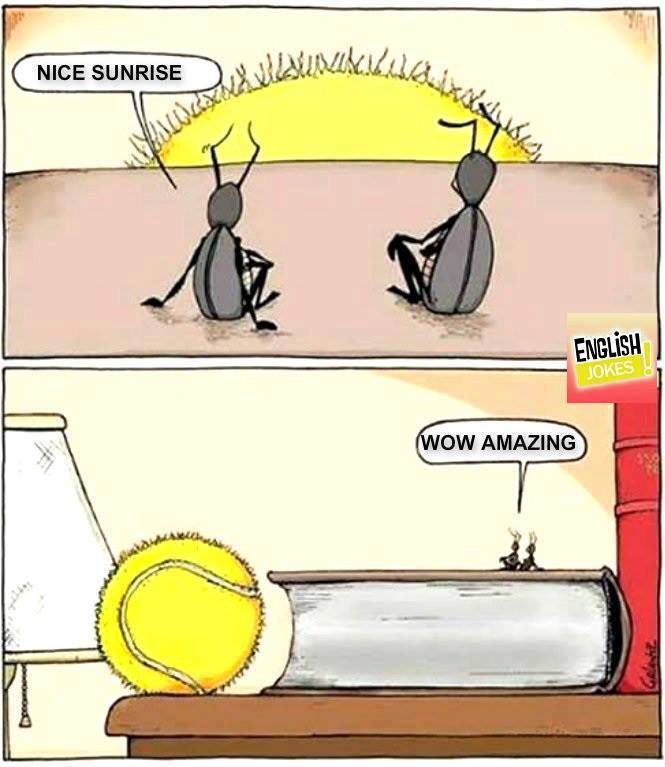 It's all how you look at it!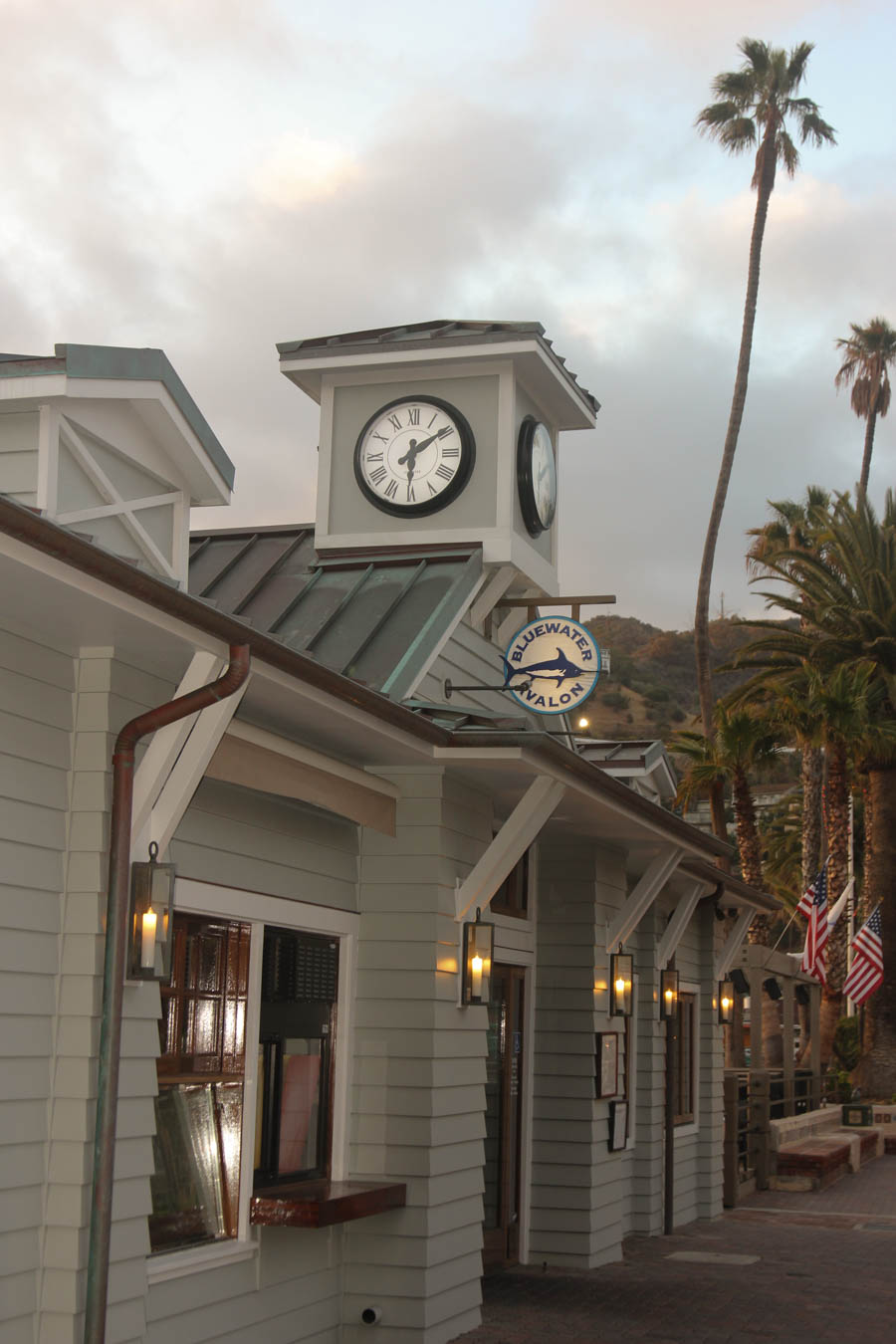 Time for a walk to build up an appetite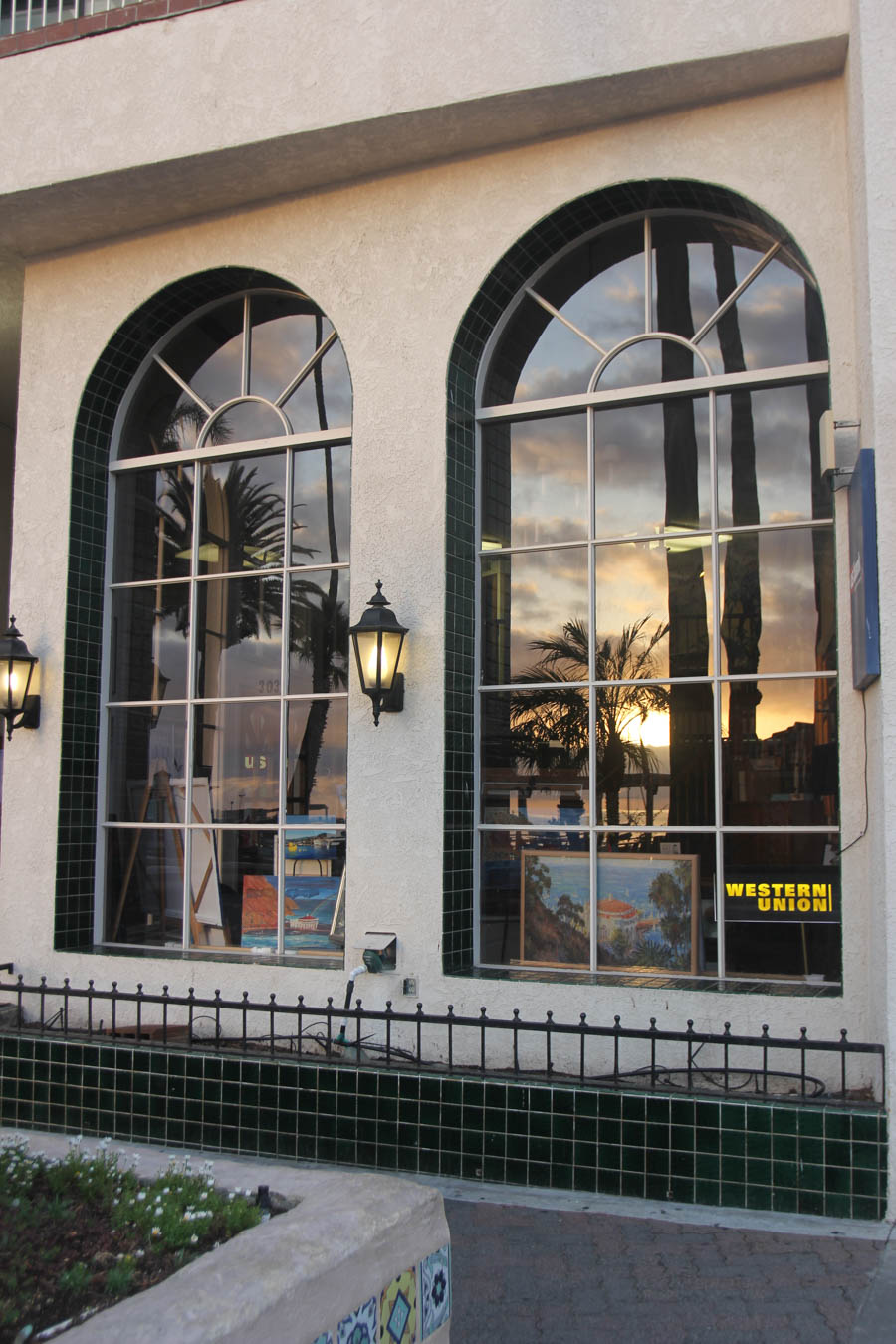 The reflections were interesting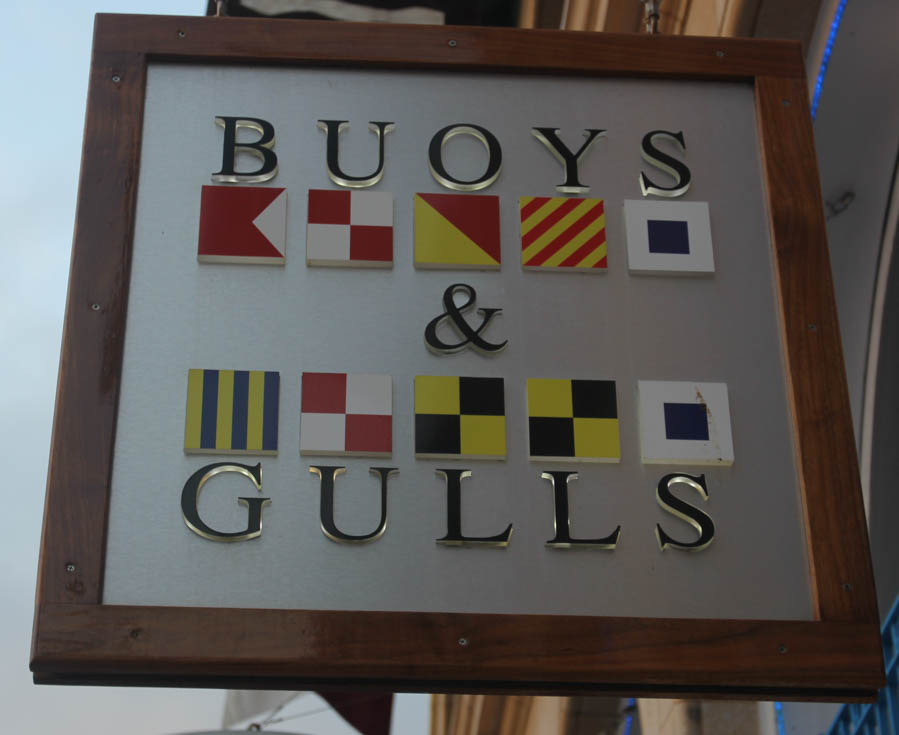 Paul did not see any buoys but there were a lot of gulls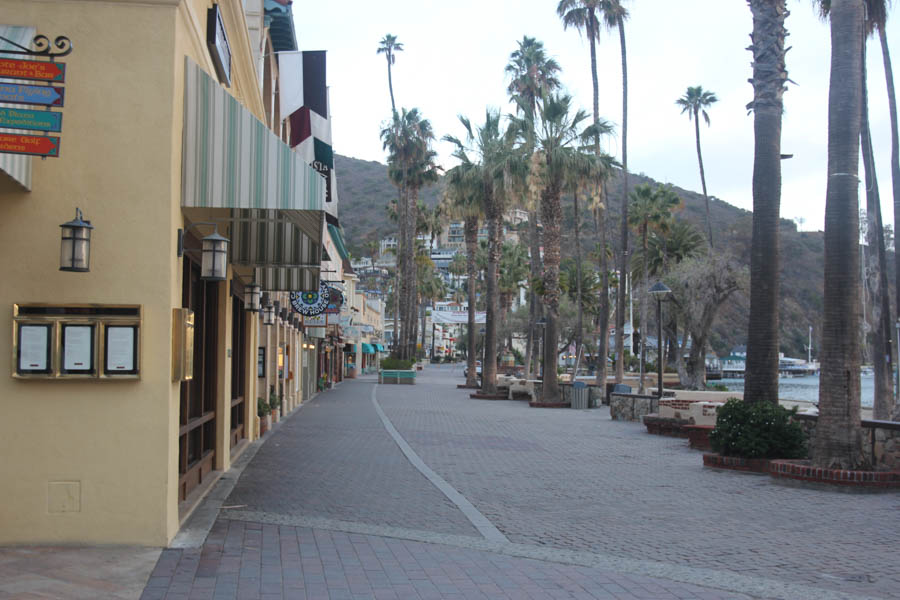 Ghost town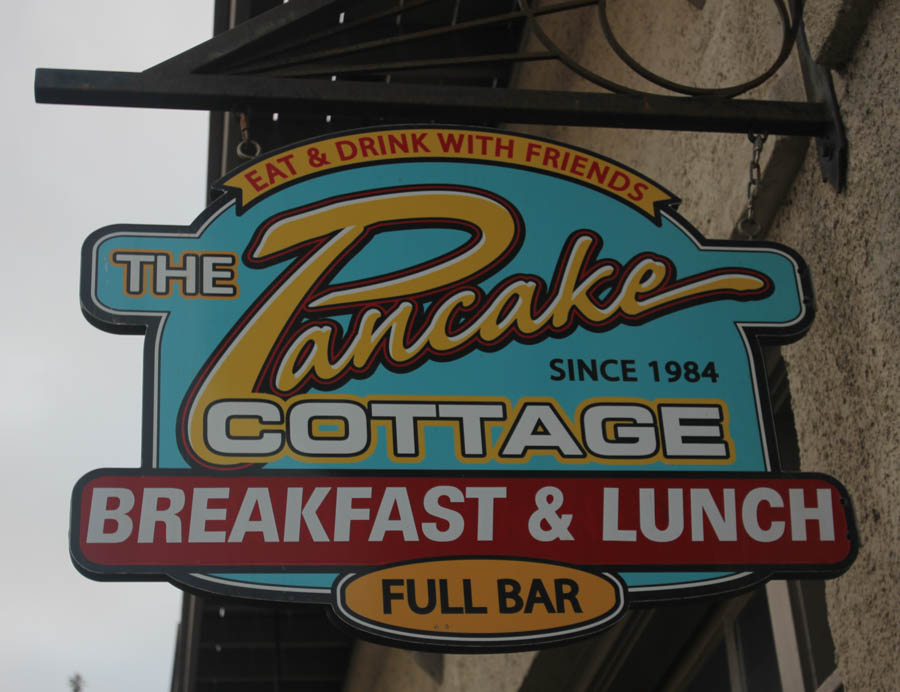 They opened at 6:30!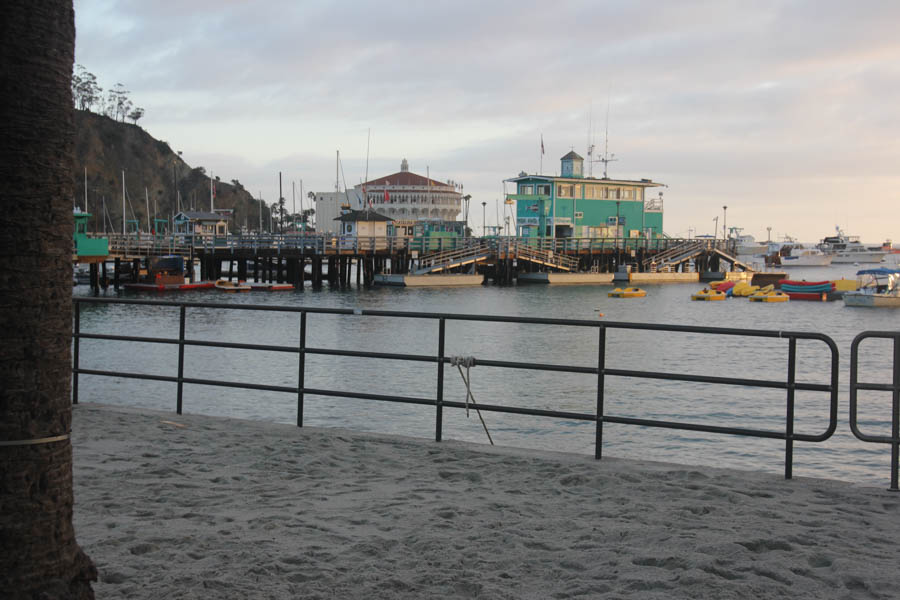 The pier was not busy at all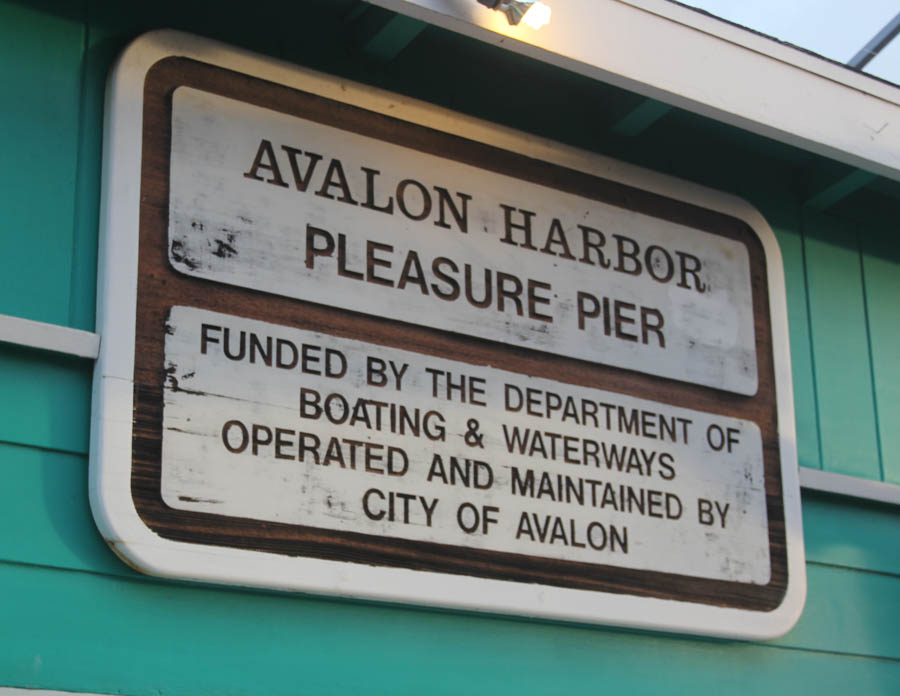 All quiet
Did You Know? - The town of Avalon was called Timm's Landing (although some used the name Dakin's Cove) up until the time of George R. Shatto, the man who bought Catalina Island (for $200,000) in 1887.
Shatto developed the townsite and his sister, Etta M. Whitney, gave it the name of Avalon, apparently naming it after a mythical island valley in the Tennyson poem Idylls of the King.
A 1903 edition of Webster's dictionary gives the meaning of Avalon as "Beautiful Isle of the Blest," and "Bright Gem of the Ocean," so perhaps she was right. Shatto saw Avalon as a vacation destination and soon set up a steamer service to the mainland, built a hotel, and began to sell tiny, inexpensive lots.
Tents were erected as vacation cottages on many of these lots and Avalon soon had a tent city, similar to those found at most seaside towns in California during those days.
However, echoing the boom and bust nature of real estate in southern California in the late 1880s and early 1890s, Shatto went broke.
In 1892 Shatto sold the island to the Banning brothers of Wilmington who continued to work to make Catalina a prime destination spot for tourists.
They established the Santa Catalina Island Company in 1894 and built a larger tent city. By 1913 Avalon had a summer population approaching 10,000 people. More elaborate plans (perhaps designed as competition for the Santa Monica, Ocean Park and Venice Amusement Piers) were hurt by a fire which swept through Avalon in 1915.
In 1919, the brothers sold their holdings to William Wrigley jr. Since 1972 much of the island has been maintained by the Santa Catalina Island Conservancy.
A number of piers have graced Avalon's Harbor since the late 1800s. Records talk of piers in the bay as early as 1895 and mention a fishing pier in 1905. The Green Pleasure Pier was basically a gift to the city, being sold to Avalon for the princely sum of $5 in 1909.
It had originally been built by the Freeholder's Association, a group of local businessmen, and conceived as an alternative landing spot in opposition to an attempted monopoly by the Banning brothers who had built a pier parallel to the beach in 1905 (and tried to corner most of the tourist business).
The other, larger pier, was the Steamer Pier that set near the Hotel Metropole and which eventually was washed out.
Although it is still a center of beach front activities, the Green Pleasure Pier may be best remembered as a site where many of the huge marlin, tuna, swordfish and black sea bass were weighed and photographed during the days when Catalina was a Mecca for big game fishermen.

Two gulls and they were asleep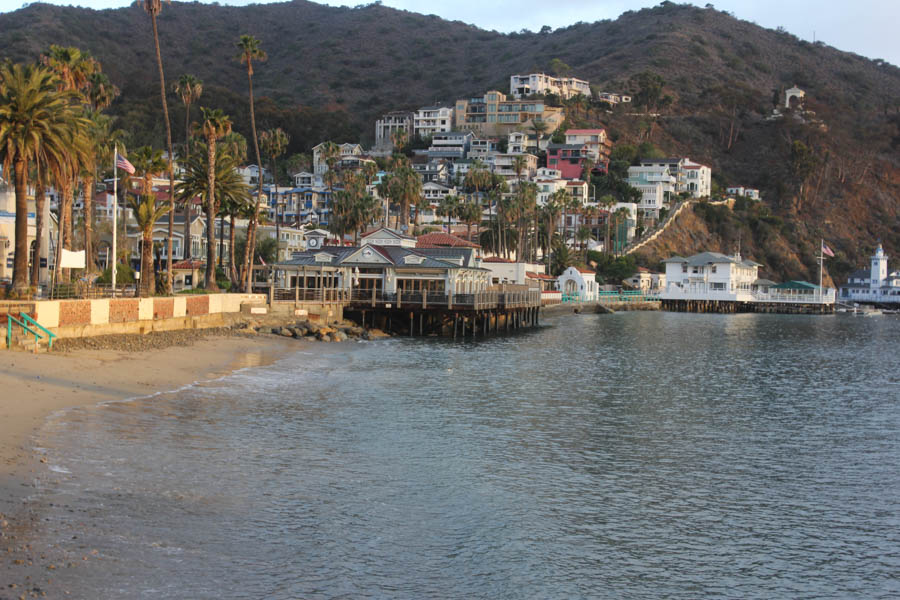 The Bluewater Grill was quiet

Bob was located.... Time for breakfast!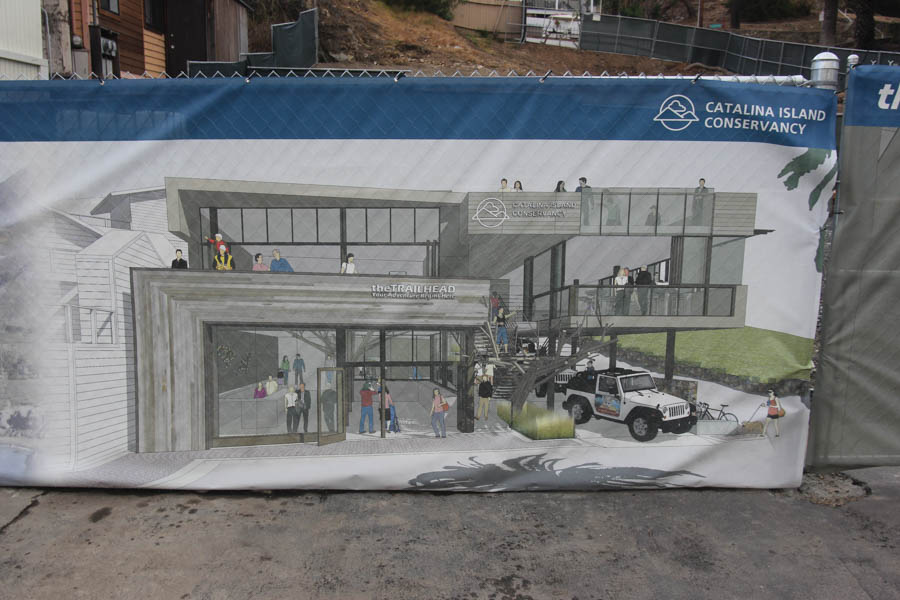 New Conservancy Building going up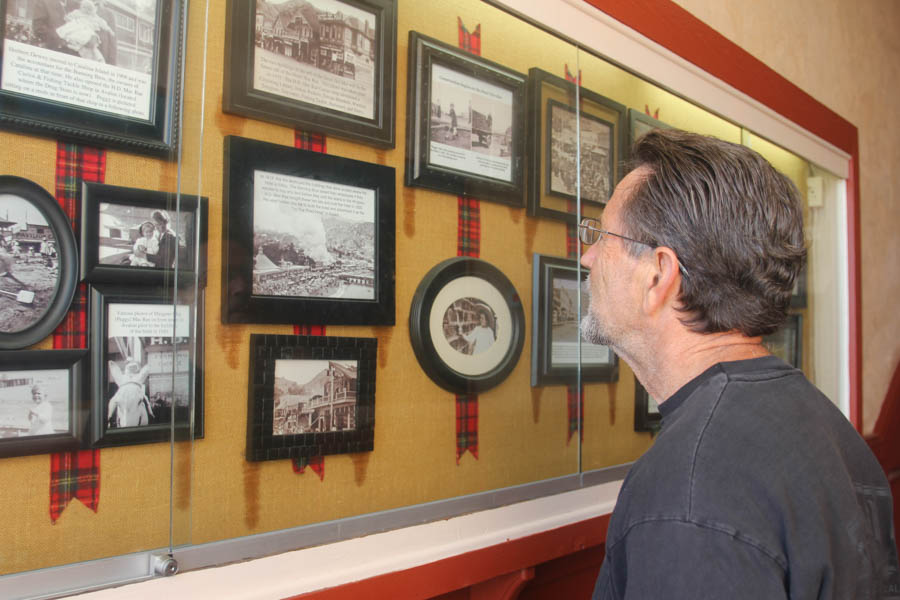 We looked at the pictures... Interesting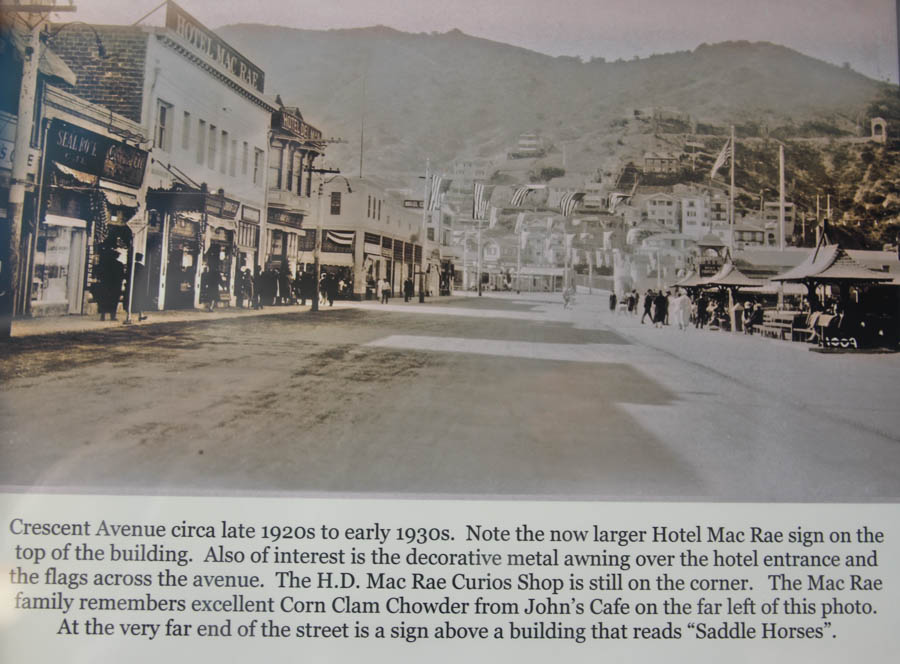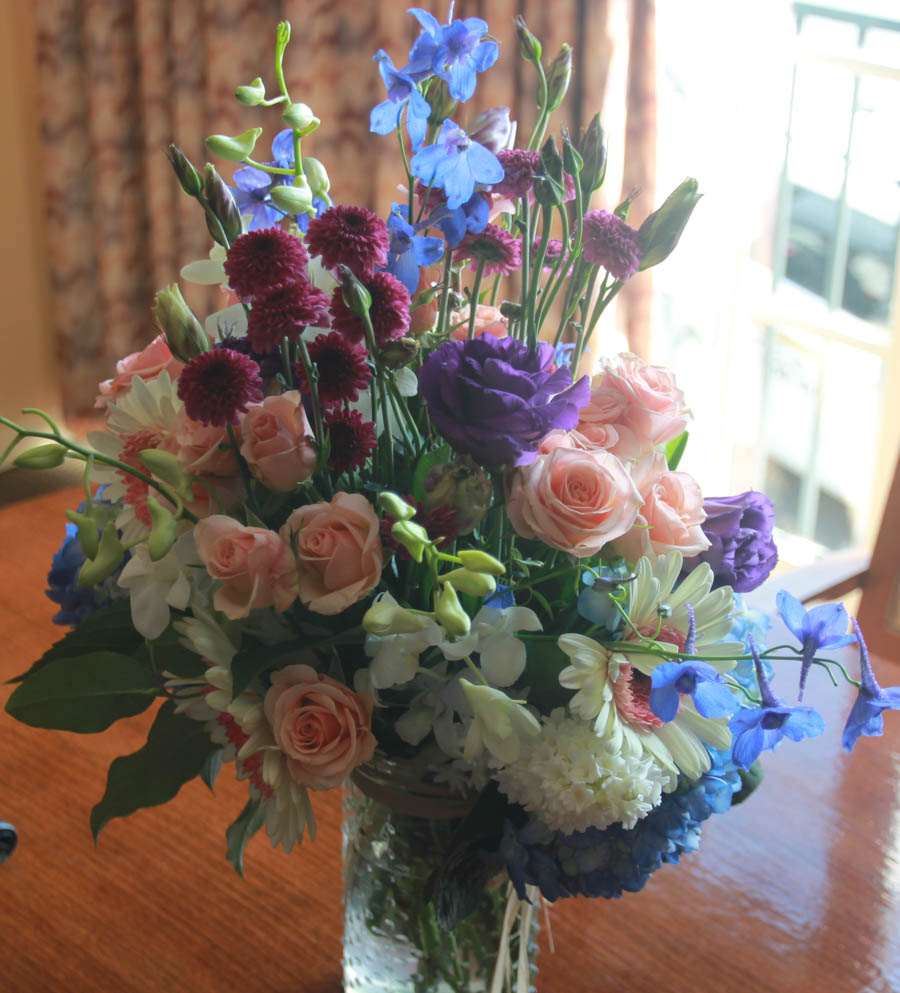 Good morning dear... I brought you flowers!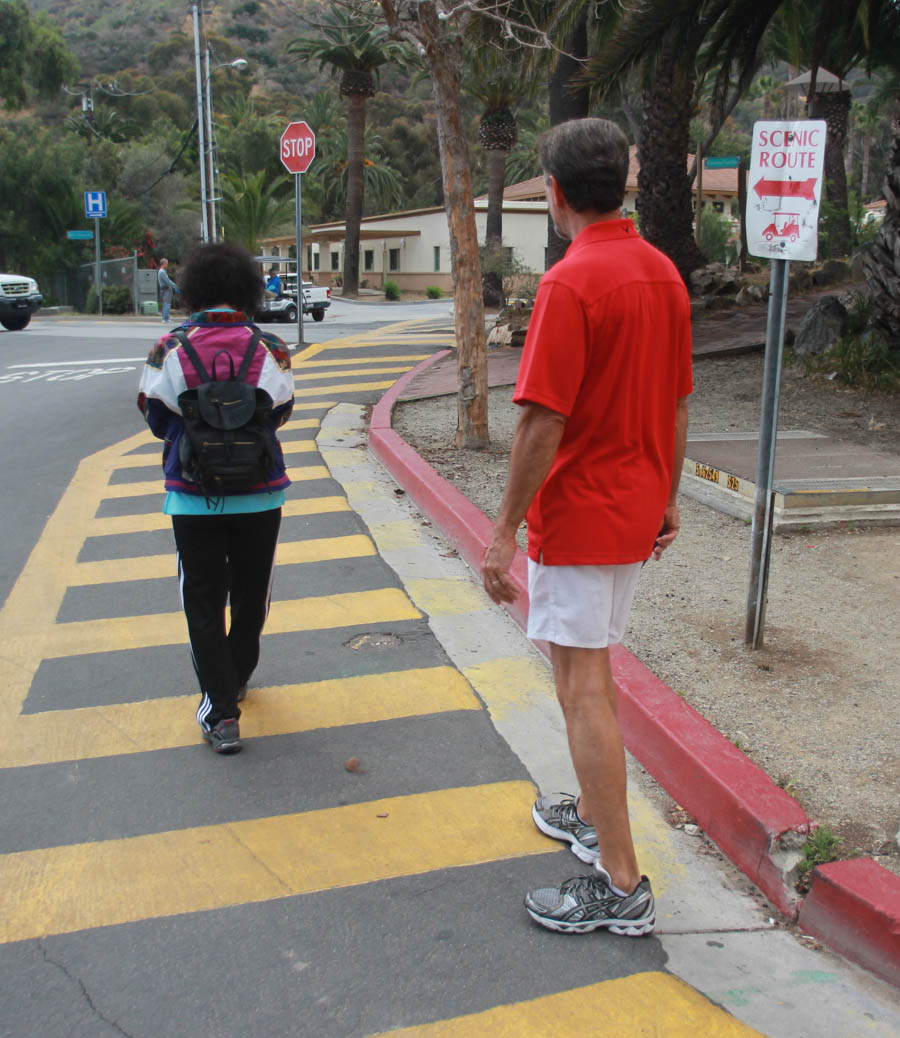 Off to the Sand Trap for Breakfast #2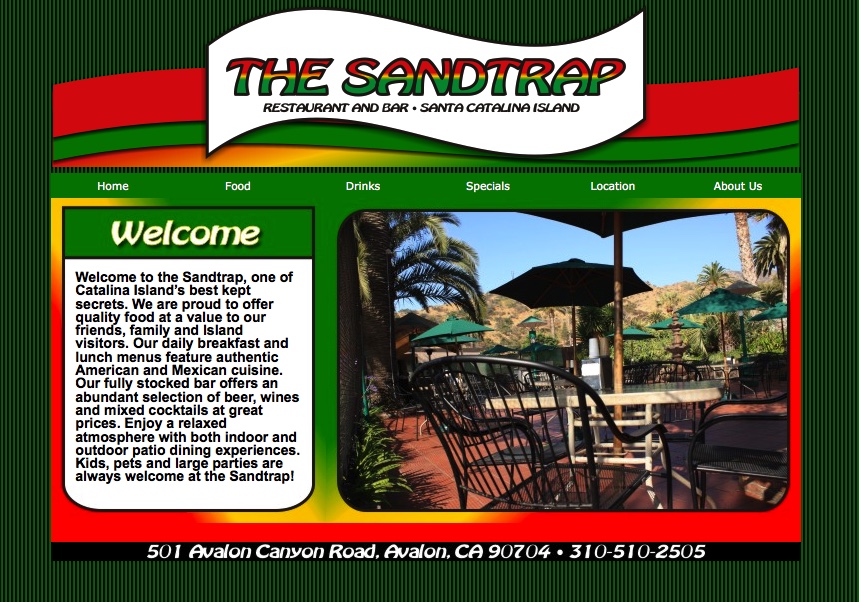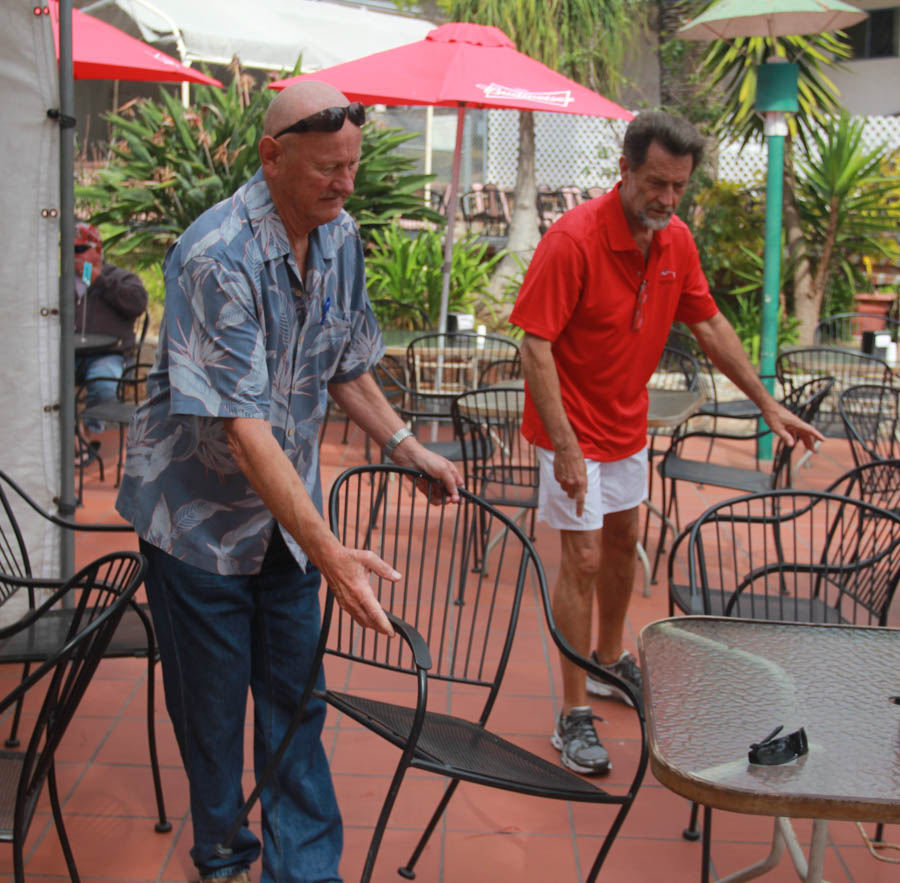 It is a German Restaurant and the service is fantastic... He kinda looks like Hans!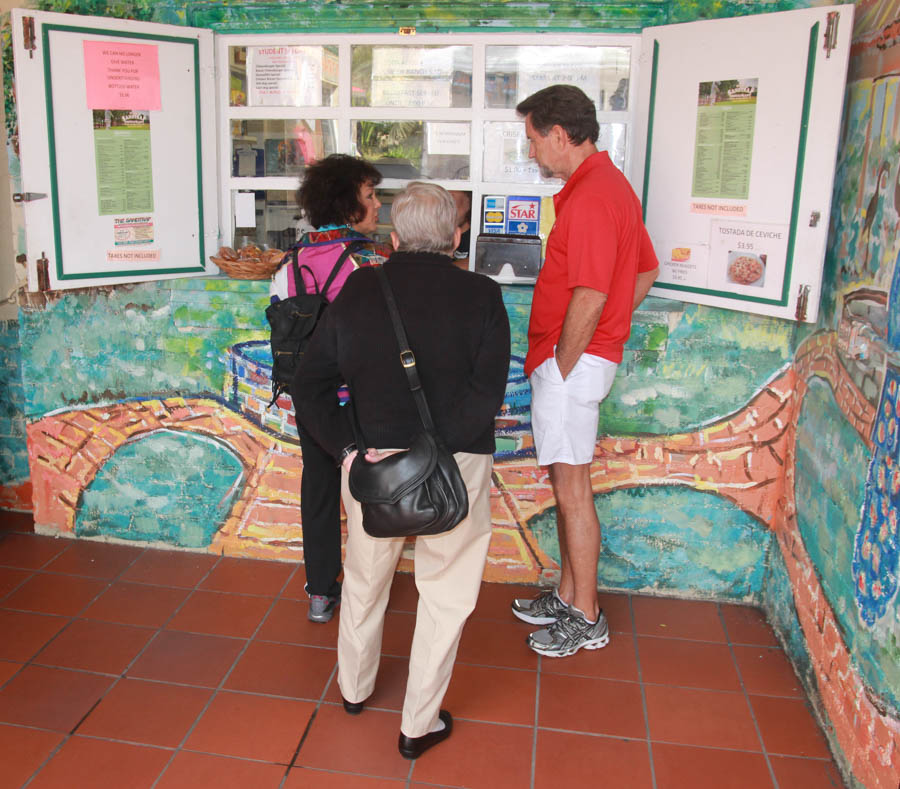 We place the orders for breakfast.... We did champagne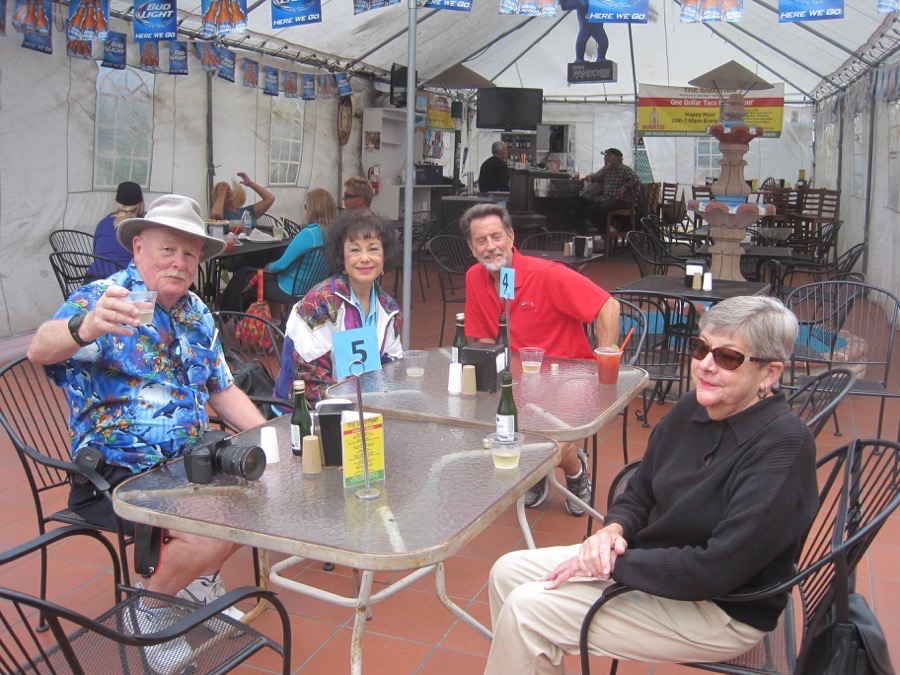 The important part of breakfast arrives (Courtesy of Hans Thedens)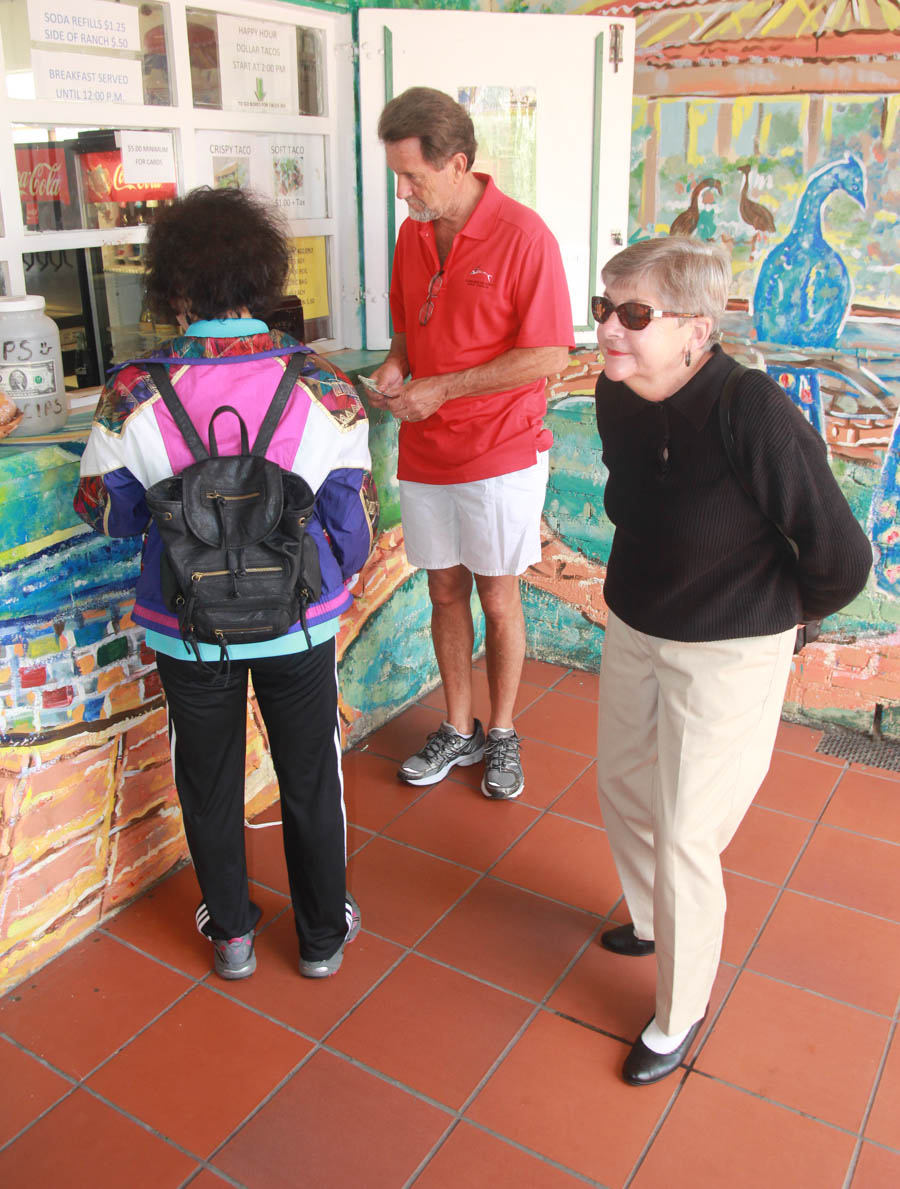 Sue rechecks the menus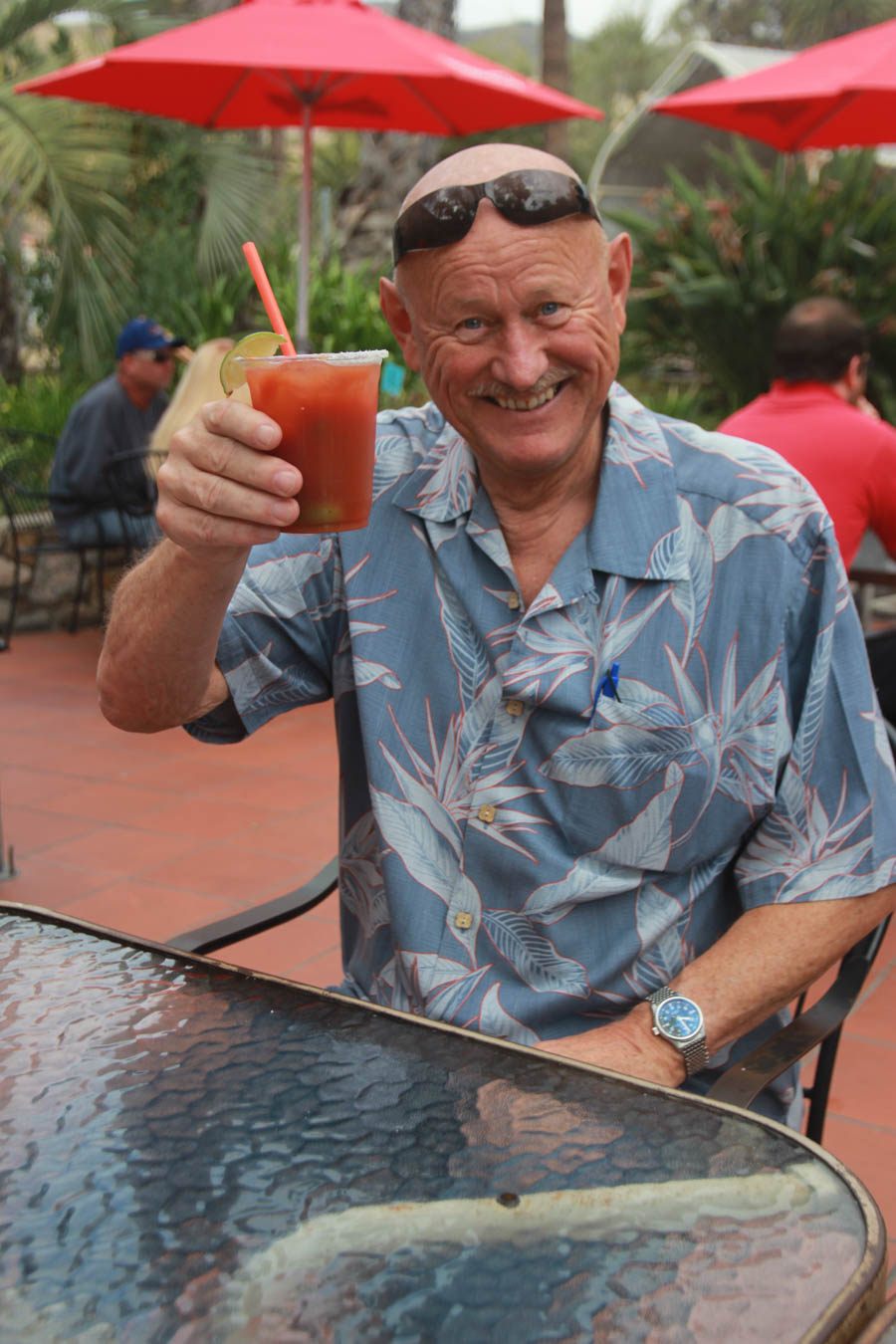 Oh... It was Hans!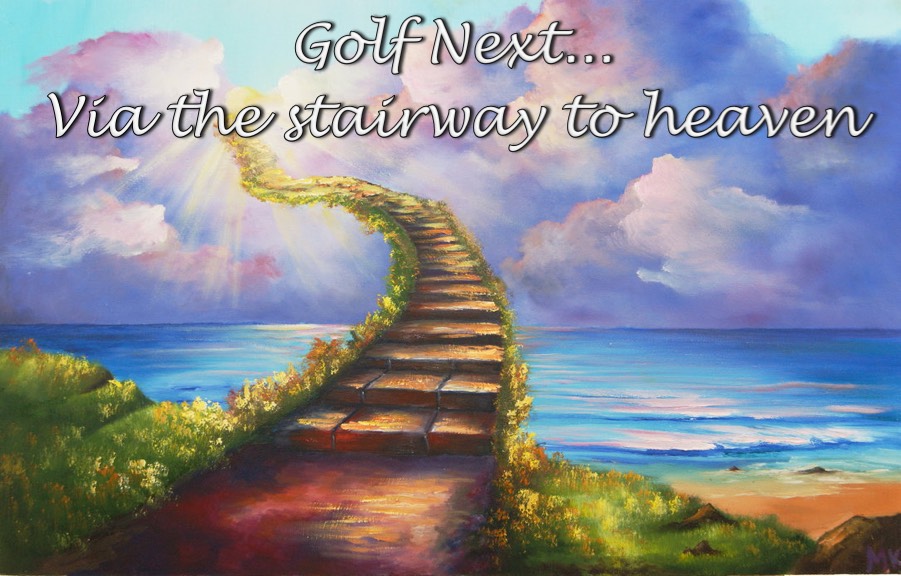 OK OK... Perhaps we exaggerated a little bit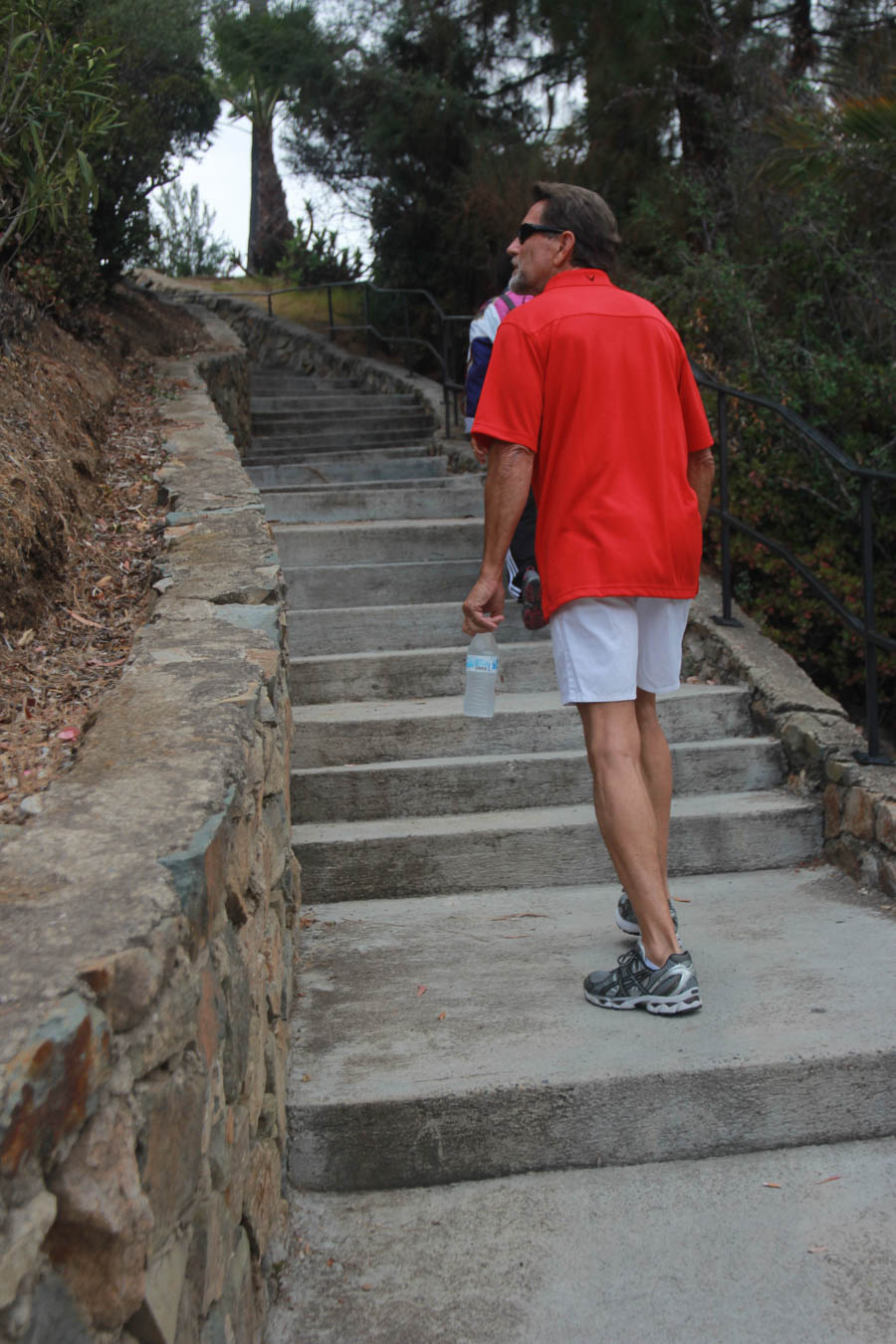 Bob got stopped by the local police officers for wearing shorts....
They were frightening the small animals and tiny children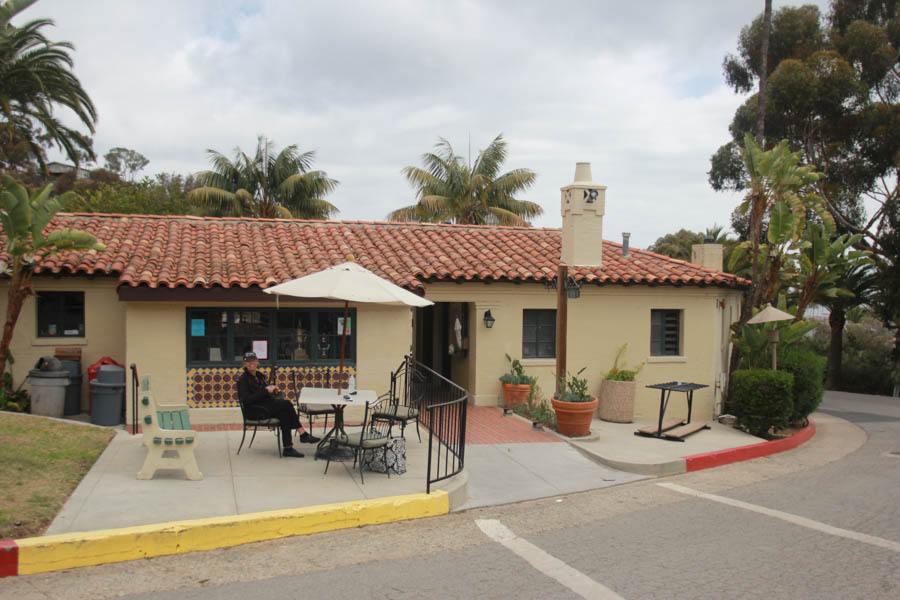 We await our tee time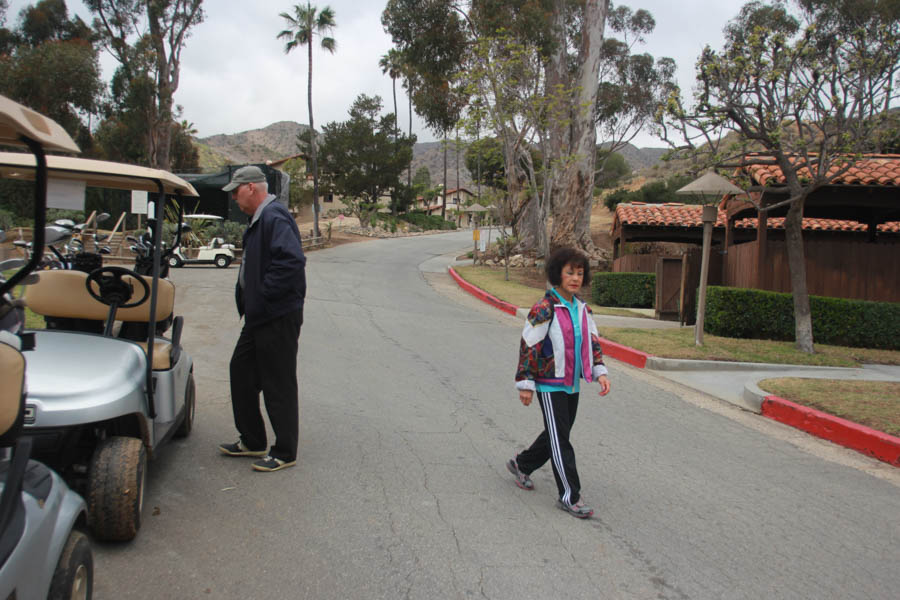 Packing up the carts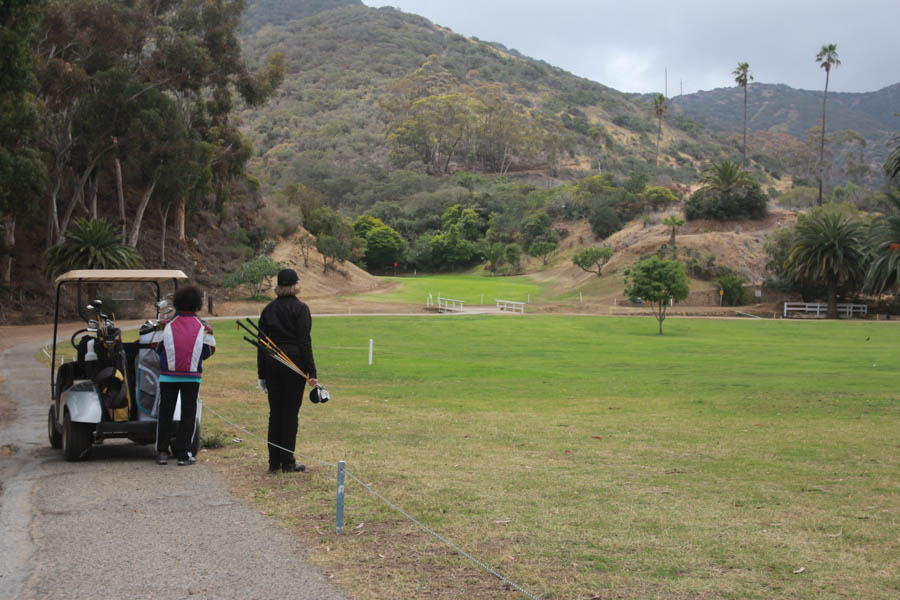 Holly loves Easter.... It gives her practice for finding her golf balls!

Suddenly we spotted a redbreasted gobblewonker sprinting across the fairway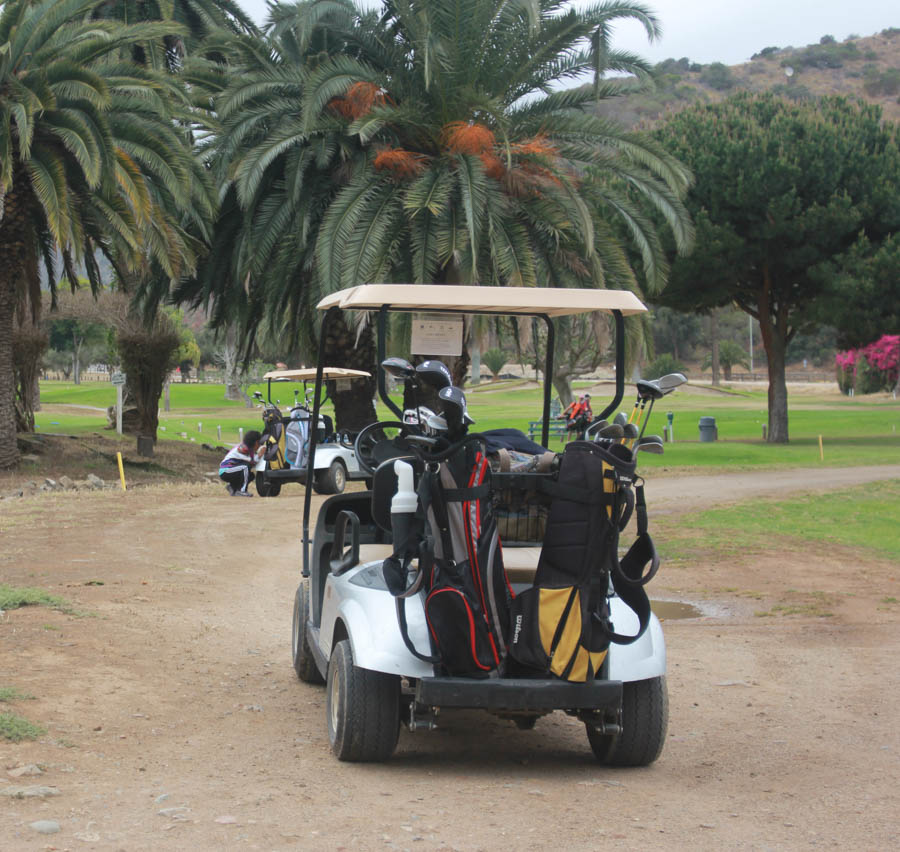 On the trail!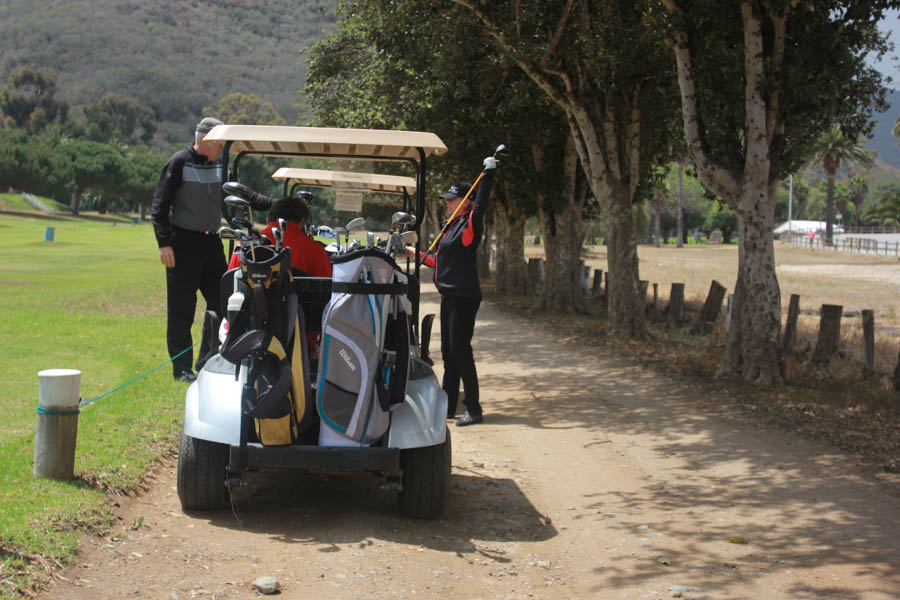 Our caravan is amazing...

There he goes... Bill wacks the ball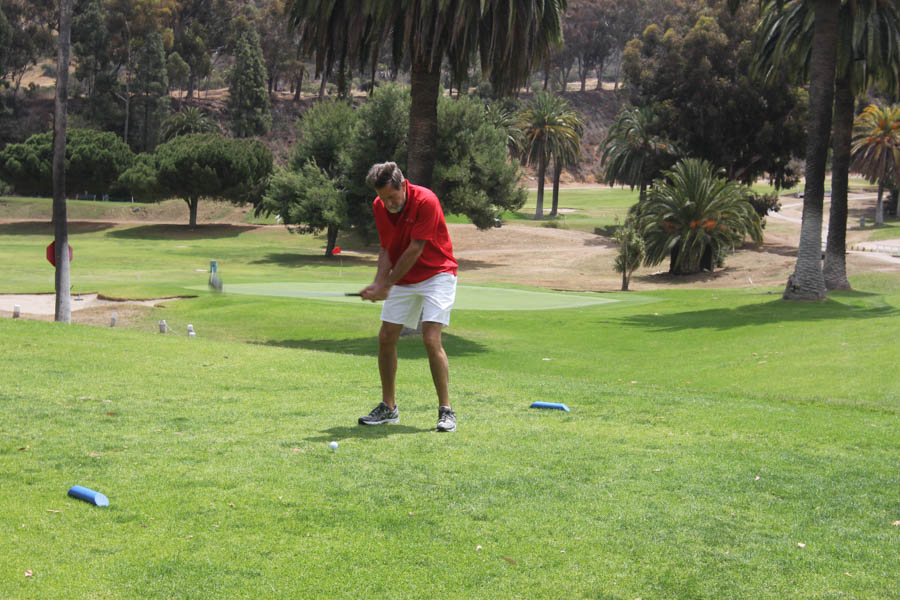 Bob has it teed up and ready to go!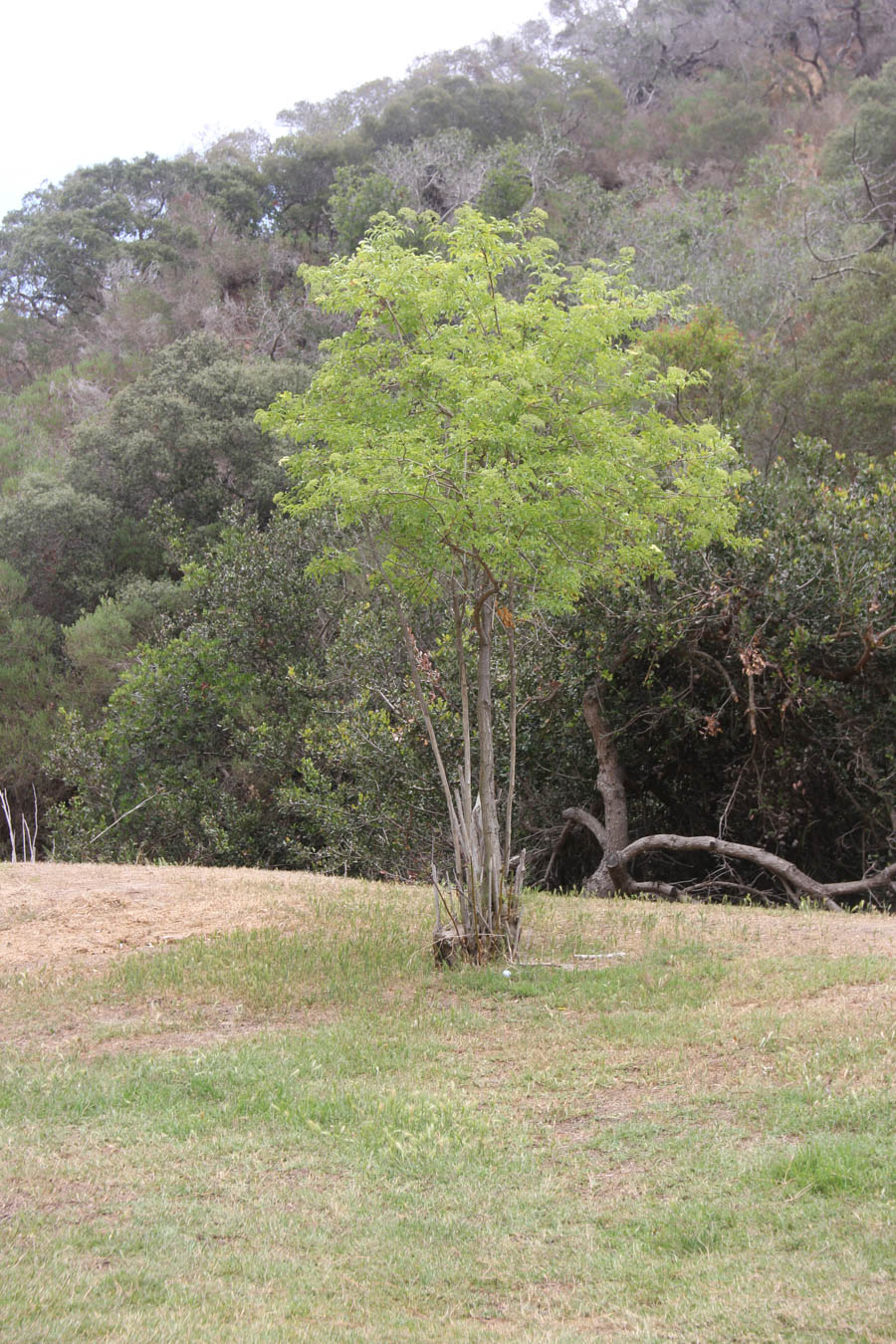 ..and it landed!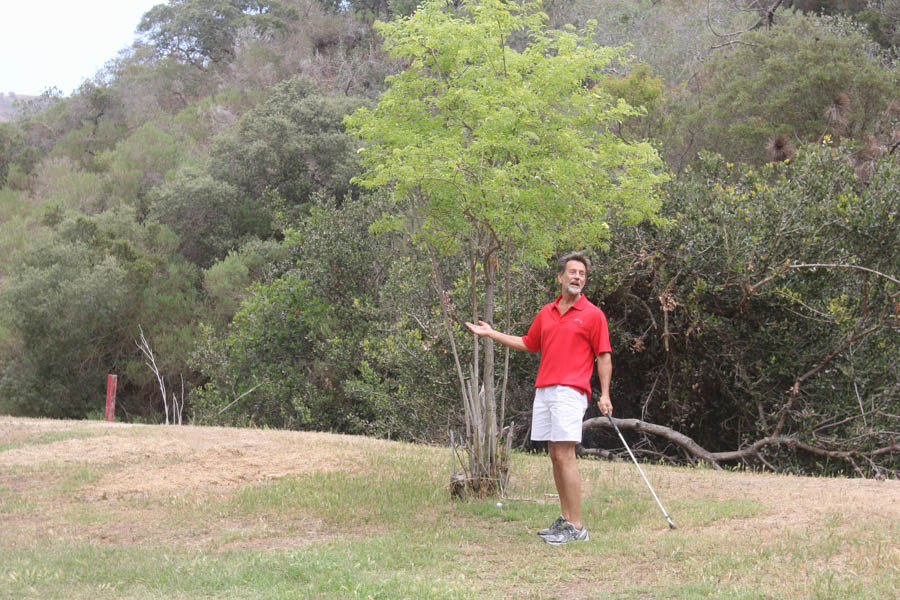 "Why me??"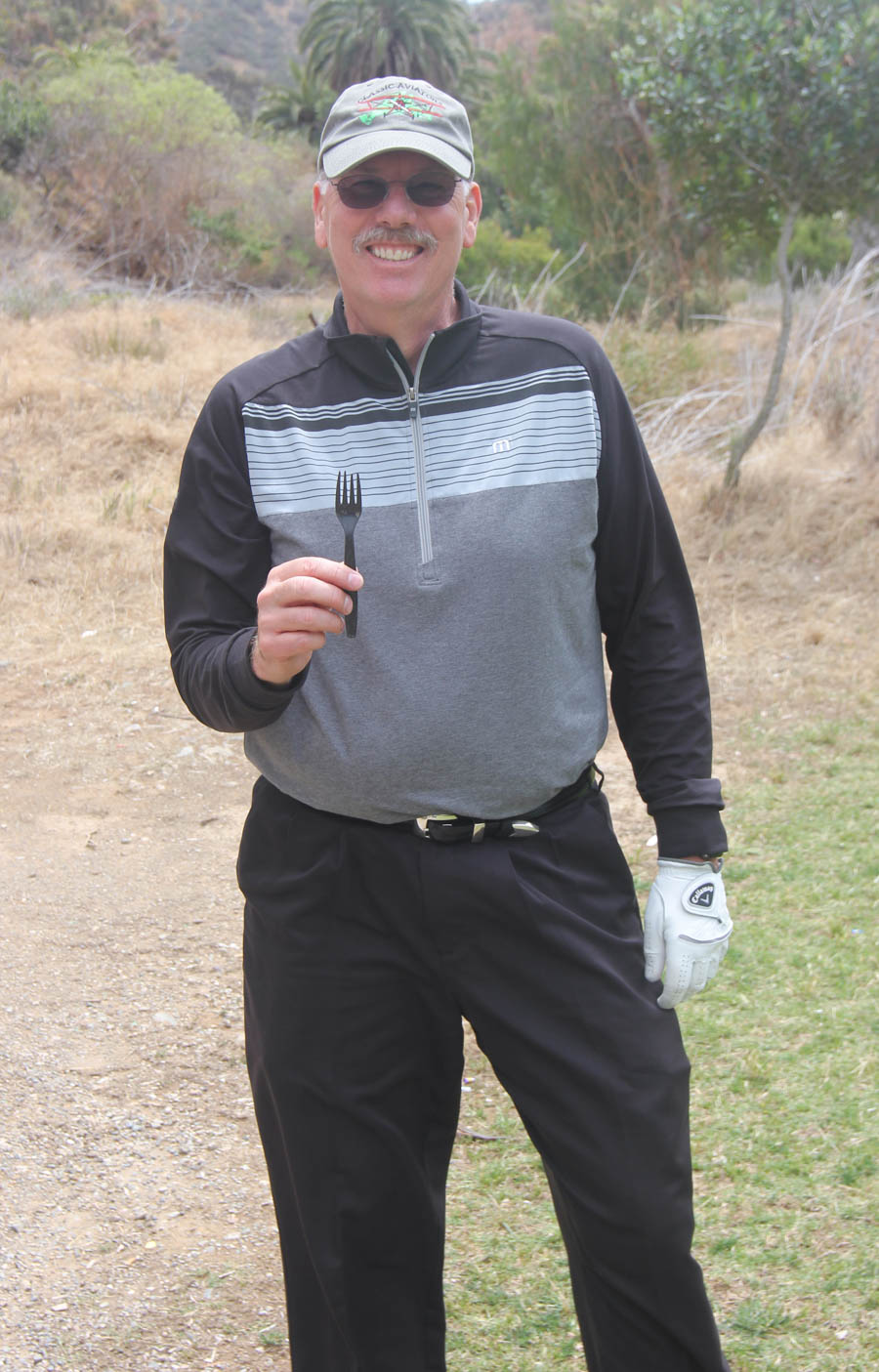 We turned at the "fork in the road"

"I supervised"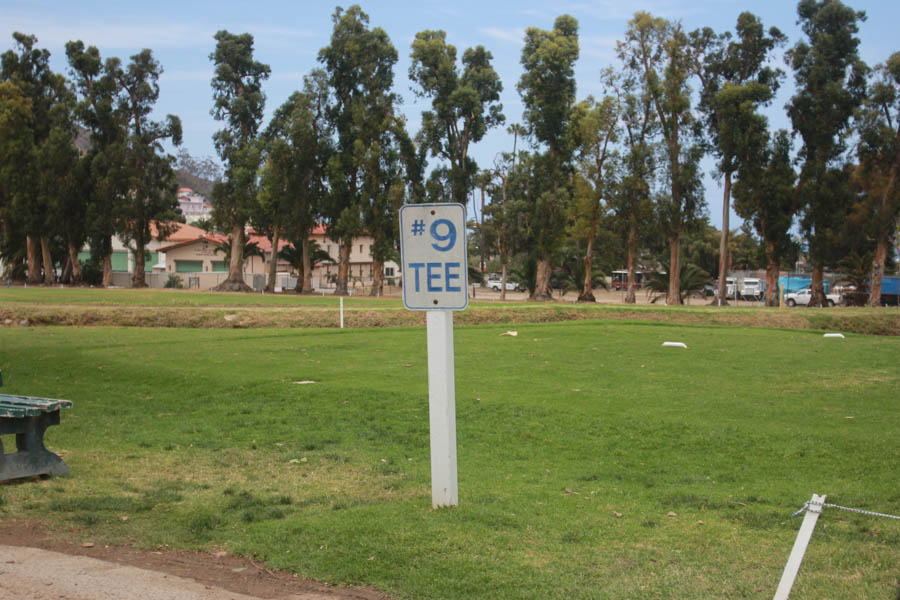 Return to civilization

We saw a lot of these signs...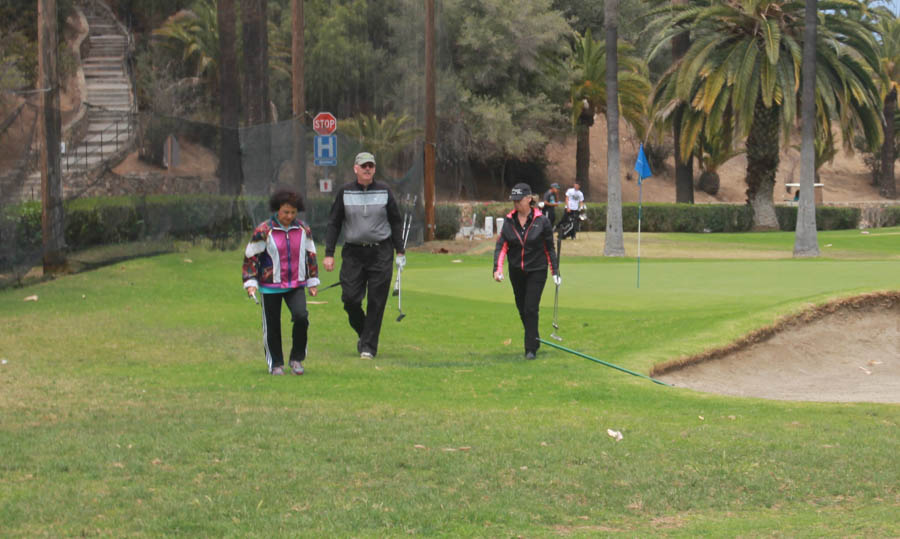 Finishing with a smile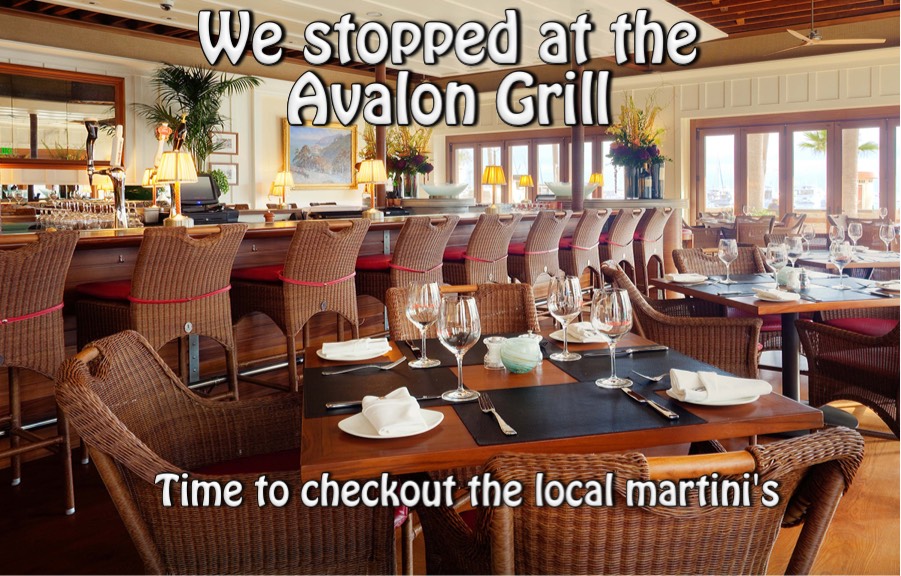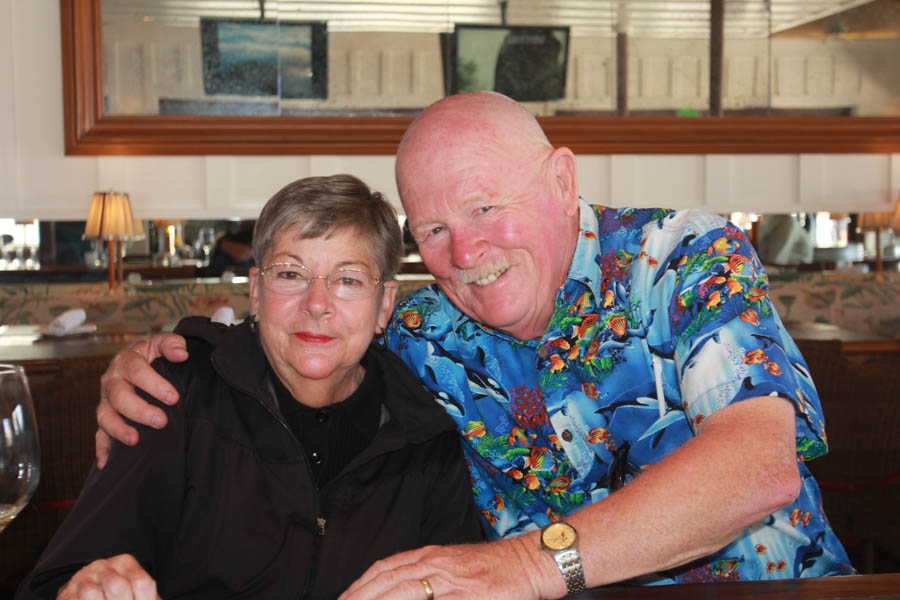 All smiles... What are we up to??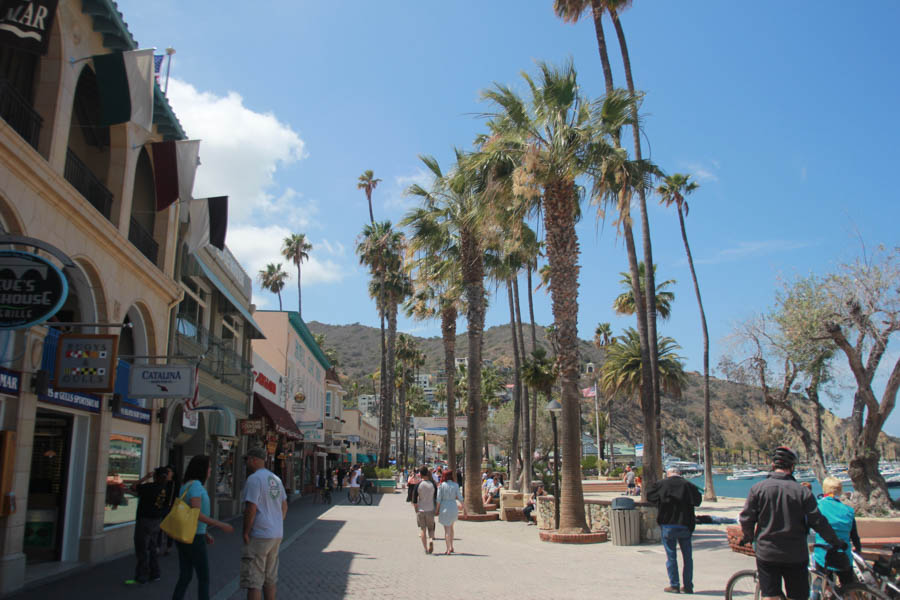 A short walk back to civilization and "The Patio"
In Comic Format...