Going Over On Friday (Page Three)
Most of us coagulate at the Downtown Terminal at 11:30 to get ready to board our vessel to Avalon, Catalina. It was the end of a California "rain storm" and we were hoping it would clear up by the time we got to Catalina!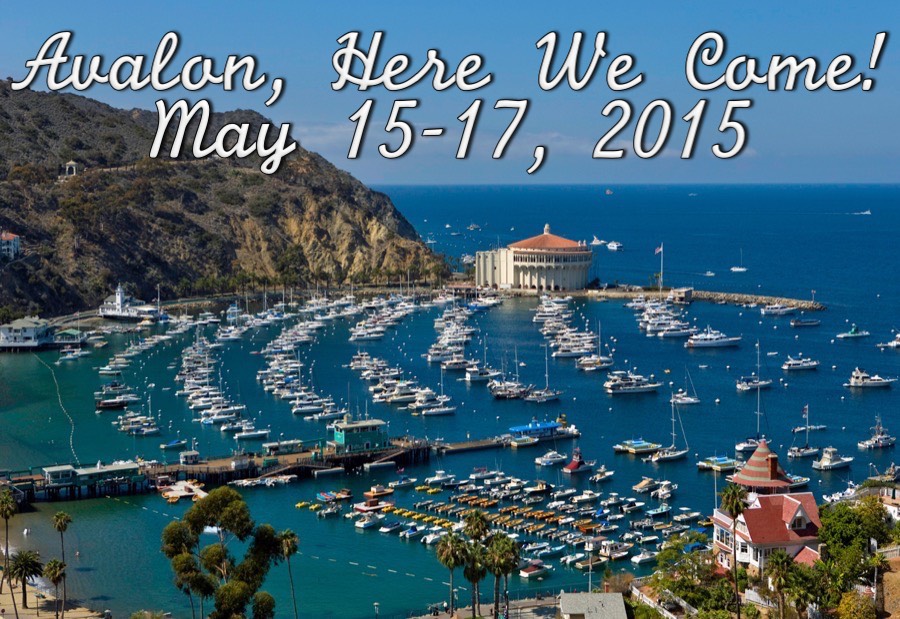 Beware... We will soon land and begin the festivities
Departure With A Little Bit Of Rain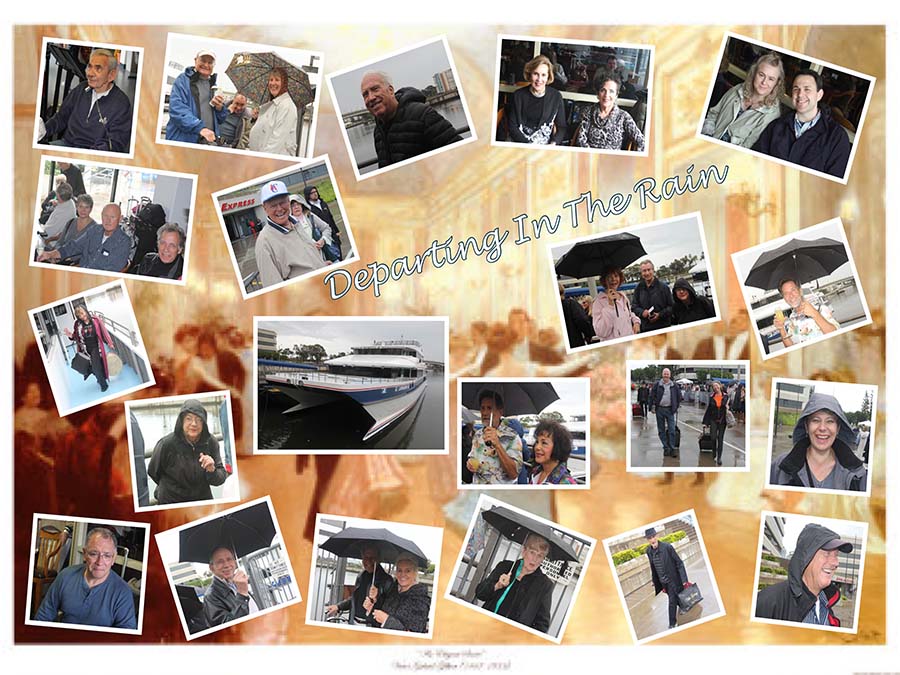 Departing in a light rain (Click for full sized image)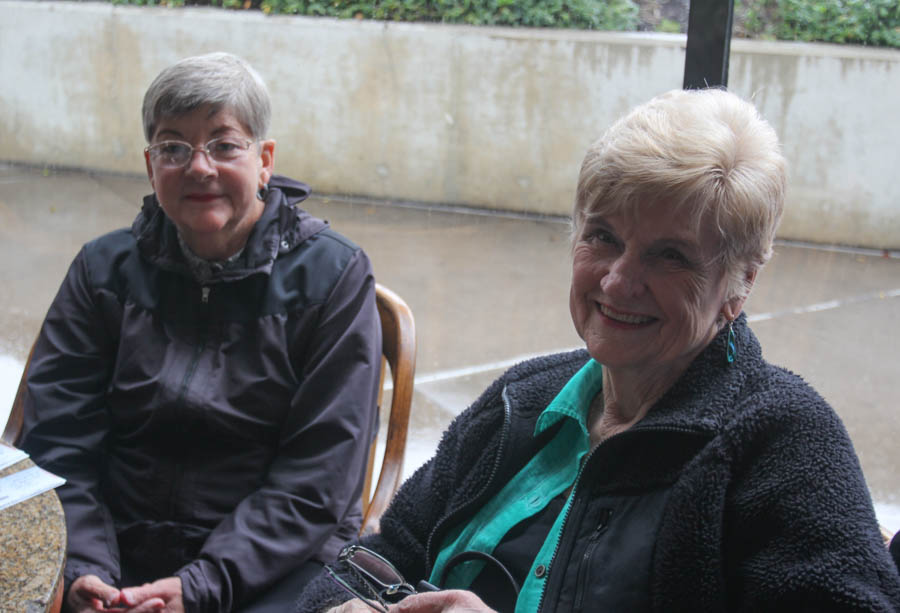 Yes... We did have some rain! Carolyn was ready to go!

Ed gets a last minute weather check!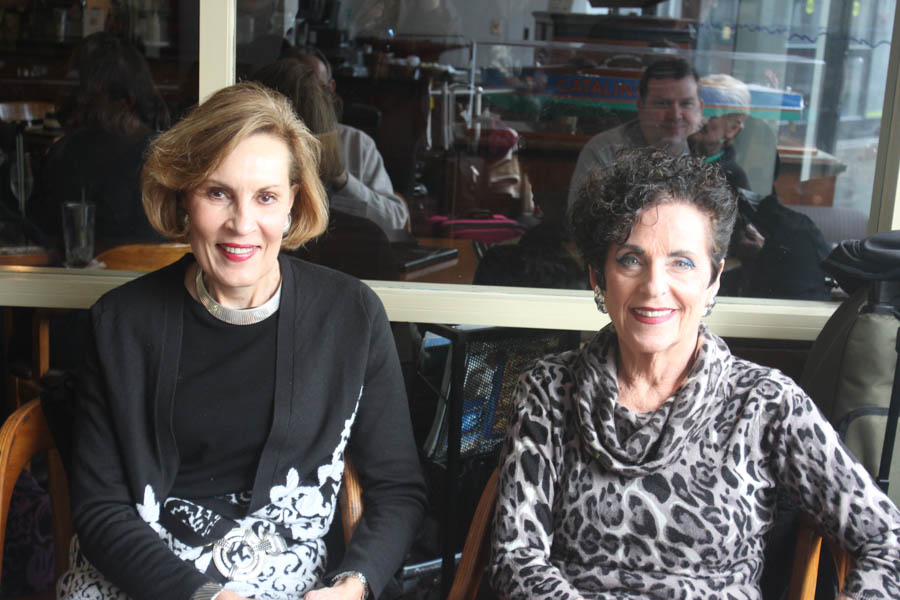 All smiles... The Bloody Marys always help!

Brenda and Sam... First ones here today... They opened the bar!

Fred just found out they have no beer this morning

Bob is all smiles.... What does he know?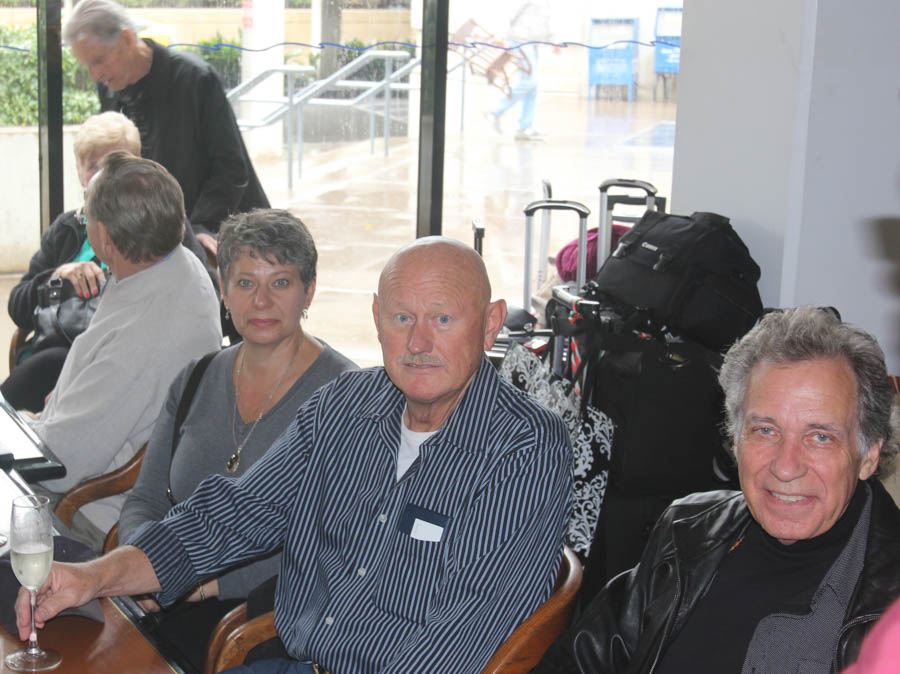 We have the corner seats...
Perfect for watching everything!

All is well... The scooter did just fine!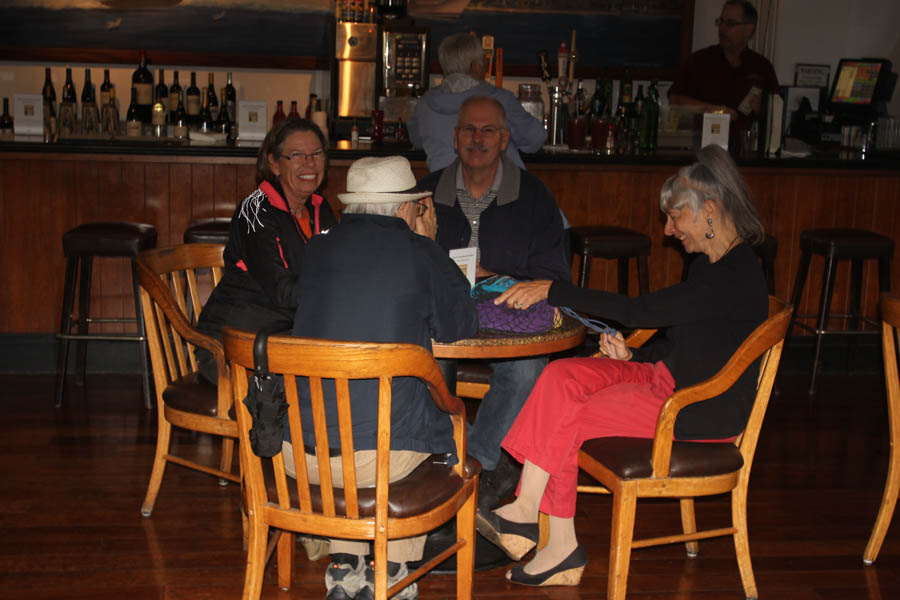 Ordering in style...
All Aboard (We Were Piped On Board)
Did You Know? - Piped aboard: Flag-rank officers or an important guest is boarding a Navy ship. This is part of a ceremony called "tending the side" which includes a party of sailors known as "side boys".
It has its origins in the need to hoist visiting senior officers aboard using a bosun's chair when the weather was too rough for the use of ladders. The bosun would use his call to direct the side boys in the hoisting of the chair.
A boatswain's call, pipe or bosun's whistle is a pipe or a non-diaphragm type whistle used on naval ships by a boatswain. It is pronounced, and sometimes spelled, "bosun's call".
The pipe consists of a narrow tube (the gun) which directs air over a metal sphere (the buoy) with a hole in the top. The player opens and closes the hand over the hole to change the pitch. The rest of the pipe consists of a "keel", a flat piece of metal beneath the gun that holds the call together, and the "shackle", a keyring that connects a long silver or brass chain that sits around the collar, when in ceremonial uniform.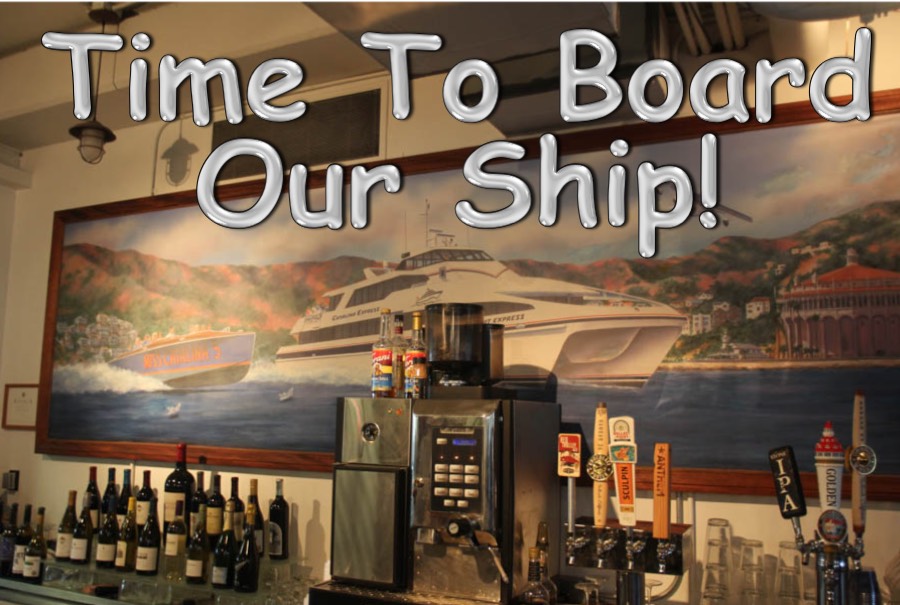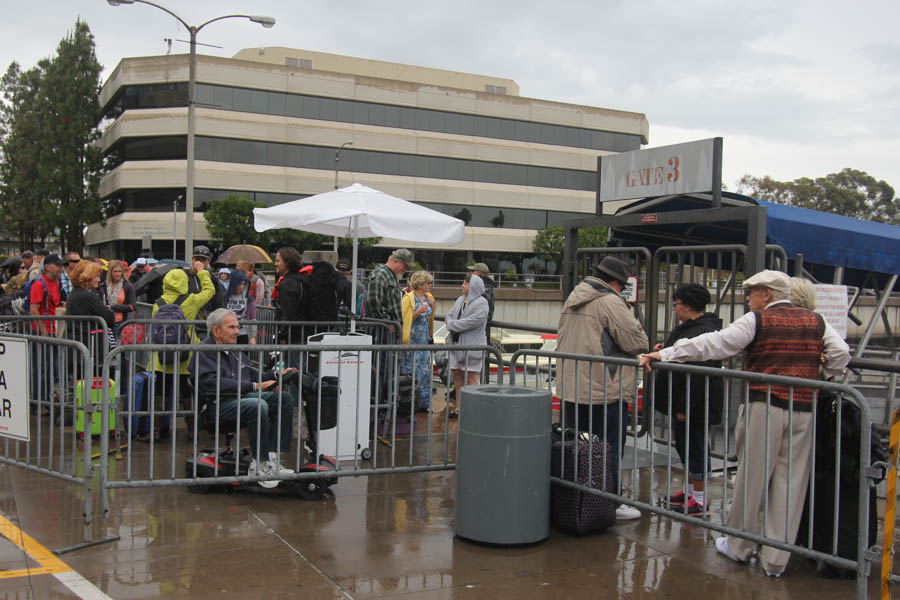 Dick was centered and ready to go!
The Catalina Express staff was excellent!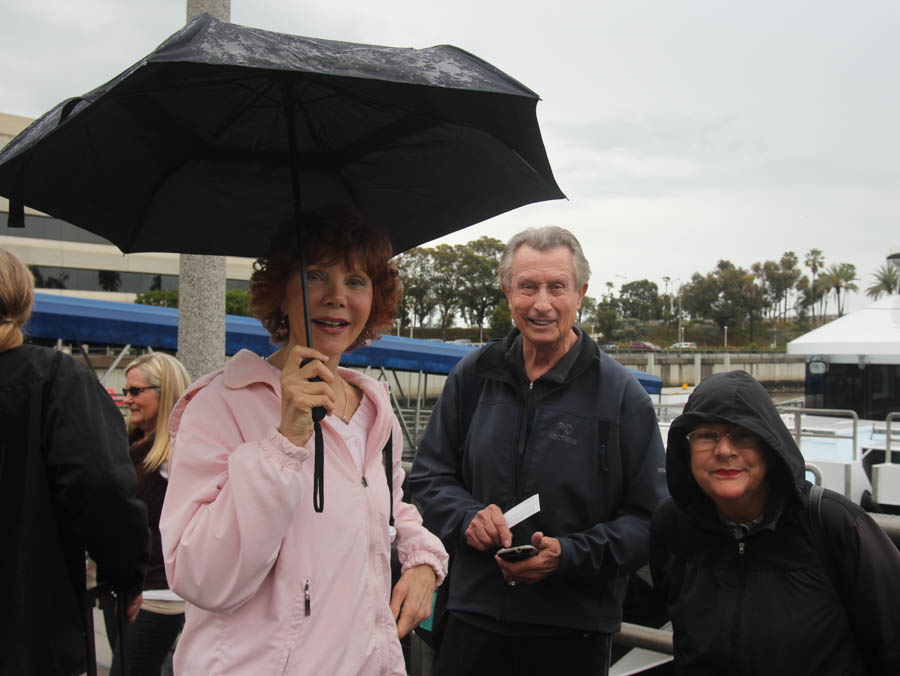 There was a bit of drizzle but nothing to write home about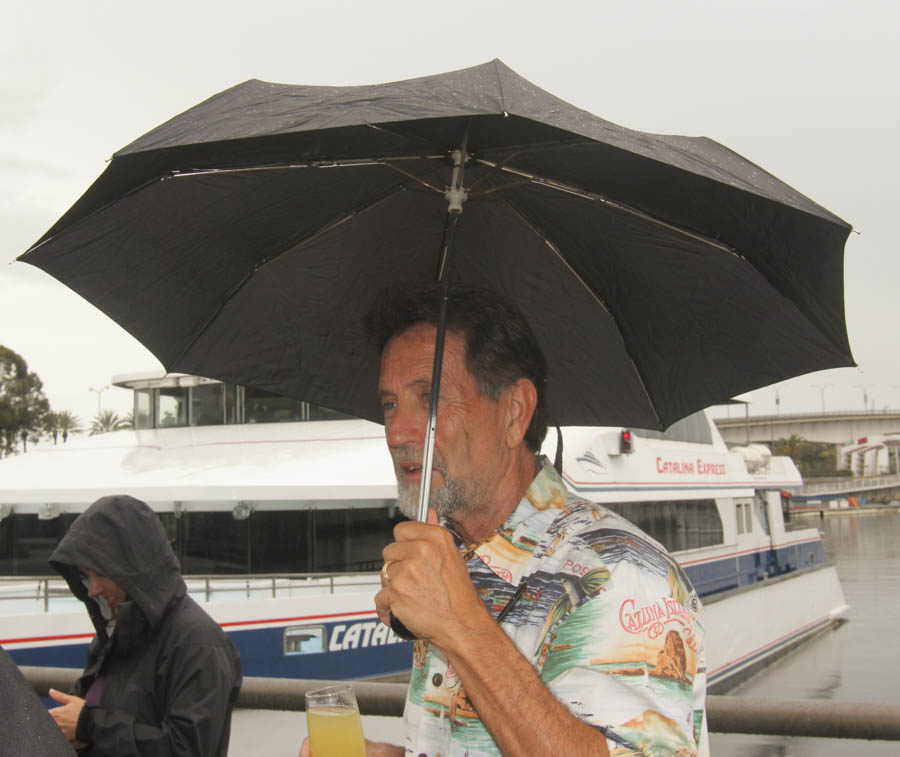 Bob had to use his umbrella as he has a new hair-do and wanted to keep it dry!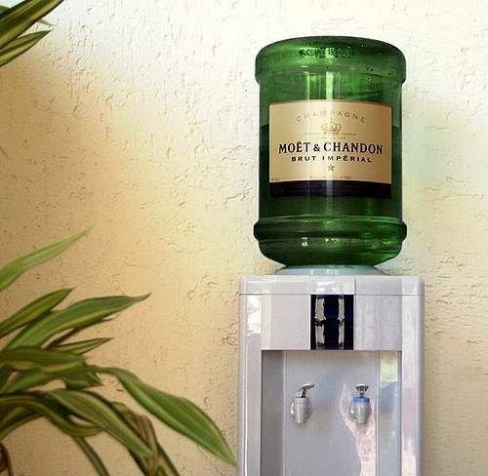 Bob likes hanging around the office!

Bob is NOT dry on the inside!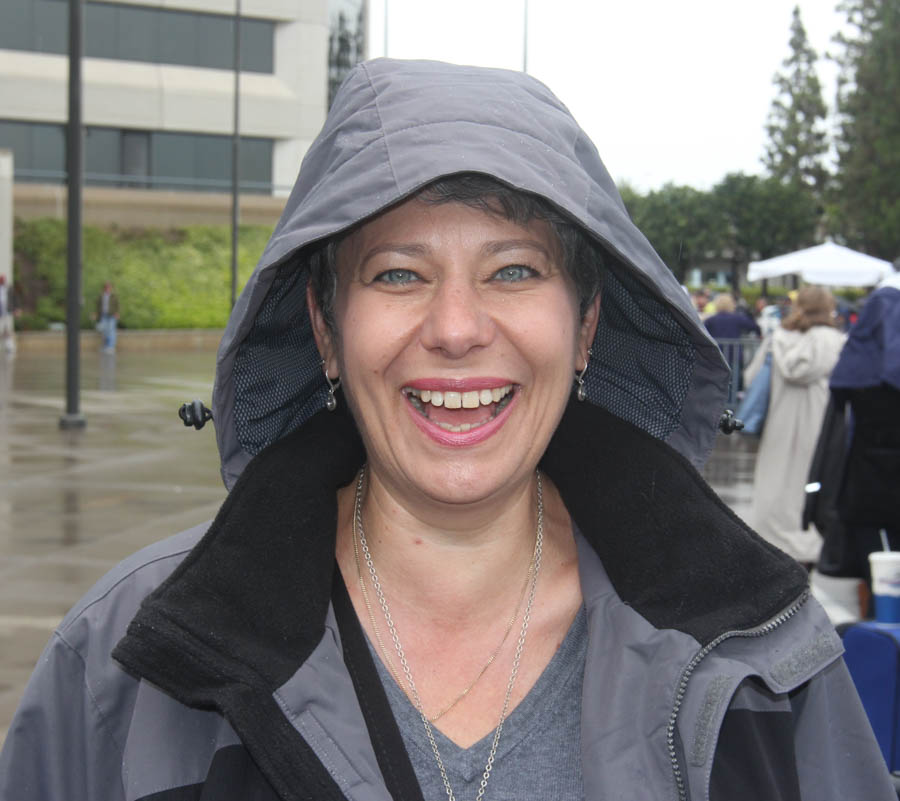 "I make noises like a duck on rainy days!"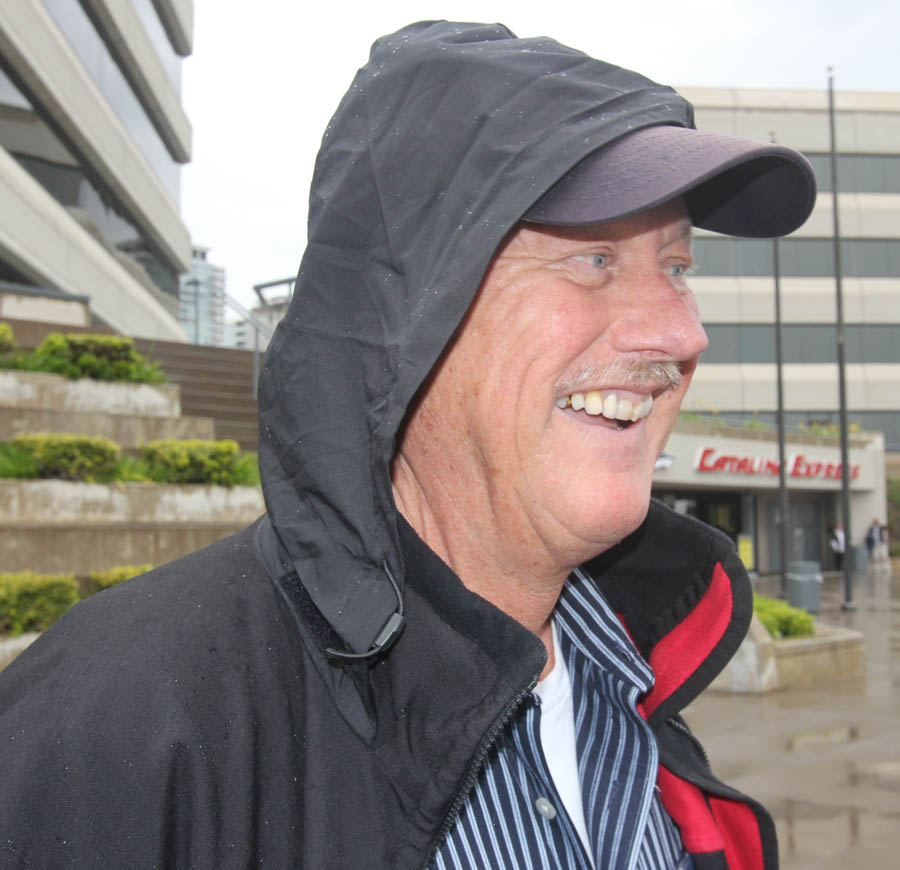 "Where is that duck!"

"It's wet out here!"

Fred sneaks in to the picture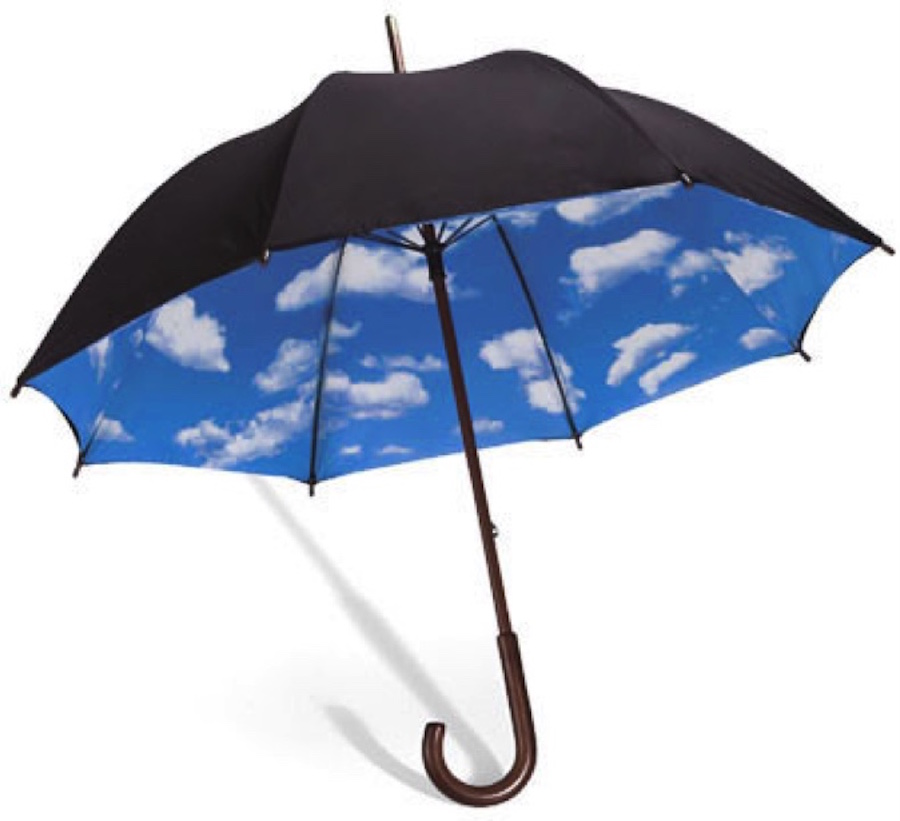 Fred kept looking up and telling us it was NOT raining and the sun was out!
Now we know why!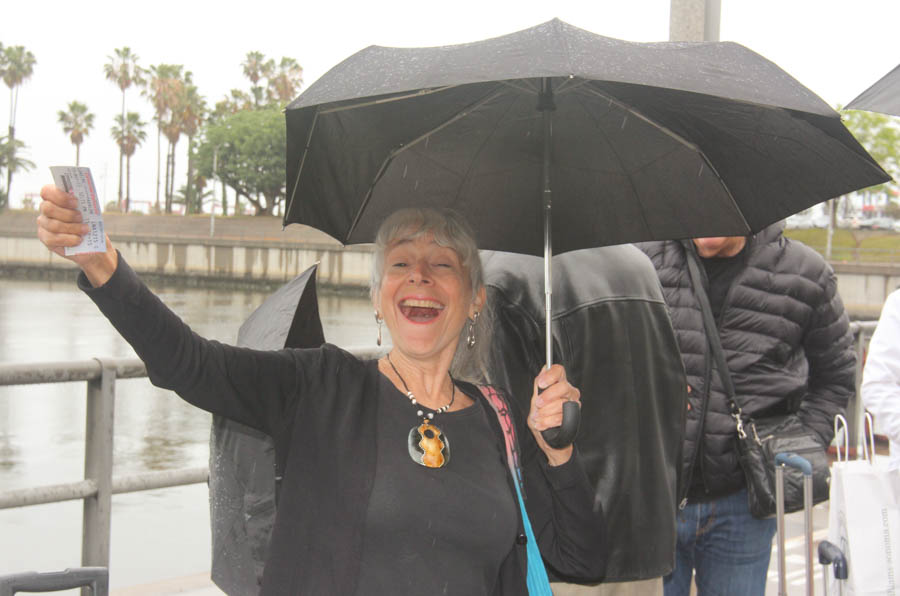 "I found our tickets!"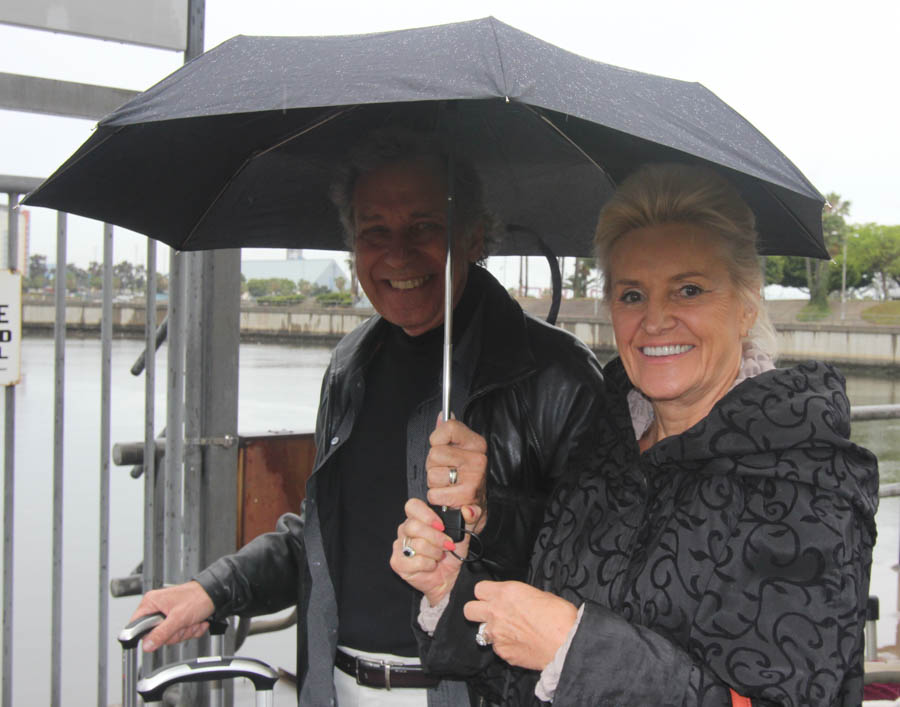 "We are not afraid of a little rain!"

Ed is brave... No umbrella!

"I am ready to board...!"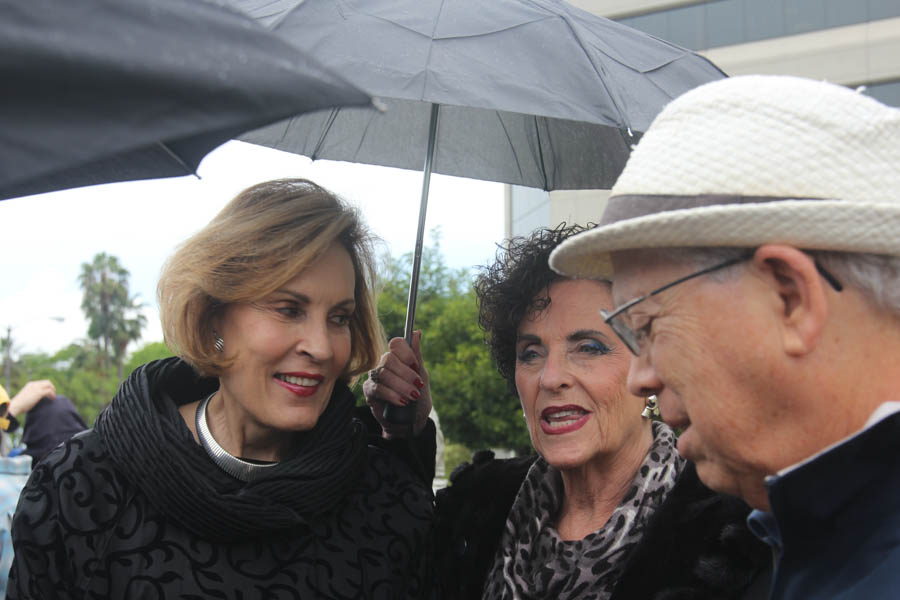 Checking the tickets!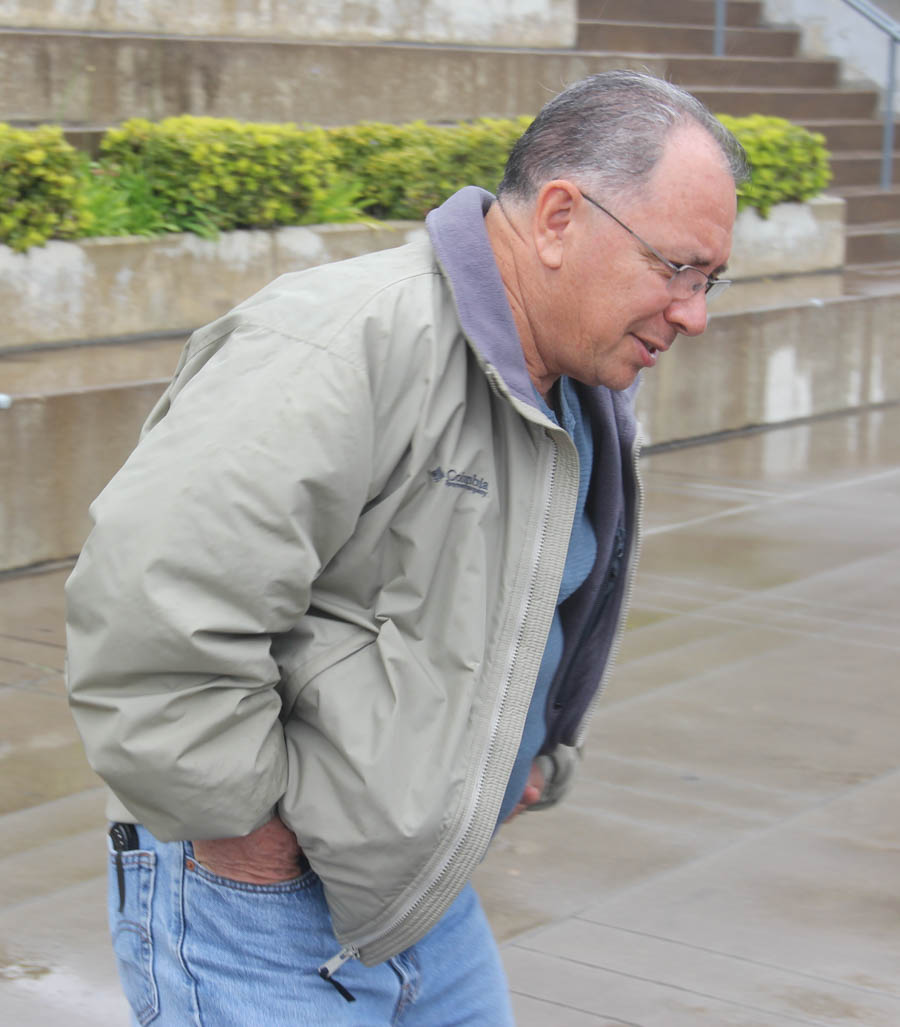 Fred tries his infamous rain dance!
Fred is keeping his feathers hidden... A good thing!
Did You Know? - A rain dance is a ceremonial dance. It is performed by people who believe it will cause rain and keep their harvest safe.
Many different types of "rain dances" can be found in many cultures, from Ancient Egypt to certain Native American tribes. In the 20th century Balkans, a ritual known as Paparuda (Romanian) or Perperuna (Slavic) is a type of rain dance.
The Cherokee tribe, an ethnic Native American tribe from the Southeastern United States used rain dances to both create rain and to remove evil spirits from the earth. The legend of the tribe says that the rain created has the spirits of the former leaders of the tribe. During the rain, these spirits fight the evil spirits in a place between our reality and the spirit world. These raindances are also seen as acts of worship.
Feathers and turquoise are worn during the dance.

Splishing and a splashing!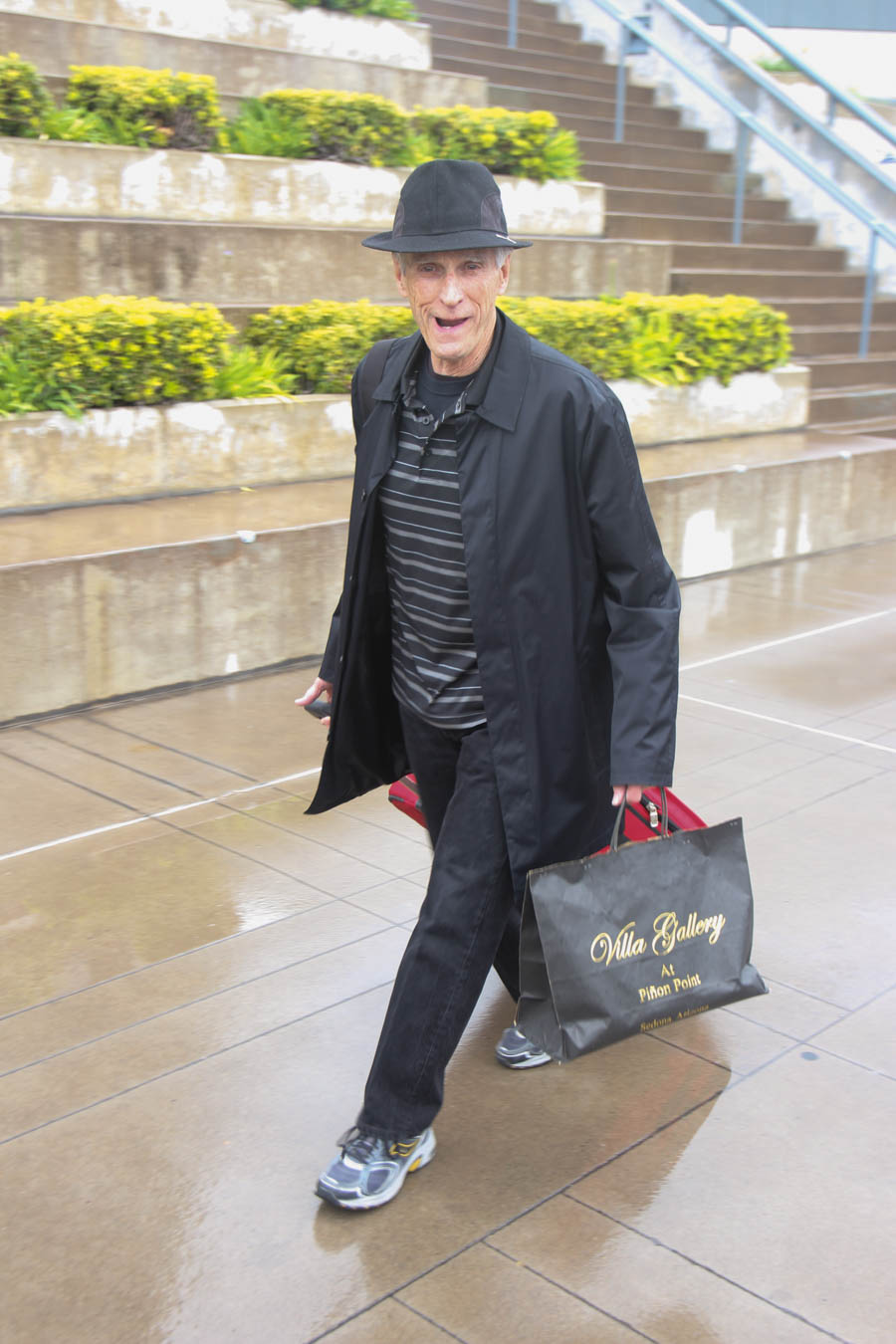 The much needed supplies are being brought on board

"Bring on the ship! We are ready to get this party going!"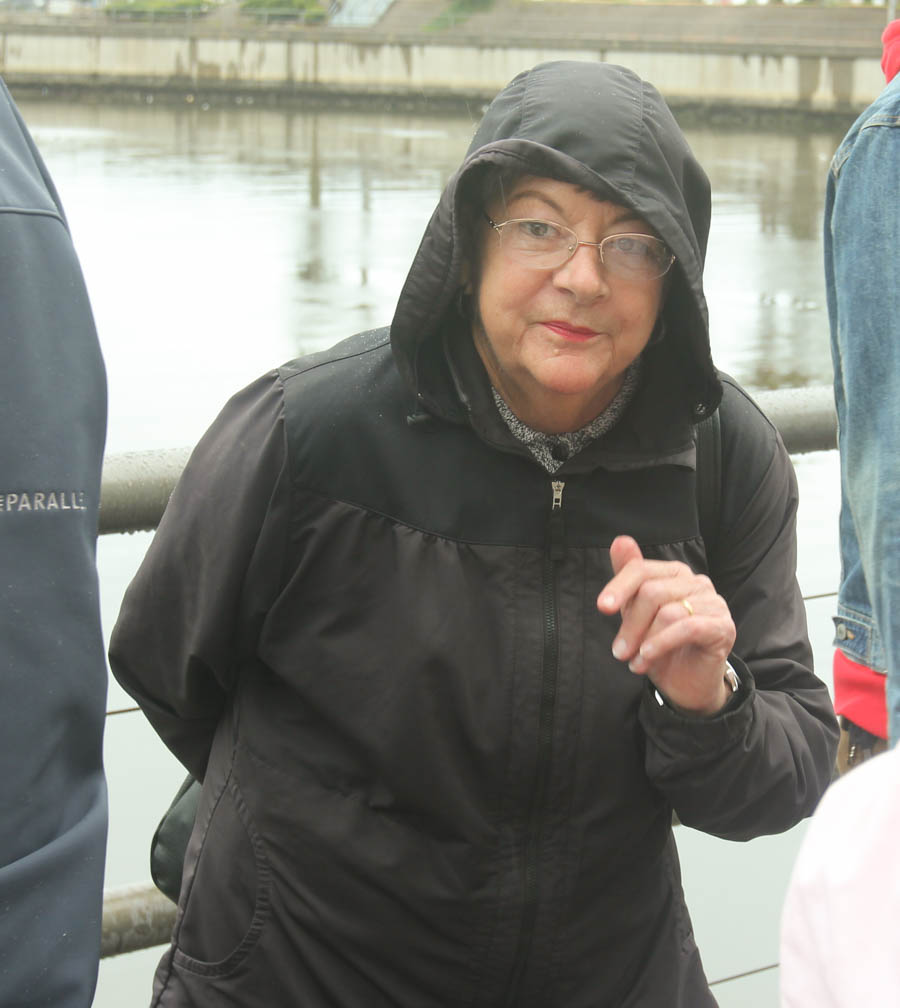 "He didn't know the party started 30 minutes ago!"
'

Bob is NOT sharing his drink...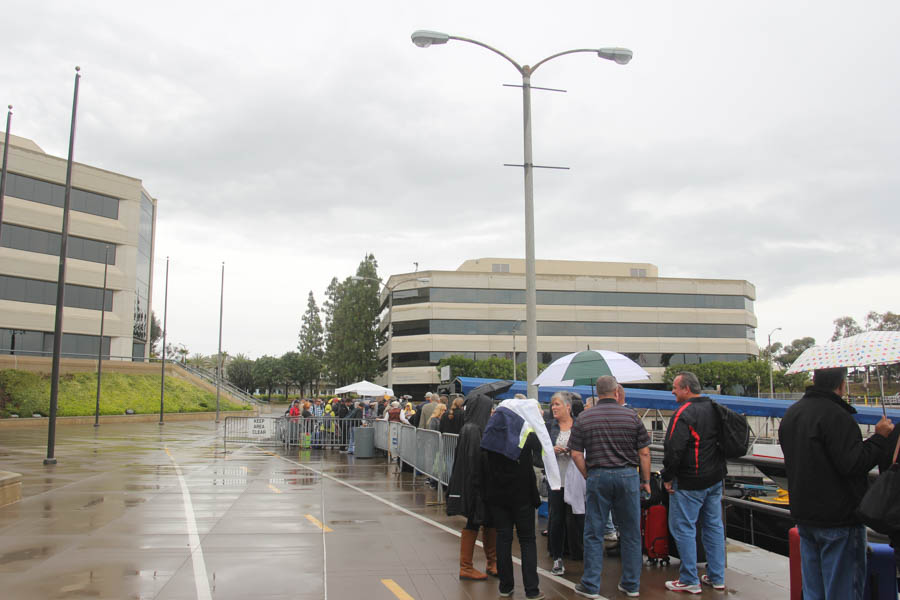 We board first since we are "Commodore Lounge"
Did You Know? - Use of the term "commodore" dates from 1775 in the then-Continental Navy, the predecessor of the modern U.S. Navy, when it was established (but not used) as a courtesy title reserved for captains in command of a fleet or squadron.
The first U.S. naval officer to become a commodore was John Barry, a senior officer of the Navy, appointed in 1794 after the former Continental Navy was reorganized into what would become the current U.S. Navy.
On Board And Ready To Begin The Adventure

The conductor just shouted out "All Aboard"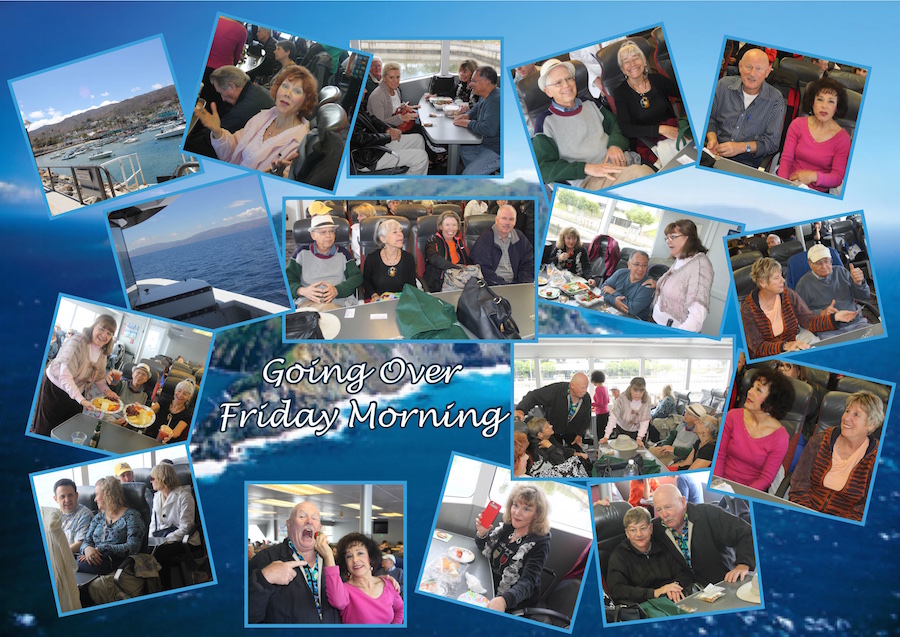 We are off and running! Click for the full sized image)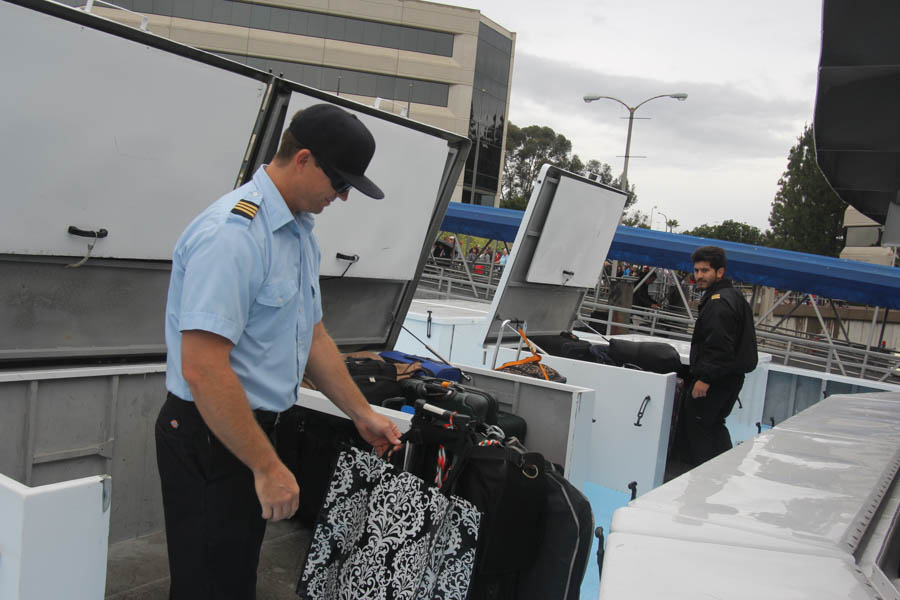 Our bags get a temporary home!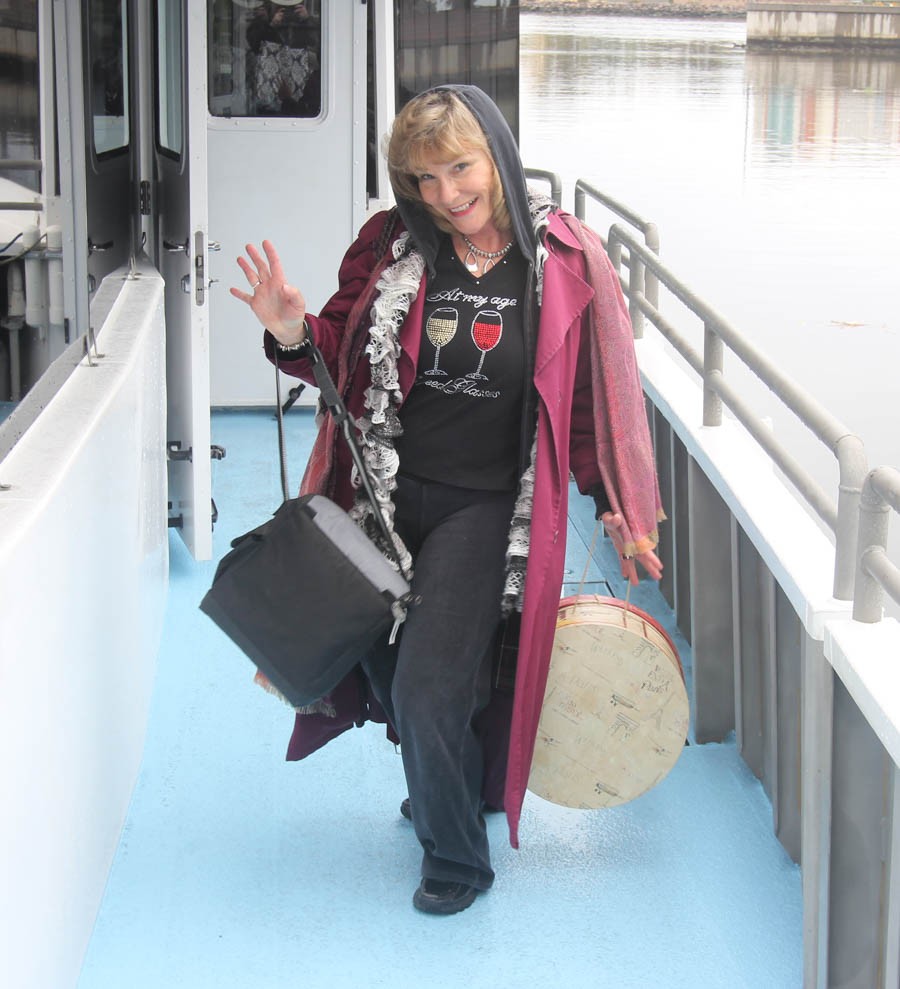 "Tah dah!"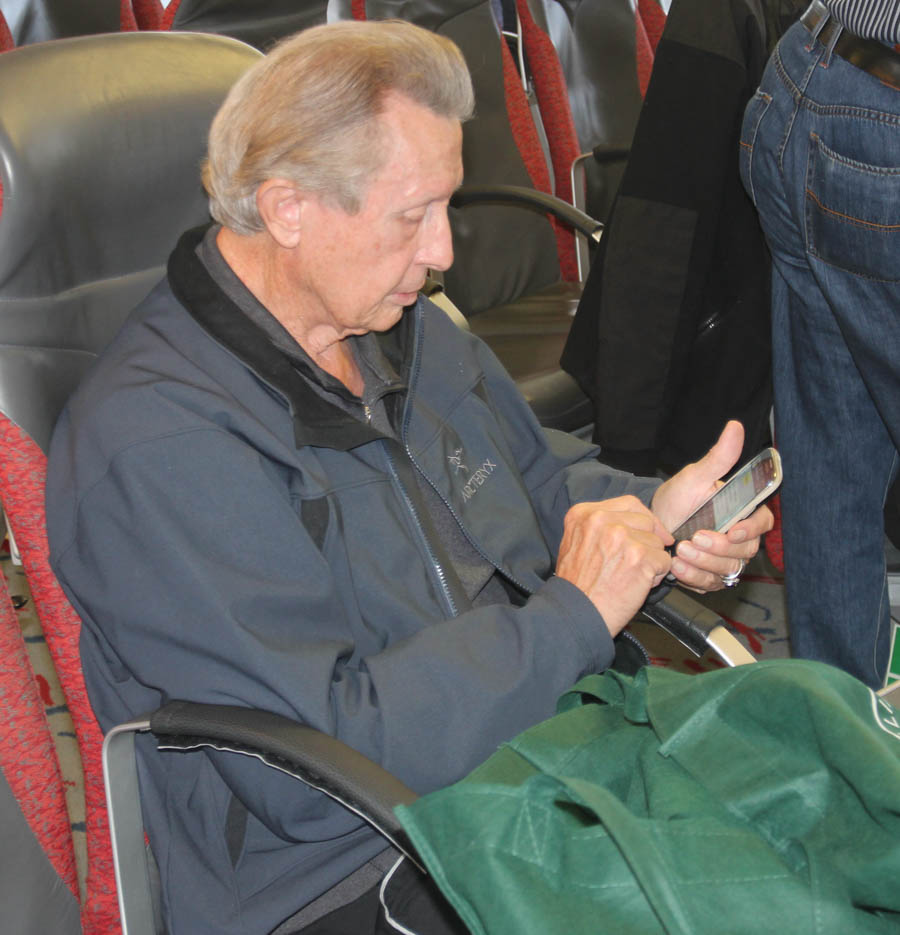 One last text message before coverage goes away!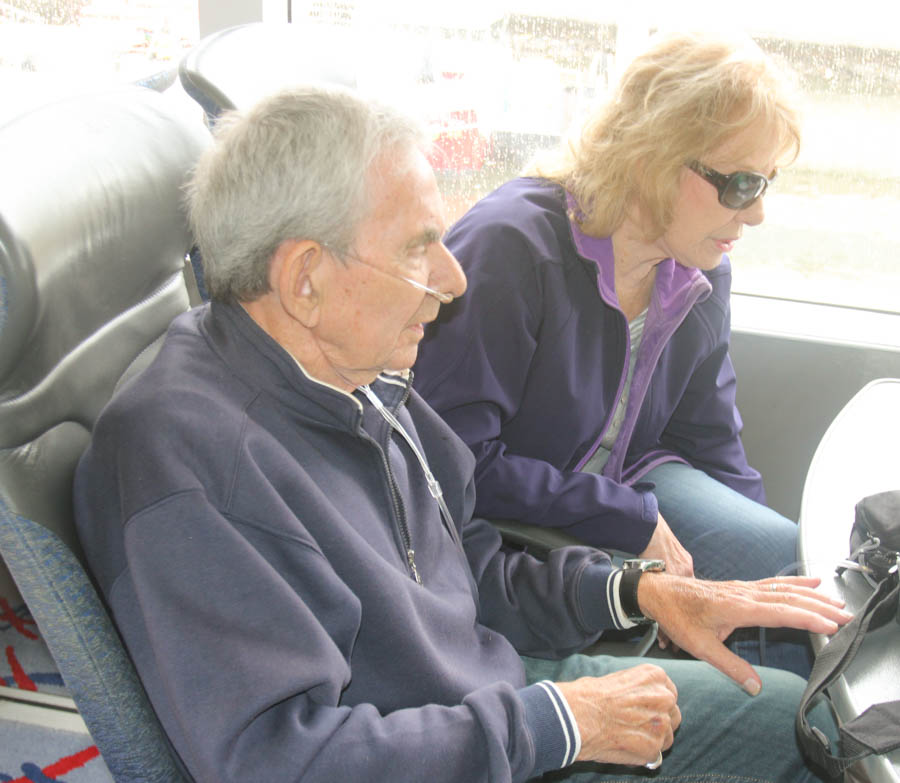 In place and ready to continue the party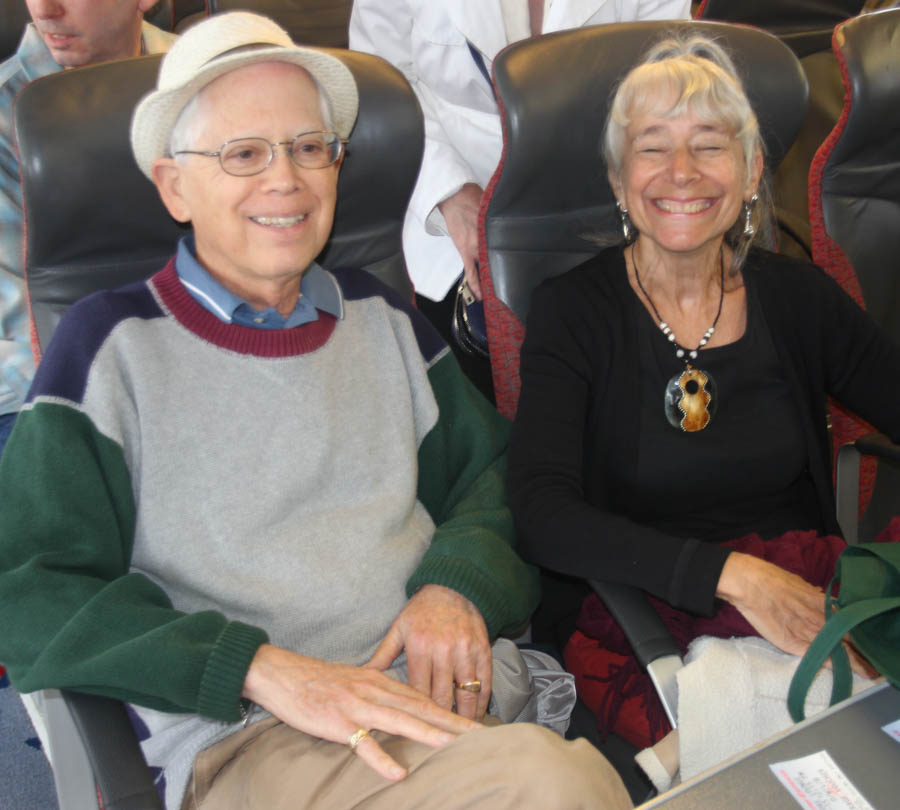 "Did we hear the word drink?"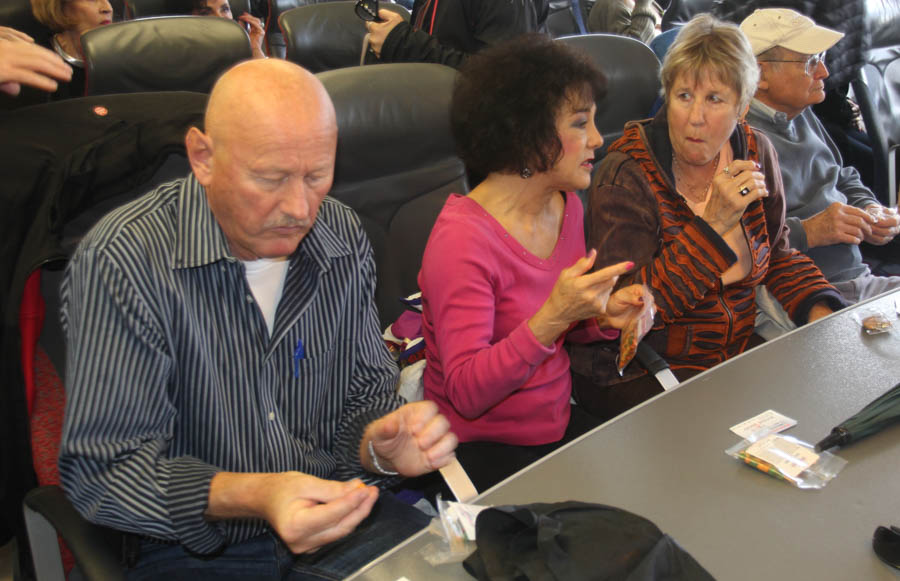 We are battening down the hatches
Did You Know? - From the practice aboard a ship of sealing hatches to prevent water getting below-decks in a storm by using covers secured by strips of material, called battens, firmly attached to the frame of the hatch opening.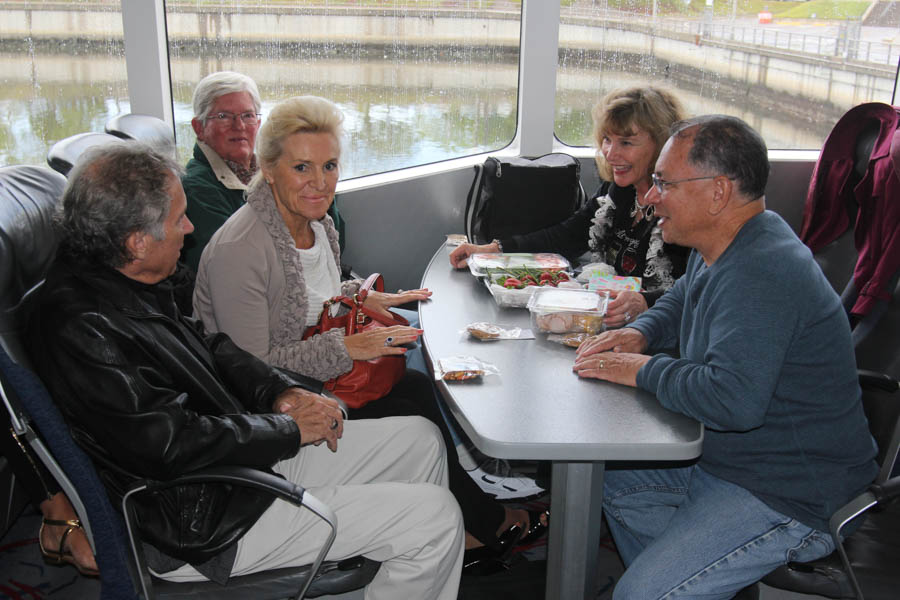 The food comes out.. It all of a sudden quiets down!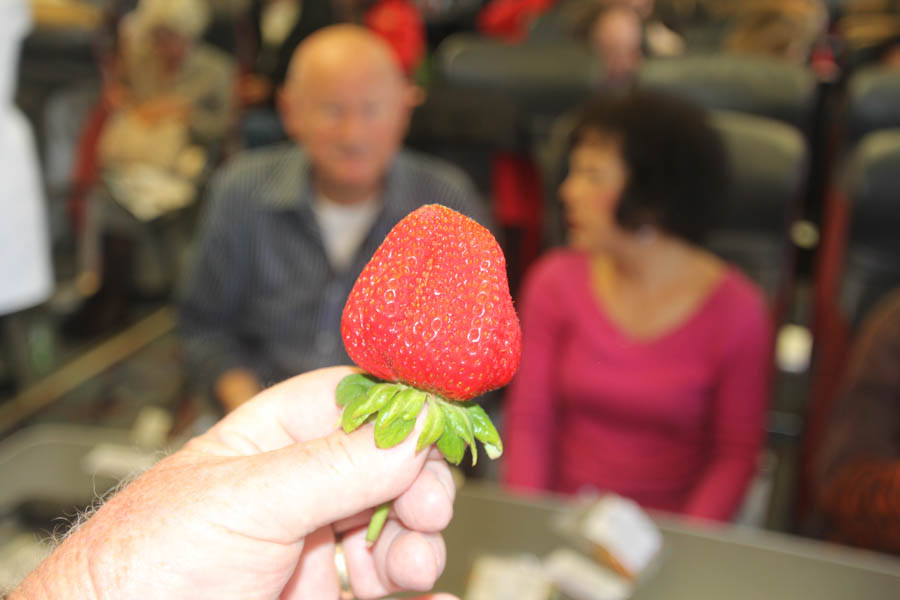 Paul found the world's largest strawberry!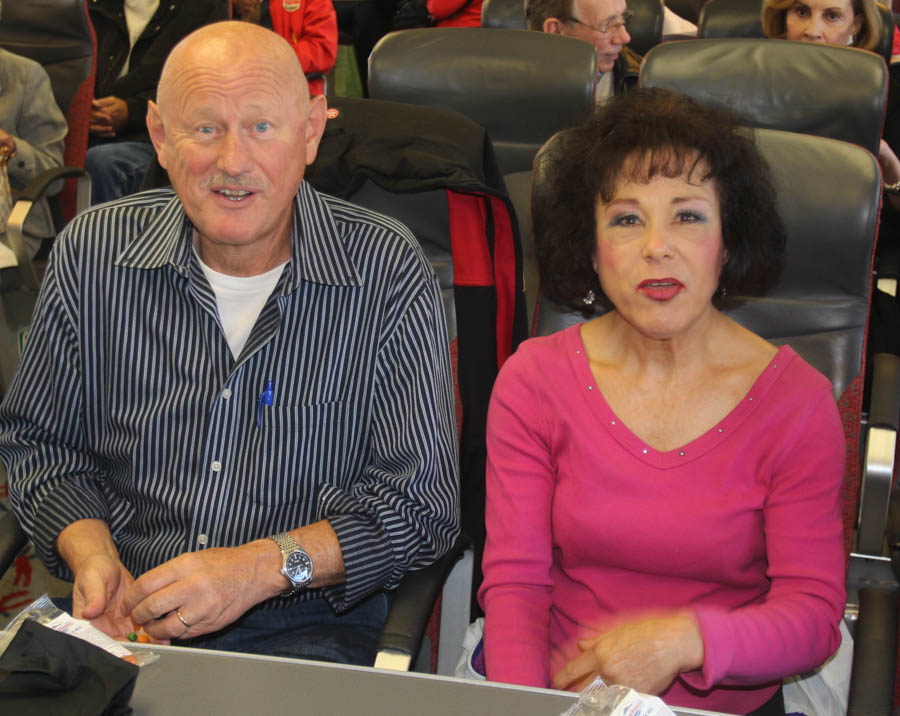 Hans and Donna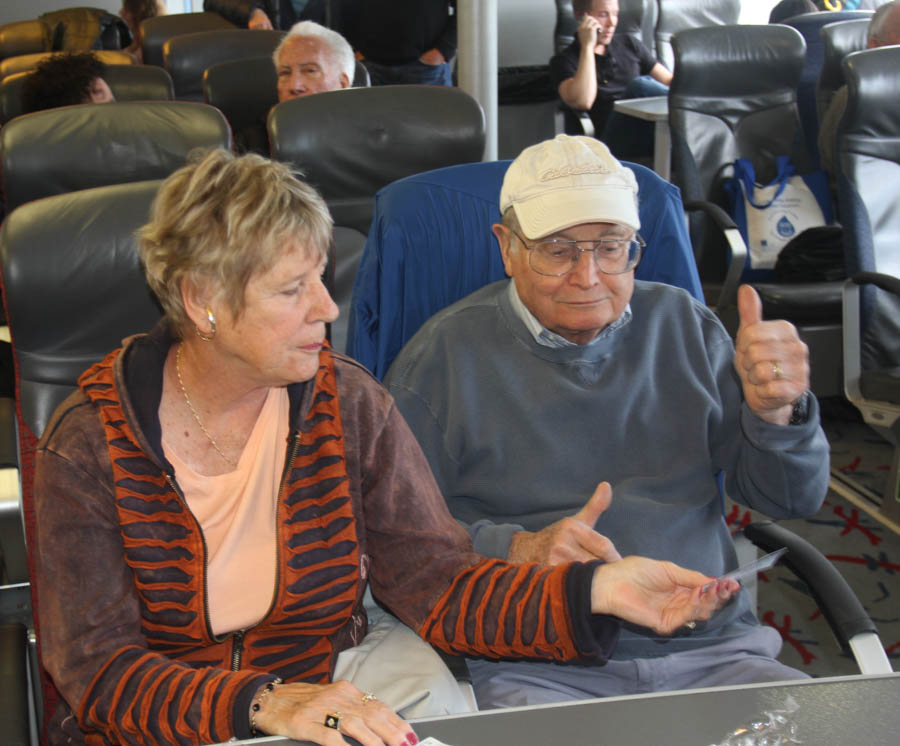 "Guess what I am holding in my hand? It's the return
ticket and you better be good or I will keep it!"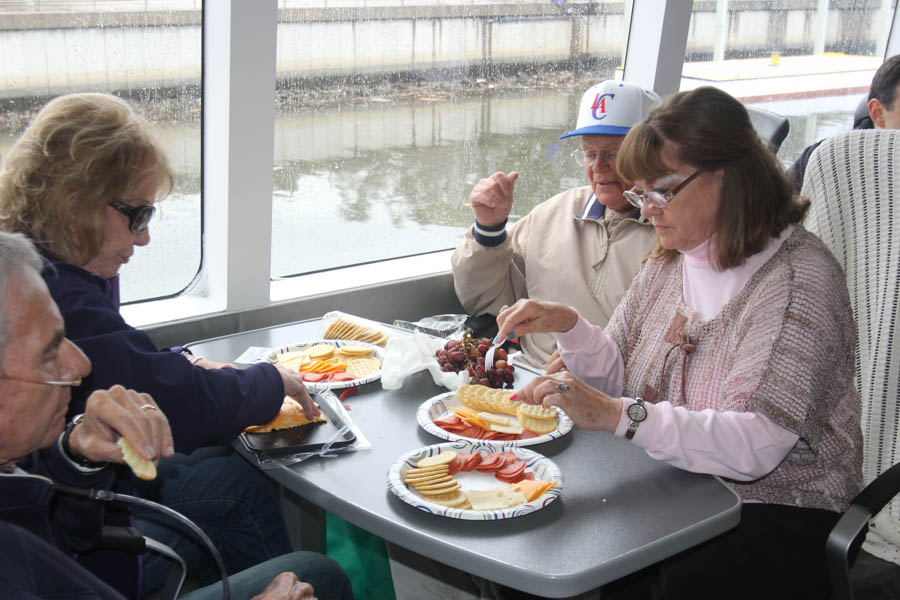 Hey guys... Dinner in five hours!

Relaxing!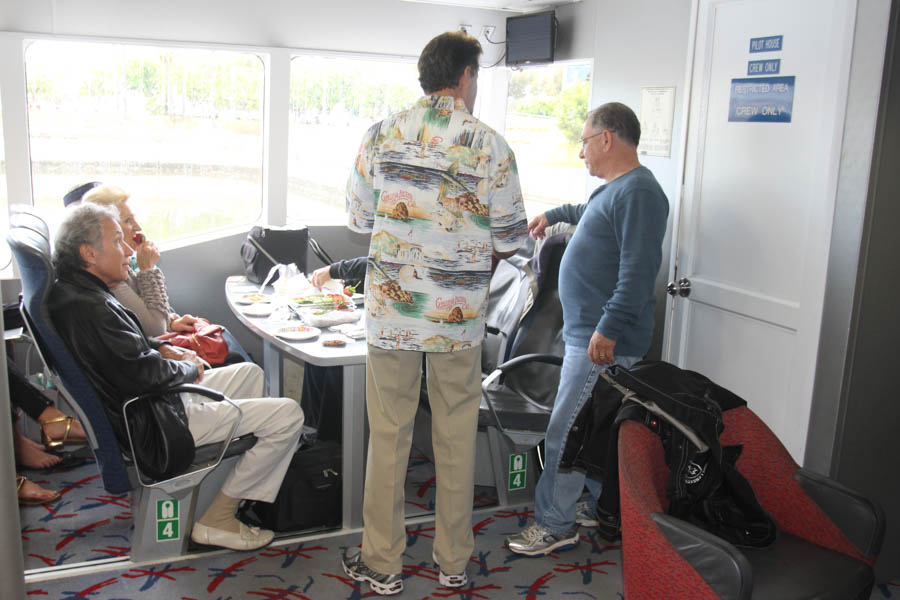 Bob and Fred are working the tables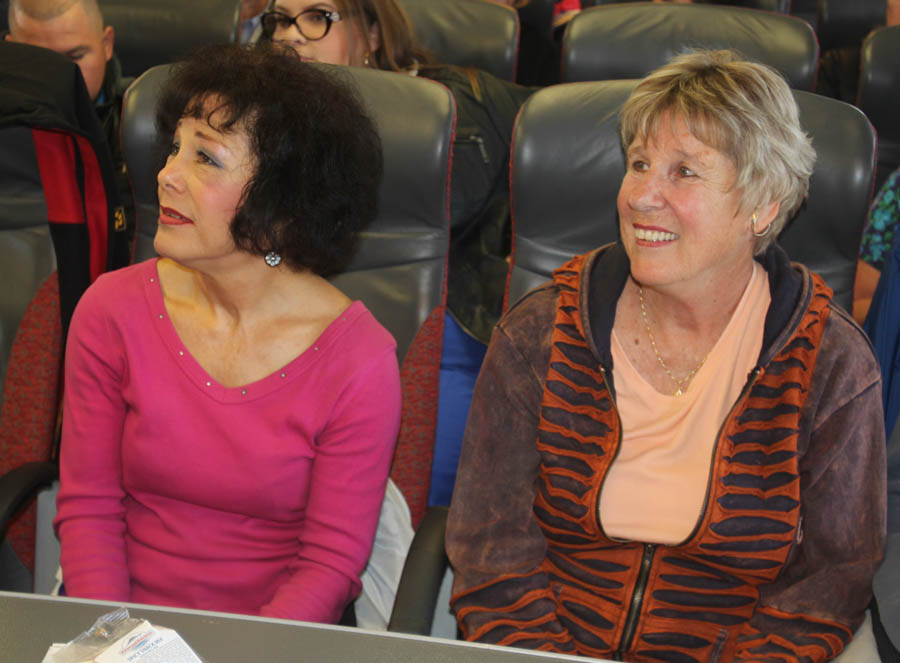 Donna and Teri look worried!... Perhaps they might consider flying over

The famous PBY
Did You Know? - The Consolidated PBY Catalina was an American flying boat, and later an amphibious aircraft of the 1930s and 1940s produced by Consolidated Aircraft. It was one of the most widely used seaplanes of World War II. Catalinas served with every branch of the United States Armed Forces and in the air forces and navies of many other nations.
During World War II, PBYs were used in anti-submarine warfare, patrol bombing, convoy escorts, search and rescue missions (especially air-sea rescue), and cargo transport. The PBY was the most numerous aircraft of its kind and the last active military PBYs were not retired from service until the 1980s. In 2014, nearly 80 years after its first flight, the aircraft continues to fly as a waterbomber (or airtanker) in aerial firefighting operations all over the world.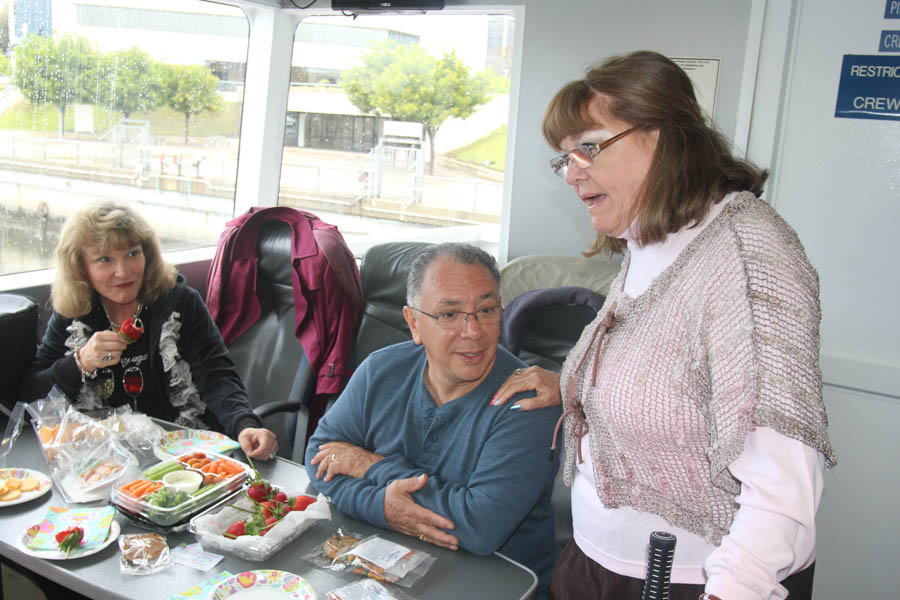 The joke of the day from Gail
Joke Of The Day:
Q: If they call the birds that fly out at sea "Sea Gulls" then what to they call birds that flow over the bay?
A: Bagels!

Bob is happy he still has his sea legs.... Of course we have
not pulled away from the dock yet!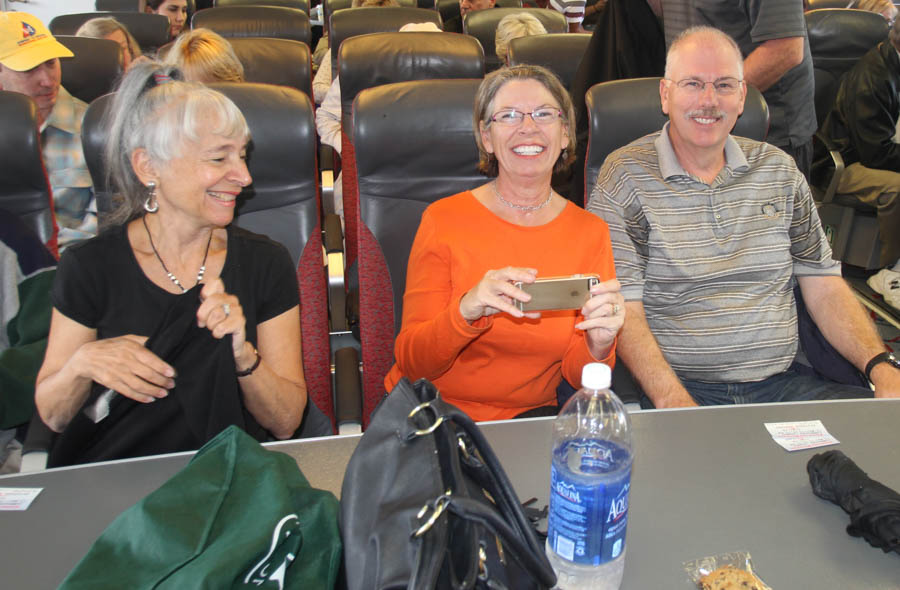 BEWARE... The pocket camera is out!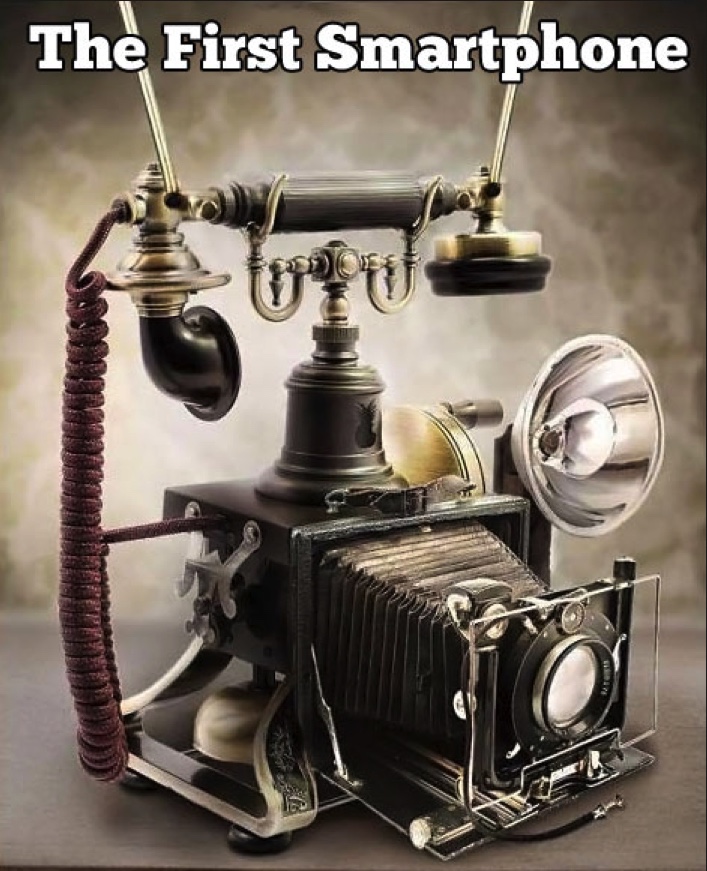 Holly left her other smart phone at home

Paul... On the search for food or a drink!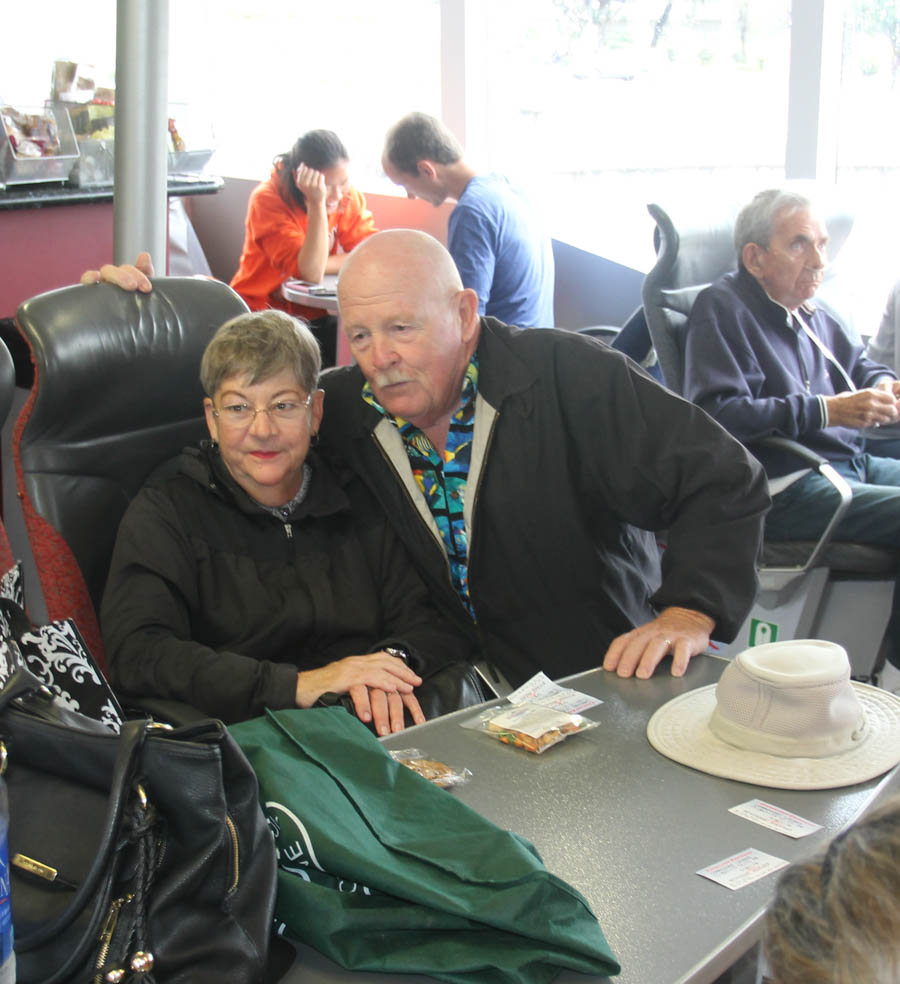 Just visiting!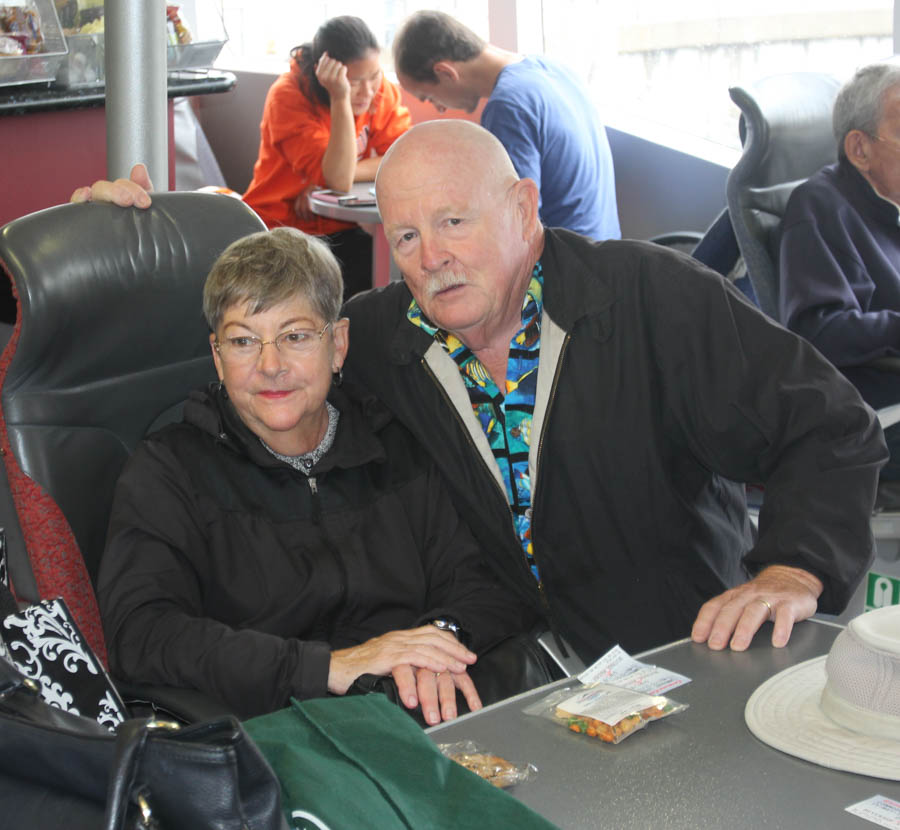 "Hold on... I smell food near by!"

Jackpot... Just a few inches away

Gail regales us with another joke!

Mary has the official boat "red phone" in case of emergencies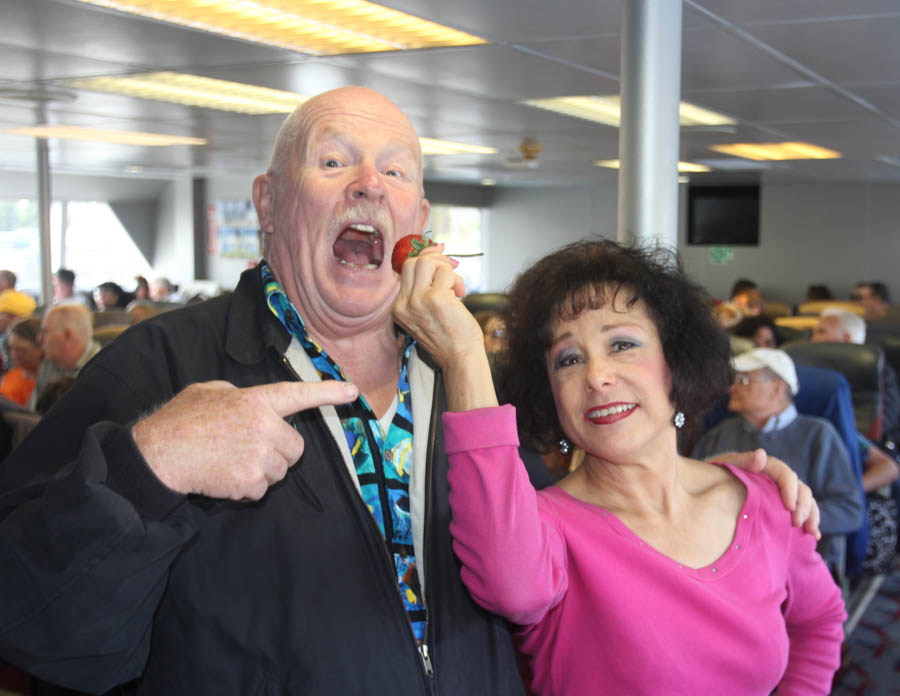 CHOMP!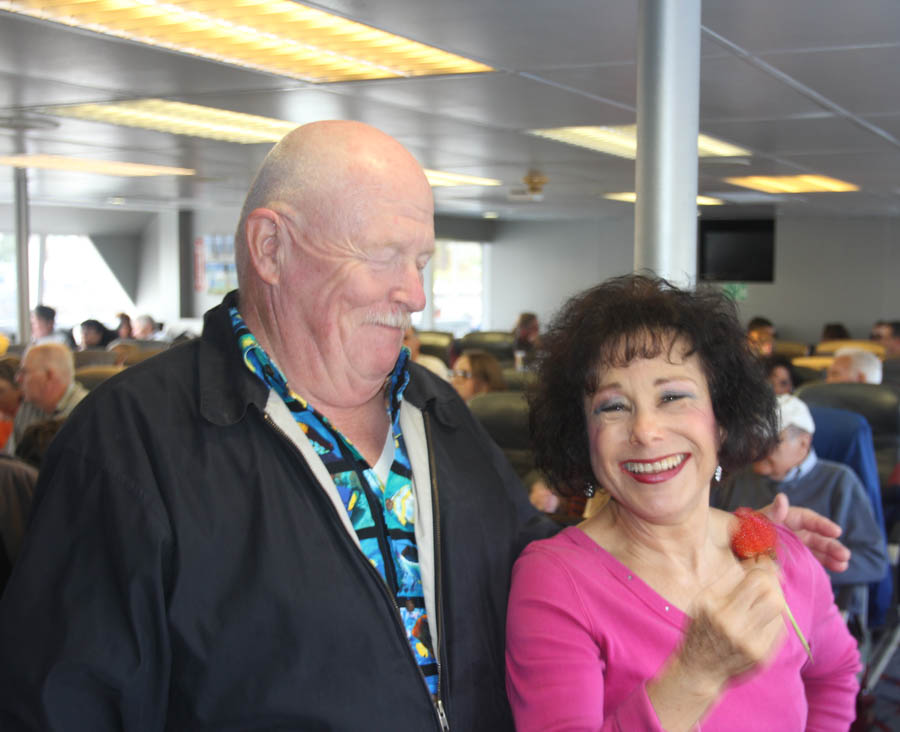 "Silly Paul... Strawberries are brain food!
They make you wise beyond your years!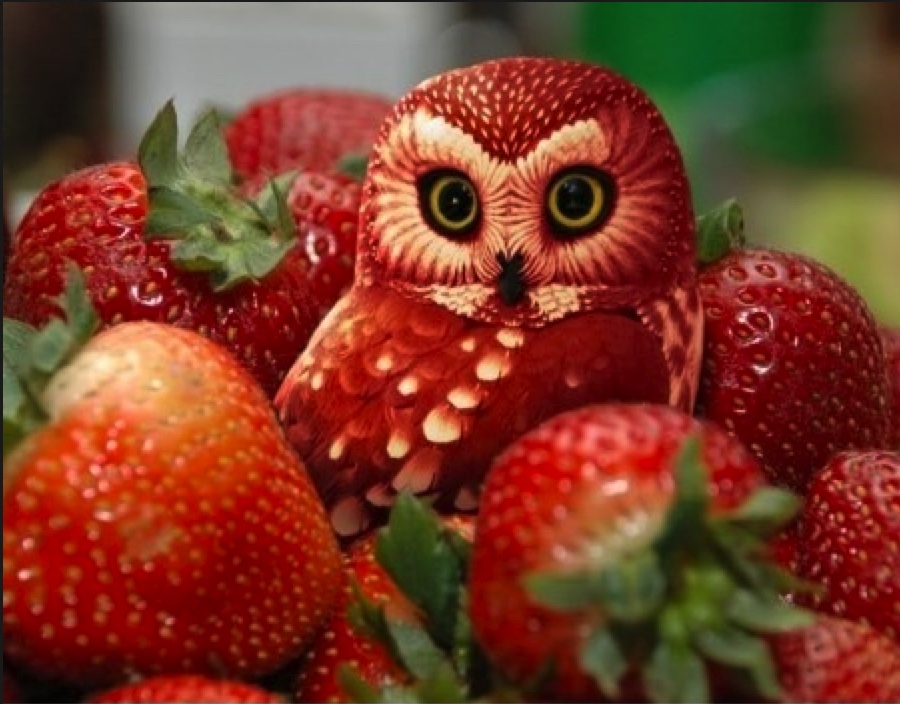 Now we know why!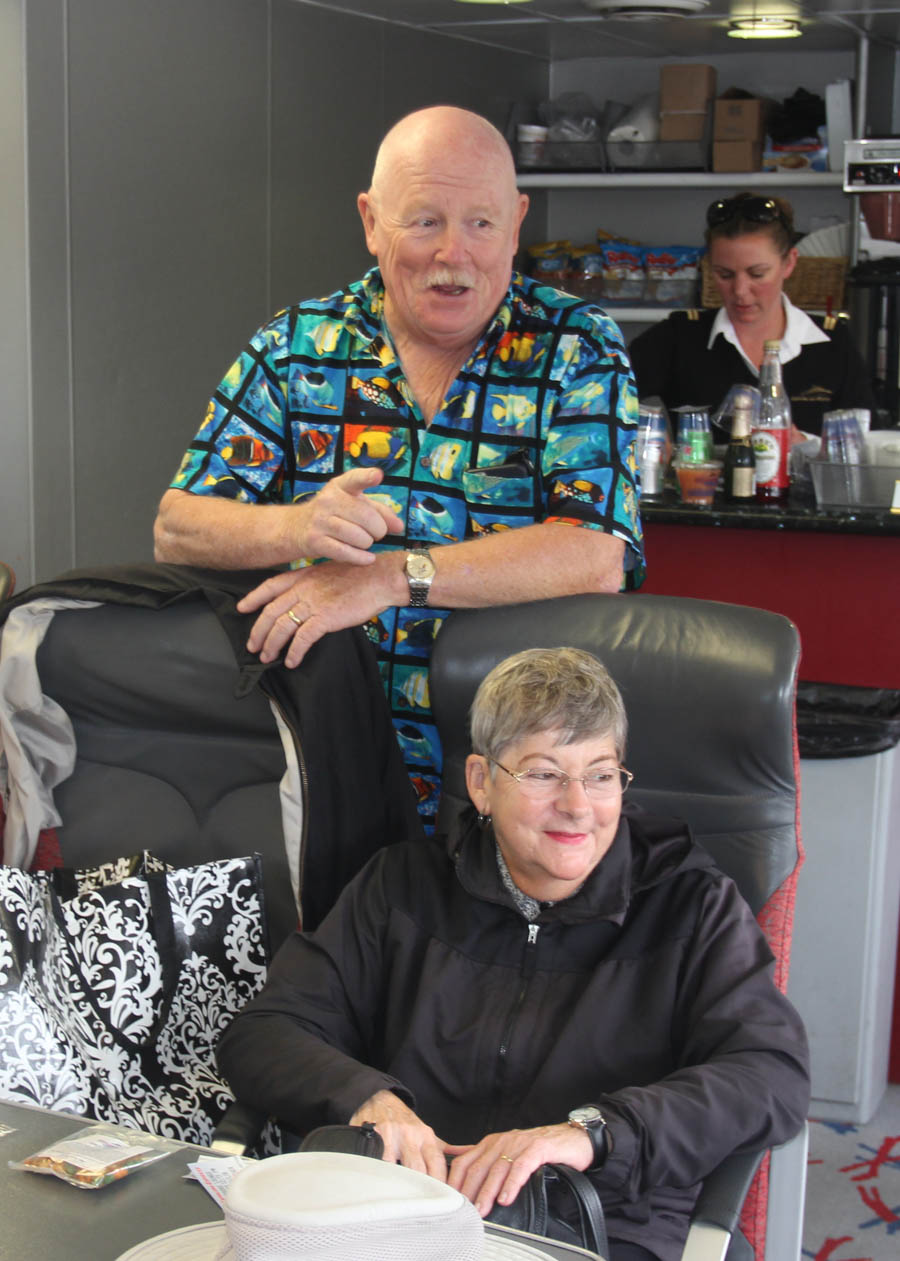 Working the room!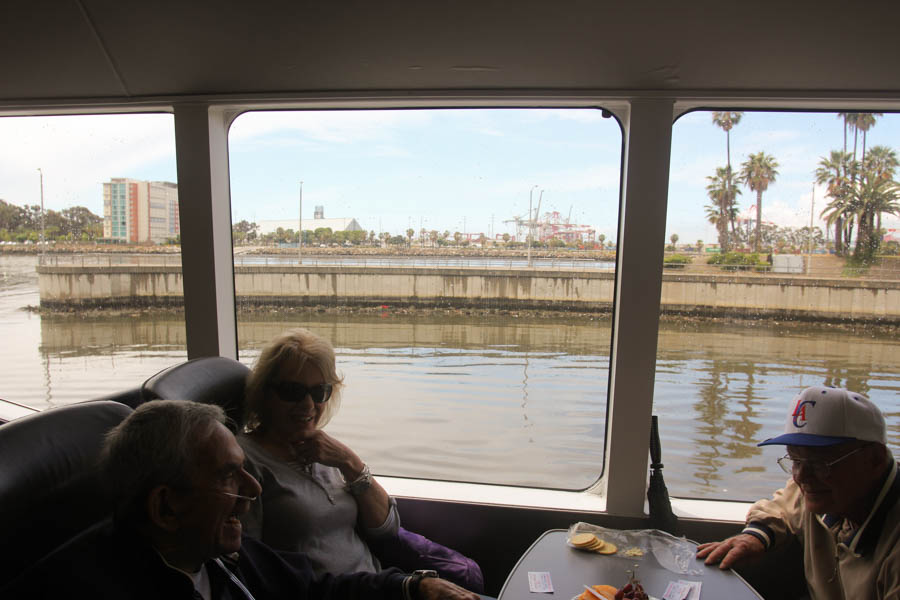 Watch out... The dock is beginning to move!
We Are Underway!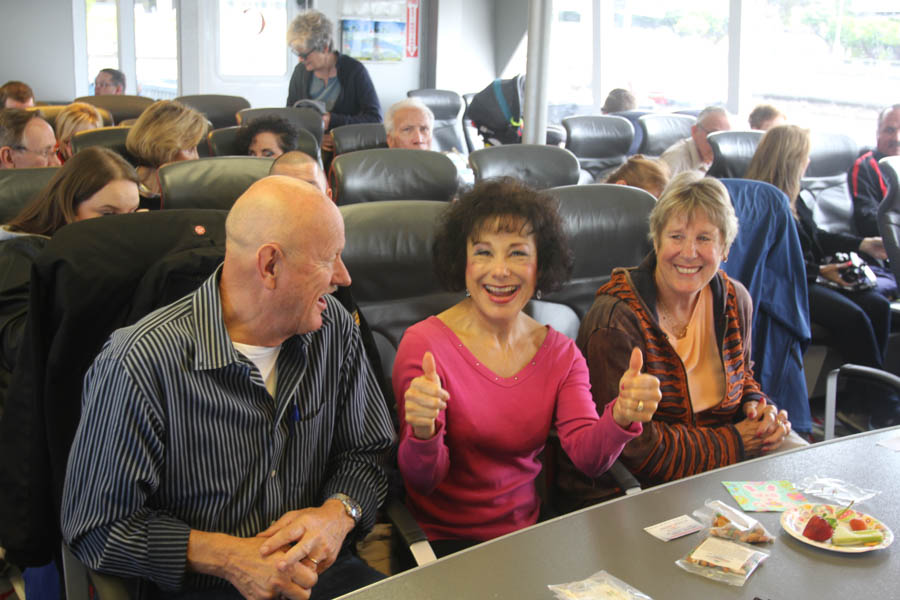 "Yeah yeah... We are under way!"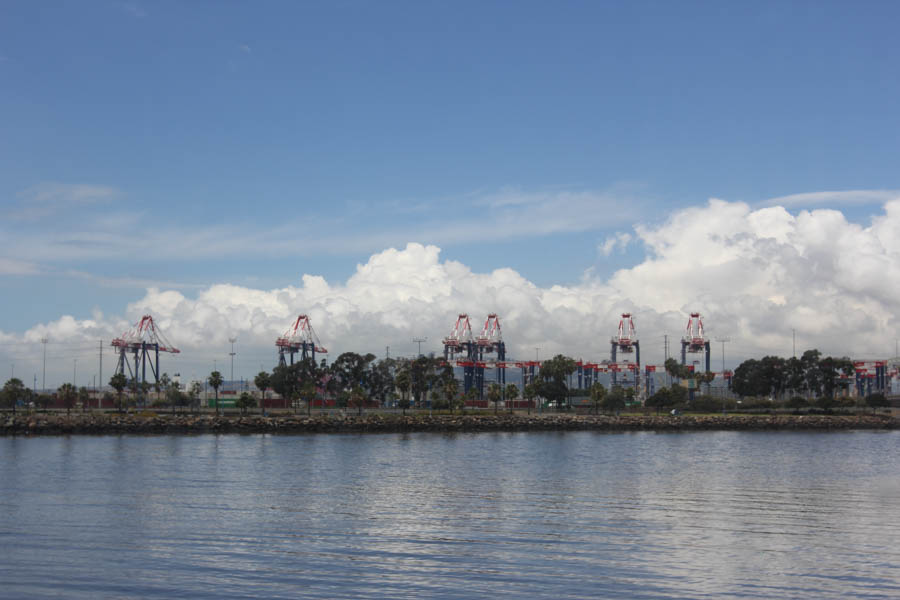 All of a sudden the rain disappears and white clouds take their place

Paul's drink order just arrived!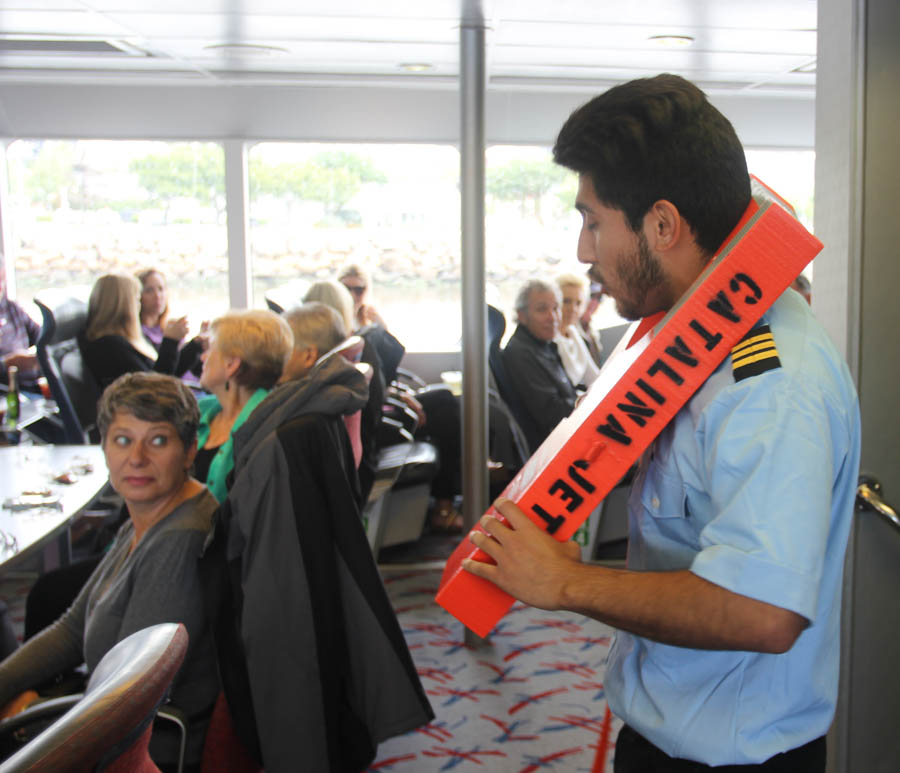 Kerstin looks a little worried!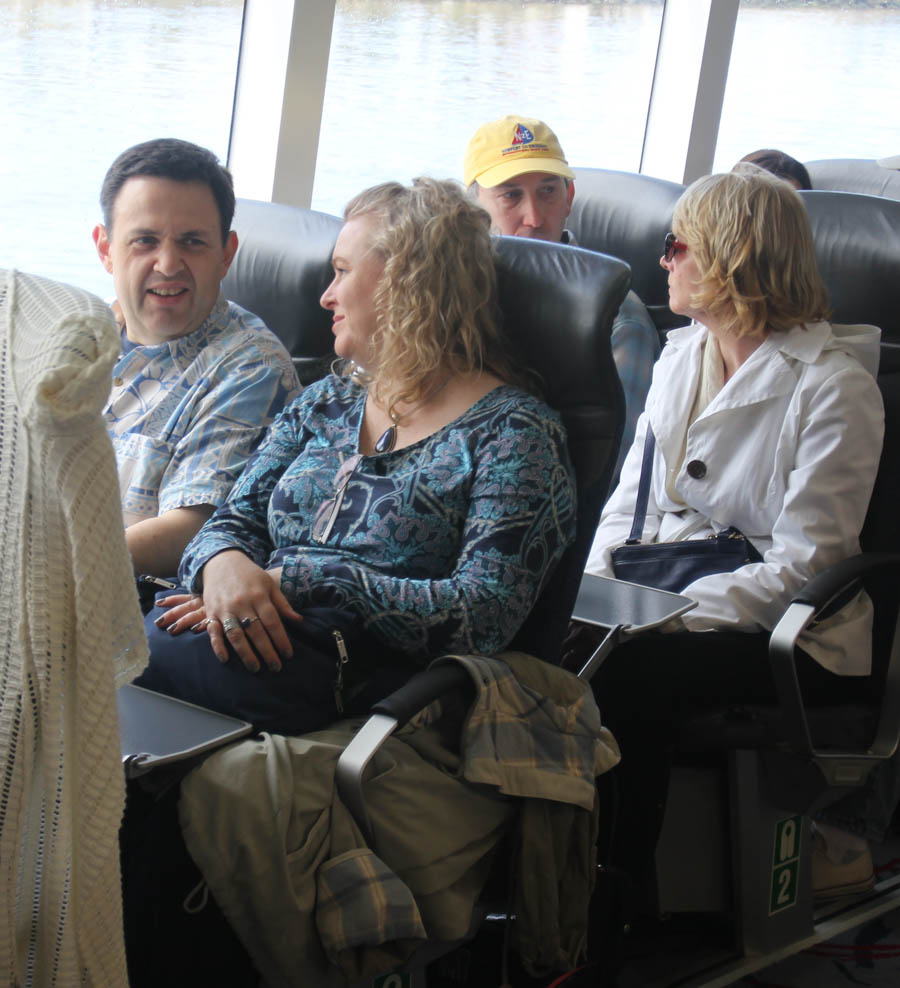 The Queen Mary is almost as long as the trip over to Catalina... Almost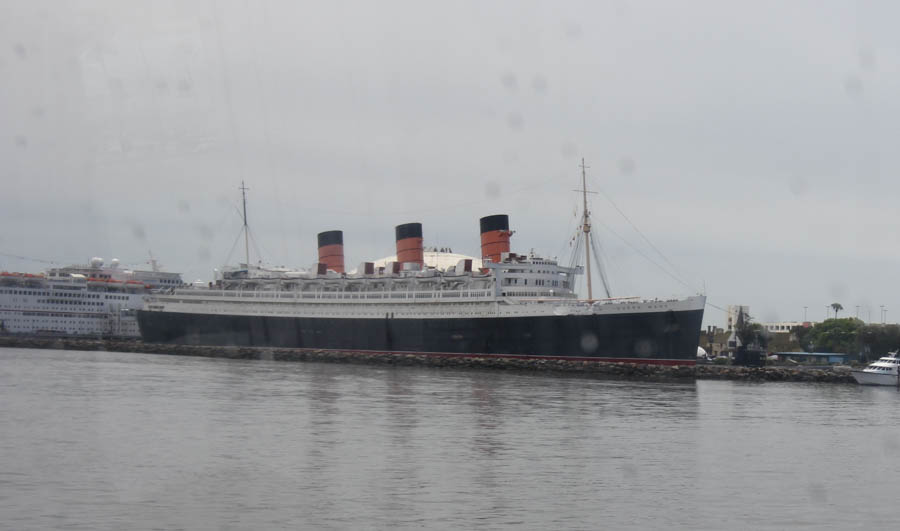 Actually... 103 Queen Mary's end to end would
make it possible to walk to Catalina!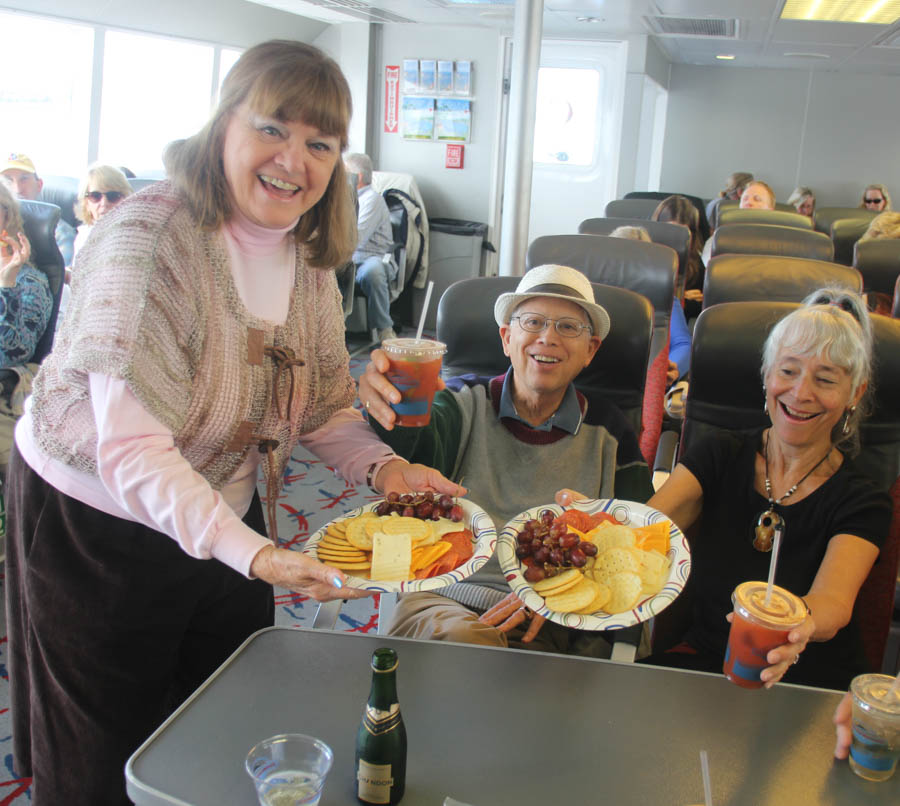 Brunch is served! Thank you Gail for all the goodies!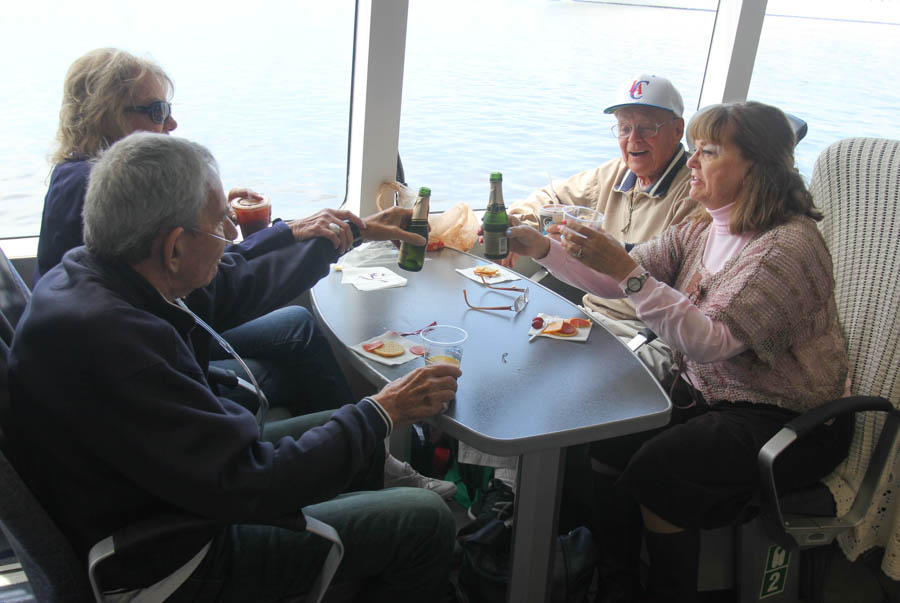 Brunch at sea!

The sea is smooth.... But we have yet to leave the breakwater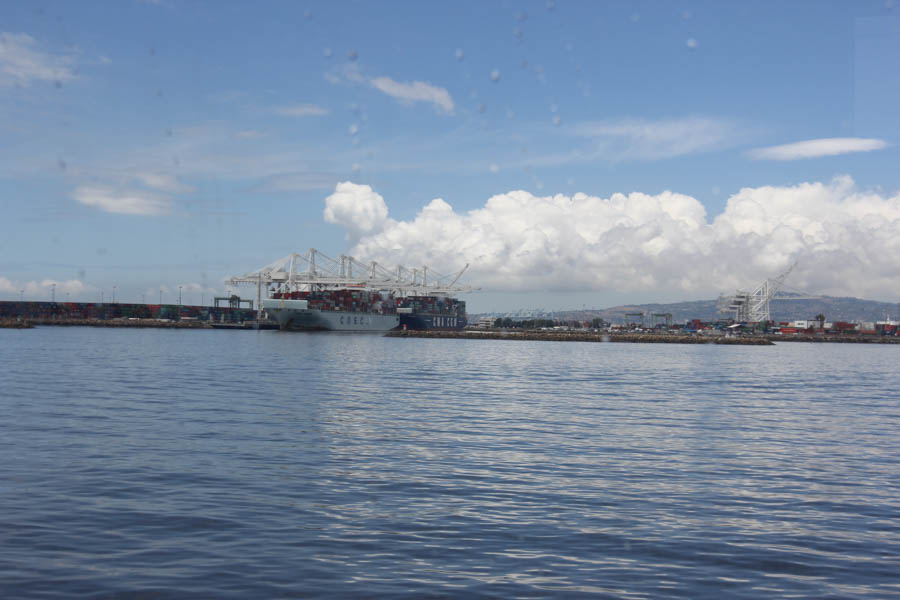 The Cosco Container ship was unloading
Did You Know? - The national flag carrier of the People's Republic of China, is one of the world's premier full service intermodal carriers. The company utilizes a vast network of ocean vessels, barges, railroad and motor carriers to link the international shipper with the consignee.
Founded in 1961, COSCO has consistently been the world's fastest growing shipping company over the past decade and is now one of the largest container operators in the world. The company's core international shipping business is divided between Chinese imports/exports and cross trade cargos.
Additional services offered include shipping agency services, freight forwarding, terminals and warehousing, intermodal services, insurance, real estate, as well as ship repair and manning.
COSCO Container Lines, headquartered in Shanghai. COSCON's operations are managed by regional offices in New York, Hamburg, Sydney, Tokyo, Seoul, Singapore, Dubai, Johannesburg and Beijing. 85 representative offices are maintained in 49 countries around the world, while operational agencies are located in 1000 cities in 160 countries.

The breakwater is where we hit full speed!

We are off like a rocket!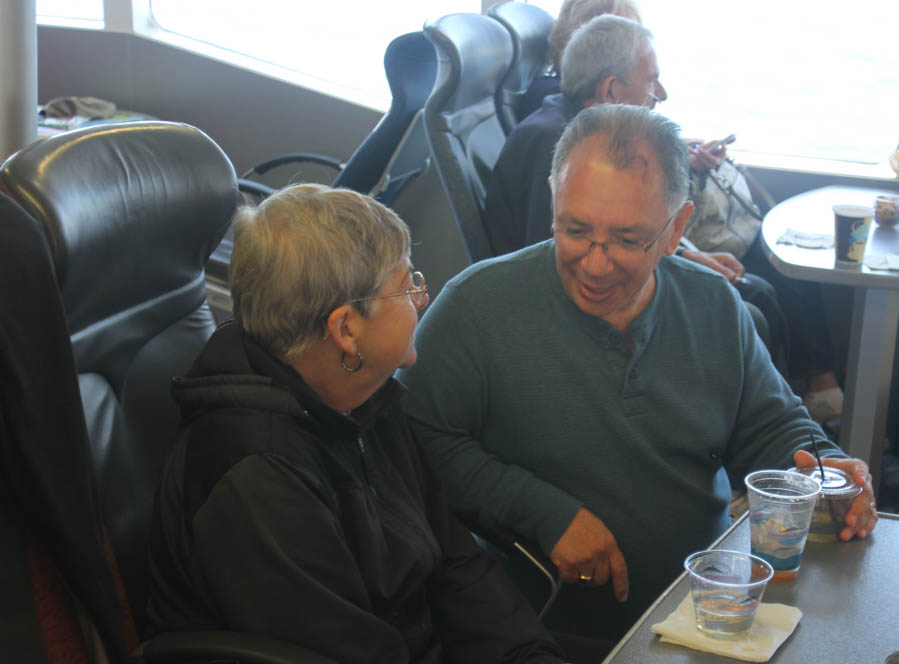 Fred visits Sue
Catalina Is Spotted

Catalina directly ahead!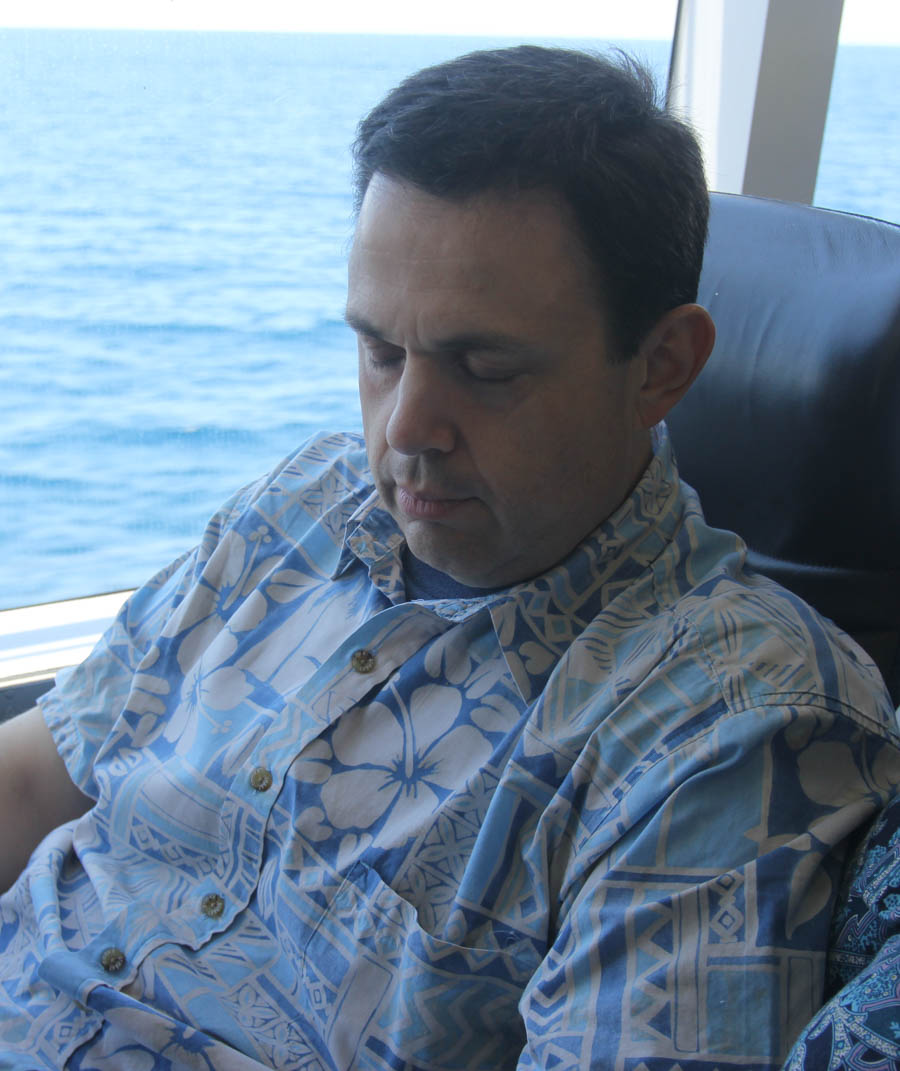 Z-z-z-z-z-z-z-z

"Catalina??? I thought first stop was Honolulu?"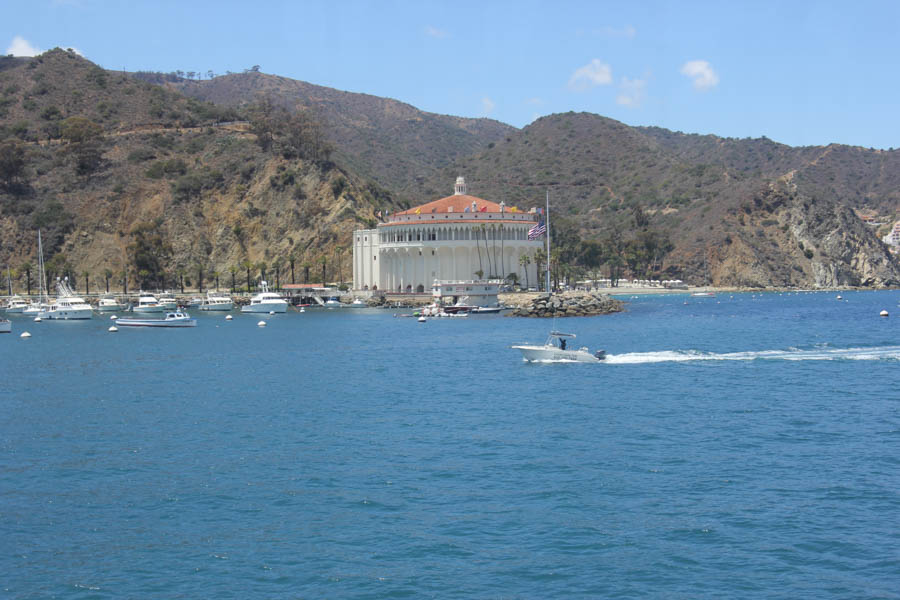 We have arrived!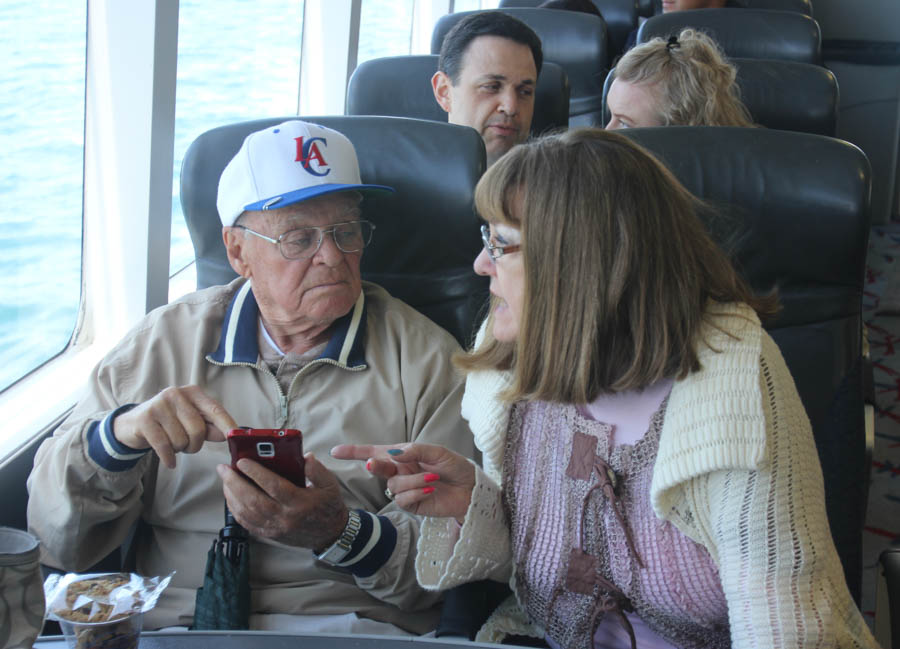 "Oh dear... AT&T cell service is not working!"

It was a beautiful day on the island!

Unloading (Courtesy of Hans Thedens)

The sign is up... Welcome to Avalon!

We must tie up, unload and begin our journey to the hotel!

Beverly and Bob are in line to get their baggage!

The Harbor Patrol is looking at us with suspicion!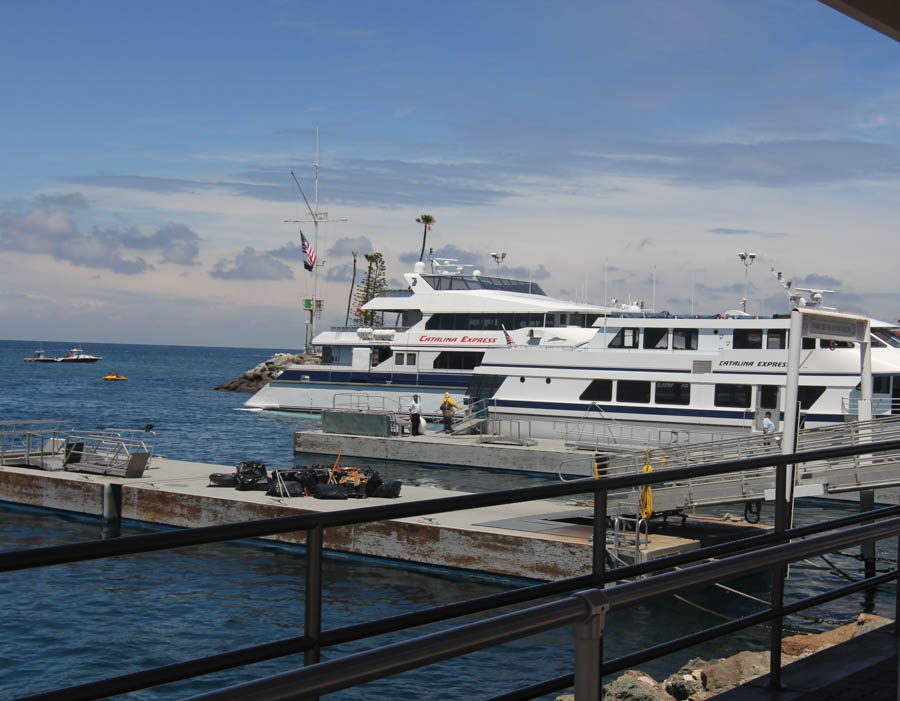 A quick look at our ride... Getting ready to go right back!

It was a balmy 74 degrees and zero rain!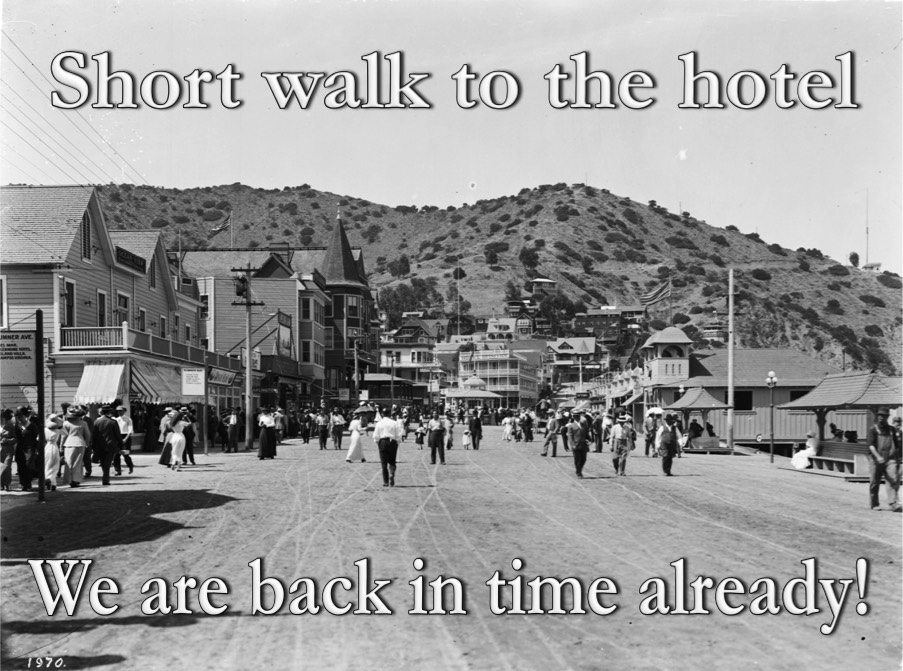 A Comic View