After Dinner Dancing (Page Three)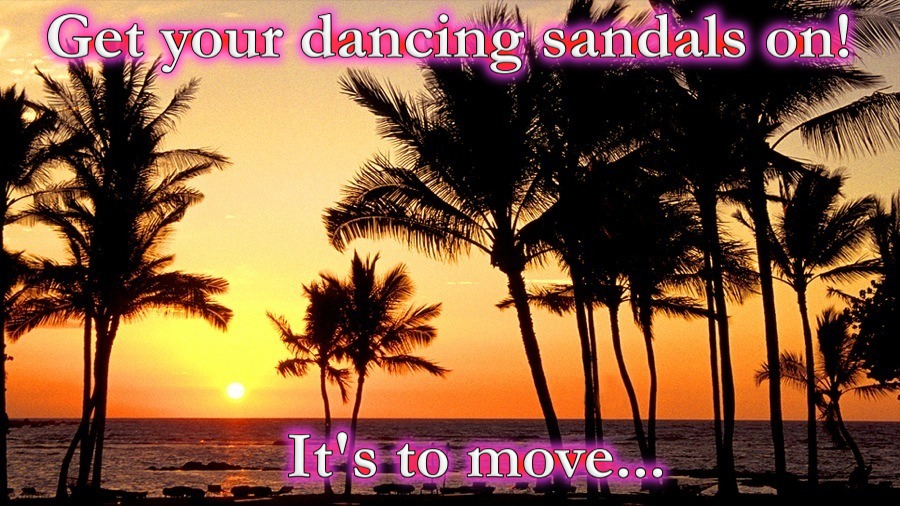 Did You Know? - As of January 3, 2013, Kīlauea Volcano has been continuously erupting for 30 years! Which makes it one of the world's most active volcanoes.
In that time, Kīlauea has destroyed 187 structures, and added about 500 new acres of land to Hawaii Big Island.
On average it expels approximately 250,000 to 650,000 cubic yards of lava per day – enough to resurface a 20-mile long, two-lane road every day; that after 30 years, would now be about 20 miles tall.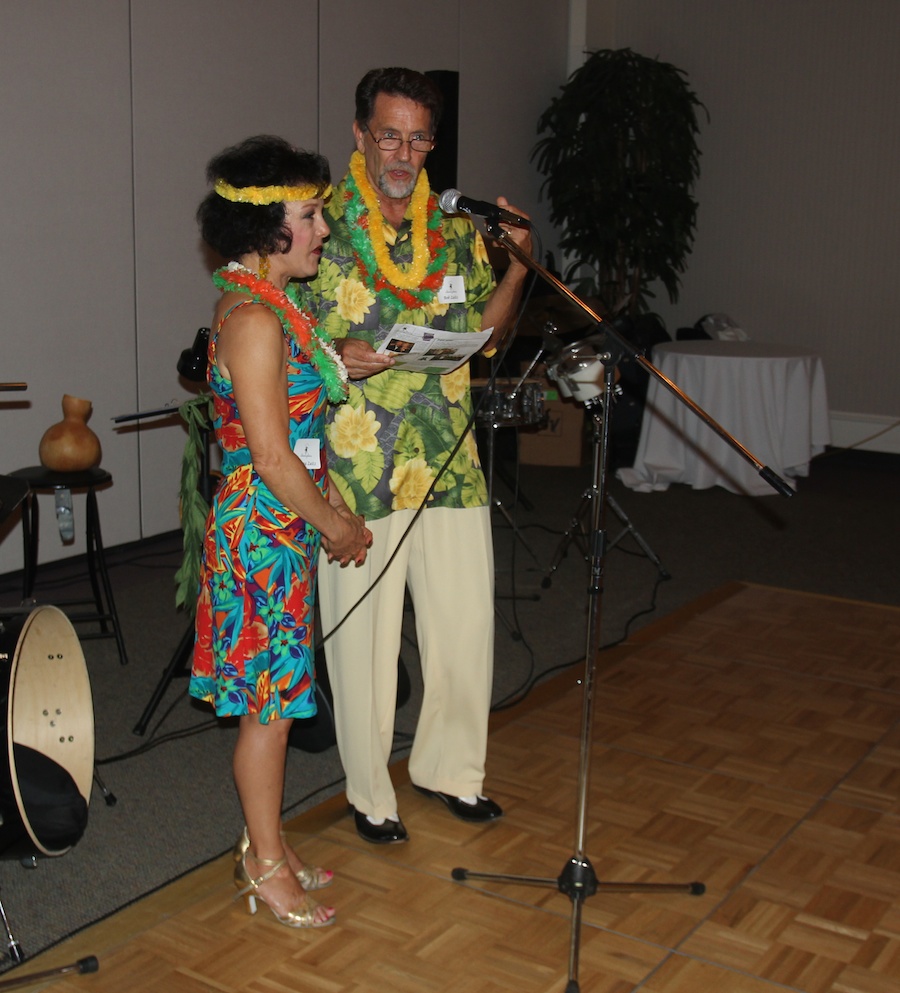 Time for announcements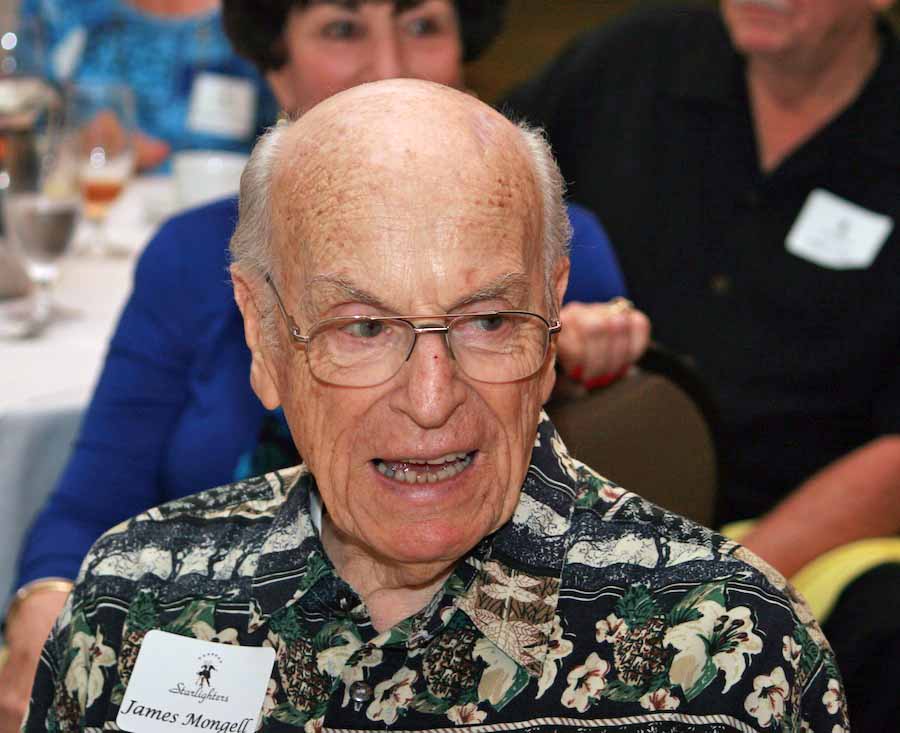 Jim is celebrating his 90th birthday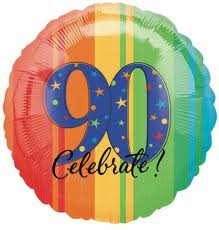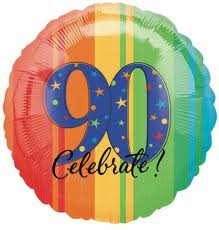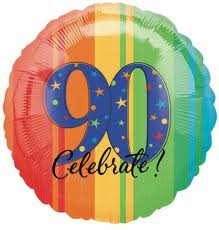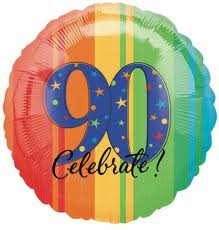 Bob and Sandy, newest members, are introduced

Welcome guests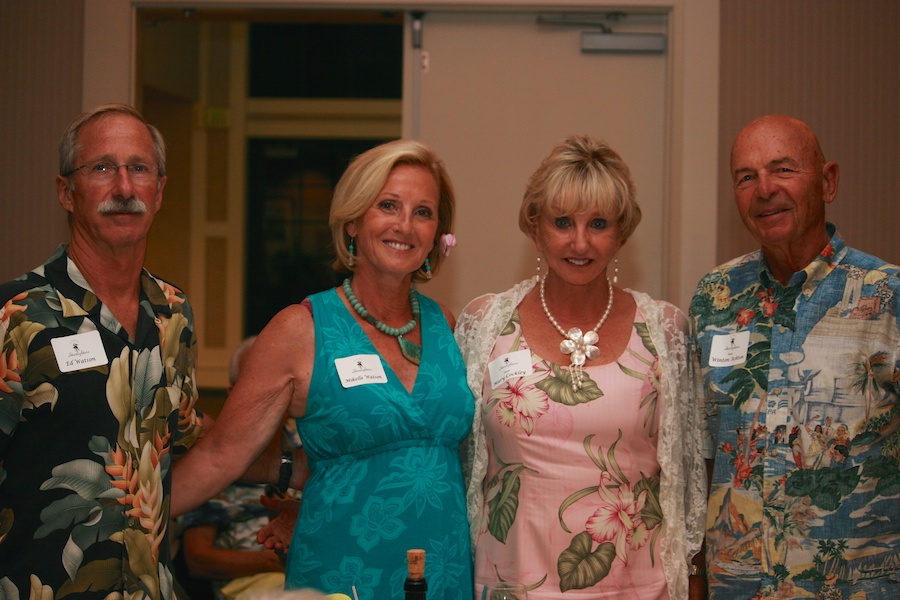 ..and their sponsors

Guests Al and Vi

..and their sponsors

The more the merrier


The surprise Special Gift is awarded

What is it???

Everyone awaits the latest and greatest

Dessert and speeches.... Yeah

Excellent ideas from the membership

Ed gots the giggles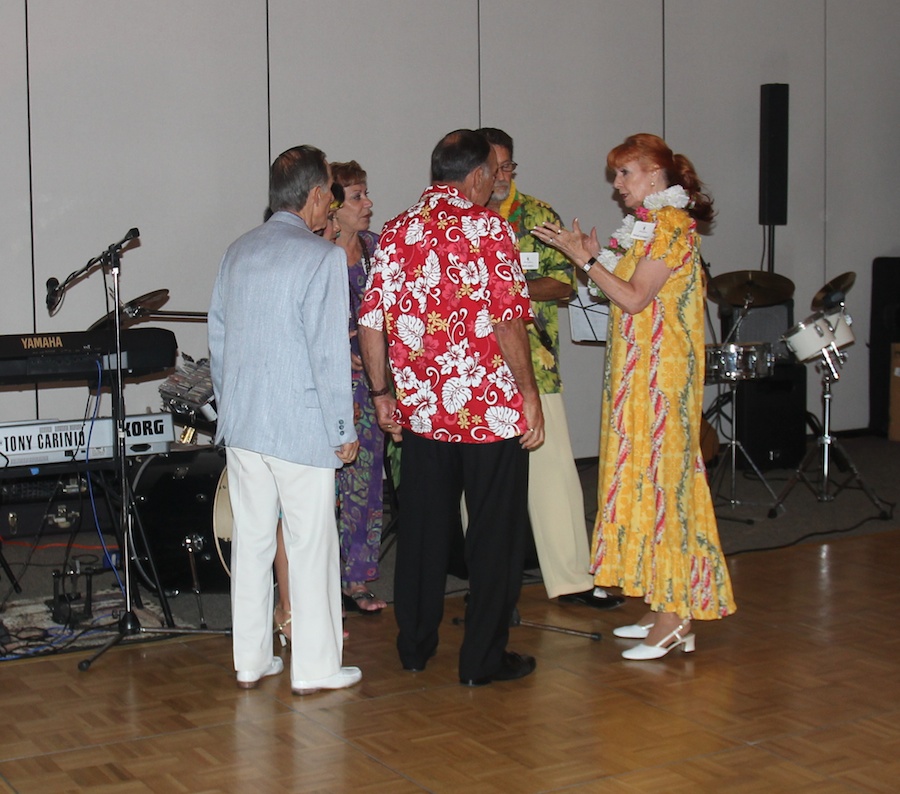 We have an idea...

"I escaped with my life!"
Did You Know? - The Hawaiian Islands are the exposed peaks of
a great undersea mountain range known as
the Hawaiian-Emperor Seamount Chain.
Measured from its sea floor base, the span is comprised
of the largest and tallest mountains in the world.
Standing at 33,500 feet (10,200 m), Hawaii Island's Mauna Kea towers by almost 4,500 feet over what most consider the world's tallest mountain – Mount Everest's 29,029 feet (8,848 m). Although, only 13,800 feet (4,205 m) of Mauna Kea's height can be seen protruding above sea level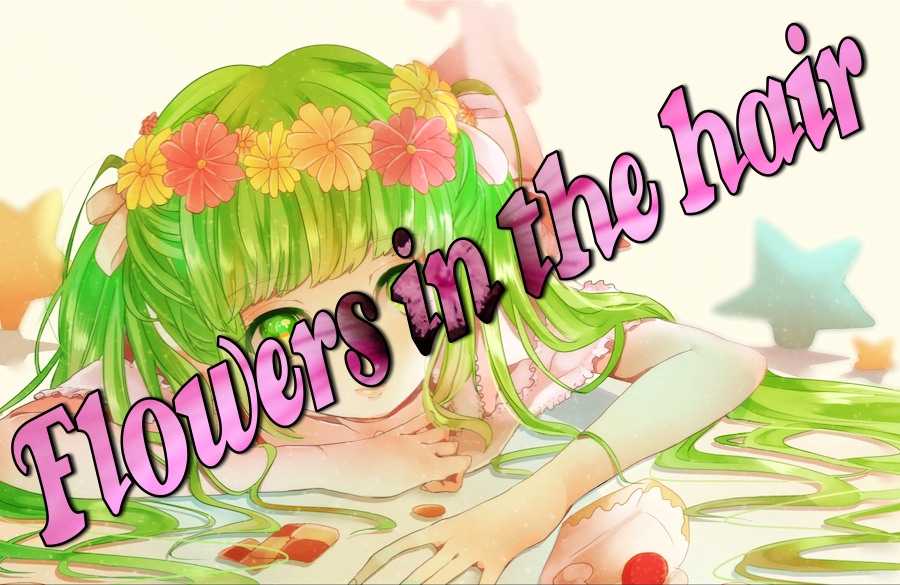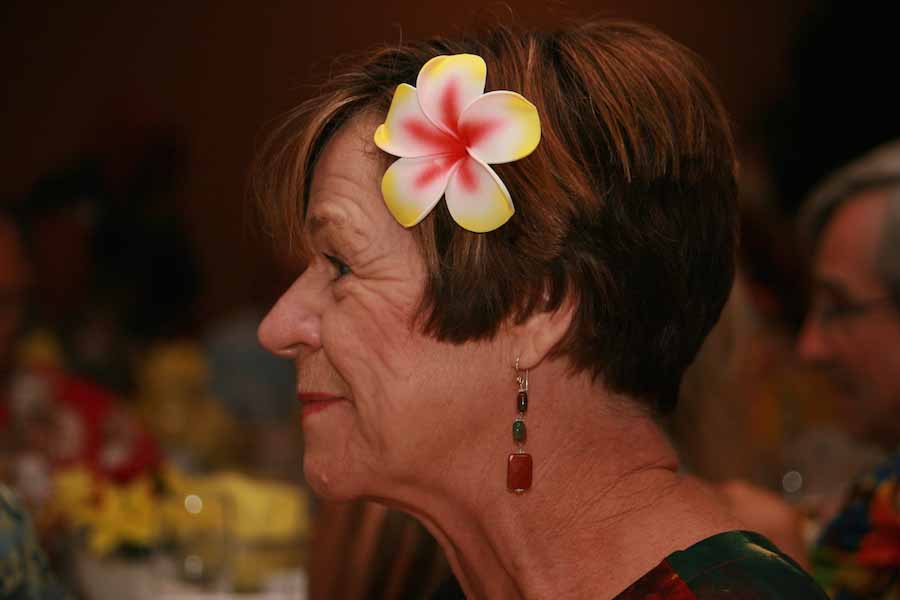 Flowers were everywhere

Is that a snap dragon?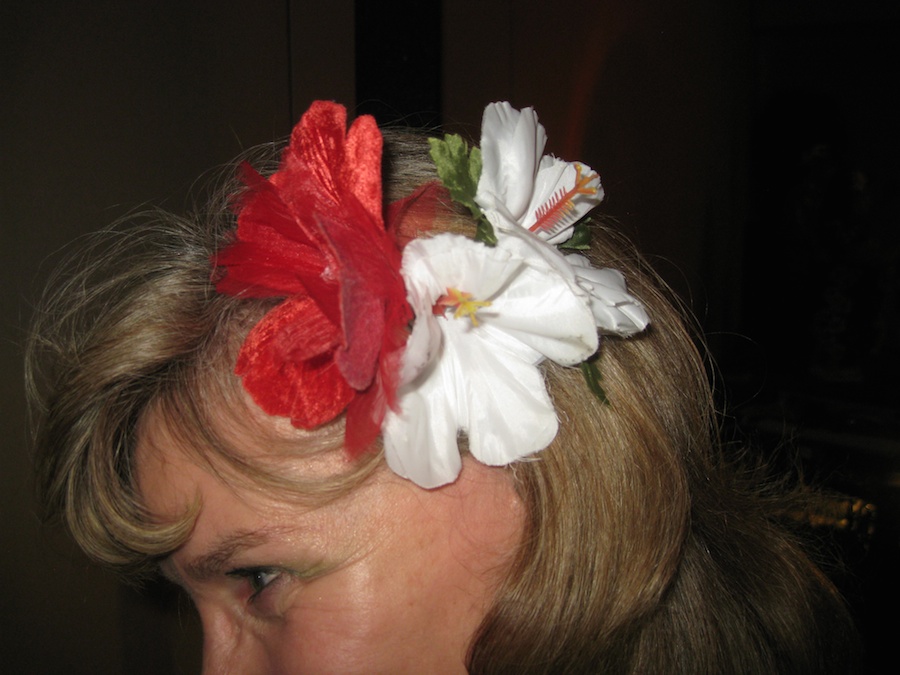 Mary sports the famous Hawaiian Silk Hibiscus
Did You Know? - Dried hibiscus is edible, and is often a delicacy in Mexico. It can also be candied and used as a garnish.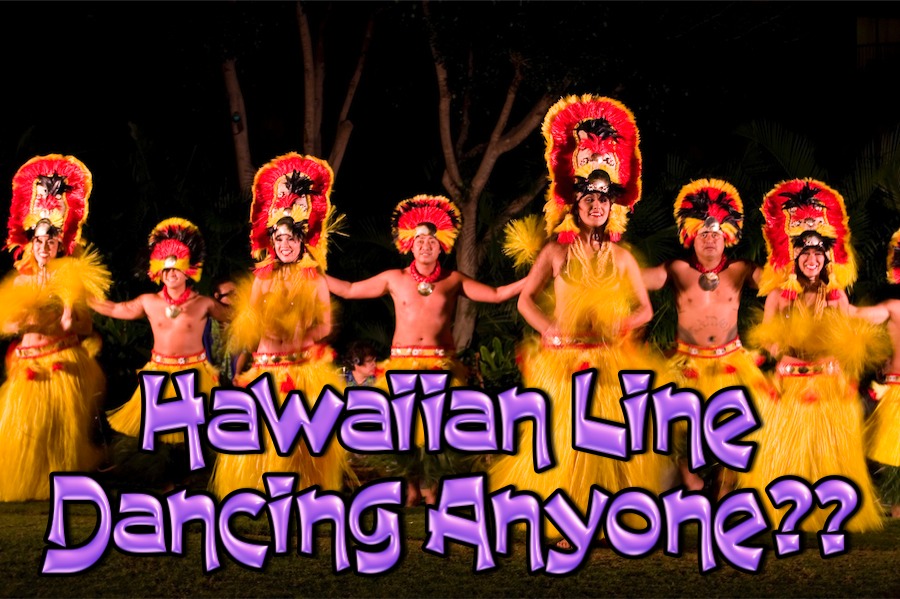 Up and at them!

Pssssst - Did you see that new move???
Did You Know? - Hula dancing is a complex art form, and there are many hand motions used to represent the words in a song or chant. For example, hand movements can signify aspects of nature, such as the swaying of a tree in the breeze or a wave in the ocean, or a feeling or emotion, such as fondness or yearning. Foot and hip movements often pull from a basic library of steps including the kaholo, ka'o, kawelu, hela, 'uwehe, and 'ami.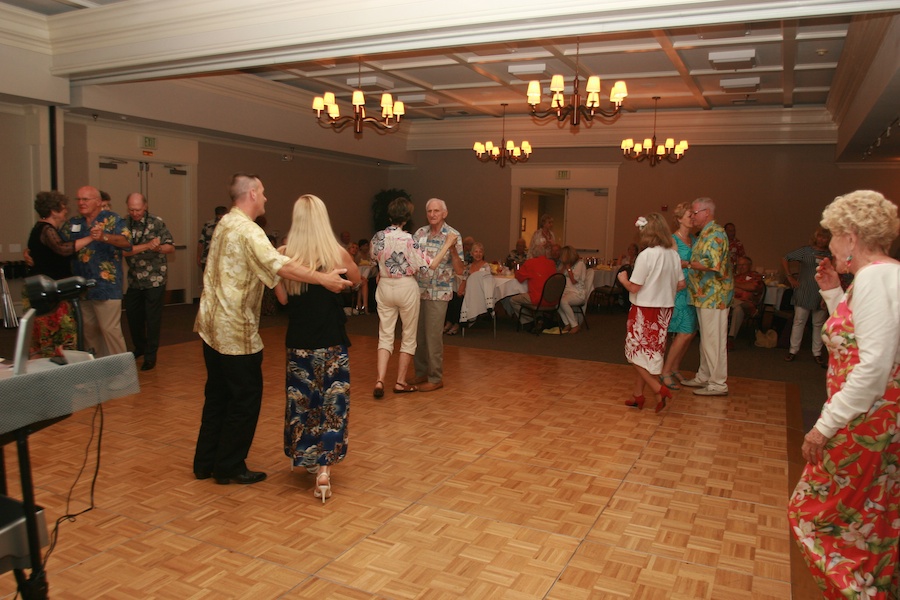 Head for the floor

Jim and Mary trip the lite fantastic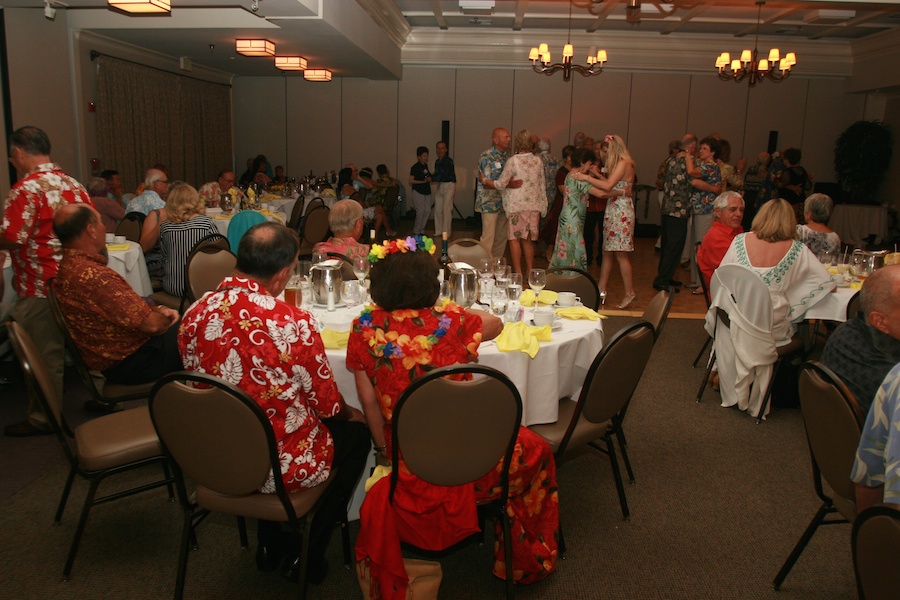 The dance floor was busy all night

The President is out amongst them

Looks like the wine continues to flow
Did You Know? - Hawaii wine refers to wine made from the U.S. state of Hawaii. The island of Maui is where the bulk of the state's wine is produced though there is some production on the island of Hawaii. The state mainly produces fruit wine such as a pineapple sparkling wine.
The Symphony grape is the principal grape wine made in the state and produces an off-dry, fruity white wine. Viticulture in Hawaii is made possible by the higher elevation of the area's volcanic mountains and ridges.

Green is in!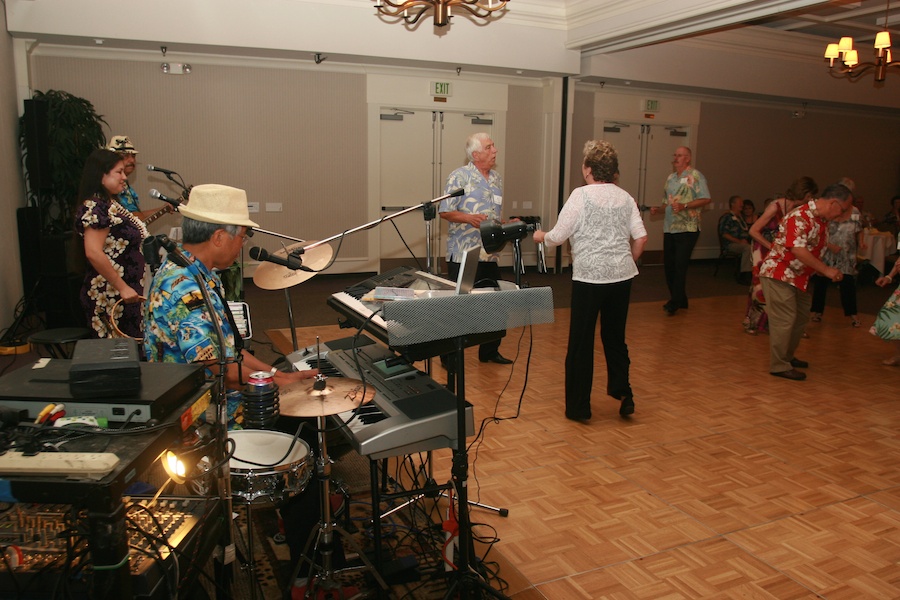 Tony is really mixing it up!
Did You Know? - The State of Hawaii is the most isolated population center on the face of the earth.
Hawaii is 2,390 miles from California; 3,850 miles from Japan; 4,900 miles from China; and 5,280 miles from the Philippines.

It's the latest Hawaiian craze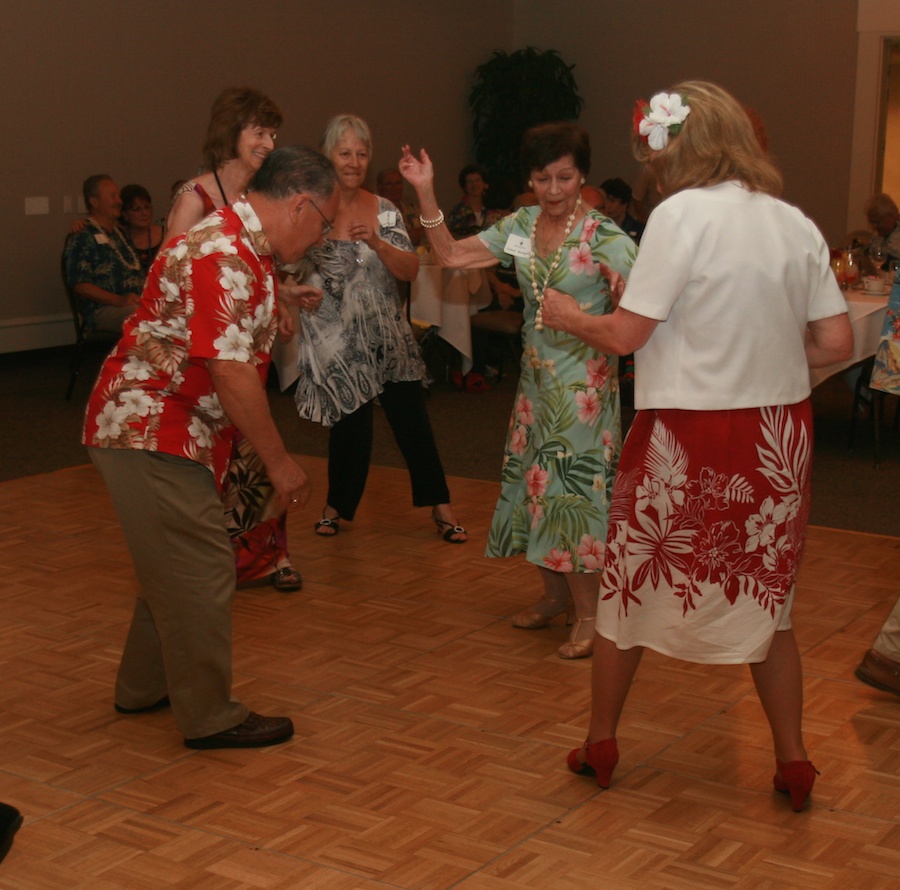 They're up! Yeah! Cancel the Paramedics!

Looks like an explosion in a paint store

The Band Directors look pretty satisfied.... Thanks Kathy and Ed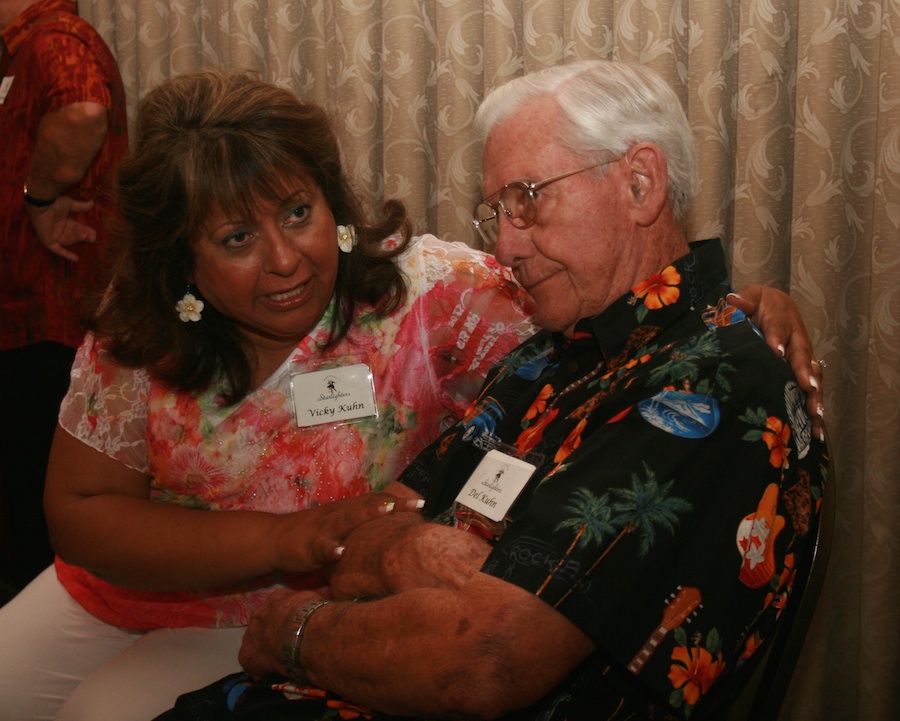 "He wanted to wear a grass skirt and I would not let him!"

Someone is having a good time!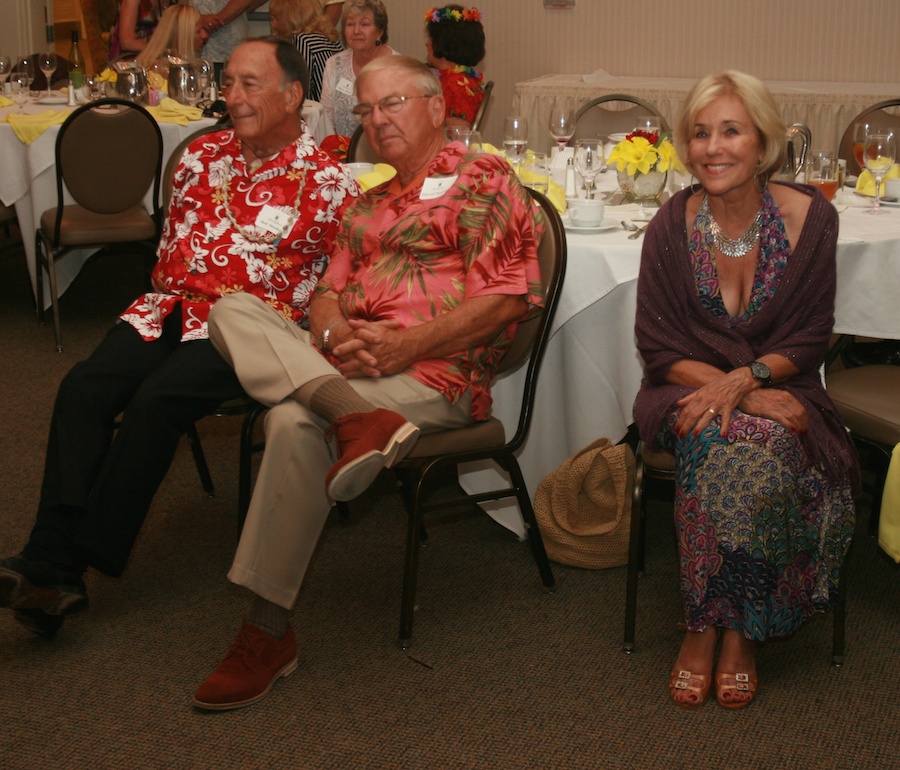 Taking notes
Did You Know? - The State of Hawaii's historically highest and lowest recorded temperatures have both occurred here on Hawaii Big Island, not surprising when you consider the Island's diverse and extreme landscape.
Hawaii's highest recorded temperature happened on April 27, 1931 in Big Island's southern town of Pahala, located 850 feet above sea level, when the thermometer hit 100 degrees F (38 C).
Conversely, Hawaii's lowest recorded temperature occurred on May 17, 1979 near Mauna Kea's summit, at 13,700 feet above sea level, with chilly temperatures logged at just 12 degrees F (-11 C).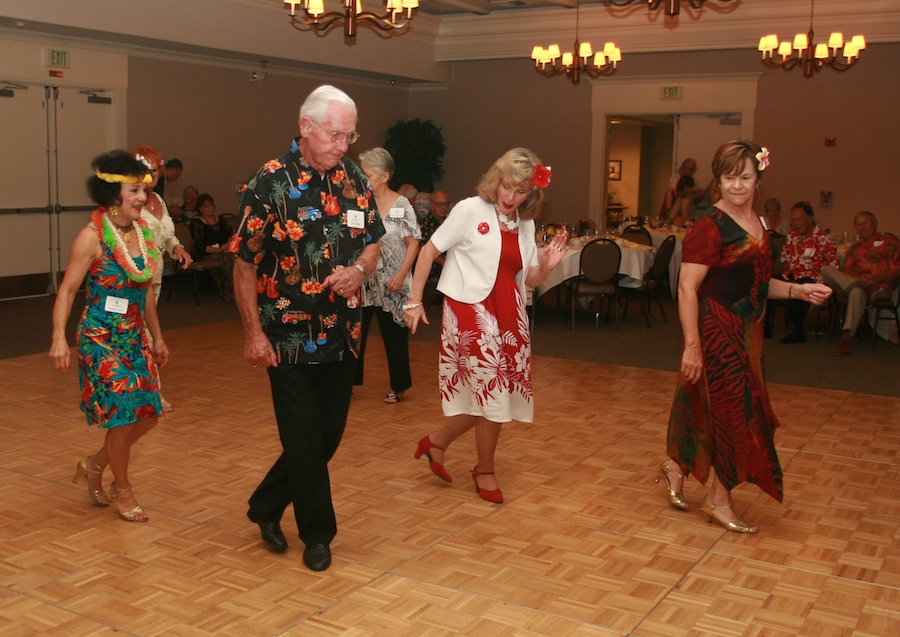 Line dancing starts again!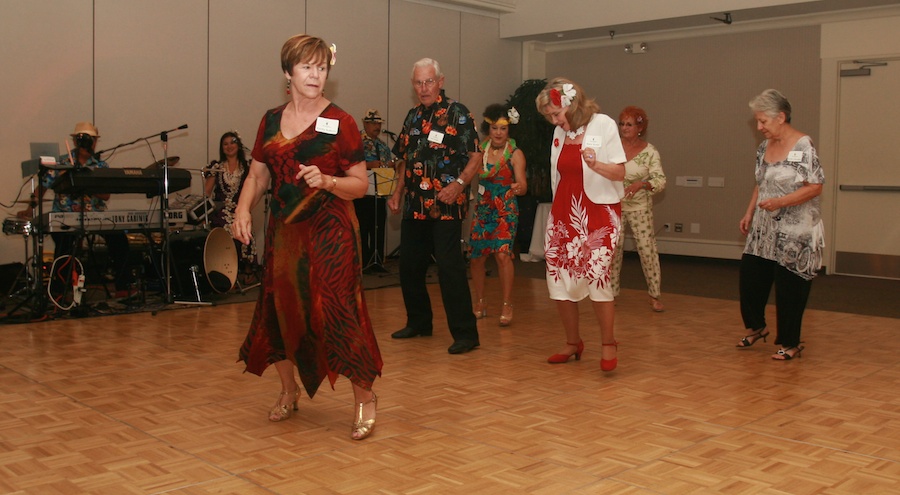 Put your little foot out
Put your little foot in
Put your little foot out
And shake it all about

Del and his ladies

Mary throws a little Hawaiian Hula into the mix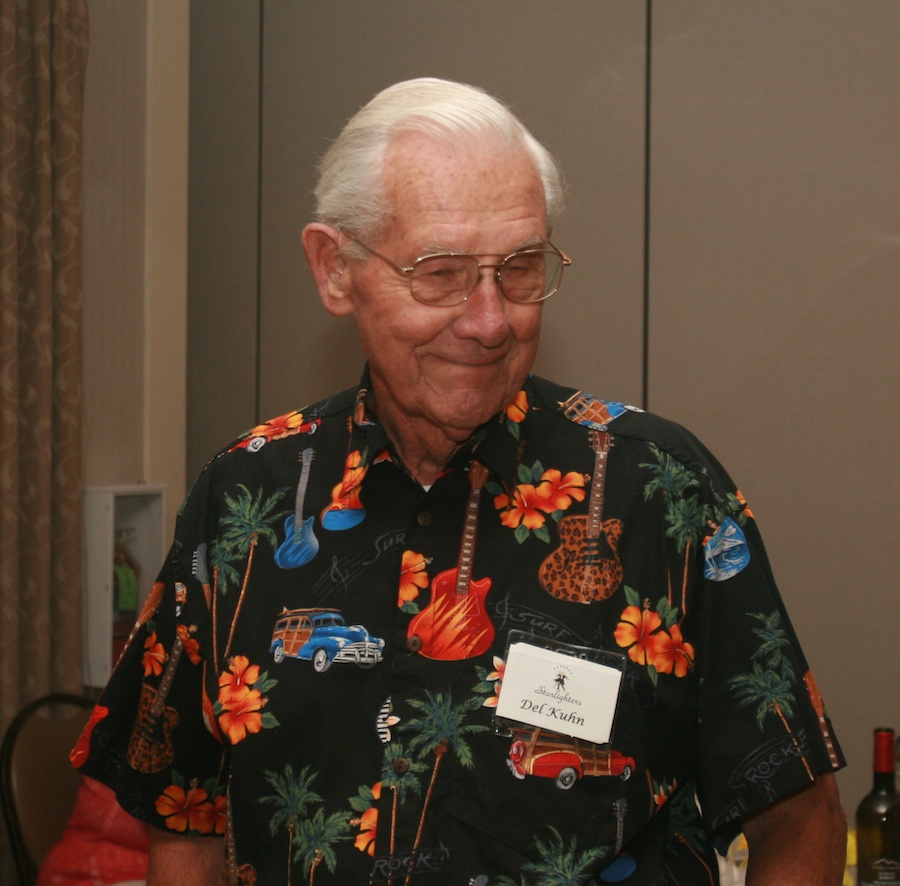 Del is happy with his ladies

Tony is providing great dance music this evening and
thank you to his daughter for providing the Hula Show
Did You Know? - Honolulu, Hawaii was home to the
first U.S. newspaper published west of the Rocky Mountains.
Called the "Sandwich Island Gazette and Journal of Commerce," the paper was printed on a weekly basis from 1836 to 1839; ten years prior to the mainland's "Oregon Spectator," which began publishing in 1846.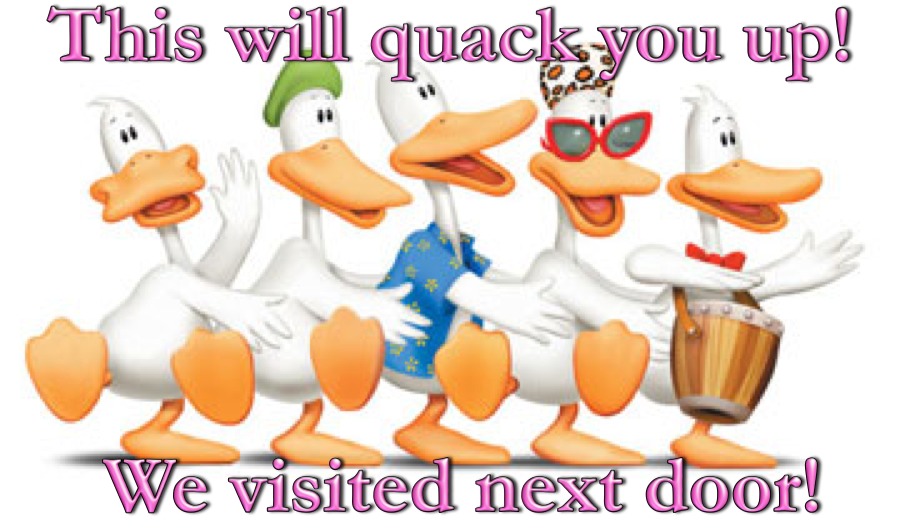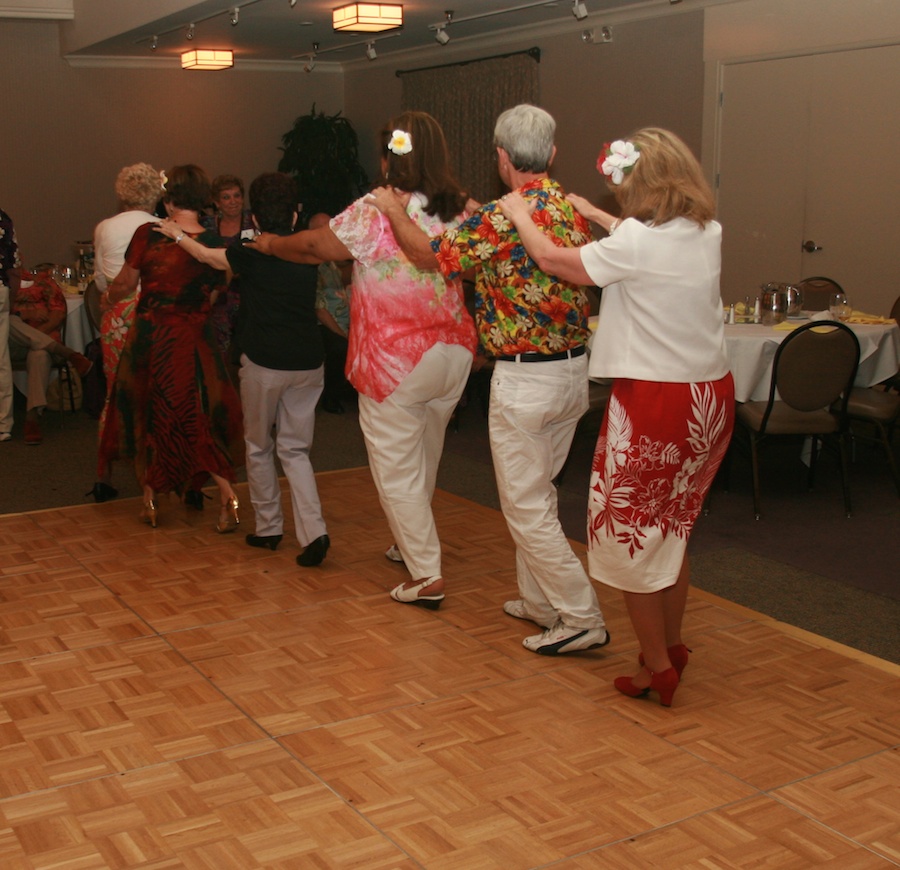 There they go.... Off and conga-ing!

Out the door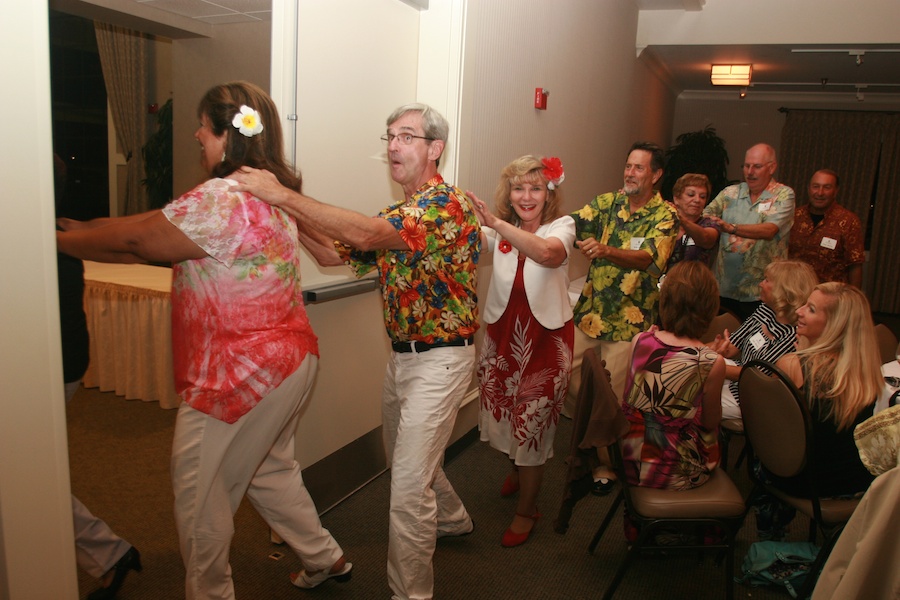 The line gets bigger

Donna leads the parade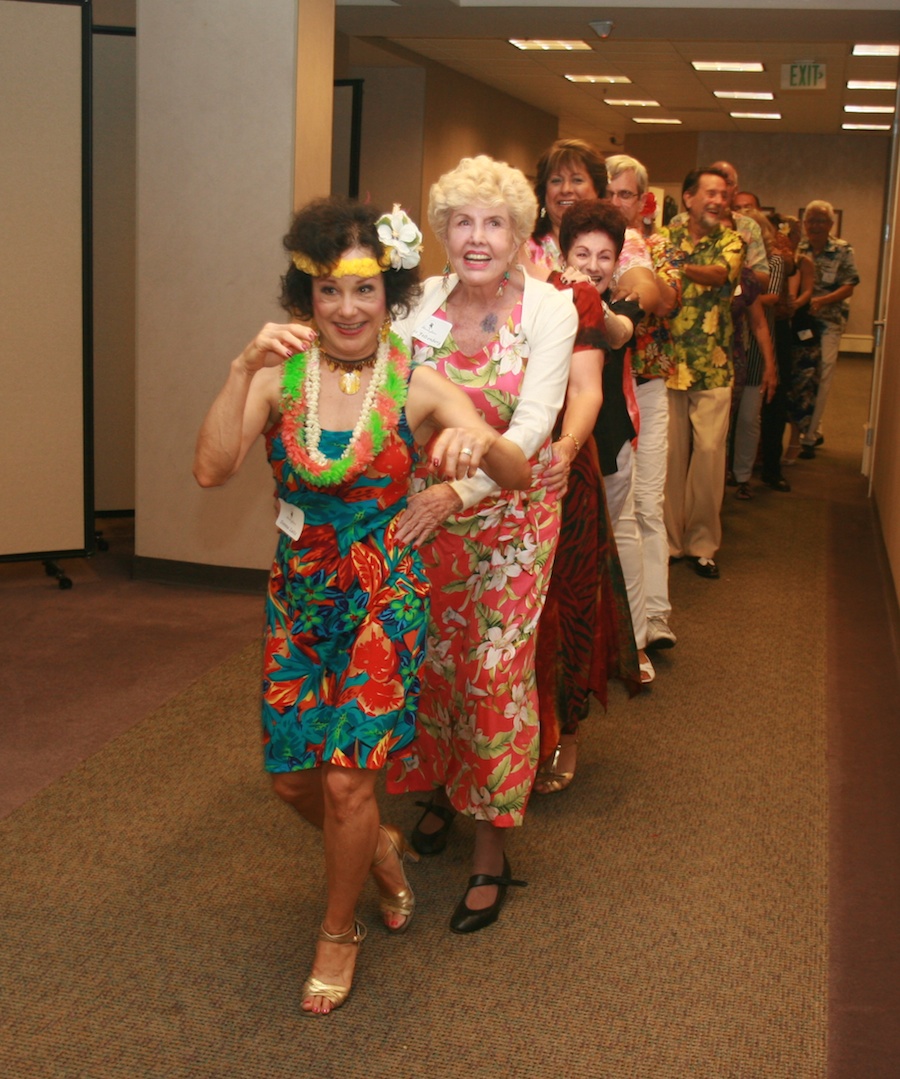 "Follow me!"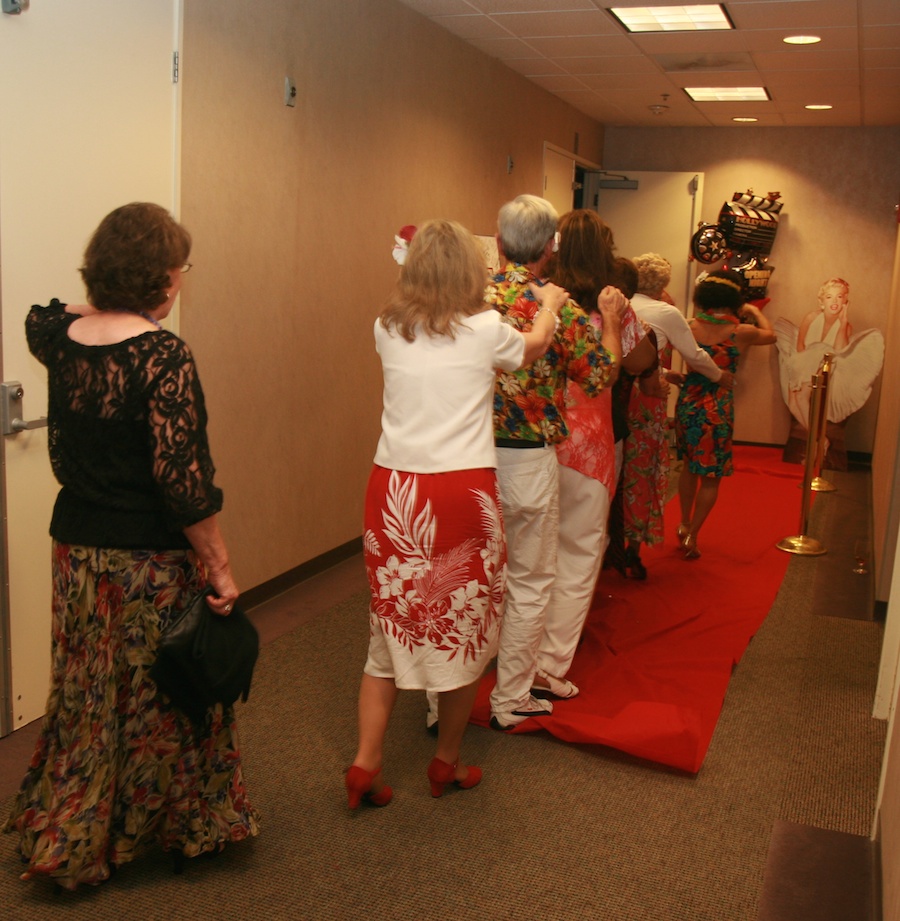 "Hello... We are the happy group with the nice music from next door!"

We started back when we were invited in by the folks at the door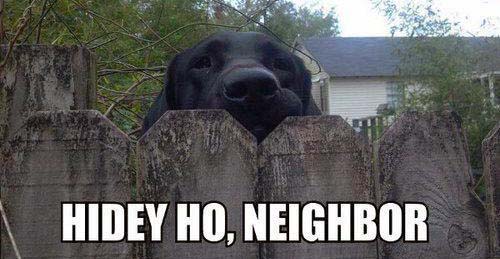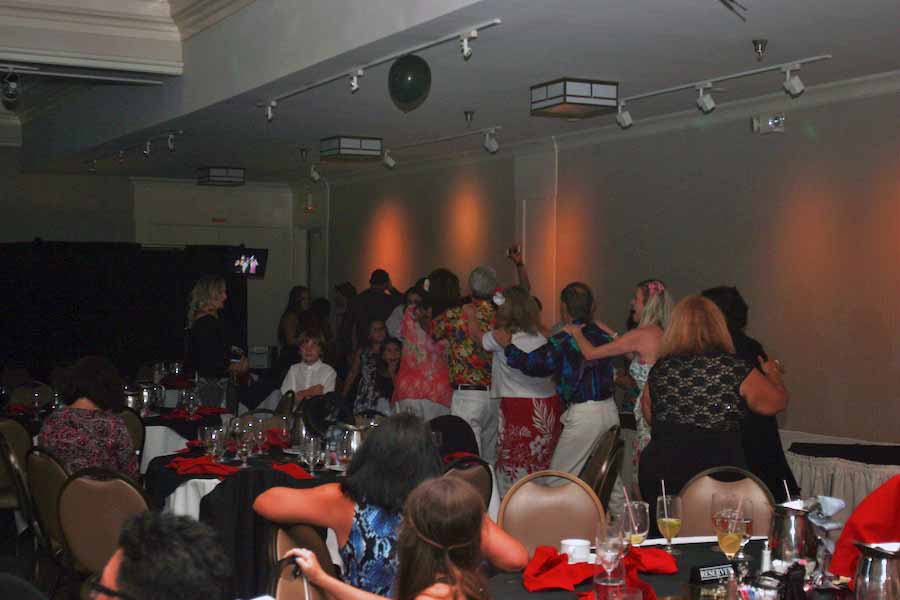 We circled a table and headed back

We added some people to our conga line and
we were applauded by the party!

The wait staff paused to enjoy the show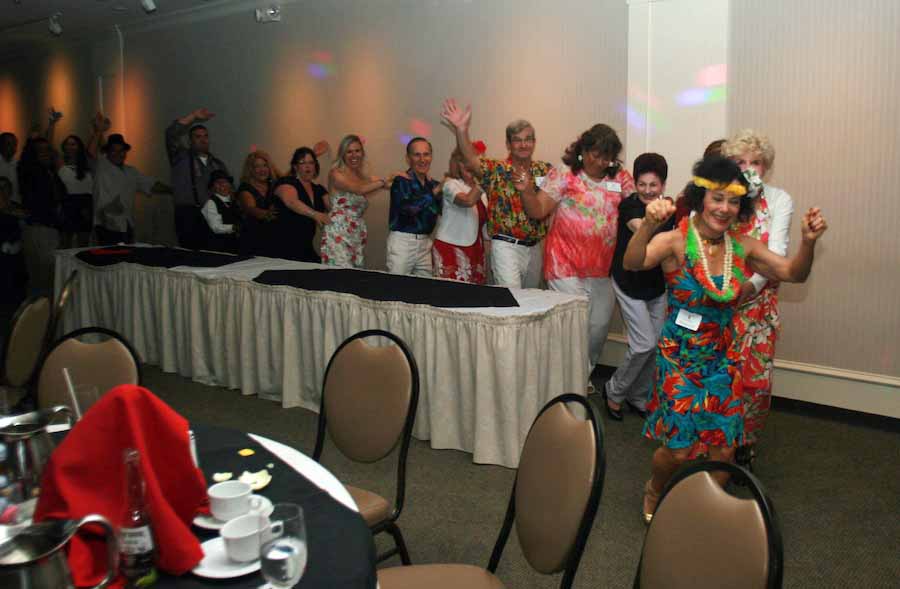 On our way home!

Come on guys...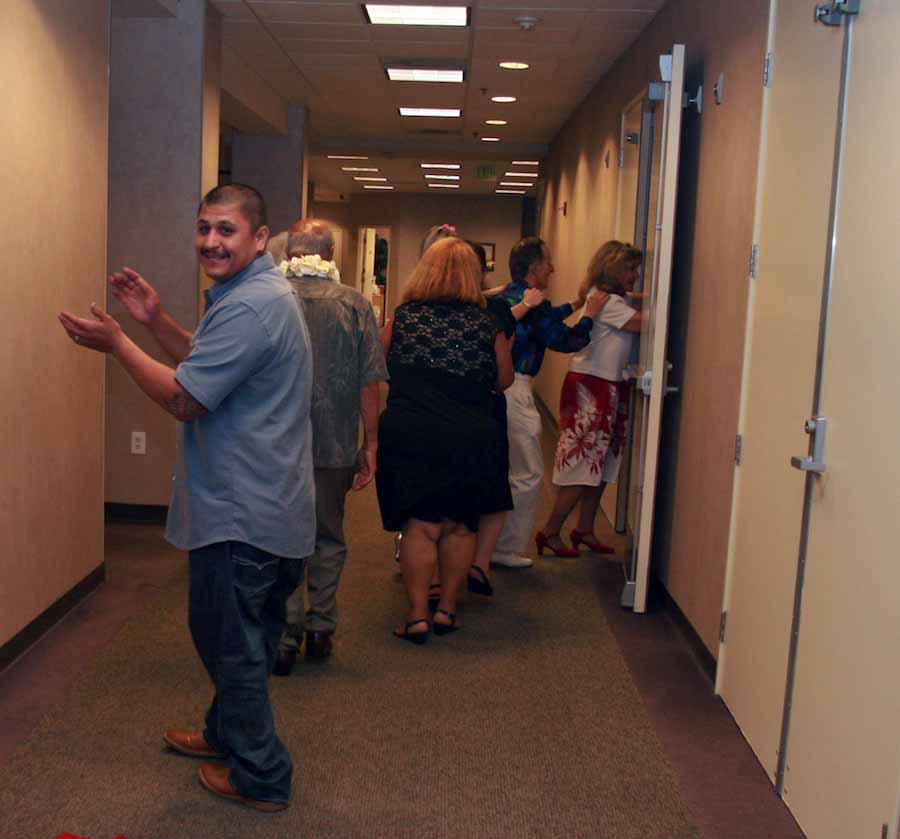 Standing ovation! And a "Thank You" for the visit!

Welcome home!

With two new potential Starlighters followed us in and danced!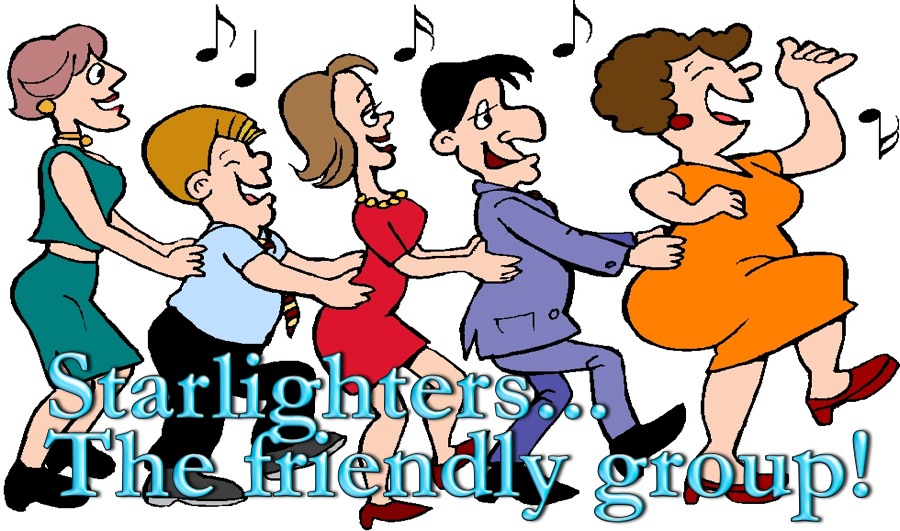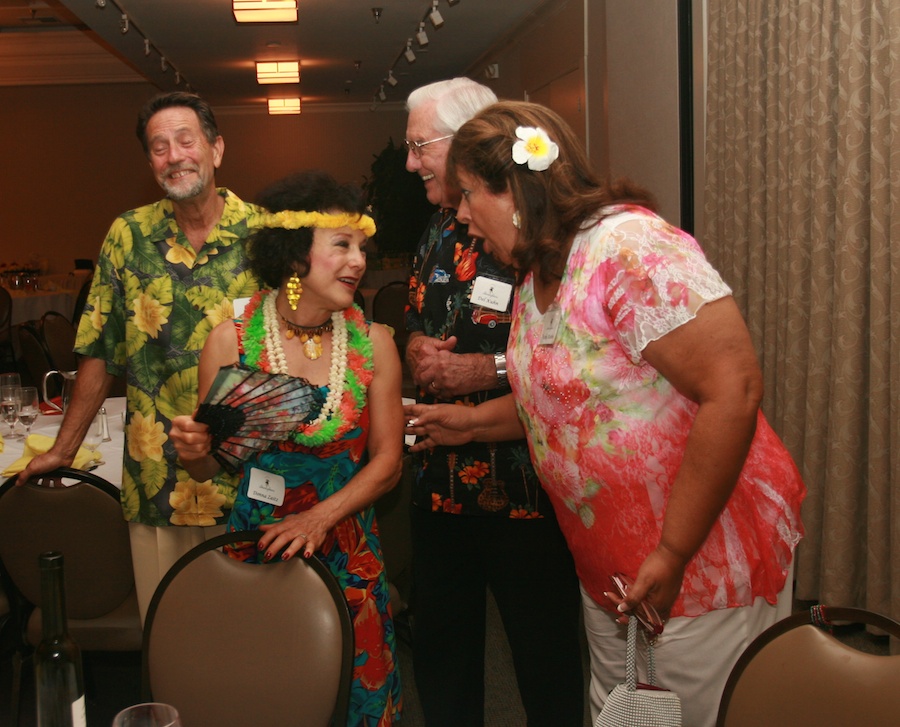 Everyone had a great time visiting....

Fred and Mary are still enjoying the conga visit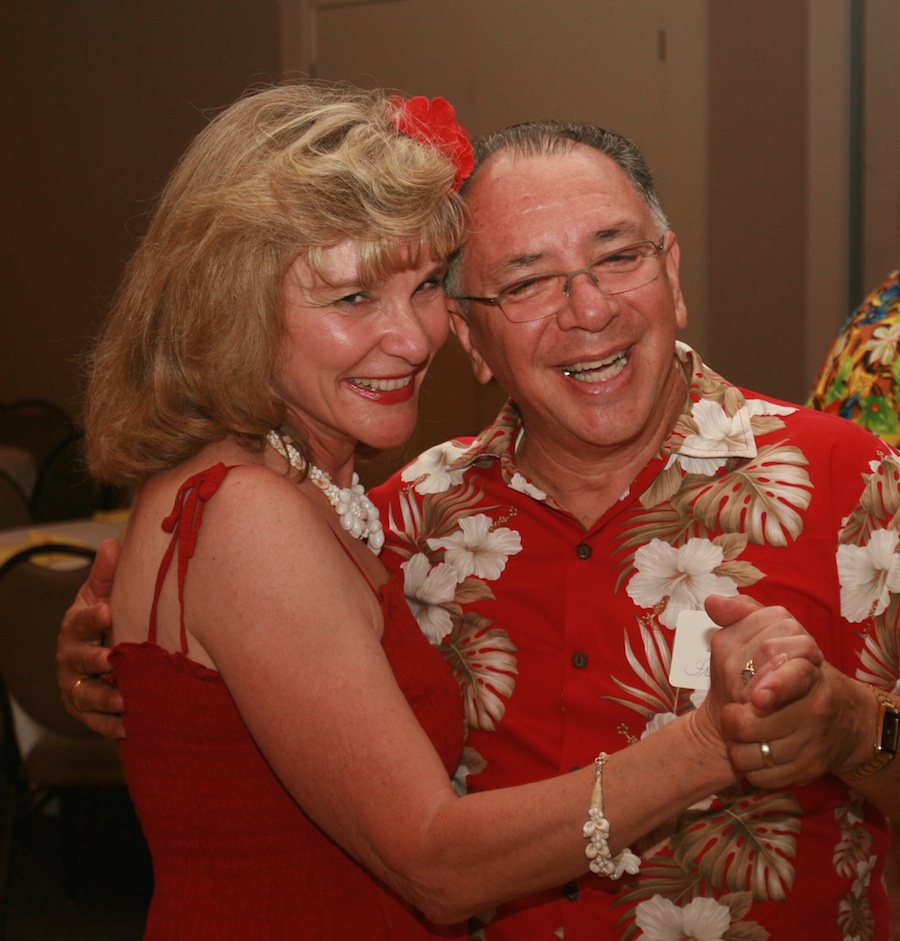 "Perhaps we should now waltz through????"

"See, there was a conga line and they went next door"