Time To Meet And Greet (Page One)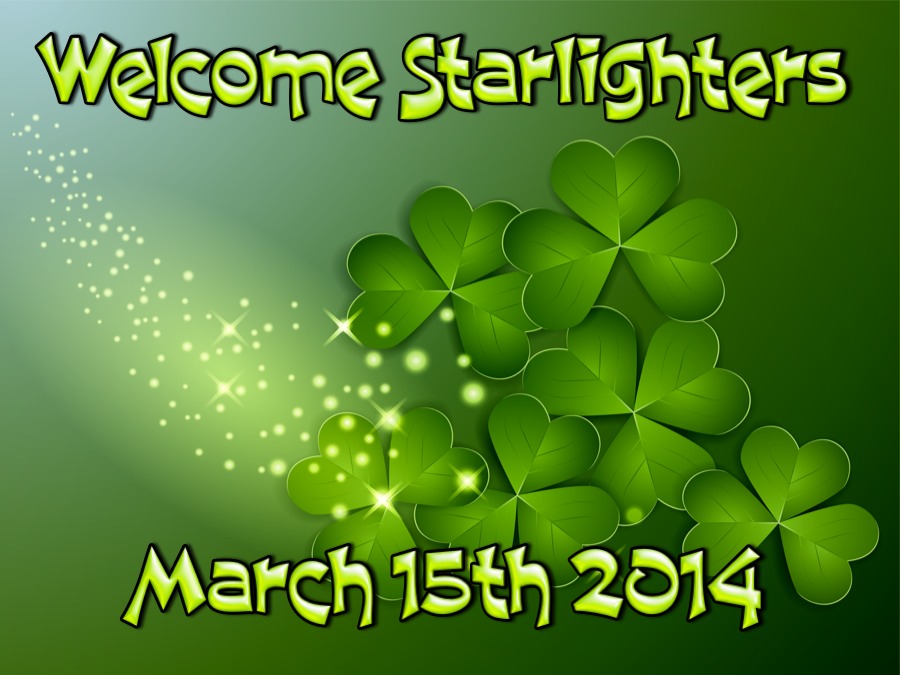 We Have A New Band This Evening - Please meet Wyatt Haupt. Wyatt particularly enjoys playing ballroom music because it gives him the opportunity to play his own renditions of the stellar composers of the first 70 years of the Twentieth Century that include Gershwin, Berlin, Kern, Porter and Van Heusen.

A career educator for both Los Angeles and Lompoc Unified School Districts, Wyatt has always considered his musical endeavors as an avocation which have included childhood movie appearances, casual Local '47 work in his late teens, a composer and book writer for a musical comedy, and that of a live, musical performer modeled after the likes of the late Gil Bernal of Spike Jones fame.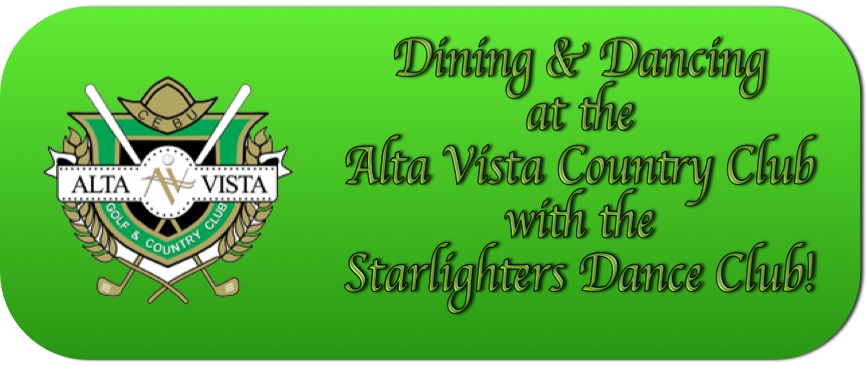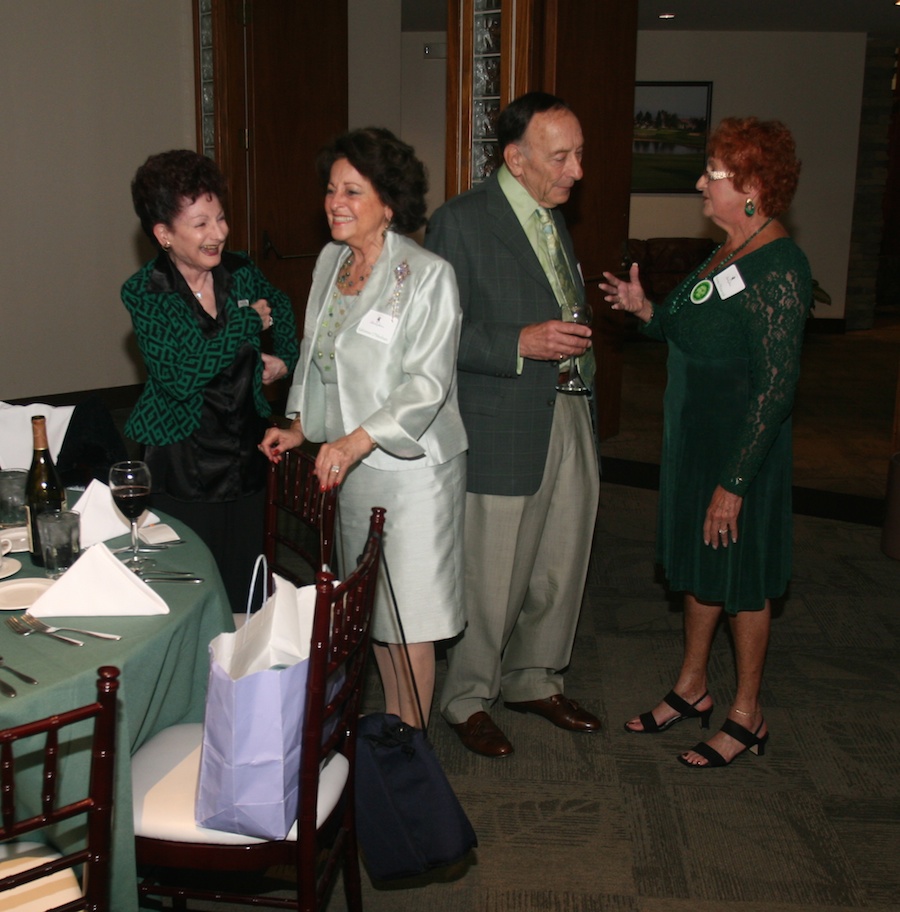 Green is the color of the day!
Did You Know? - Originally, the colour associated with Saint Patrick was blue. Over the years the colour green and its association with Saint Patrick's Day grew. Green ribbons and shamrocks were worn in celebration of St Patrick's Day as early as the 17th century.
Saint Patrick is said to have used the shamrock, a three-leaved plant, to explain the Holy Trinity to the pagan Irish, and the ubiquitous wearing and display of shamrocks and shamrock-inspired designs has become a feature of the day.
In the 1798 rebellion, to make a political statement, Irish soldiers wore full green uniforms on 17 March in hopes of catching public attention. The phrase "the wearing of the green", meaning to wear a shamrock on one's clothing, derives from a song of the same name.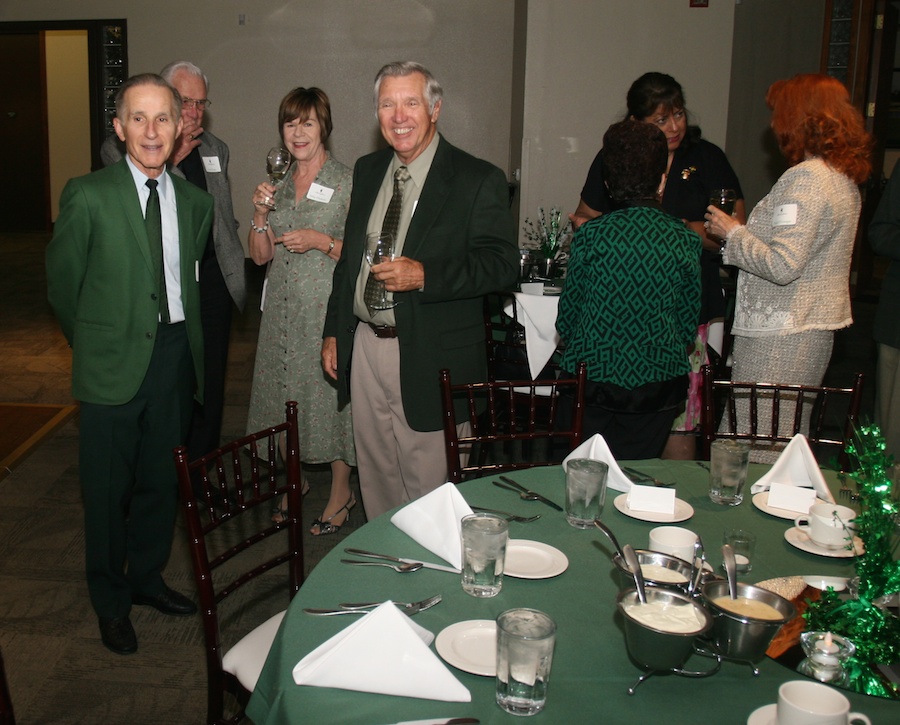 The wine is not green? What's going on??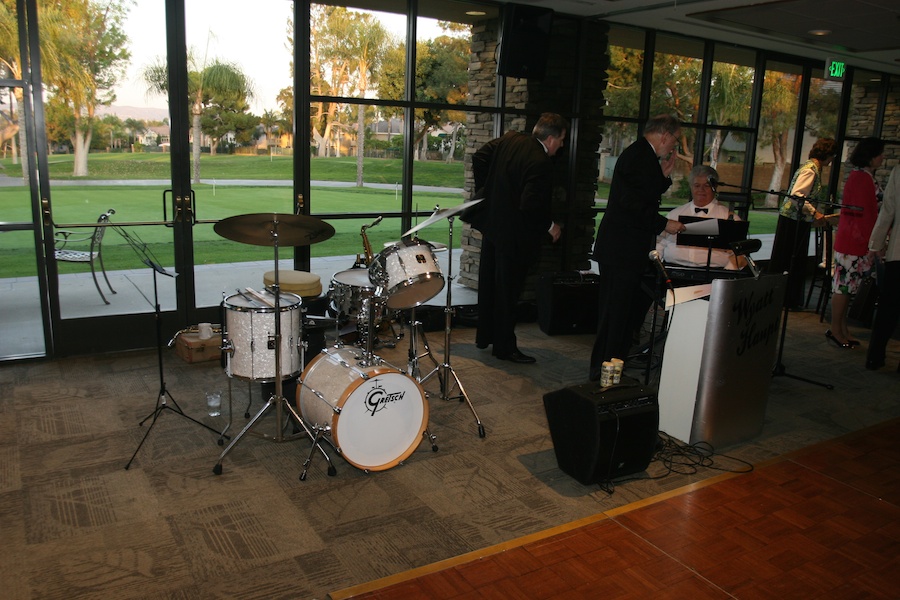 Wyatt does last minute coordination prior to starting the music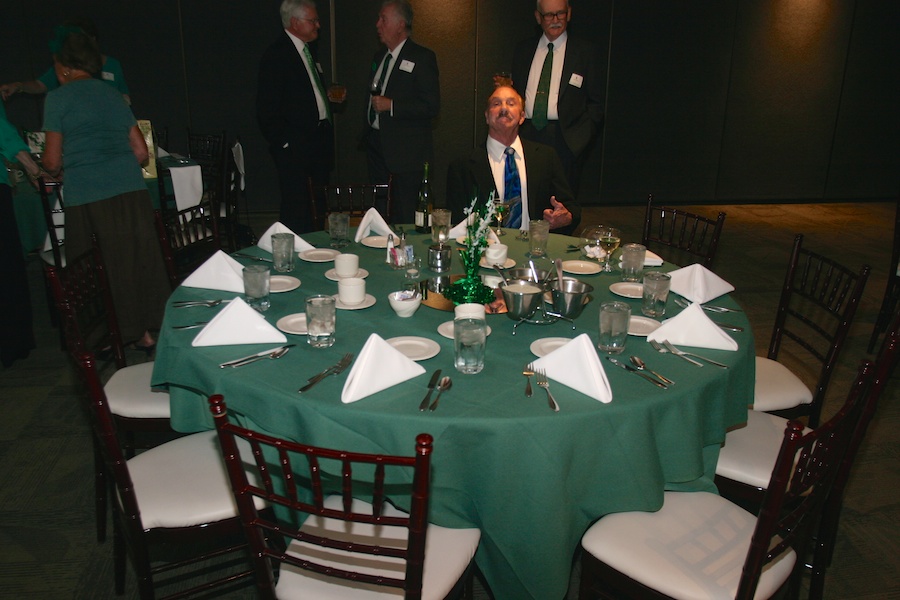 King Don and the "Chairs of the Round Table"

Mary and Fred brought three guest couples this evening! Yeah!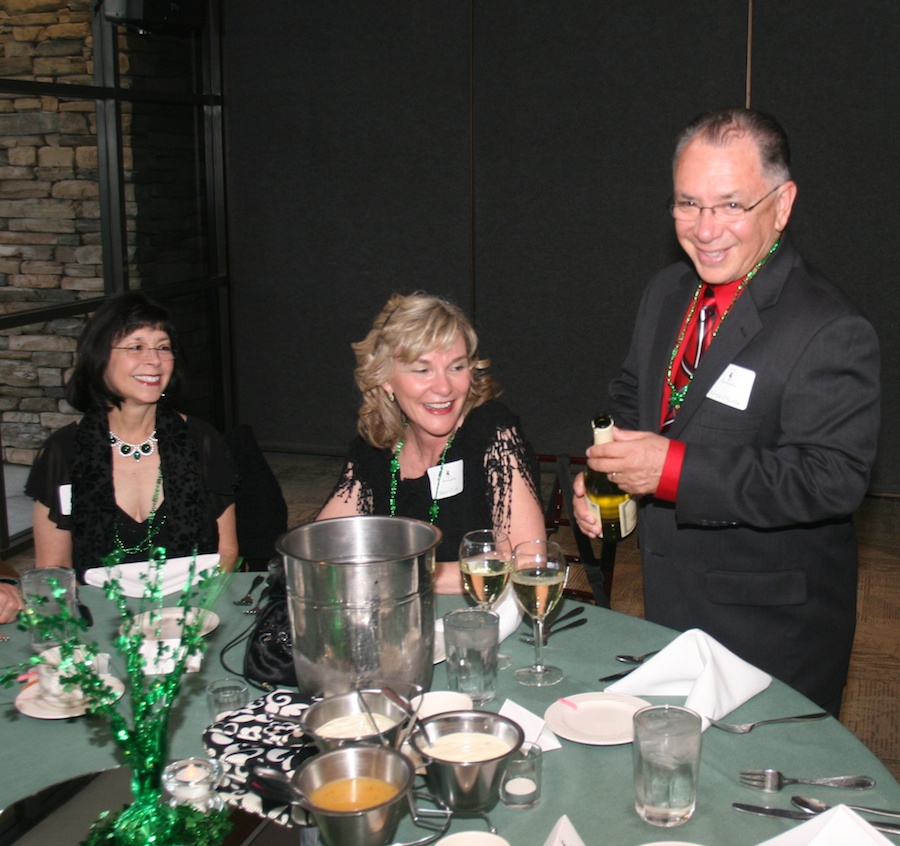 "Fred... Do not spill the wine!"

Green Irish wine!

Our own Leprechaun
Did You Know? - A leprechaun (Irish: leipreachán) is a type of fairy in Irish folklore, usually taking the form of an old man, clad in a red or green coat, who enjoys partaking in mischief. Like other fairy creatures, leprechauns have been linked to the Tuatha Dé Danann of Irish mythology.
The Leprechauns spend all their time busily making shoes, and store away all their coins in a hidden pot of gold at the end of the rainbow. If ever captured by a human, the Leprechaun has the magical power to grant three wishes in exchange for their release.

The Welcoming Desk is doing a great business...
We had 86 people this evening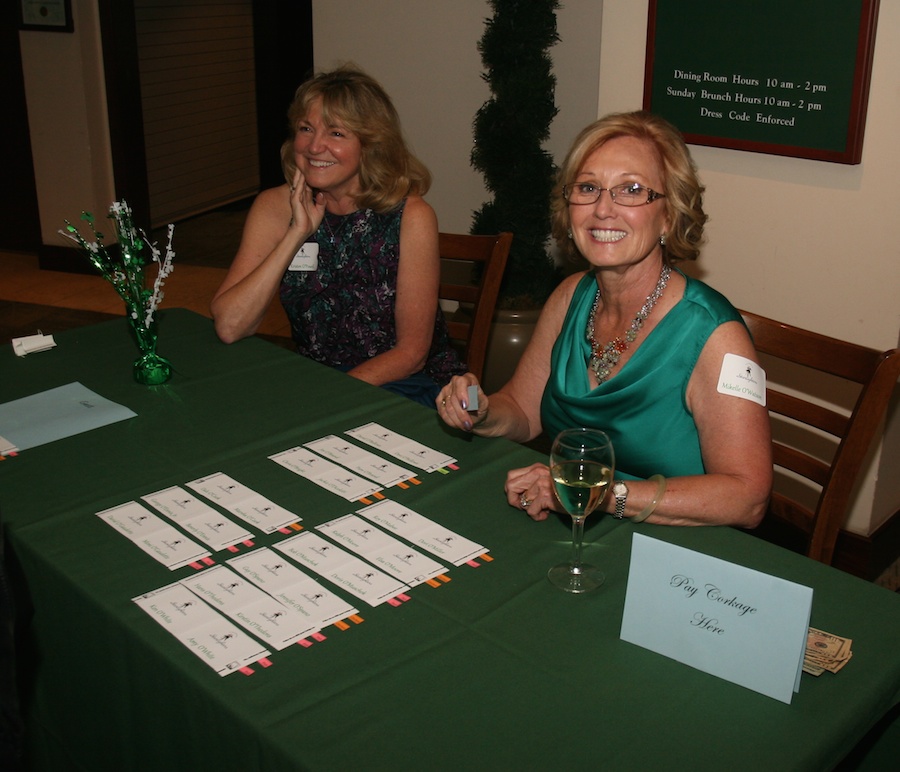 With these ladies smiling, twelve other couples tried to get in!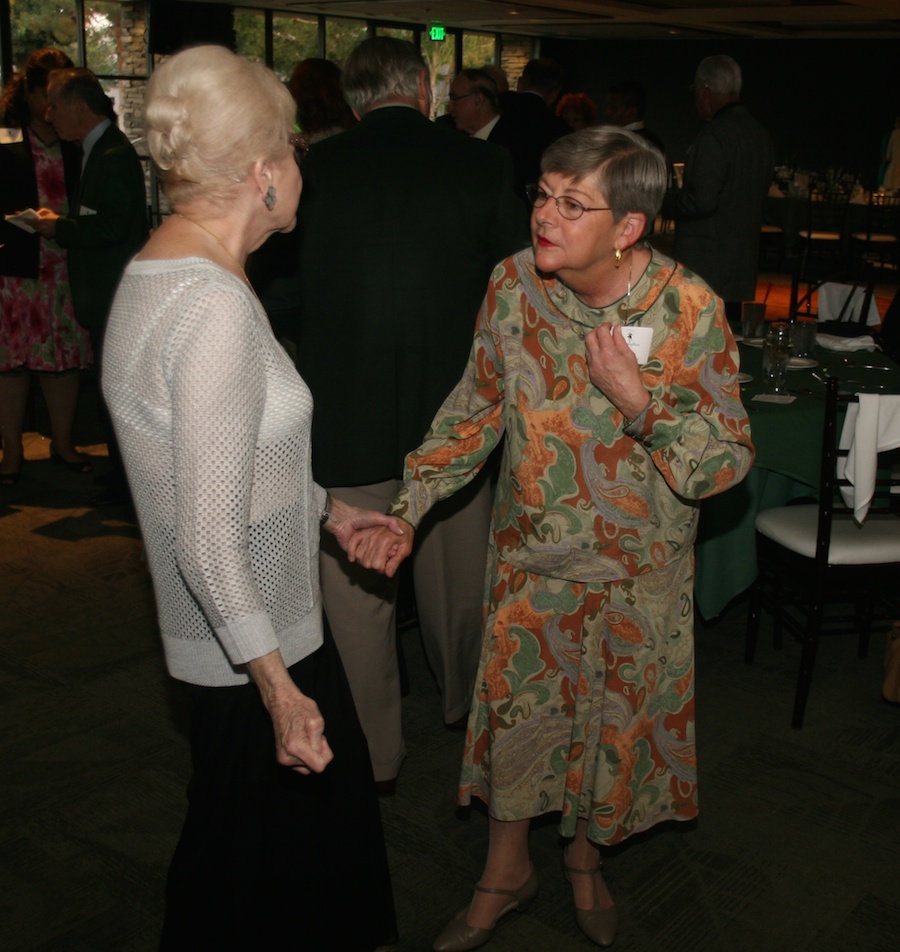 Margie and Sue catching up on the latest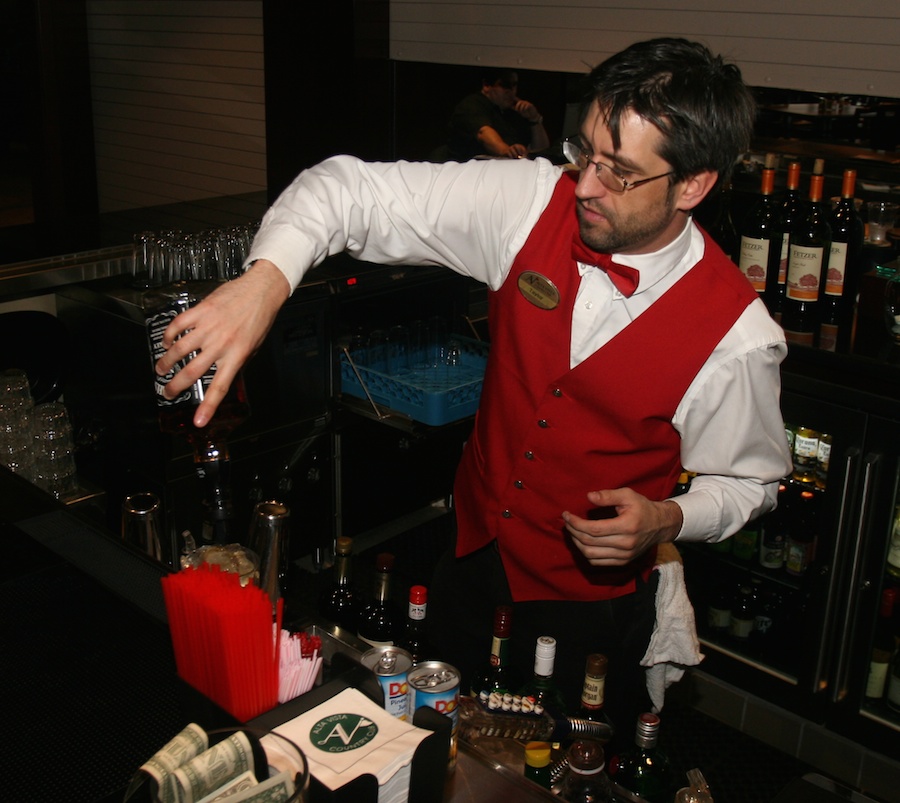 This gentleman worked hard this evening!

"Oh come on Hans... Pour just a little of your bottle into my glass.... Please!"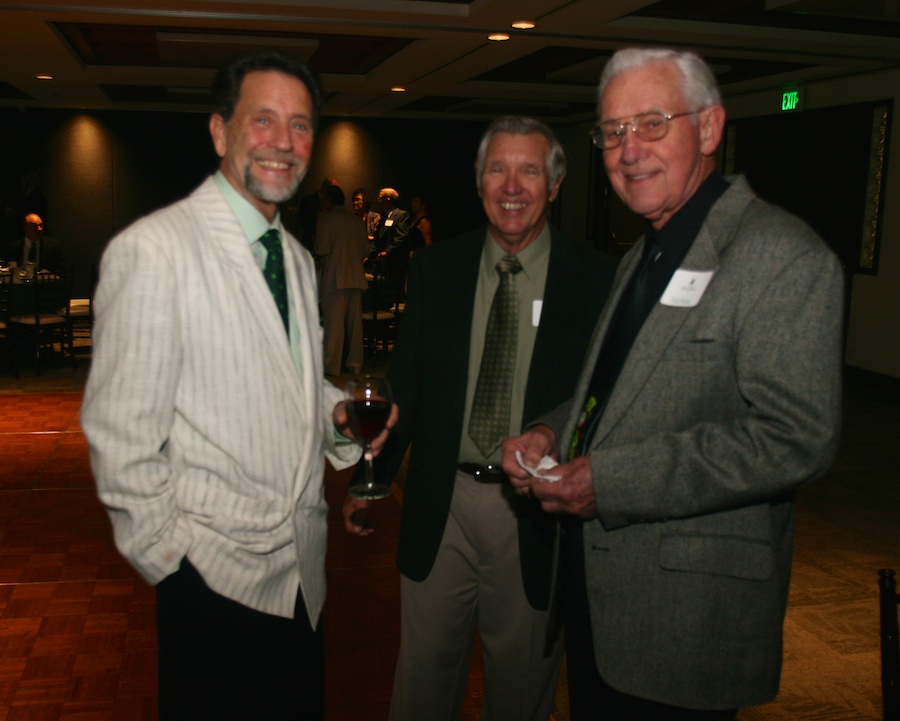 What are they cooking up???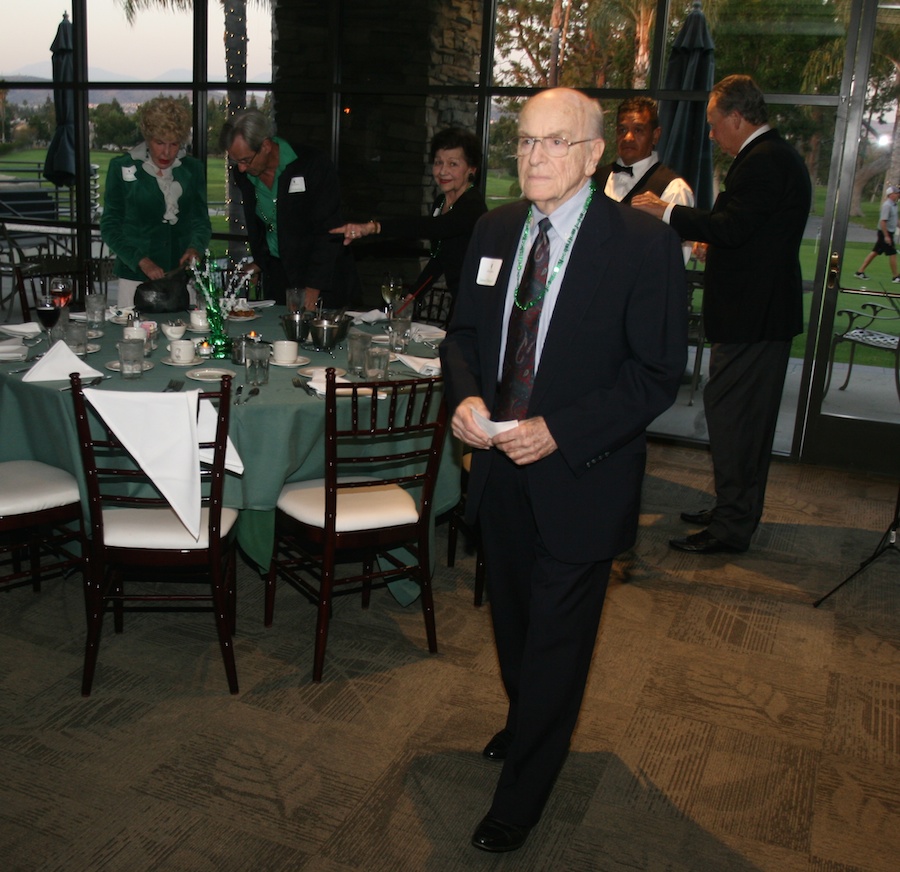 A man on a mission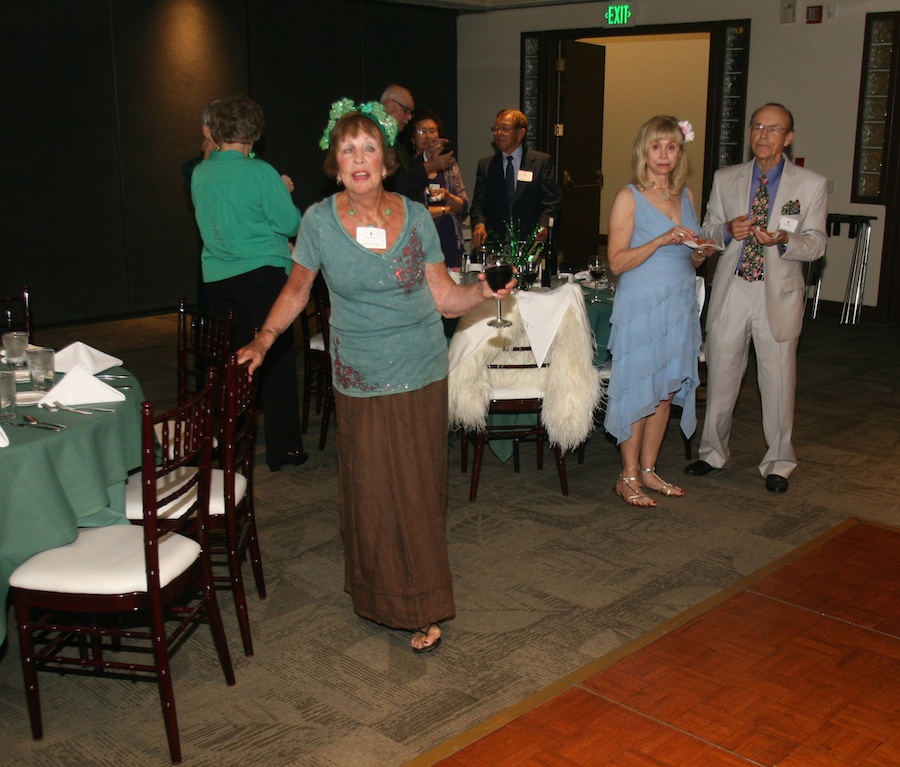 "Yes... We celebrate St. Patricks Day in Hawaii!"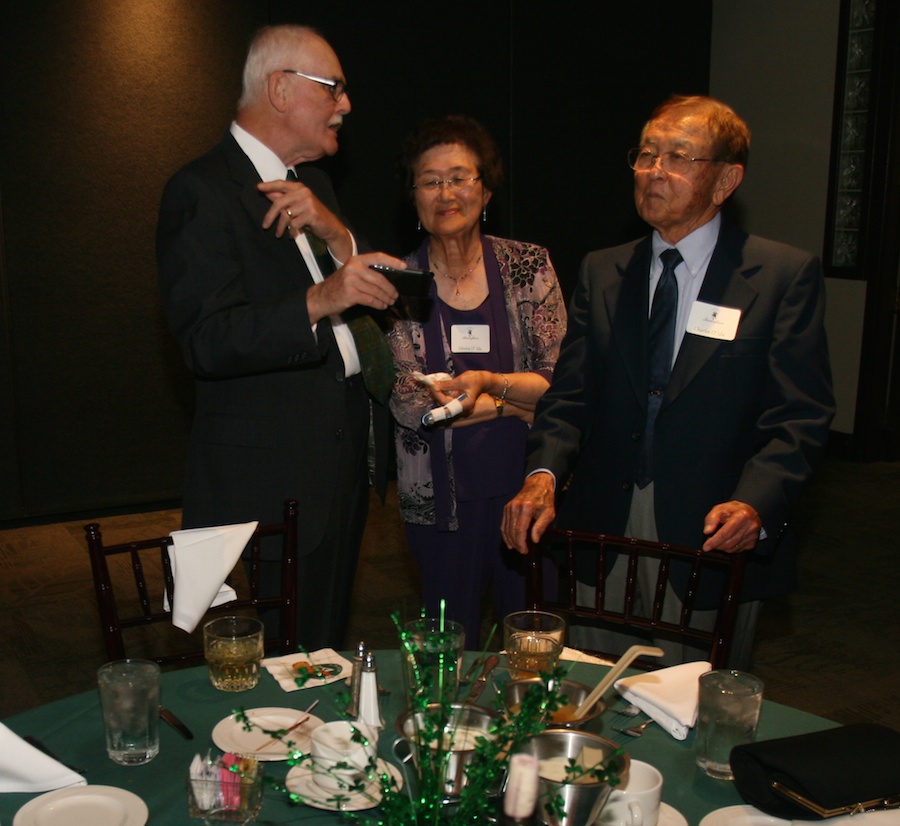 The clans talk... It's the O'Pokinghorn's and O'Ida's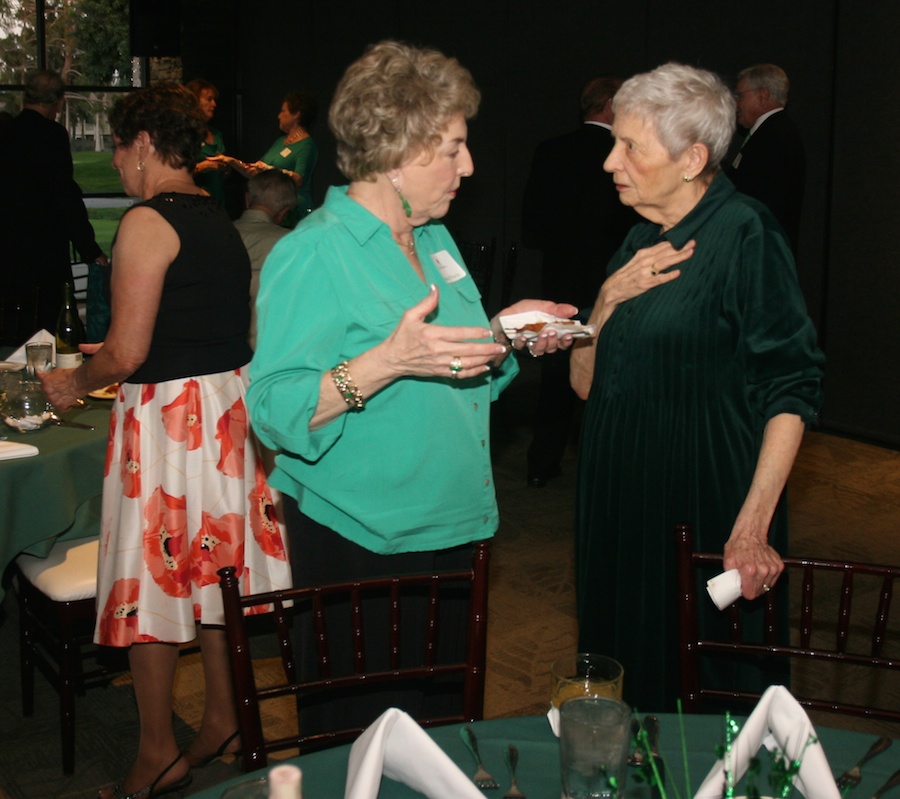 "Who is the lady in orange???"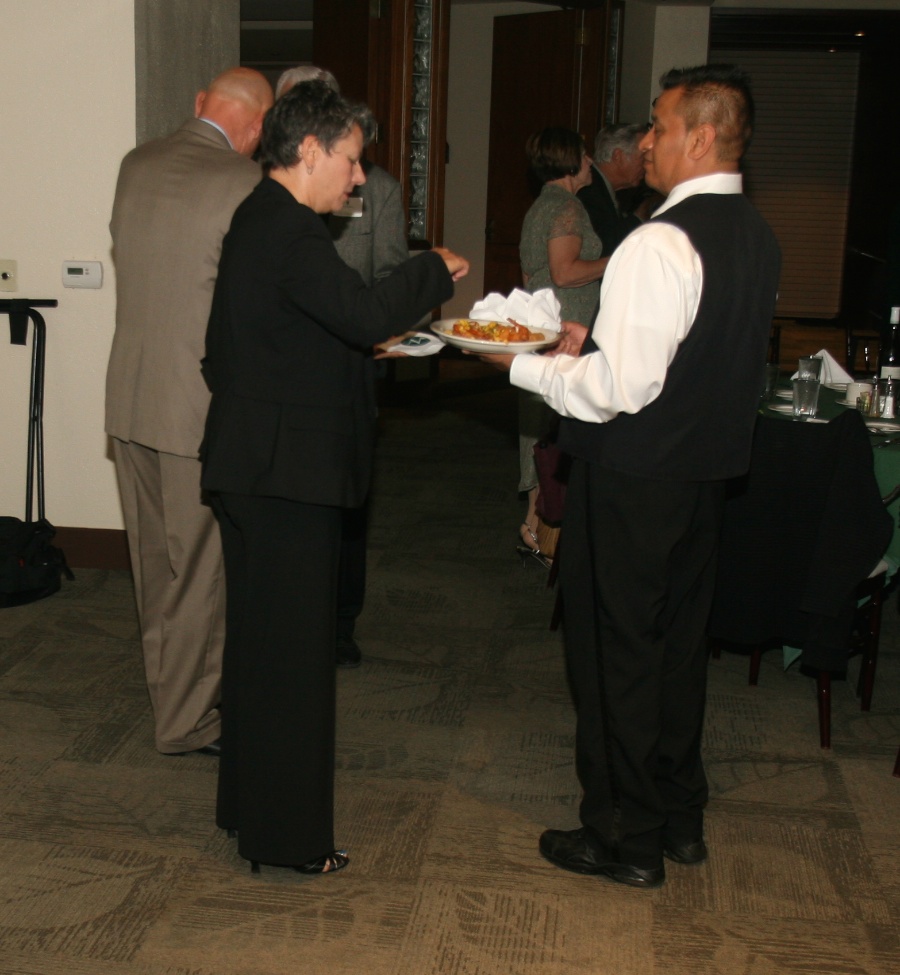 "Irish hors'doeuvers are made of what?"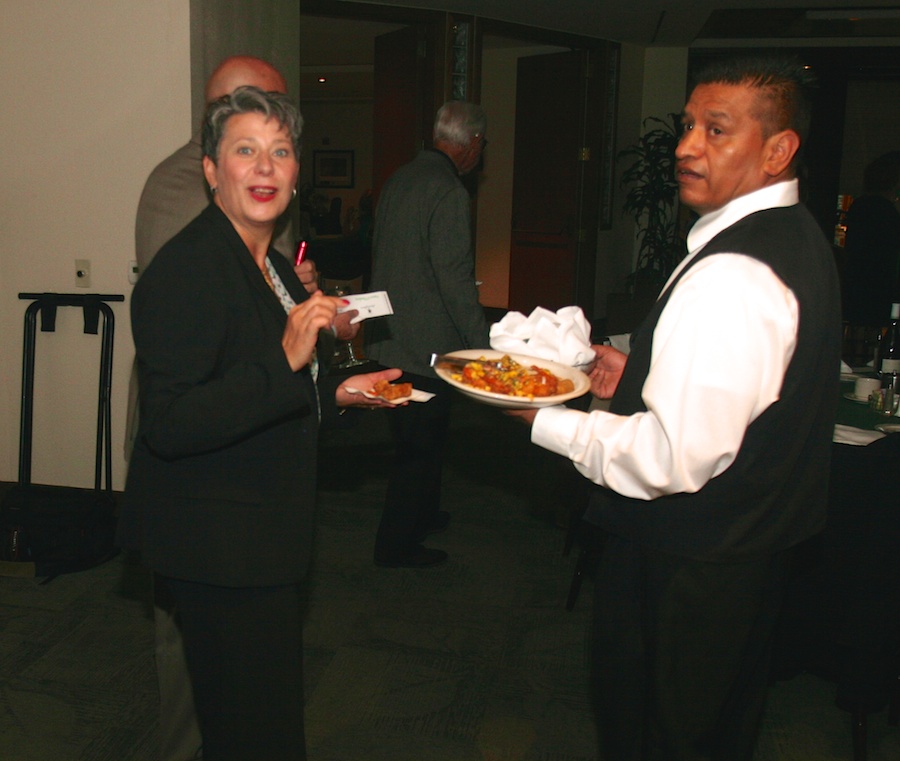 Soaked in alcohol... The hor's d'oeuvers of course
Questions & Answers...
Q: How did the leprechaun beat the Irishman to the pot of gold?
A: He took a shortcut!
Q: What does a leprechaun call a happy man wearing green?
A: A Jolly Green Giant
Q: When is an Irish Potato not an Irish Potato?
A: When it's a FRENCH fry!
Q: Why are leprechauns so hard to get along with?
A: Because they're very short-tempered!
Q: Why do frogs like St. Patrick's Day?
A: Because they're always wearing green
Q: Why do leprechauns hide behind 4-leafclovers and not 3-leafclovers?
A: They need all the luck they can get!
Q: What happens when a leprechaun falls into a river?
A: He gets wet!
Knock Knock
Who's there?
Irish!
Irish Who?
Irish you a happy St. Patrick's Day!
Q: Why did St. Patrick drive all the snakes out of Ireland?
A: He couldn't afford plane fare.
Q: Why can't you iron a four-leaf clover?
A: Because you shouldn't press your luck!
Q: What type of bow cannot be tied?
A: A rainbow.
Q: Why did the elephant wear green sneakers?
A: Her red ones were in the wash!
Q: What do you call a diseased criminal?
A: A leper-con!
Q: Where can you always find gold?
A: In the dictionary!

Mary and Paul... Comparing necklaces

OK Guys... Time to get the crowd moving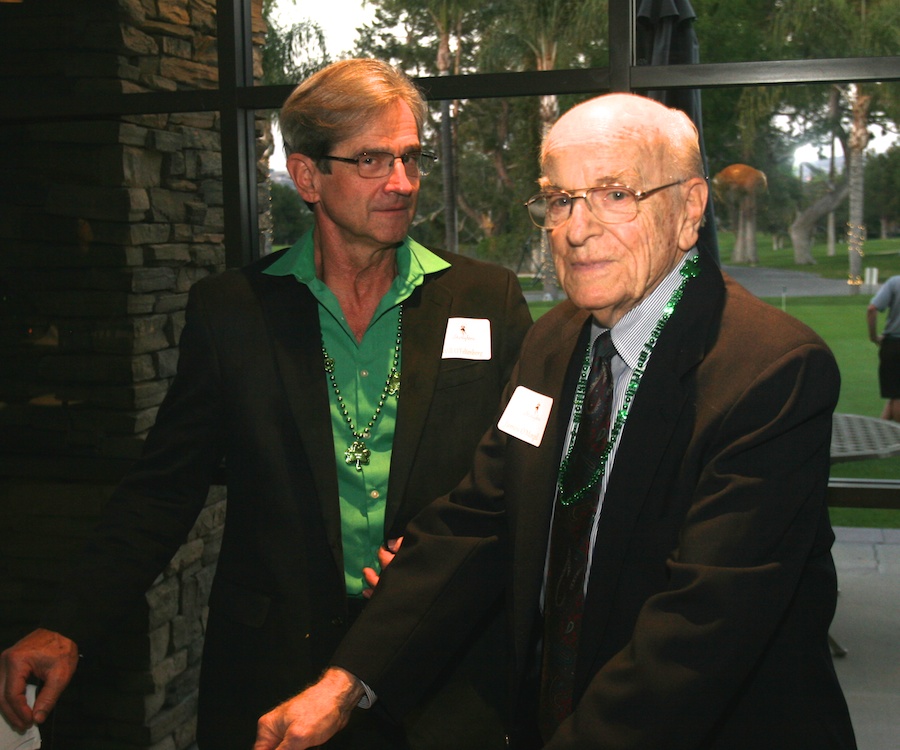 The leprechaun's are cooking up something

Dancing the night away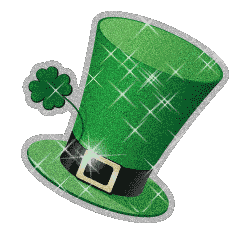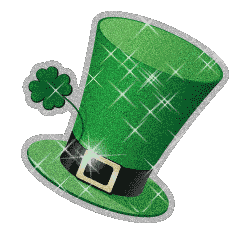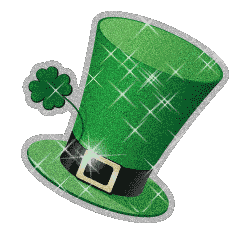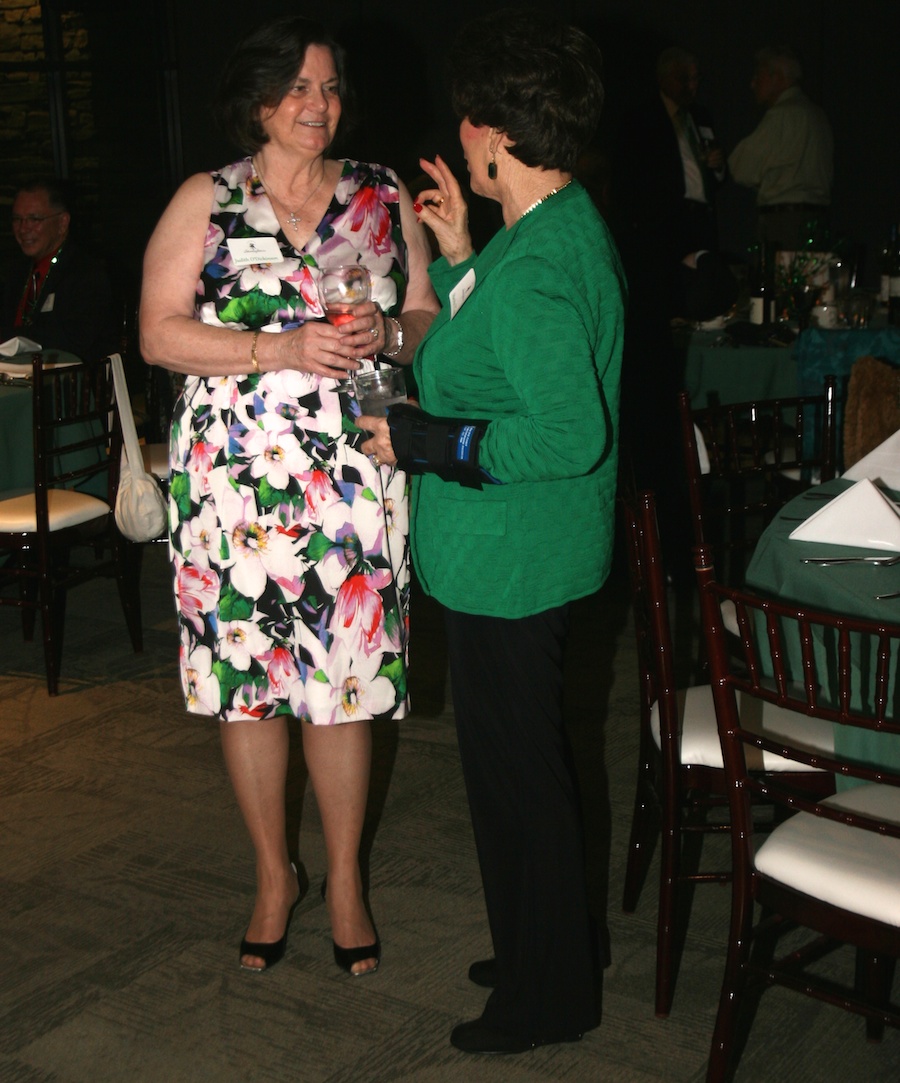 "OK... That's your second wish!"


Marcia is wearing a very dark green... Midnight Green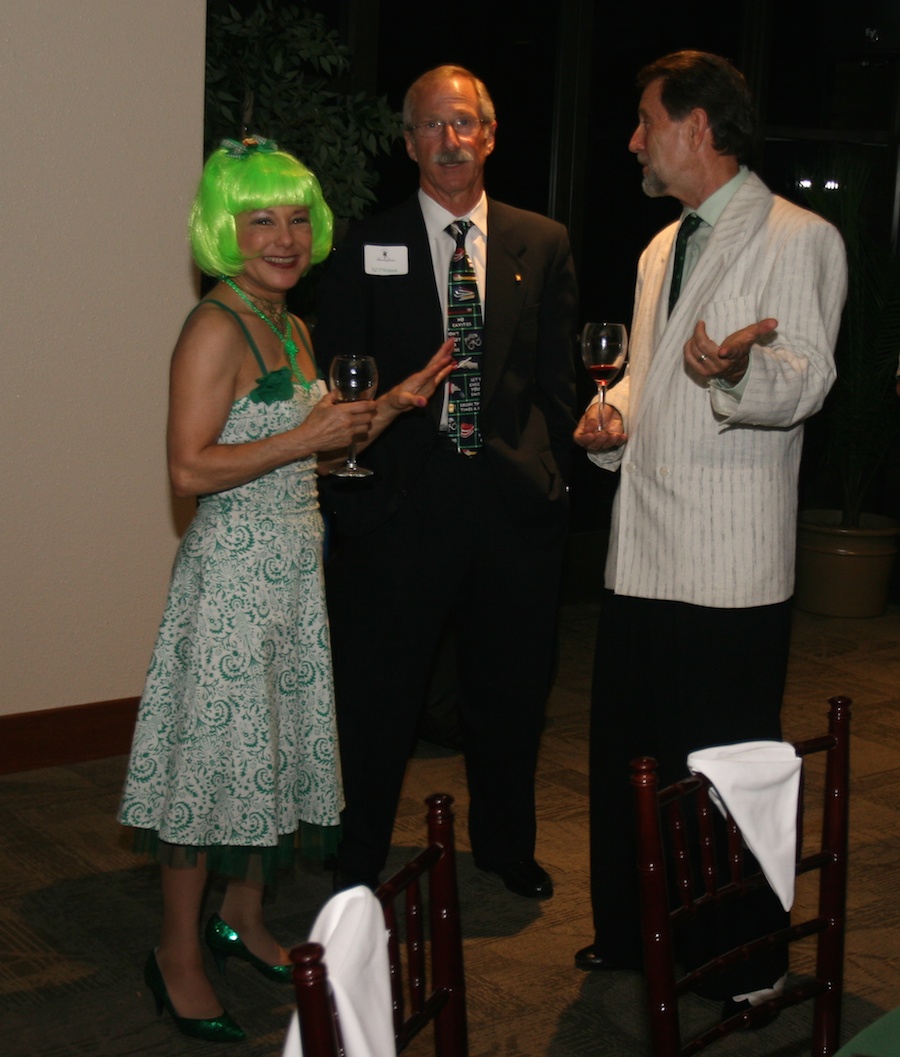 Donna's hair might need a new battery by the end of the evening

It's a miracle...

"So... Jerry, we hear you are going to lead us in an Irish jig???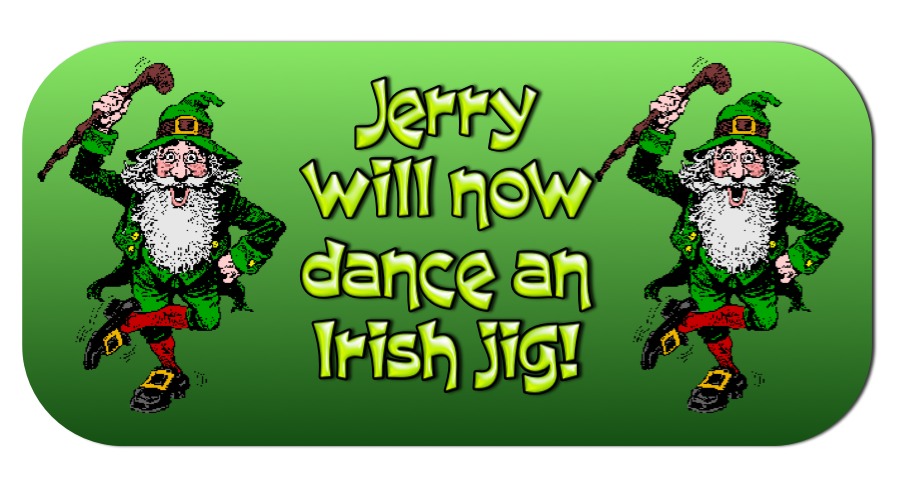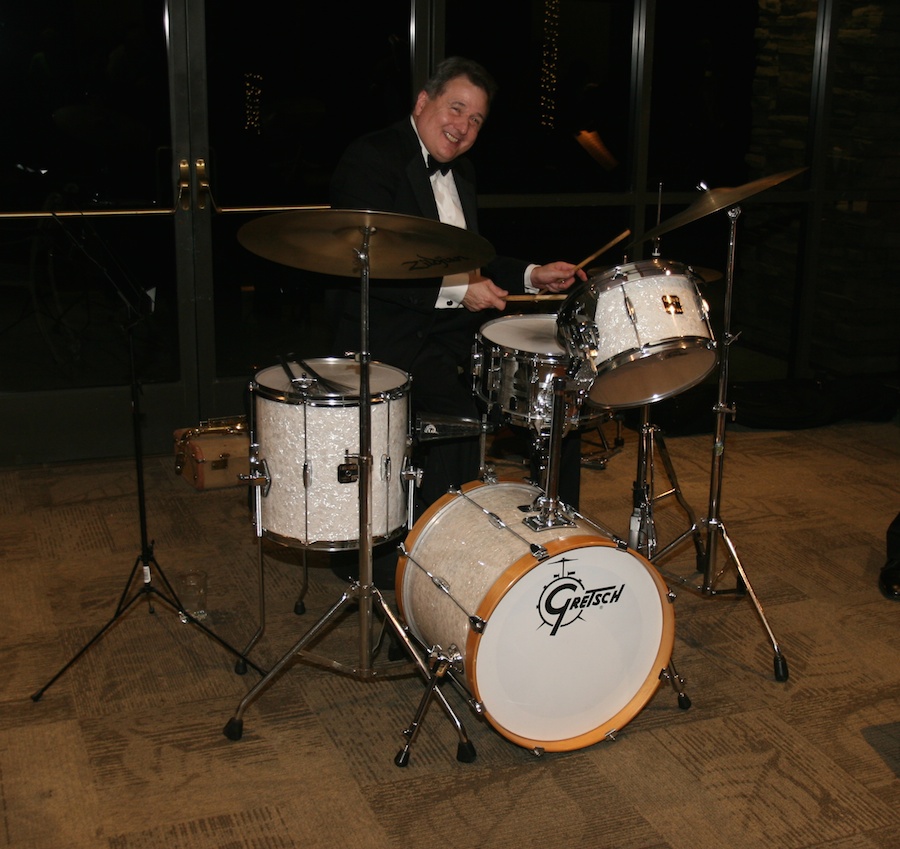 Best seat in the house....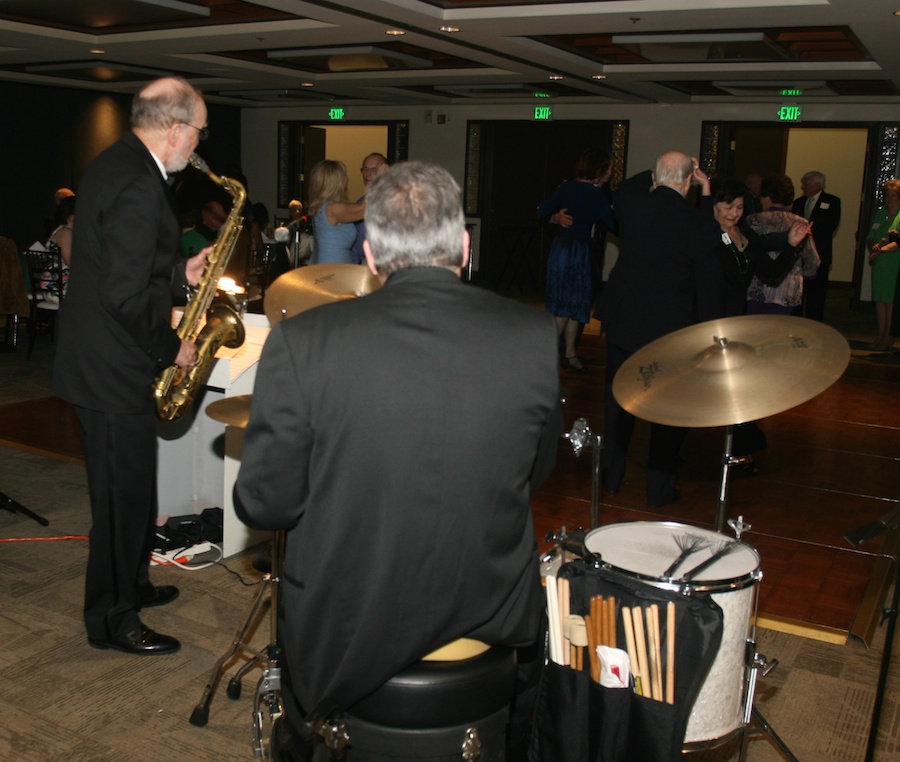 What the band sees... Stays with the band!

"Do we know any Irish tunes.... Yes...
My name is Wyatt O'Haupt silly!"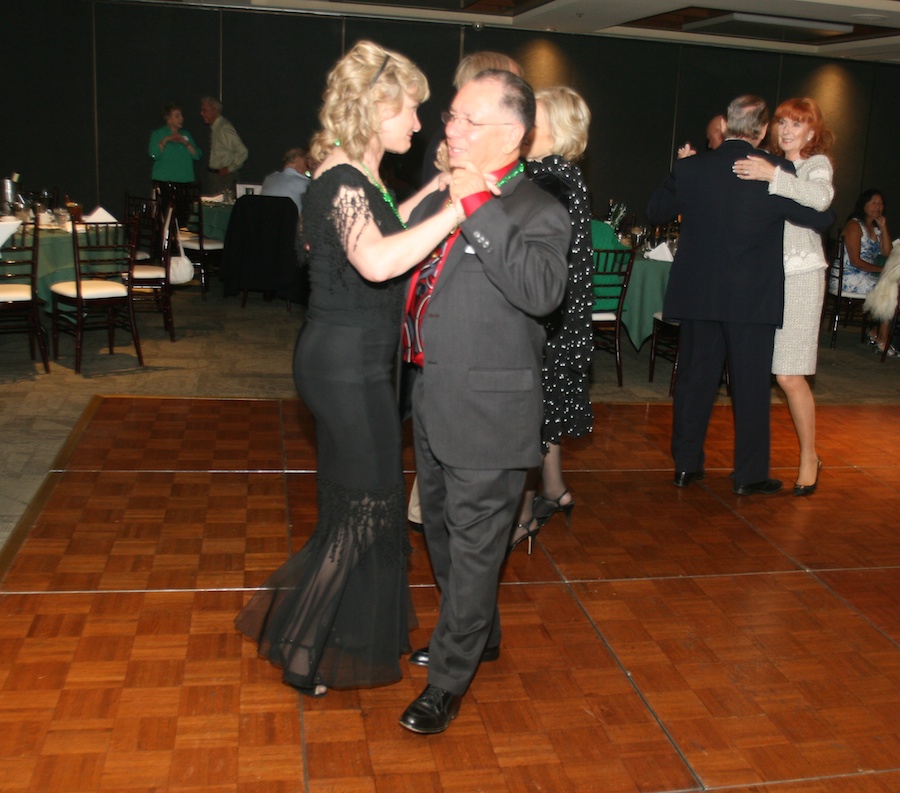 Mary and Fred demonstrate the proper way to kick up their heels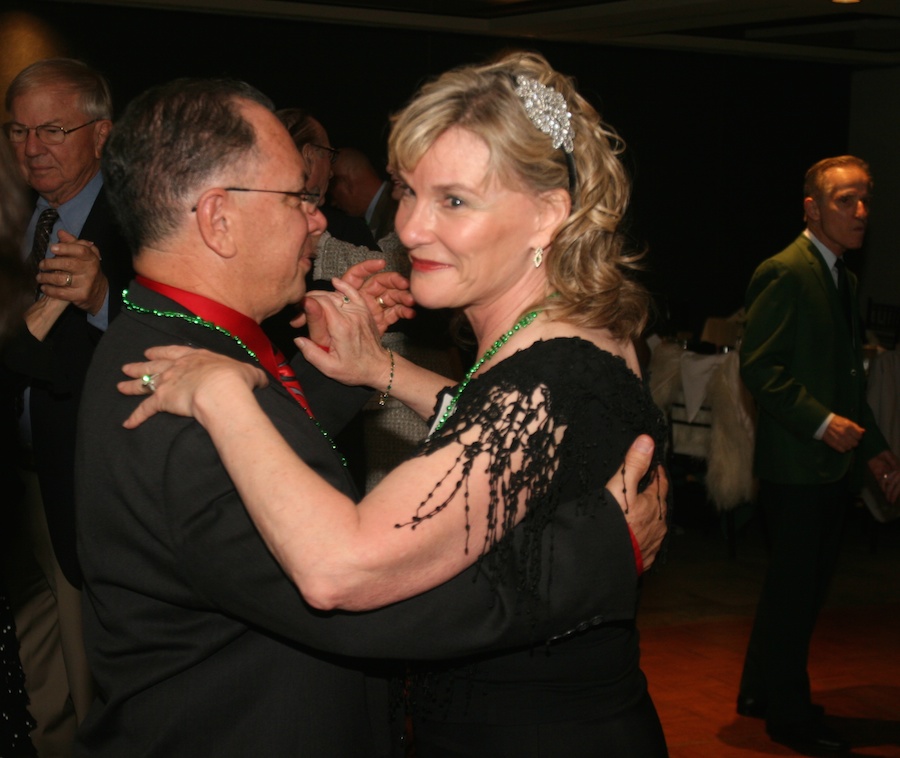 "OK Fred... Follow me!"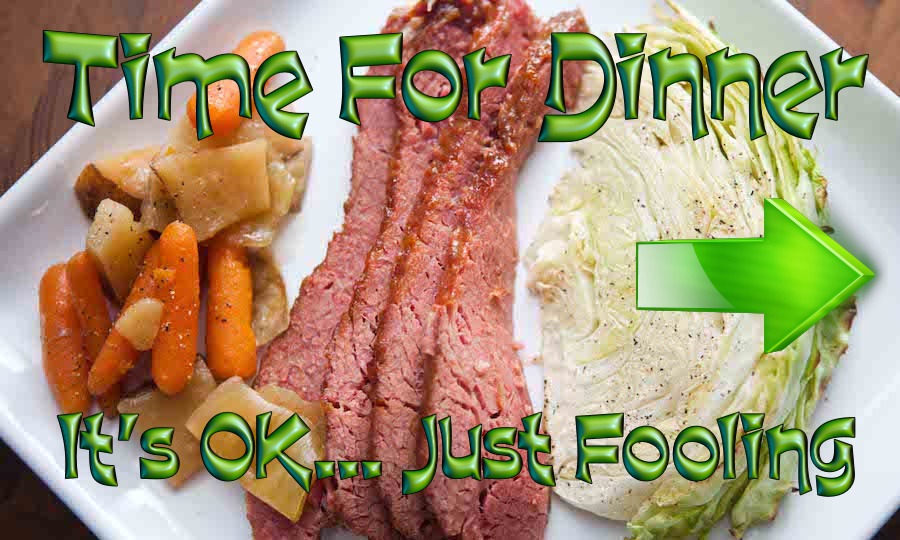 Song: Carlton Weaver
The Calton weavers were a community of handweavers established in the community of Calton, then in Lanarkshire just outside Glasgow, Scotland in the 18th century. In 1787 the weavers went on strike. Troops opened fire on the demonstrators and six weavers were killed. In the early 19th century, many of the weavers emigrated to Canada, settling in Carleton Place and other communities in eastern Ontario, where they continued their trade.
G Em C D7
I'm a weaver, a Calton weaver,
Em Bm C D
I'm a rash and a roving blade;
C Em
I've got siller in my pouches,
C D7
I'll gang and follow the roving trade.
Chorus:
G Em C D7
O whisky, whisky, Nancy Whisky,
Em Bm D7 G
Whisky, whisky, Nancy, O.
As I came in by Glesca city,
Nancy Whisky I chanced to smell,
I gaed in, sat doon beside her,
Seven lang years I lo'ed her well.
The mair I kissed her the mair I lo'ed her,
The mair I kissed her the mair she smiled,
And I forgot my mither's teaching,
Nancy soon had me beguiled.
I woke early in the morning,
To slake my drouth it was my need;
I tried to rise but I wasna able,
Nancy had me by the heid.
"C'wa, landlady, whit's the lawin' ?
Tell me whit there is to pay."
"Fifteen shillings is the reckoning,
Pay me quickly and go away."
As I went oot by Glesca city,
Nancy Whisky I chanced to smell;
I gaed in, drank four and sixpence,
A't was left was a crooked scale.
I'll gang back to the Calton weaving,
I'll surely mak' the shuttles fly;
I'll mak mair at the Calton weaving
Than ever I did in a roving way.
Come all ye weavers, Calton weavers,
A'ye weavers where e'er ye be;
Beware of Whisky, Nancy Whisky,
She'll ruin you as she ruined me.