Pumpkins Come In Many Sizes, Shapes, and Colors!
Page Created: 11/26/2011 Page Last Updated: 11/05/2023 00:44
A pumpkin is a squash fruit that grows as a gourd from a trailing vine of certain species in the genus Cucurbita. Although native to the Western hemisphere, pumpkins are cultivated in North America, continental Europe, Australia, New Zealand, India and some other countries. Cucurbita species referred to as pumpkins include Curcurbita pepo, Cucurbita maxima, Cucurbita mixta, and Cucurbita moschata.

The pumpkin varies greatly in form, being sometimes nearly globular, but more generally oblong or ovoid in shape. The rind is smooth and varies in color between cultivars. Although orange is the most common color, some fruits are dark green, pale green, orange-yellow, white, red and gray. Large specimens acquire a weight of 40 to 80 lb (18 to 36 kg), but smaller fruits are more frequently encountered.

Although the pumpkin is botanically classified as a fruit (the ripened ovary of a flowering plant), it is widely regarded culinarily as a vegetable. Their insides are commonly eaten cooked and served in dishes such as pumpkin pie, pumpkin bread, and pumpkin soup; the seeds can be roasted as a snack. Pumpkins are traditionally used to carve Jack-o'-lanterns for use in Halloween celebrations.
Bet you didn't know there were so many kinds of pumpkins!
The pumpkin is related to the zucchini (courgette).
Pumpkin growers often compete to see whose pumpkins are the most massive. Festivals dedicated to the pumpkin and these competitions are relatively widespread and some form tourist attractions in their own right, for example in Half Moon Bay, California .
The largest pumpkin ever grown weighed 1,469 lb (666 kg). Raised by Larry Checkon from Northern Cambria, Pennsylvania in 2005, it is technically a " squash ," Cucurbita maxima, and was of the public variety " Atlantic Giant ," which is the "giant" variety - culminated from the simple hubbard squash by enthusiast farmers through intermittent effort since the mid 1800's. However, this record is being challenged by Ron Wallace of Rhode Island , who raised an alleged 1,502 pound pumpkin in 2006 [1] .
Pumpkins are orange because they contain massive amounts of lutein , alpha- and beta- carotene . These nutrients turn to vitamin A in the body.
Using pumpkins as lanterns at Halloween is based on an ancient Celtic custom brought to America by Irish immigrants. All Hallows Eve on 31 October marked the end of the old Celtic calendar year, and on that night hollowed-out turnips , beets and rutabagas with a candle inside were placed on windowsills and porches to welcome home spirits of deceased ancestors and ward off evil spirits and a restless soul called "Stingy Jack," hence the name "Jack-o'-lantern".
The city of Boston, Massachusetts currently holds the world record for most lit pumpkins in one area: 30,128, set on October 21 2006, beating out the previous record of 28,952 set in Keene, New Hampshire in 2003.
Illinois produces more pumpkins than any other state in the United States ; Michigan is a distant second.
Pumpkins were among the first foods from the "New World" adopted in Europe , probably due to a European cousin: Lagenaria
"Pumpkin" is sometimes used as an affectionate term, often referring to one's significant other. For example: "I love you, Pumpkin."/li>
The pumpkin is the state fruit of New Hampshire .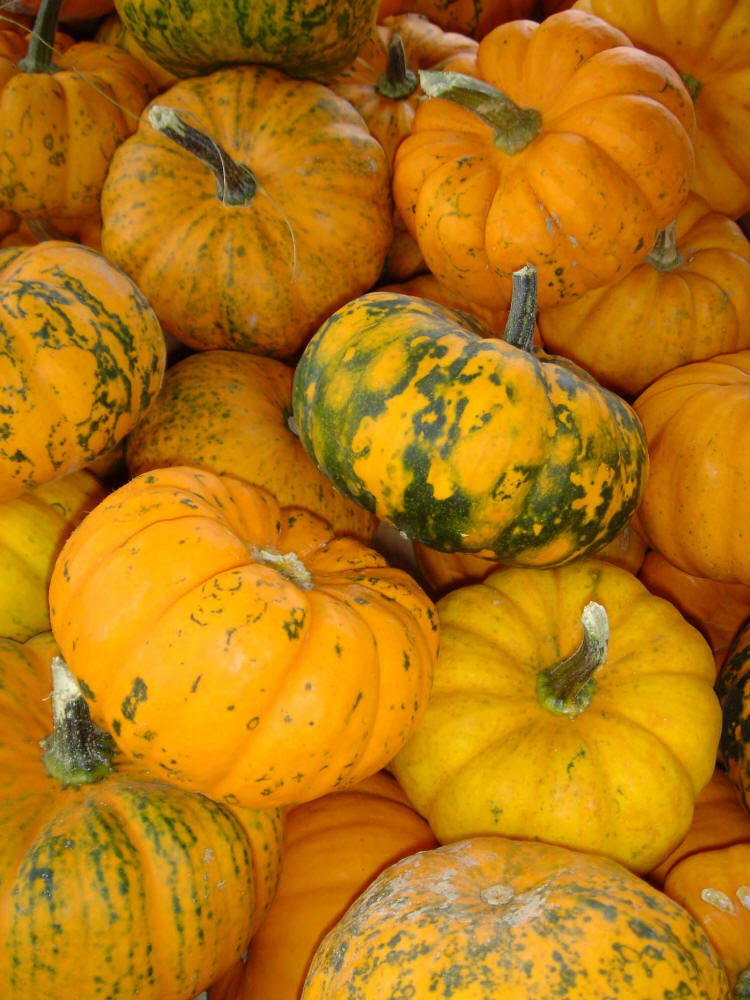 Great Pumpkin Names:
| | |
| --- | --- |
| Baby Huey | This is the only known pumpkin name where "Baby" can be used. |
| Hugo | This name speaks for itself. Any pumpkin with this name will not be a wimp. |
| Big Ben | Another name that speaks for itself. |
| Big Bertha | An excellent choice if you don't know anyone named Bertha. |
| Big Boy | Goes along with the "Big ---" theme, "Big" anything usually produces good results. |
| Big Foot | A favorite on the west coast |
| Brutus | Big and mean, a dude with a 'tude. |
| Dino | As in big as a dinosaur |
| Faith | For those who truely believe in the "Big Guy" |
| Fertile Myrtle | If seeds is what you are after, this name's for you. |
| Frankenstein | A certain winner of the "Ugliest Pumpkin" award at your local weigh-off |
| Godzilla | A favorite among Japanese growers |
| Goliath | This is one of the authors favorites |
| Grandaddy | The Grandaddy of them all |
| Hope | A rather optimistic name. Growers selecting this name will buy a Fork Truck in May. |
| Incredible Hulk | This will produce favorable results, but pumpkins will have a slightly green hue. |
| Jabba the Glut | ....Our version of Jabba the Hut |
| King Kong | No question this is a classic name for a big fella |
| Lucky | The only problem with this name is it takes more than luck to grow Atlantic Giants |
| Lunker | You will not be able to net a beast with this name. On the downside, a slightly fishy smell. |
| Max | This name speaks for itself. However, avoid "Maximilian" as it is too formal. |
| Mighty Mabel | Already in Guiness, a pumpkin of this name could sail the Seven Seas |
| Peter the Great | |
| Porky | As in pig....or hog. Atlantic Giants are real water and nutrient hogs. |
| Sasquatch | He's another biggie. Warning: This pumpkin could turn out hairy. |
| Sparky | He'll come to life in a big way. |
| Tarzan | Big, tough and swings on vines. |
| Titan | A giant of a pumpkin in any patch |
| Underdog | Everybody roots for the underdog and "they try harder" |
| Venus | Named after the Goddess of love, proper pollination is guaranteed. |