The Party Begins At The 2009 Summer Casual (Page One)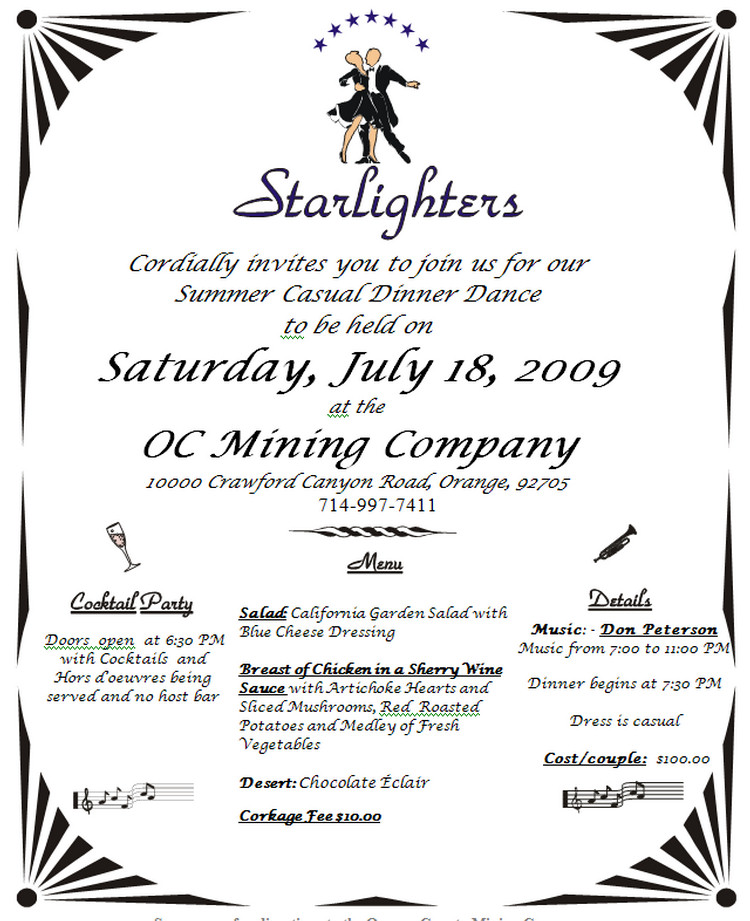 Banquet Rooms in Orange County don't get any better views than those at Orange County Mining Co. A banquet facility and restaurant on the hill in Orange County that boasts panoramic views of Orange County. In the tradition of the mining days of Silverado Canyon, the restaurant is patterned after the grubberies and saloons frequented by the prospectors.

Setting up

The chit-chat begins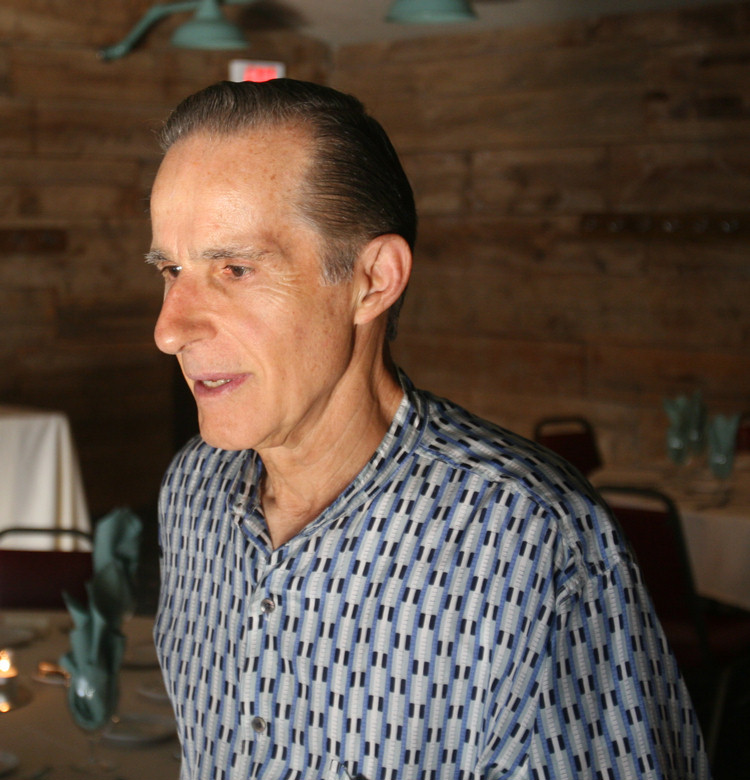 Leon examines the situation and smiles

Smile, you are on Candid Camera
Did You Know? - Candid Camera was a hidden camera television series created and produced by Allen Funt, which initially began on radio as Candid Microphone June 28, 1947. After a series of theatrical film shorts, also titled Candid Microphone, Funt's concept came to television on August 10, 1948. The format has appeared on network, syndicated or cable television in each succeeding decade, as either a regular show or a series of specials. Funt himself hosted or co-hosted almost all of the TV versions until a 1993 stroke from which he never recovered. Funt's son Peter Funt, who had co-hosted the specials with his father since 1987, is now the producer/host of the format.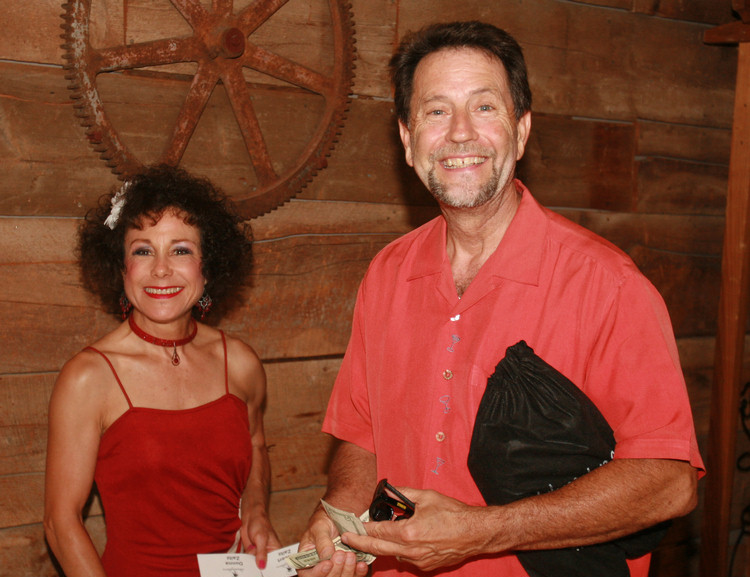 Donna and Bob arrive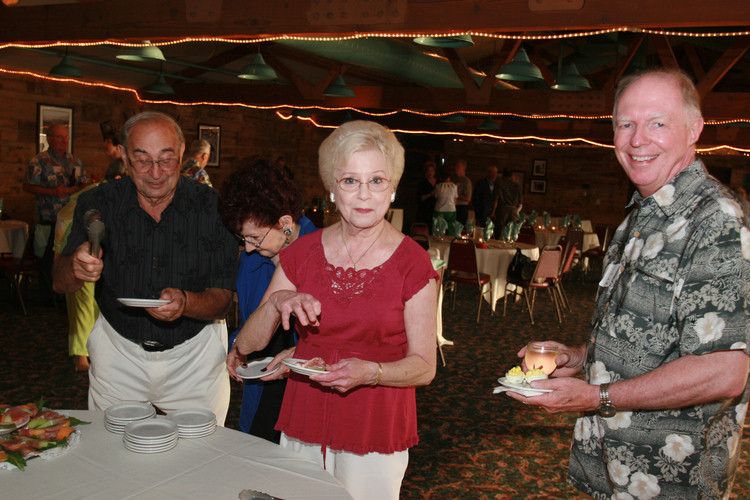 Food always draws a crowd!

Looks good!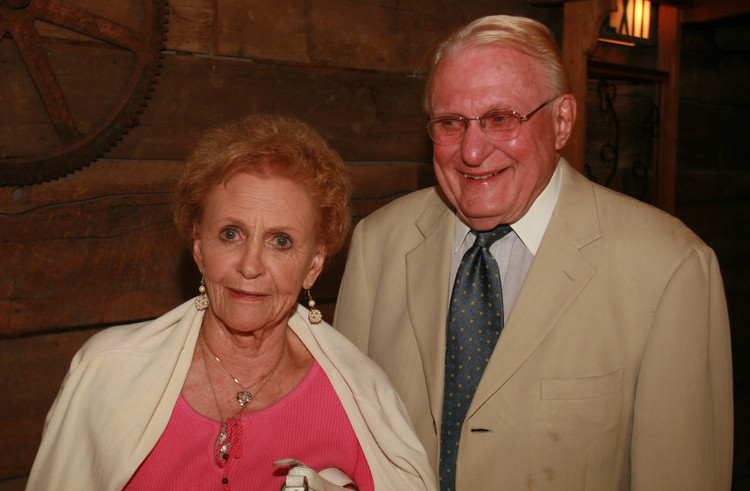 We are in the upper banquet room
Did you know? - A function hall or banquet hall is a room for the purpose of hosting a party, banquet, reception, or other social event. A banquet is a large public meal or feast, complete with main courses and desserts. It usually serves a purpose, such as a charitable gathering, a ceremony, or a celebration.

"Hello and welcome to the dance!"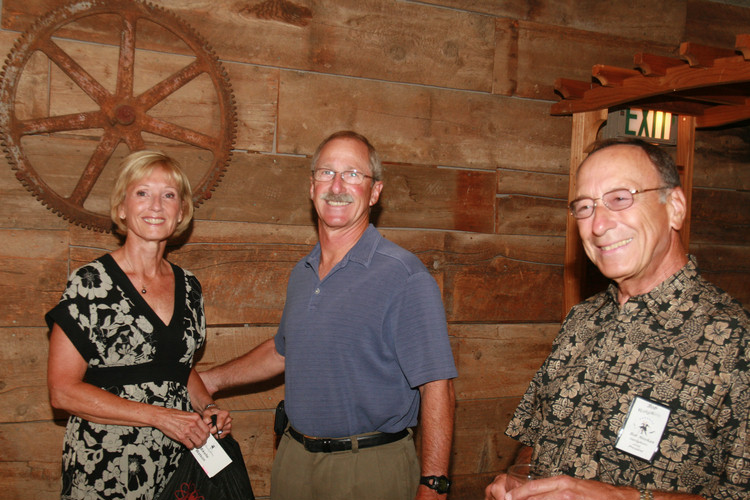 Pat McMillan greets all the Starlighters and guests
Did you know? - Greeting (also called accosting) is an act of communication in which human beings (as well as other members of the animal kingdom) intentionally make their presence known to each other, to show attention to, and to suggest a type of relationship or social status between individuals or groups of people coming in contact with each other. While greeting customs are highly culture- and situation-specific and may change within a culture depending on social status and relationship, they exist in all known human cultures. Greetings can be expressed both audibly and physically, and often involve a combination of the two. This topic excludes military and ceremonial salutes but includes rituals other than gestures.

Dick McMillan gets a quick iced tea before heading back to the greeting table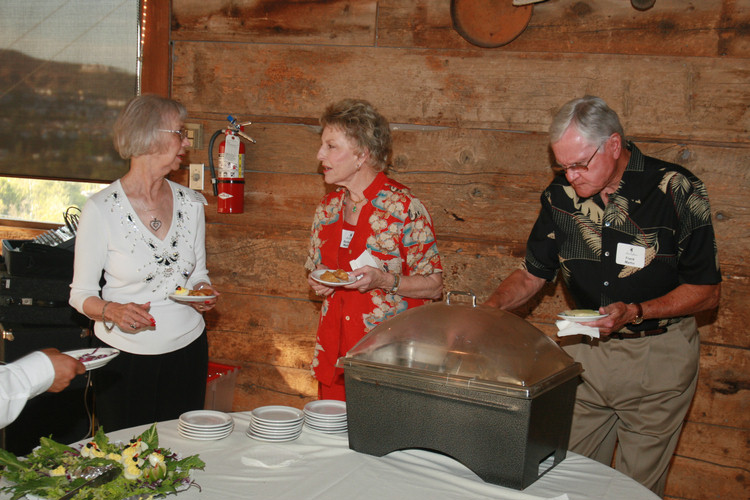 Frank Martin examines the hot Hors d'œuvres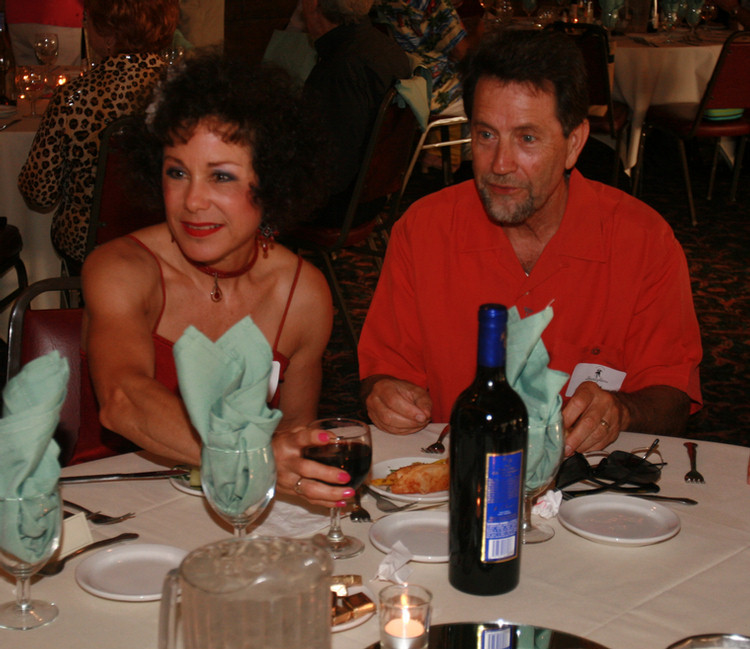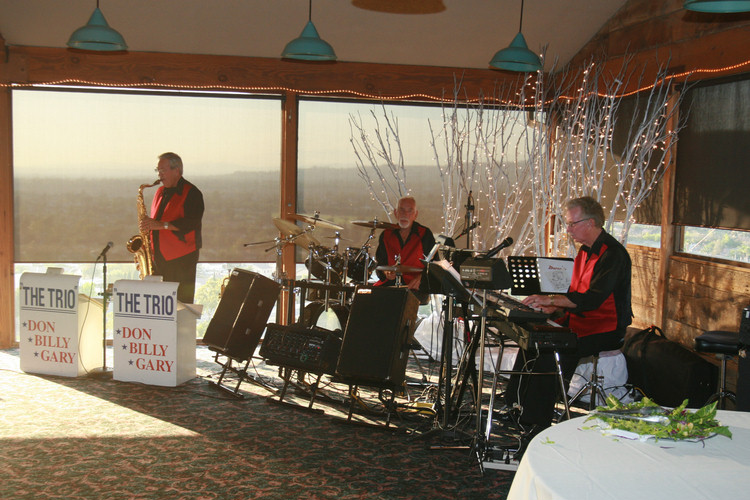 The Trio begins an evening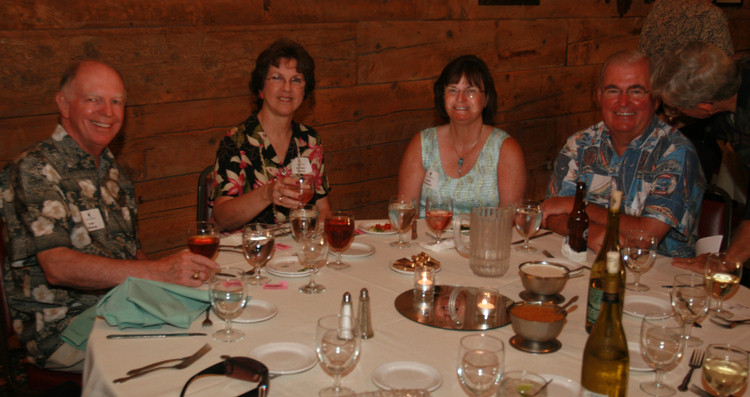 Serious conversating is underway at every table
Did you know? - A conversation is communication between multiple people. It is a social skill that is not difficult for most individuals. Conversations are the ideal form of communication in some respects, since they allow people with different views on a topic to learn from each other. A speech, on the other hand, is an oral presentation by one person directed at a group.
For a successful conversation, the partners must achieve a workable balance of contributions. A successful conversation includes mutually interesting connections between the speakers or things that the speakers know. For this to happen, those engaging in conversation must find a topic on which they both can relate to in some sense. Those engaging in conversation naturally tend to relate the other speaker's statements to themselves. They may insert aspects of their lives into their replies, to relate to the other person's opinions or points of conversation.
Conversation analysis is a branch of sociology which studies the structure and organization of human interaction, with a more specific focus on conversational interaction.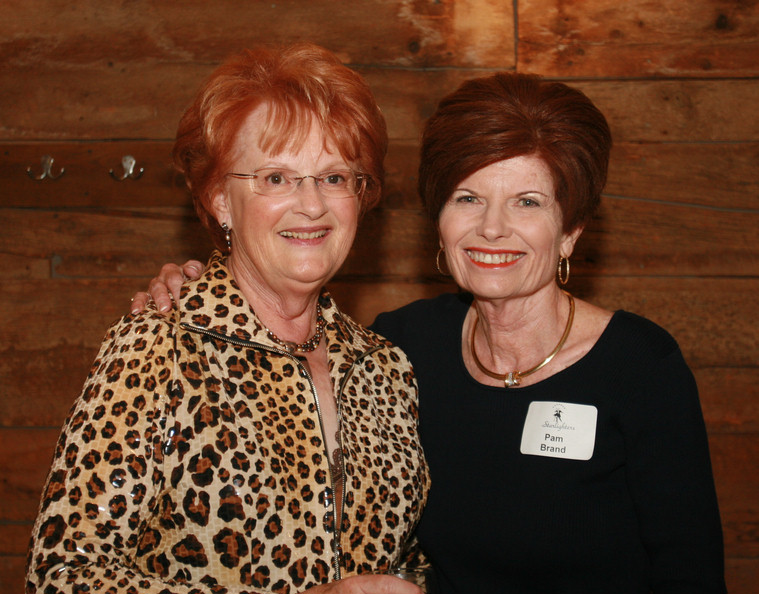 Big smiles everywhere!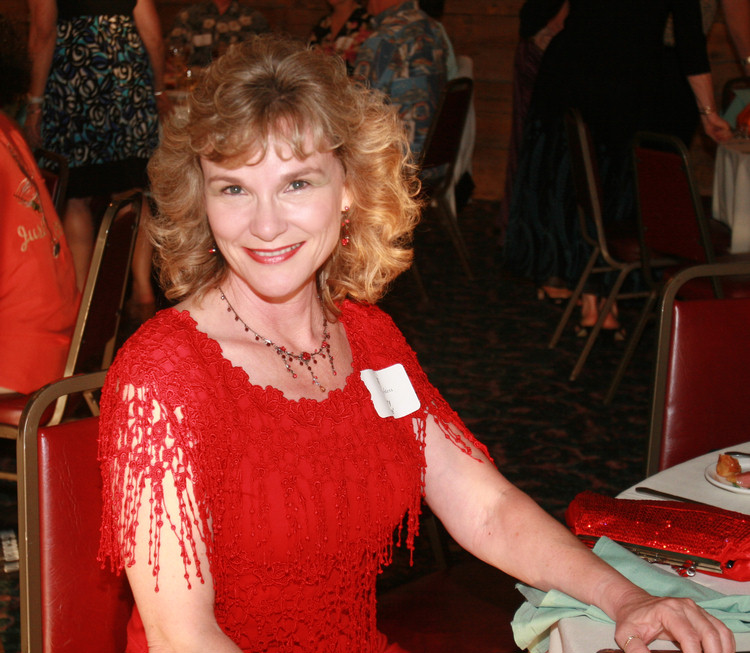 Good evening Mary!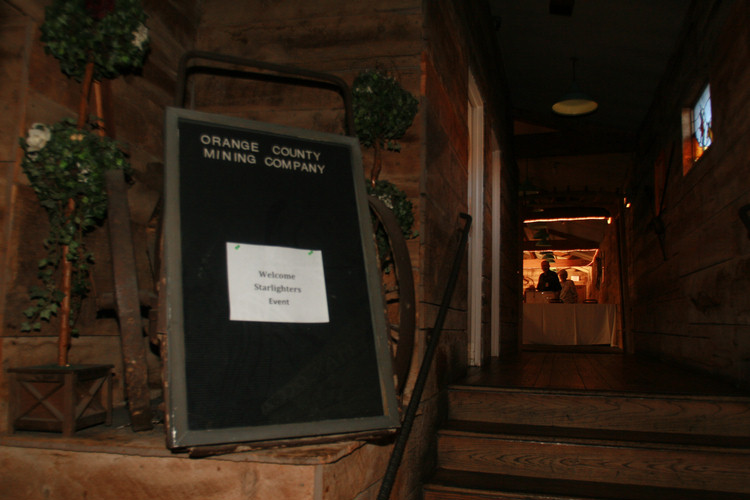 A short walk to the party

Parking was easy an a short walk to the party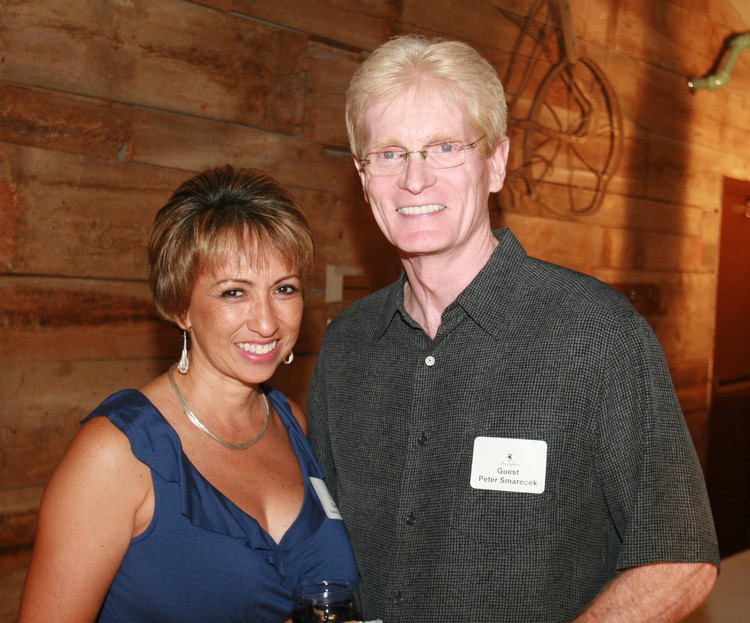 Welcome newlyweds and guests!
Serious Dancing Gets Underway Before Dinner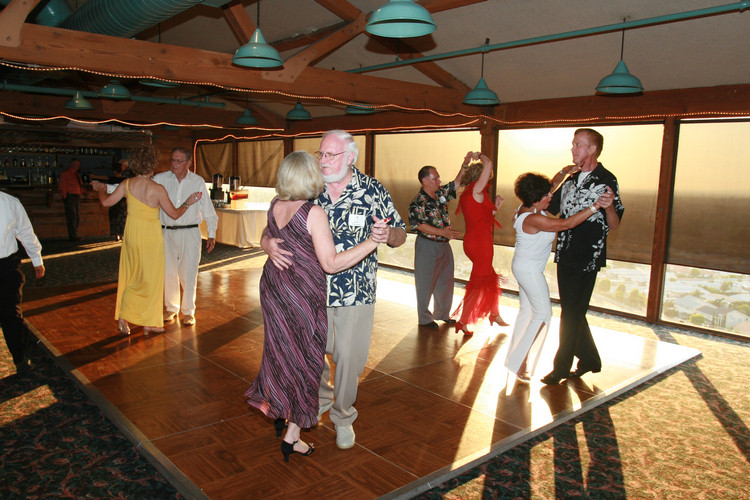 Great view of the city below

Mary and Alfredo trip the light fantastic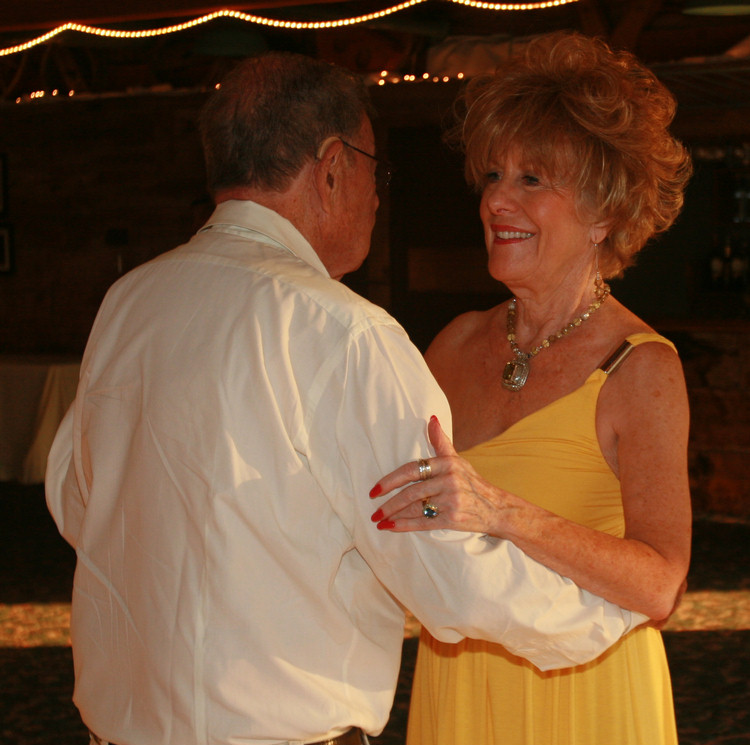 Kicking up their heels
Did you know? - Kicking up one's heels means to act frisky, like a young deer or other long-legged animal, especially while dancing.

Al and Margie are just warming up!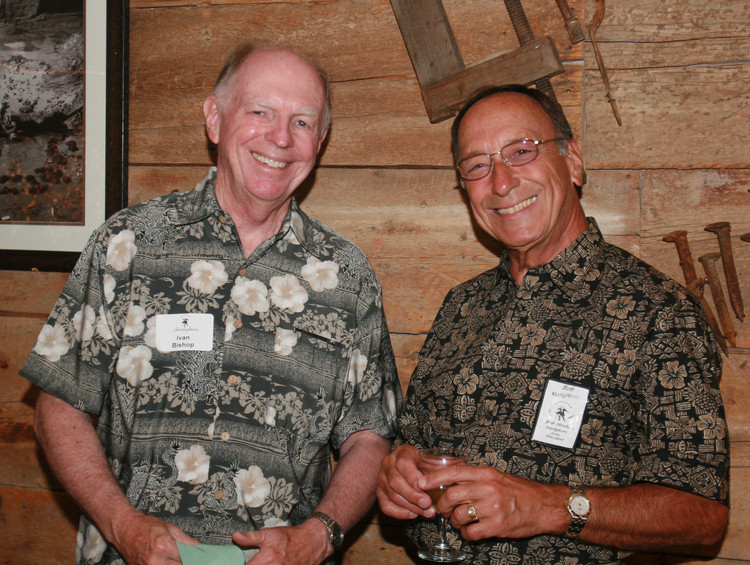 Ivan and Bob watch all the activities from afar

"Yes, you can share my martini
Did you know? - The martini is a cocktail made with gin and vermouth. Sometimes, vodka is substituted for gin, although this is often called a vodka martini, vodkatini, or kangaroo. The drink is almost always garnished with an olive or, less commonly, a sliver of lemon peel. It is often described as being "crisp". Over the years, the martini has become one of the most well-known mixed alcoholic beverages. H. L. Mencken once called the martini "the only American invention as perfect as the sonnet", and E. B. White called it "the elixir of quietude".
There is an American creation myth that may or may not be based in fact. The story goes that during the days of the California Gold Rush, in 1849, a miner struck it rich and was returning to San Francisco. The miner, arriving in Martinez, the first large town he hit, wanted to celebrate. He walked into our leading bar and asked for Champagne, a beverage which was not available. However, the bartender told him (the miner) that he had something much better than Champagne and served a drink which the bartender said was a "Martinez Special". The miner liked the drink and ordered for the house. After he woke up, some time later, he proceeded on to San Francisco where he immediately went to a prominent bar and ordered a "Martinez Special". The bartender of course had never heard of the drink and asked the miner how it was made and where he had heard of the drink. The miner said that the drink was made with one part of very dry Sauterne wine and three parts of Gin, stir with ice and finish with an olive and was made in Martinez. The bartender tried the drink himself and liked it and of course had his friends drink it. Over a period of years the name Martinez became martini.

Dinner announcements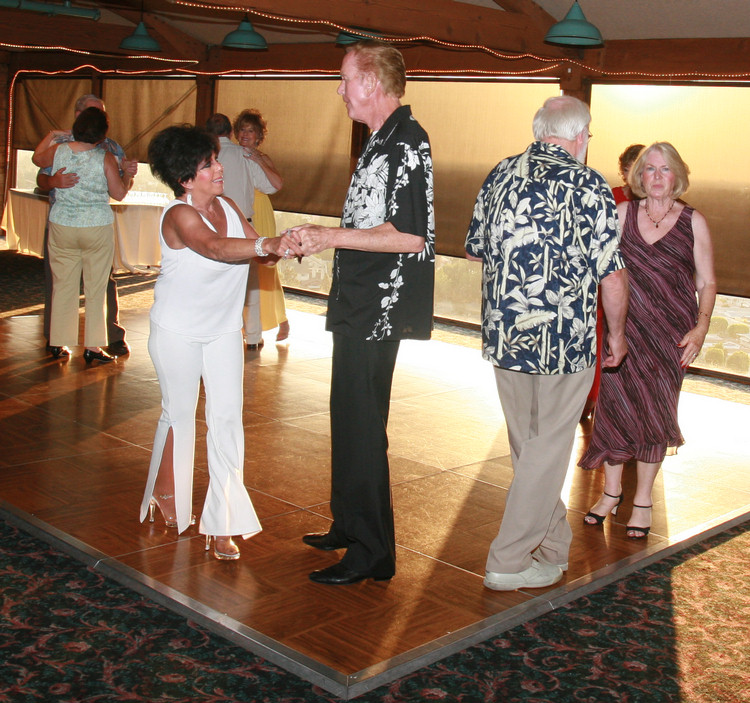 Gray and Paula Kilmer enoy a pre-dinner dance
Dinner Is Served
Salad: California Garden Salad with Blue Cheese Dressing

Breast of Chicken in a Sherry Wine Sauce with Artichoke Hearts and Sliced Mushrooms, Red Roasted Potatoes and Medley of Fresh Vegetables

Desert: Chocolate Éclair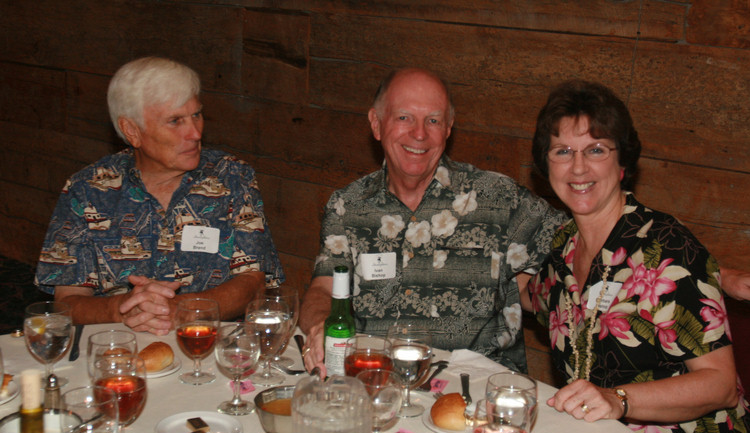 Joe Brand watching Ivan and Barbara Bishop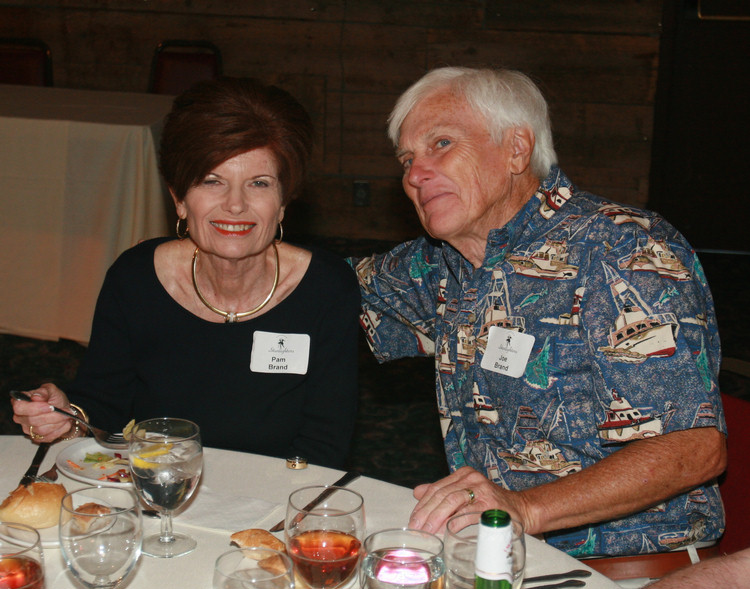 Pam and Joe Brand

David Bellows and Paula Kilmer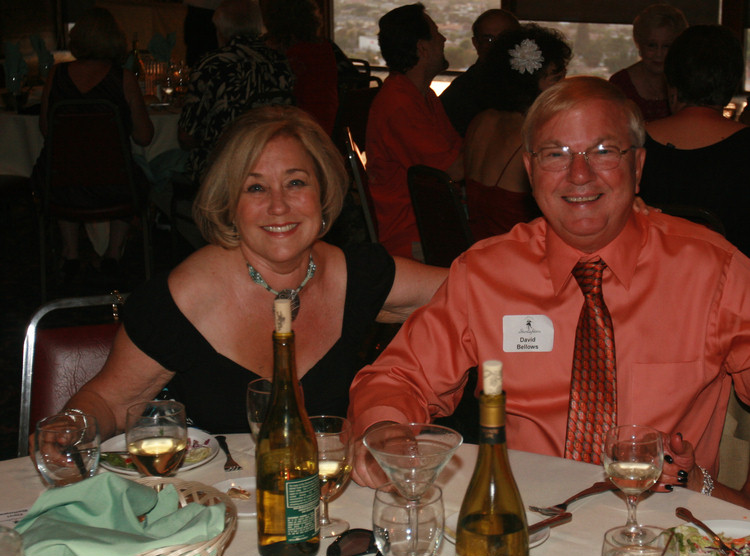 Devi and David BEllows provide big smiles are the camera

Judith and Kent Dickenson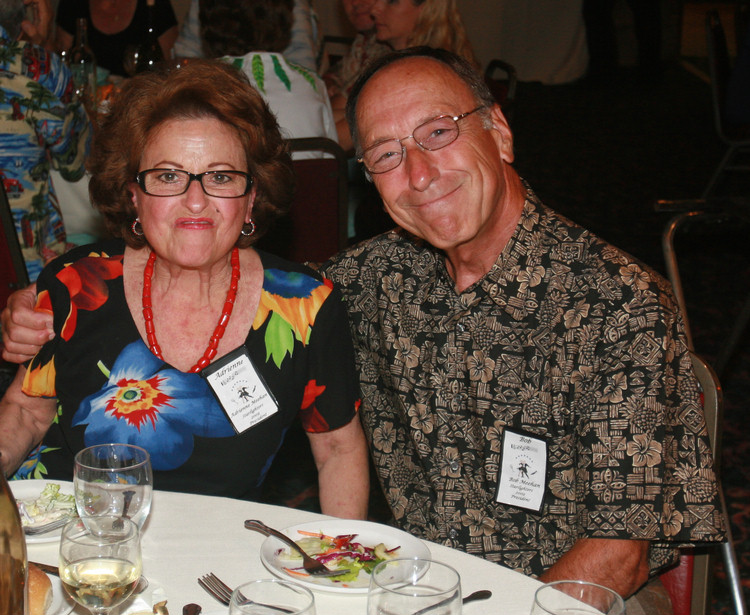 Adrienne and Bob. What did I say Adrienne?

Great smiles

Rad Bechtel and Mickey Dundee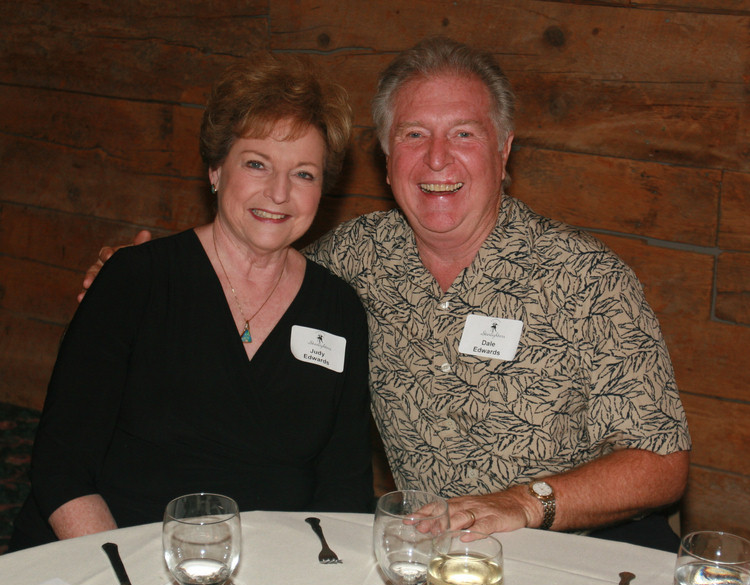 Judy and Dale Edwards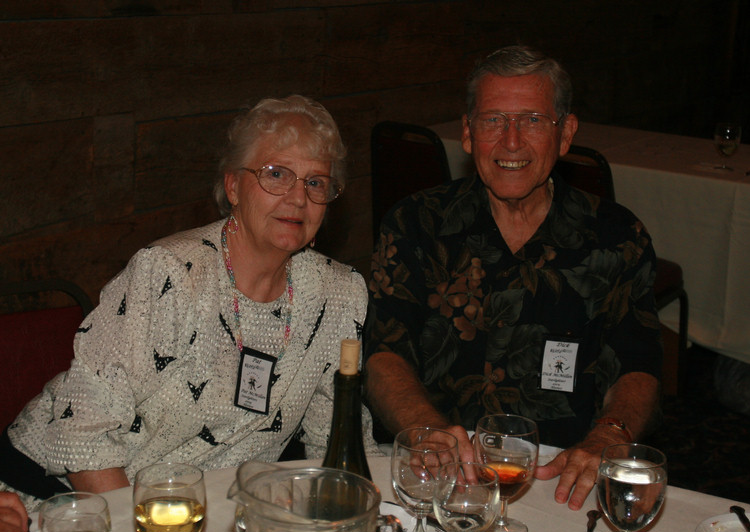 Our Hostess and Host for the evening

Holly and Bill Hencke

Andrea Talbott and John Clark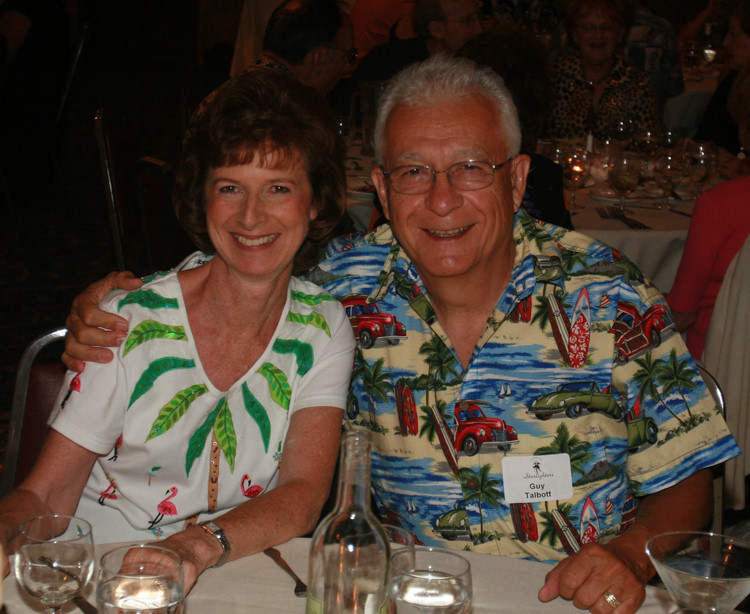 Janet and Guy Talbott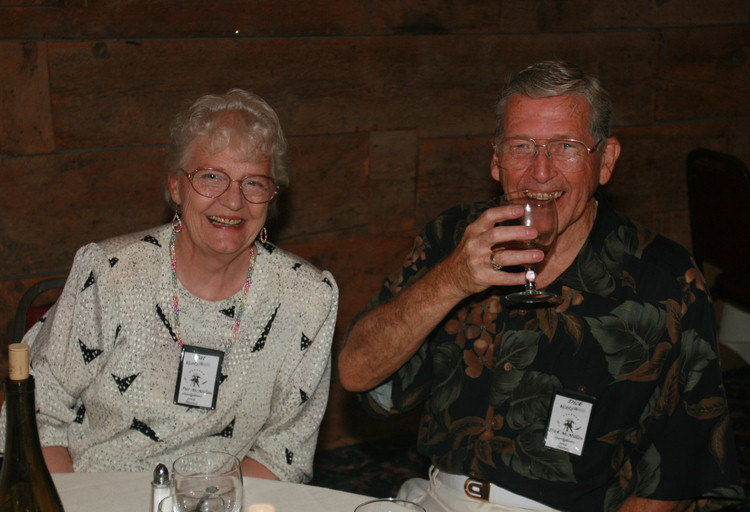 "I'll drink to that!!"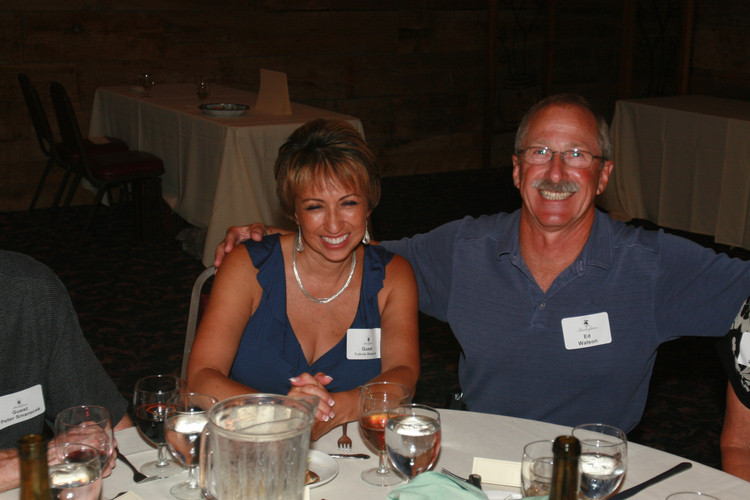 Valerie Smarecek (Guest) and Ed Watson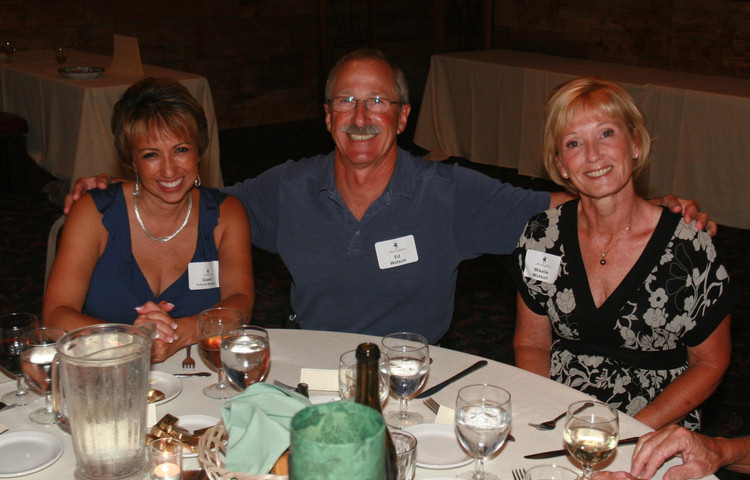 Valeria with Ed and Mikelle Watson

Pat and Kent Powell with Peter Smarecek (Guest)

m-m-m-m-m-m-m-m-m says Dan Green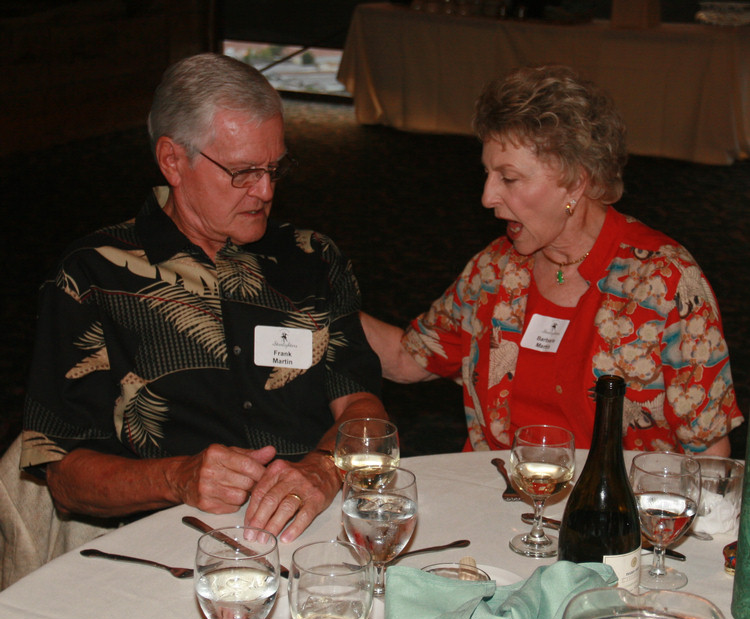 Frank and Barbara Martin

Darwin and Margie Bolsinger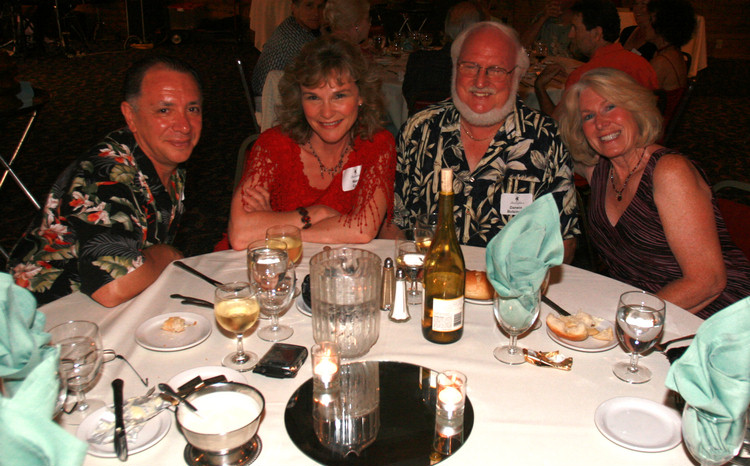 The Sun Is Setting And Dinner Is Almost Done! Time To Dance

No one can pass up elcairs
Did youknow? - An éclair is a long, thin pastry made with choux pastry filled with a cream and topped with icing.

The dough, which is the same as that used for profiterole, is piped into an oblong shape with a pastry bag and baked until it is crisp and hollow inside. Once cool, the pastry then is filled with a coffee- or chocolate-flavoured[1] pastry cream (crème pâtissière), custard or whipped cream, and topped with fondant icing of the same flavour as the filling. Other fillings include pistachio- and rum-flavoured custard, fruit-flavoured fillings, or chestnut purée.

In some parts of the United States, long johns are marketed under the name éclairs, though the two are not identical. A long john uses donut pastry and is typically filled with vanilla pudding, making it a simpler and inexpensive alternative to the éclair.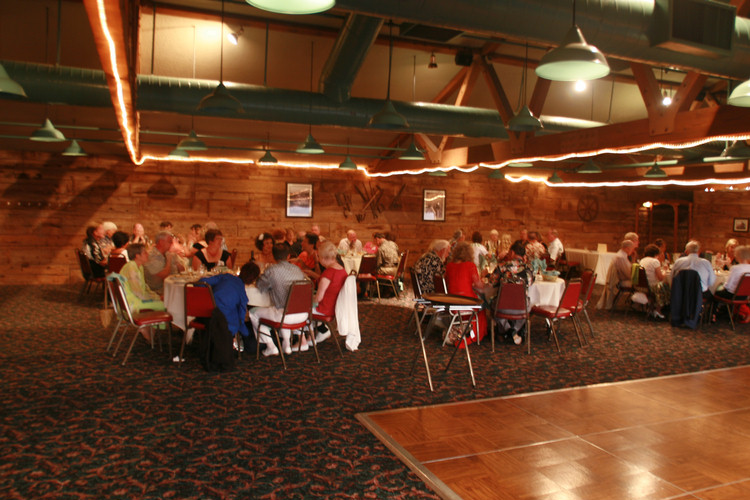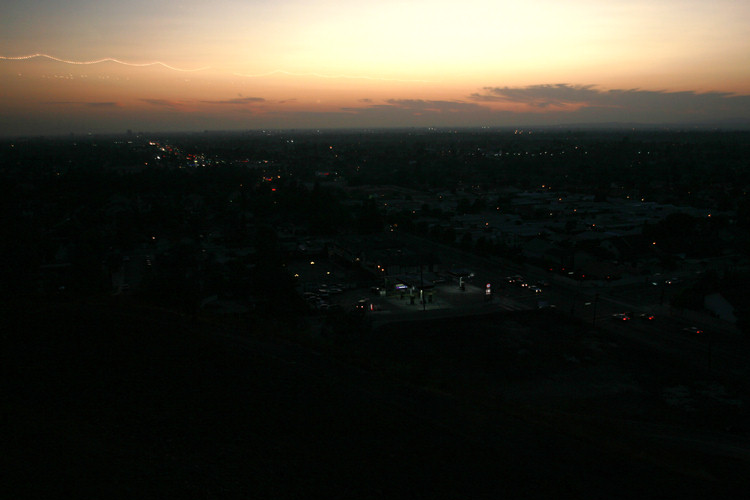 The sun sets and the lights of the city go on!
Our Fearless Leader Has Some Pronouncements To Make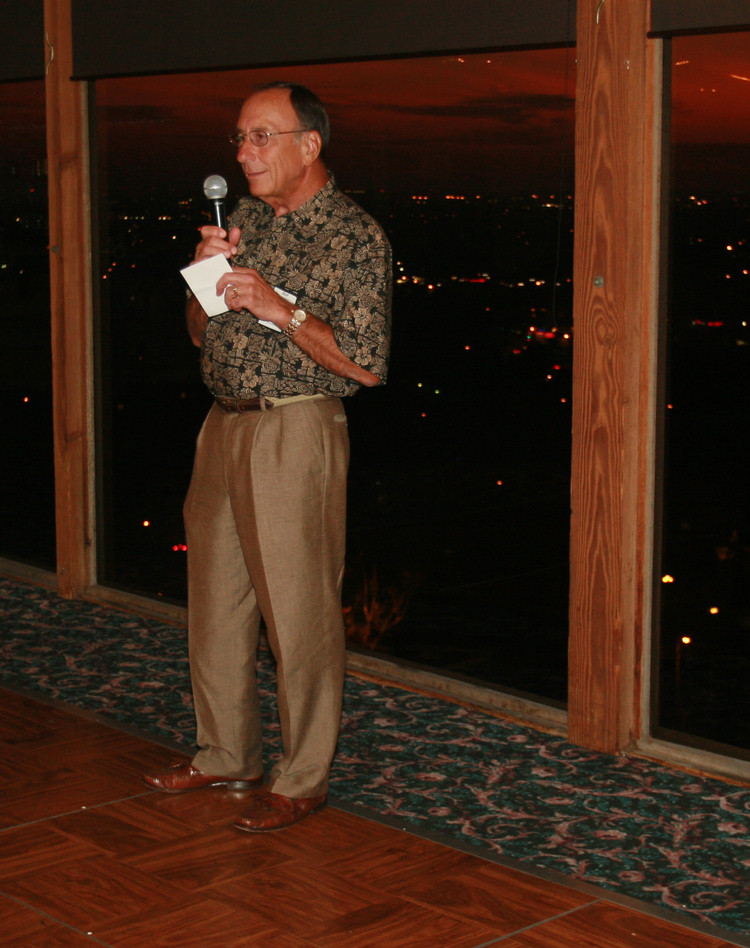 Announcements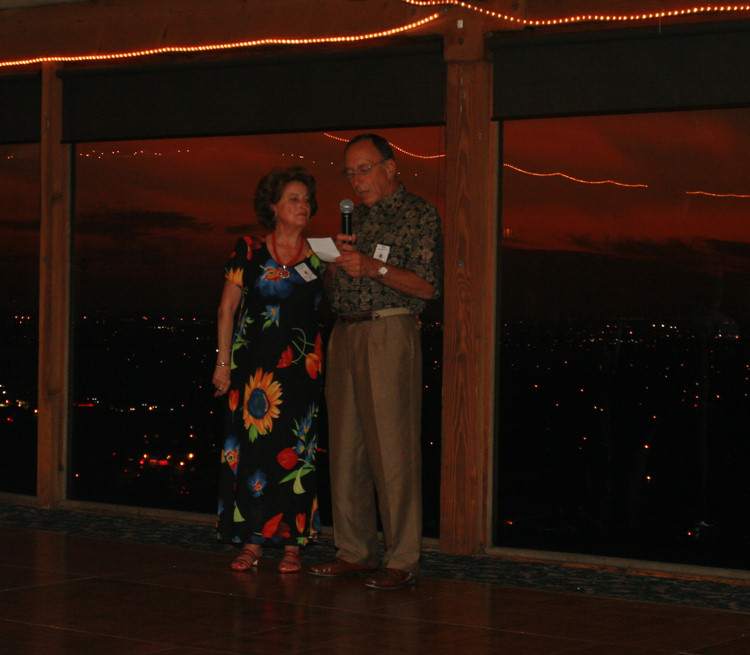 The sun sets in the west
Did you know? - Sunset is the daily disappearance of the sun below the horizon as a result of the Earth's rotation. The atmospheric conditions created by the setting of the sun, occurring before and after it disappears below the horizon, are also commonly referred to as "sunset". In astronomy the time of sunset is defined as the moment the trailing edge of the sun's disk disappears below the horizon in the west. Due to refraction of light in the atmosphere, the ray path of the setting sun is highly distorted near the horizon making the apparent astronomical sunset occur when the sun's disk is already about one diameter below the horizon. Sunset should not be confused with dusk, which is the moment at which darkness falls, when the sun is about eighteen degrees below the horizon. The period between the astronomical sunset and dusk is called twilight.
Our Guests Are Introduced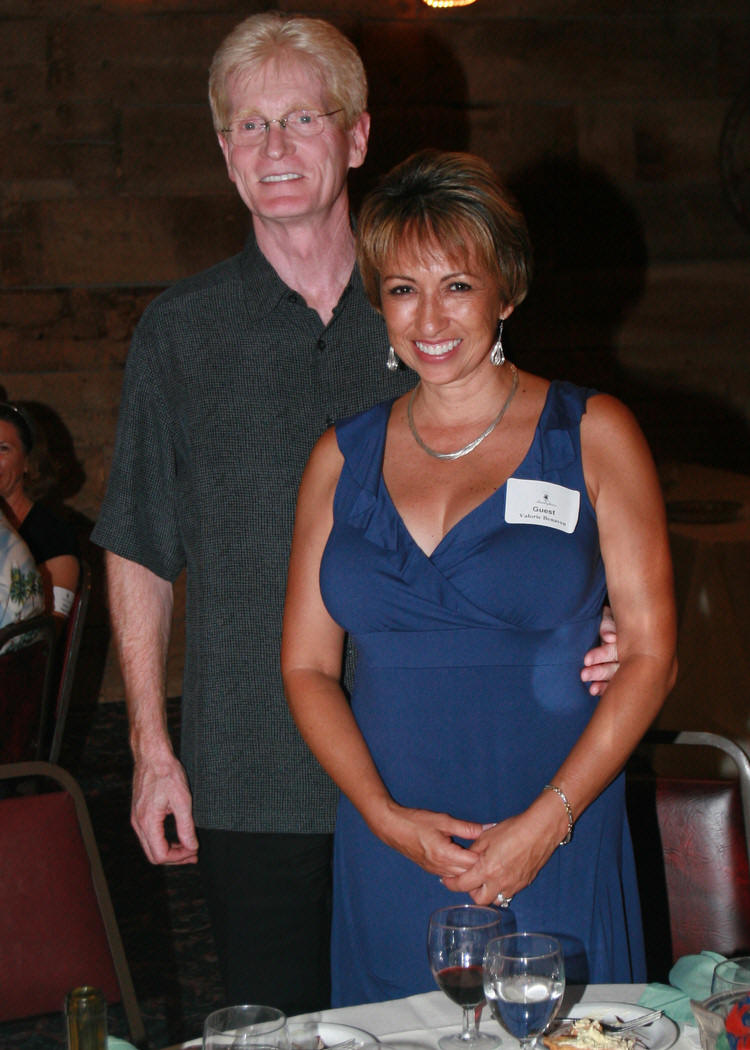 Peter and Valerie Smarcecek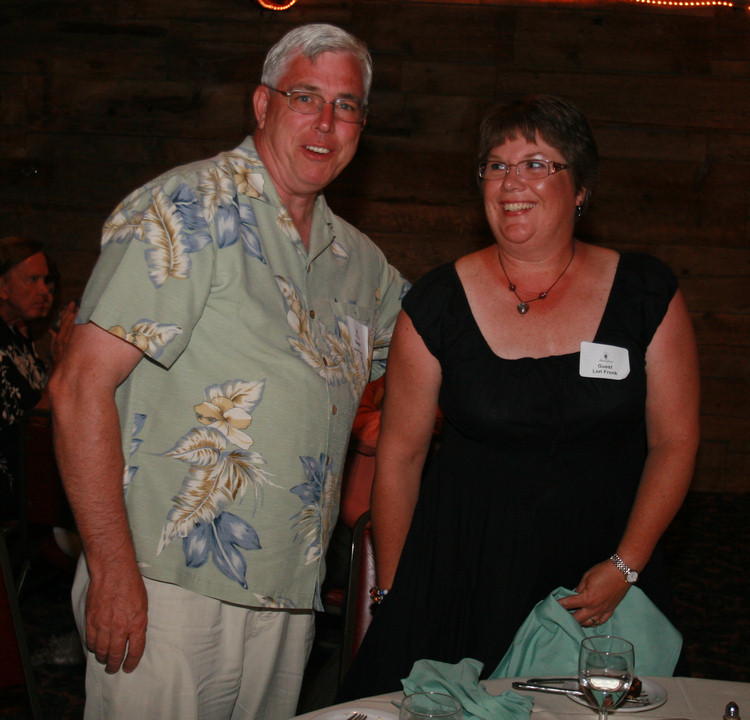 Dean and Lori Fronk