January 17th 2009 Winter Casual
We enjoyed a delightful evening with 46 couples at the Phoenix Club of Anaheim. Jon Destry (a one man band) provided a superb medley of songs ranging from waltz's to YMCA, something for everybody.

Members as guests begin to arrive and mill around!
Definition: Milling Around - To move or circulate in a confused or disorderly manner within a limited area.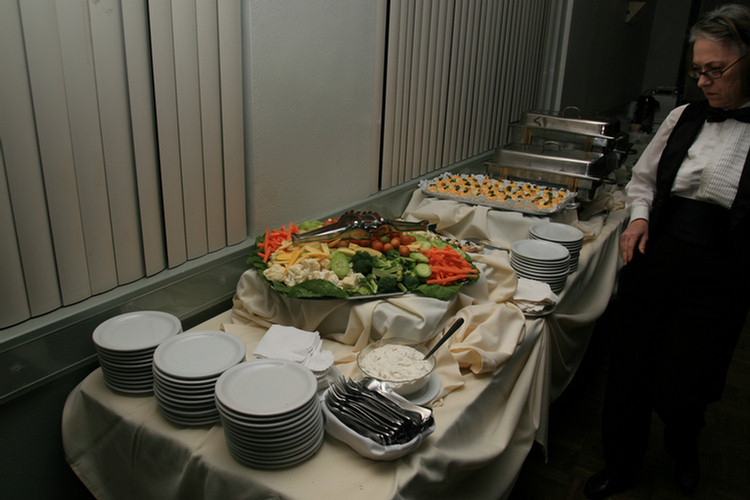 Food is served during cocktail hour
Deviled eggs and stuffed jalapeno's were a hit. Deviled eggs or eggs mimosa are a common dish in the United States. Around 1868, the William Underwood Company began experimenting with a new product created from ground ham blended with hot seasoning. They introduced a line of seasoned meat products including chicken, turkey, tongue, lobster, and ham. They dubbed the seasoning process "deviling," and the Underwood red devil was born. It holds U.S. Patent Office trademark No. 82, granted in 1870, the oldest existing food trademark still in use in the United States. While the Underwood devil is a trademark, the term "deviled" has evolved to refer to a number of foods (such as eggs) pureed with hot spices, particularly Dijon mustard.

People check in at the front door play the game called "Find Your Name Tag"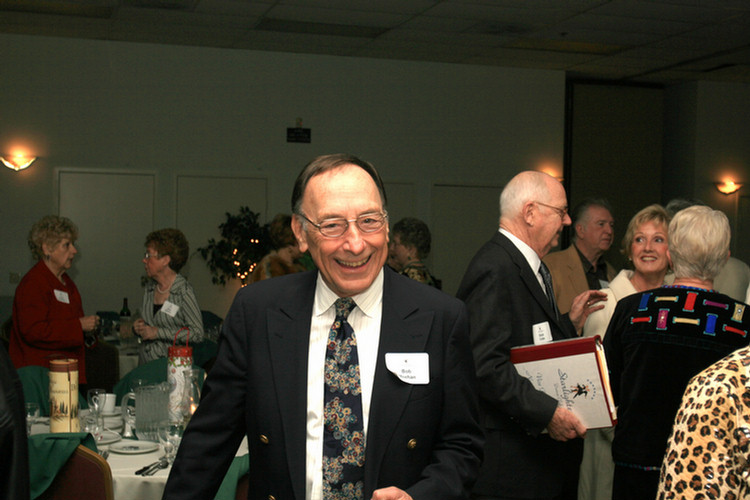 The supreme commander is always near by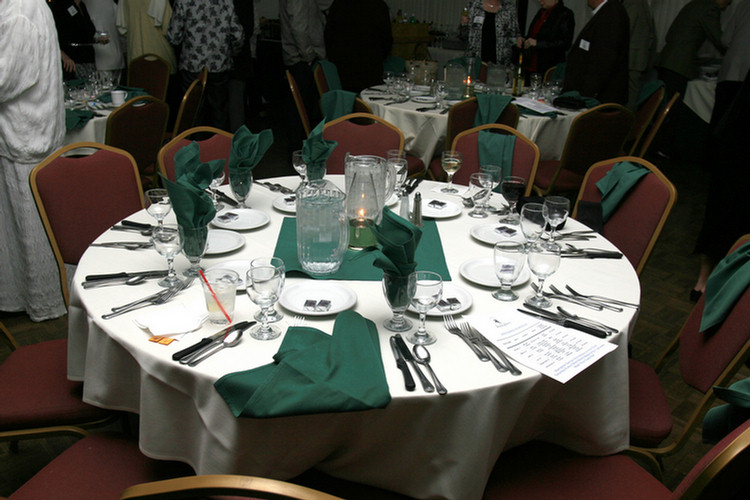 The tables were ready to go... all we need are guests and members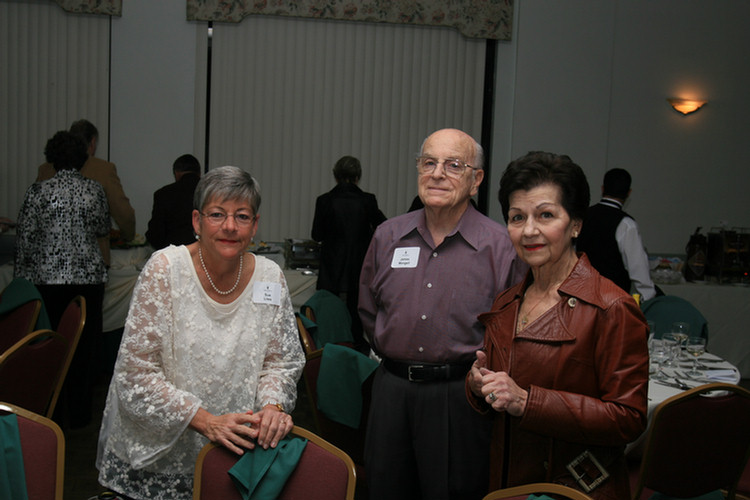 Sue, Jim and Jan discussing how to fix the world
The Hors D'œuvres Line Ws A Good Place To Meet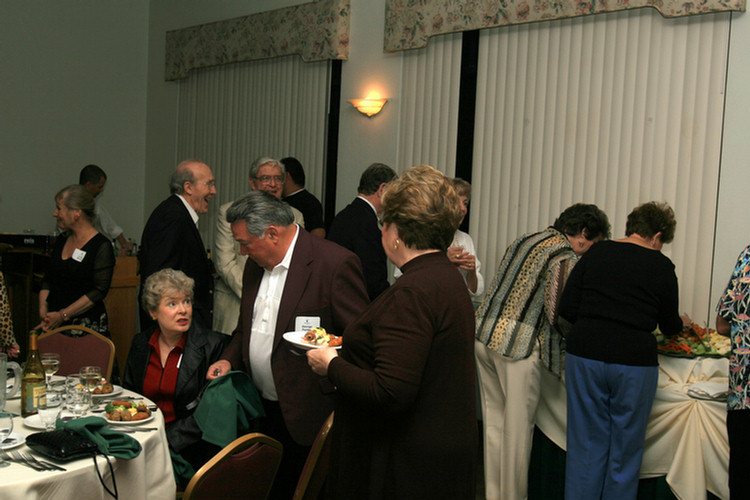 George Fontes discusses the finer points of Hors D'ouvres
Message From Our President

Paul has served the club wonderfully for three years and will bow out on February 1st
in order to sit back and rest! Great job and much appreciated!
Dinner Is Served
Dinner is a meal normally served during evening and usually consists of a combination of cooked, or sometimes uncooked, proteins (meat, fish or legumes), with vegetables, and/or starch products like rice, noodles, or potatoes.

The word "dinner" comes from the French word dîner, the "main meal of the day", from Old French disner. A dinner can also be a more sophisticated meal, such as a banquet.

Dinner typically takes place in the afternoon, but due to changing work patterns in developed countries (like the United States), dinnertime has slowly moved later in the day. In the United States, dinnertime is eaten as late as 7 or 8 PM, with two notable exceptions (Thanksgiving and Christmas dinner), which are still eaten during the traditional afternoon time.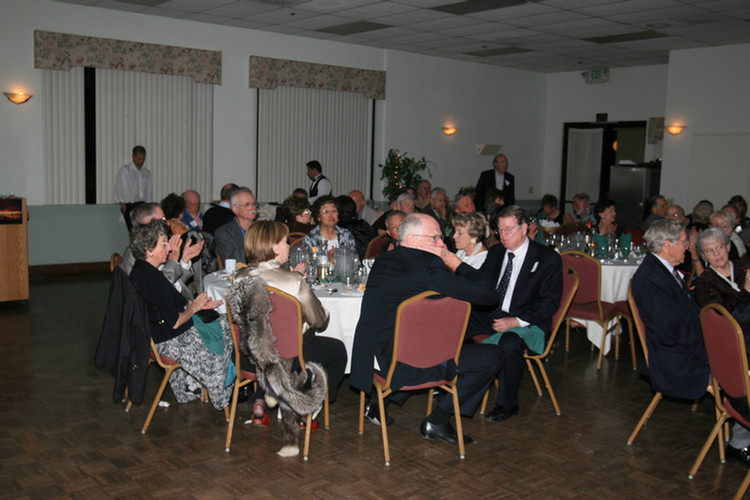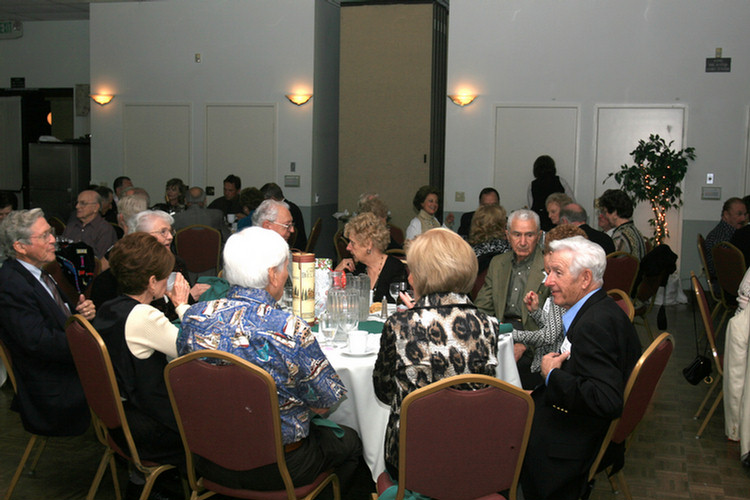 Ron, Kristen, Mikelle, and Ron

The Cole's are getting ready to dance up a storm

Judy and Dale Edwards

This table is always a load of fun with Don and Marilyn Bailey

Dave and Devi Bellows, Greg must be telling Devi a great story

Our leaders for the past three years got to relax a little this dance!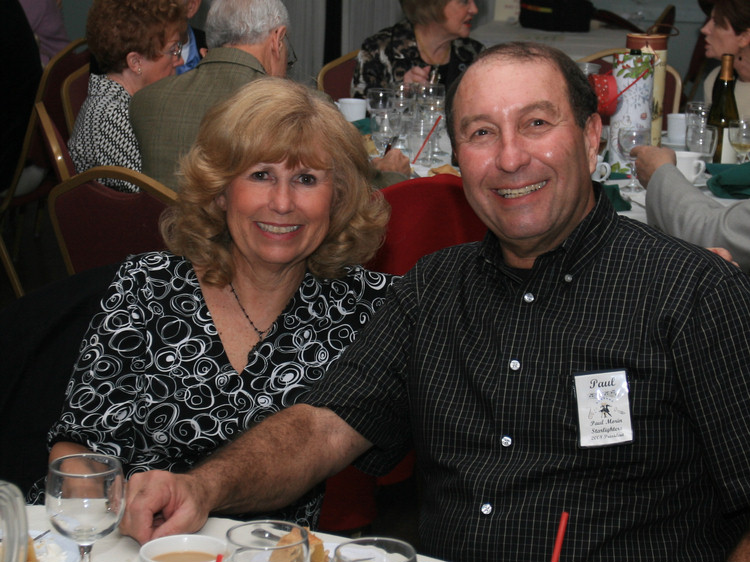 Gloria and Tony Janicki

Leon and Marcia Brander

David and Lilla Dickson

Janet and Guy Talbott; The Hencke's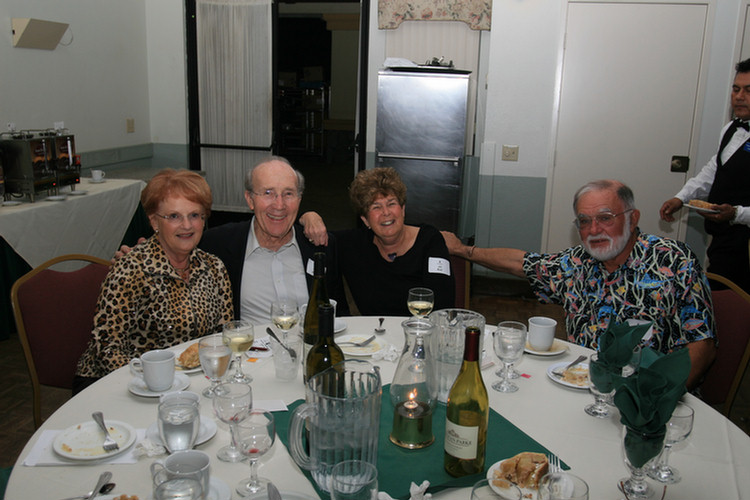 Jill and Dennis Kull (Like that shirt Dennis!)

Doris Muschek told hubby NOT to wear he "Cloak of Invisibility" this evening!
The Music Begins And Feet Start To Fly
Did you know? Dance (from French danser, perhaps from Frankish) is an art form that generally refers to movement of the body, usually rhythmic and to music, used as a form of expression, social interaction or presented in a spiritual or performance setting. Dance is also used to describe methods of non-verbal communication (see body language) between humans or animals (bee dance, patterns of behavior such as a mating dance), motion in inanimate objects (the leaves danced in the wind), and certain musical forms or genres.
We proved this definition to be quite true this evening.

The swing is always popular
The term "swing dance" commonly refers to a group of dances that developed concurrently with the swing style of jazz music in the 1920s, '30s and '40s, although the earliest of these dance forms predate swing jazz music. The best known of these dances is the Lindy Hop, a popular partner dance that originated in Harlem and is still danced today.

The room temperature always goes up ten degrees when the music begins!

He snuck in a slow dance, obviously! The romantics hit the floor dancing!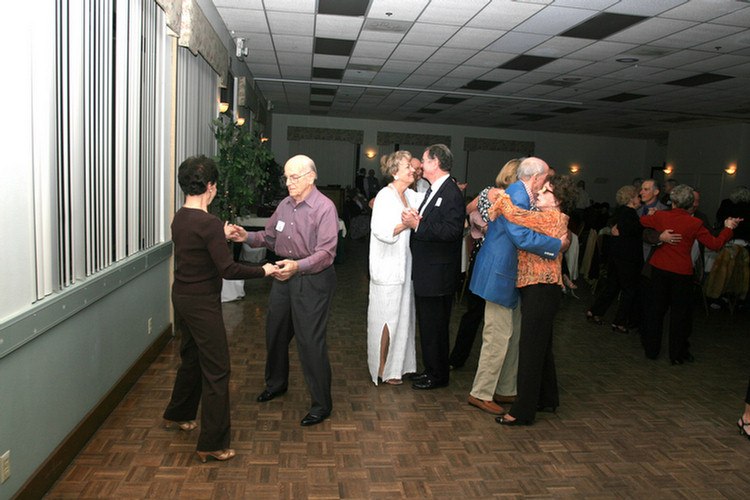 Jan and Jim trip the light fantastic
Visiting Proceeds While The Dancing Goes On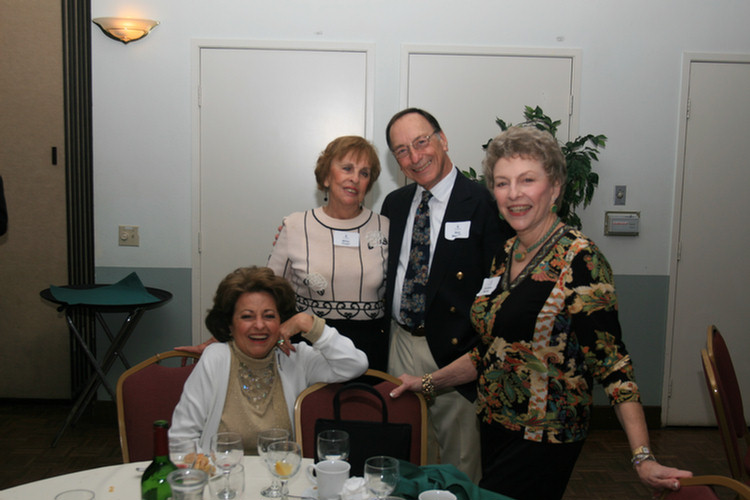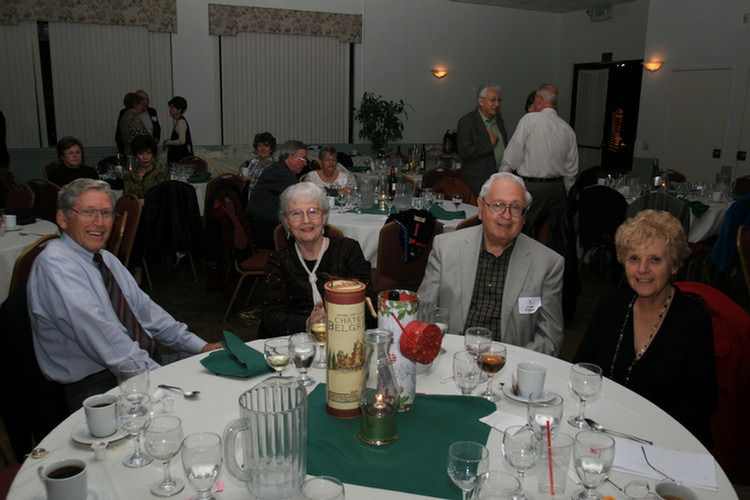 Next time we sit at this table... Fancy wine!

Ann Sanford and Marsha Cook watch all the activities
YMCA Get's People Up And Moving
"Y.M.C.A." is a 1978 song by the Village People which became a hit in January 1979. The song reached #2 on the U.S. charts in early 1979 and reached No.1 in the UK around the same time, becoming the group's biggest hit ever. Taking the song at face value, its lyrics extol the virtues of the Young Men's Christian Association.

Jon Destry provides some assistance to the performers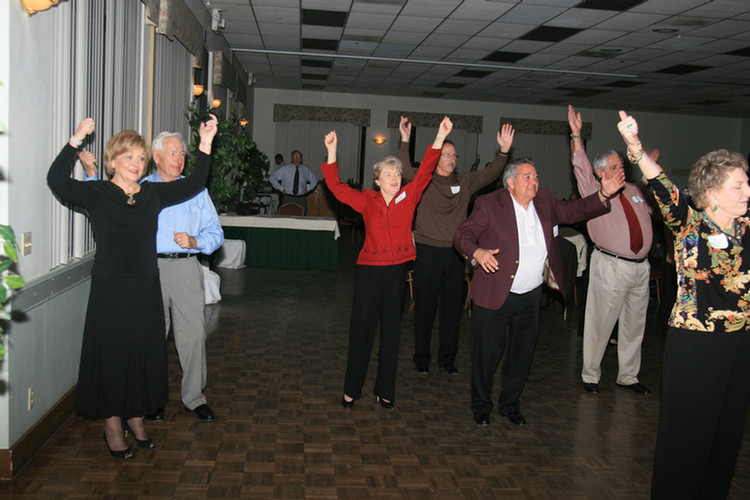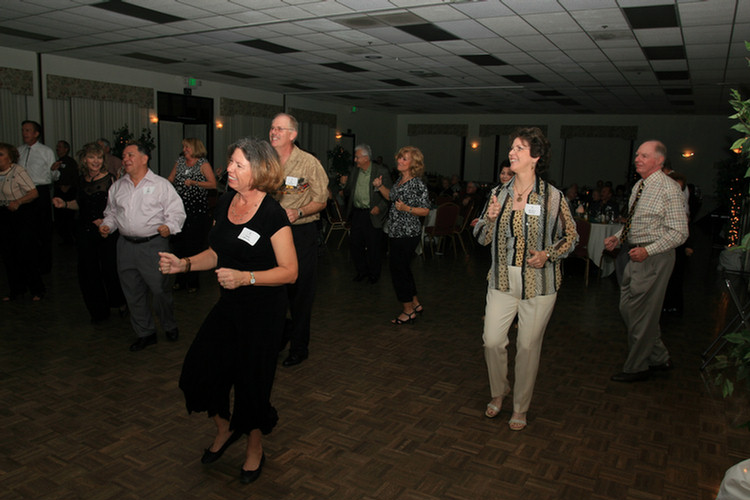 It's over and people can now rest. According to experts, a 130 pound person will burn 325 calories in an hour of ballroom dancing and a 190 pound person will burn 465 calories an hour! See, being a tad heavy is a good idea because calories burn faster?!?!?
Some Of Us Just Watch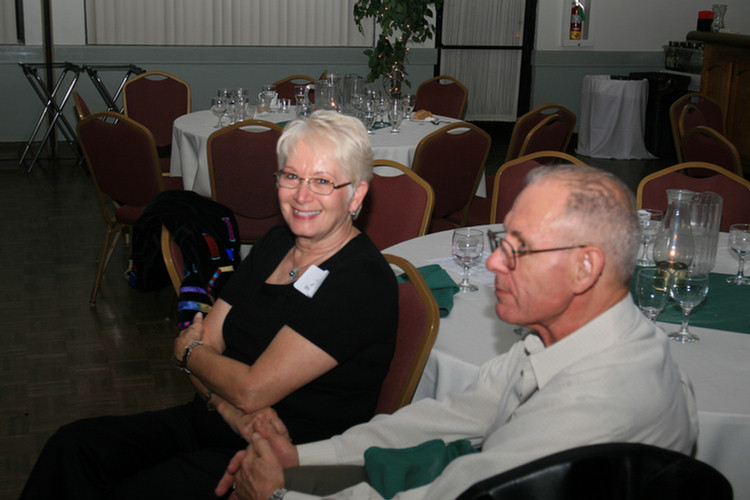 Watching is also good!

The photographers was really here!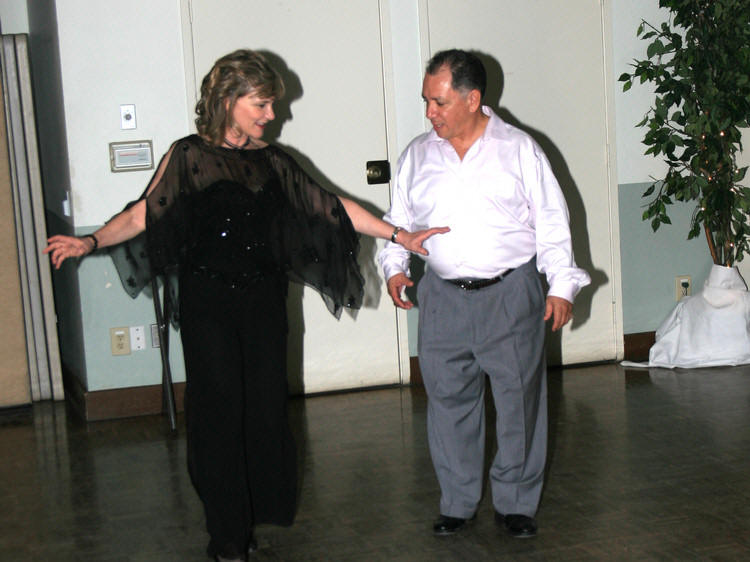 Mary teaches the Cowboy ChaCha

Next time Mary, you have to teach it to all of us!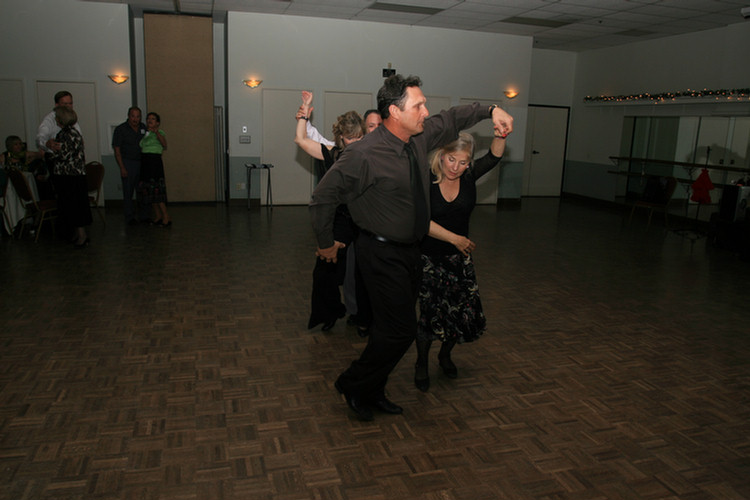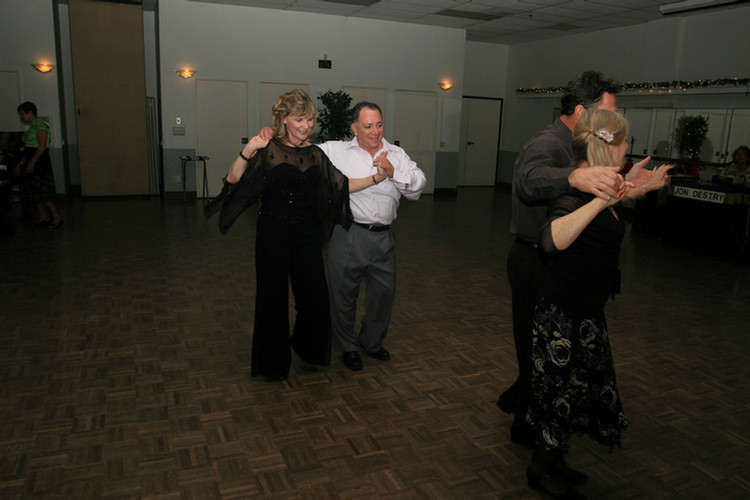 It's Getting Late So It Is Time To Depart For Home

People are still visiting and some of us are gasping for air!

It was a great evening with the outside temperature in the low 60's so we didn;t freeze going home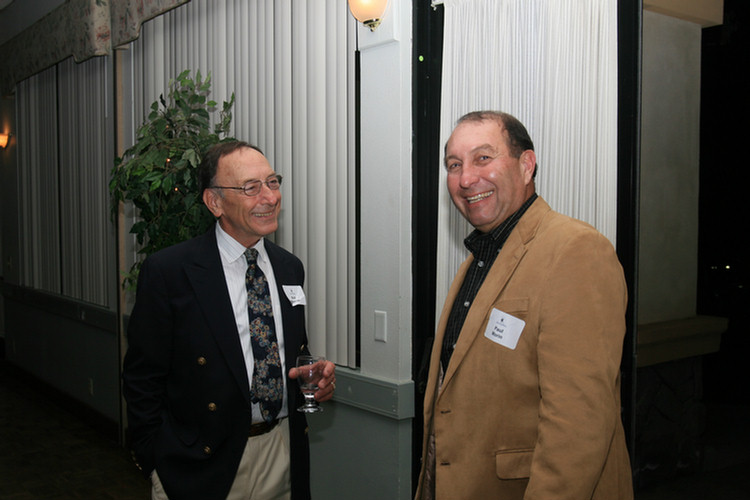 The Preze's exchange grins!

What does this man know? Jim kind of has that Mona Lisa grin!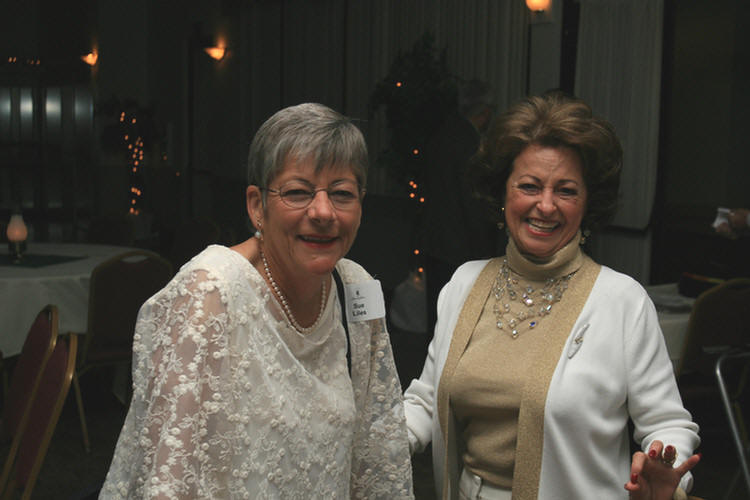 The last giggle of the evening. Sue and Adrienne exchange funnies