It's Holiday Time (Page One)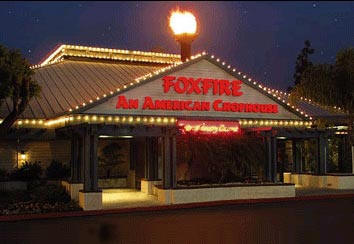 If you're familiar with Foxfire Restaurant, but have not been here recently, you are in for a very pleasant surprise. Be prepared to experience one of the best revived restaurants in Southern California.
"Foxfire is the only restaurant in eastern Orange County worth a drive from outside its vicinity." -Los Angeles Times
"If you love fabulous food, go directly to Foxfire." -Orange Coast Magazine Foxfire has always been a music and dancing entertainment hot spot. While the entertainment remains, Foxfire has become an extremely elegant, romantic and sophisticated fine dining establishment.
Did you know? - The last time we were at the Foxfire was September 2008!
The Invitation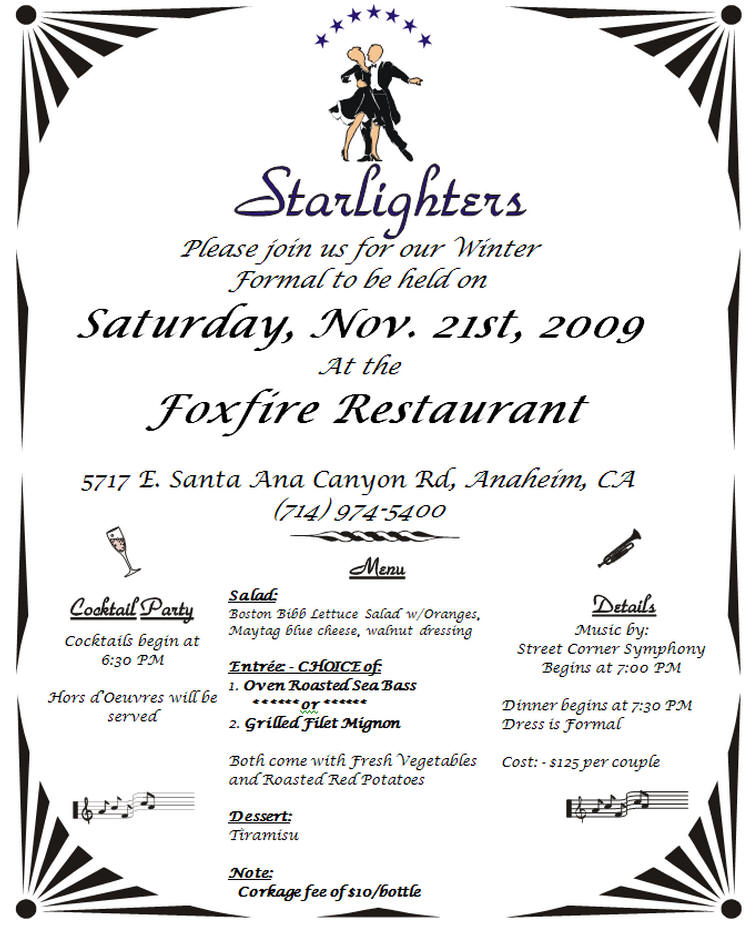 Pictures Start As Our Members Arrive
Our members are always right on time... "Johnny-On-The-Spot"
Did you know? - JOHNNIE -- "Johnnie meant fellow, chap in English by the 17th century and a man-about-town in the 1880s. 'Johnny-Come-Lately' was in use in America by the 1830s. 'Johnny-on-the-spot' by the 1890s and 'stage-door Johnny' by 1912.'" From "John and Mary:Common First Names," a chapter in "Listening to America" by Stuart Berg Flexner (Simon and Schuster, New York, 1982). Johnny-on-the-spot is a noun that means "an unusually alert fellow who is capable of decisive action, seizing an opportunity, etc. Also (obs.) 'Johnny-on-the-job.' 1896 Ade 'Artie' 19: She was settin' over in the corner, and a Johnny-on-the-spot, with a big badge, marked 'Committee,' was tryin' to keep cases on her. Ibid. 63. I'll be Johnny-on-the-spot to see that everything's on the level.'" From the "Random House Historical Dictionary of American Slang, Volume 1, H-O" by J.E. Lighter, Random House, New York, 1994.

Members and guests mingle before dinner is served

The entrance is always busy with people looking for lost lost friends

The Street Corner Symphony is trying some new chords

Leon and Marcia are here... The party can officially get underway!

Margie, Sue, and Adrienne are in deep philosophical discussions underway... Do Not Disturb!

Lori and Dean Fronk, guests of the Liles' arrive!

Jan Mongel visits the Fronk's

Alan and Sue catch up on the latest dancing activities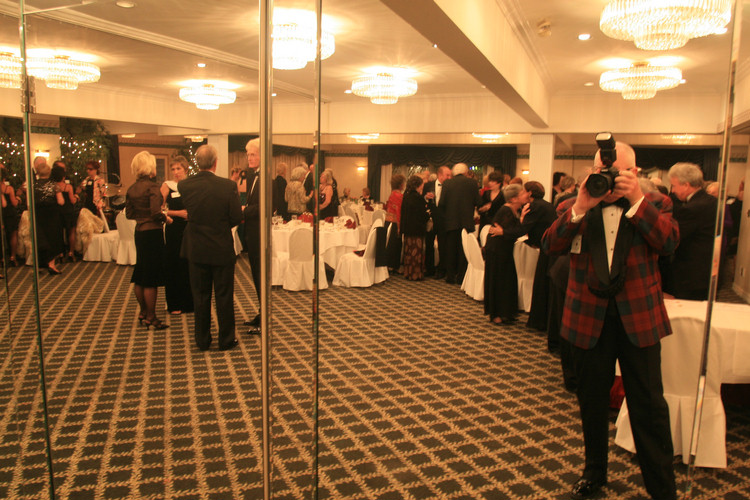 The photographer found a way to get into the pictures... Thanks to mirrors!
Did you know? - The first mirrors used by people were most likely pools of dark, still water, or water collected in a primitive vessel of some sort. The earliest manufactured mirrors were pieces of polished stone such as obsidian, a naturally occurring volcanic glass. Examples of obsidian mirrors found in Anatolia (modern-day Turkey) have been dated to around 6000 BC. Polished stone mirrors from central and south America date from around 2000 BC onwards. Mirrors of polished copper were crafted in Mesopotamia from 4000 BC, and in ancient Egypt from around 3000 BC. In China, bronze mirrors were manufactured from around 2000 BC, some of the earliest bronze and copper examples being produced by the Qijia culture.

Metal-coated glass mirrors are said to have been invented in Sidon (modern-day Lebanon) in the first century AD, and glass mirrors backed with gold leaf are mentioned by the Roman author Pliny in his Natural History, written in about 77 AD. The Romans also developed a technique for creating crude mirrors by coating blown glass with molten lead.

Don Bailey out for a stroll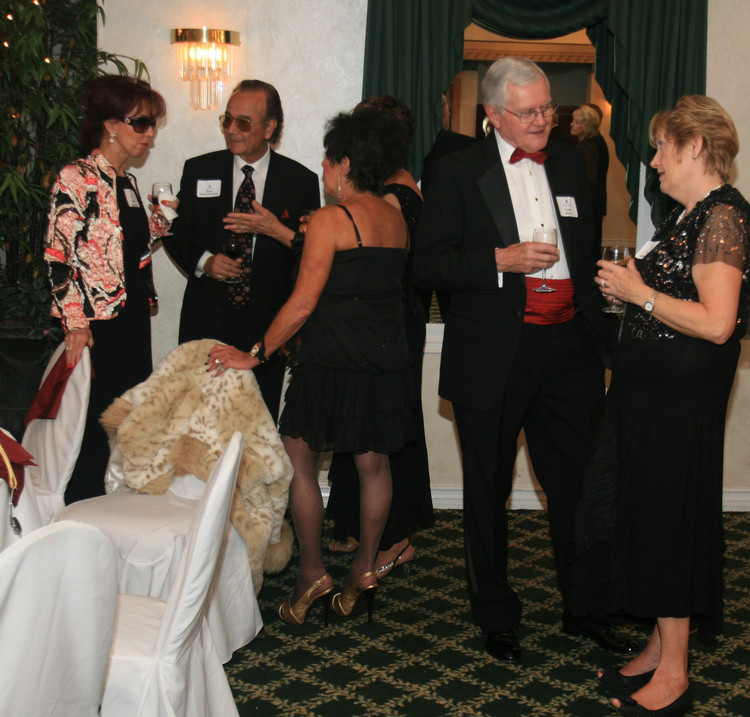 Little groups form all over the room... We had 96 people this evening...
This evening we had 41 member couples and 7 guest couples!

Gloria and Tony Janicki

Darwin & Margie Bolsinger converse with the guests Larry & Sandee Collier (!st time guests)

Ala Mannason & Patricia Nyborg share a window seat with Alan Leibovitz

Handsom devils

David & Nancy Smith... Look at the shadows on the right... Scarey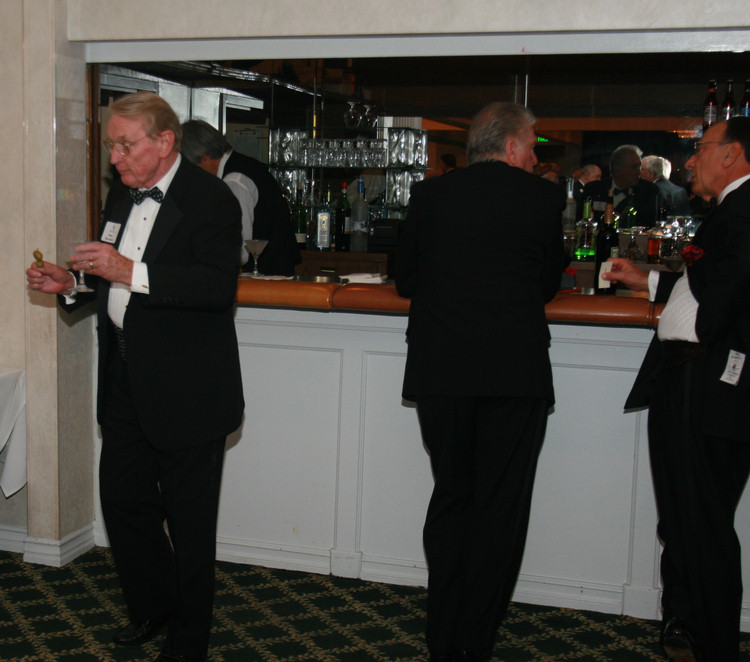 "Don't drop the olives... Don't drop the olives"
Did you know? - Olives have been produced in Lebanon, Jordan and Israel/Palestine from prehistoric times. By 2000 BC, olive oil was being exported to Egypt and Phoenicia; records of the Mesopotamian Third dynasty of Ur empire (21st to 20th century BC), indicate olive oil as one of the exports from the region presently known as Syria. Clearly some form of the olive press was in use by that time; descriptions of such presses are to be found in ancient Greece.
Tradition points to the limestone hills of Attica as the seat of its first cultivation on the Hellenic peninsula. One Greek myth attributes the founding of Athens to an olive tree that sprung from barren rock at the bidding of Athena, during her battle with Poseidon. Herodotus also tells of the magic property of statues carved from olive wood. A sacred tree of the goddess long stood on the Acropolis, and, though destroyed in the Persian invasion, sprouted again from the root.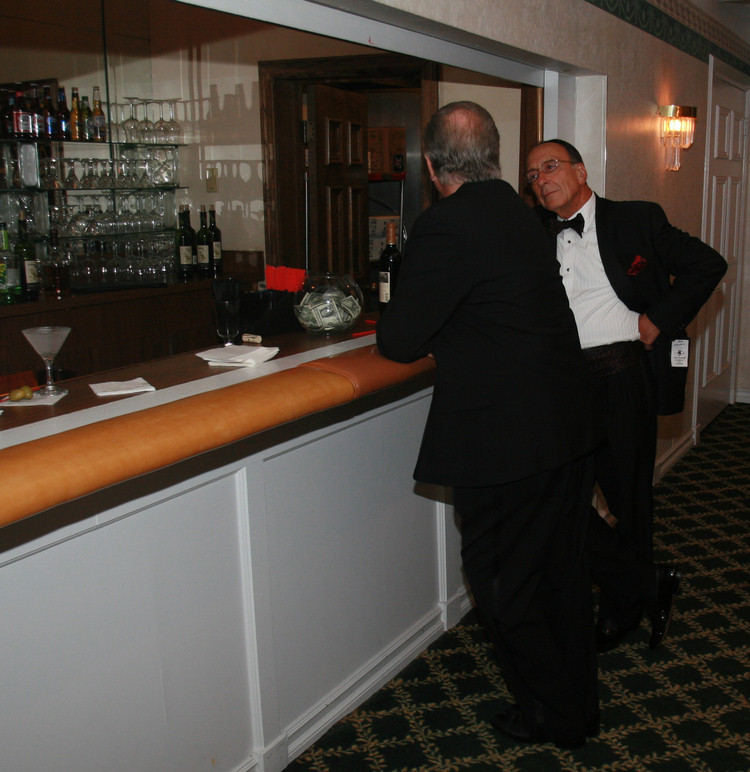 They are holding up their end of the BARgin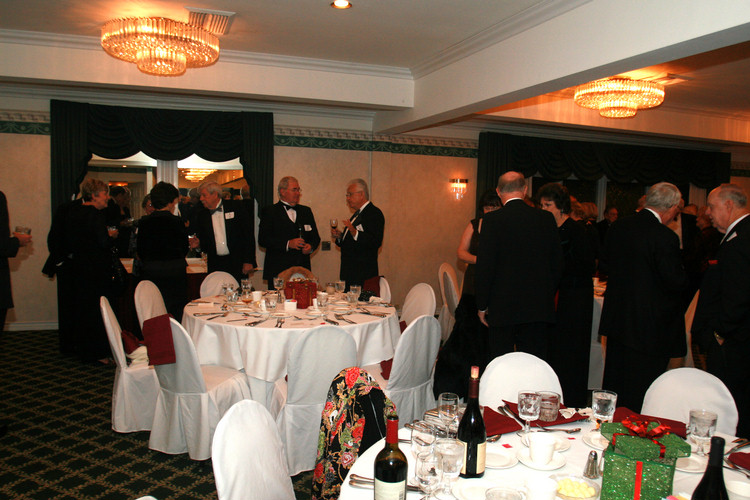 Tables were again nicely decorated thanks to Marilyn Baailey

Nita had to drink a little of her Vodka when the olives arrived
Did you know? - Vodka is a distilled liquor composed solely of water and ethyl alcohol with possible traces of impurities and flavorings. Vodka is made from a fermented substance of either grain, rye, wheat, potatoes, or sugar beet molasses.

"Soooo Neal, how did you not drop and olive on your way back from the bar????"

"Easy... I held them tightly and repeated to myself... Don't drop the olives"

The girls do not believe this at all! "He used a Cyanoacrylate"
Did you know? - Cyanoacrylate is the generic name for cyanoacrylate based fast-acting adhesives such as methyl 2-cyanoacrylate, ethyl-2-cyanoacrylate (commonly sold under trade names like Super Glue and Krazy Glue), n-butyl cyanoacrylate (used in the veterinary glues Vetbond and LiquiVet and skin glues like Indermil and Histoacryl). 2-octyl cyanoacrylate is a medical grade glue encountered under various trade names; e.g., LiquiBand, SurgiSeal, FloraSeal, Dermabond, and Nexaband. Cyanoacrylate adhesives are sometimes known as "instant glues". The abbreviation "CA" is commonly used for industrial grades.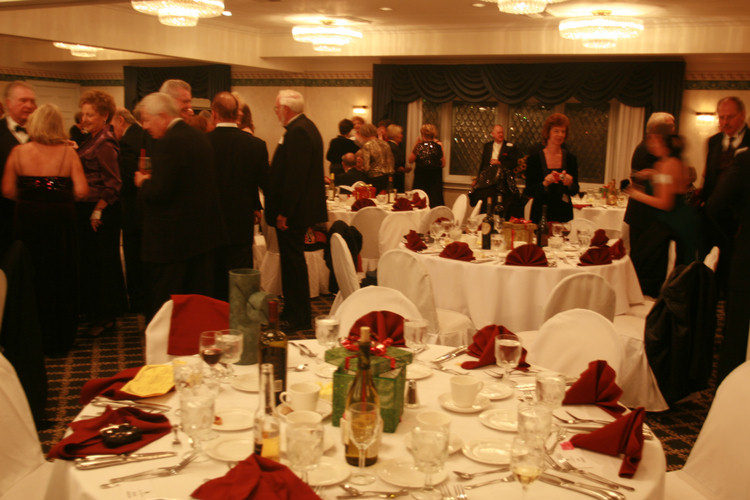 Wine botles are sprouting up all over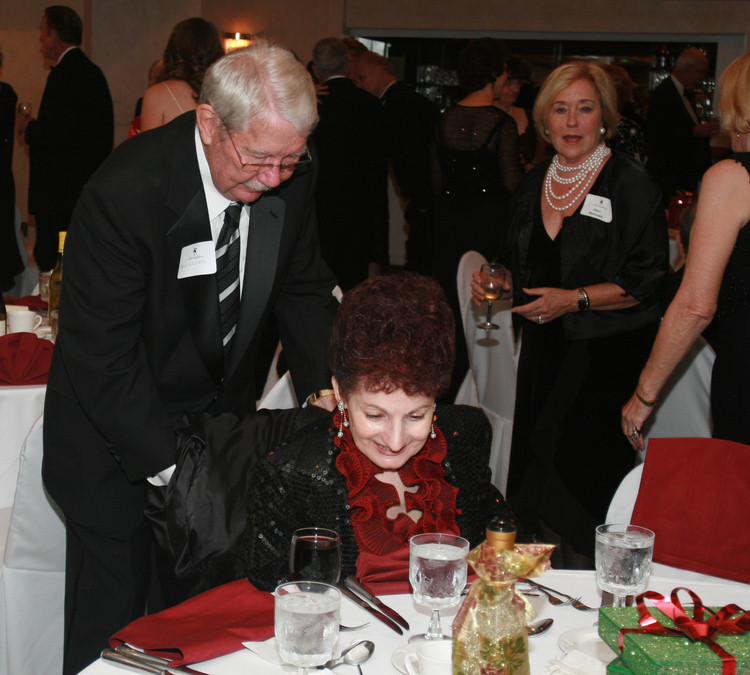 Starlighter's are gentlemen!

Would you buy a used car from this person???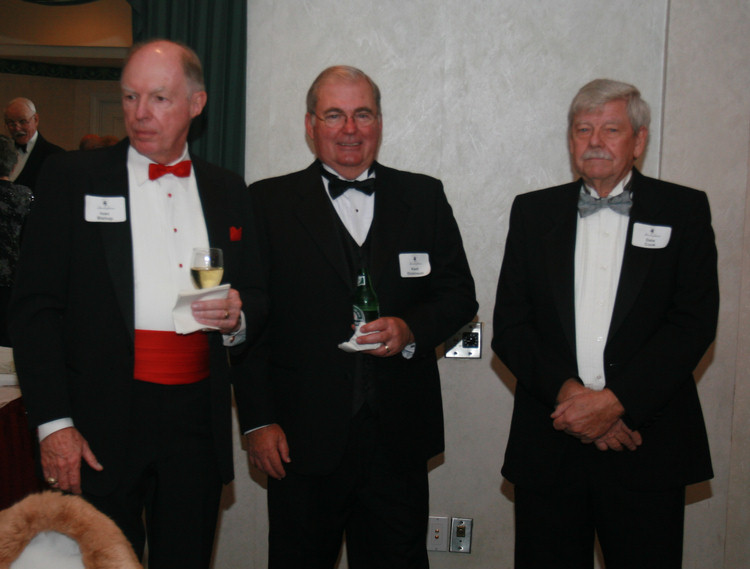 Ivan Bishop, Kent Dickinson, and Dale Cook watch the activities

Guest Kay Rollins with the Smrecek's
Dinner Is Served

The Wait Staff worked very hard
Did you know? - The earliest depiction of lettuce is in the carvings at the temple of Senusret I at Karnak, where he offers milk to the god Min, to whom the lettuce was sacred. Lettuce was considered an aphrodisiac food in Ancient Egypt, and appears as such in The Contendings of Horus and Seth. Later, Ancient Greek physicians believed lettuce could act as a sleep-inducing agent. The Romans cultivated it, and it eventually made its way to the Papal Court at Avignon, France. Christopher Columbus introduced lettuce to the New World.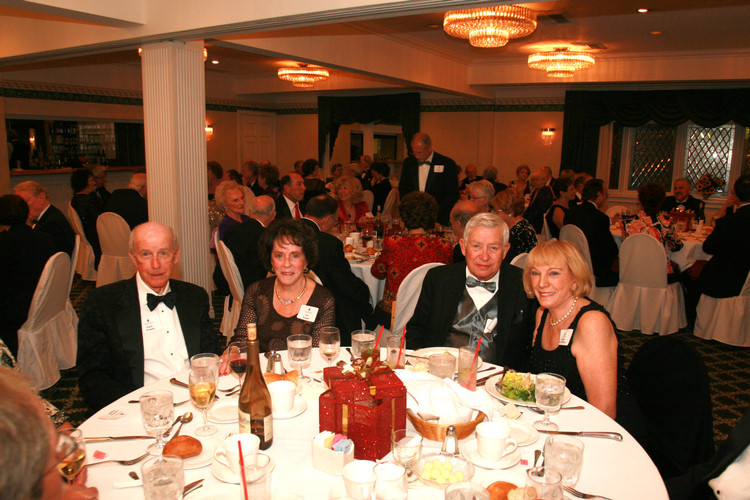 Kent & Pat Powell with guests Don & Kay Rollins

Mikelle & Ed Watson with Don & Joanne Heath

The Smrecek's with Mikelle & Ed Watson
Did you know? - The shells from your walnut salad dressing where put to work!
Cleansing and polishing: Walnut shells are mostly used to clean soft metals, fiberglass, plastics, wood and stone. This environmentally friendly and recyclable soft grit abrasive is well suited for air blasting, de-burring, de-scaling, and polishing operations because of its elasticity and resilience. Uses include cleaning automobile and jet engines, electronic circuit boards, and paint and graffiti removal. For example: In the early days of jet transportation, crushed walnut shells were used to scour the compressor airfoils clean, but when engines with air cooled vanes and blades in the turbine started being manufactured this practice was stopped because the crushed shells tended to plug up the cooling passages to the turbine, resulting in turbine failures due to overheating.
Oil well drilling: The shell is used widely in oil well drilling for lost circulation material in making and maintaining seals in fracture zones and unconsolidated formations.
Flour made from walnut shells is widely used in the plastics industry.
Paint thickener: Walnut shells are added to paint to give it a thicker consistency for "plaster effect" ranges.
Explosives: Used as a filler in dynamite.
Cosmetic cleaner: Occasionally used in soap and exfoliating cleansers

Partee Partee! Gray & Paula Kilmer with Barbara Martin

Joe & Pam Brand
Did you know? - We had Maytag Blue Cheese in the salads. Blue cheese is a general classification of cow's milk, sheep's milk, or goat's milk cheeses that have had Penicillium cultures added so that the final product is spotted or veined throughout with blue, blue-gray or blue-green mould, and carries a distinct smell. Some blue cheeses are injected with spores before the curds form and others have spores mixed in with the curds after they form. Blue cheeses are typically aged in a temperature-controlled environment such as a cave.

In the European Union many blue cheeses such as Roquefort, Gorgonzola, and Stilton are, like wine, a protected designation of origin, meaning they can bear the name only if they have been made in a particular region in a certain country. Similarly, individual countries have protections of their own such as France's Appellation d'Origine Contrôlée and Italy's Denominazione di Origine Protetta.

The characteristic flavor of blue cheeses tends to be sharp and a bit salty. The smell of this food is widely considered to be pungent, even smelling like feet. This is due to the types of bacteria encouraged to grow on the cheese; for example, the bacterium brevibacterium linens, responsible for the pungent smell of many blue cheeses, is also the cause of human foot odor. Due to this strong smell and flavor, blue cheeses are often considered an acquired taste. They can be eaten by themselves or can be crumbled or melted over foods.

Guy & Janet Talbott

Darwin & Margie Bolsinger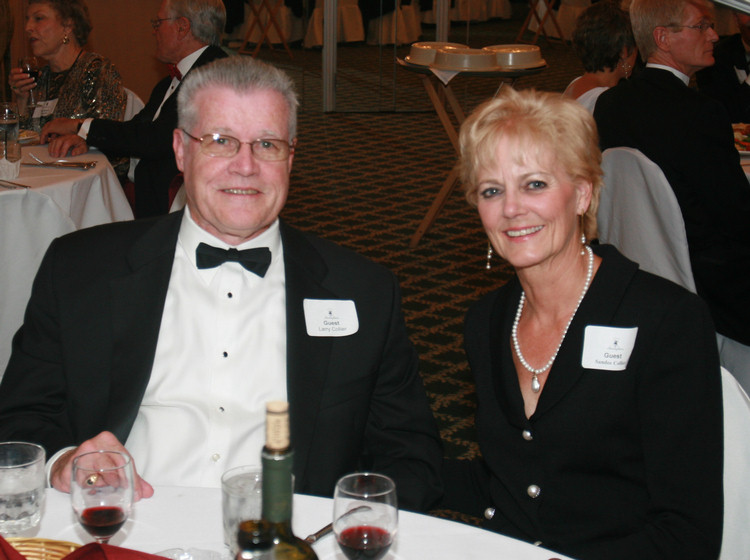 Guests of the Bailey's ... Larry & Sandee Collier

Andrea Talbott & John Clark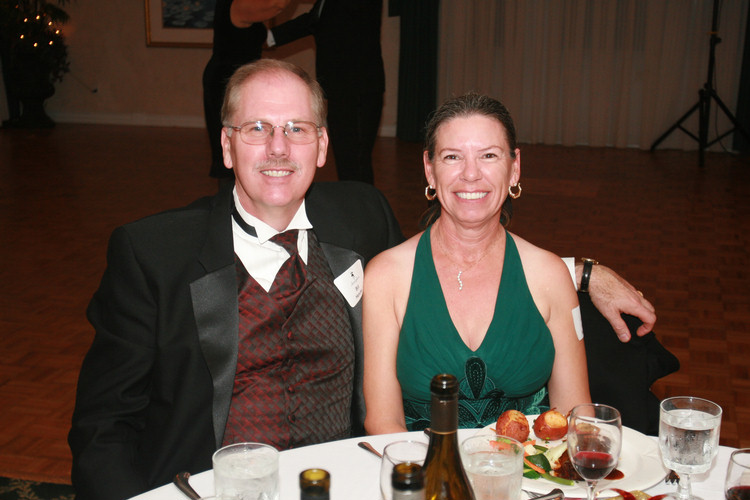 Bill & Holly Hencke

Dick & Mariene Cole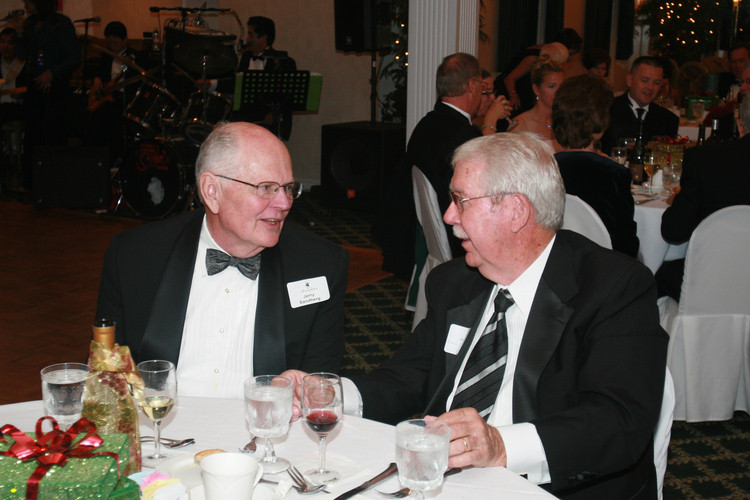 Jerry Sandberg & Dan Green deep in conversation

"Quick duck under my arm to get away from the pesky photographer!!"
Did you know? - Paparazzi is a plural term (paparazzo being the Italian singular form) for photographers who take unstaged and/or candid photographs of celebrities caught unaware. Paparazzi take photos of celebrities at moments when the subjects do not expect to be photographed, such as when they shop, walk through a city, eat at a restaurant, or swim or lie on the beach. This contrasts with press photography, or photojournalism, that is undertaken at press conferences, red carpet affairs and other events where there is an expectation and desire that the subjects will be photographed.
The word "paparazzi" is an eponym originating in the 1960 film La dolce vita directed by Federico Fellini. One of the characters in the film is a news photographer named Paparazzo (played by Walter Santesso). In his book Word and Phrase Origins, Robert Hendrickson writes that Fellini took the name from an Italian dialect that describes a particularly annoying noise, that of a buzzing mosquito. In his school days, Fellini remembered a boy who was nicknamed "Paparazzo" (Mosquito), because of his fast talking and consonant blurs (unknown), a name Fellini later applied to the fictional character in La dolce vita. This version of the word's origin has been strongly contested.

Ha! They missed!! Leon & Marcia stir up the dust with their special waltz-rumba!

Doris & Bob Muschek

Nancy & David Smith
Did you know? - Smith is the most common family name (surname) in the United Kingdom, Australia and the United States, representing more than 1 out of every 100 persons in each of these countries. It is also the fifth most common surname in Ireland. The surname of Smith is particularly prevalent among those of English and Irish descent, the name being English NS adopted early on by Irish, but has often been taken by non-English natives or immigrants to the above countries in order to blend into the majority culture more easily.

Dick & Mariene Cole

Guests of the Muscheck's... Bill Holmes & Gloria Powell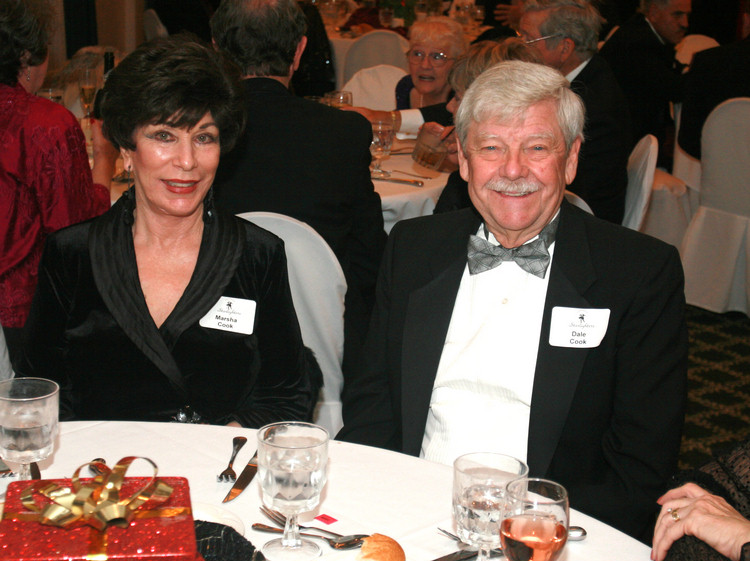 Marsha & Dale Cook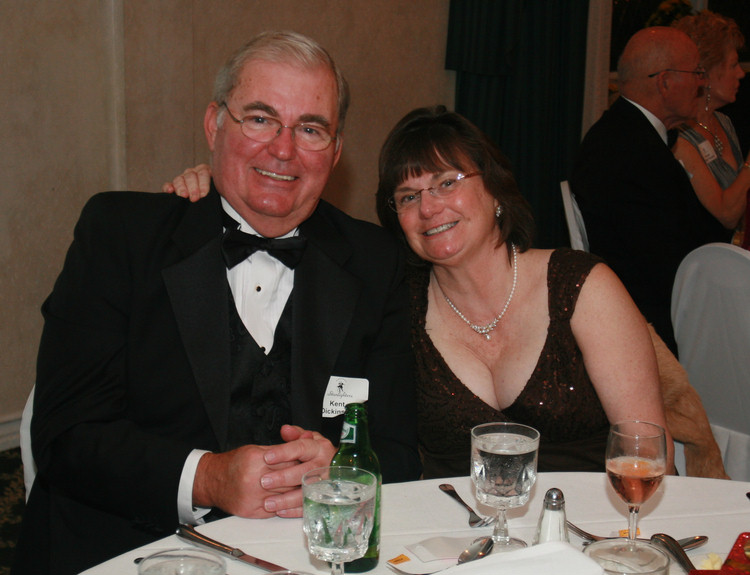 Kent & Judith Dickson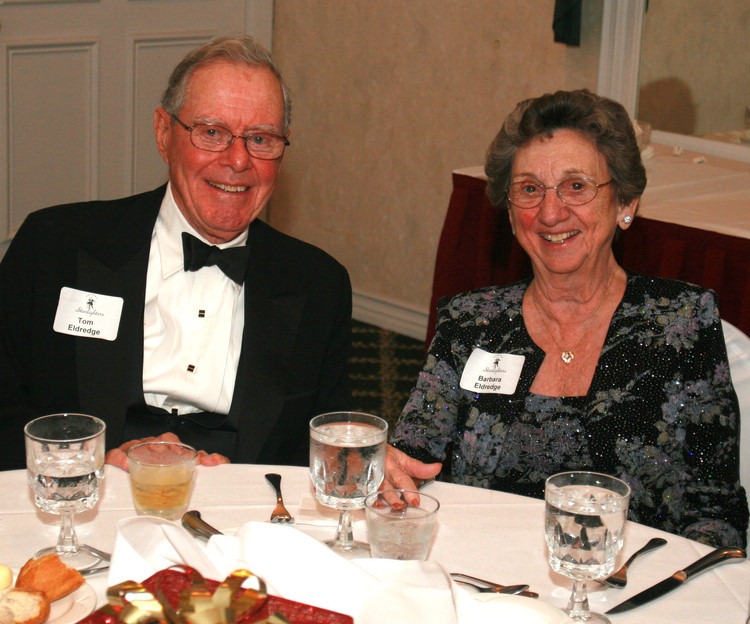 Tom & Barbara Eldredge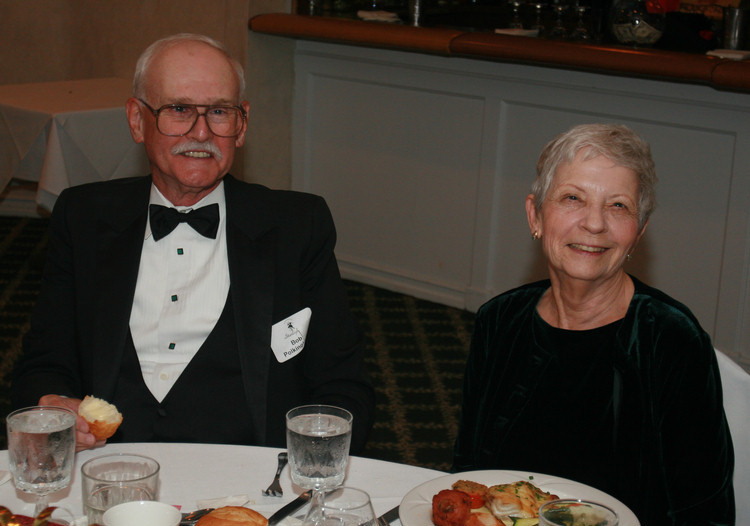 Bob & Millie Kegel

David & Mimi Gaudette

Desert is gone... Time to dance!