The Foxfire Is A Great Place To Dance...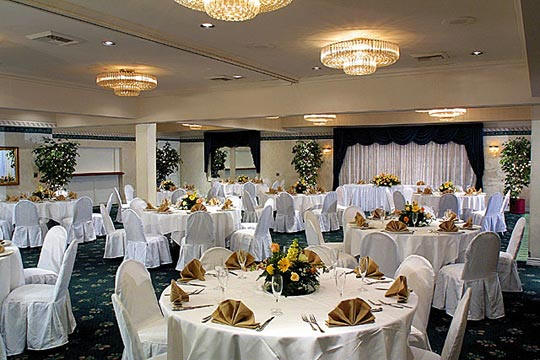 Great facilities
What a great evening. We had 38 couples and a load of fun! The music kept everybody hopping all evening.
If you're familiar with Foxfire Restaurant, but have not been here recently, you were in for a very pleasant surprise.
Be prepared to experience one of the best revived restaurants in Southern California.
We arrived at 6:30 for a short cocktail and Hors d'oeuvres session before the music got underway. Dinner was served at 7:30 just in time for our first rest break! Great food got our engines ready for the rest of the evening. Dancing went on until the wee hours of the night... OK, maybe 10:30 PM is not exactly "Wee". Just enough!
The Evening Begins Promptly At 6:30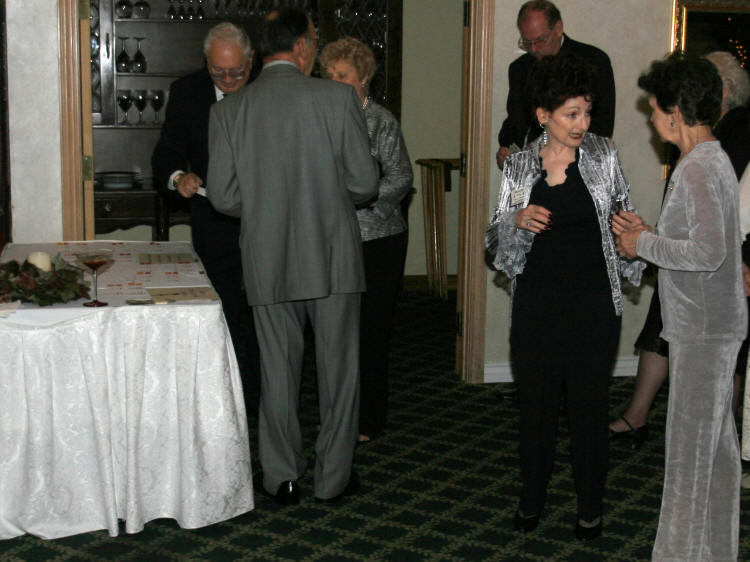 Members are arriving and being greeted

The table setting were beautiful.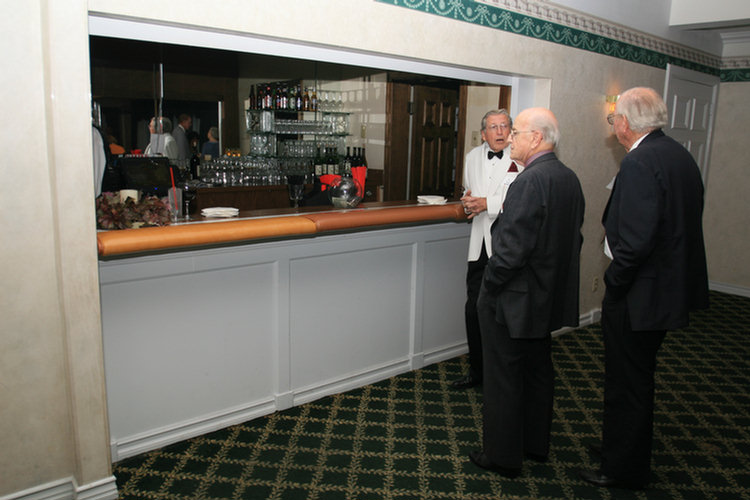 Everybody's favorite place... Jim is canvassing the bar!
The term "bar" is derived from the specialized counter on which drinks are served and is a synecdoche applied to the whole of the drinking establishment. The "back bar" or "gantry" is a set of shelves of glasses and bottles behind that counter. In some bars, the gantry is elaborately decorated with woodwork, etched glass, mirrors, and lights. When food is served elsewhere in the establishment, it may also be ordered and eaten at the bar.
Hors d'oeuvre Are Served...
Though any food served prior to the main course is technically an hors d'oeuvre, the phrase is generally limited to individual items, not crudités, cheese or fruit. For example, a glazed fig topped with mascarpone and wrapped with prosciutto is considered an "hors d'oeuvre," whereas figs on a platter are not.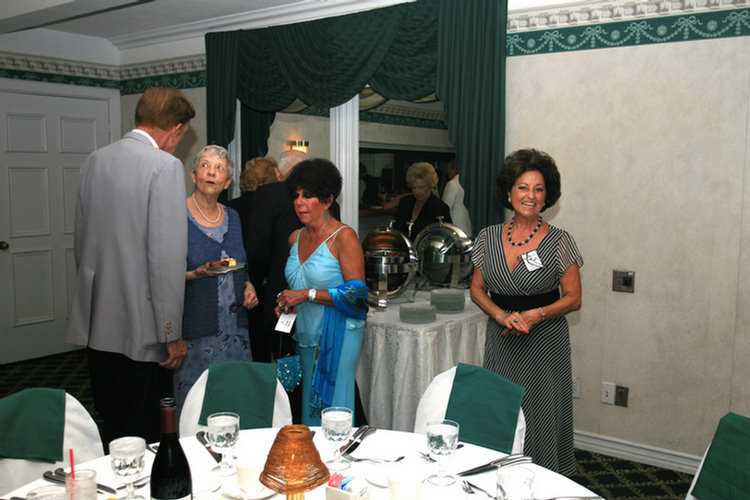 Folks are migrating toward the hors' odeuvers

Donna on her way to the table!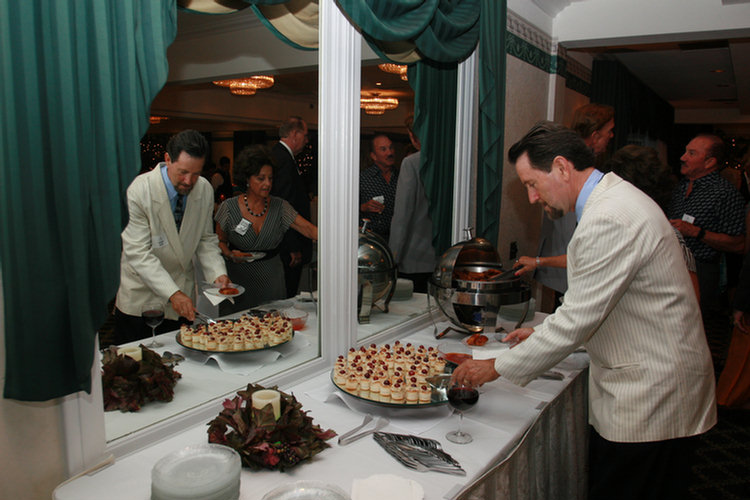 Bob, remember! One only! "But, there are two of me here, silly!
Did You Know? - Hors d'oeuvre - If there is an extended period between when guests arrive and when the meal is served (for example, during a cocktail hour), these might also serve the purpose of sustaining guests during the wait. Hors d'oeuvre are sometimes served with no meal afterward. This is the case with many reception and cocktail party events.
Hors d'oeuvre may be served at the table as a part of the sit-down meal or they may be served before sitting at the table. Hors d'oeuvre prior to a meal are either stationary or passed. Stationary hors d'oeuvre are also referred to as "table hors d'oeuvre." Passed hors d'oeuvre are also referred to as "butler-style," "butlered" or "butler-passed" hors d'oeuvre.

Reflections around the room.
Adrienne Just Had A Birthday. Looking Good Bob!

Adrienne and Bob won't tell us what number... We guess 39!
The Band Is Warming Up For A 7:00 PM Start... Don Petersen's Trio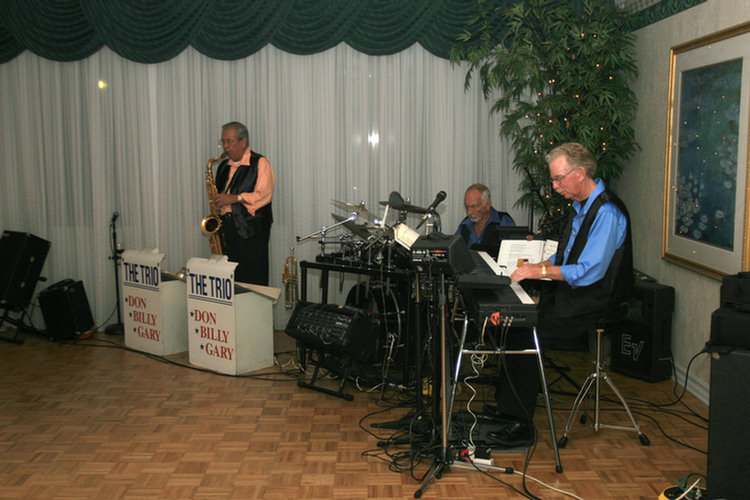 Amazing how three folks can make such super music

Bob and Donna hit the floor dancing!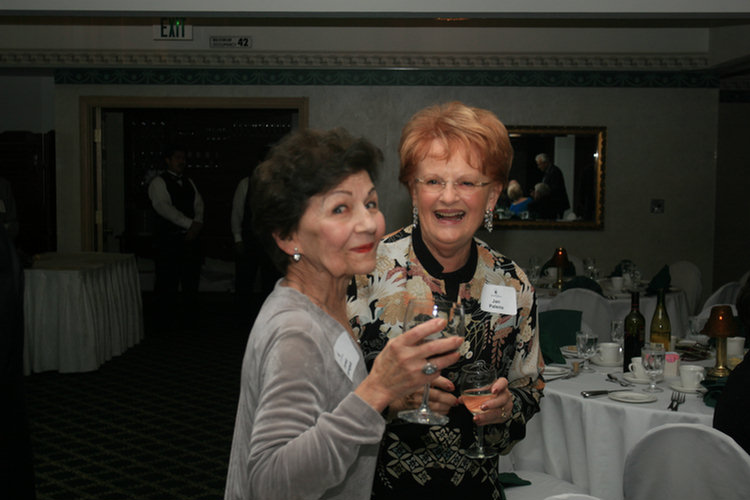 The Jan's enjoying a vino (the word for wine in the Italian, Spanish and many Slavic languages)...
Jan Mongell and Jan Paleno

Bob and Marilyn Pokinghorn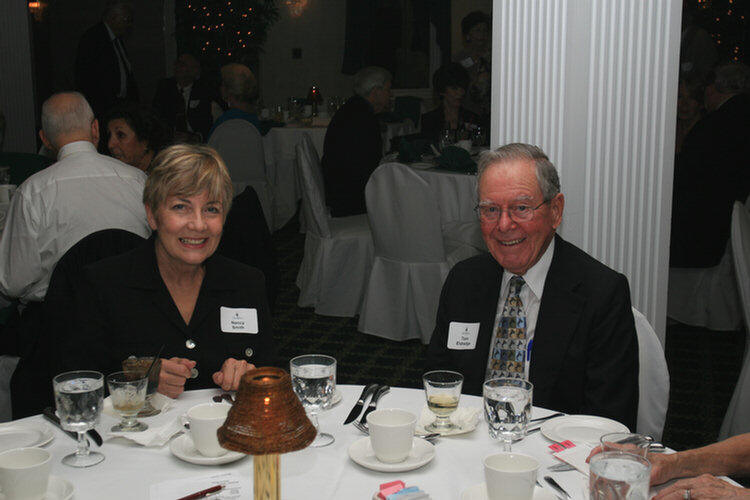 Nancy Smith and Tom Eldridge chatting while David & Barbara are visiting elsewhere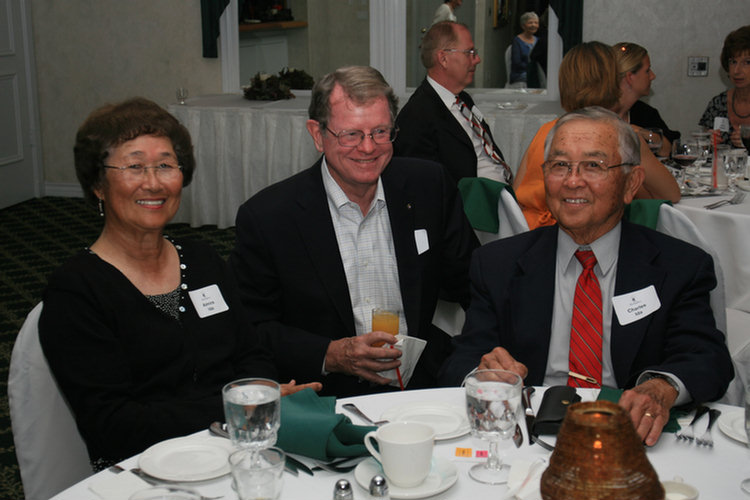 The Ida's (Almira and Charles) visit with Don Smith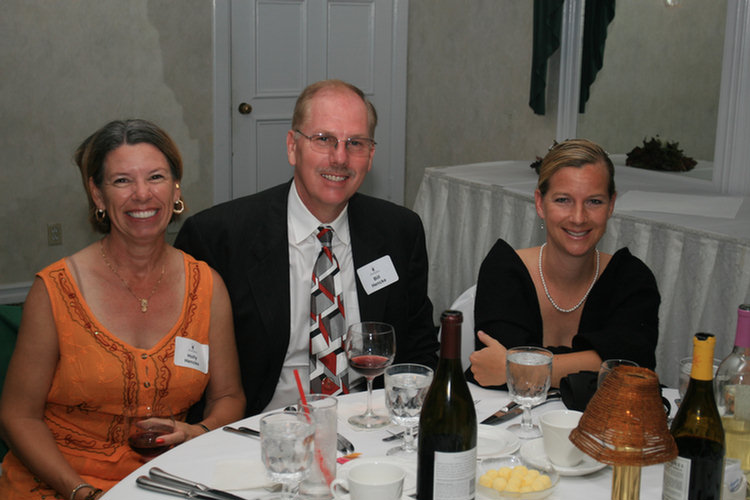 Holly and Bill Henche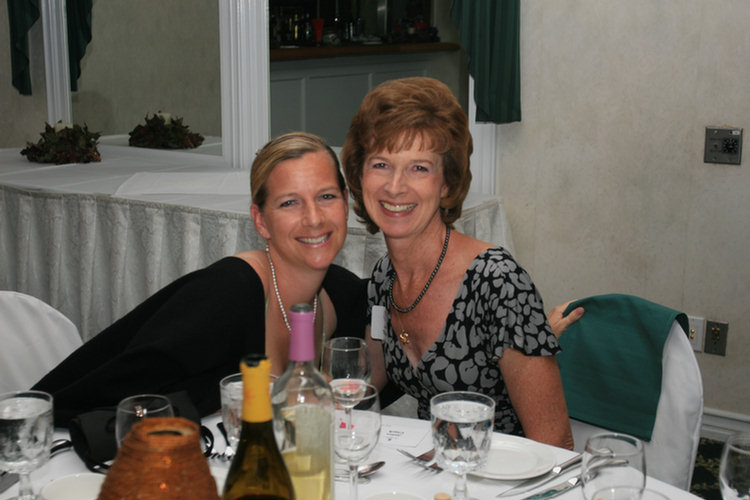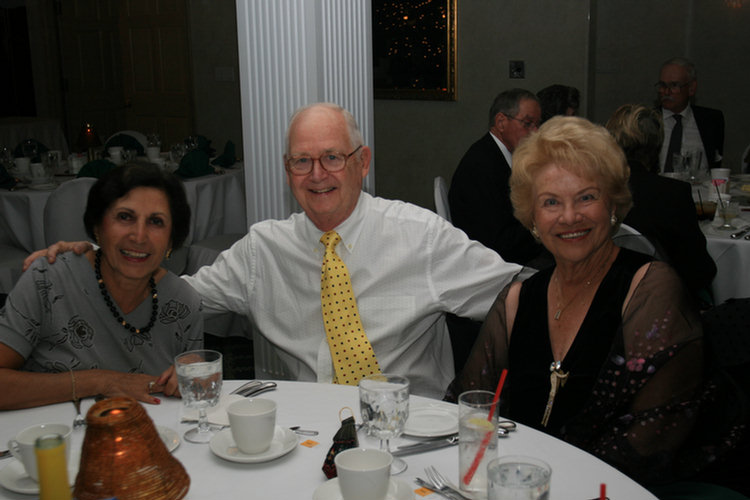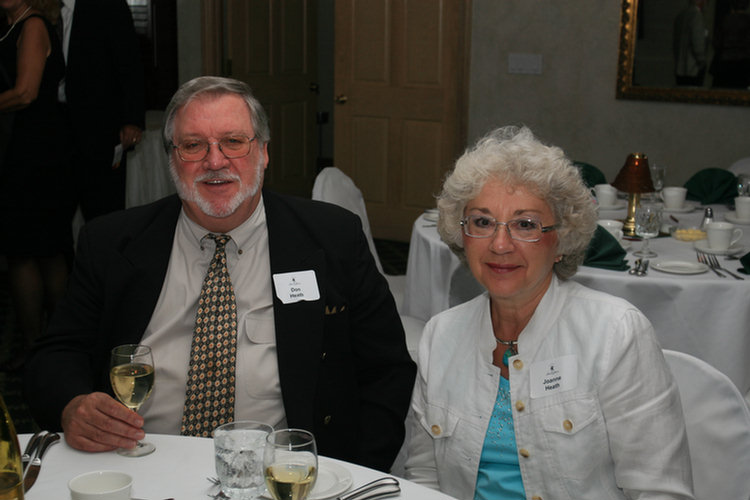 Don and Joanne Heath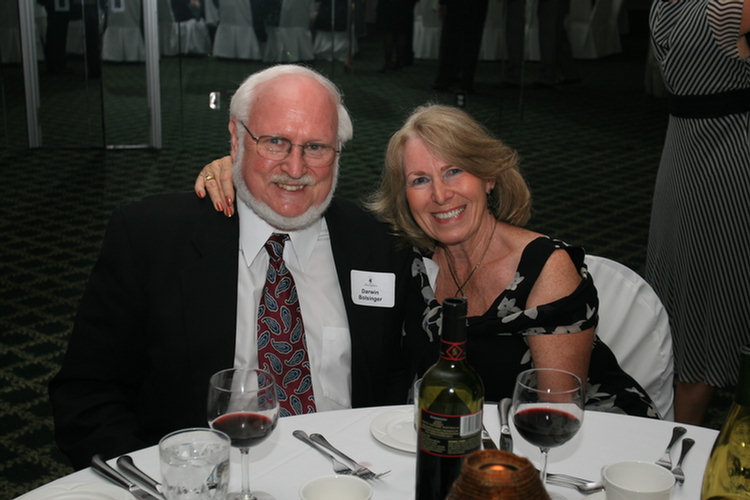 Darwin and Margie Bolsinger

Dale and Marsha Cook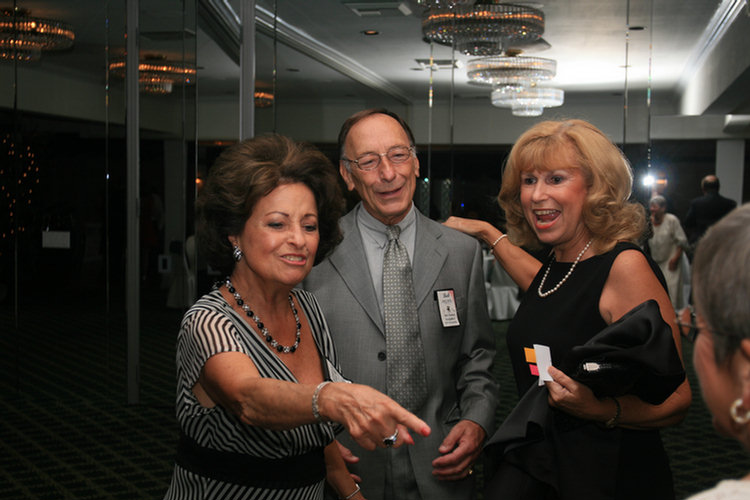 Adrienne, Bob, and Jan

Adrienne & Bob Meehan, Jan Morin, Sue Liles, and Paul Morin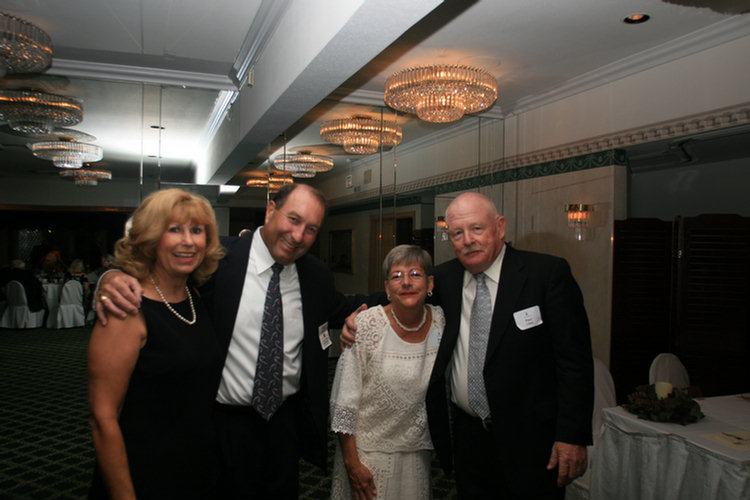 Jan and Paul Morin with Sue and Paul Liles

Donna and Bob Zaitz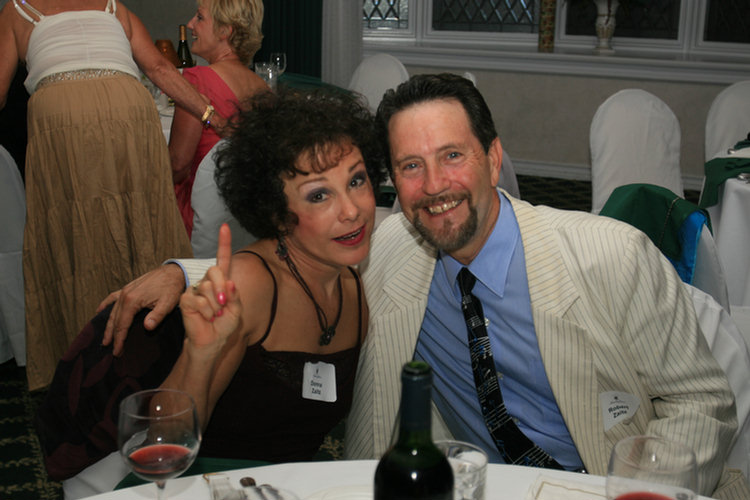 "Hold on just one moment, please!"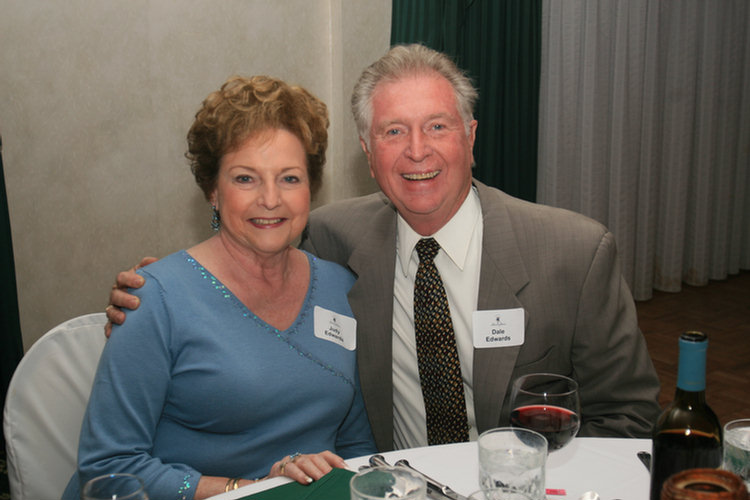 Dale and Judy Edwards
Stand Back, Jim Is Starting To Move After Dinner
Dinner was Roastef Sea Bass or Filet Mignon and a Tiramisu dessert. The service was excellent and the staff understood "Air Conditioning".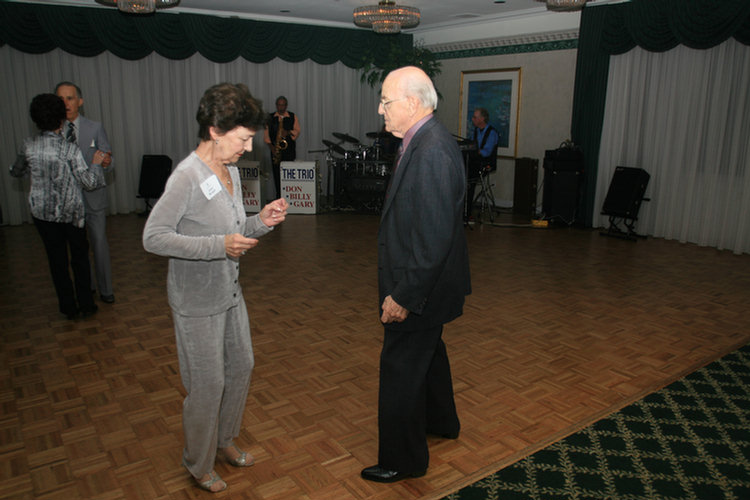 Jan and Jim Mongell up and moving after a great dinner!
Someone Had a Birthday Today! 84 Years Young!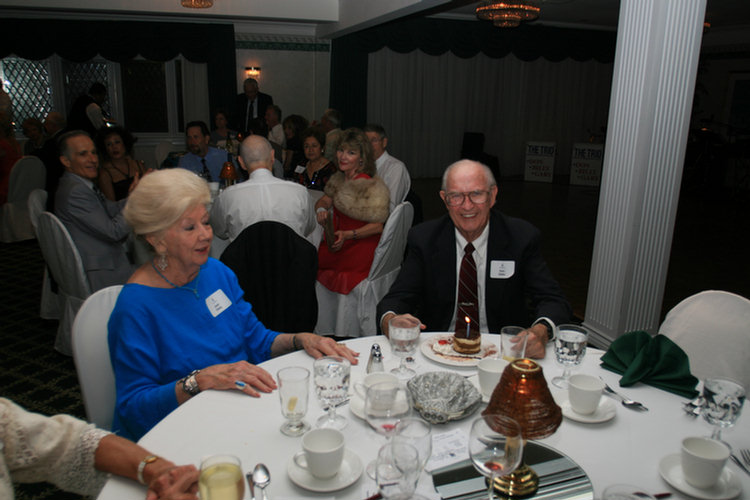 Jean and Don Oldis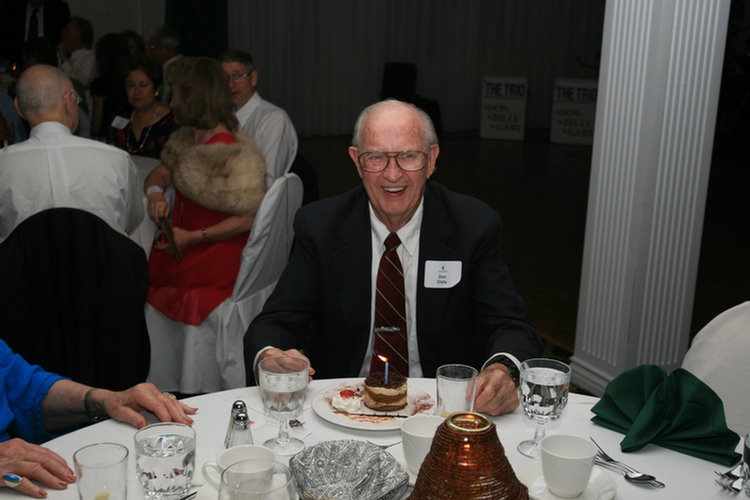 Happy Birthday Don Oldis, 84 Years Young!
Did You Know? - The birthday cake is traditionally highly decorated, and typically covered with lit candles when presented, the number of candles signifying the age of the celebrant. The person whose birthday it is may make a silent wish and then blow out the candles. It is also customary for the person celebrating their birthday to cut the initial piece of the cake as a newlywed couple might with a wedding cake. Birthday cakes date back as far as the Middle Ages when the English would conceal symbolic items such as gold coins, rings and thimbles inside their cakes. Don't worry Don, we took the coins out already!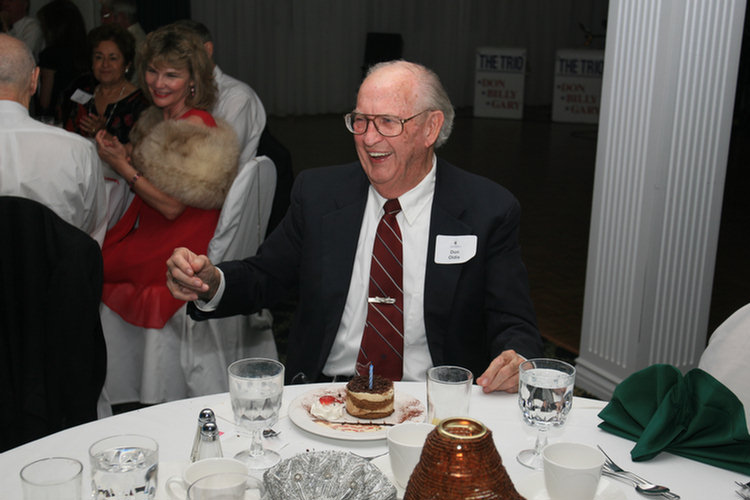 We think he enjoyed his cake!
The President Speaks And Dinner Is Served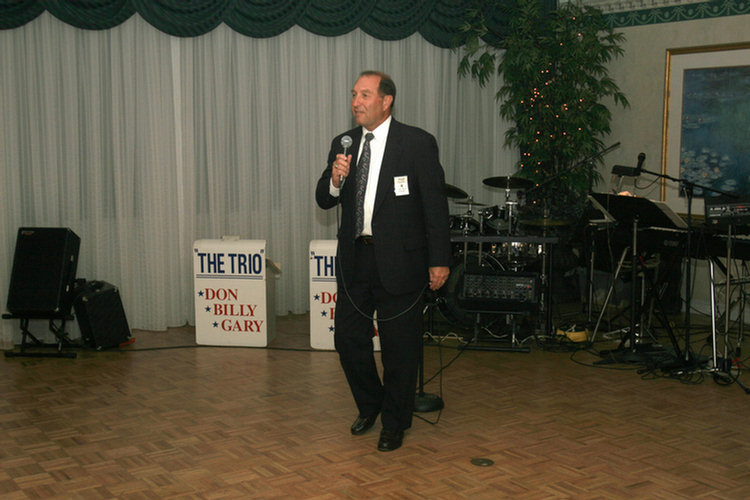 "Remember the November Formal Winter Dance!!!"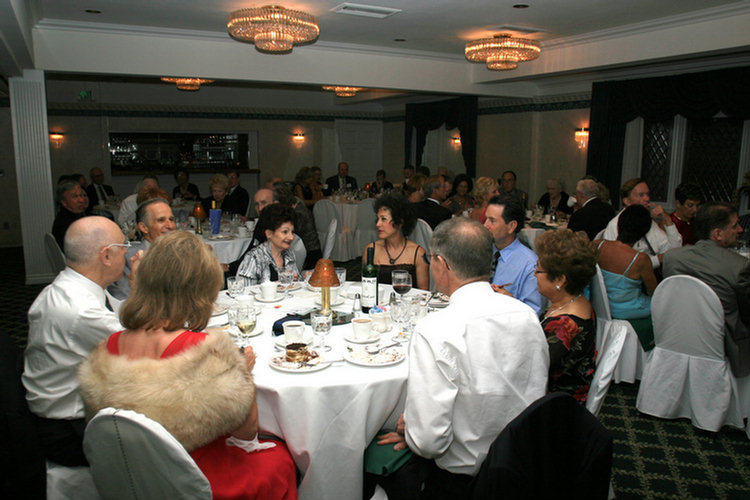 Dessert and coffee before serious dancing starts!
After Dinner, The Serious Dancing Begins;
We Must Do Something With Those Silly Old Calories
Did You Know? - Ballroom dancing (e.g. Waltz, Foxtrot, Slow Dancing), Samba, Tango, 19th C, Mambo, Cha Cha) burns about 204 calories per hour. After tonight's dinner we need a good solid three hours of dancing!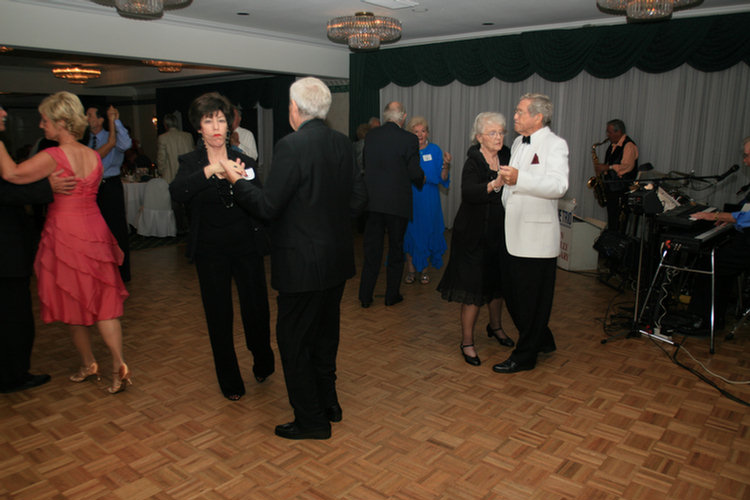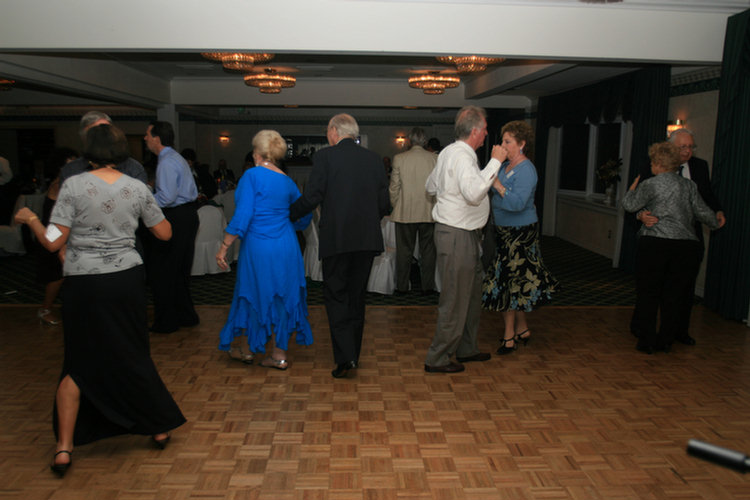 The dance floor was kept busy all night!
Did You Know? - A performance surface is a flooring suitable for dance or sport. Performance surfaces are normally laid on top of, or are part of, a sprung floor to produce a complete dance floor or sports floor.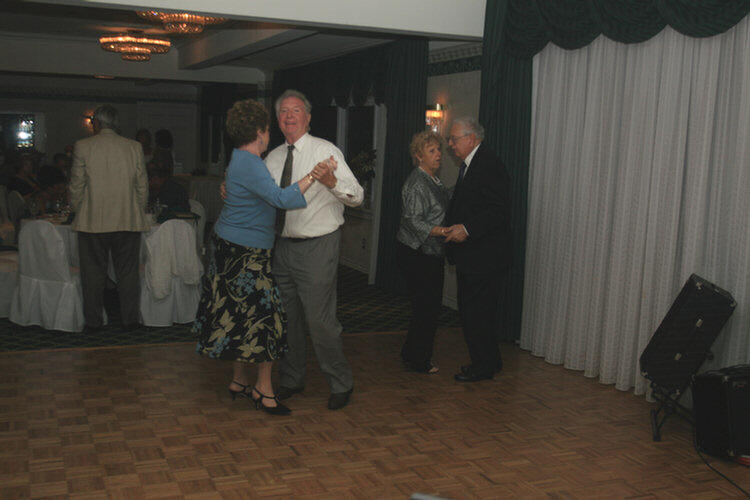 Negotiating For More Air Conditioning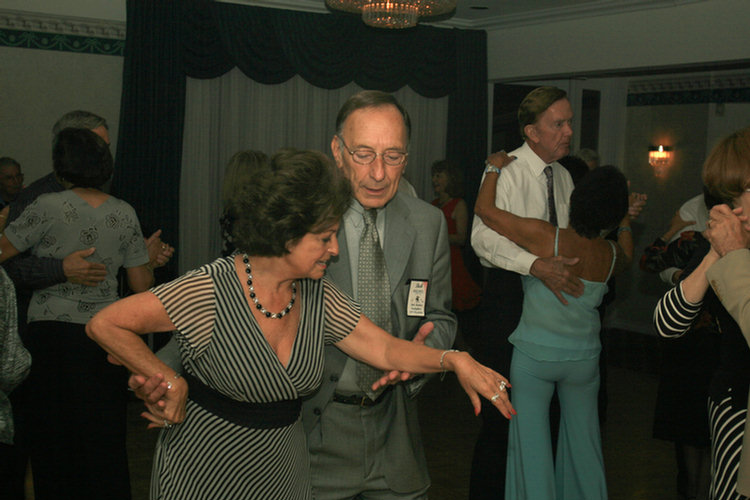 "Hey Adrienne, I can do 250 calories an hour with this dance!"

They spotted something on the floor!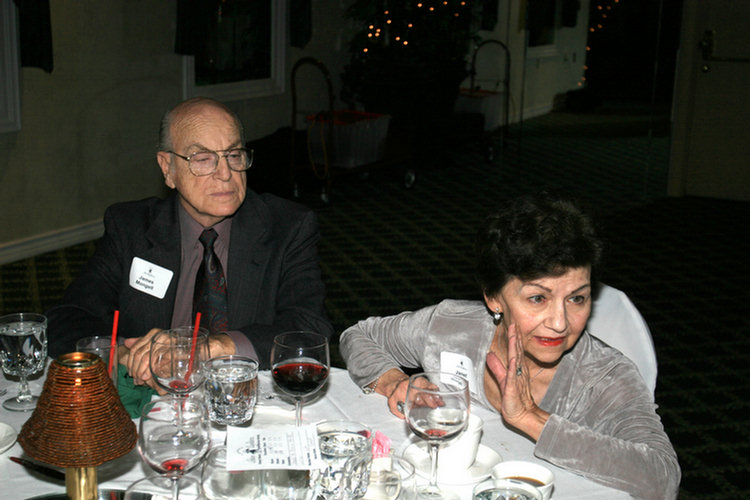 "Psssssst! Want to know a secret??"

Mary and Arthur

"Bob, keep your hands still so I can grab them!"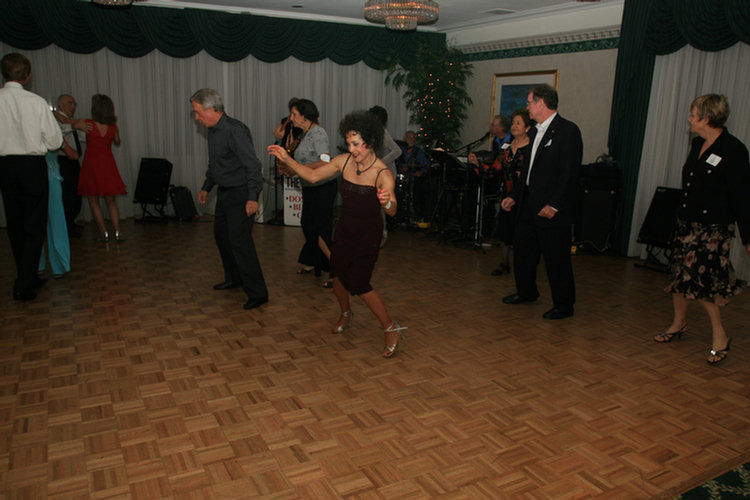 The Line Dance Get Underway
Did You Know? - A line dance is choreographed dance with a repeated sequence of steps in which a group of people dance in one or more lines (British English, "rows") without regard for the gender of the individuals, all facing the same direction, and executing the steps at the same time. Line dancers are not in physical contact with each other. Older "line dances" have lines in which the dancers face each other, or the "line" is a circle, or all dancers in the "line" follow a leader around the dance floor; while holding the hand of the dancers beside them.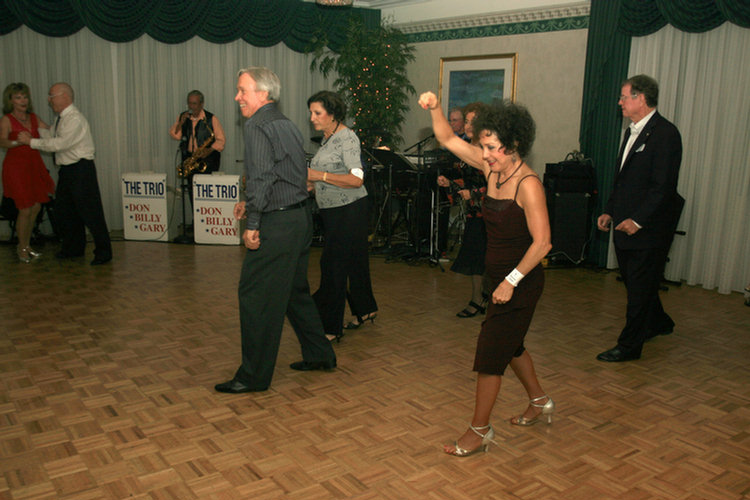 Donna leads the charge to the East

Donna leads the charge to the West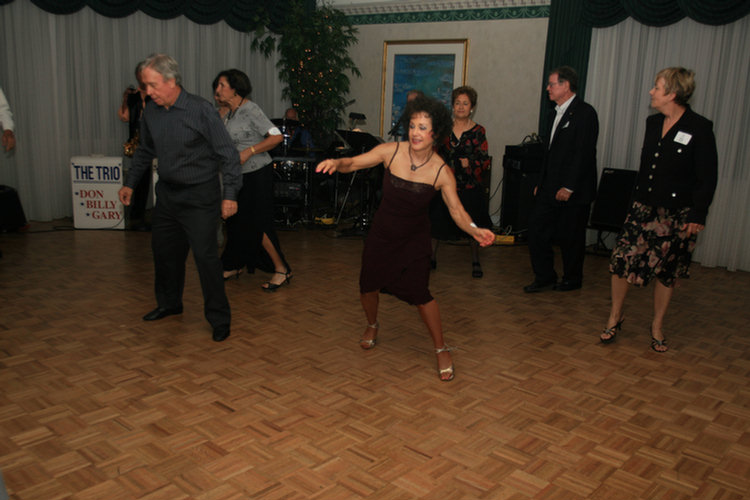 Donna leads the charge to the North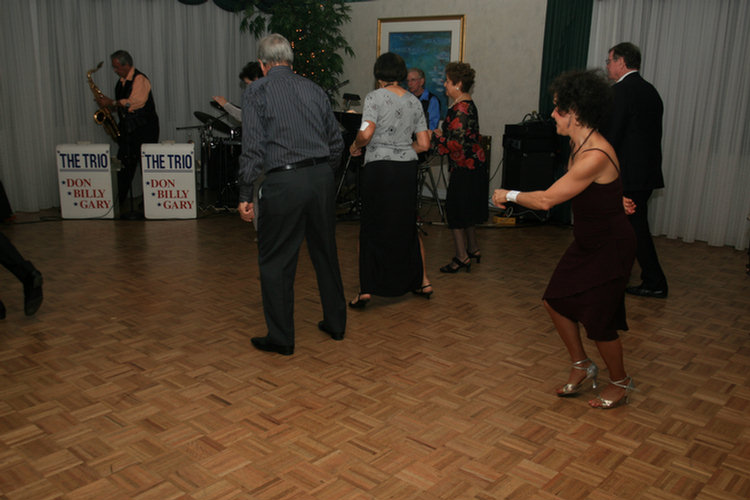 Donna leads the charge to the South
Back To Ballroom
Did You Know? - The term "ballroom dancing" is derived from the word ball, which in turn originates from the Latin word ballare which means "to dance". In times past, ballroom dancing was "social dancing" for the privileged, leaving "folk dancing" for the lower classes. These boundaries have since become blurred, and it should be noted even in times long gone, many "ballroom" dances were really elevated folk dances.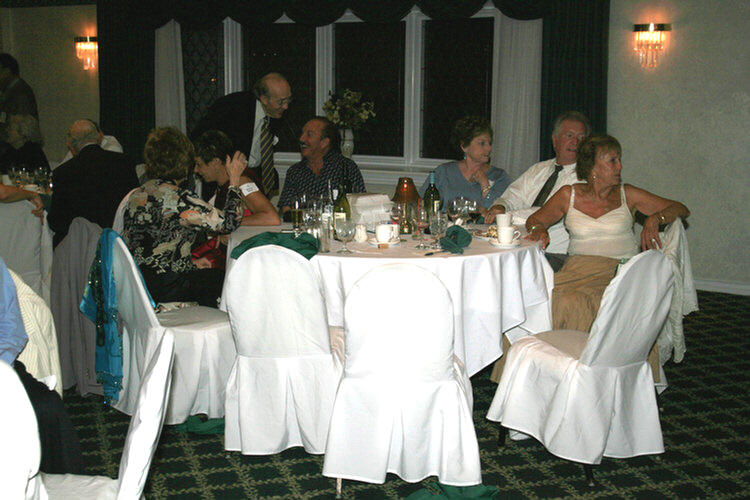 The Birthday Boy!