Dinner And Friday Evening (Page Five)
After an afternoon of patio celebrating, we walked across the street to the Bluewater Grill where we had reservations for forty to sit outside on the patio... Perfect! The weather was just right and the view spectacular. Our wait staff did a super job getting us in and out.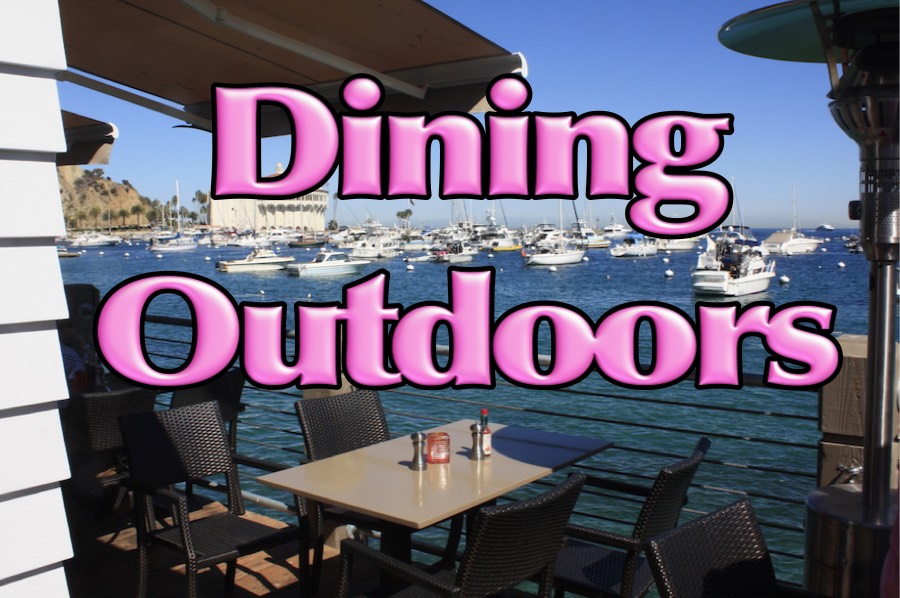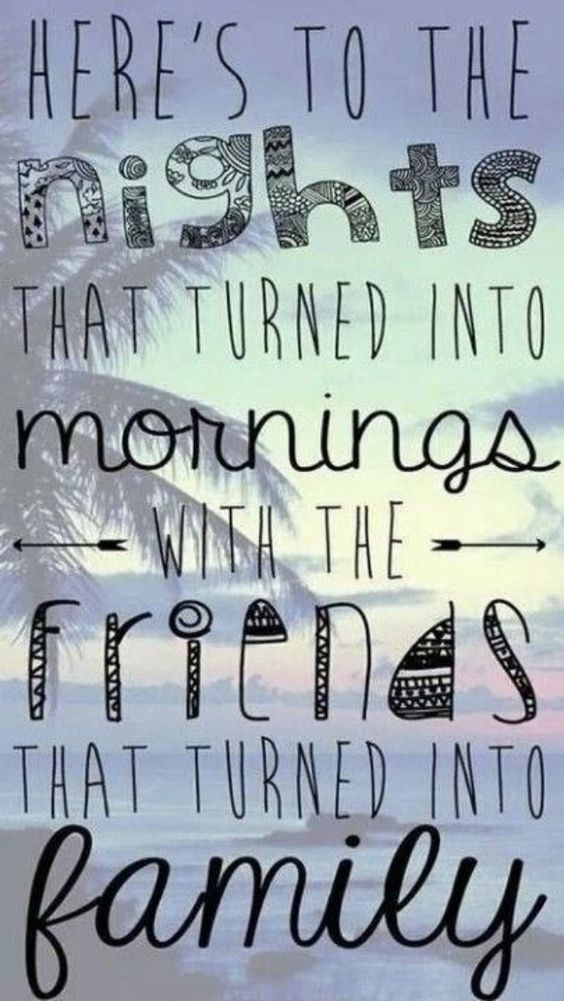 Fred and Mary enjoying the wine (Courtesy of Sam)

Nappy time? (Courtesy of Sam)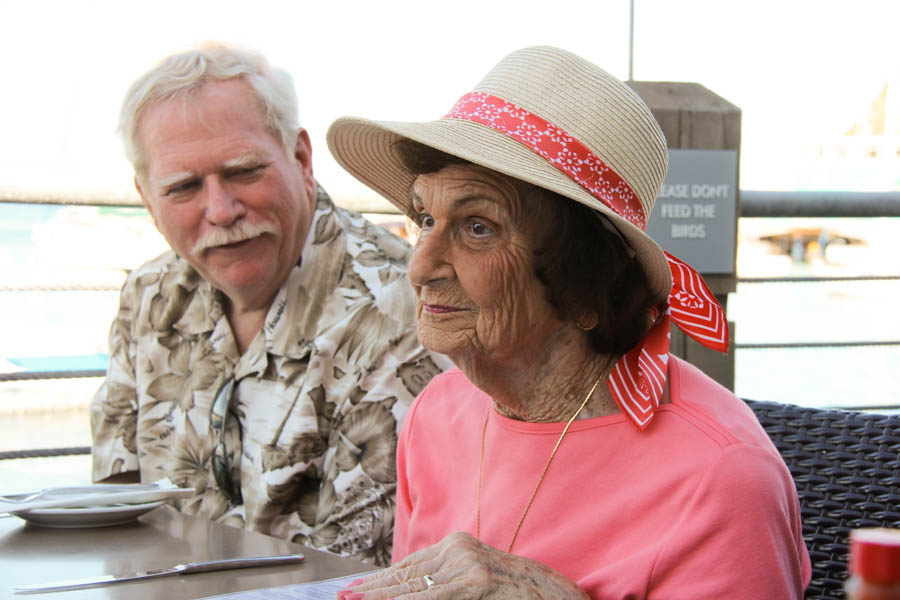 "Something is fishy here!"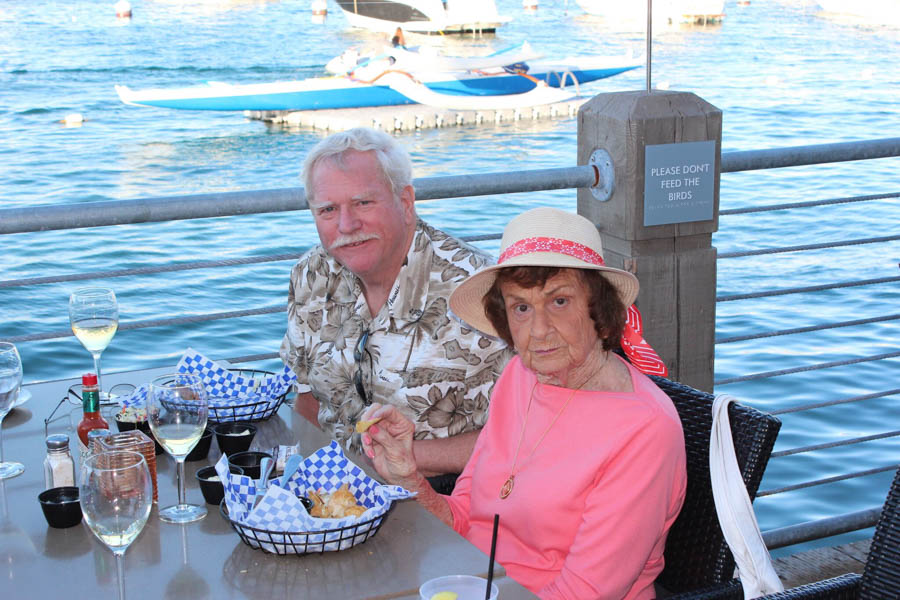 Fish and Chips... Great dinner (Courtesy of Sam)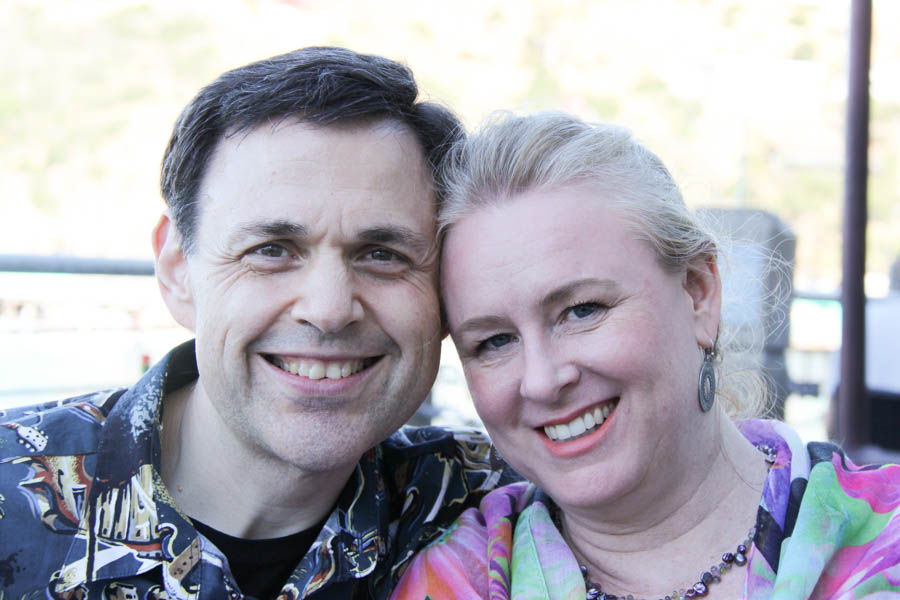 Awe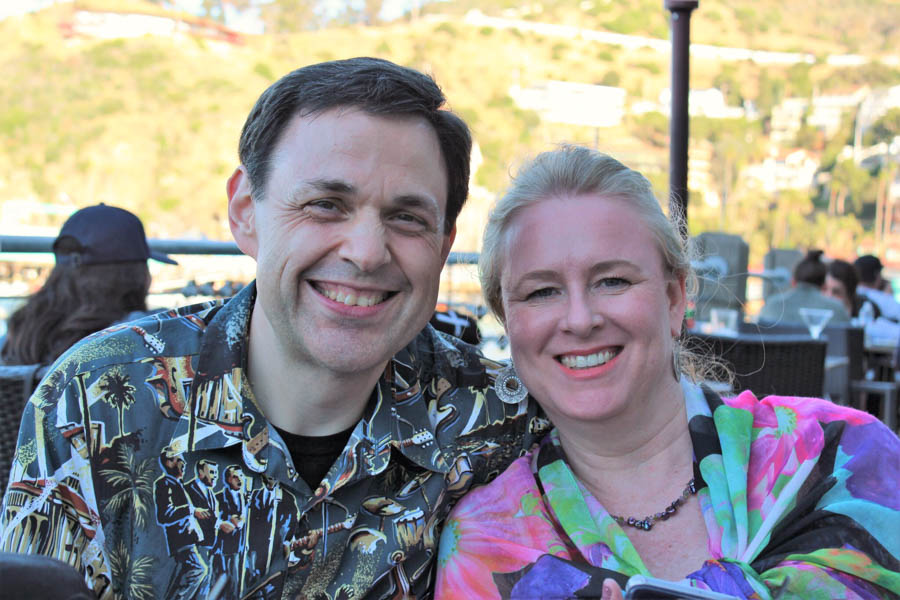 Looking good!

Bombs Away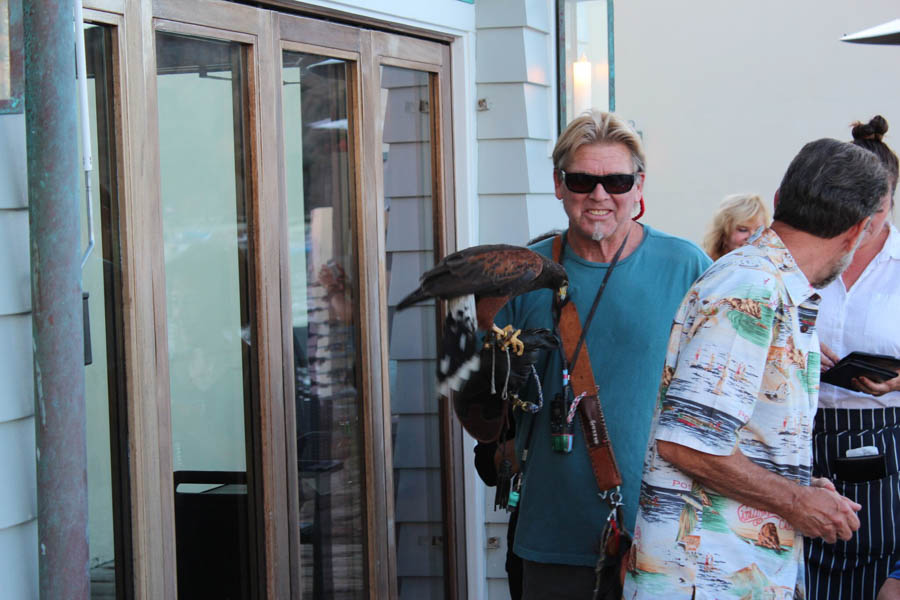 The hawk chases the sea gulls away!

Great groceries (Courtesy of Sam)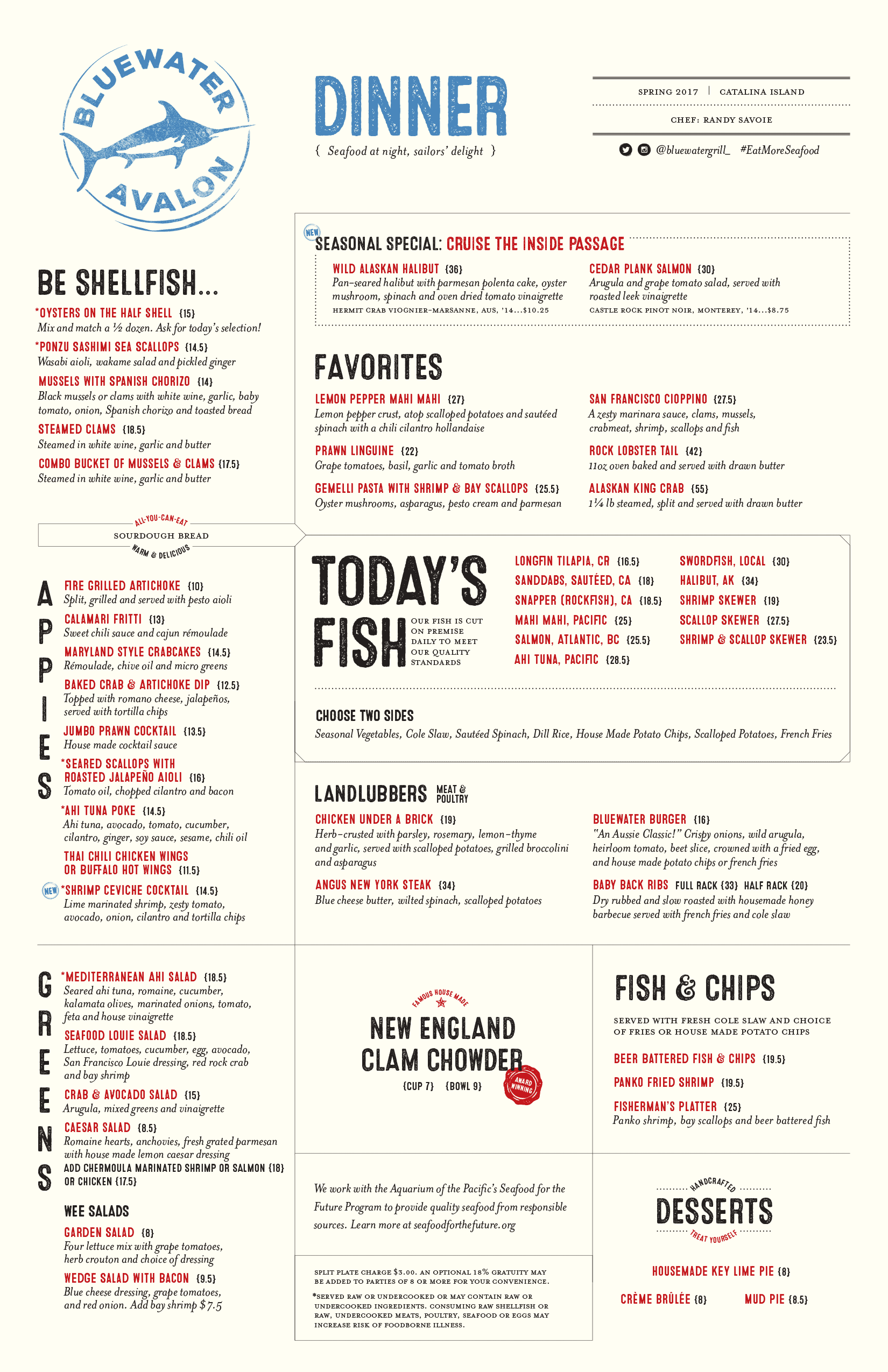 Click for full sized image!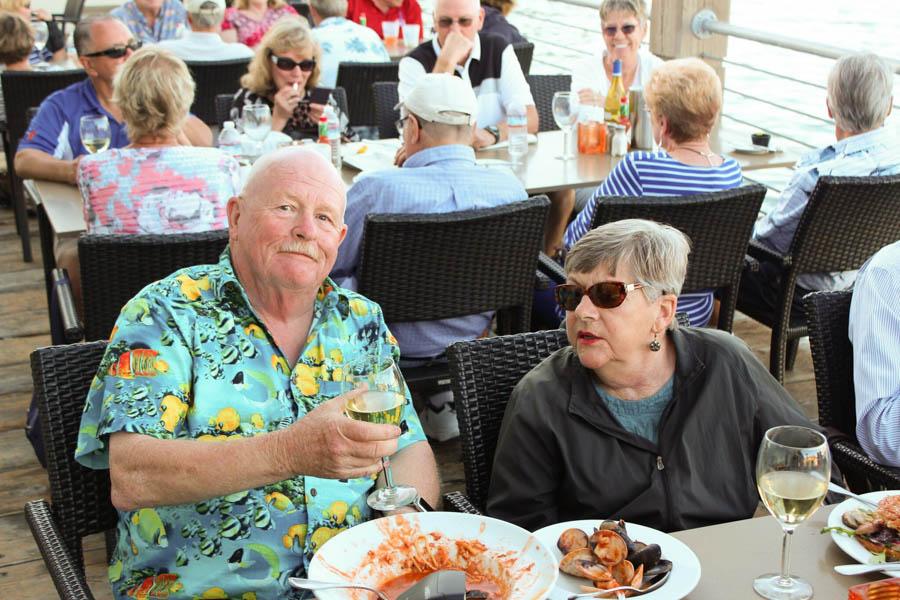 Time for a smile (Courtesy of Sam)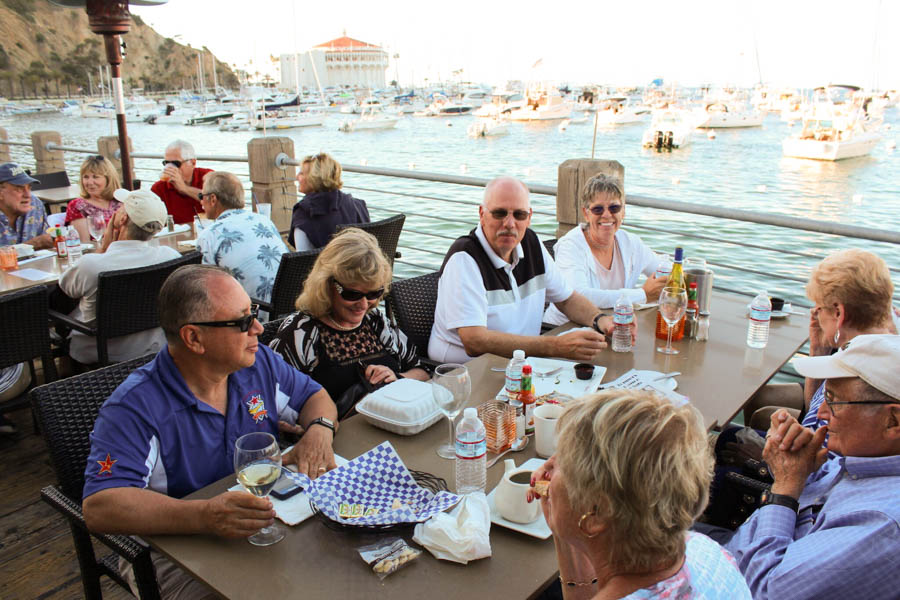 We is gathered togather (Courtesy of Sam)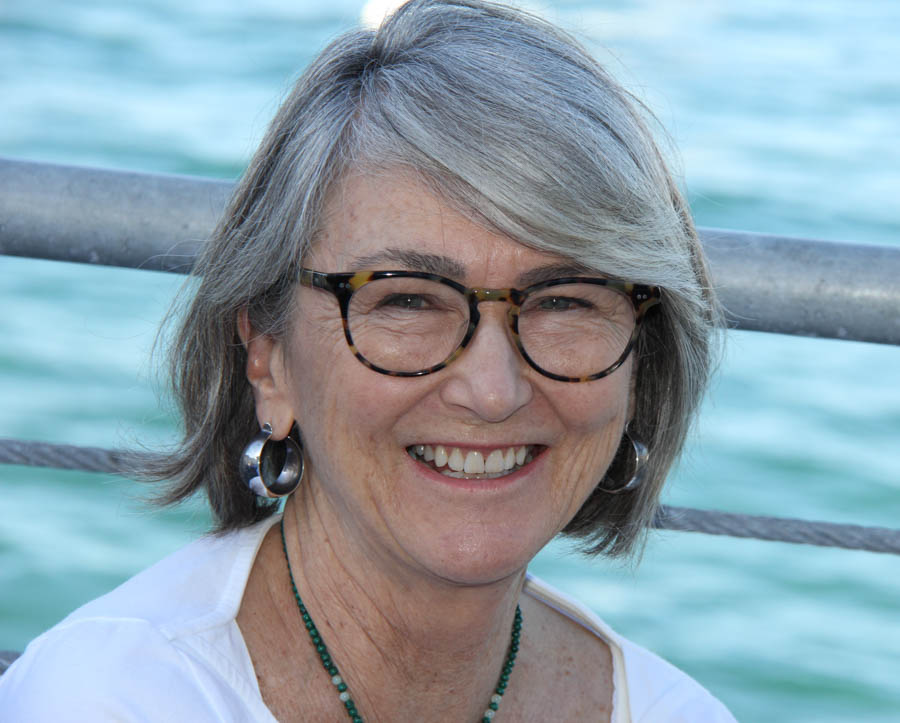 Sandy helped Charlie with the big words!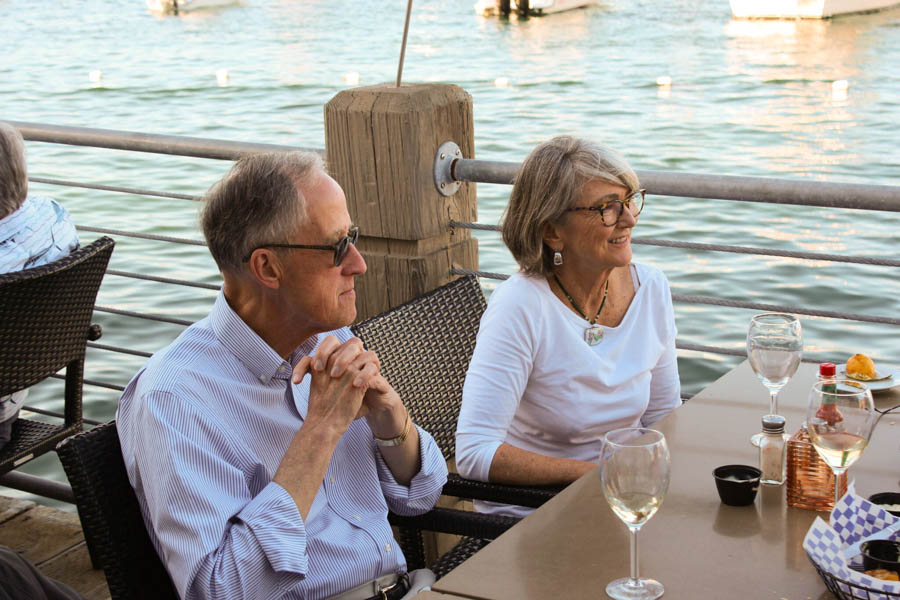 Vino... Great way to start dinner (Courtesy of Sam)

...and at the sunny table...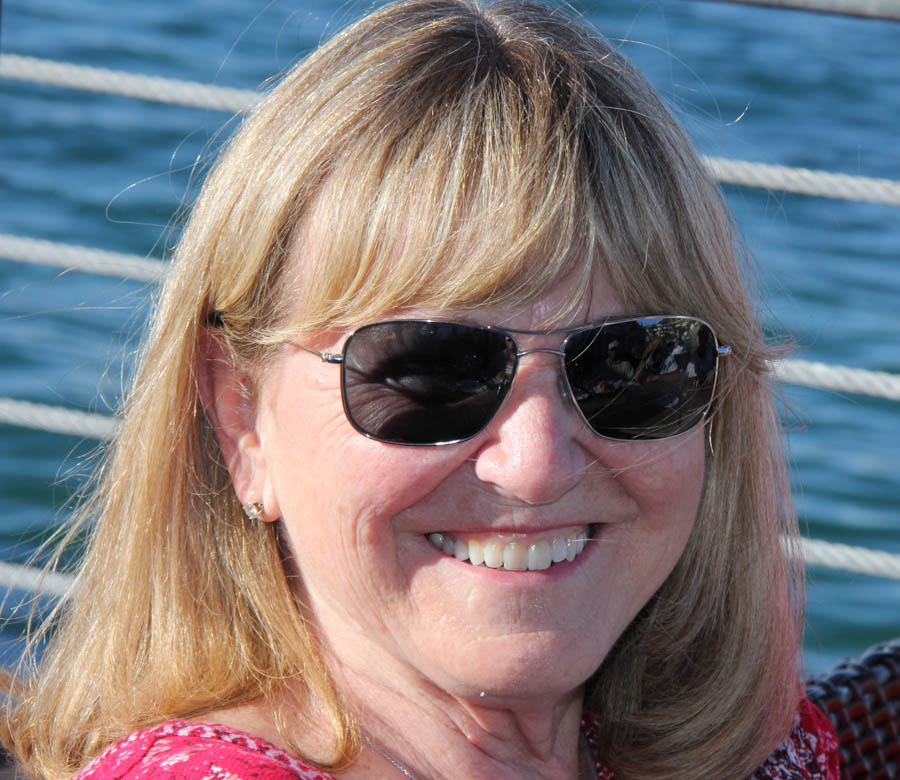 All smiles.... Will she tell?

A man and his microphone!

All smiles (Courtesy of Sam)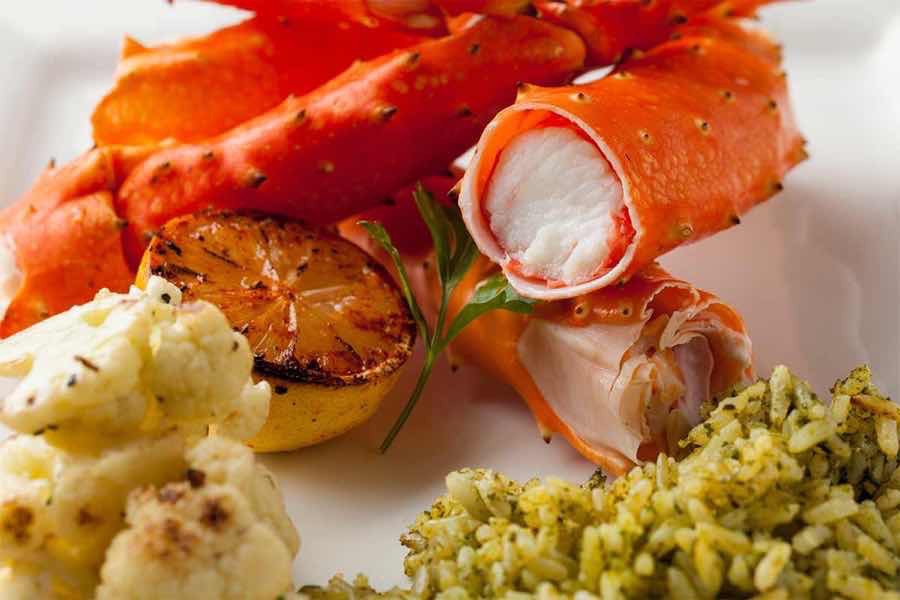 The crab legs were super
Did You Know? - The 8-legged, spider-like Alaskan King crab, can weigh as much as 25 pounds and measure more than six feet from tip to tip.
A single Alaskan King Crab can yield over 6 pounds of meat.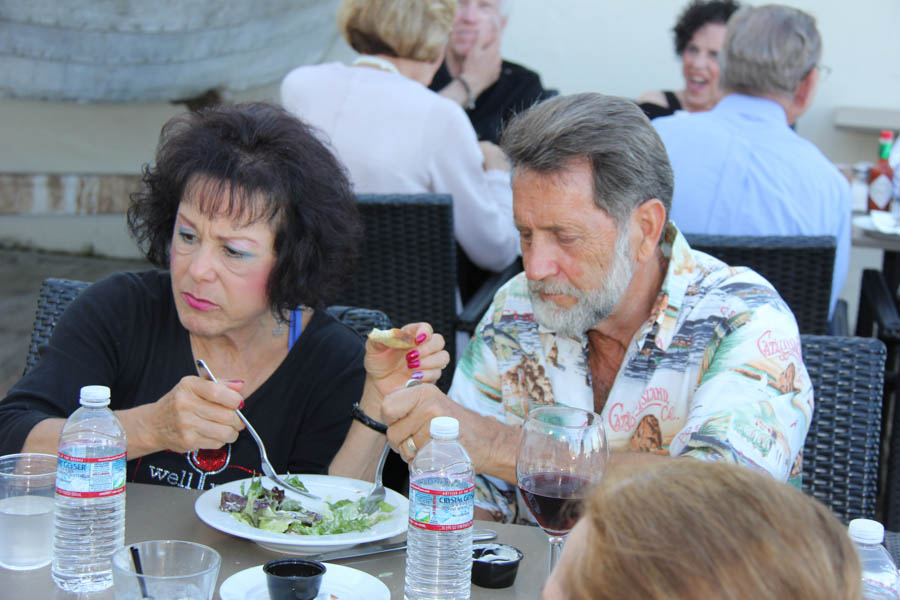 Sharing a salad... We all stuffed on the patio!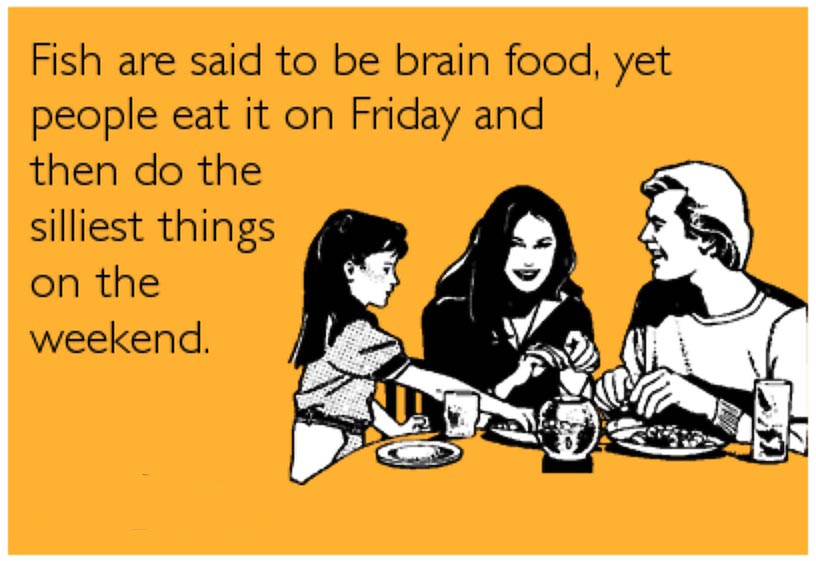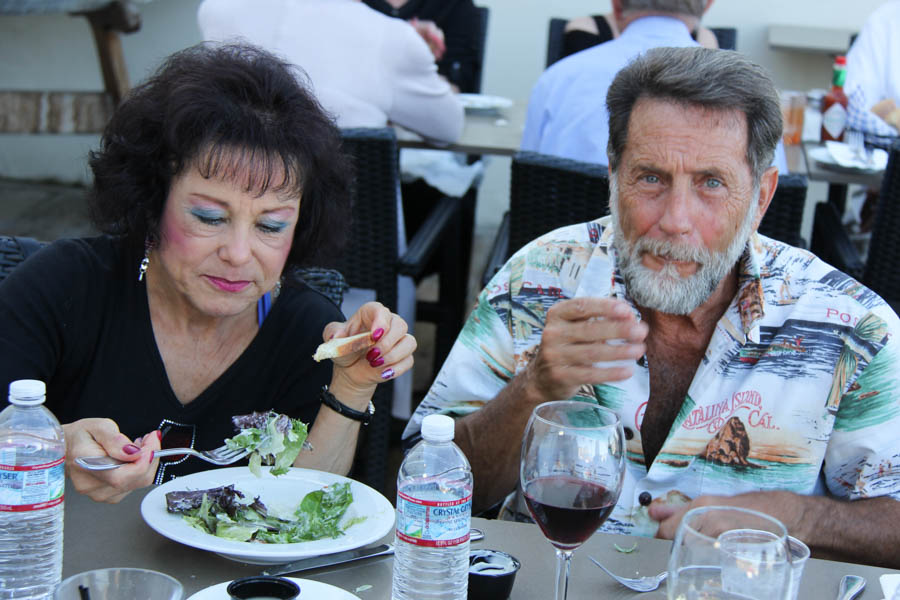 Bob is getting ready to see a movie this evening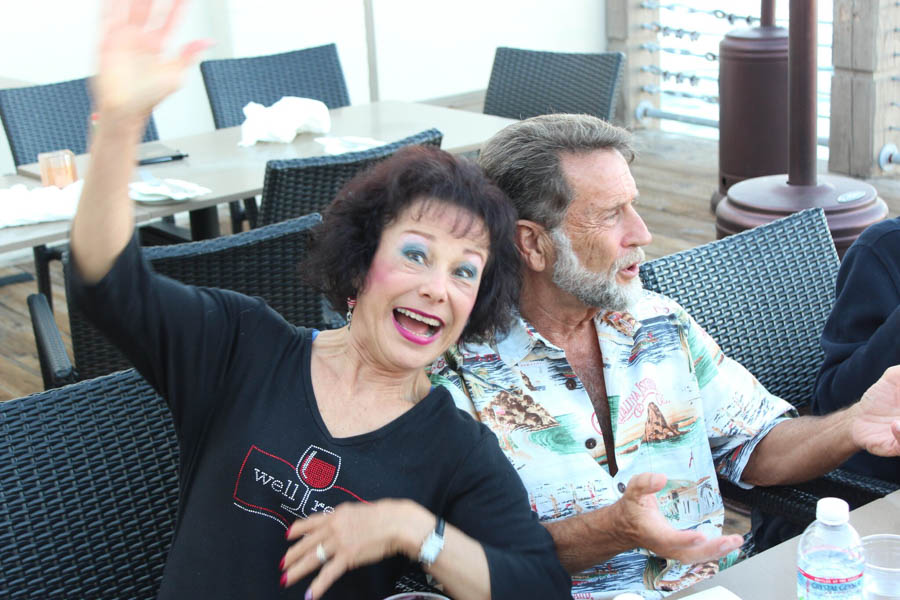 Time to see a movie (Courtesy of Sam)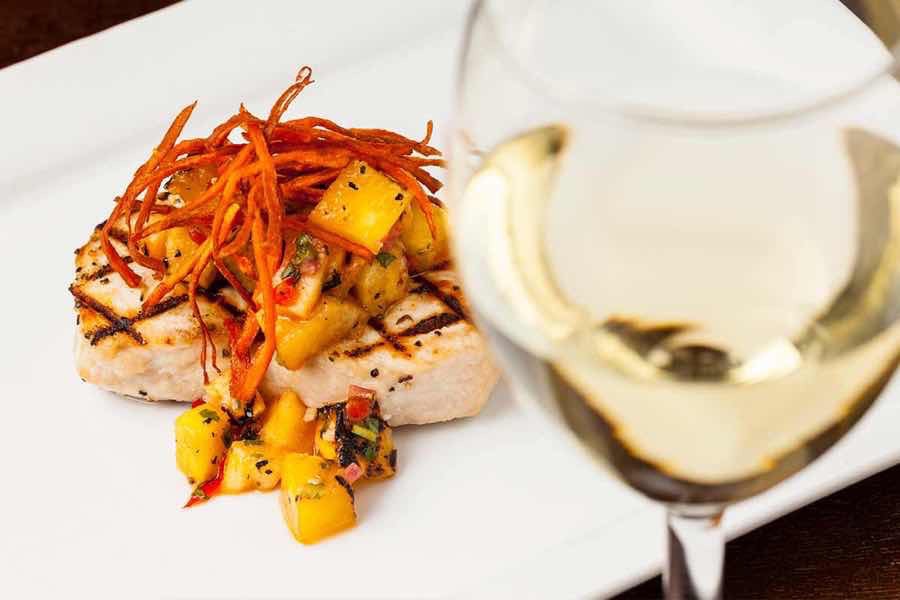 Grilled Swordfish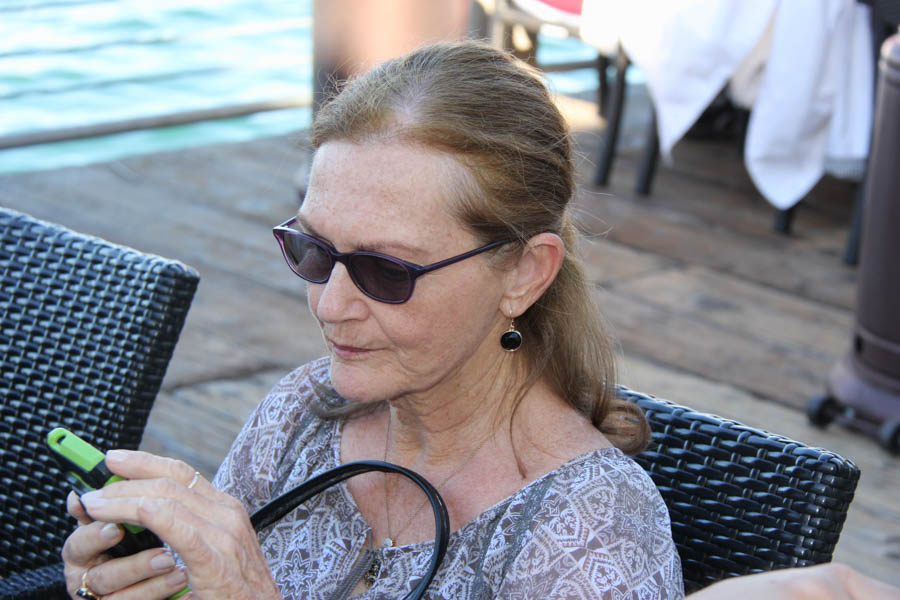 Checking the weather back home...

"Who cares about the weather!
I have my sweetie to keep me warm!" (Courtesy of Sam)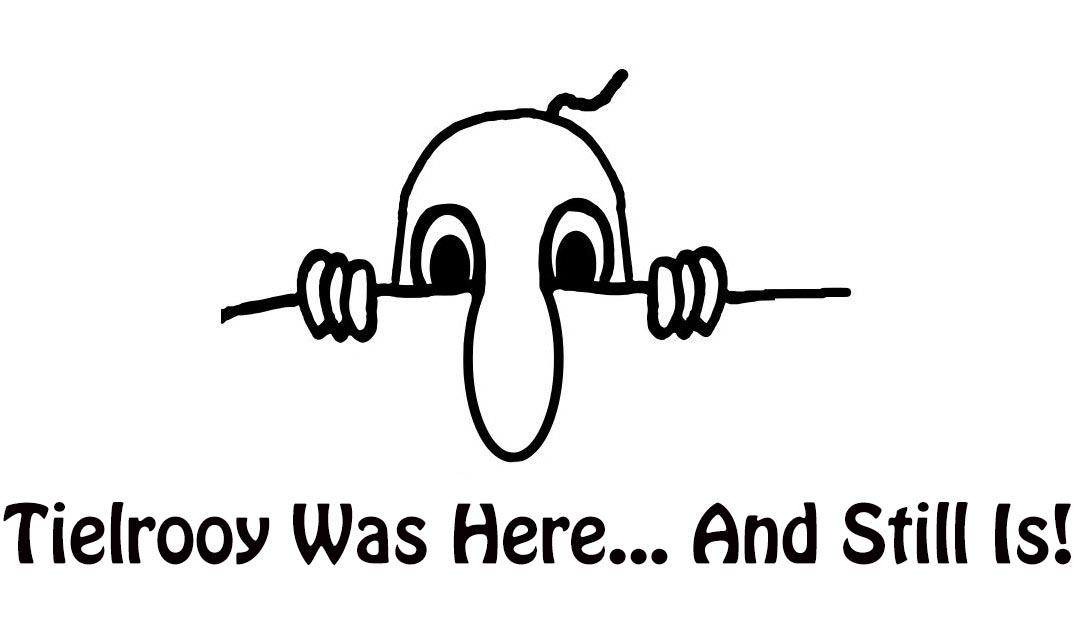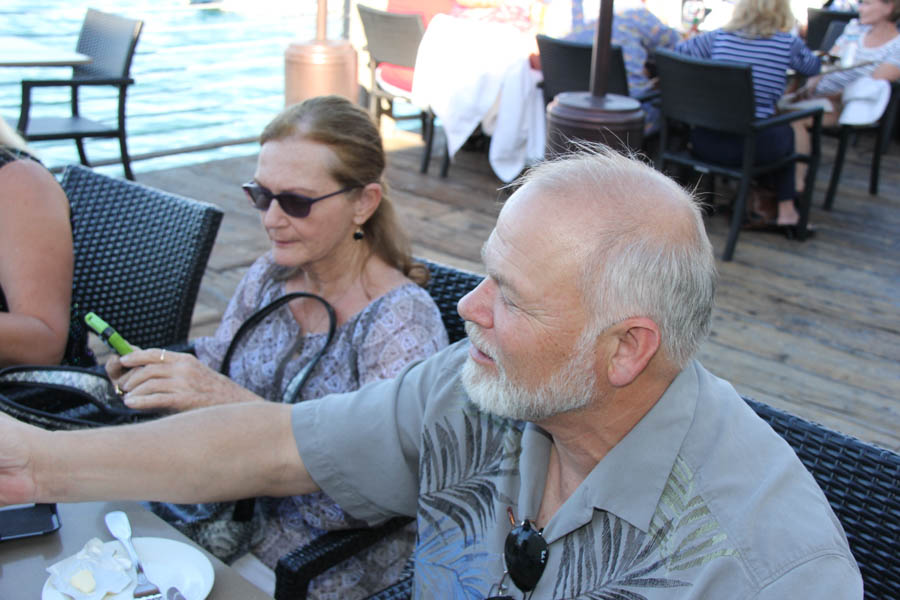 Dining alfresco
Did You Know? - In temperate climates, al fresco dining is especially popular in the summer months when temperatures and weather are most favorable. It is a style of dining that is casual and often party-like in its atmosphere.
The phrase al fresco is borrowed from Italian for "in the cool [air]", although it is not in current use in that language to refer to dining outside. Instead, Italians use the phrases fuori or all'aperto.
In Italian, the expression al fresco usually refers to spending time in jail.
The Spanish meaning of al fresco is similar to Italian, and Spaniards use fuera or al aire libre to refer to outside dining.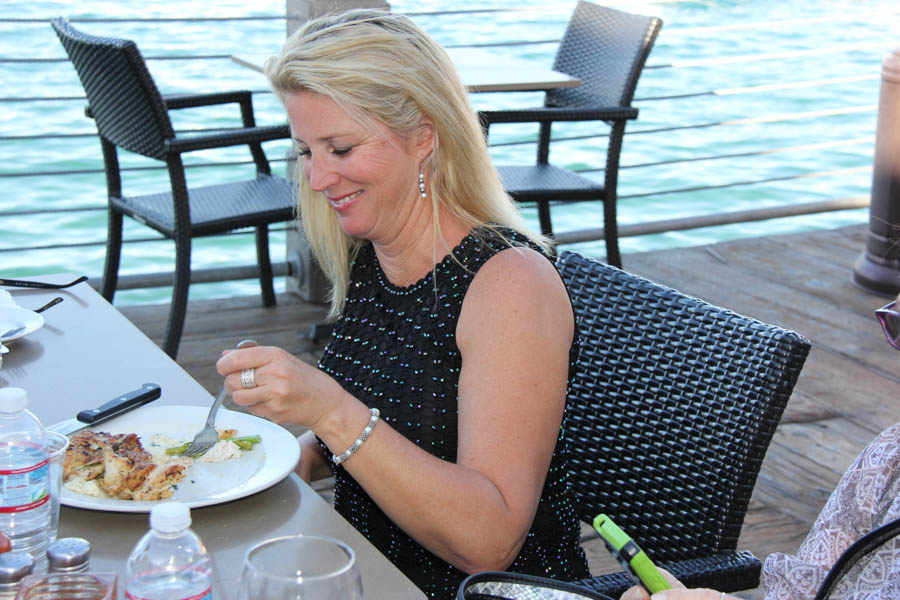 Carrie chows down!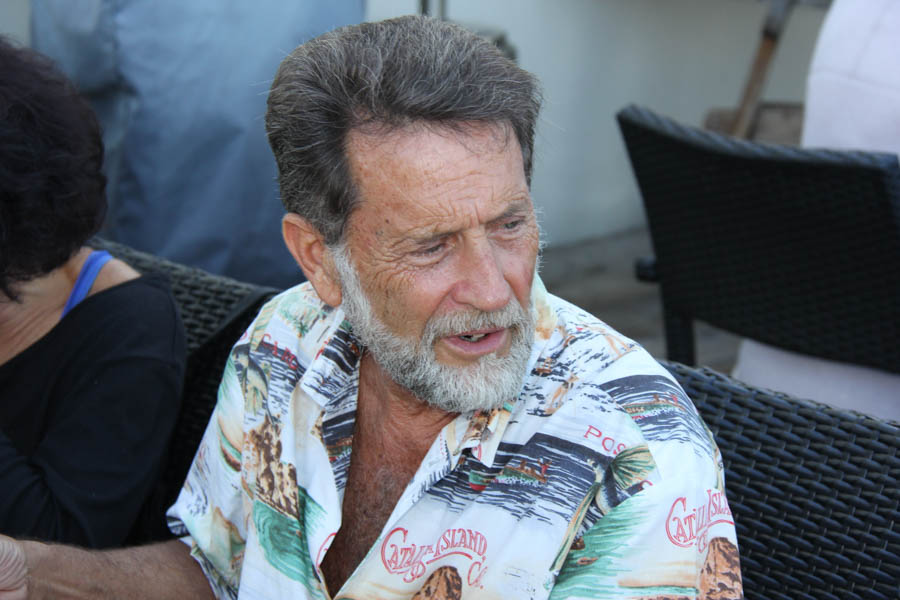 "Hey! That looks good... Pass it over, please!"

Brigitte sings "Um Um Good.... Um Um Good... This food is Um Um Good"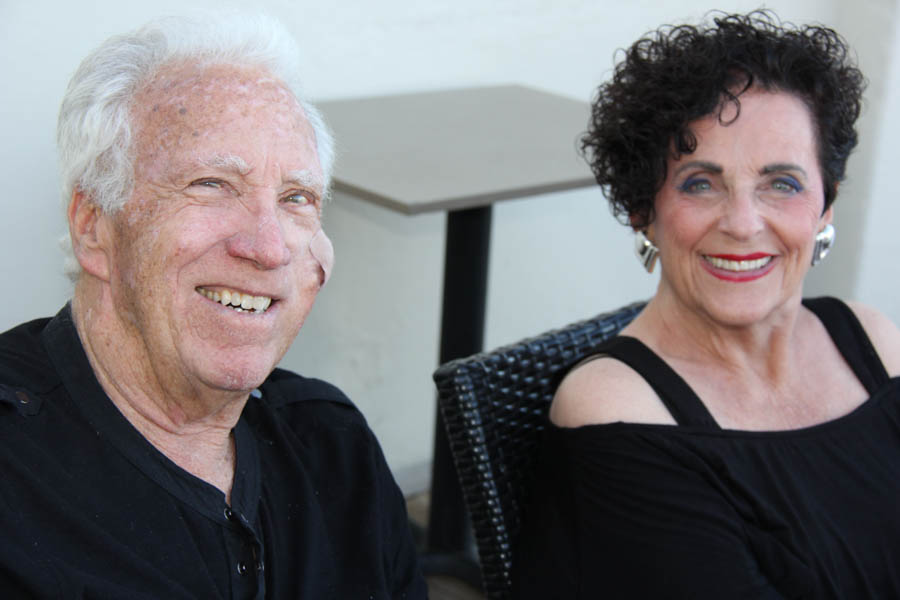 Sometimes sitting in the corner is a good idea!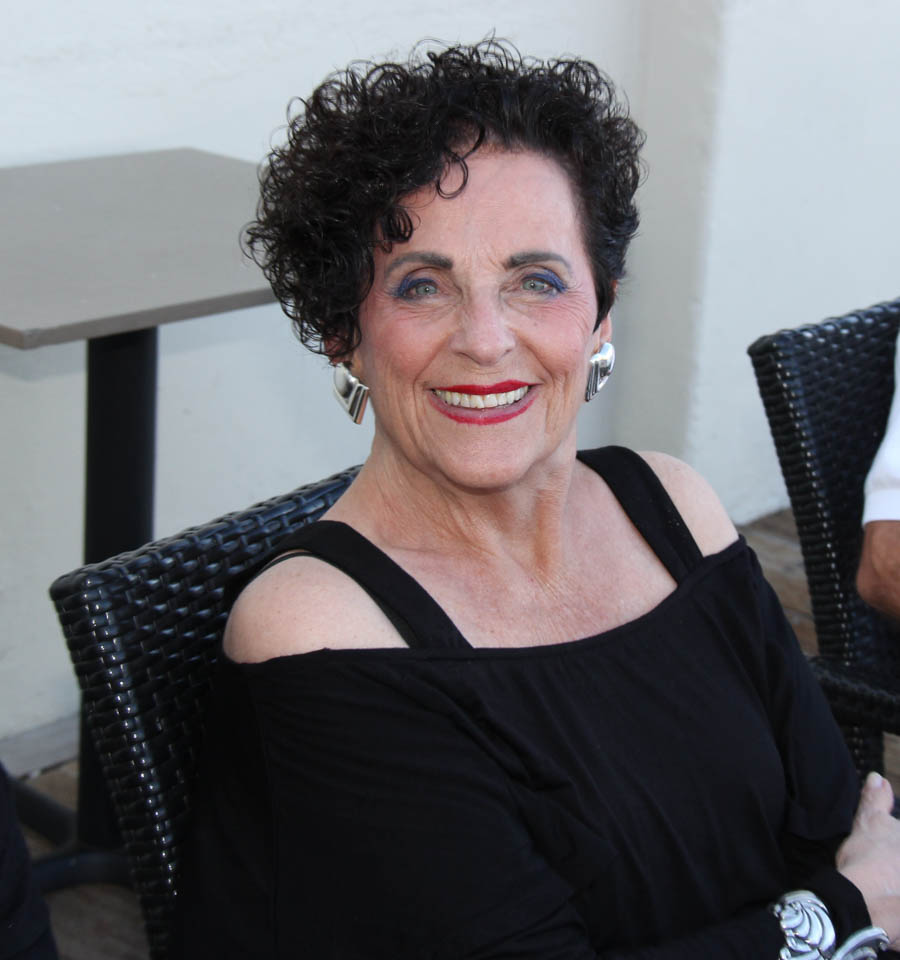 Dining by the sea!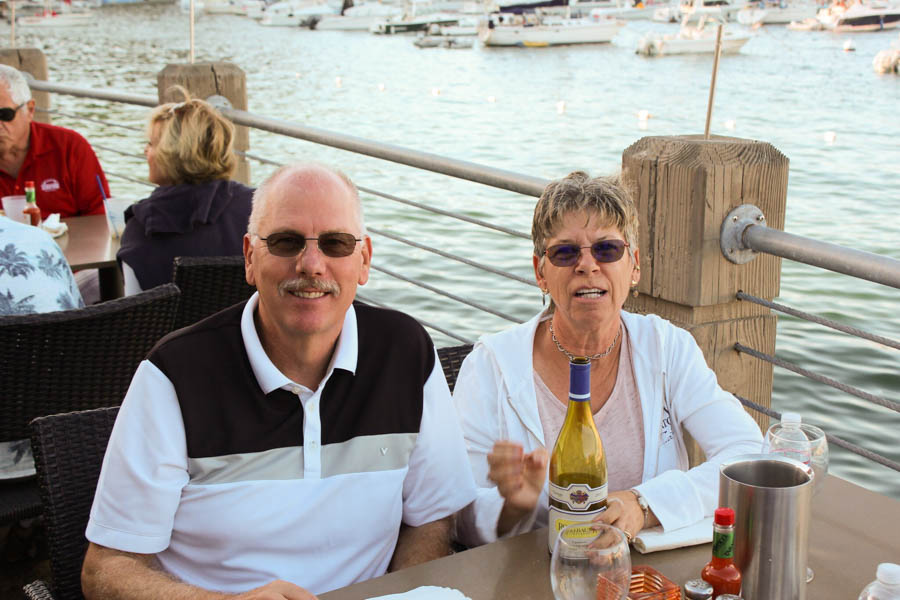 "Dang! There is a hole in the bottle!" (Courtesy of Sam)

The halibut was perfect
Did You Know? - Halibut is a the largest flatfish, with large fish weighing over 200 pounds. They look like overgrown flounder. The largest recorded halibut weighed 726 pounds and was over 15 feet long. They prefer deep, cold water, and have a life span of 40 years or more. There are two species, an Atlantic and a Pacific species, the Pacific species the smaller of the two.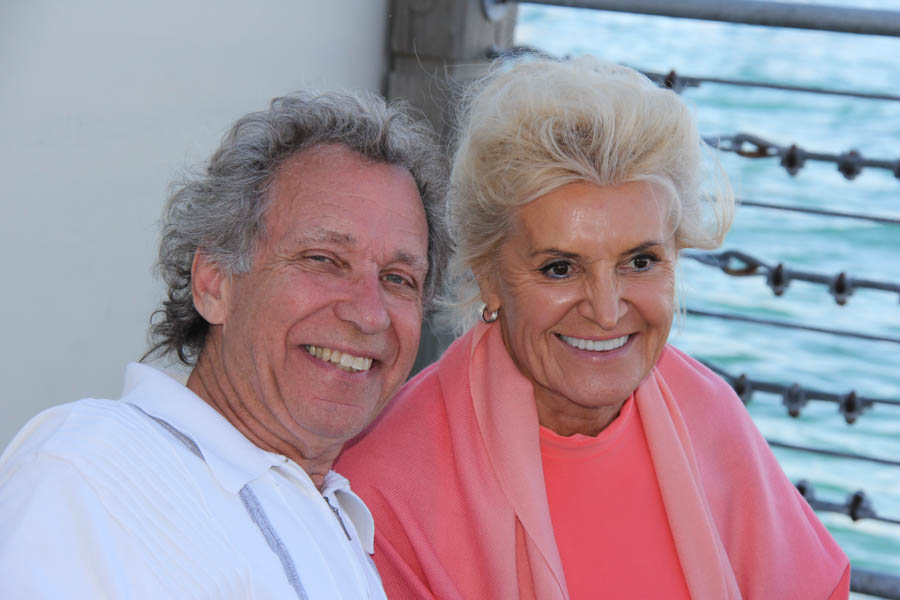 Looking good!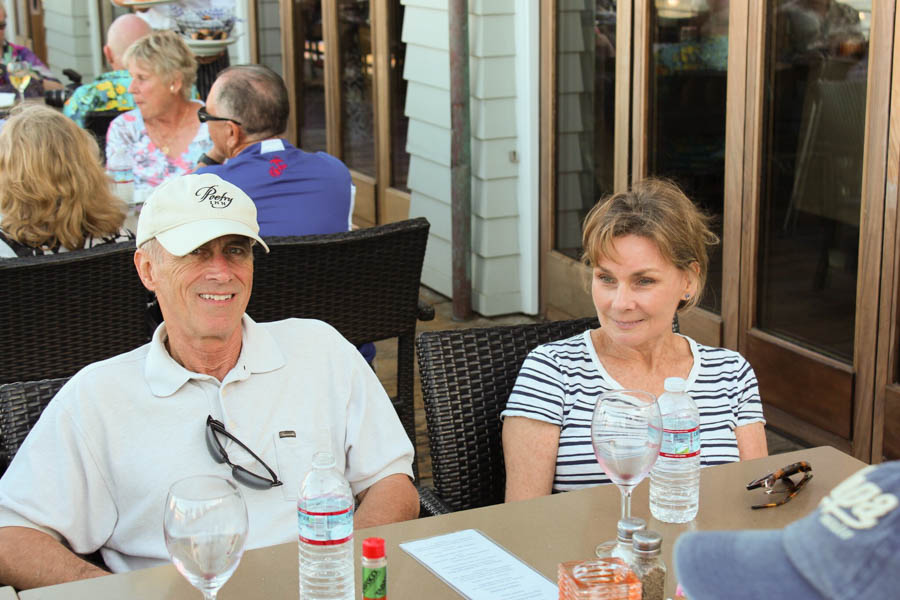 French Salt Water... A most delightful drink (Courtesy of Sam)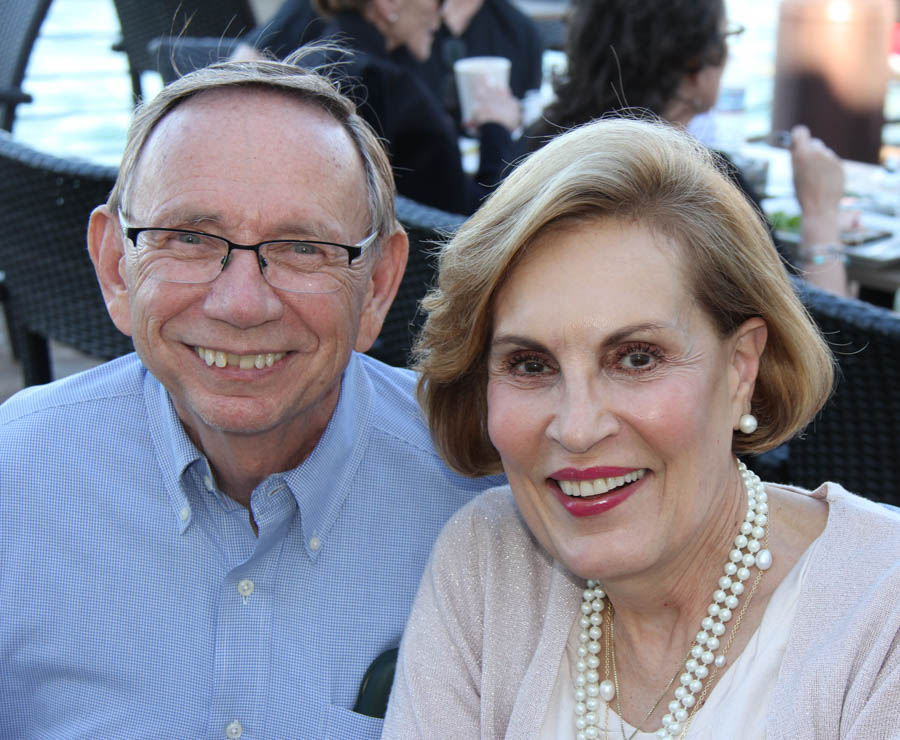 No... Tell me it ain't so!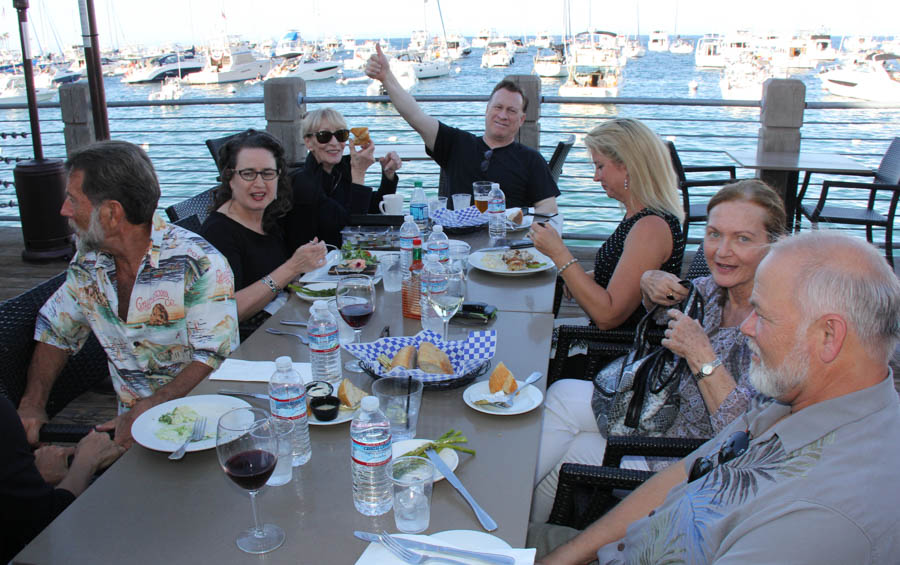 Yes... Dolphin Tacos!
Disclaimer - These are actually wonderful fish taco's.... The Bluewater Grill protects dolphins...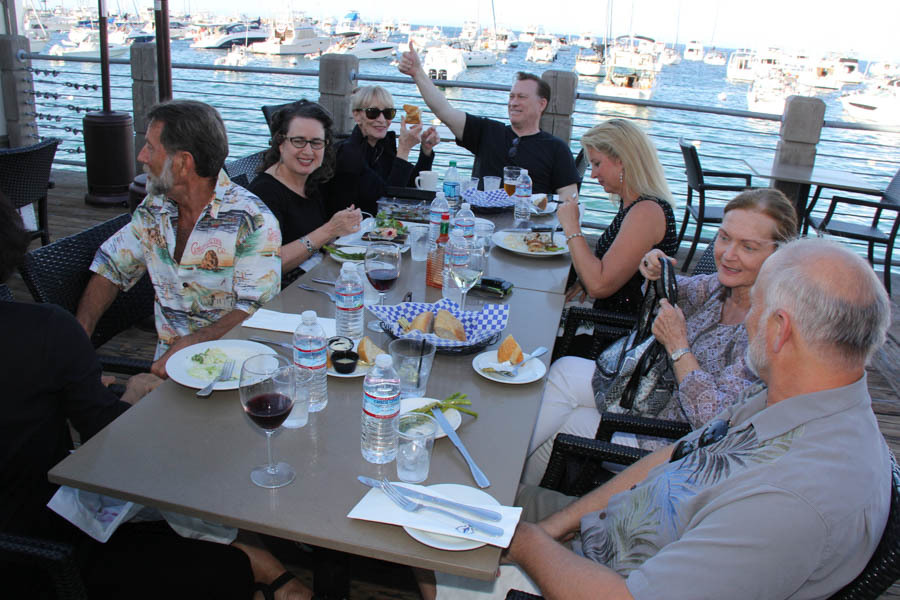 Great time in the old town tonight!

Why are these people in the corner?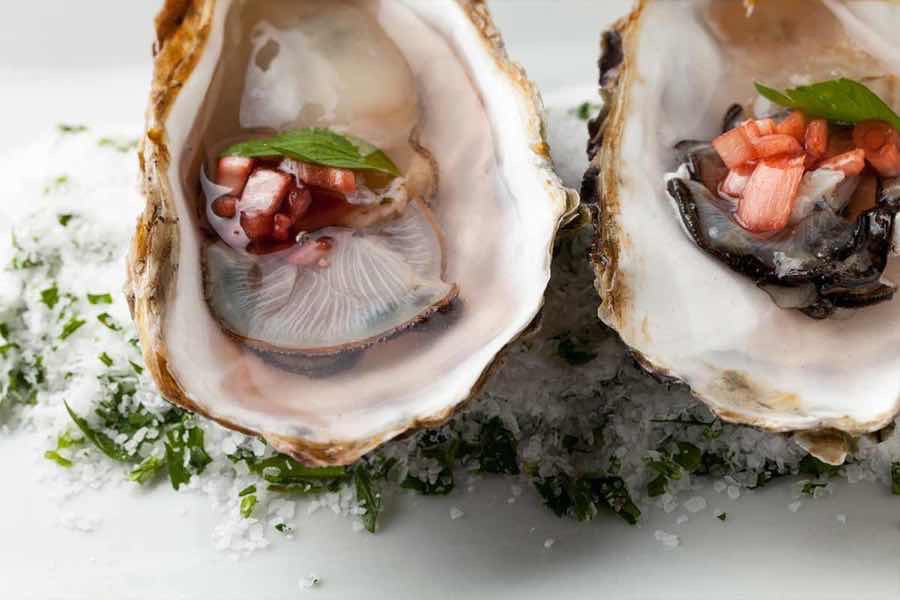 Oysters for the brave
Did You Know? - It is believed that Chesapeake Bay oysters have been gathered by humans for over 6,000 years.
The average 3 inch oyster filters about 50 gallons of water a day.
From 1880 to 1920, New York was the undisputed oyster capital of the United States.
In the mid to late 1800's conflicts between oystermen who used different types of gear and between those in Maryland and Virginia, escalated to deadly levels in a time known as the Oyster Wars. Maryland formed an Oyster Navy in 1868 to police the waters, enforce regulations and deter violence.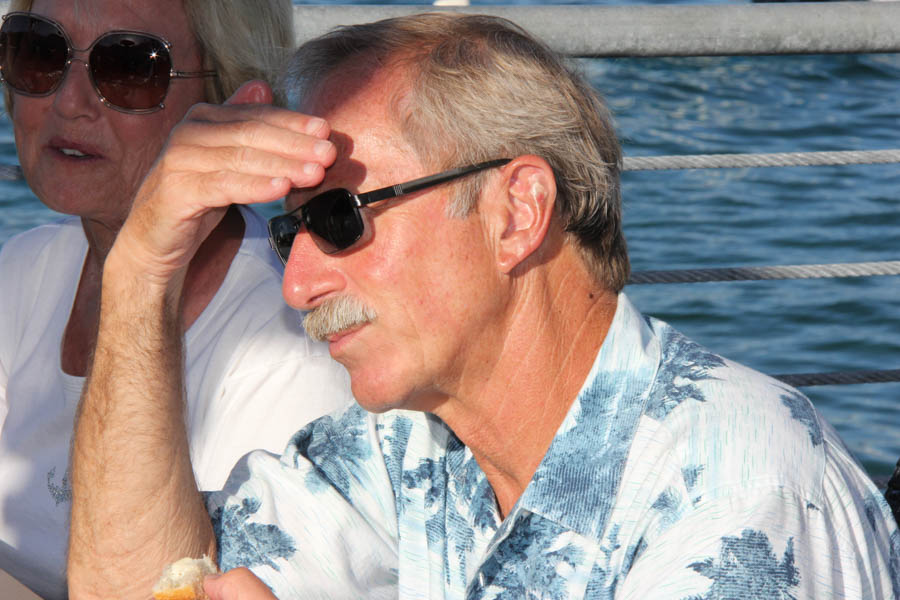 Some of us had sun for a while!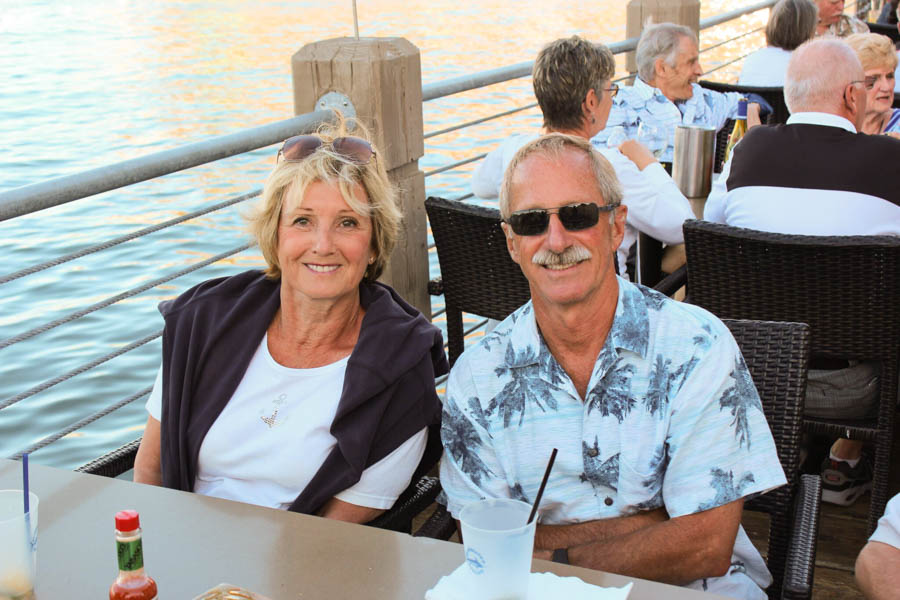 "Now the sun is gone" (Courtesy of Sam)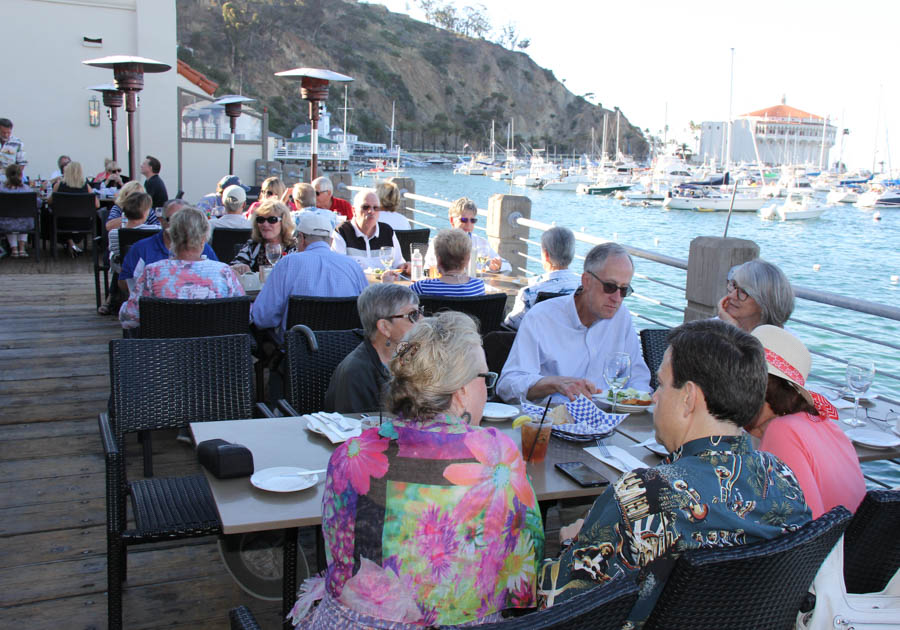 A beautiful view of the Avalon bay and Casino!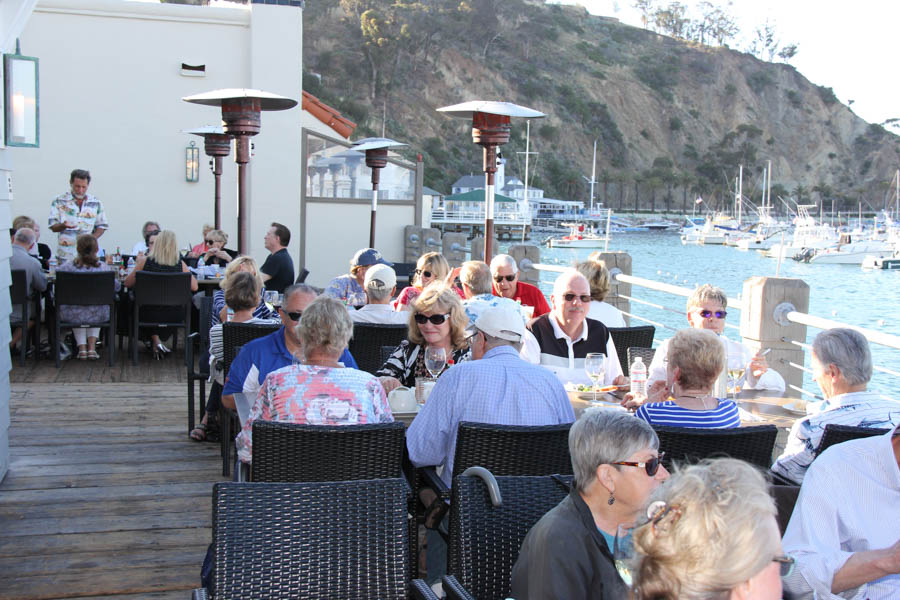 After a half hour, the heaters began to feel pretty good!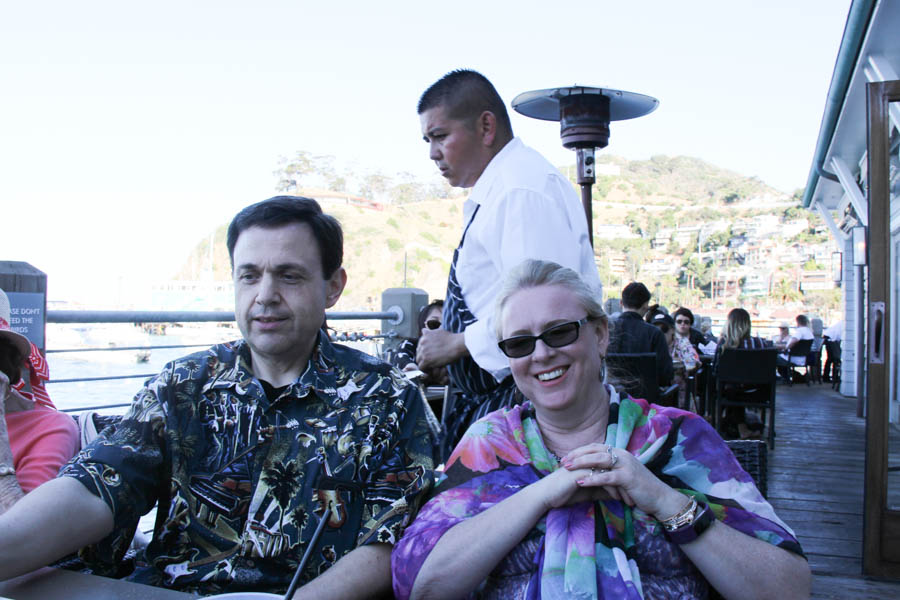 Tummy's full... Time to party!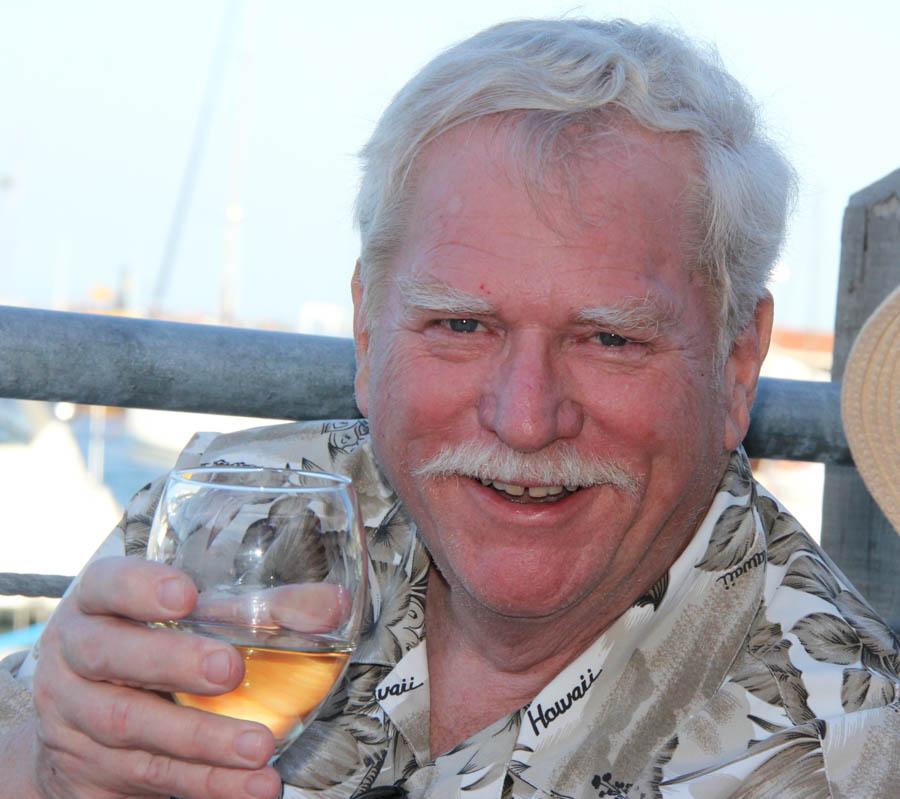 "Here's to fish!"

"Thanks to Sandy, I got to order something with a lot of letters and vowels!"

Fish stew... Good groceries
Did You Know? - Cioppino is a fish stew which originated with Portuguese and Italian fishermen in San Francisco, California. It consists of fish and shellfish cooked with garlic, tomato and white wine.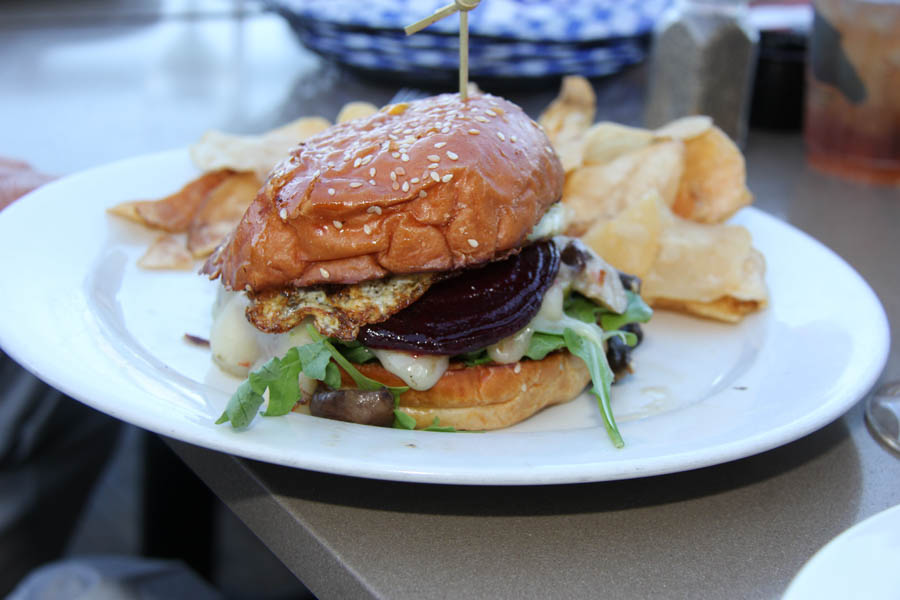 OK... Who ordered the burger?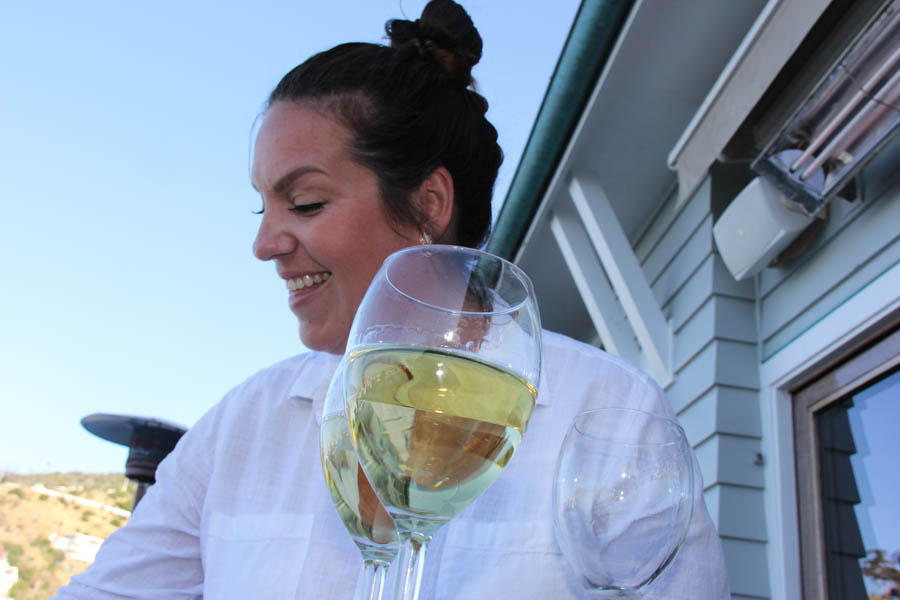 The head waiter was wonderful!!!!

Always a smile even when the seagulls were NOT being nice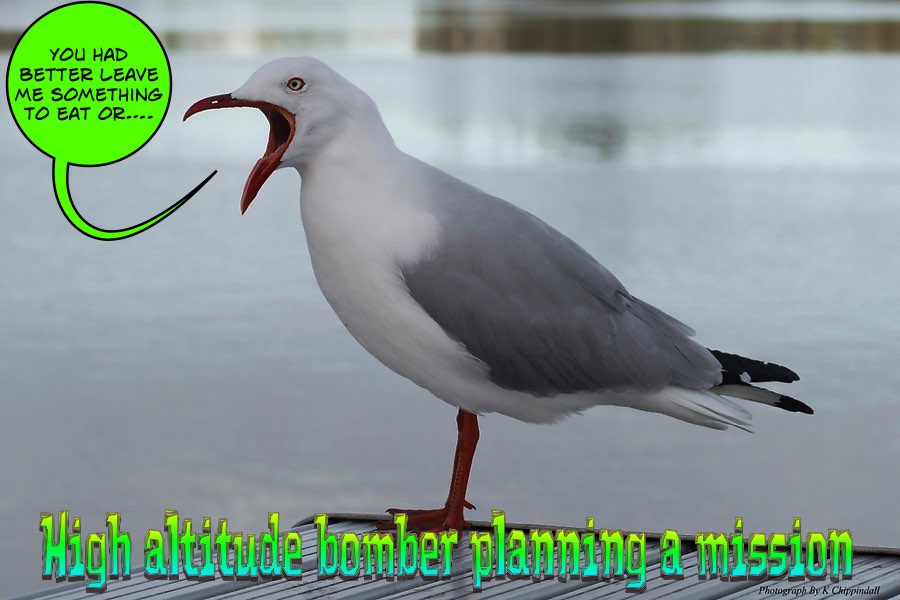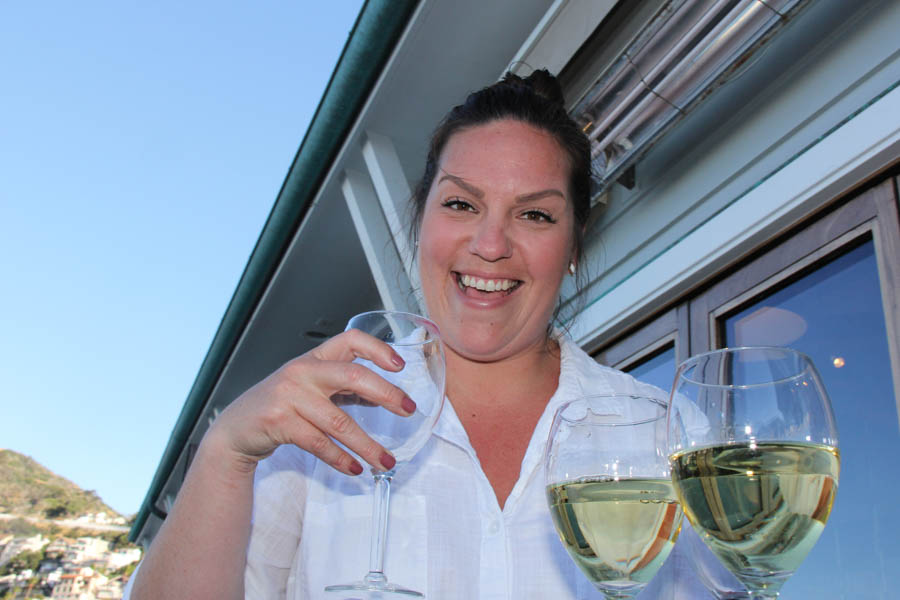 Ah.... The wine gets replenished!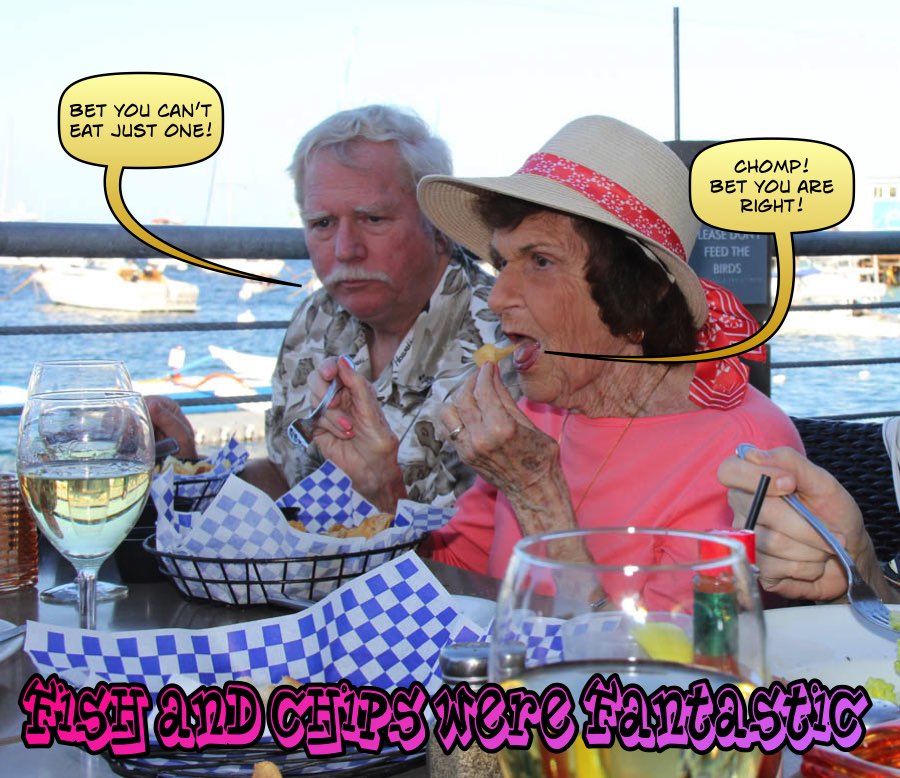 Fish and chips!
Did You Know? - Fish and chips is a hot dish of English origin consisting of fried battered fish and hot chips. It is a common take-away food and an early example of culinary fusion. First appearing in the 1860s, in 1910 there were more than 25,000 fish and chip shops across the UK, and by the 1930s it increased to over 35,000.
Fried fish was first brought to England by Western Sephardic Jews, and is considered the model for the fish element of the dish.
Originally, Western Sephardic Jews settling in England in the 17th century would have prepared fried fish in a manner similar to Pescado frito, which is coated in a flour.
Battered fish is first coated in flour then dipped into a batter consisting of flour mixed with liquid, usually water but sometimes beer. Some newer modifications to the recipe may have cornflour added, and instead of beer sometimes soda water is added.
In 1860, the first fish and chip shop was opened in London by Joseph Malin who sold "fish fried in the Jewish fashion".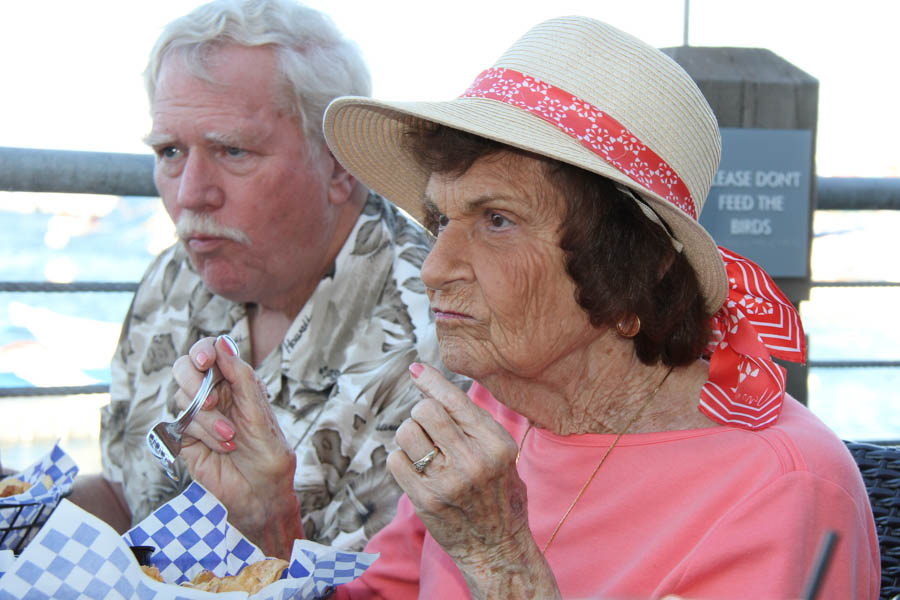 "Perrrrrrrrrrfect!"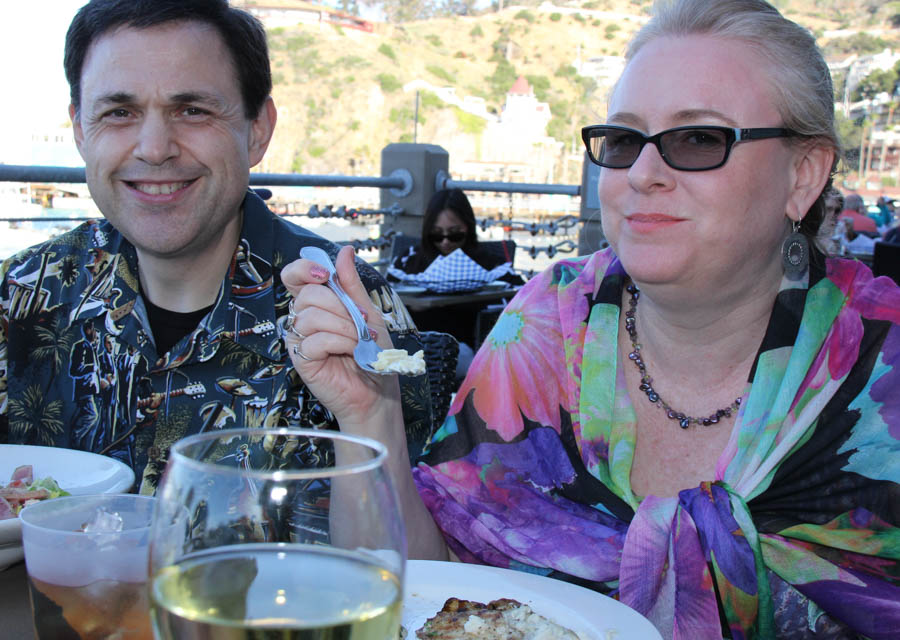 A delightful dinner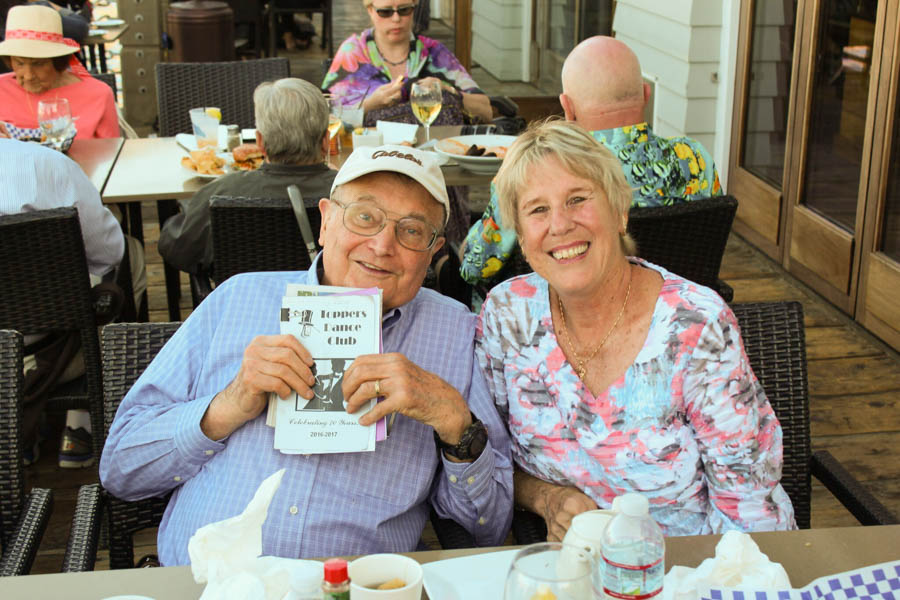 Walter has the secret decoder ring (Courtesy of Sam)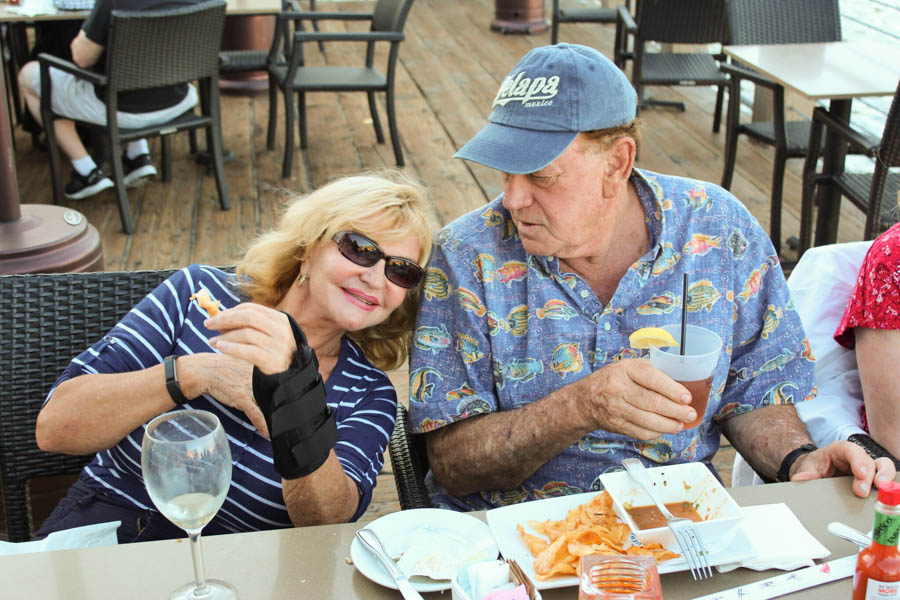 Ghislaine and Wally (Courtesy of Sam)

What set these two off is unknown but it had to be funny@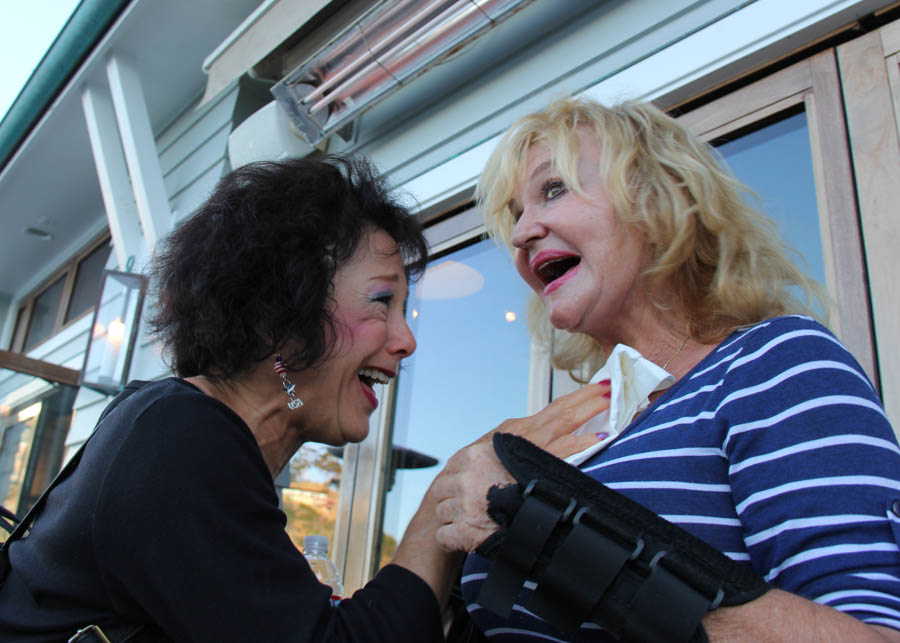 Perhaps a streaker?

OK... we are back to "normal"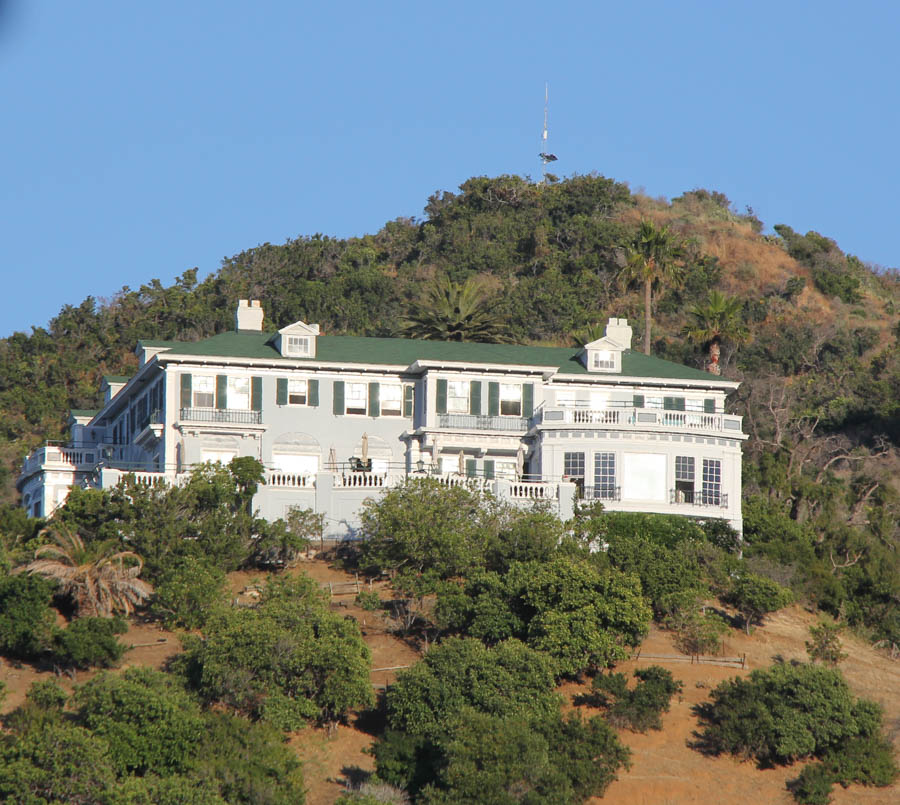 High on the hill... The Wrigley Mansion

We are heading to the casino to see the movie

The sun sets and the temperature drops... But still is a balmy 72 degrees!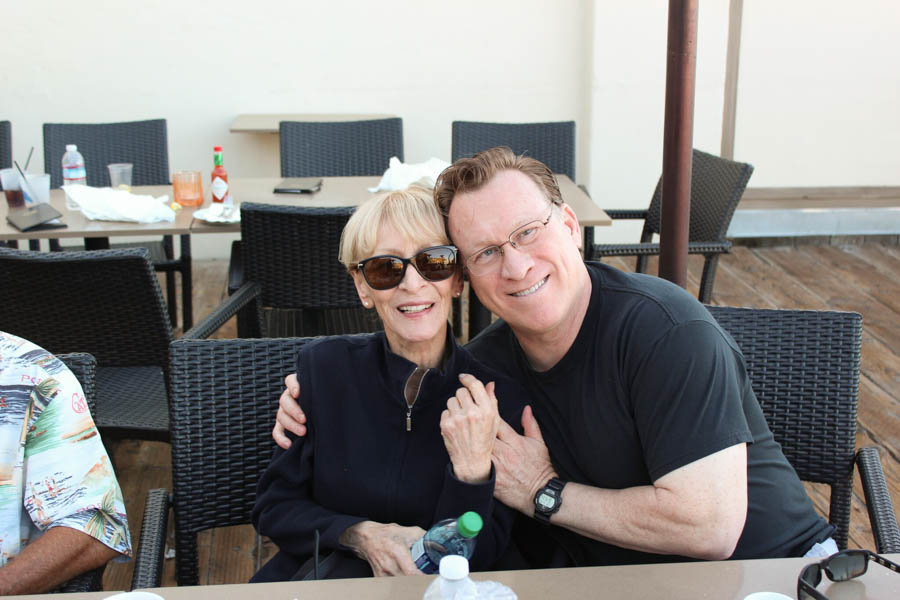 Romance is absolutely in the air (Courtesy of Sam)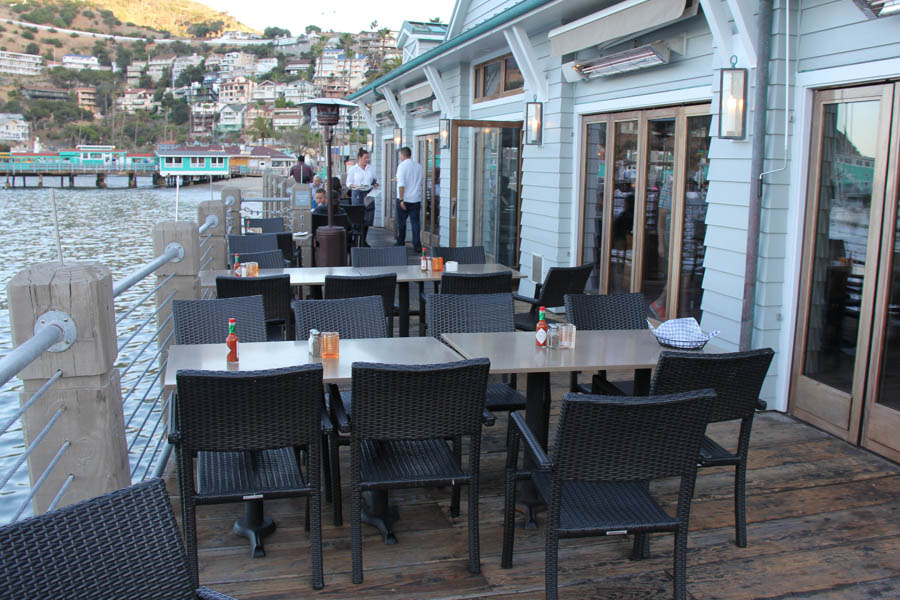 They turned the tables quickly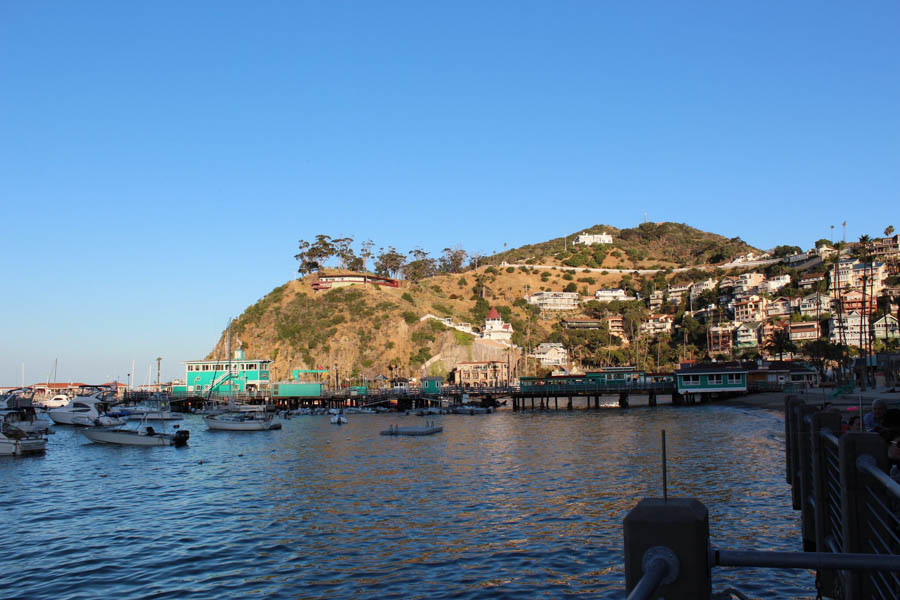 Good by beautiful view

Did You Know? - Guardians of the Galaxy is a fictional superhero team appearing in comic books published by Marvel Comics.

The organist was having fun and sounded great!
Did You Know? - With a height equal to a 12-story building, it was built to serve as a theatre on the main floor and a ballroom and promenade on the upper level.
Movie studio tycoons such as Cecil B. DeMille, Louis B. Mayer, and Samuel Goldwyn frequently came by yacht to the Casino to preview their newest cinema productions. It also serves as the island's civil defense shelter, large enough to accommodate Catalina's entire year-round population. Within its walls is stored enough food and water for all Avalon's residents for two weeks.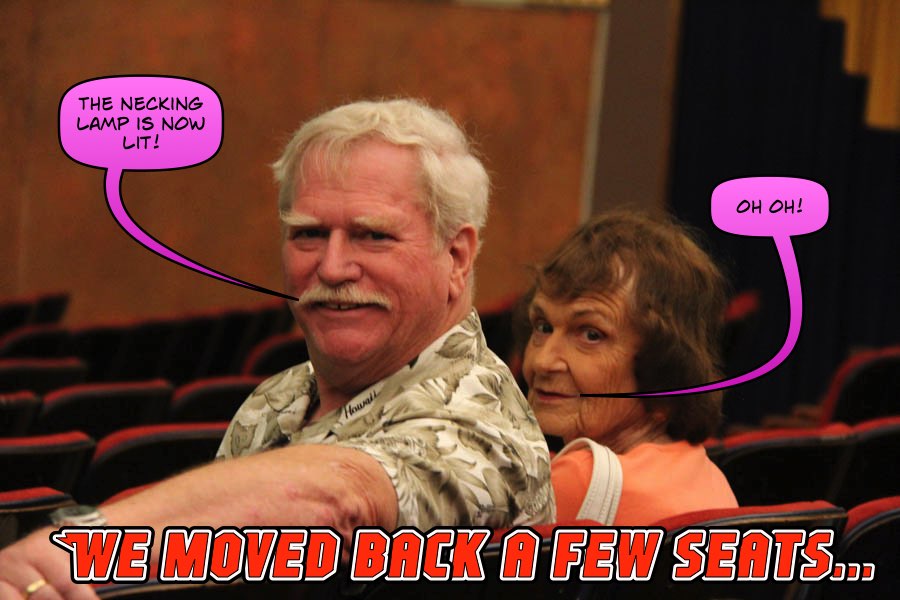 At times like this... Privacy is essential!

"Oh dear... where is the C#?"

Those art deco people were so.....

The movie is about to start so we can all take a nap!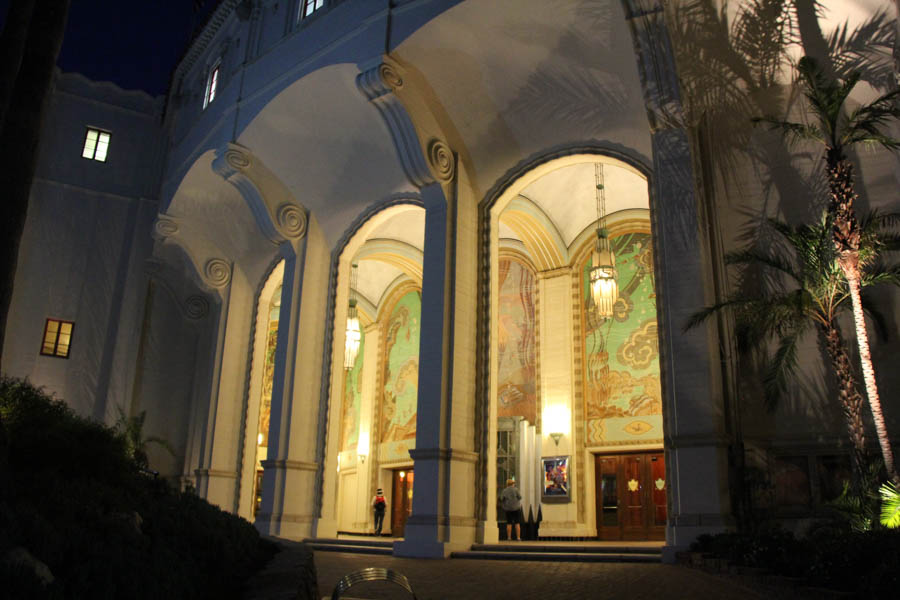 Movie was a bust but the theater was wonderful...
The acoustics were amazing
We could hear every word Gary said...
We had to leave early!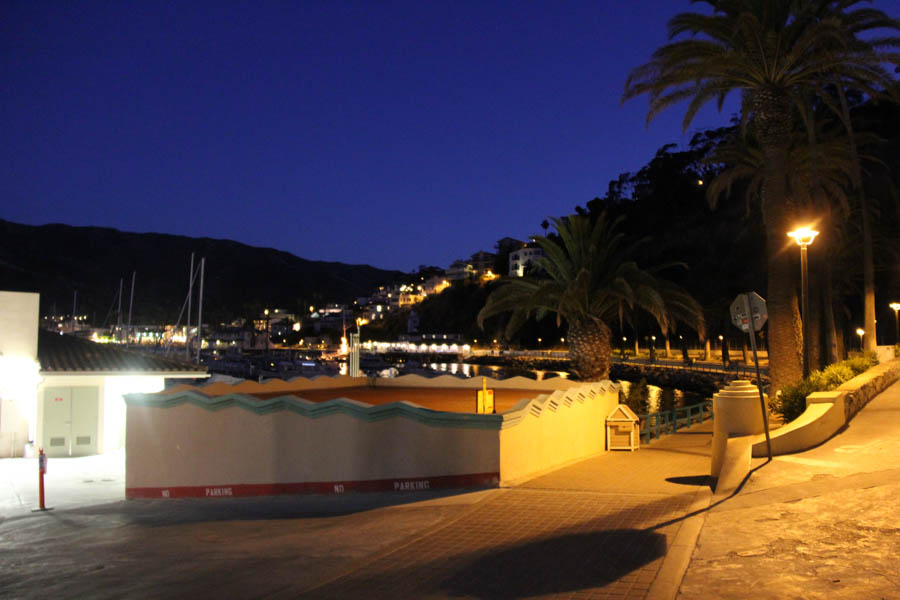 The evening walk home was super... Not cold at all!

Paul sang "Harbor Lights" much to the dismay of the sailors in their boats!
Did You Know? - "Harbor Lights" is a popular song by Hugh Williams (pseudonym for Will Grosz) with lyrics by Jimmy Kennedy. This song was originally sung by Frances Langford in 1937.

Such a beautiful building!
Did You Know?
The last time it snowed on the Island was in 1949.
As a teenager, popular golfer Tiger Woods played several Junior Golf Tournaments on the Avalon golf course.
Surface ocean temperatures around the island range from low 50's in winter to the low 70's in summer.
Average annual rainfall on the Island from the years 1950 to 2000 was 12.2 inches in Avalon and 13.8 inches at Catalina's Airport-in-the-Sky.
Actress Marilyn Monroe lived on the Island for a year and a half during WWII when her husband James Dougherty, a lieutenant in the Merchant Marine, was stationed in Avalon.
In 1924, sportsman and author of western novels Zane Grey built a pueblo style home overlooking Avalon Bay; today it is a hotel and the rooms are named after his books such as Riders of the Purple Sage and The Vanishing American.
Author and naturalist Charles Frederick Holder founded the Tuna Club in Avalon in 1898.
As a youth, famous WWII leader and four-star general George S. Patton Jr. spent his summers on Catalina Island.
Eight miles of breakwater along the coast of Southern California are constructed with rock quarried on Catalina Island.
The only poisonous snake found on the Island is the Pacific Rattlesnake.
From 1894 to 1898 Otto J. and Oswald Zahn conducted a pigeon mail service between Avalon and Bunker Hill in downtown Los Angeles.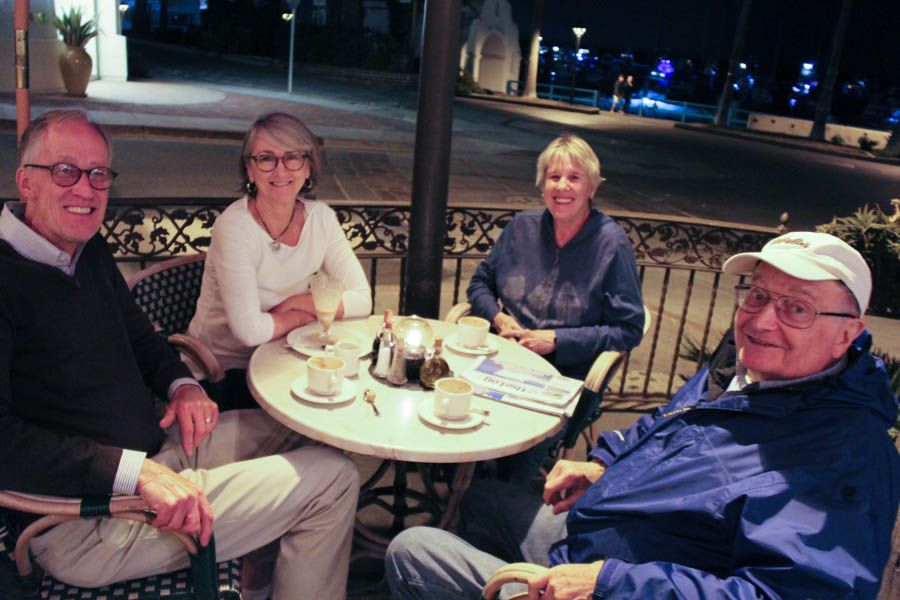 Coffee at the watering hole? OMG, what is the world coming to?

The inside was busy!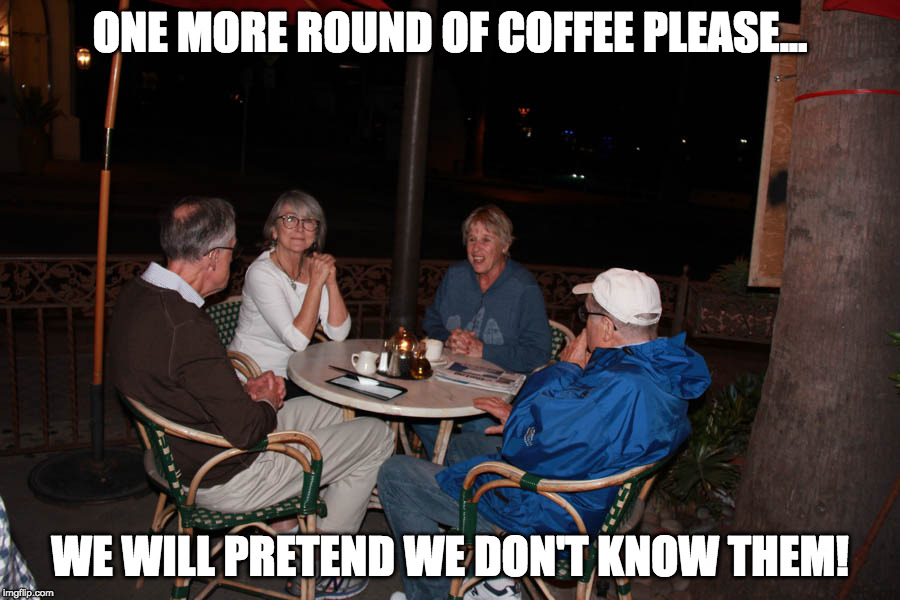 Well.. We had to protect our reputation!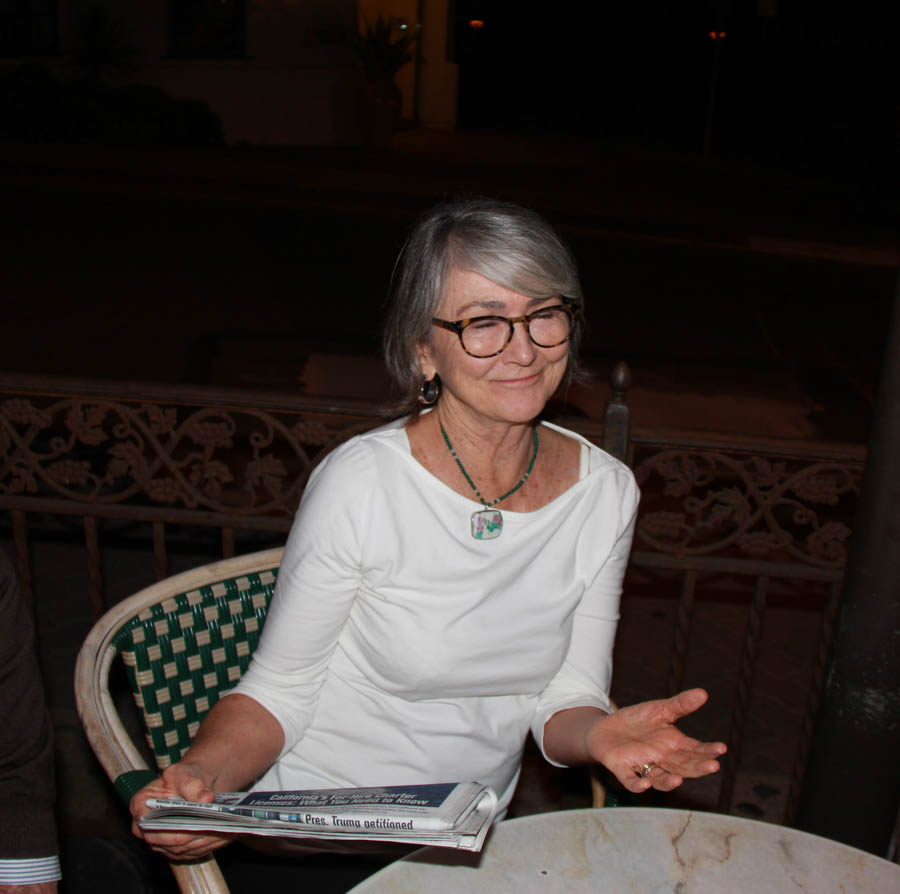 We are being good girls!


Sue, Carrie, and Cathleen enjoy a cocktail!

One last shot from out of our room before "Lights Out"


Page 6 - Saturday Morning