The Party Continues... (Page Two)
Massive quantities have been consumed so it is time to work of them pesky. We will burn about 800 of them little pesky calories if we dance for three hours!

Donna decorates their doggie box
Did you know? - Styrofoam is a trademark of Dow Chemical Company for extruded polystyrene foam presently made for thermal insulation and craft applications.

In 1941, researchers in Dow's Chemical Physics Lab found a way to make foamed polystyrene. Led by Ray McIntire, they had "rediscovered" a method first discovered by Swedish inventor Carl Georg Munters. Dow acquired exclusive rights to use Munter's patents and found ways to make large quantities of extruded polystyrene as a closed cell foam that resists moisture. Because of its insulating properties, buoyancy and "unsinkability," it was adopted in 1942 by the U.S. Coast Guard for use in a six-person life raft. Styrofoam can be used for building materials, including insulated sheathing, pipe insulation and floral and craft products. Styrofoam insulation has been used in many notable buildings and facilities in North America. The Dow insulation product can be identified by its distinctive blue color; Styrofoam for craft applications is available in white and green.

In the United States, the word styrofoam is often used as a generic term for expanded polystyrene foam, such as disposable coffee cups, coolers or packaging material, which are typically white and are made of expanded polystyrene beads. This is different from the extruded polystyrene used for Styrofoam insulation. The polystyrene foam used for craft applications, which can be identified by its roughness and by the fact that it "crunches" when cut, is not specifically identified as expanded or extruded.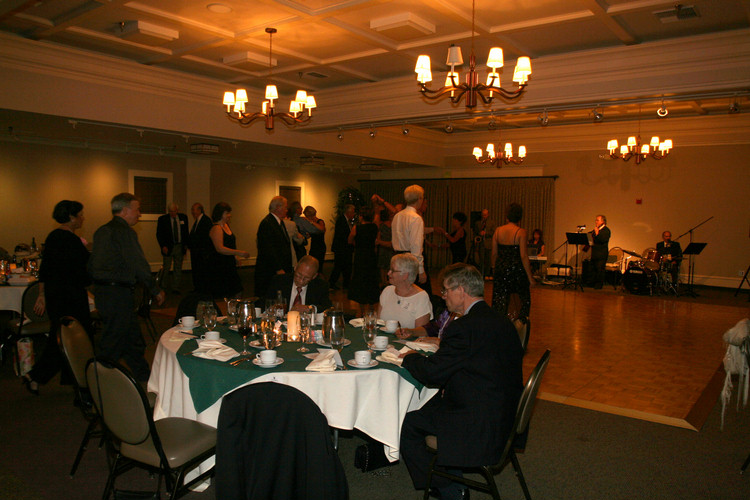 We had a great dance floor - Plenty of room!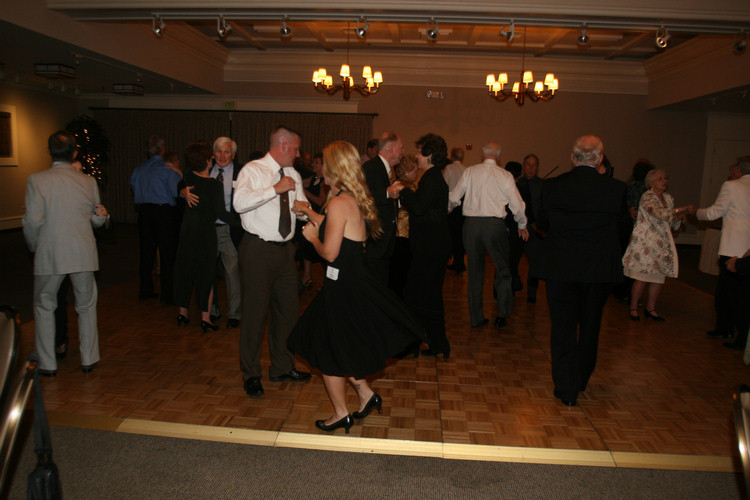 Super music the whole evening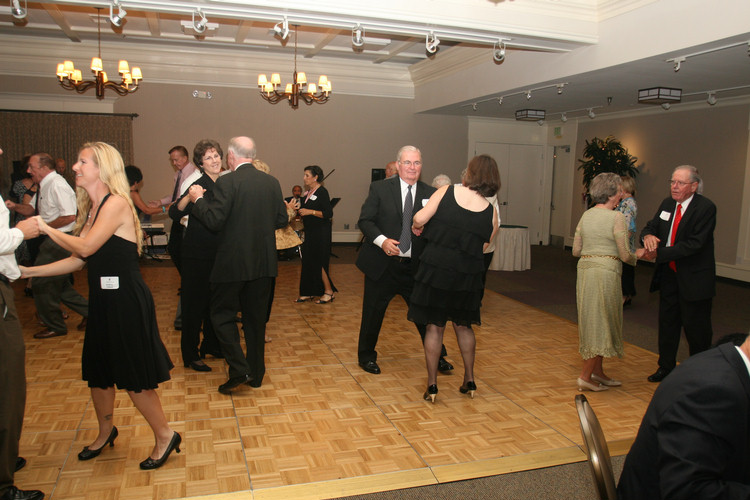 Mike is filling out the survey while Judy looks on

Adrienne visits our guestsl Jeanine Clark and Bob Margoles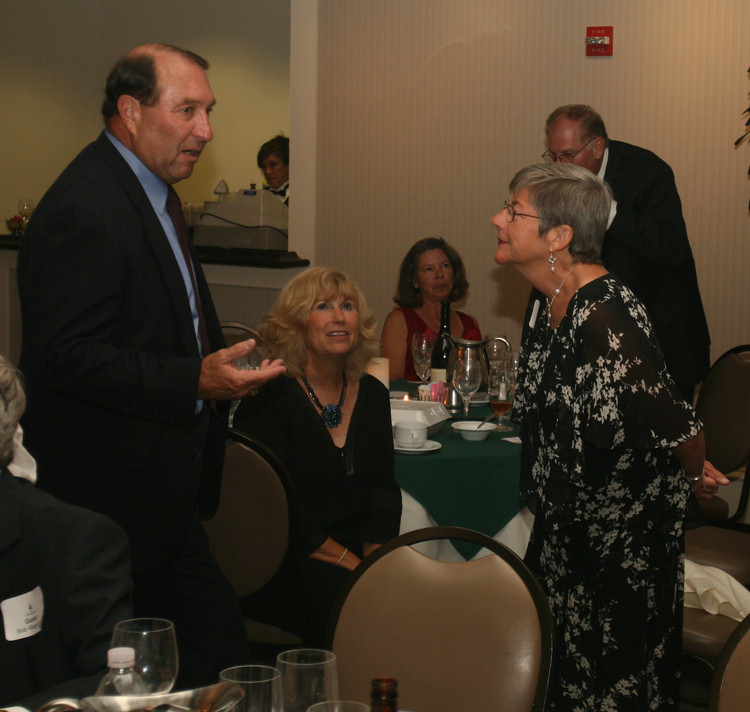 The conversations get serious
Did you know? - A conversation is communication between multiple people. It is a social skill that is not difficult for most individuals. Conversations are the ideal form of communication in some respects, since they allow people with different views on a topic to learn from each other. A speech, on the other hand, is an oral presentation by one person directed at a group.

For a successful conversation, the partners must achieve a workable balance of contributions. A successful conversation includes mutually interesting connections between the speakers or things that the speakers know. For this to happen, those engaging in conversation must find a topic on which they both can relate to in some sense. Those engaging in conversation naturally tend to relate the other speaker's statements to themselves. They may insert aspects of their lives into their replies, to relate to the other person's opinions or points of conversation.

Conversation is indispensable for the successful accomplishment of almost all activities between people, especially the coordination of work, the formation of friendship and for learning.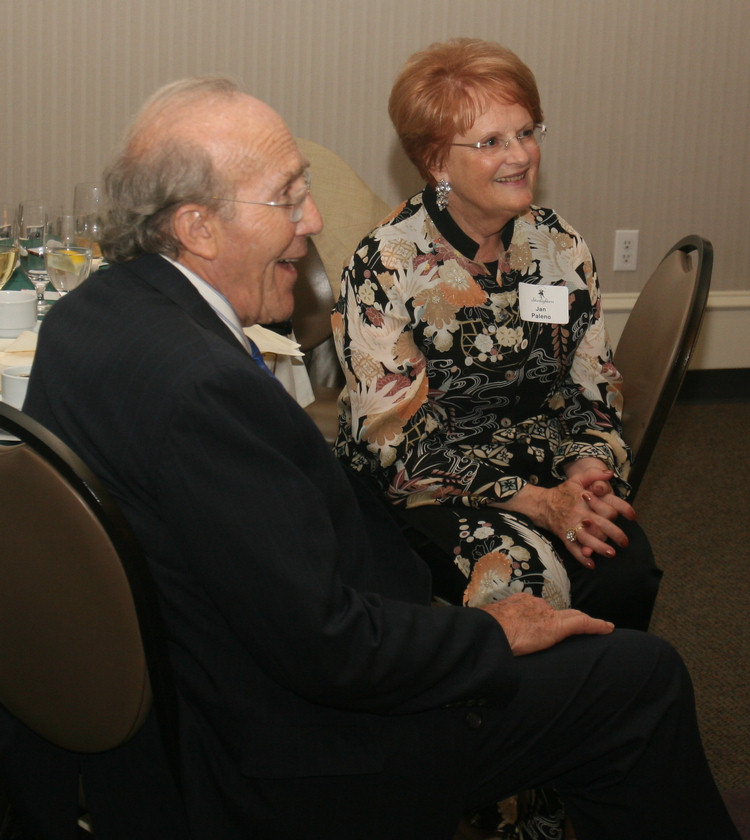 Donna And Bob Slow Down For A Few Seconds Between Dances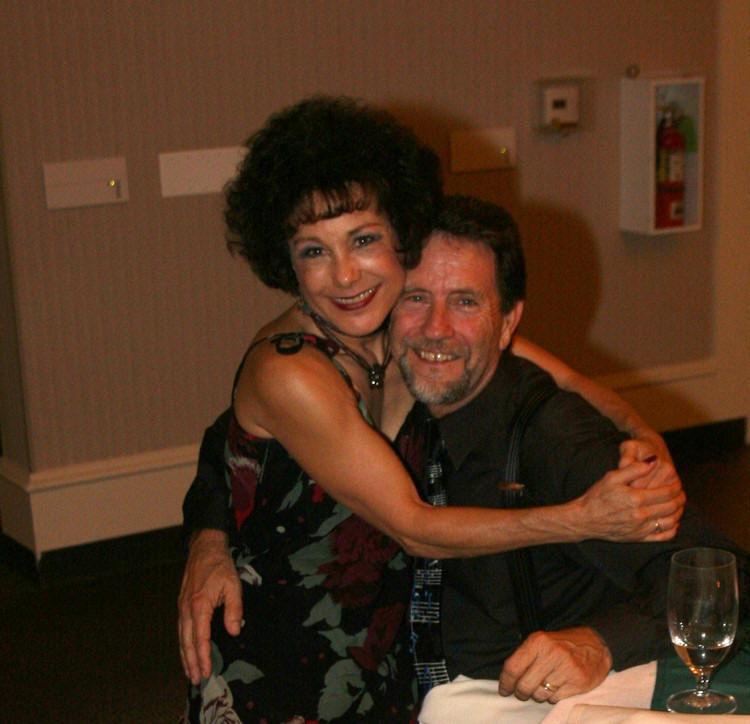 Donna and Bob take a short break
Time For Our Fearless Leader To Address The Membership!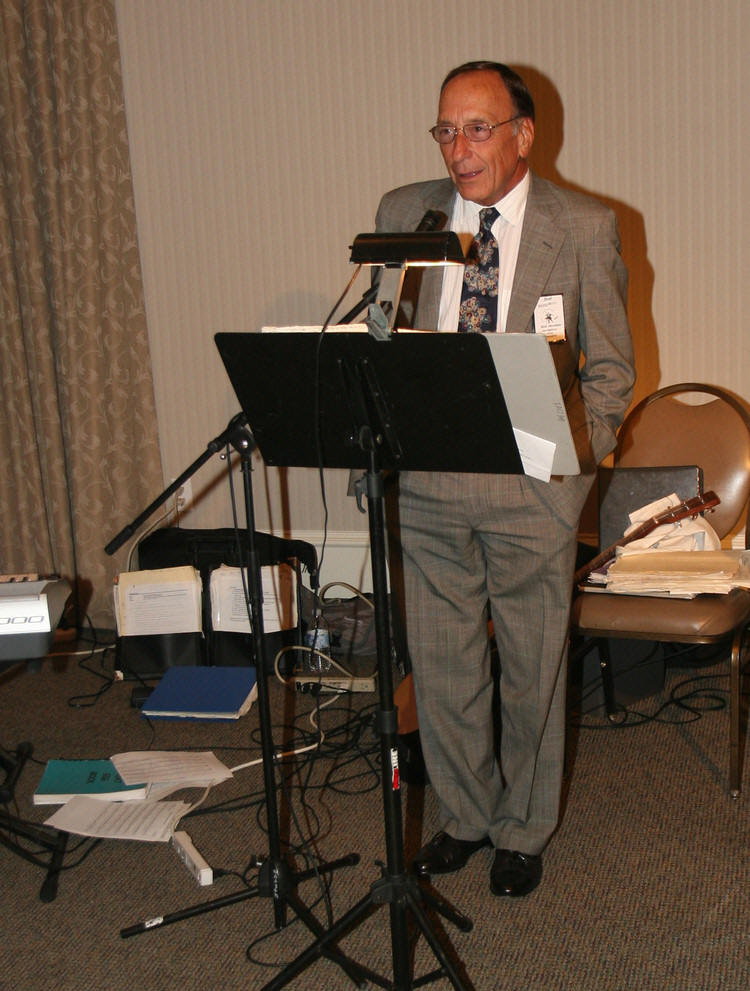 Bob provides excellent leadership of the club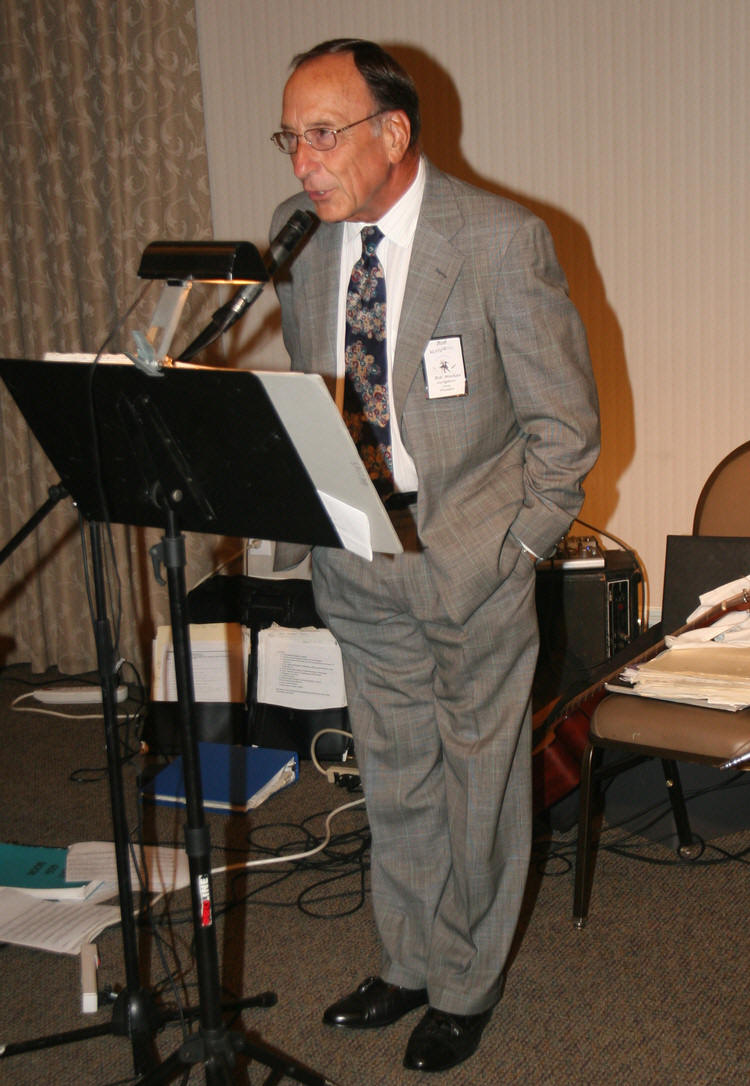 Do you remember "Fearless Leader"? - Remember the Adventures of Rocky the Flying Squirrel and Bullwinkle Moose? Fearless Leader is the dictator of the fictional nation of Pottsylvania, and the employer of the inept spies Boris Badenov and Natasha Fatale. He could always be found in his underground hideout, "Central Control." However, it seems evident that he did answer to one man himself: the diminutive Mr. Big. Mr. Big appears in two storylines of the series, "Upsidaisium" and "Metal Munching Moon Mice."

As expected from his given position and name, Fearless Leader is a strict, ruthless character, and often harshly criticizes the incompetence of his main minion Boris. He is distrustful of his own government employees, and is known to carry the Pottsylvania treasury with him wherever he goes. (One occasion had him furious that the Treasurer stole the treasury and he didn't think of it first.) Although Pottsylvania's chief spies are given ersatz Russian accents, Fearless Leader's accent seems more in keeping with the German stereotype. In fact, his sharply-angled features were taken directly from an anti-Nazi propaganda poster that had circulated during World War II.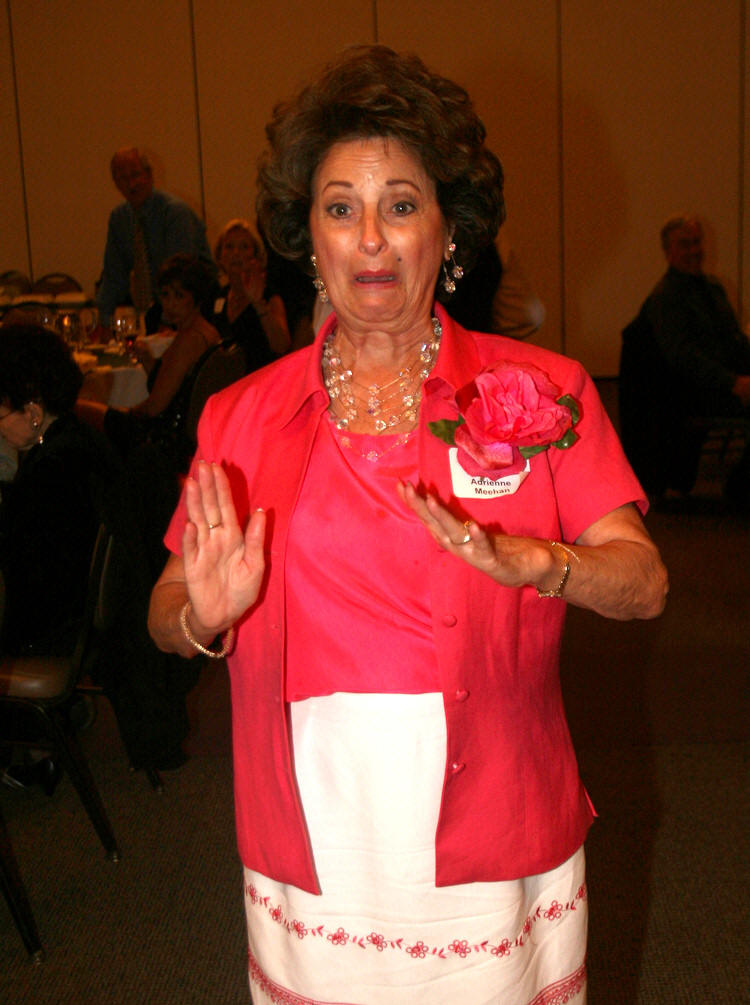 Adrienne is just so very funny... She poses here at the insistence of the friendly photographer!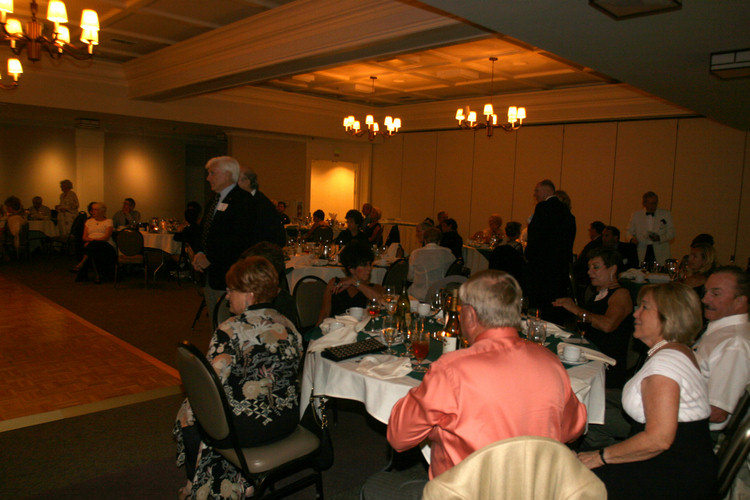 .... and the crowd goes wild!

Our guests are introduced!

Hail to the champ!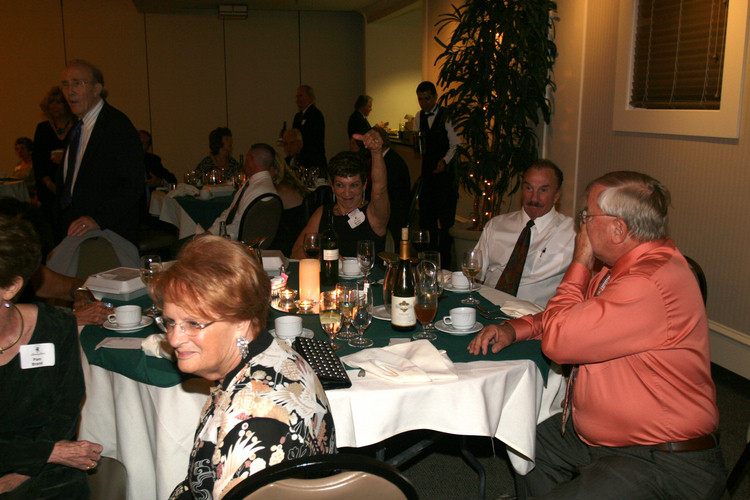 "Yes Mrs Bailey, your hand it up?"

"Guess what I am thinking?"

"Yo, Fearless! Announce the next dance!"

Adrienne, the power behind the throne!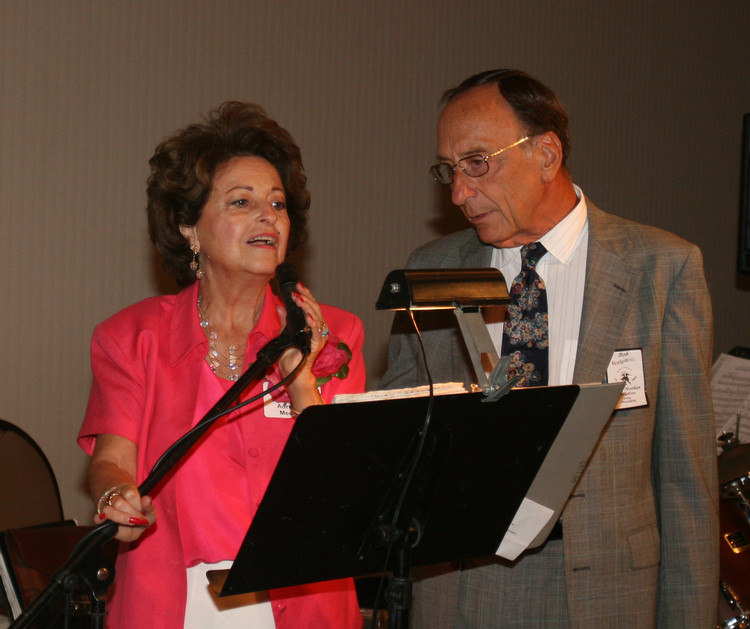 "P-s-s-s-s-s-t... You are off script dear!"
Nice Sized Room And Dance Floor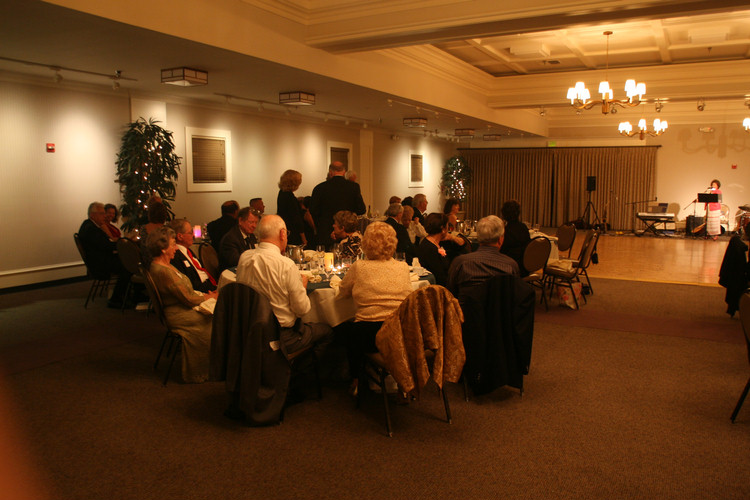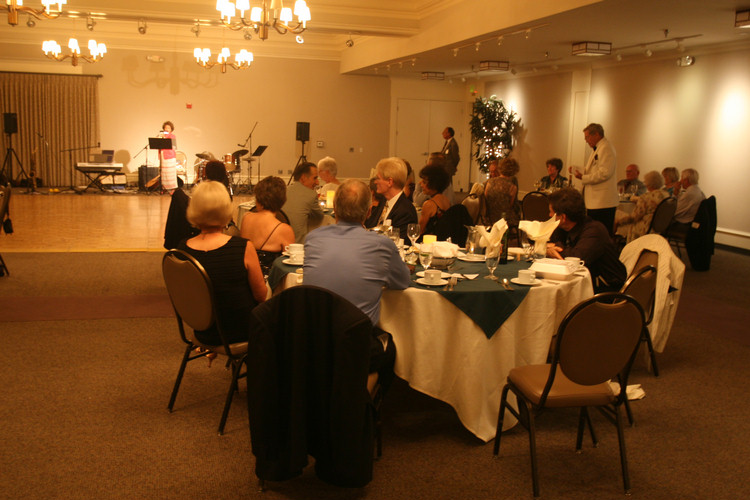 The Newly Weds!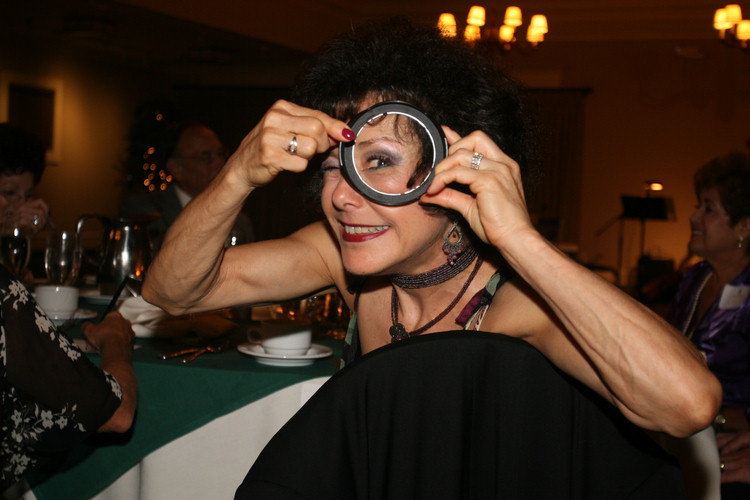 Paul put down the lens sun shade for just a minute and Donna now has a monocle
Did you know? - A monocle is a type of corrective lens used to correct the vision in only one eye (usually the right eye). It consists of a circular lens, generally with a wire ring around the circumference that can be attached to a string. The other end of the string is then connected to the wearer's clothing to avoid losing the monocle. The connoisseur of antiquities Philipp von Stosch wore a monocle in Rome in the 1720s, in order to closely examine engravings and antique engraved gems, but the monocle did not become an article of gentlemen's apparel until the nineteenth century. It was introduced by the dandy's quizzing glass of the 1790s.

There are three styles of monocle. The first style consists of a simple loop of metal with a lens which was slotted into the eye orbit. These were the first monocles worn in England and could be found from the 1830s onwards. The second style, which was developed in the 1890s, was the most elaborate, consisting of a frame with a raised edge-like extension known as the gallery. The gallery was designed to help secure the monocle in place by raising it out of the eye orbit slightly, so that the eyelashes could not jar it. Monocles with galleries were often the most expensive. The very wealthy would have the frames custom-made to fit their own eye sockets. A sub-category of the galleried monocle was the "sprung gallery", where the gallery was replaced by an incomplete circle of flattened, ridged wire supported by three posts. The ends were pulled together, the monocle was placed in the eye orbit, and the ends released, causing the gallery to spring out and keep the monocle in place. The third style of monocle was frameless. This consisted of a cut piece of glass, with a serrated edge to provide a grip, and sometimes a hole drilled into one side for a cord. Often the frameless monocle had no cord and would be worn freely. This style was popular at the beginning of the 20th century as they could be cut to fit any shape eye orbit cheaply, without the cost of a customized frame.

It is a myth that monocles were uncomfortable to wear. If they were customised then they could be worn securely with no effort, though periodic adjustment is a fact of life for monocle wearers to keep the monocle from popping, as can be seen in films featuring Erich Von Stroheim. Often only the rich could afford to have them custom-manufactured and the poor had to settle for poorly-fitted monocles that were less comfortable and less secure. The popular perception was (and still is) that a monocle could easily fall off with the wrong facial expression. This is true to an extent, as raising the eyebrow too far will allow the monocle to fall. A once-standard comedic device exploits this: an upper-class gentleman makes a shocked expression in response to some event, and his monocle falls into his drink, smashes into pieces on the floor, etc
Fearless Leader Is Done; Band Returns; Dancing Begins Again!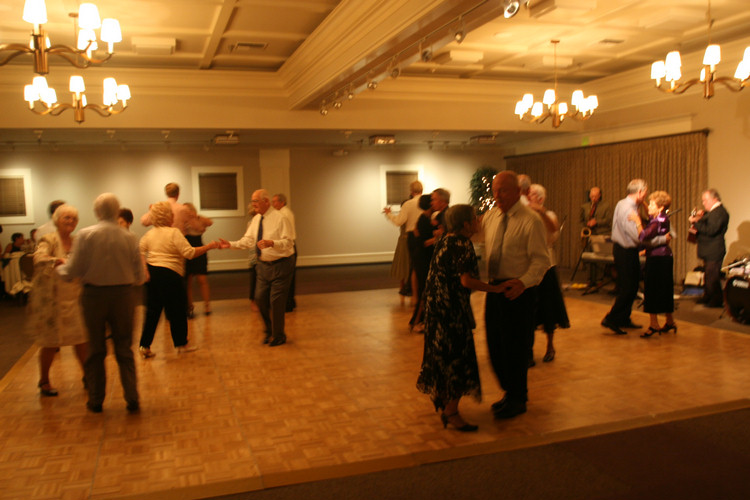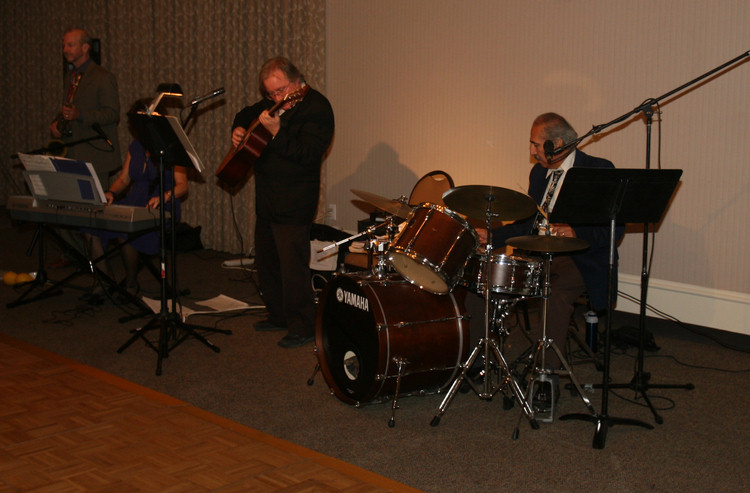 Skye Blue plays anything from line dances to waltz's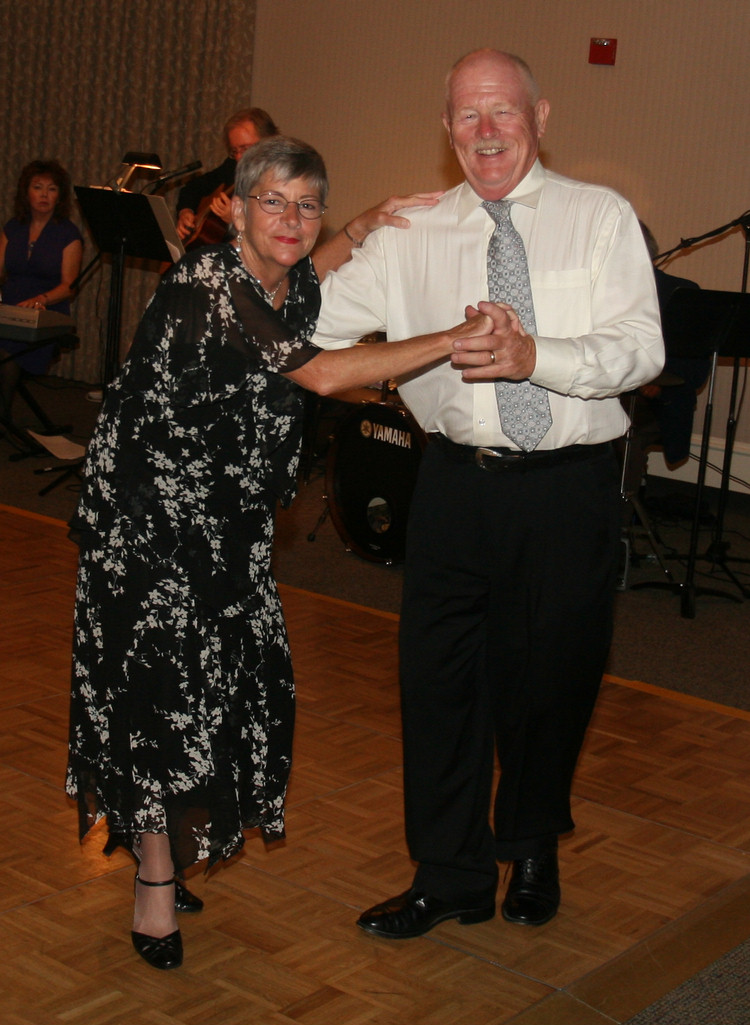 The photographers and website folks come out from behind the camera!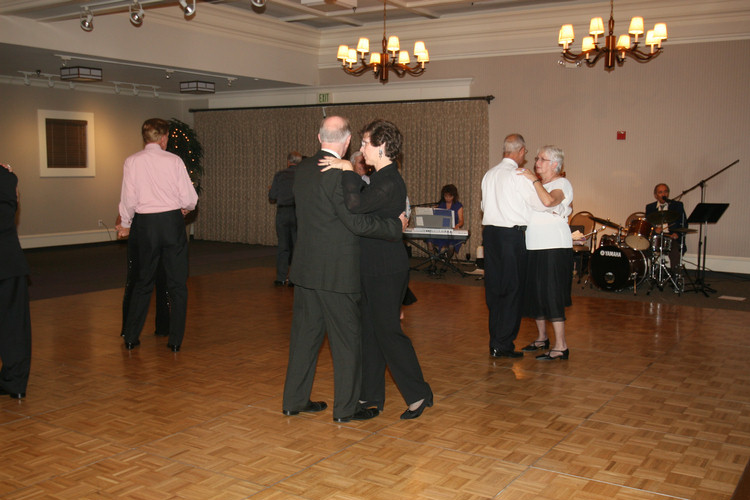 It's almost getting bewitching hour
Did you know? - In European folklore, the witching hour is the time when supernatural creatures such as witches, demons and ghosts are thought to be at their most powerful, and black magic at its most effective. This hour is typically midnight, and the term may now be used to refer to midnight, or any late hour, even without having the associated superstitious beliefs. The term "witching hour" can also refer to the period from midnight to 3am, while "devils hour" refers to the time around 3am.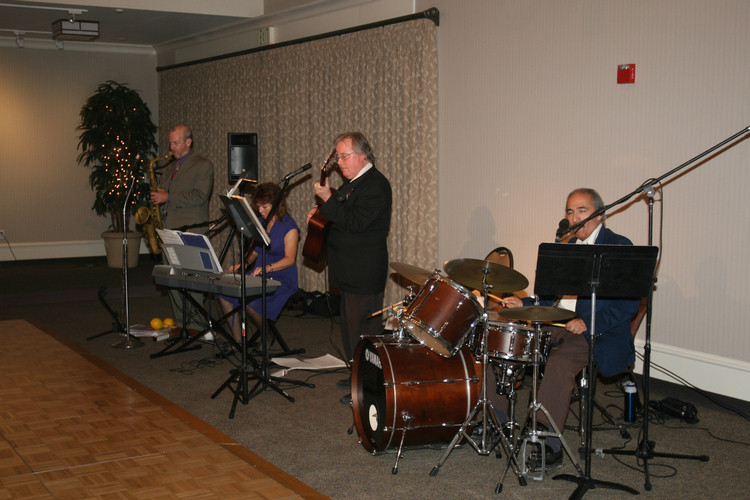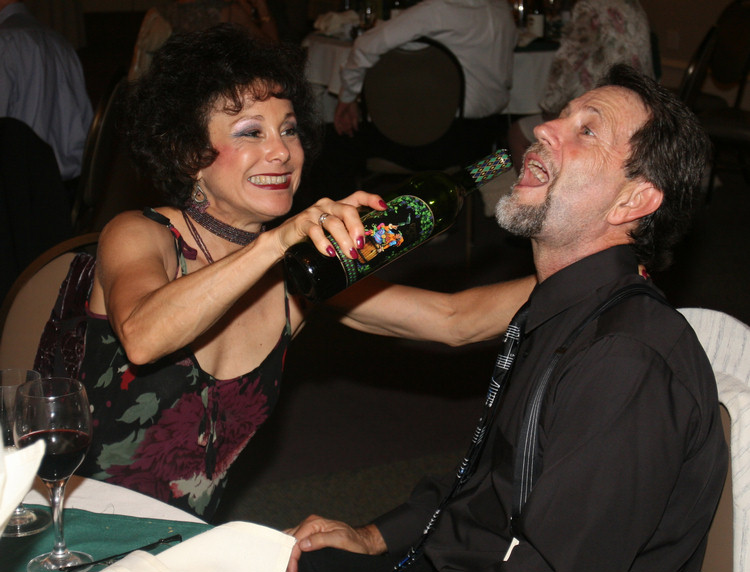 Last call for the bar.... Quick!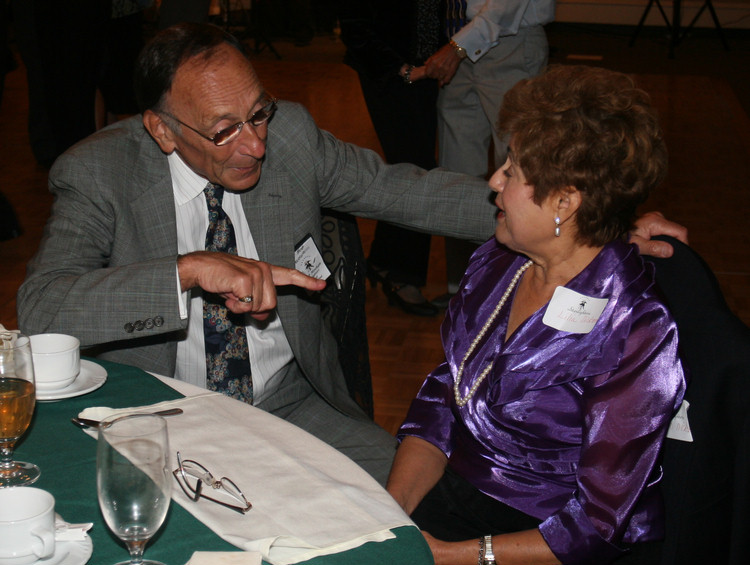 Club business? The officers are chatting!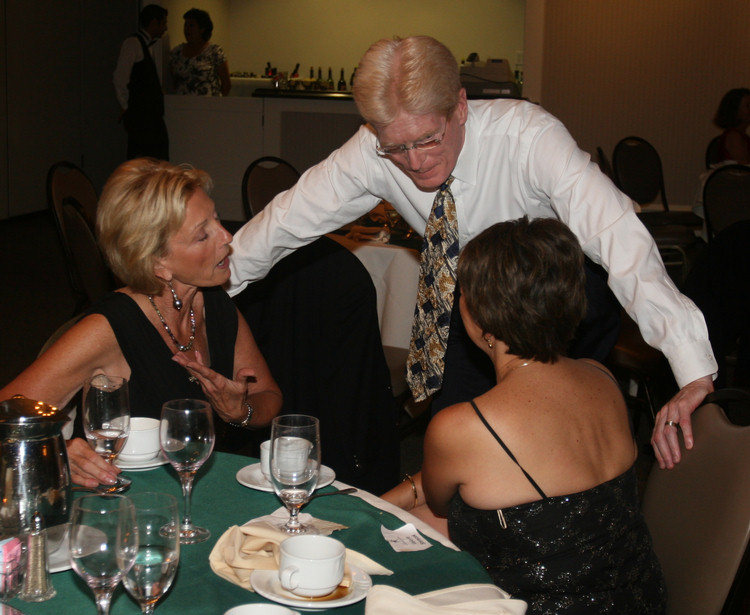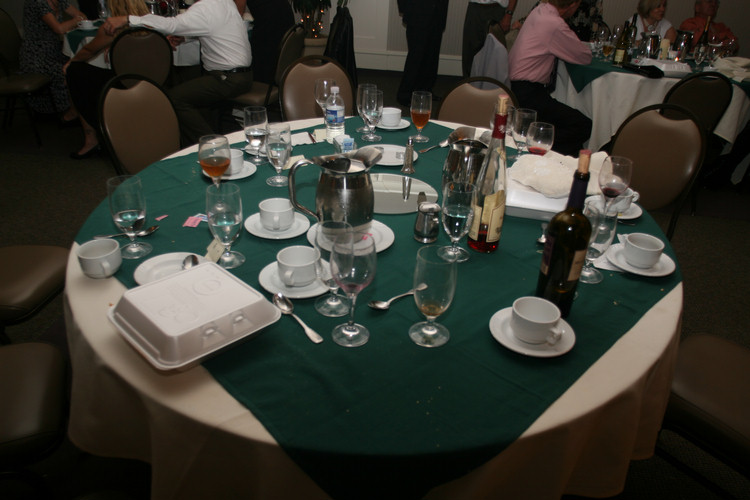 The wine bottles tell the story
Did you know? - A corkage fee is charged by a restaurant to patrons bringing their own wines to a meal. The corkage fee is usually minimal and is considered a convenience charge to the restaurant for opening and serving wines from outside their cellar. The use of a corkage fee is widespread in many parts of the United States, especially in heavy wine producing areas such as Napa and Sonoma Counties. The corkage fee is not designed to be a penalty for the diner and should not be viewed that way.
BYOB is an initialism most commonly meant to stand for "bring your own bottle". BYOB may also be defined as "bring your own beer" or "bring your own booze". The term "booze" is slang for alcoholic drinks. Possibly for a more generic situation, it could be "bring your own beverage" or "bring your own bomb". It is also commonly used to mean "bring your own beef" at a barbecue. BYOB is often placed on an invitation to indicate that the host will not be providing alcohol and that guests are welcome to bring their own. It is also frequently used by regular bars, restaurants, or strip clubs which do not have licenses to serve liquor or alcoholic beverages in general; an alternate term for this is brownbagging.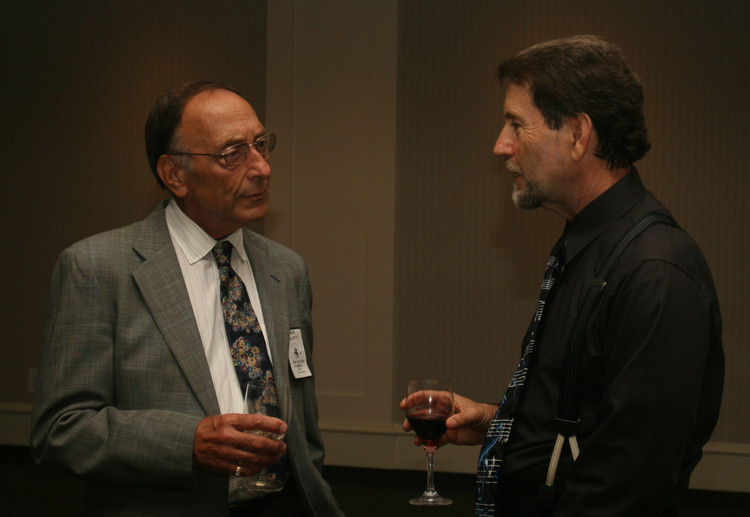 Notice the halo's around the heads of these extinguished men! Scary, huh?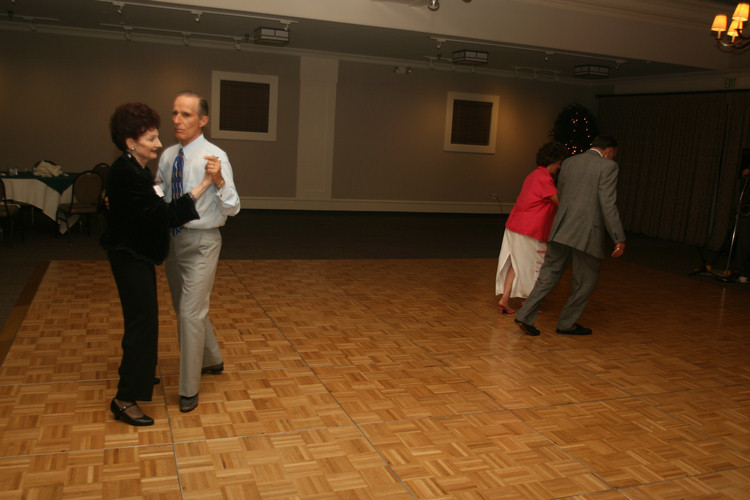 The dedicated dancers close the party down

The bartender was lonely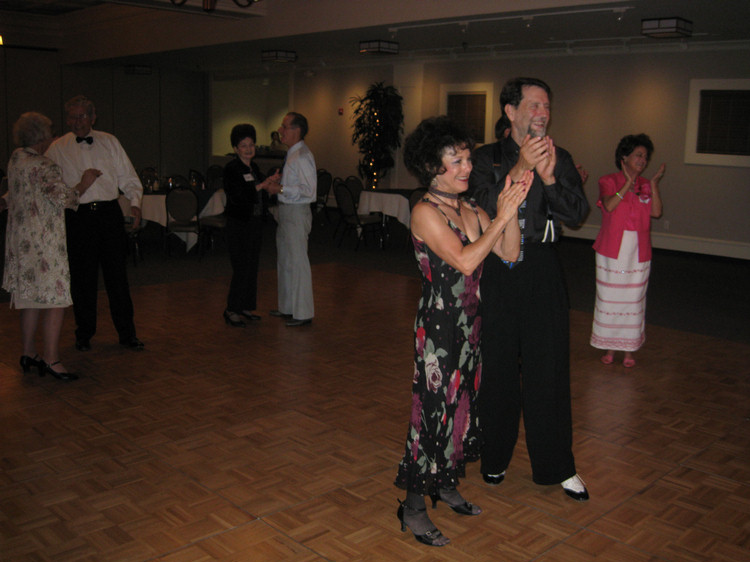 Bye to the band
And When We Get Home Our Guard Dog Awaits Us
Did you know? - A guard dog is a dog employed to guard against, and watch for, unwanted or unexpected people or animals.
Both guard dogs and watch dogs bark to alert their owners of an intruder's presence and scare away the intruder. The watch dog's function ends here; a guard dog is capable of attacking or restraining the intruder. For example, livestock guardian dogs are often large enough and strong enough to attack and drive away predators such as wolves. In cases where intruders are more likely to be human, guard dogs are sometimes trained simply to restrain an intruder with his owner's guidance, as in Schutzhund or K9 Pro Sports training. Occasionally, guard dogs are trained to attack human intruders, though this practice might be locally illegal.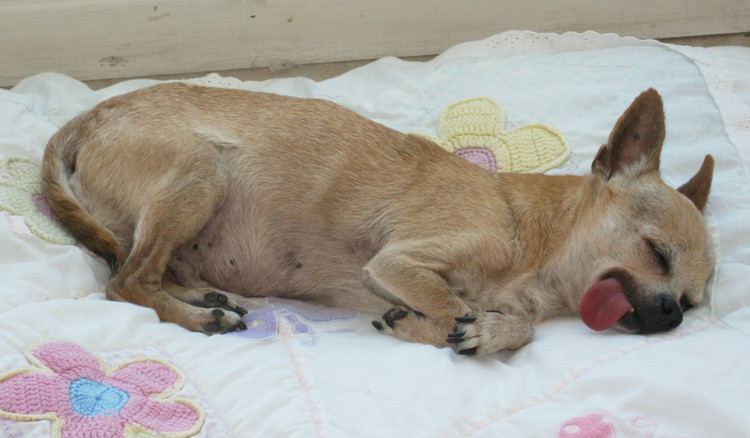 Bark the Wonder Dog (commonly known as "Sarge") awaits our arrival!
We Had A Great Time!