1950's Memories Of Gas Stations
Many of the stations you will see below date from the 1920's but we still had them around in the 1950's.... They were built like our country use to build things! I can remember many stations looking just like these when we drove from LA to Arkansas every summer in the late 1940's and 1950's. In those days we took Highway 88 into Texas and then dropped south to Little Rock Please enjoy!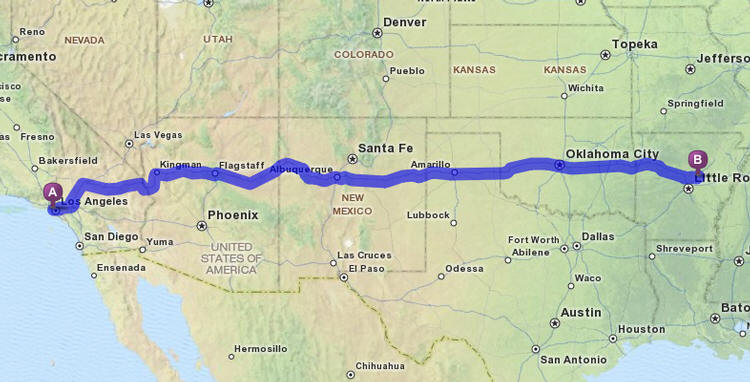 Los Angeles to McRae, Arkansas - 24 hrs 33 mins / 1675.16 miles
Other Sources:
Did You Know? - A filling station, fueling station, gas station, service station, petrol station, Garage (British English), gasbar, petrol pump or petrol bunk (India) is a facility which sells fuel and lubricants for motor vehicles. The most common fuels sold are petroleum (gasoline in U.S. and Canada) or diesel fuel.
Fuel dispensers are used to pump petroleum (gasoline in U.S. and Canada), diesel, CNG, CGH2, HCNG, LPG, LH2, ethanol fuel, biofuels like biodiesel, kerosene, or other types of fuel into vehicles. Fuel dispensers are also known as bowsers (in Australia)., petrol pumps (in Commonwealth countries), or gas pumps (in North America).
The increase in automobile ownership after Henry Ford started to sell automobiles that the middle class could afford resulted in a greater demand for filling stations. The world's first purpose built gas station was constructed in St. Louis, Missouri in 1905 at 412 S. Theresa Avenue. The second gas station was constructed in 1907 by Standard Oil of California (now Chevron) in Seattle, Washington. Reighard's gas station in Altoona, Pennsylvania claims that it dates from 1909 and is the oldest existing gas station in the United States. Early on, they were known to motorists as "filling stations". Standard Oil began erecting roadside signs of their logo to advertise their filling stations. ~Wikipedia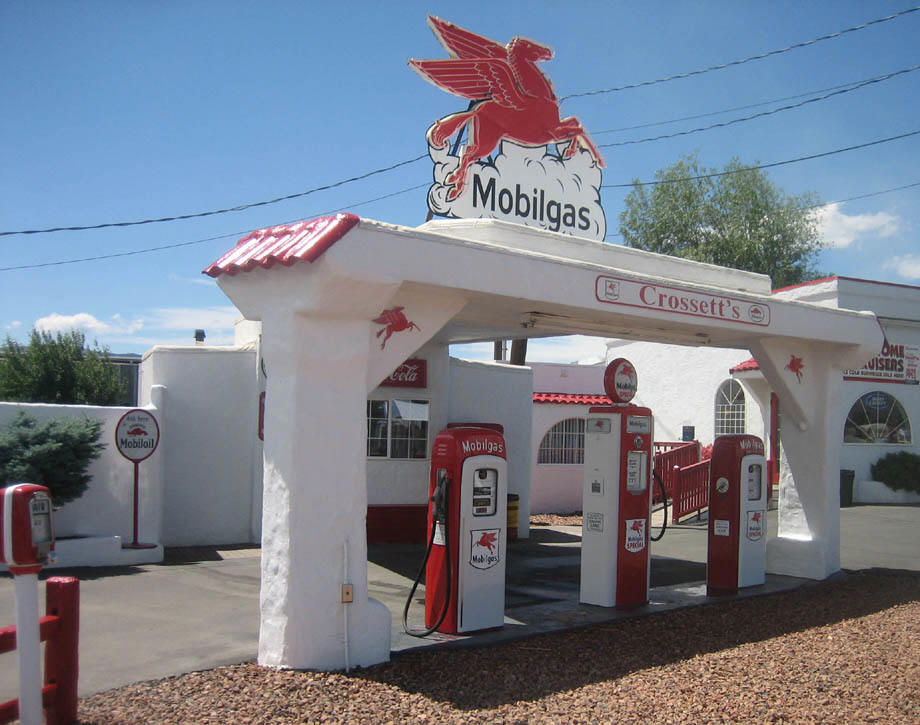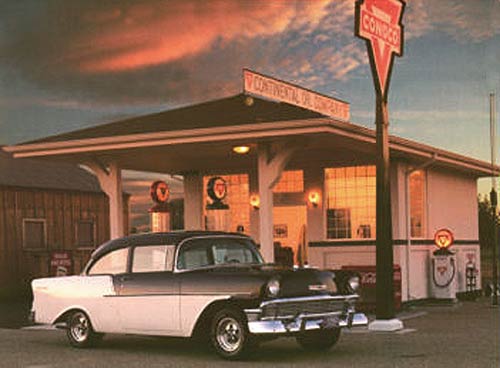 Conoco had a long history
Did You Know? - Conoco Inc. was an American oil company founded in 1875 as the Continental Oil and Transportation Company. Based in Ogden, Utah, the company was a coal, oil, kerosene, grease and candles distributor in the West. The main office was later moved to Ponca City, Oklahoma, when on June 26, 1929, Marland Oil Company (founded by exploration pioneer E. W. Marland) acquired for a consideration of 2,317,266 shares of stock, the assets (subject to liabilities) of Continental Oil Company. At that time Marland Oil changed its name to Continental Oil Company. The acquisition gave Conoco the red triangle symbol previously used by Marland and would become Conoco's logo from 1930 to 1970 when the current capsule logo was adopted.

The company ran into early trouble when, shortly after acquisition, it was hit by the Great Crash of October 1929. Nevertheless, Conoco became a key supplier to the United States government during World War II. Under the leadership of Leonard F. McCollum, Conoco grew from a regional company to a global corporation. Another rough patch for the company came during the 1970s oil crisis, from which it did not recover until 1981, when Conoco became a subsidiary of former rival DuPont.

In 1981, cash rich and wanting to diversify, Seagram Company Ltd. engineered a takeover of Conoco Inc., a major American oil and gas producing company. Although Seagram acquired a 32.2% stake in Conoco, DuPont was brought in as a white knight by the oil company and entered the bidding war. In the end, Seagram lost out in the Conoco bidding war. But in exchange for its stake in Conoco Inc, it became a 24.3% owner of DuPont. By 1995 Seagram was DuPont's largest single shareholder with four seats on the board of directors.

In 1997 DuPont and Conoco parted ways. When the independent Conoco went public in October 1998, under the retooled name, Continental Oil Company, it resulted in the largest IPO in history. Conoco bought what was left of Gulf Oil's Canadian operations in 2002. Conoco merged with Phillips 66 in 2002. The merged company was announced as the now well-known ConocoPhillips. ~Wikipedia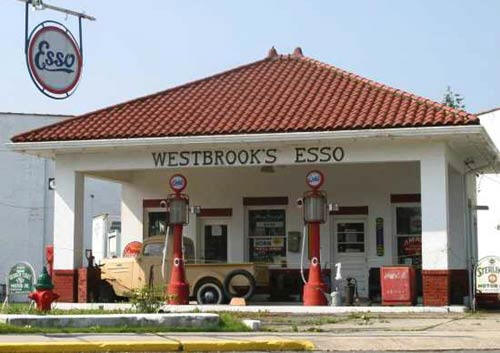 Esso was alive and well in the 1950s
Did you know? - Esso is an international trade name for ExxonMobil and its related companies. It is derived from the initials of the pre-1911 Standard Oil, and as such became the focus of much litigation and regulatory restriction in the United States. In 1973, it was largely replaced in the U.S. by the Exxon brand, while Esso remained widely used elsewhere. In most of the world, the Esso brand and the Mobil brand are the primary brand names of ExxonMobil, with the Exxon brand name still in use only in the United States alongside Mobil. ~Wikipedia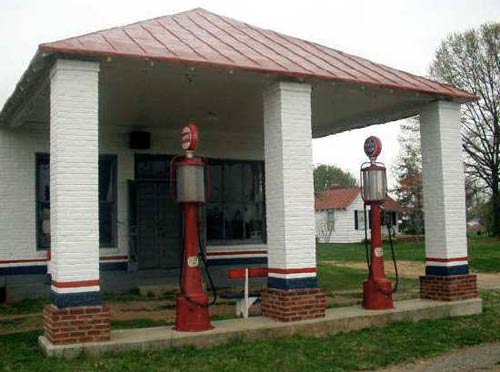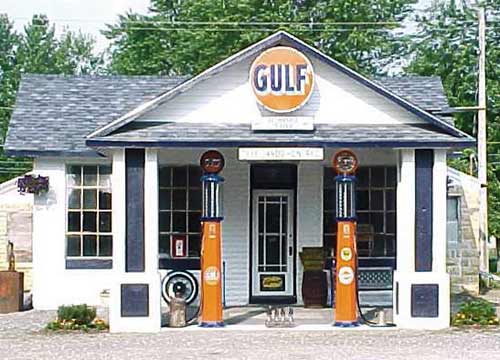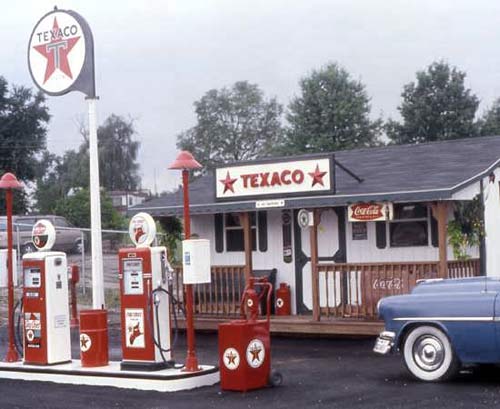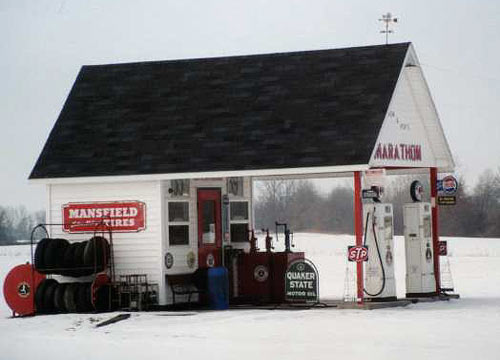 Did you know? - Marathon began as The Ohio Oil Company in 1887. In 1889, it was purchased by John D. Rockefeller's Standard Oil trust. It remained a part of Standard Oil until the trust was broken in 1911. In 1930, The Ohio bought the Transcontinental Oil Company, giving it the Marathon brand name. In 1962, the company changed its name to "Marathon Oil Company" after its main brand name. Mobil wanted to buy the company in 1981. The residents of Findlay, Ohio, the corporation's home town, worried that the Findlay jobs would be lost so Marathon looked for a white knight. They found one in 1982 when United States Steel bought the company. The headquarters moved to Houston in 1990 but the company maintains downstream operations in Findlay. In 2001, USX, the holding company that owned United States Steel and Marathon, spun off the steel business and in 2002 USX renamed itself Marathon Oil Corporation. ~Wikipedia

The green dinosaur
Did you know? - In 1969, Sinclair was acquired by the Atlantic Richfield Company (ARCO). Federal anti-trust provisions required the new entity to divest itself of certain of the Sinclair assets, and as a result, the East Coast operations of Sinclair were sold to BP (which has since purchased ARCO). After the acquisition by ARCO, the dinosaur was phased out, but at least one service station, in Winona, Minnesota, retained the original look through the 1980s. Many Sinclair stations in the Midwest continued to use the dinosaur logo along with ARCO's "diamond spark" logo and at least some Sinclair stations were branded as such for a time with ARCO's blue rectangular logo including the "spark" but with the word "Sinclair" substituted for ARCO. ~Wikipedia
Did you know? - Phillips 66 is a brand of gasoline and service station in the U.S. Today it belongs to the ConocoPhillips Company.

The company that made Phillips 66 gasoline began in 1917 as Phillips Petroleum Company. In 1927, the company's gasoline was being tested on U.S. Highway 66 in Oklahoma, and when it turned out that the car was going 66 miles (106 km) an hour, the company decided to name the new fuel Phillips 66.

The first Phillips 66 gas station opened November 19, 1927 in Wichita, Kansas. The first station to be built in Texas was built in 1929 at McLean. Both of these stations have been preserved by local historical societies.

The Phillips 66 shield logo, created for its link to the highway of the same number, was introduced in 1930 in a black and orange color scheme that would last nearly 30 years. In 1959, Phillips introduced a revised version of the shield in red, white and black, a color scheme still used by ConocoPhillips for the brand.

From the late 1930s until the 1960s, Phillips employed registered nurses as "Highway Hostesses," who made periodic and random visits to Phillips 66 stations within their regions. The women inspected station restroom facilities to ensure they were well cleaned and stocked. The Highway Hostesses also served as ambassadors for the company by directing motorists to suitable dining and lodging facilities.

Phillips was among the first oil companies to introduce a multi-grade motor oil, Trop Arctic, in 1954. Such motor oils were designed to be used year-round in automobile engines, as opposed to single grades for which different grades of motor oils were recommended to meet weather variances. ~Wikipedia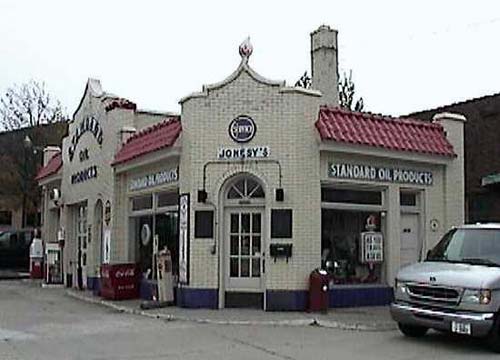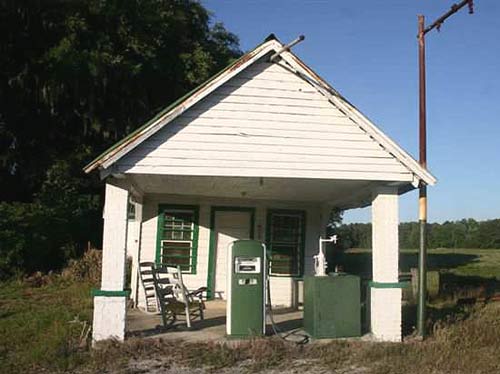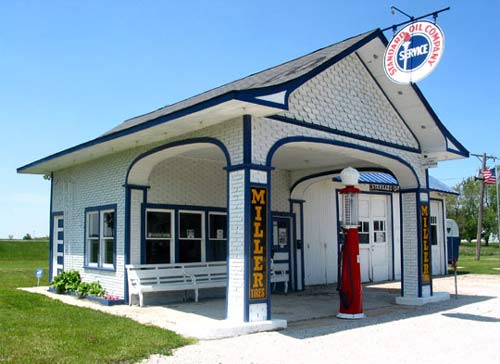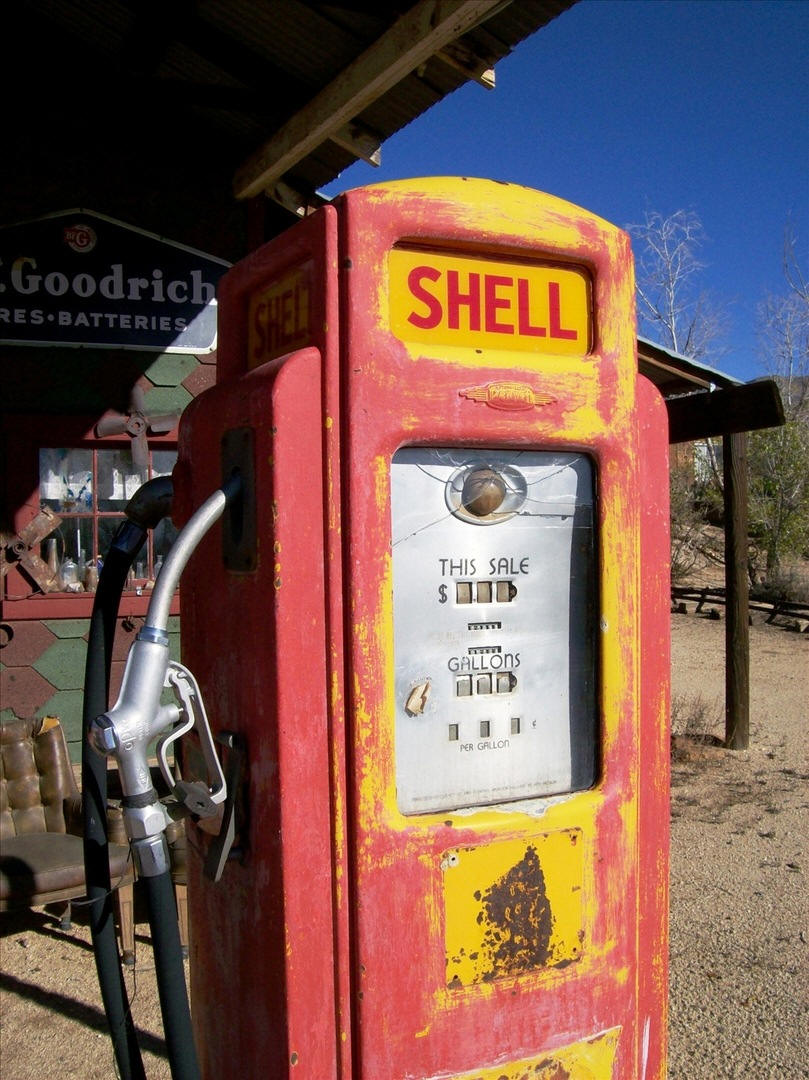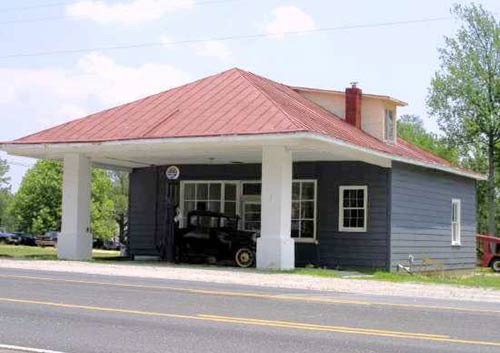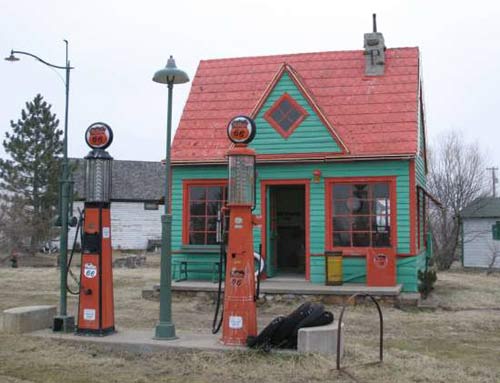 Did you know? - In 1968, Sun Oil merged with Tulsa, OK-based Sunray DX Oil Company, which refined and marketed gasoline under the DX brand in several midwestern states, and included several refineries including one in Tulsa that is still operated by Sun to the present day. This move expanded Sun's marketing area into the mid-continent region.

Sun Oil continued marketing its petroleum products under both the Sunoco and DX brands through the 1970s and into the 1980s. In the late 1980s, Sun began rebranding DX stations in the Midwest to the Sunoco brand and even introduced the high-octane Sunoco ULTRA 94 gasoline to stations in that region, but by the early 1990s, they pulled out of virtually all areas in the southeastern U.S. and west of the Mississippi, resulting in the closing and rebranding of service stations and jobbers to other brands in those areas, notably Sinclair in Oklahoma. ~Wikipedia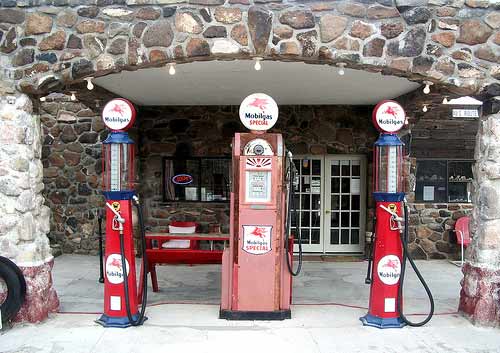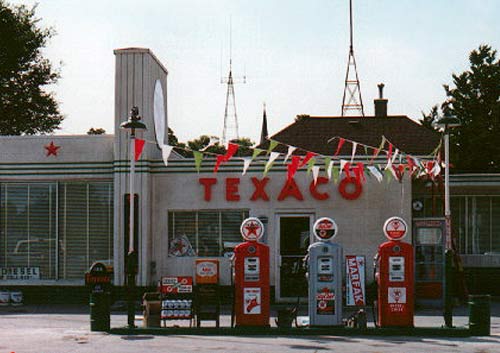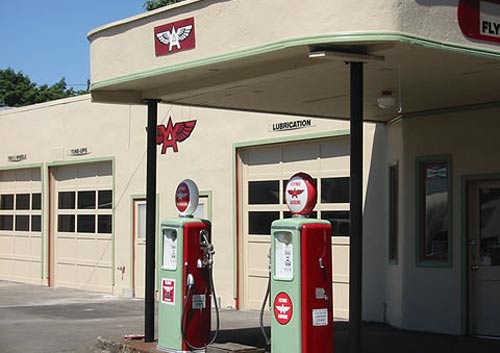 Flying A no longer exists
Did you know? - Tidewater Petroleum was a petroleum company. It sold its products under the trademarks Tydol, Veedol, and Flying A. It was eventually taken over by Getty Oil, and now is incorporated in ChevronTexaco. Flying A was a major gasoline brand in the USA from the 1930s to the mid-1960s, and its disappearance was a surprise to many people.In 1938, Tidewater merged with Associated Oil Co. from the west coast to form Tidewater Associated Oil Co. The merged company used Associated's Flying A brand, which was combined with Tidewater's Tydol brand in the East. "Associated" was dropped from the company name in 1956.

In the early 1960s, Humble Oil & Refining Company purchased Tidewater's western refining and marketing properties, with the intention of rebranding Flying A stations in the Far West to Enco (later Exxon). The purchase was later nullified in court on anti-trust grounds, but in 1966, Phillips Petroleum Co. purchased Tidewater's Far West network and rebranded all Flying A stations in the region to Phillips 66.

In the eastern United States, Tidewater was absorbed by the Getty Oil Company, but the Flying A brand lasted until 1969, when it was replaced by Getty. Getty was acquired by Texaco in 1984. ~Wikipedia