There Were Many Important And Influential People Of The 1950's
There are many famous and influential people who came from different fields and became famous in 50's generation. This is merely a short list of famous people from different walks of lives who make their mark in 1950s.
Marilyn Monroe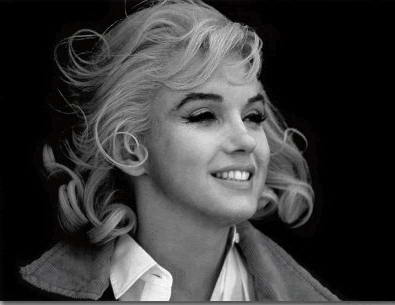 Real Name: Norma Jeane Mortenson or Baker
Born: 6/1/26 in Los Angeles, California
Died: 8/5/62
Legendary actress and star of such films as Gentlemen Prefer Blondes (1953) and Some Like It Hot (1959). She was married to baseball legend Joe DiMaggio and playwright Arthur Miller (see Arts). She died of an overdose of sleeping pills, which probably was suicide.
Elizabeth Taylor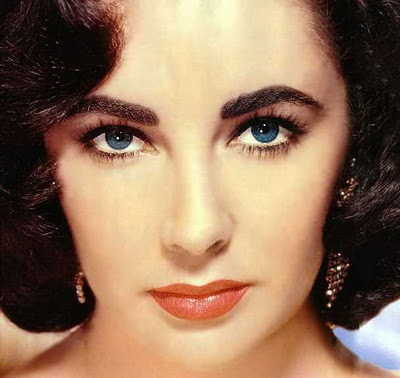 Born: 2/27/32 in London, England
Actress. Her films include National Velvet (1944), A Place in the Sun (1951), Giant (1956) and Cat on a Hot Tin Roof (1958), and Cleopatra (1963). She won Oscars for Who's Afraid of Virginia Woolf? (1966) and Butterfield 8 (1960). Taylor has been active in fundraising for AIDS-related causes. Her former husbands include Eddie Fisher, Richard Burton (twice) and most recently construction worker Larry Fortensky
list of her hubbies
Elizabeth Taylor's Marriages
Conrad "Nicky" Hilton, Jr. (1950-51) (hotel heir)
Michael Wilding (1952-57) (British actor) (2 sons)
Michael Todd (1957-58) (producer) (he died) (1 daughter)
Eddie Fisher (1959-64) (American singer)
Richard Burton (1964-1974)(Welsh actor)
Richard Burton (1975-1976) (Welsh actor)
John Warner (1976-1982) (US Senator)
Larry Fortensky (1991-1996)
Doris Day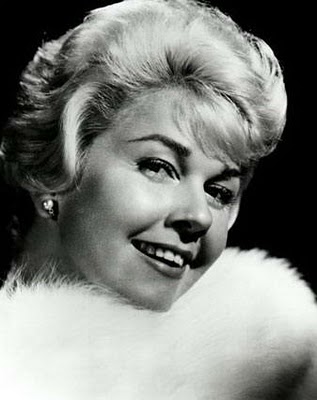 Real Name: Doris von Kappelhoff
Born: 4/3/24 in Cincinnati, Ohio
A singer, actress who was America's No.1 female box office attraction during the late 1950s and '60s. Doris Day starred in a number musicals, comedies, and thrillers, including The Pajama Game (1957) and Pillow Talk (1959), often pairing with Rock Hudson. She later left films to star in the popular TV sitcom The Doris Day Show (1968–73). Her hit songs include Que Sera Sera.
Lucille Ball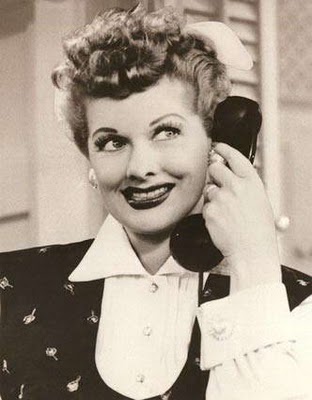 Born: 8/6/11 in Jamestown, New York
Died: 4/26/89
Zany comedienne best known and loved for I Love Lucy (1951–57). Lucille Ball won 8 Emmys over the years of her career. Her films include Stage Door (1937) and Mame (1974). She was married to Cuban bandleader Desi Arnaz, with whom she had children Desi Arnaz, Jr. and Lucy Arnaz and later to Gary Morton.
Elvis Presley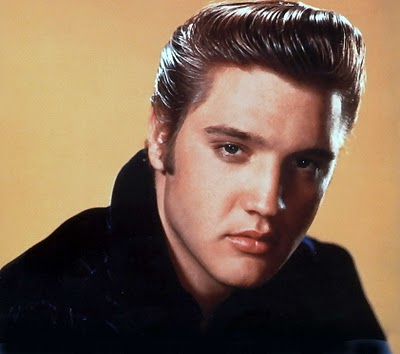 Born:1/8/1935 in Tupelo, Mississippi
Died: 8/16/1977 in Memphis, Tennessee
The Elvis Presley section of the FiftiesWeb
James Dean
Born: 2/2/31
Died: 9/30/55
Brooding, rebel actor who achieved cult-figure status after making only three films, Rebel Without a Cause (1955), East of Eden (1955) and Giant (1956). Dean died in a car accident which cut off a promising career.
Frank Sinatra
Born: 12/12/15 in Hoboken, New Jersey
Died: 5/14/98
Both an Academy Award-winning actor and a Grammy Award-winning singer. 'Ole Blue Eyes, the Chairman of the Board is perhaps best known as the leader of the Rat Pack, a group which included Dean Martin, Sammy Davis Jr., Peter Lawford and Joey Bishop. Sinatra was a heartthrob for bobby-soxers who phrasing of songs remains classic. His screen performances include From Here to Eternity (1953) for which he won the Oscar, The Manchurian Candidate (1962), and The Man With the Golden Arm (1955).
John Wayne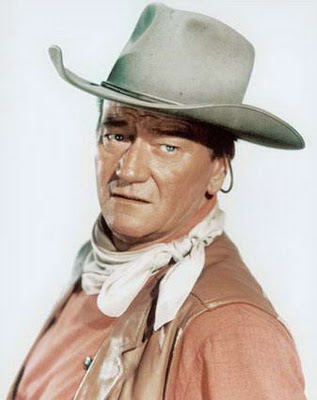 Real Name: Marion Michael Morrison
Born: 5/26/1907 in Winterset, lowa
Died: 6/11/1979

Portrayed the quintiessential American hero onscreen. Best known as a cowboy in John Ford directed Westerns such as Stagecoach (1939), Fort Apache (1948) and She Wore a Yellow Ribbon (1949) and Rio Grande (1950). Wayne won an Academy Award for True Grit (1969).
Harry S. Truman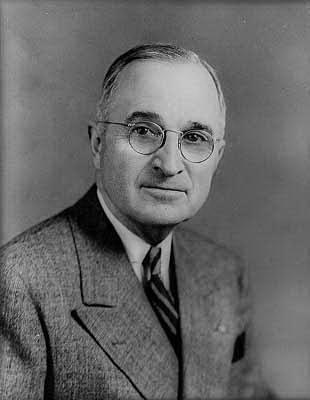 Harry S. Truman was born on May 8, 1884 in Lamar, Missouri. He became the 33rd President of America and held the prestigious office from 1945 to 1953. In 1950s most American did not expect that Harry Truman would become one of their most highly regarded presidents. It was during the World War II he became famous in history for dropping atom bomb on Hiroshima and Nagasaki on August 6 and August 9, 1945. Following that Japan surrendered on August. Truman did so to defeat the Axis power.
Rosa Parks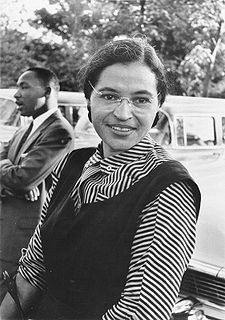 February 4, 1913 October 24, 2005
On December 1, 1955 she boarded a bus in Montgomery, Alabama and sat down in the colored section. Several white passengers then boarded and the driver asked her to give up her seat for one of them. She refused and the driver called the police and she was arrested.
1955 Rosa Parks, a 42-year-old seamstress and secretary of the Montgomery NAACP, was arrested in Montgomery, Alabama, as she sat in a section of a bus just behind the area reserved for whites. She refused to move to the back the bus, which defied the South's segregationist laws. This started the Dec. 5 bus boycott, a year-long boycott of the buses by blacks, which launched the Civil Rights movement in the United States.

Martin Luther King Jr 
January 15, 1929-April, 1968
Assassinated on April 4, 1968, in Memphis, Tennessee He organized and led marches for blacks rights to vote, desegregation, labor rights, and other basic civil rights.
Joseph MacCarthy
November 14, 1908-May 2, 1957

the term "McCarthyism" coined in 1950 in reference to McCarthy's practices, was soon applied to similar anti-communist pursuits

Beginning in 1950, McCarthy became the most visible public face of a peroid of intense anti-communist suspicion inspired by the tensions of the Cold war. He was noted for making claims that there were large numbers of Communists and Soviet spies and sympathizers inside the federal government and elsewhere. Ultimately, McCarthy's tactics and his inability to substantiate his claims led to his being discredited and censured by the United States Senate.
Queen Elizabeth II

Born on April 21, 1926 and (still Living)
She became queen upon the death of her father on February 6, 1952.

Married Prince Philip, Duke of Edinburgh and has four children and eight grandchildren. Elizabeth II also holds a variety of other positions, among them is Head of the Commonwealth, Supreme Governor of the Church of England, Duke of Normandy, Lord of Mann, and Paramount Chief of Fiji. the Queen regnant of sixteen independent states and their overseas territories and dependencies, which are the United Kindom, Canada, Australia, New Zealand, Jamaica, Barbados, the Bahamas, Grenada, Papua New Guinea, the Solomon Island, Tuvalu, Saint Lucia, Saint Vincent and the Grenadines, Antigua and Barbuda, Belize, and Saint Kitts and Nevis
Arthur Miller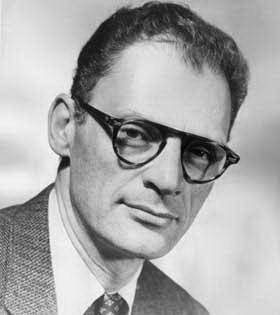 Born:10/17/1915 in New York City
Leading American dramatist whose best known work, "Death of a Salesman" (1949) won the Pulitzer Prize. Other works include "The Crucible" (1953), "A View From the Bridge" (1955 also a Pulitzer Prize), "After the Fall" (1964) and the screenplay for "The Misfits" (1961).
Miller's fame increased when he married Marilyn Monroe in 1956, later to divorce in 1961.
In 1957 Miller was convicted of contempt of Congress for refusing to name names to the House Un-American Activities Committee. In 1958 United States Court of Appeals overturned the conviction.
Arthur Miller (Best known as author of death of a Salesman) was born on October 17, 1915 in New York city and was a leading American dramatist who is best known work "Death of the salesman" won the Pulitzer Prize. Miller's fame increased especially in 1956 when he married Marilyn Monroe. In 1956, Miller was awarder honorary Degree at the university of Michigan but also called before the house Committee on un-American like activities. In 1958, the United States Court of Appeals overturned the conviction.
Luice Armstrong
Luice Armstrong famously known as Satchmo was an American singer and jazz trumpeter born in the early 1900s. He had a strong effect on solo and collective improvisational jazz performances with his distinctive voice and charismatic presence. He was skilled at impressing his audience by bending melody and lyrics, as well as wordless vocalizing. Armstrong whose influence went beyond jazz was once described by Steve Leggett to be perhaps the most important musician of the century of American origin.
Paul Moustapha Anka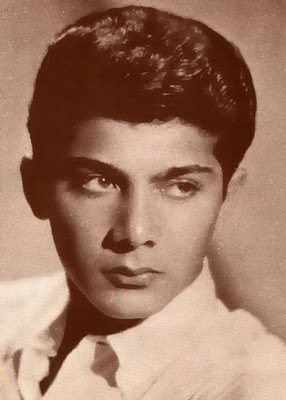 Paul Moustapha Anka was a famous singer, actor and songwriter. His fame took root in the 50s when he produces his first hits like "Lonely Boy", "Put your Head on My Shoulder" and "Diana".
Chuck Berry
Chuck Berry is a singer, songwriter and guitarist of American origin famous for his pioneering work as a rock and roll artist. He is actually considered to have "assembled" rock and roll putting together its essential pieces.
Ernest Hemingway
Born:1899 in Oak Park, Illinois
Died: 7/2/1961
One of the great American writers of the 20th century. Hemingway's lean stories usually dealt with men living active, dangerous lives, soldiers, fishermen, athletes, bullfighters, who meet challenge and hardship with quiet courage. Works include "A Farewell to Arms" (1929),"To Have and Have Not" (1937), "For Whom the Bell Tolls" (1940), and "The Old Man and the Sea" (1952). Many of Hemingway's books were made into movies. He was awarded the 1954 Nobel Prize in literature
Hemingway shot himself, committing suicide by gun as had his father before him.
Tennessee Williams (Thomas Lanier Williams)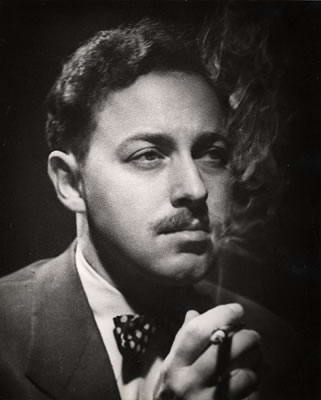 Born: 3/26/1911 in Columbus, Mississippi

Died: 2/24/1983 in New York City
South's greatest playwright whose plays reflected his Southern experience. He achieved more fame when many of his plays were made into movies. Works include "The Glass Menagerie" (1945), "A Streetcar Named Desire" (1947 for which he won the Pulitzer), "Cat on a Hot Tin Roof" (1955 for which he won the Pulitzer) and "Night of the Iguana" (1961).
Important People of the 1950s
If you are a baby boomer, (or know a baby boomer), you might be interested to read about some important people of the 1950s. These people were either icons in their time, or became famous later on.
1955 Perry Como recorded his big hit "Hot-Diggety-Dog."

1953 Tenley Albright became the first American to win the women's world figure skating championship at a competition in Davos, Switzerland.

1953 F.M. Adams became the 1st US commissioned woman army doctor.

1955 Apr 15, Ray Kroc acquired the McDonald's chain of fast food restaurants. He was a food service equipment salesman who owned the national marketing rights to the milk-shake mixers used at the chain. He purchased the chain from Richard and Maurice McDonald who started the operation in California in 1948.

1955 Dec 9, Sugar Ray Robinson won the middle-weight boxing crown for the third time when he knocked out Carl "Bobo" Olson in Chicago.

1959 Fidel Castro took over Cuba. Fidel Castro led Cuban revolutionaries to victory over Fulgencio Batista, who fled to the Dominican Republic.

1959 The "Bozo the Clown" live children's show premiered on TV.

Elizabeth Taylor starred in A Place in the Sun (1951), Giant (1956) and Cat on a Hot Tin Roof (1958).

Doris Day (real name Doris von Kappelhoff ) starred in The Pajama Game (1957) and Pillow Talk (1959.

Lucille Ball starred in I Love Lucy from 1951-1957.

James Dean starred in Rebel Without a Cause (1955), East of Eden (1955), and Giant (1956). He died at an early age in 1955.

Frank Sinatra won an Oscar for From Here to Eternity in 1953.
Jonas Salk During the 1950s, Salk developed, tested and refined the first successful killed-virus polio vaccine, using inactive (dead) poliovirus cells that were injected into the body.

George Catlett Marshall General,President American Red Cross, ex-Secretary of State and of Defense, Delegate to the U.N. Originator of the "Marshall Plan"'.