I Remember It Well....
I do remember it well. There was a major shift along about 1955.
The Decade Started With "Classic Pop"
Patti Page kicked things off with what would become the decade's biggest hit, "Tennessee Waltz." Her other hits from this period included: "Mister and Mississippi," "Mockin' Bird Hill," "Detour," "(How Much Is That) Doggie in the Window," and "Old Cape Cod." Frankie Laine's 1949 hits, "That Lucky Old Sun (Just Rolls Around Heaven All Day)" and "Mule Train," were still riding high on the charts when the decade began. He continued to score with such hits as: "Georgia On My Mind," "Cry of the Wild Goose," "Jezebel," "Rose, Rose, I Love You," "Jealousy (Jalousie)," "High Noon (Do Not Forsake Me)," "I Believe," "Granada," "Moonlight Gambler," and "Rawhide." Johnnie Ray had a long run of hits in the early half of the decade, often backed by The Four Lads, including: "Cry," "The Little White Cloud That Cried," "Walking My Baby Back Home," "Please, Mr. Sun," and "Just Walkin' in the Rain." The Four Lads racked up some hits on their own with "Who Needs You," "No, Not Much," "Standin' on the Corner," and "Moments to Remember." Nat "King" Cole dominated the charts throughout the decade with such timeless classics as "Unforgettable," "Mona Lisa," "Too Young," "Darling, Je Vous Aime Beaucoup," "Pretend," "Smile," and "A Blossom Fell." Perry Como was another frequent visitor to the charts with hits like: "If," "Round and Round," "Don't Let the Stars Get in Your Eyes," "Tina Marie," "Papa Loves Mambo," and "Catch a Falling Star."
Other major stars in the early 1950s included Frank Sinatra ("Young at Heart," "Three Coins in the Fountain," "Witchcraft"), Tony Bennett ("Cold, Cold Heart," "Because of You," "Rags to Riches"), Kay Starr ("Bonaparte's Retreat," "Wheel of Fortune," "Rock and Roll Waltz"), Rosemary Clooney ("Come On-a My House," "Mambo Italiano," "Half as Much," "This Ole House"), Dean Martin ("That's Amore," "Return to Me," "Sway"), Georgia Gibbs ("Kiss of Fire," "Dance With Me, Henry," "Tweedle Dee"), Eddie Fisher ("Anytime," "Wish You Were Here," "Thinking of You," "I'm Walking Behind You," "Oh! My Pa-Pa," "Fanny"), Teresa Brewer ("Music! Music! Music!," "Till I Waltz Again With You," "Ricochet(Rick-O-Shay)"), Doris Day ("Secret Love," "Whatever Will Be Will Be (Que Sera Sera)," "Teacher's Pet"), Guy Mitchell ("My Heart Cries for You," "The Roving Kind," "Pittsburgh, Pennsylvania," "Singing the Blues"), Bing Crosby ("Play a Simple Melody with son Gary Crosby, "True Love with Grace Kelly), Dinah Shore ("Lavender Blue"), Kitty Kallen ("Little Things Mean a Lot"), Joni James ("Have You Heard," "Wishing Ring," "Your Cheatin' Heart"), Peggy Lee ("Lover," "Fever"), Julie London ("Cry Me a River"), Toni Arden ("Padre"), June Valli ("Why Don't You Believe Me"), Arthur Godfrey ("Slowpoke"), Tennessee Ernie Ford ("Sixteen Tons"), Les Paul and Mary Ford ("Vaya Con Dios," "Tiger Rag"), and vocal groups like The Mills Brothers ("Glow Worm"), The Weavers "(Goodnight Irene"), The Four Aces ("Love Is a Many-Splendored Thing", "(It's No) Sin"), The Chordettes ("Mister Sandman"), Fontane Sisters ("Hearts of Stone"), The Hilltoppers ("Trying," "P.S. I Love You"), The McGuire Sisters ("Sincerely," "Goodnite, Sweetheart, Goodnite," "Sugartime") and The Ames Brothers ("Ragmop" "The Naughty Lady of Shady Lane").
Remember Them?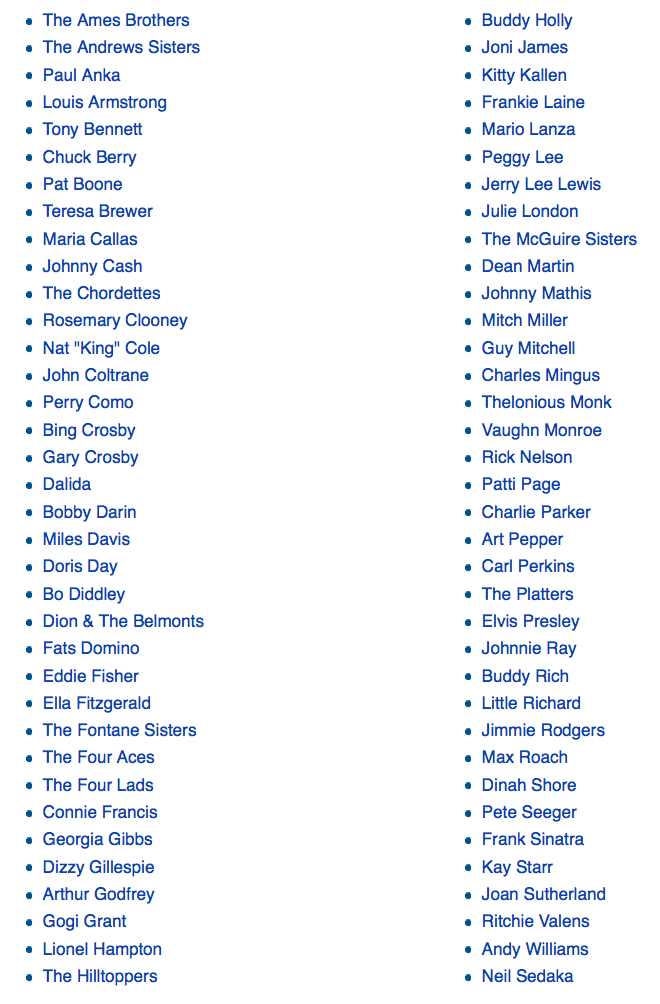 Real Rock And Roll
Rock and roll dominated popular music in the latter half of the 1950s. The musical style originated and evolved in the United States during the late 1940s and early 1950s, and quickly spread to much of the rest of the world. Its immediate origins lay in a mixing together of various black musical genres of the time, including rhythm and blues and gospel music; with country and western and Pop.[9] In 1951, Cleveland, Ohio disc jockey Alan Freed began playing rhythm and blues music for a multi-racial audience, and is credited with first using the phrase "rock and roll" to describe the music.
The 1950s saw the growth in popularity of the electric guitar (developed and popularized by Les Paul). Paul's hit records like "How High the Moon," and "The World Is Waiting for the Sunrise," helped lead to the development of a specifically rock and roll style of playing of such exponents as Chuck Berry, Link Wray, and Scotty Moore.[11] Chuck Berry, who is considered to be one of the pioneers of Rock and roll music, refined and developed the major elements that made rock and roll distinctive, focusing on teen life and introducing guitar solos and showmanship that would be a major influence on subsequent rock music.
Artists such as Chuck Berry, Bo Diddley, Fats Domino, Little Richard, Jerry Lee Lewis, Big Joe Turner, and Gene Vincent released the initial rhythm and blues-influenced early rock and roll hits. Rock and roll forerunners in the popular music field included Johnnie Ray, The Crew-Cuts, The Fontane Sisters, and Les Paul and Mary Ford. The Rock and Roll Era is generally dated from the March 25, 1955 premiere of the motion picture, "The Blackboard Jungle." This film's use of Bill Haley and His Comets' "(We're Gonna) Rock Around the Clock" over its opening credits, caused a national sensation when teenagers started dancing in the aisles.
Pat Boone became the first rock and roll teen idol in 1955 with heavily Pop-influenced "covers" of R&B hits like "Two Hearts, Two Kisses (Make One Love)," "Ain't That a Shame, and "At My Front Door (Crazy Little Mama)." Boone's traditional approach to rock and roll, coupled with his All-American, clean-cut image helped bring the new sound to a much wider audience. Elvis Presley, who began his career in the mid 1950s, soon became the leading figure of the newly popular sound of rock and roll with a series of network television appearances, motion pictures, and chart-topping records. His energized interpretations of songs, many from African American sources, and his uninhibited performance style made him enormously popular—and controversial during that period. Boone and Presley's styles/images represented opposite ends of the burgeoning musical form, which competed with one another throughout the remainder of the decade.