1955 Chevy Was Hot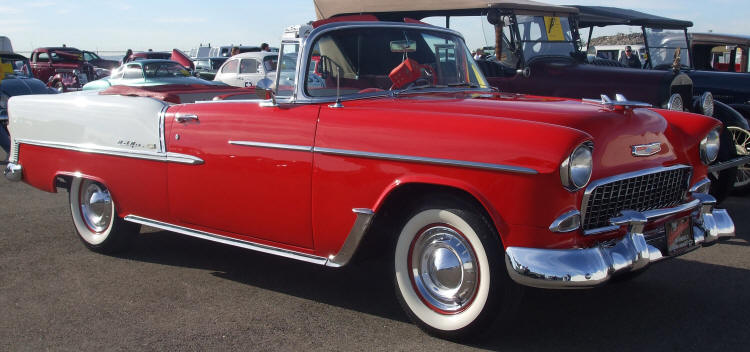 This was a real man's car! Hot and ready to run!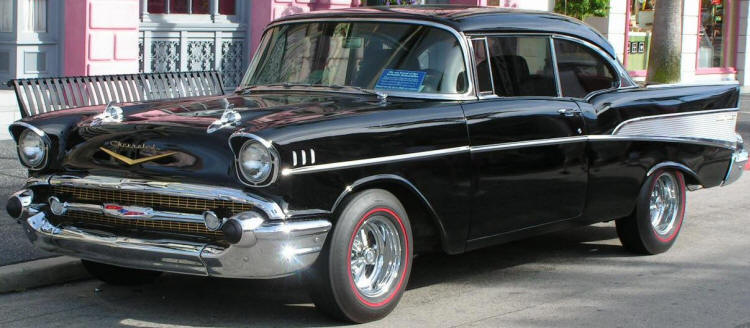 1957's where even hotter!
Mom And Dad Went To Pontiac's And Buick's In The 1950's, They Had A 1960 Chevy

Chevy ruled the world in the 1950's and 1960's
Mom And Dad Mobile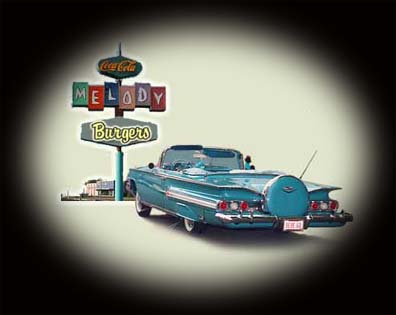 Chevy and burgers, a natural match!
Our Chevy was exactly like the white one below. It was 4 doors (ugh!!!) It was Mom and Dad's car and it even had, clear plastic eat covers! The seat covers did not hide the bright red interior either. It kind of looked like a diner on the inside.

But is was fast... had a big 348 cubic inch engine... all iron... ran forever! We took it to Arkansas and I do not think it ever got below 80 miles per hour all the way through New Mexico and Texas!

The only smog device was the accelerator! Reduce smog by driving slow! Open the hood and no rubber hoses, wow!

The engines got bigger in the next few years... 409, the 421, 425, the 470, and 500!!!! Of course gas was about 25 cents/gallon!
This Was Ours!
The Inside Was Red!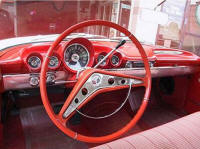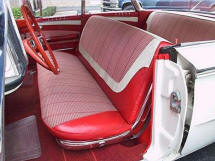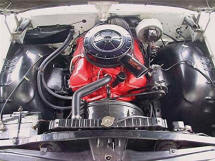 Like fire engine red! With the clear plastic seat covers, these puppies
were hot to sit on for any length of time! We had covers in the back seat also! 348 Cubic Inches
348 Cubic Inches, A Large Engine In Those Days
Notice the lack of rubber hoses and all the small stuff. This car was easy to work on.. everything was accessible.

The ancestral engine of what is most often thought of as the Chevrolet big block was the "W" series V8 , first released in 1958 for passenger car and truck use. This engine was an overhead valve design, with offset valves and unique scalloped rocker covers, giving it a distinctive appearance. The "W" series was produced from 1958 to 1965, with three displacements offered: 348 cubic inches , available from 1958 to 1961 in cars and through 1964 in trucks; 409 cubic inches , available from 1961 to 1965; and 427 cubic inches , available only in 1963.