The Avalon Ball Gets Underway (Page Nine)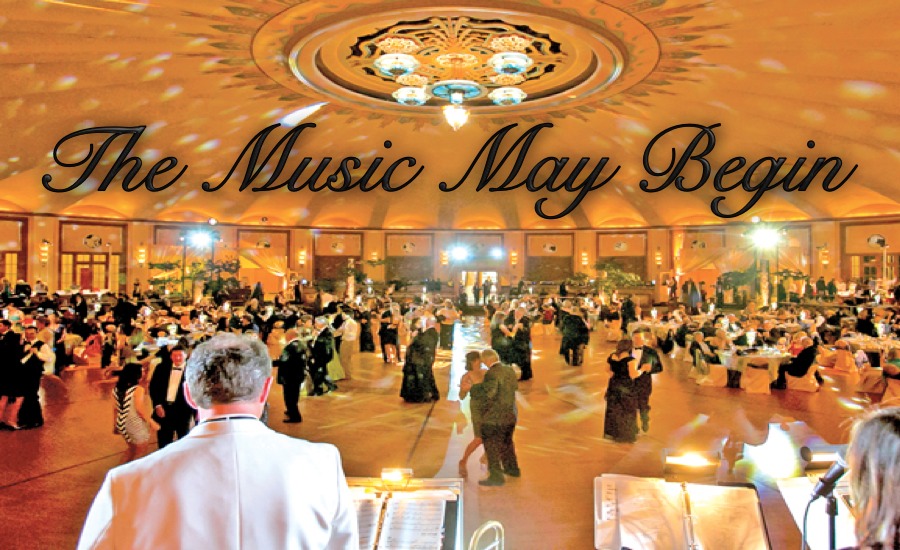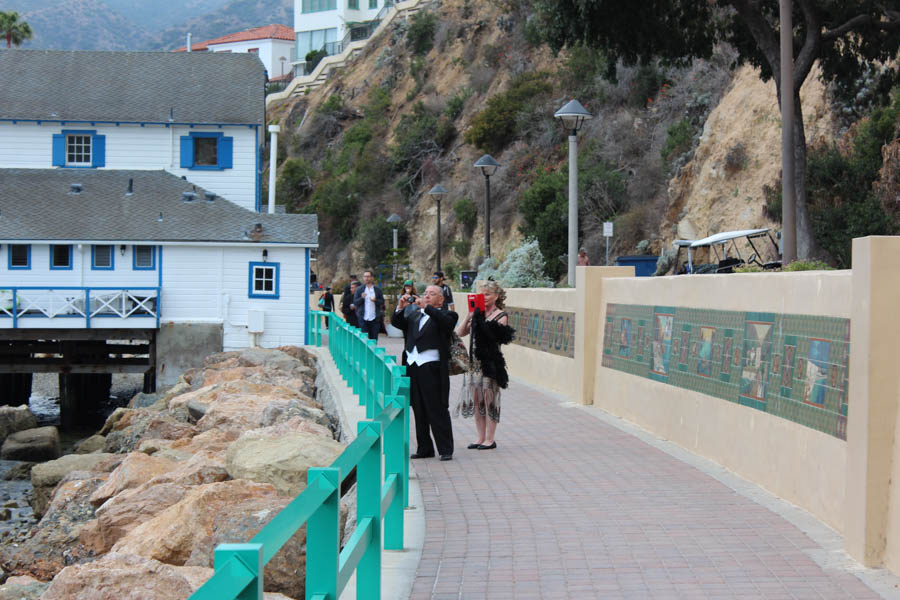 We're walking... We're walking
This year we reserved tables for our group which worked out well!

We had ten tables!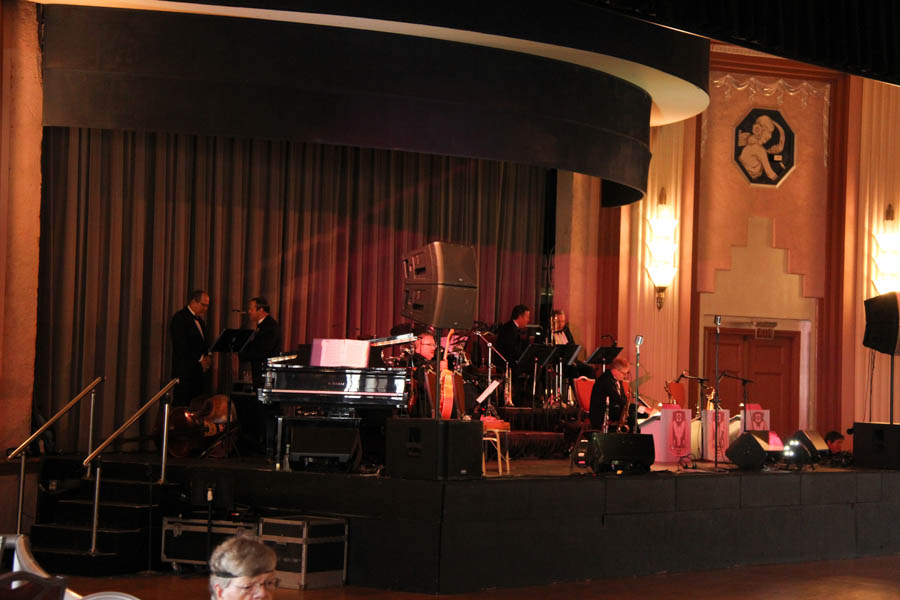 Great sounds even when they are tuning up!

GAyle watches the right flank!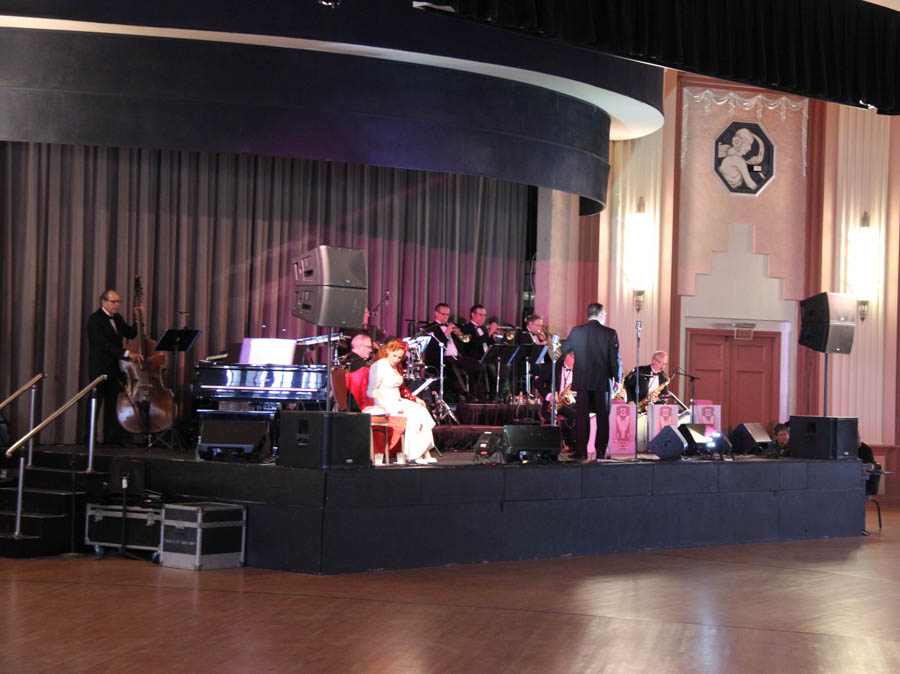 D - 10 minutes and counting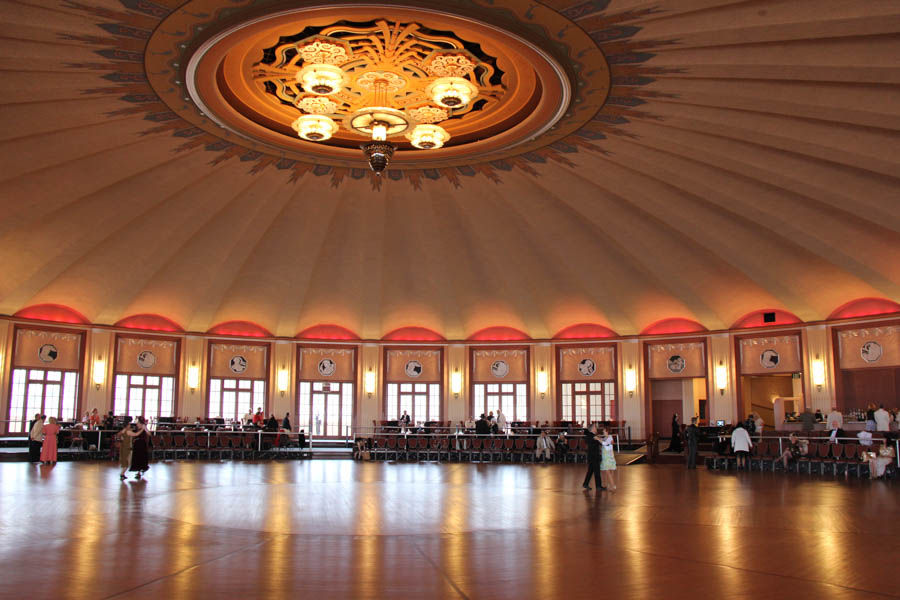 The floor was perfect... Some danced to the recorded music

Jose' and Sherrie make their appearance!
Did You Know? - A top hat, beaver hat, high hat, silk hat, cylinder hat, chimney pot hat or stove pipe hat, sometimes also known by the nickname "topper", is a tall, flat-crowned, broad-brimmed hat, worn by men from the latter part of the 18th to the middle of the 20th century. By the end of World War II, it had become a rarity in ordinary dress, though it continued to be worn in specific instances, such as state funerals, also by those occupying prominent positions in the Bank of England, by certain City stock exchange officials and occasionally when passing between the Law Courts and Lincoln's Inn, London by judges of the Chancery Division and Queen's Counsel.
As of the early 21st century, top hats are still worn at some society events in the UK, notably at church weddings and racing meetings attended by members of the royal family, such as Royal Ascot. They remain part of the formal uniform of certain British institutions, such as the boy-choristers of King's College Choir. They are usually worn with morning dress or white tie, in dressage, and as part of servants' or doormen's livery.
The top hat was frequently associated with the upper class, and was used by satirists and social critics as a symbol of capitalism or the world of business. The use of the top hat persisted in politics and international diplomacy for many years, including at U.S. presidential inaugurations, the last being worn at the inauguration of John Fitzgerald Kennedy in 1961. The top hat also forms part of the traditional dress of Uncle Sam, a symbol of the United States, generally striped in red, white and blue.


All alone!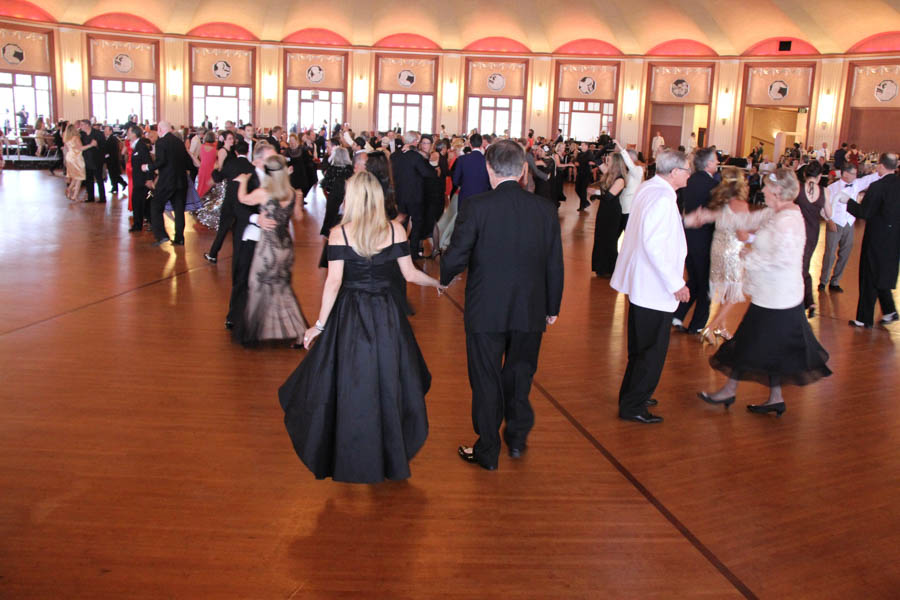 Irv and Jeanette join the fray!

The Kroy's mix right in!

Making the rounds

The Phoenix Club is well represented

Fred and Kathleen mix it up!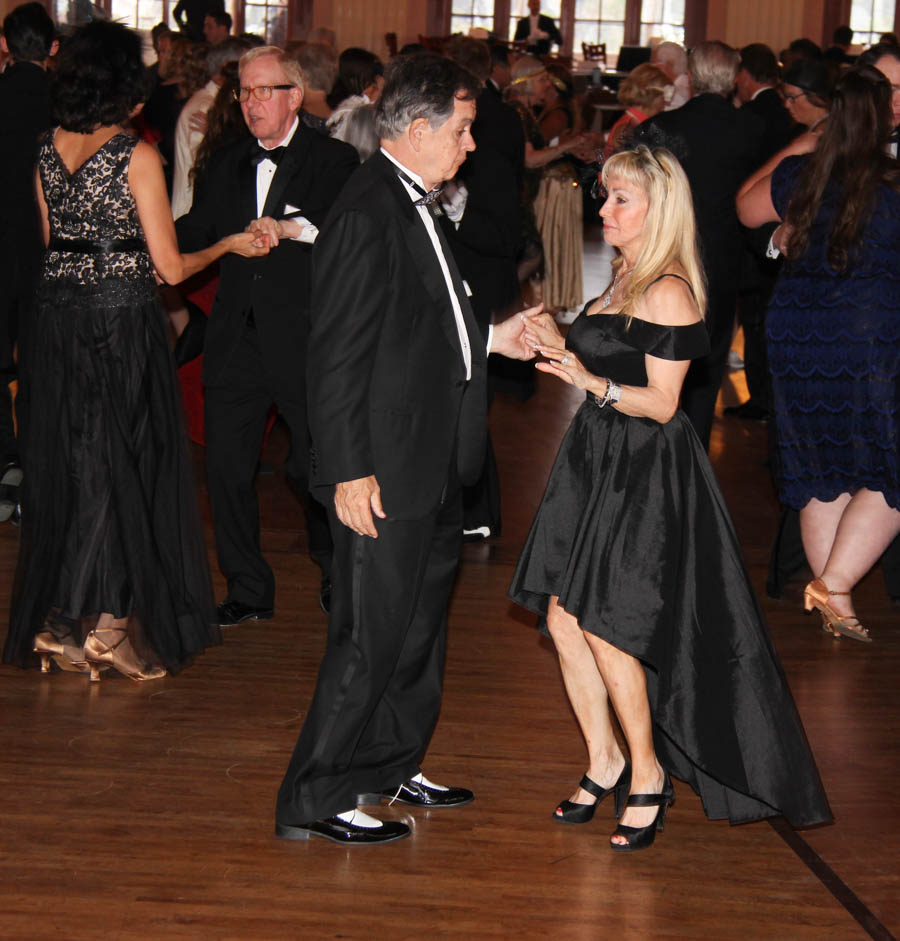 Looking good!

Smile!!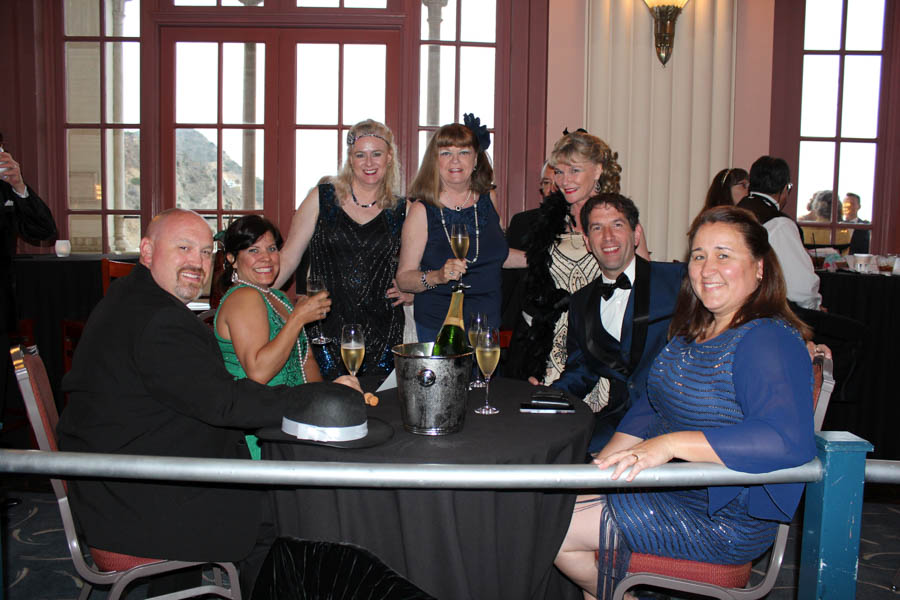 We are gathered together...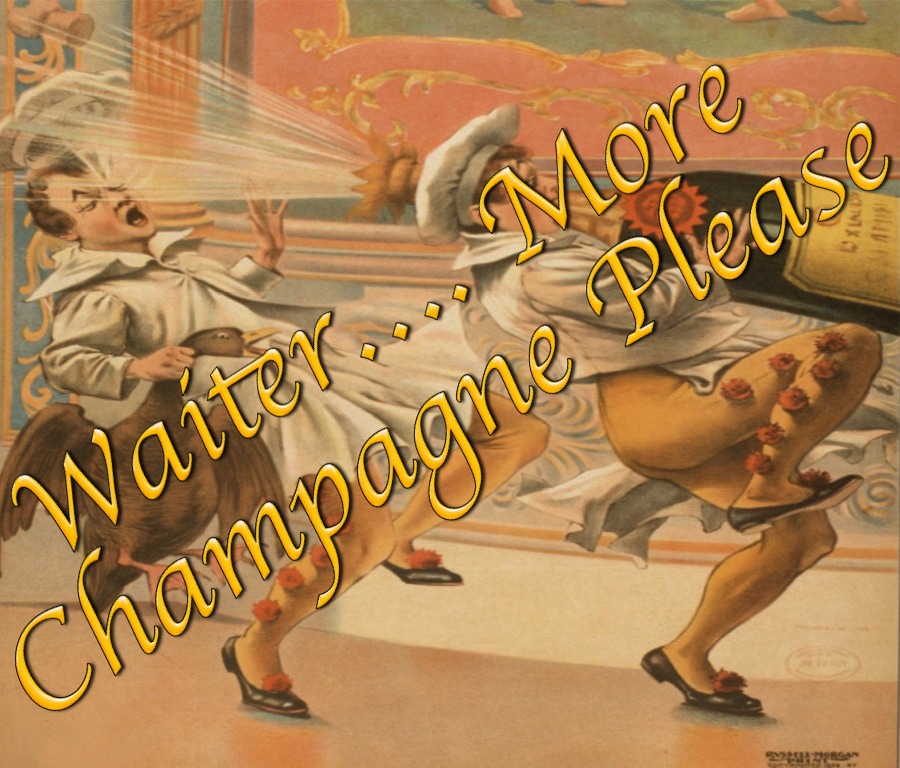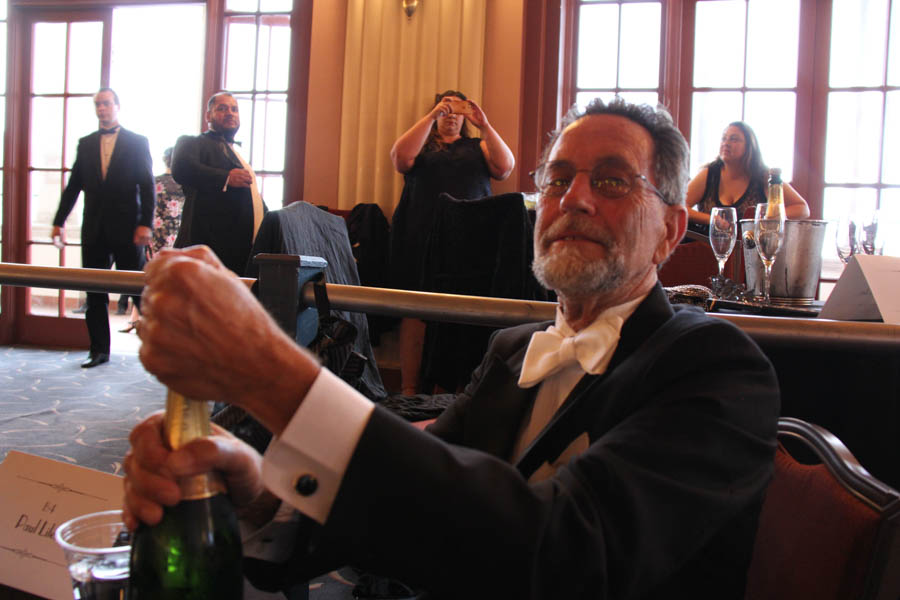 Bob demonstrates the proper way to get uncorked!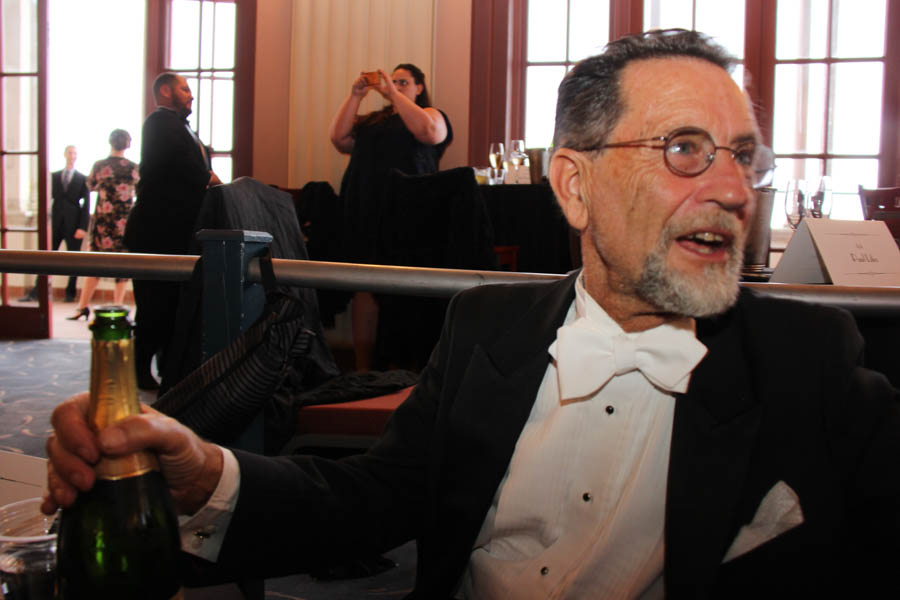 "Hey! Let's get some help over here!"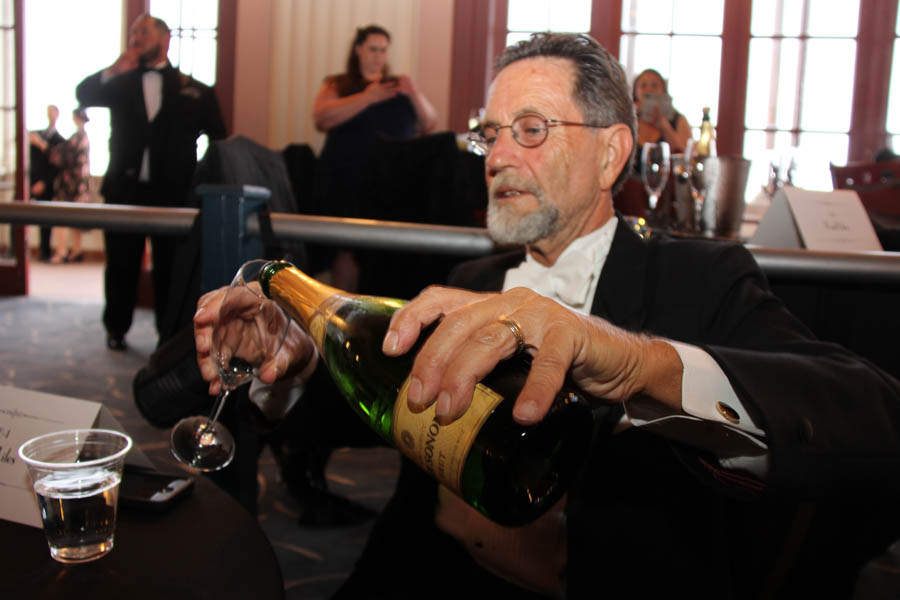 Not a single bubble is wasted!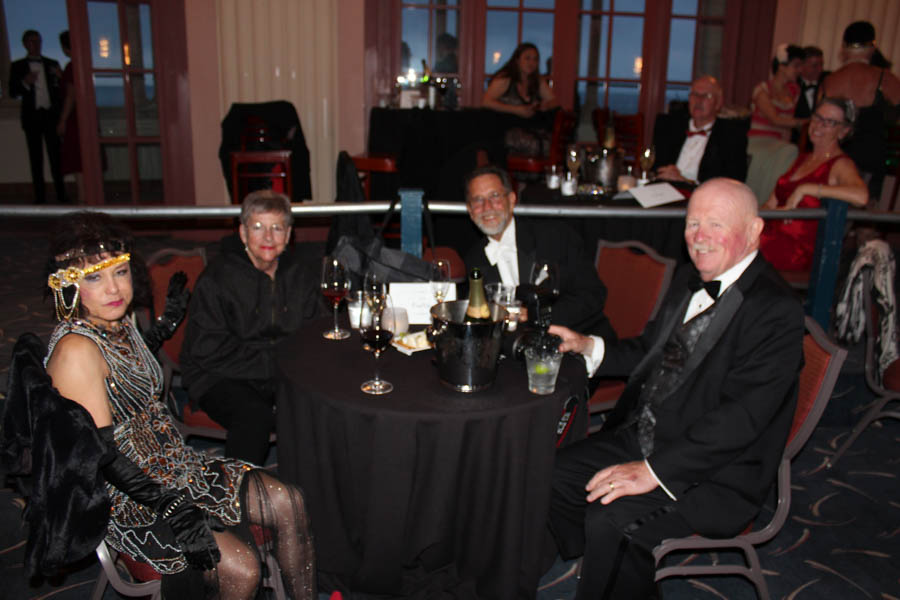 Great table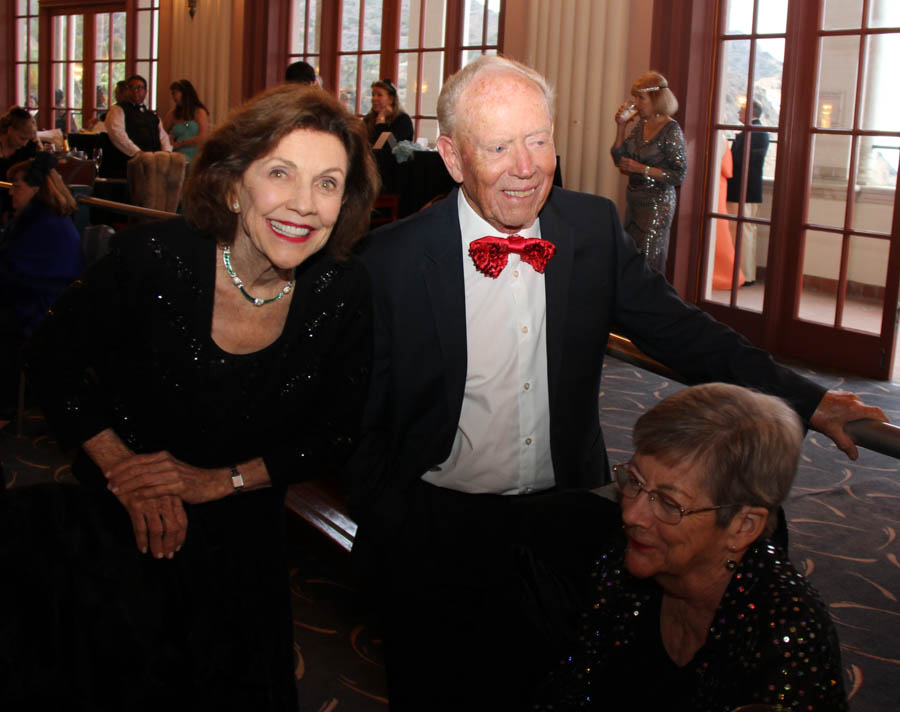 Amazing... Friends from Old Ranch!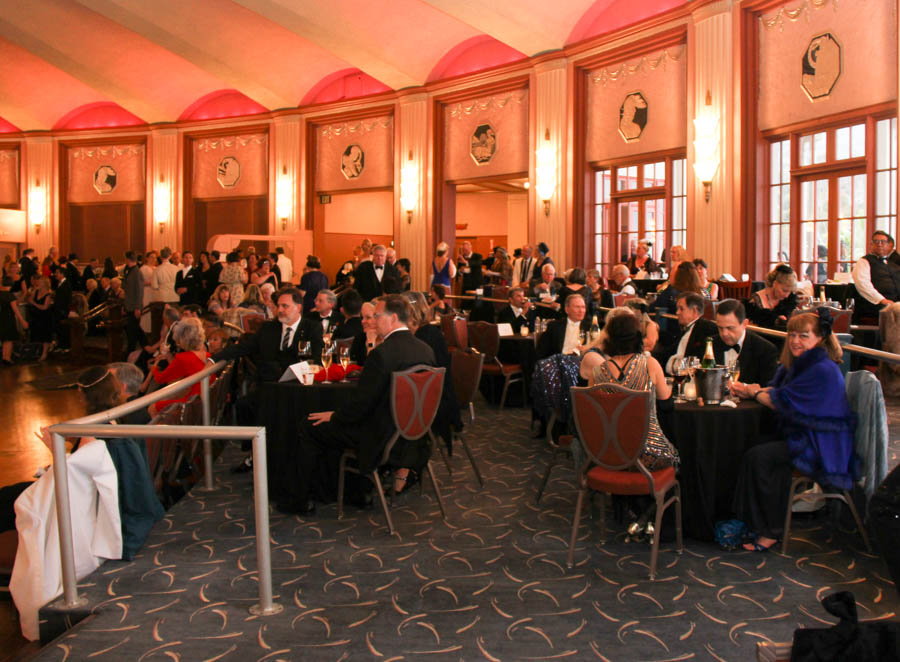 People are sitting, must be a break!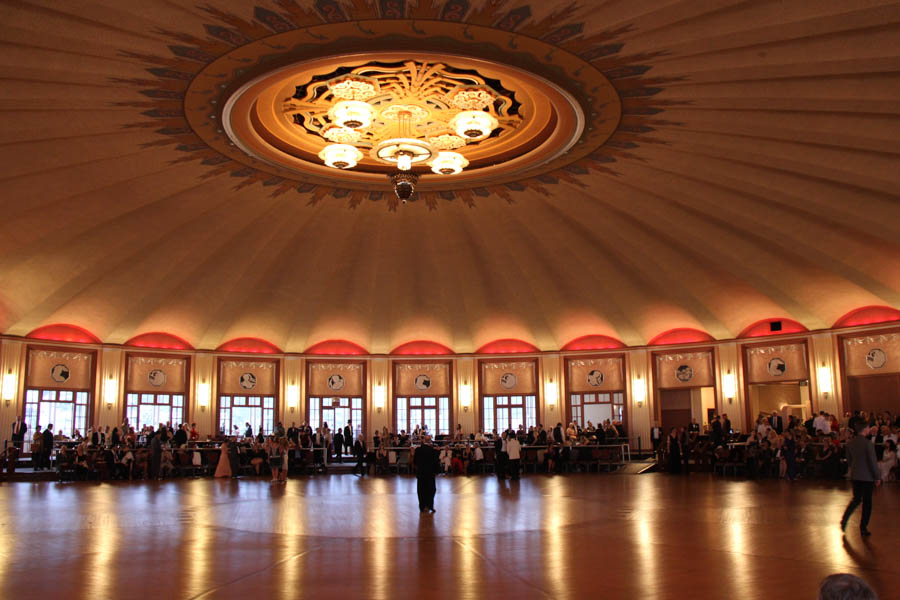 Empty floor means the band is taking a rest!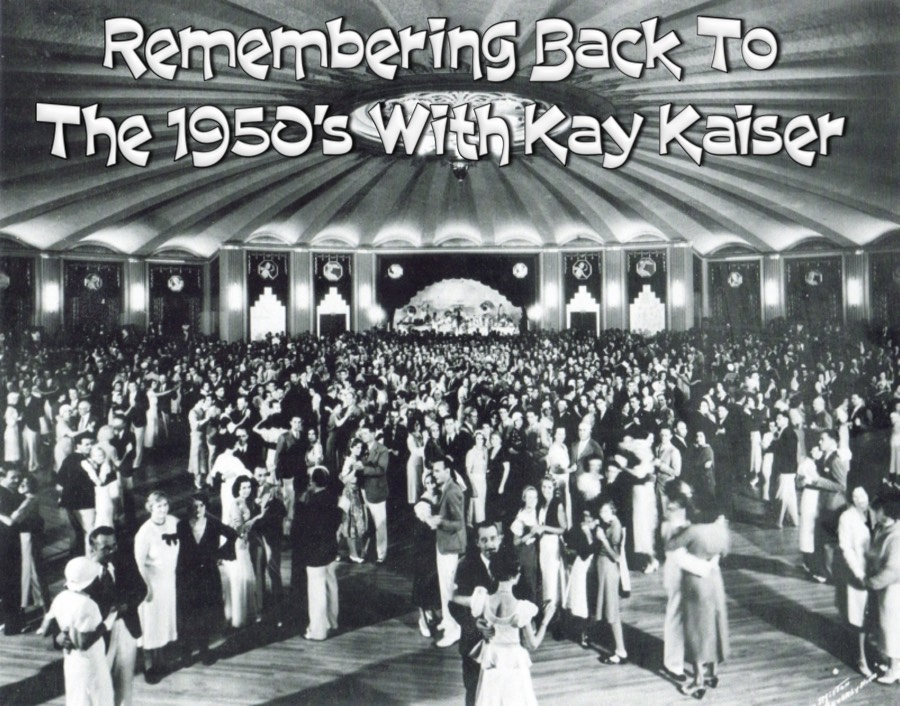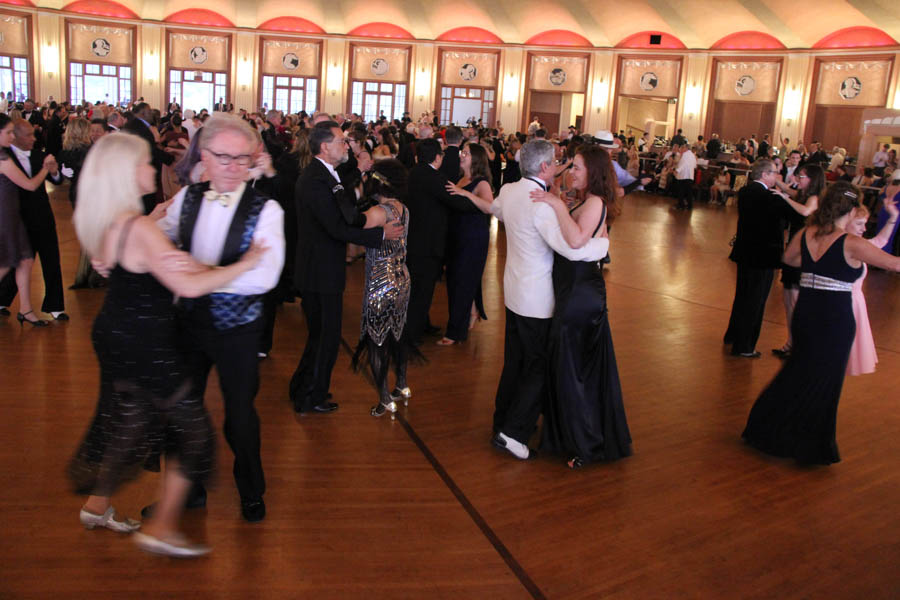 Doesn't look too much different 70 years ago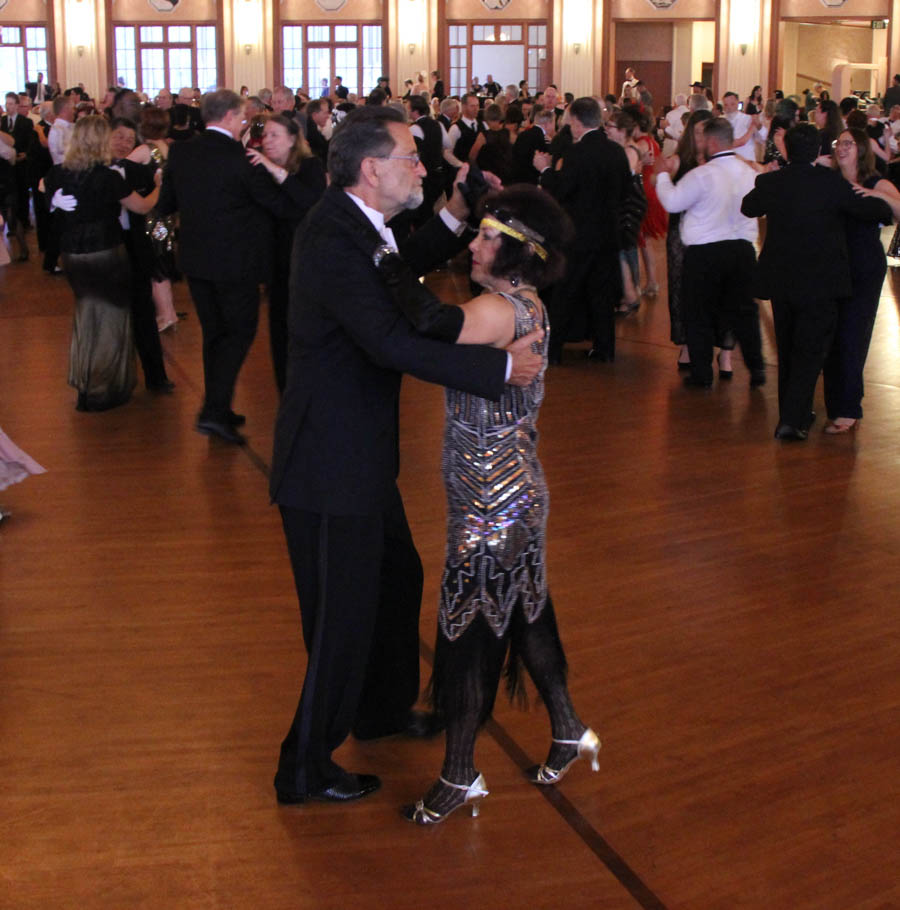 Bob and Donna make it look easy!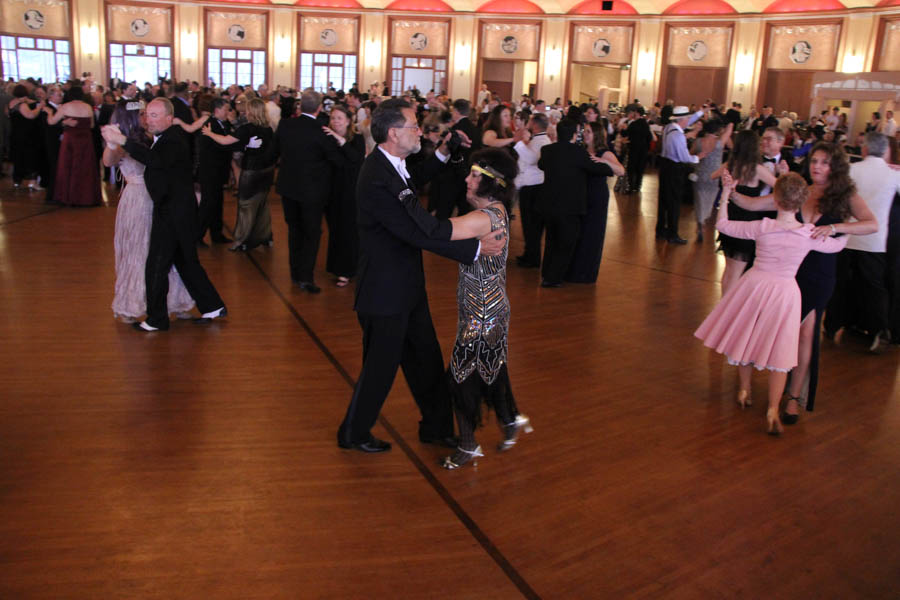 They are going to make two laps around and then come in for a rest!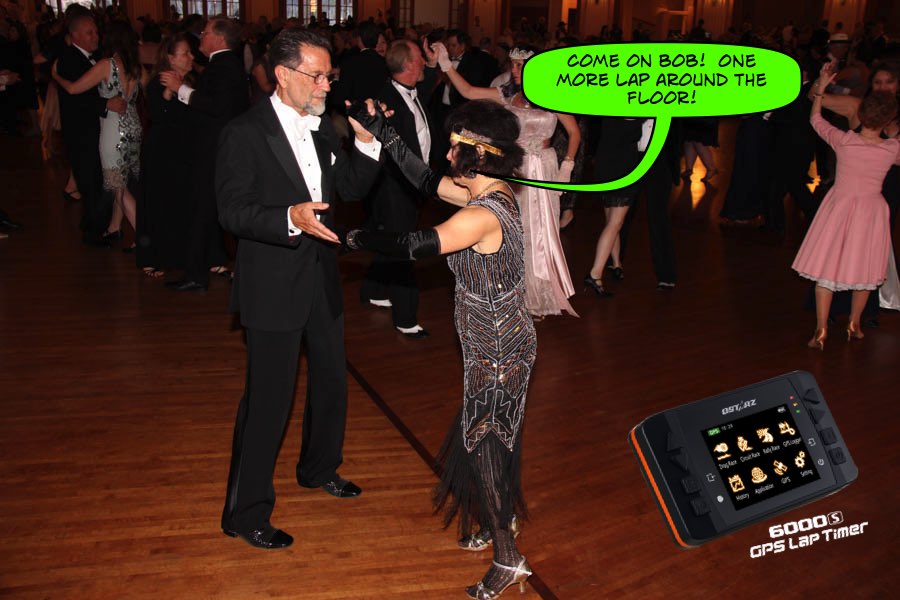 Donna brought her secret weapon!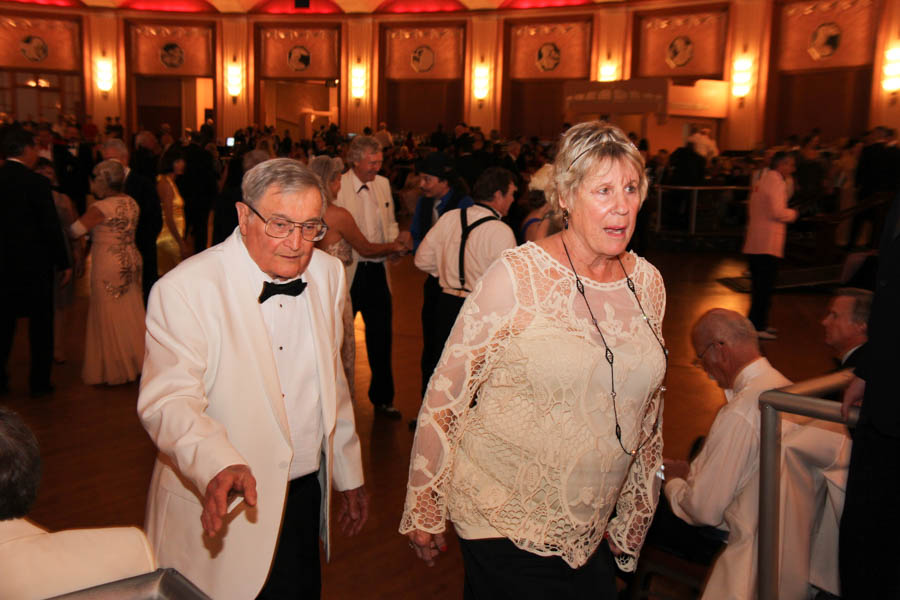 "Where is our table?"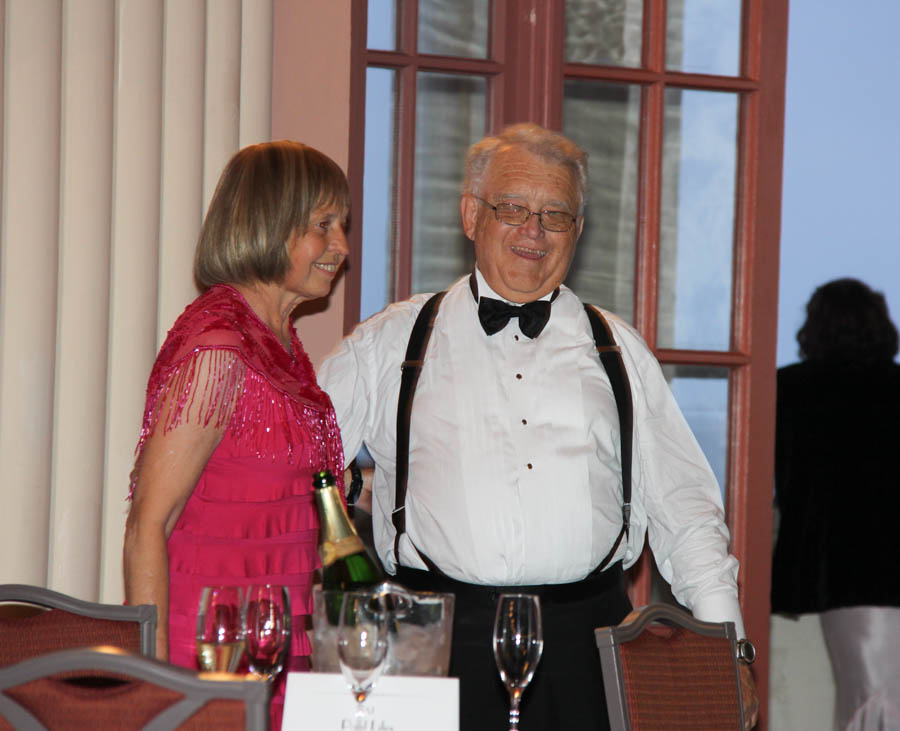 Nina and Norm heading to the floor!

"Heck... We can dance right in place!"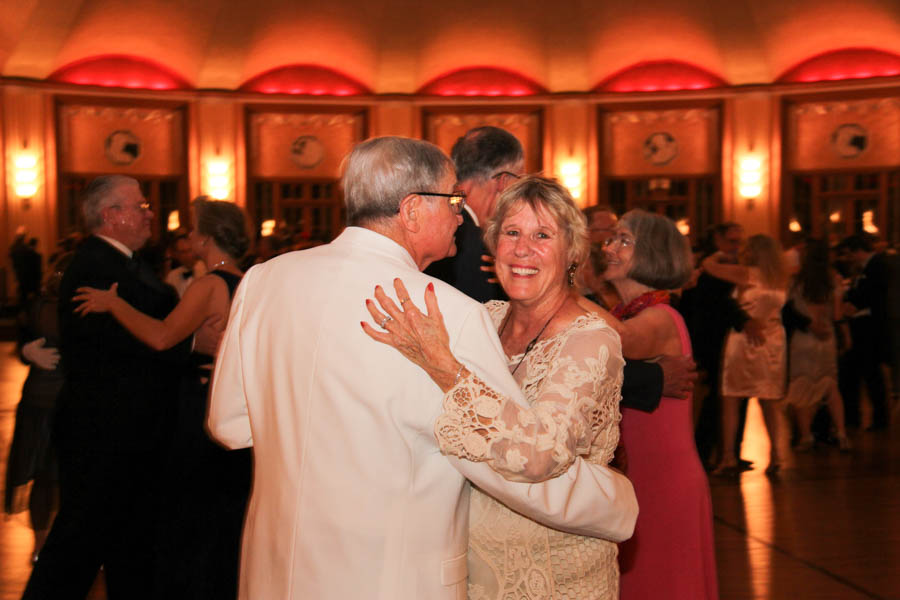 All smiles!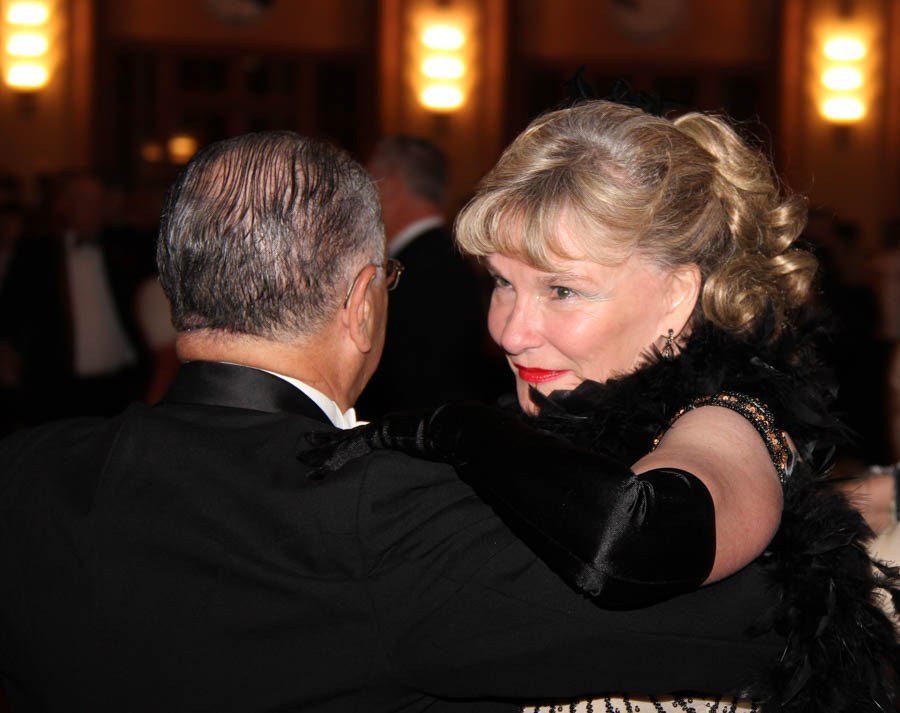 Fred and Mary glide across the floor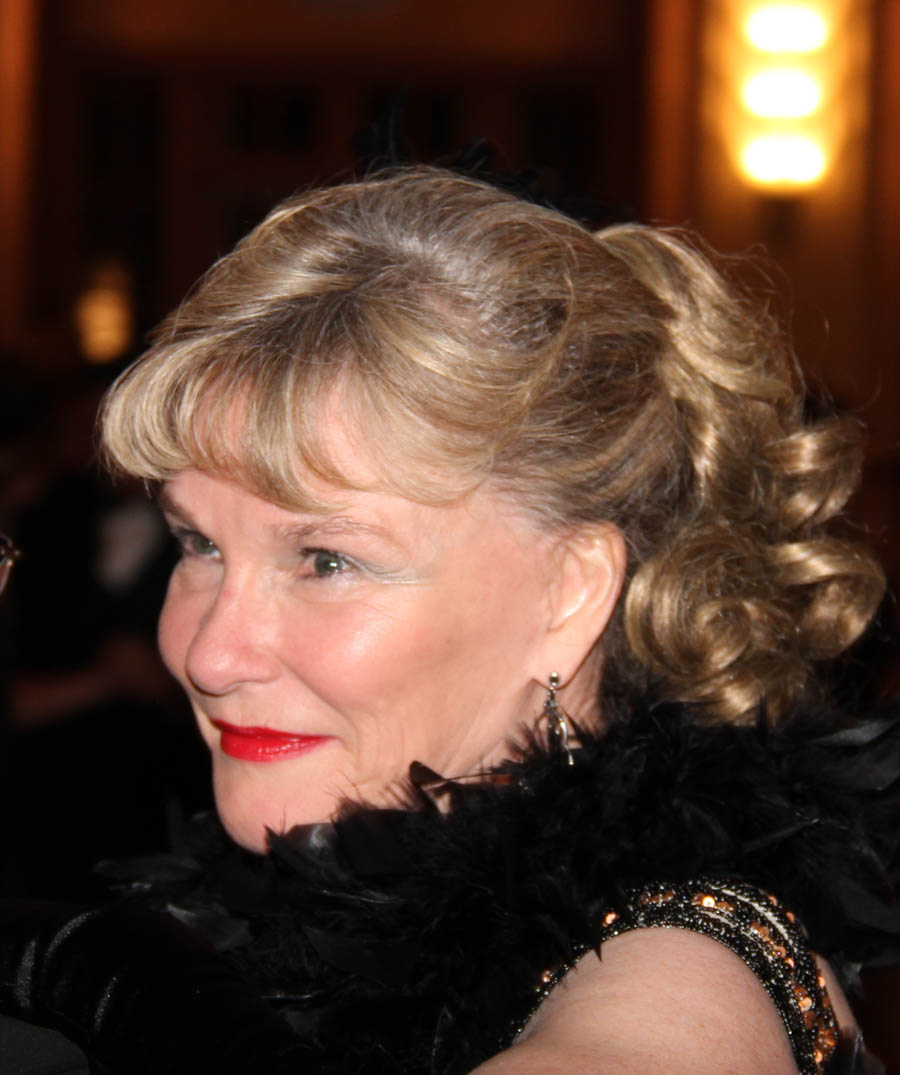 Stepping right out of the time machine!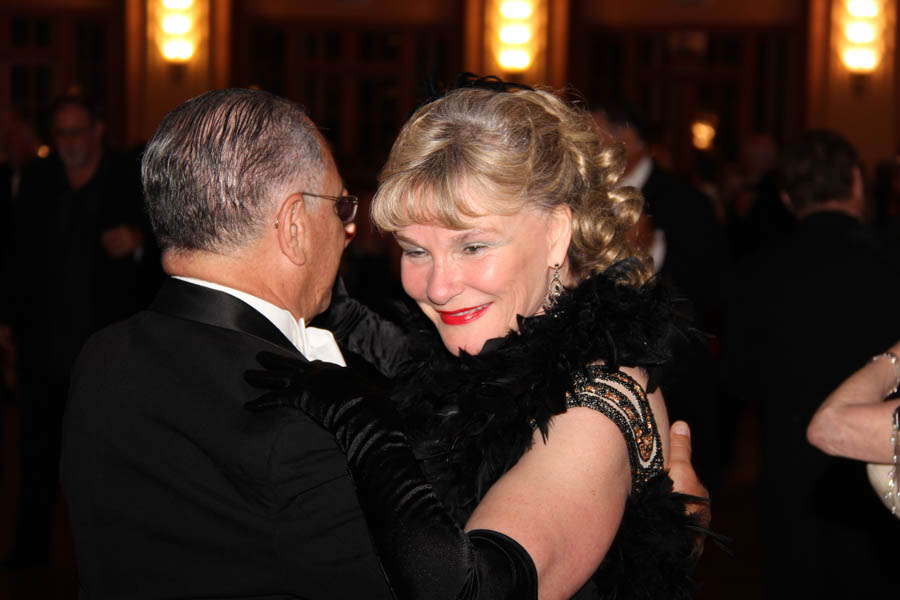 What is Fred whispering in her ear?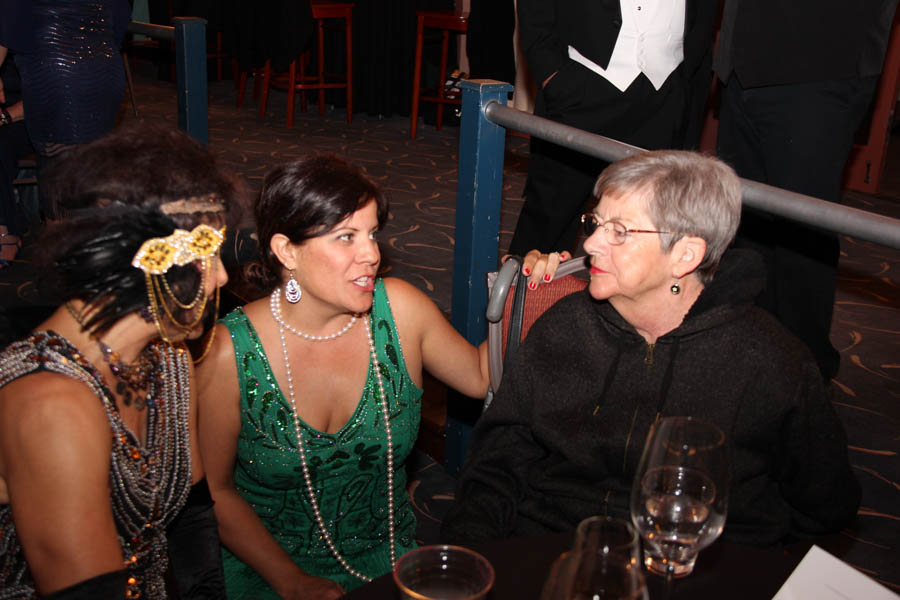 "Fresno was never like this!"

Making plans to return next year!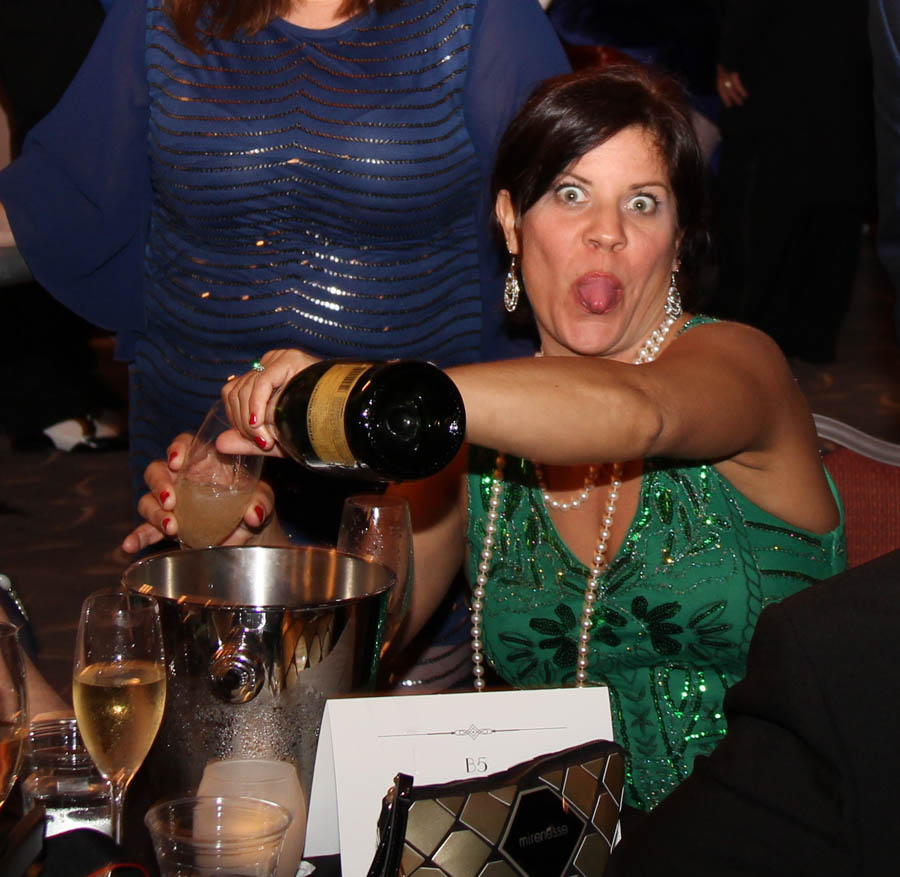 It's OK... It's the "Fresno Greeting"

Happy we could share our extra table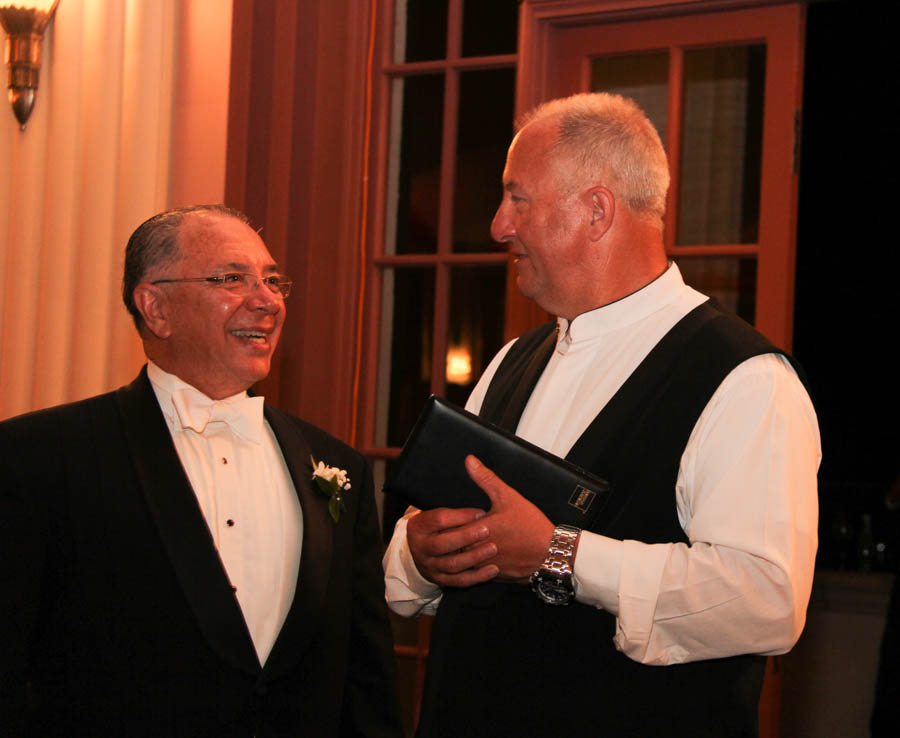 Fred and our waiter, Richard, hit it off!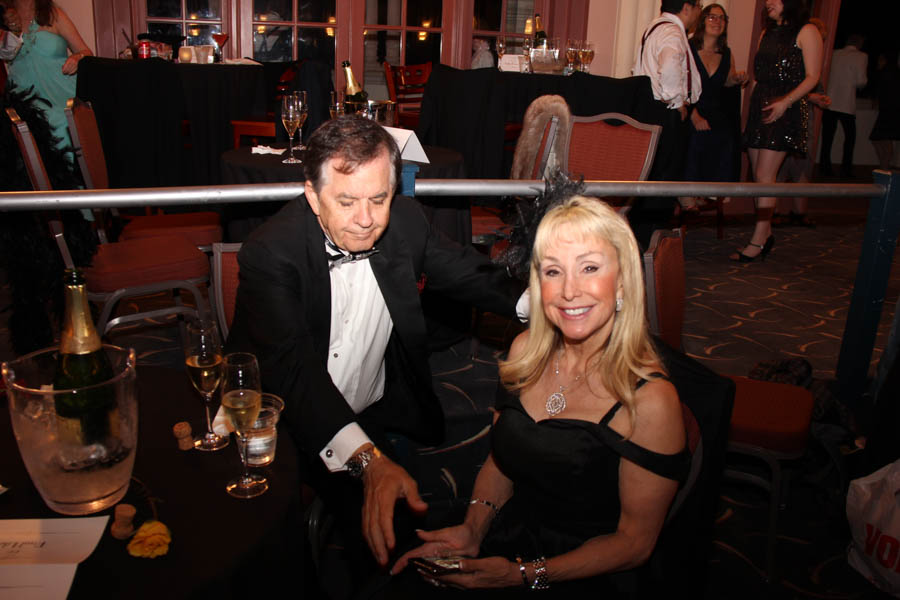 Gotta love those Nightlighters! Tom and Christine!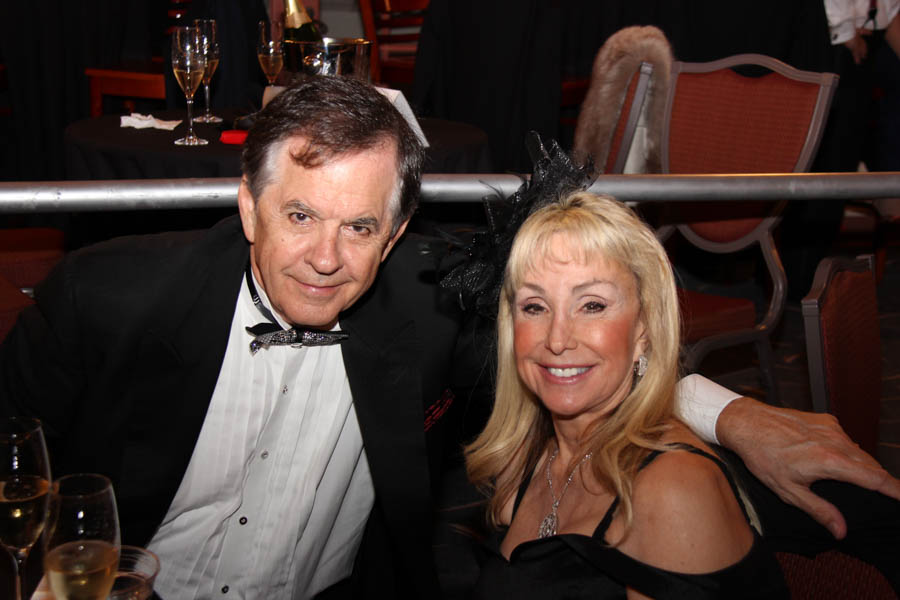 Having fun!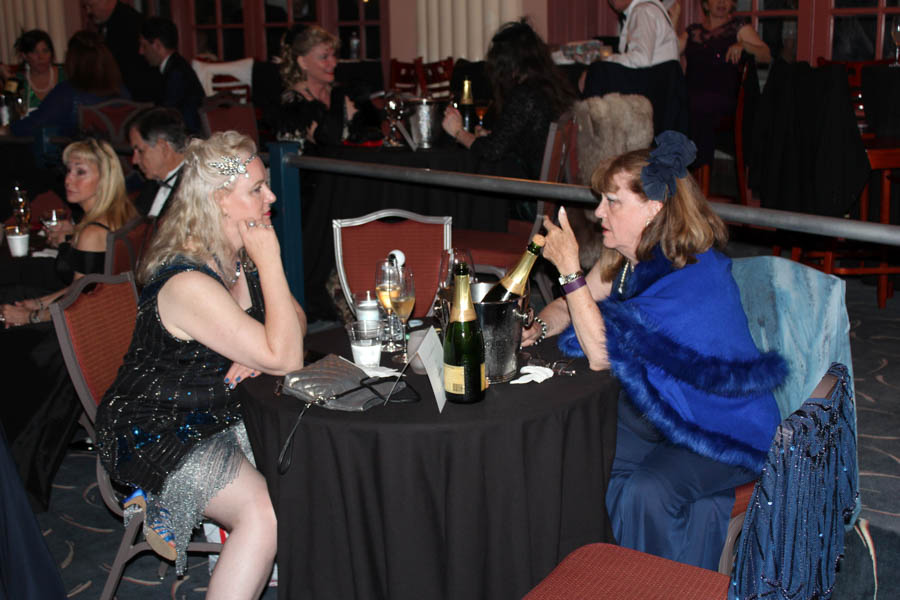 The champagne is flowing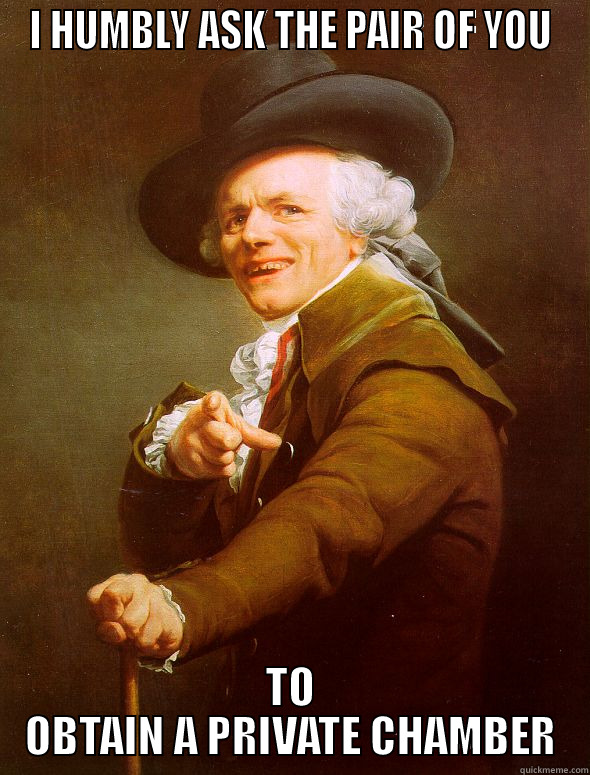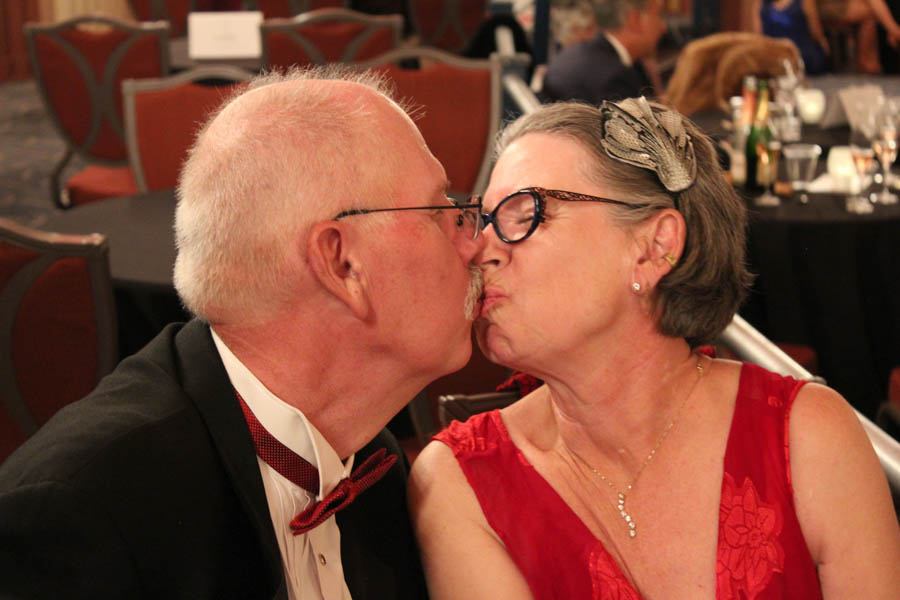 Romance is in the air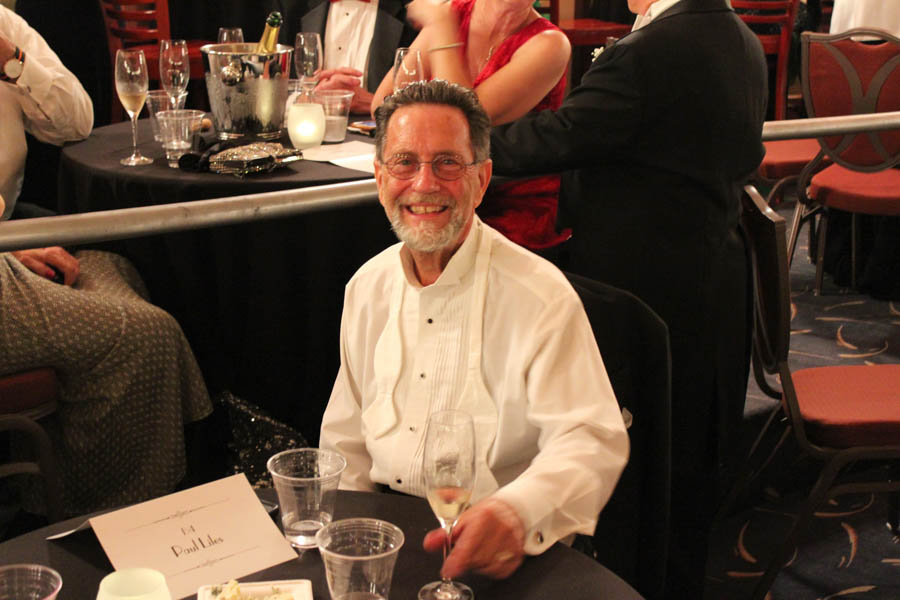 "Next comes the shirt!"

Cooling off a bit!

Warming up for the Conga!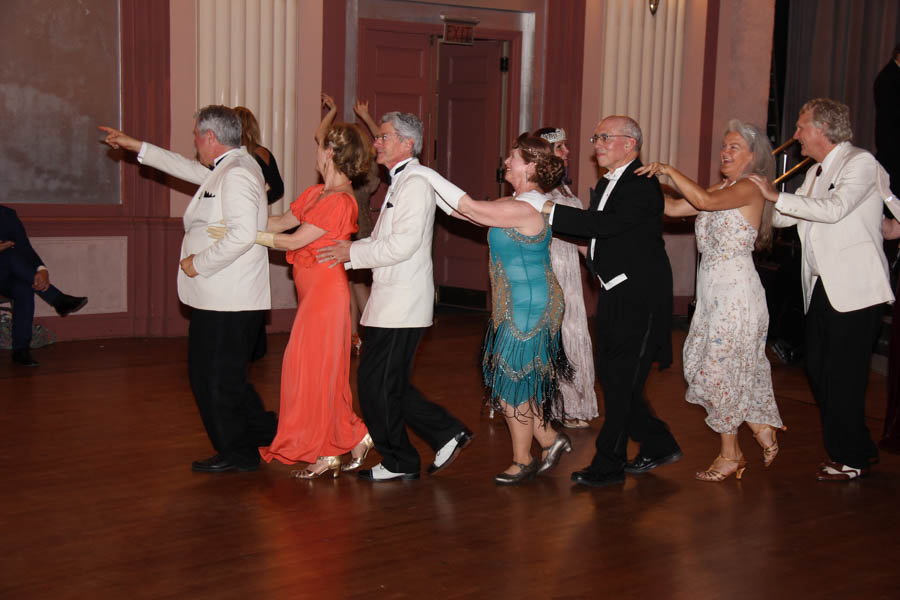 We caught a glimpse of the beginning before it headed outside!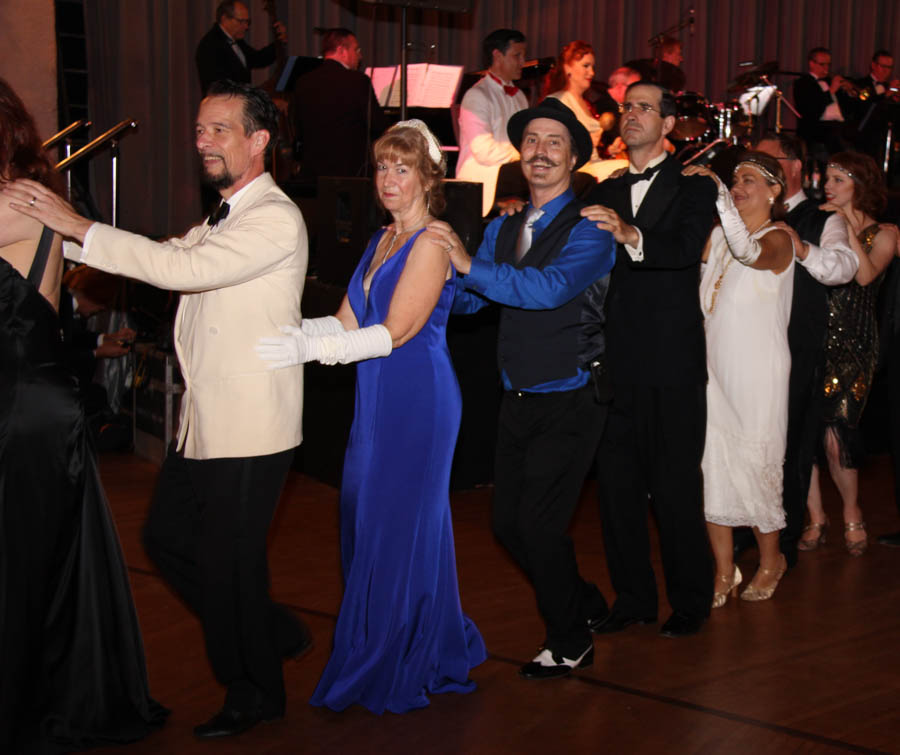 The Phoenix Club was represented this evening!

..as well as Old Ranch Country Club

Watch the hand John!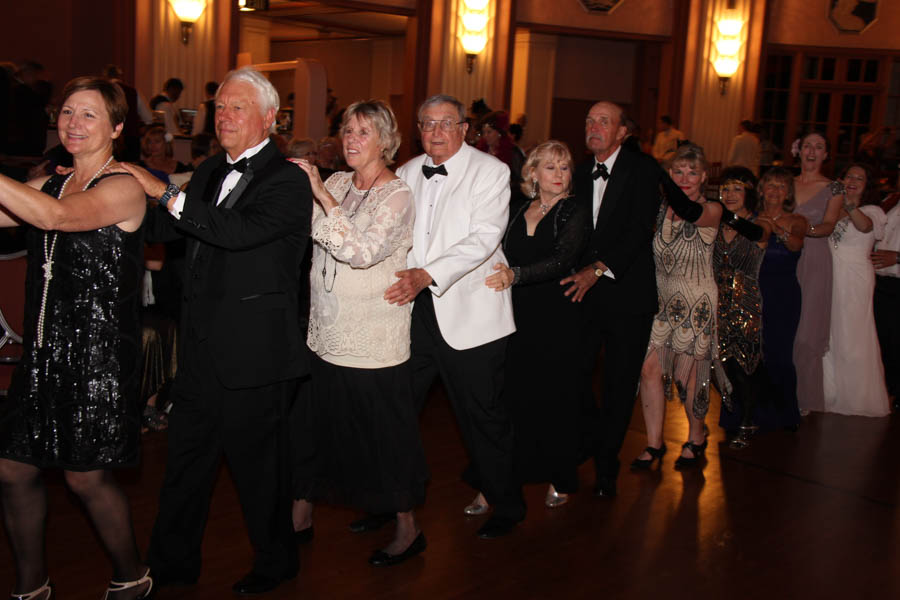 Terey and Walter show us how it is done!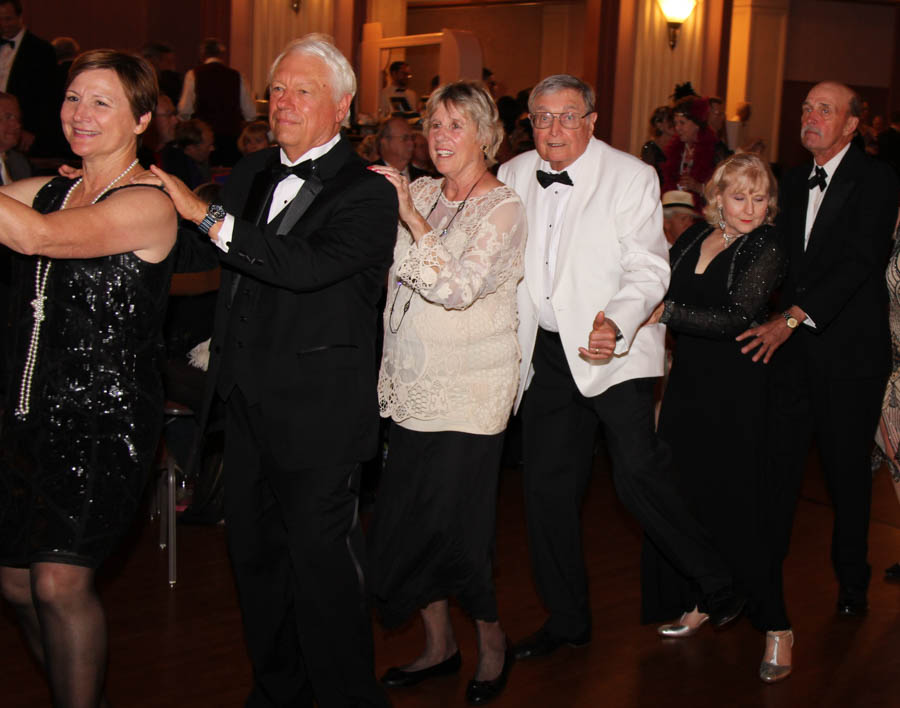 Keep on going Walter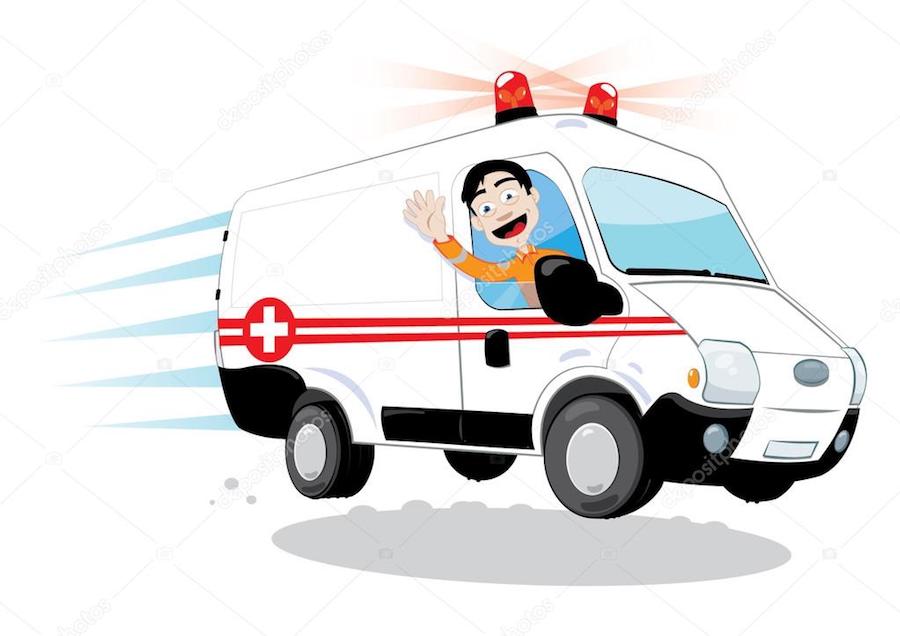 We were ready just in case!

"OK, what did you do with Fred and Bob?"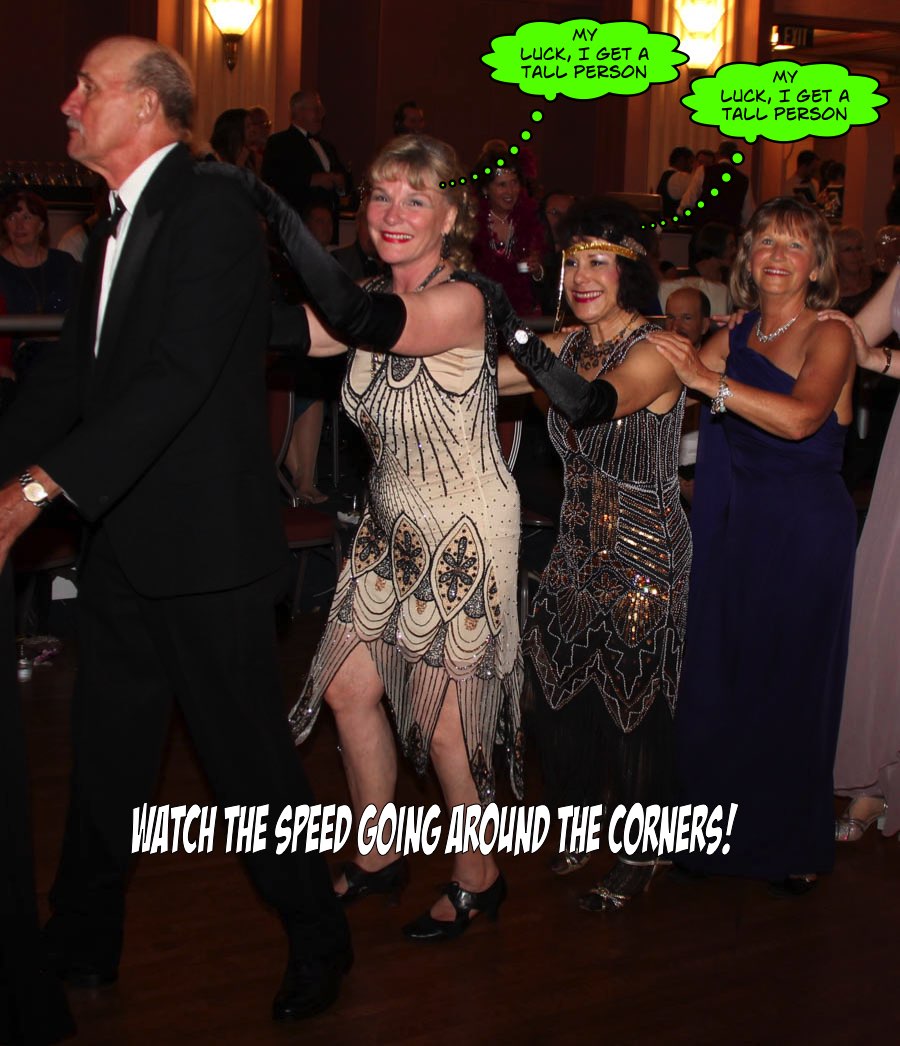 Our team is doing well
Christine, Tom, Sherrie, Holly and Bill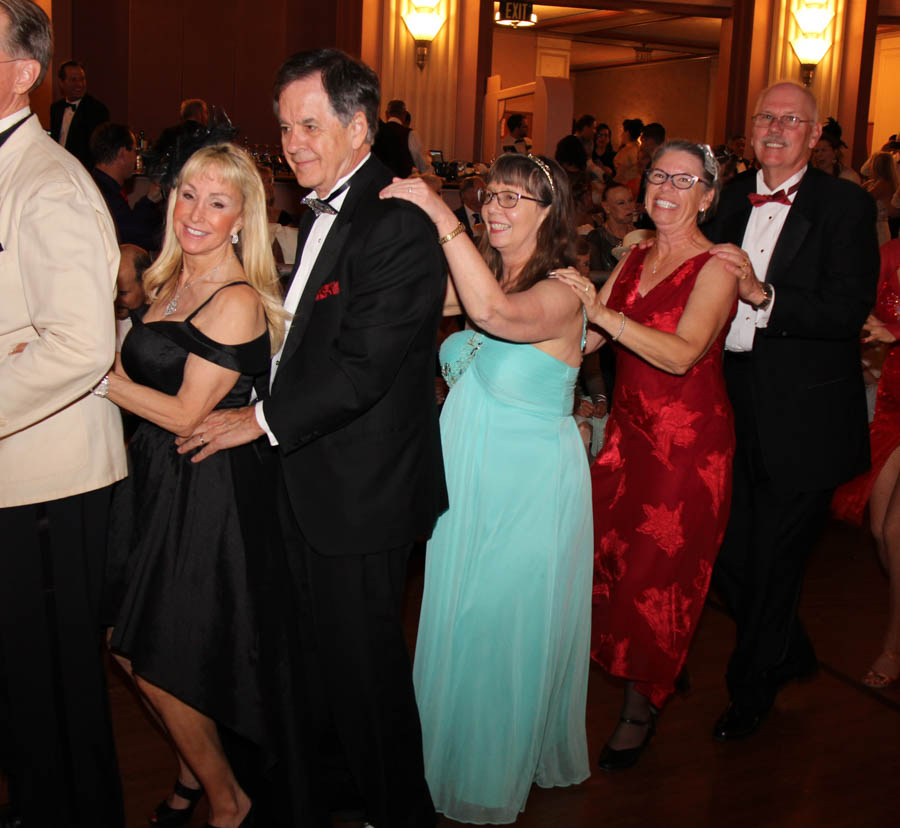 Oh dear... They are all smiling!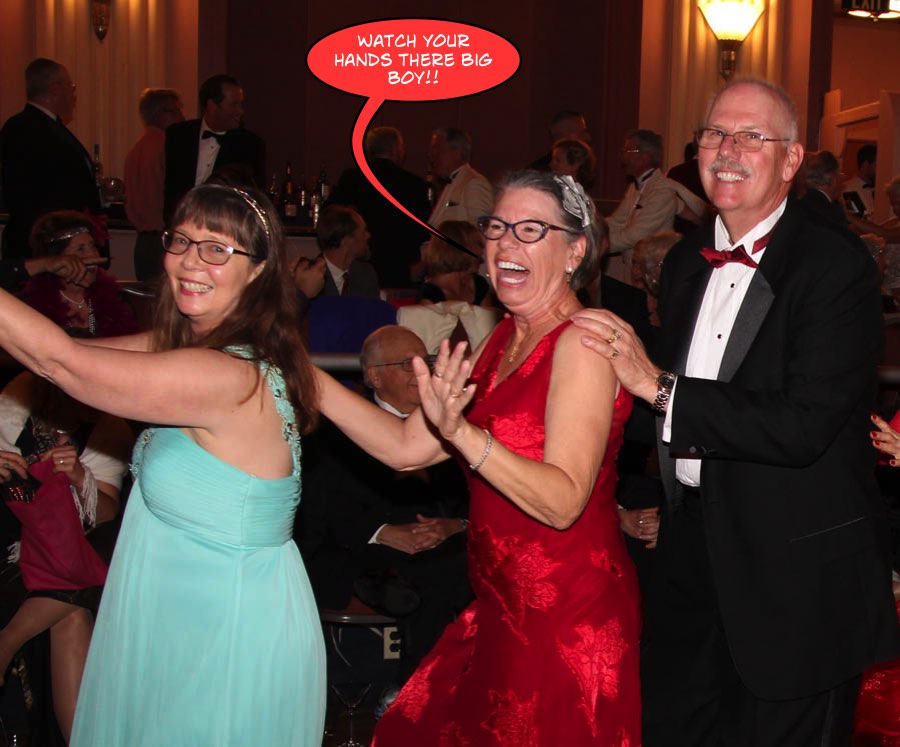 Moving toward the door...

...and the Phoenix Club is catching up!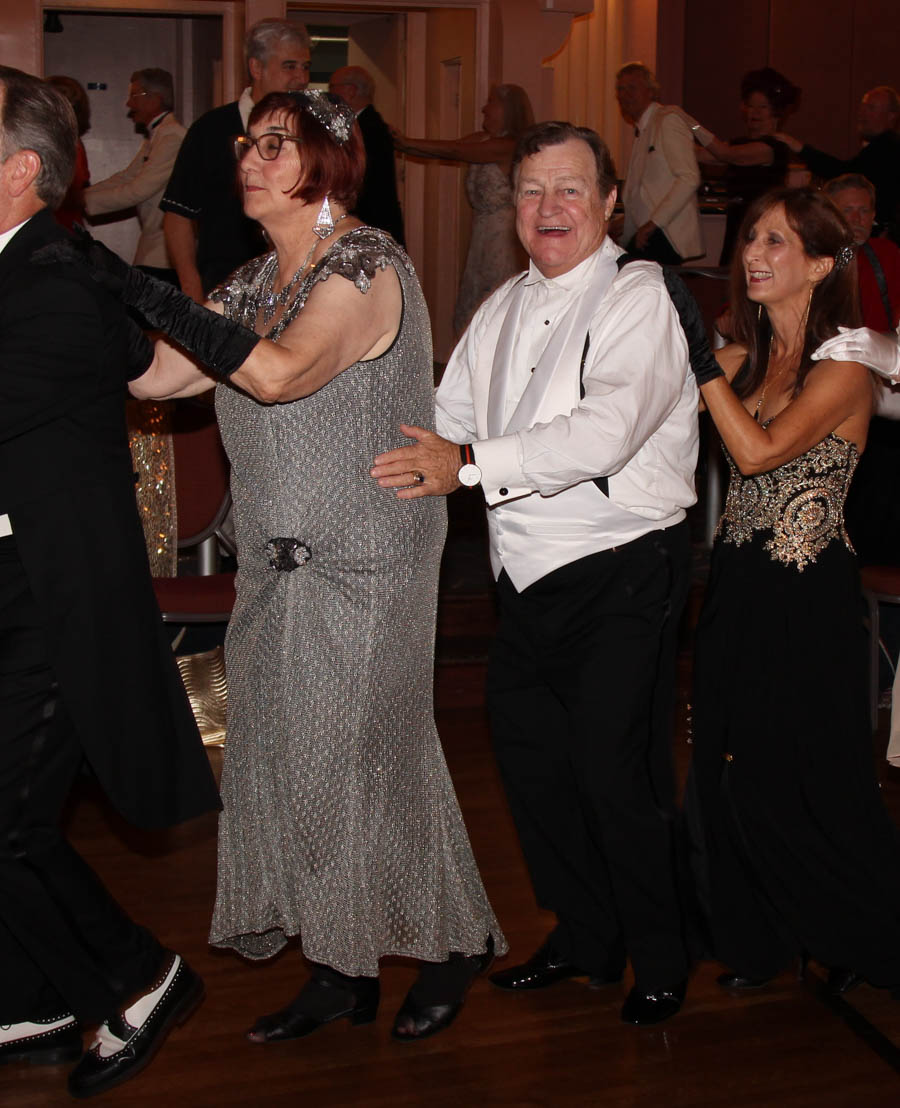 Having fun!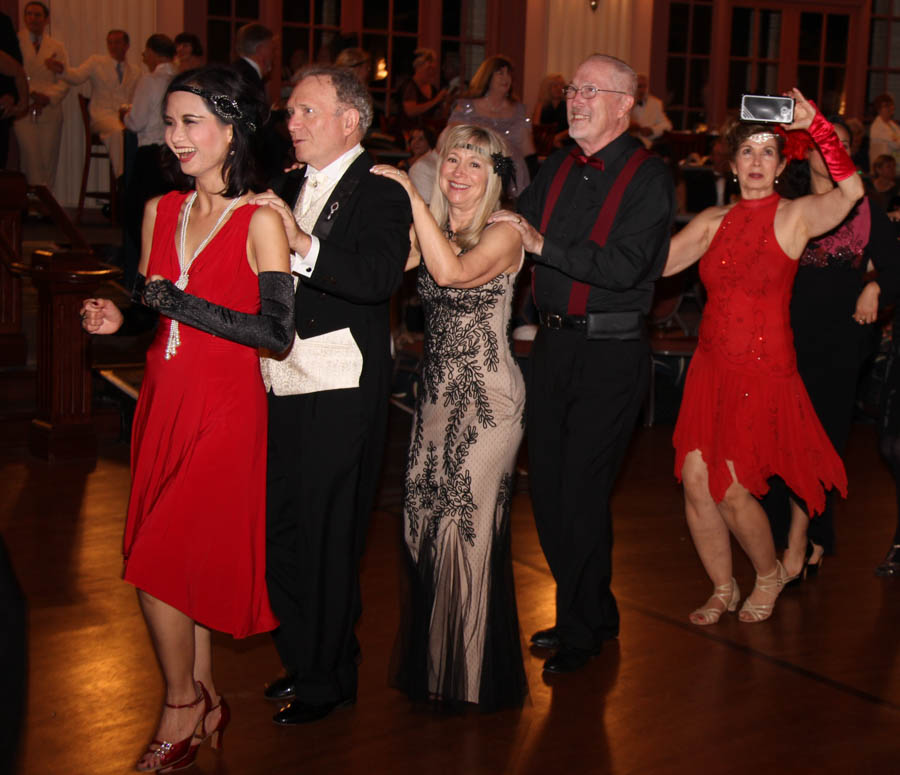 Here comes Irv and Jeanette!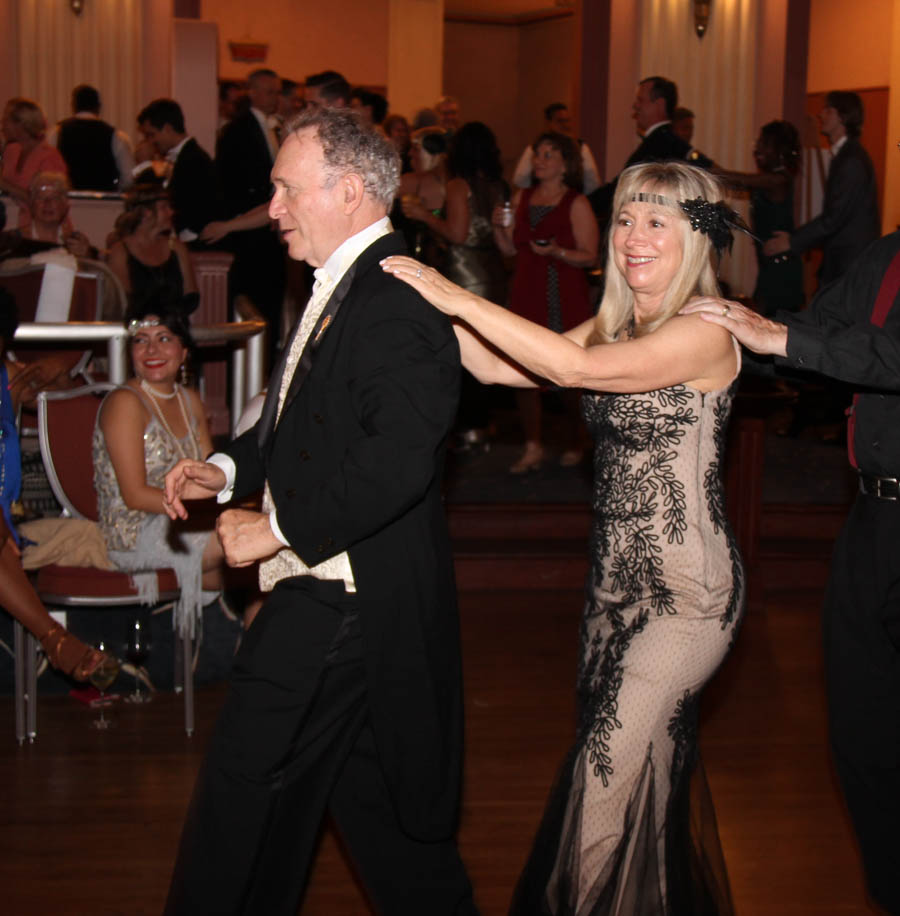 Oh oh... They are loose from the line!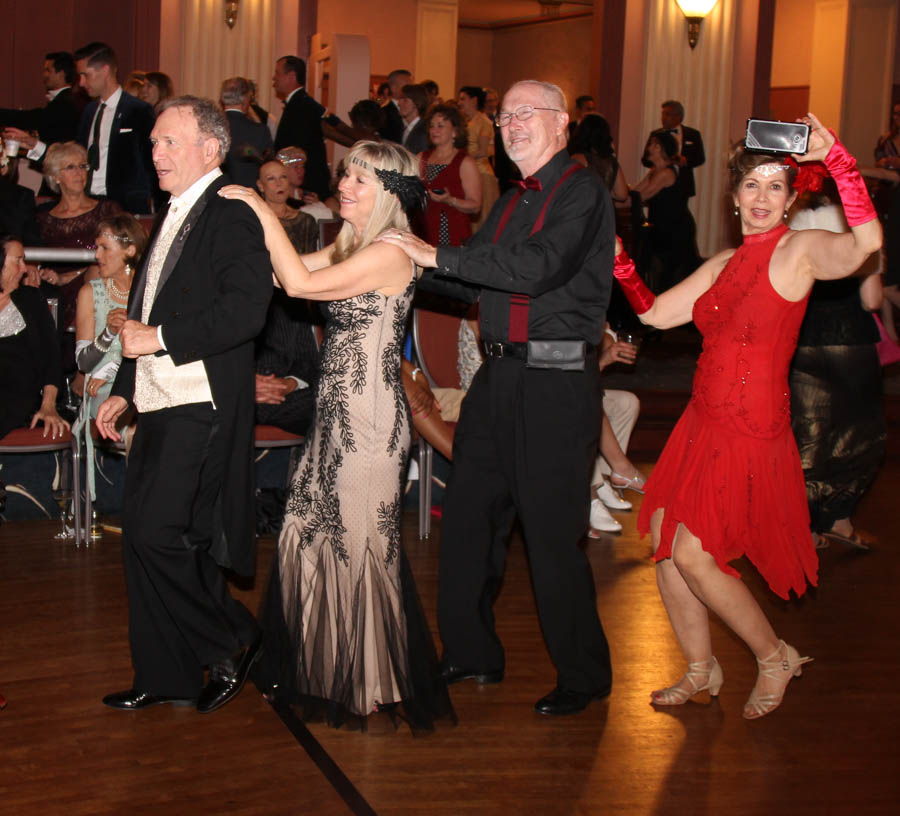 Irv will catch up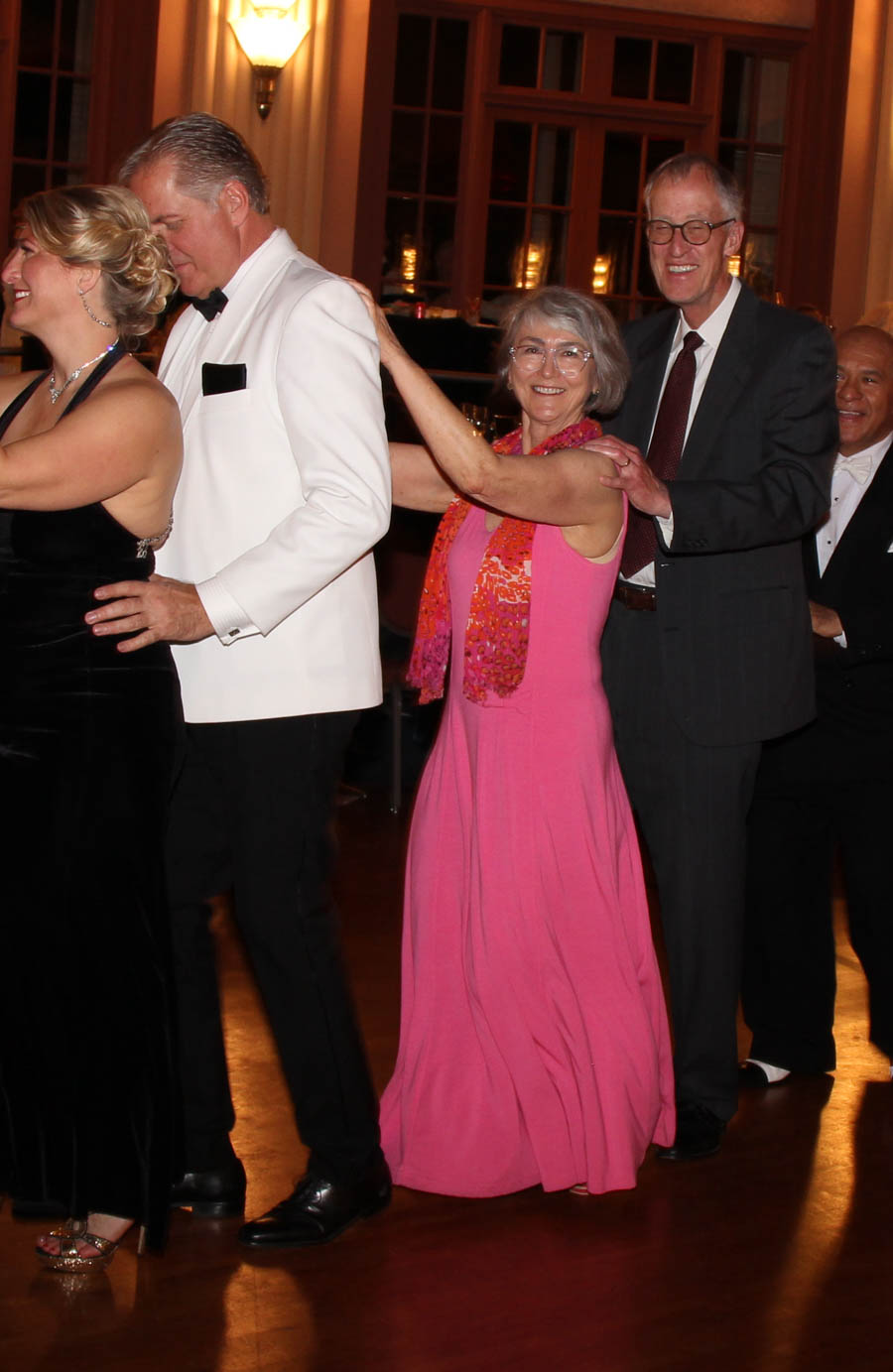 Sandy is surrounded!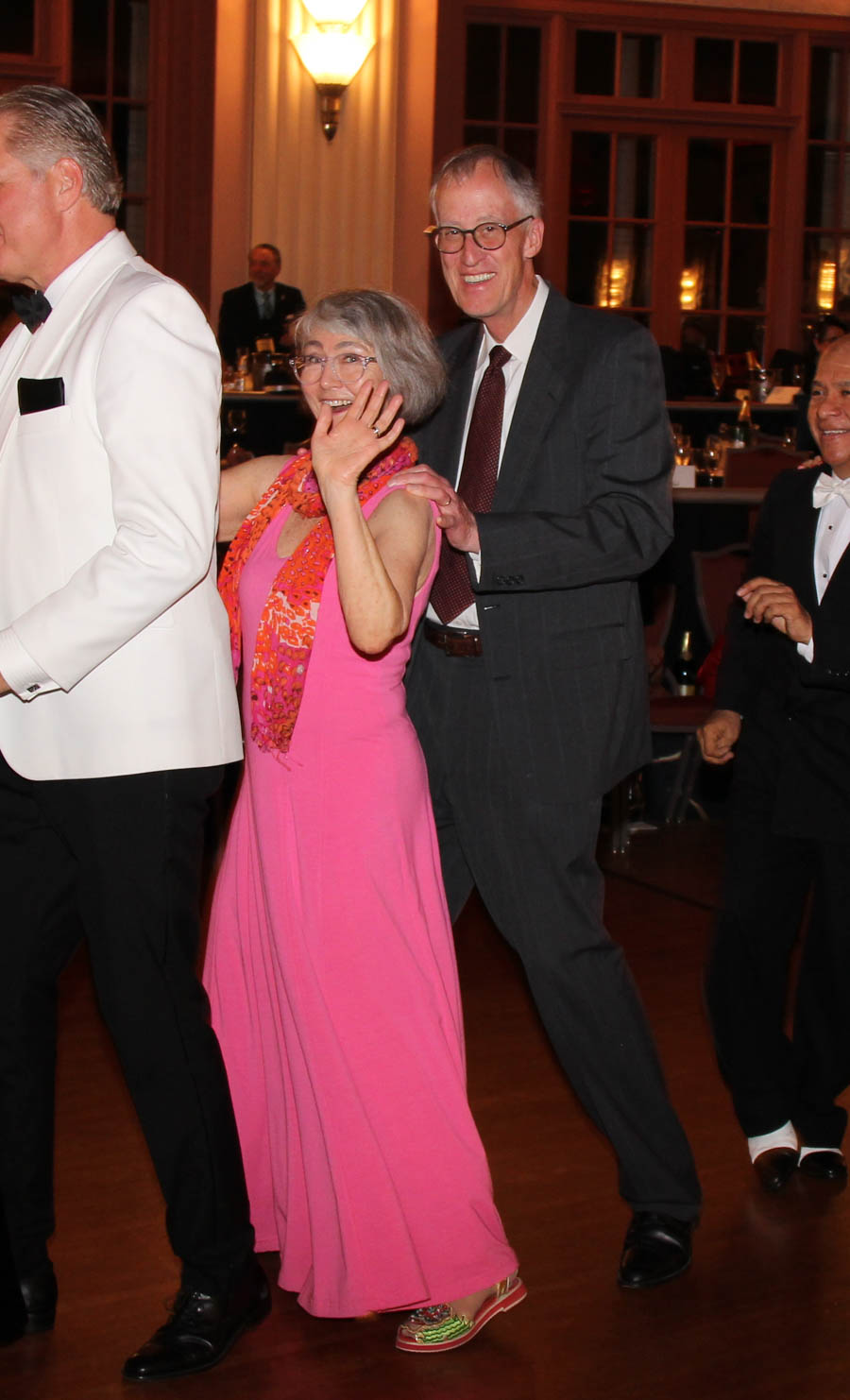 Great times to remember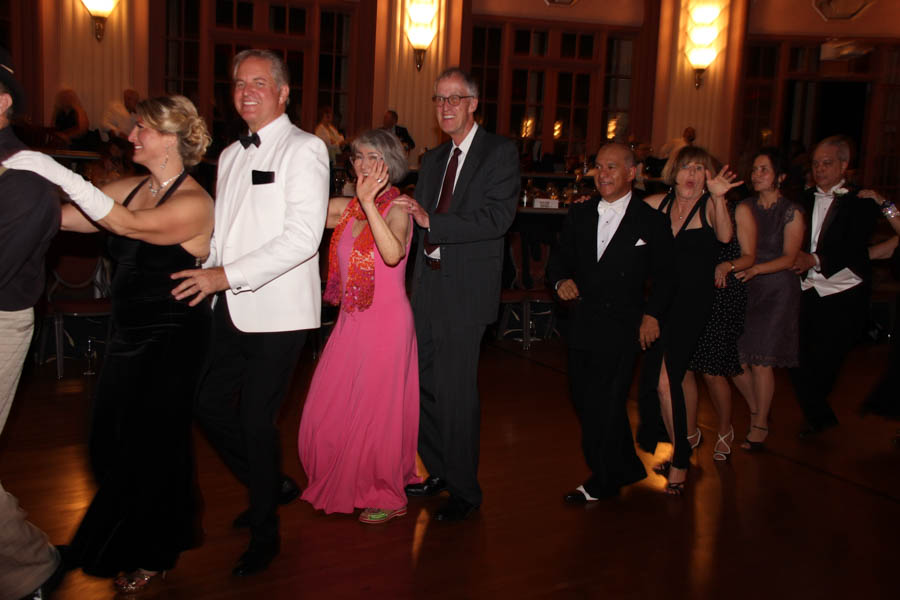 On their way out the door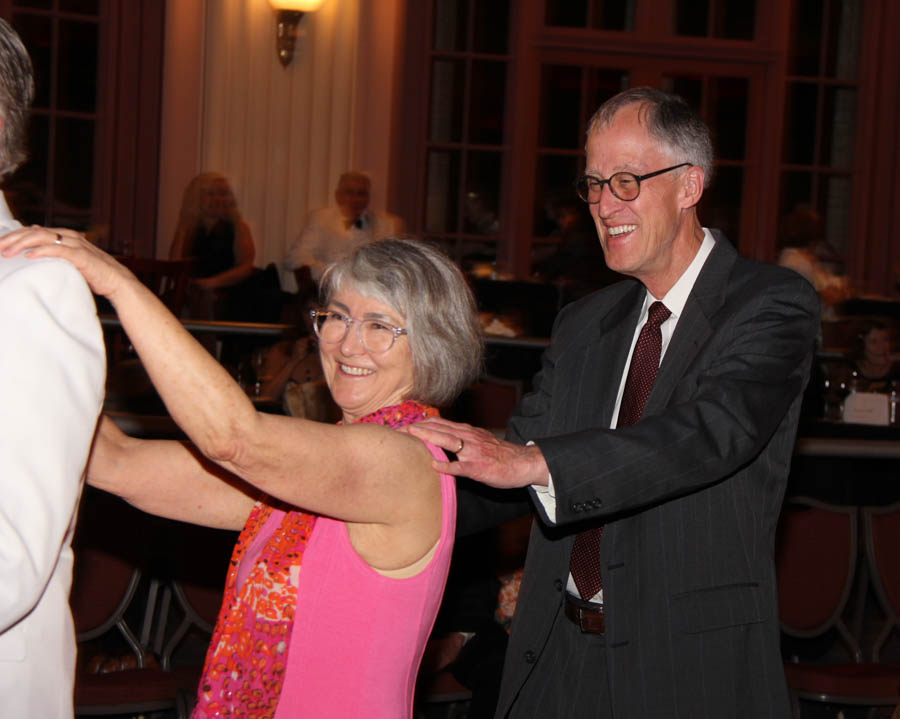 Good exercise!
Did You Know? - The conga dance was believed to have been brought over from Africa by slaves in the West Indies, and became a popular street dance in Cuba. The style was appropriated by politicians during the early years of republic in an attempt to appeal to the masses before election. During the Machado dictatorship in Cuba, Havana citizens were forbidden to dance the conga, because rival groups would work themselves to high excitement and explode into street fighting. When Fulgencio Batista became president in the 1940s, he permitted people to dance congas during elections, but a police permit was required.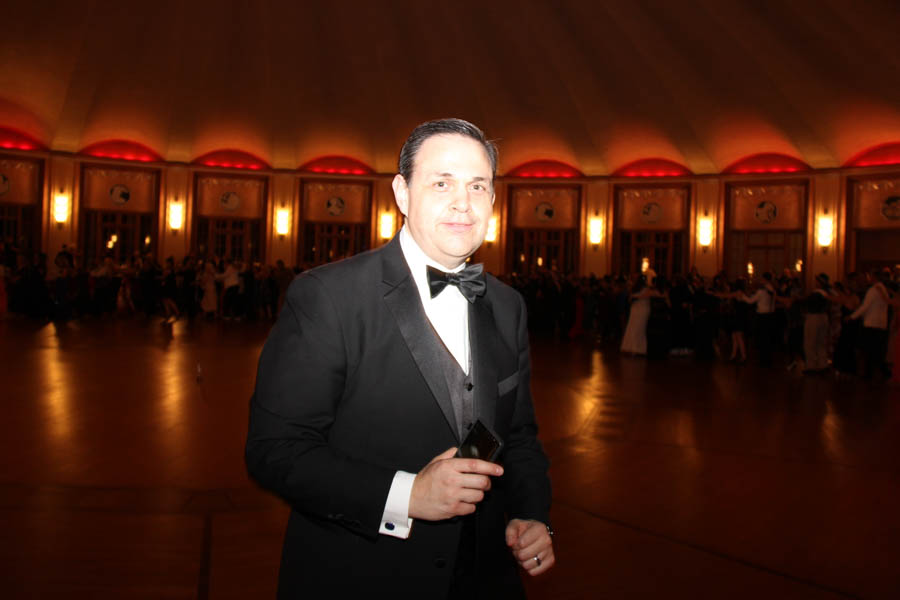 Sam and the camera got many excellent shots!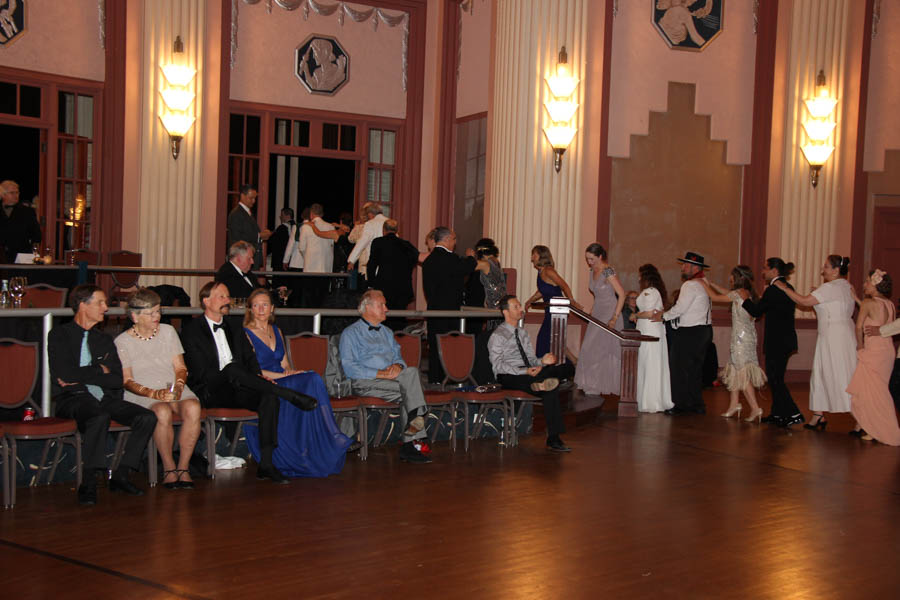 Onto the balcony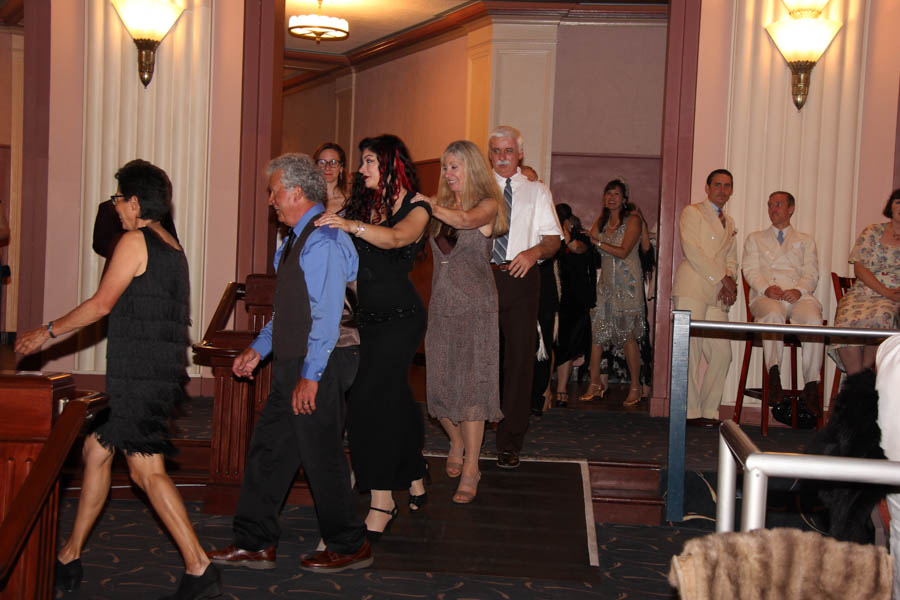 Returning back in aftera fresh breeze cools them off!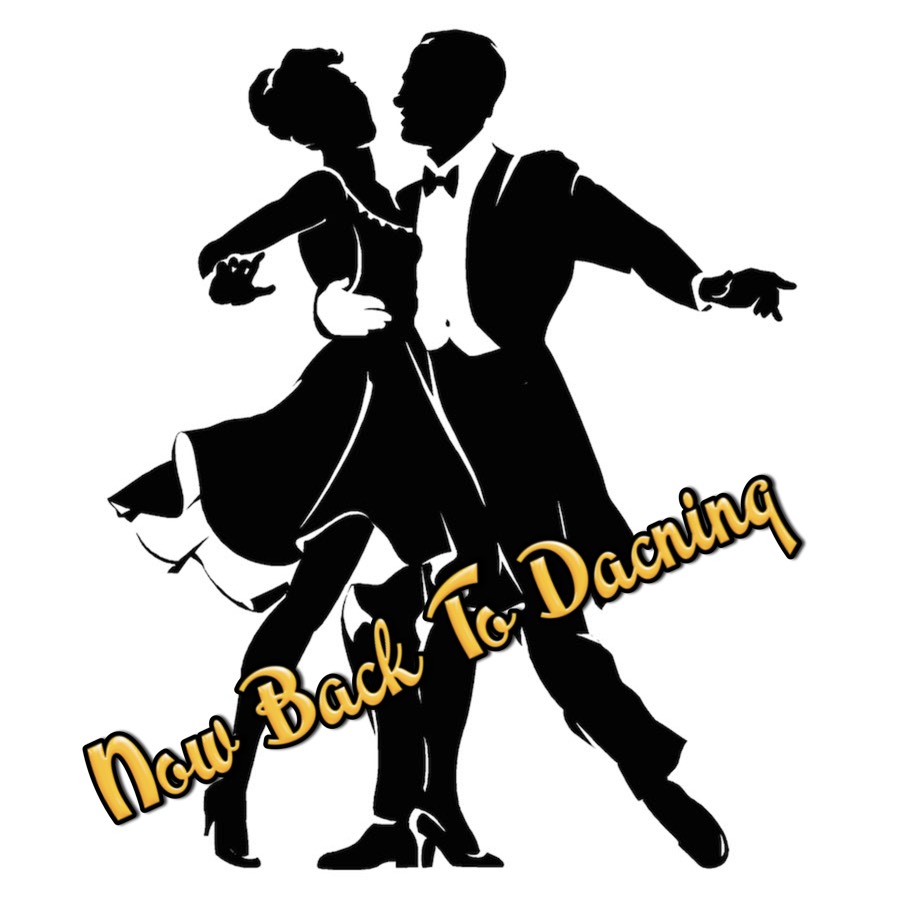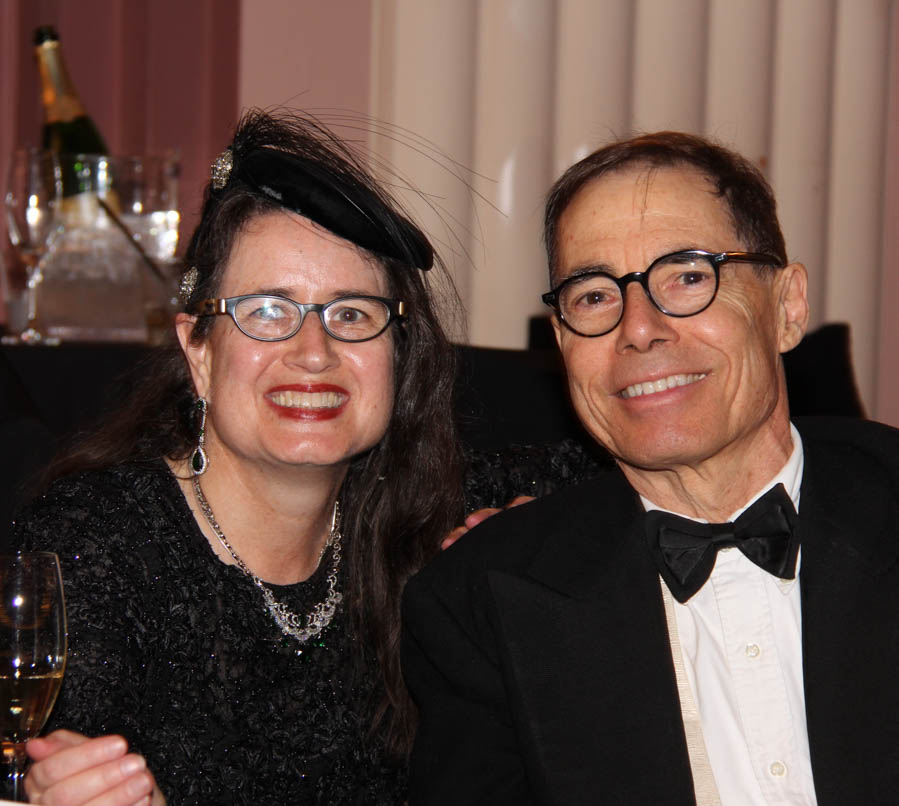 Kathleen is ready to dance the night away!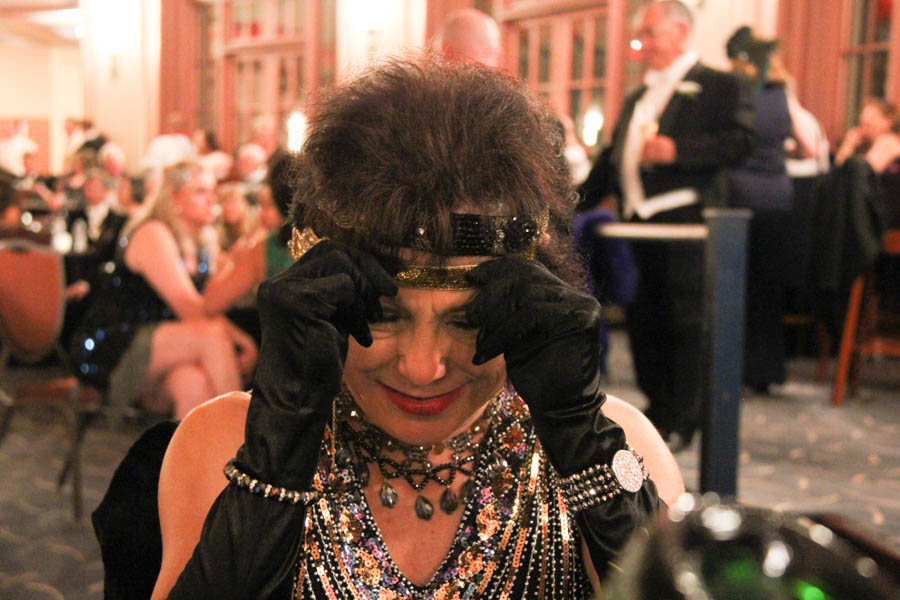 Just a little too tight!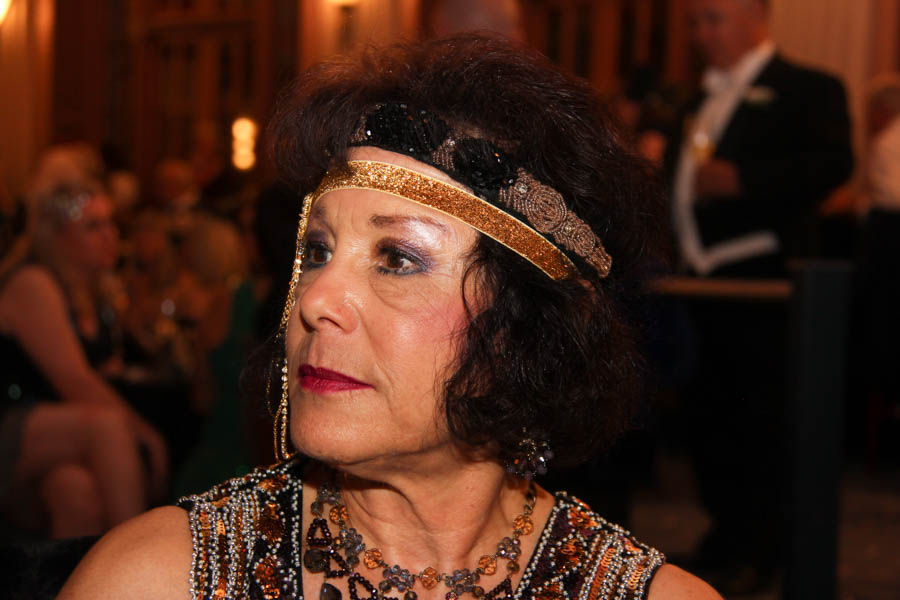 Donna is on champagne duty!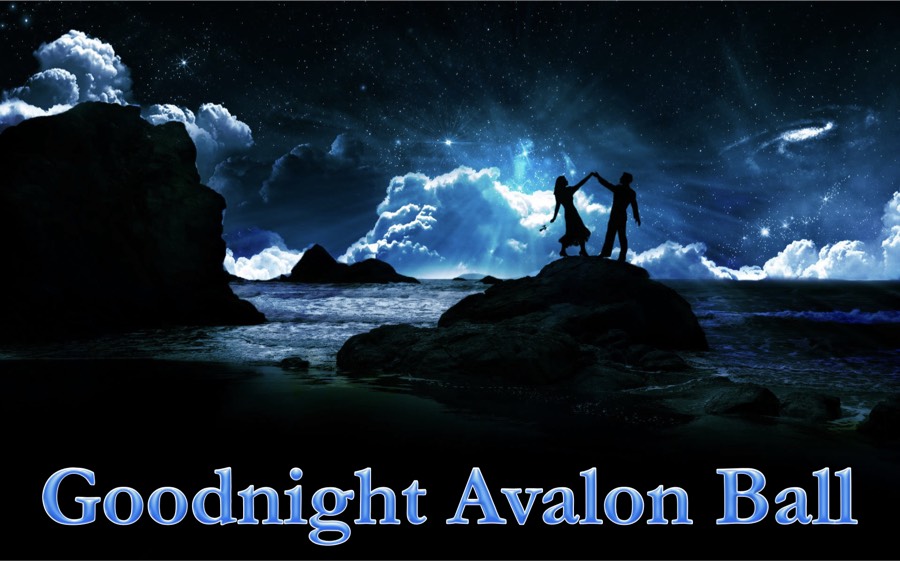 Page 10 - Time For A Nightcap!